Delicious beef potstickers!
Please note that this review was not paid for or sponsored by any third party. I purchased this product with my own money and the opinions in this review are strictly my own. I am not affiliated with Costco or any of its suppliers. I am just a fan of the company. I write these reviews to help my fellow shoppers.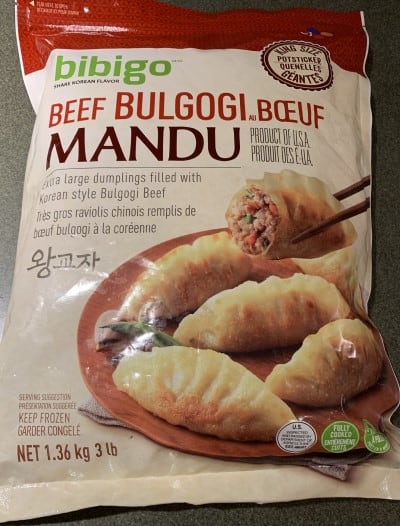 I'm a big fan of potstickers. I love eating them at restaurants and at home. I find the Costco frozen section sells a lot of really tasty Asian-style appetizers (including some great potstickers). I really like the Minh Pork Egg Rolls as well as the Siwin Chicken and Vegetable Dumpling Potstickers.
I'd never had beef potstickers before though, so that's why I wanted to try these Bulgogi Beef Mandu from Bibigo when I saw them at Costco.
Taste
Bibigo also makes the Mini Chicken and Cilantro Frozen Wontons that are sold at Costco (and they seem to be a popular product). The Beef Bulgogi Mandu are similar in that they're a dumpling-type dish, but otherwise they're very different than the Mini Fully Cooked Chicken and Cilantro Frozen Wontons. 
First of all, these are not your average-sized potstickers; they're a fair amount bigger than any other potstickers I've had, and packed full of Korean-style beef bulgogi. The beef itself is ground beef, which surprised me as I thought it would be sliced beef. The ground beef mixture is encased in a delicious, thin, flour dough wrapping that gets nice and crispy in the pan.
There's tons of flavor in these and you don't need any additional sauce on them in my opinion (which isn't necessarily the case with some of the other potstickers I've reviewed). They have a smoky, grilled flavor and you can taste flavors like soy sauce, garlic and sesame oil in the ground beef. The veggies in the dumplings include onion, carrot and cabbage.
One thing I don't love about the taste of these is the greasiness. They definitely taste a lot more greasy and oily compared to chicken or pork dumplings. I think this is mainly due to the ground beef, as ground beef tends to be quite fatty. Anyway, when you cook the Bulgogi Beef Mandu, they become quite shiny and oily.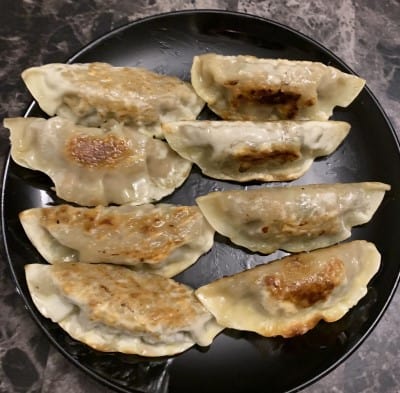 Cost
I purchased the Bibigo Beef Bulgogi Mandu from Costco for $14.89 Canadian (full price). For $14.89, you get three pounds of dumplings, which for my husband and I will work out to about four meals (but we usually eat them as a side dish with other things).
They're not the cheapest frozen product, but I really wanted to try them out. Also, when I think about how much a small plate of these would cost in a restaurant as an appetizer, $14.89 doesn't seem as bad. If they happened to go on sale for a couple of dollars cheaper, they'd be a pretty good deal.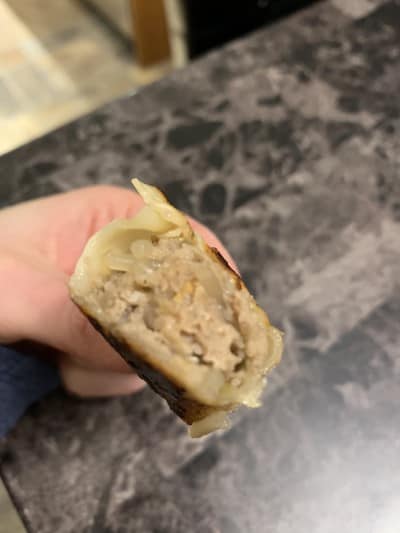 Convenience
The Bibigio Bulgogi Beef Mandu come frozen and require pan frying to cook them. On the surface, that seems similar to other potsticker/dumpling products I've purchased from Costco, but I find these less convenient than some of those other dumplings. It's difficult to get them to an even crispiness and golden brown color all over.
When I've cooked these, it usually goes well up until one of the dumplings splits open and grease gets onto the pan from the inside of the split dumpling. Then I find that the grease splatters everywhere and I'm dodging grease bullets.
Despite the extra cleanup from the splattered grease, I feel like buying these frozen is obviously a much more convenient option than making them from scratch (which might not solve the grease/splattering problem anyway as a lot of it has to do with the fact that beef tends to be higher in fat than other meats).
Nutrition
Looking at these from a nutritional perspective, four dumplings contains 280 calories, nine grams of fat, 700 milligrams of sodium, four grams of sugar and 15 grams of protein. I definitely dig the high amount of protein, but these dumplings are higher in calories, sodium and fat than chicken and pork dumplings I've had in the past.
I will say that I found eating four of these to be quite filling, which may be related to the high protein content. Thus, I found I was quite satisfied with my 280 calorie serving.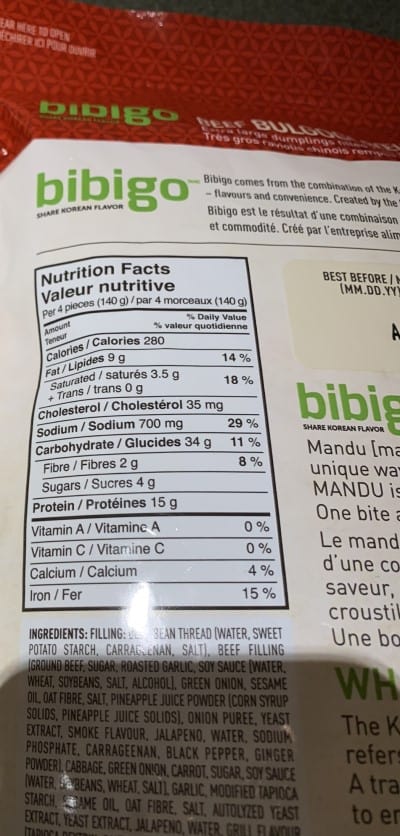 Aside from the grease, I enjoy the flavor of the Bibigo Beef Bulgogi Mandu. I wish they were a bit easier to pan fry and weren't quite so messy, but it was nice to switch it up and have a beef dumpling dish rather than pork or chicken.
Overall, I prefer the Costco Siwin Chicken and Vegetable Dumpling Potstickers, but might buy these again if I see them on sale.
Taste: 8/10
Cost: 7.5/10
Convenience: 7/10
Nutrition: 5/10
I'm curious! What's your favorite appetizer or side dish item from Costco?