A summer staple!
Please note that this review was not paid for or sponsored by any third party. I purchased this product with my own money and the opinions in this review are strictly my own. I am not affiliated with Costco or any of its suppliers. I am just a fan of the company. I write these reviews to help my fellow shoppers.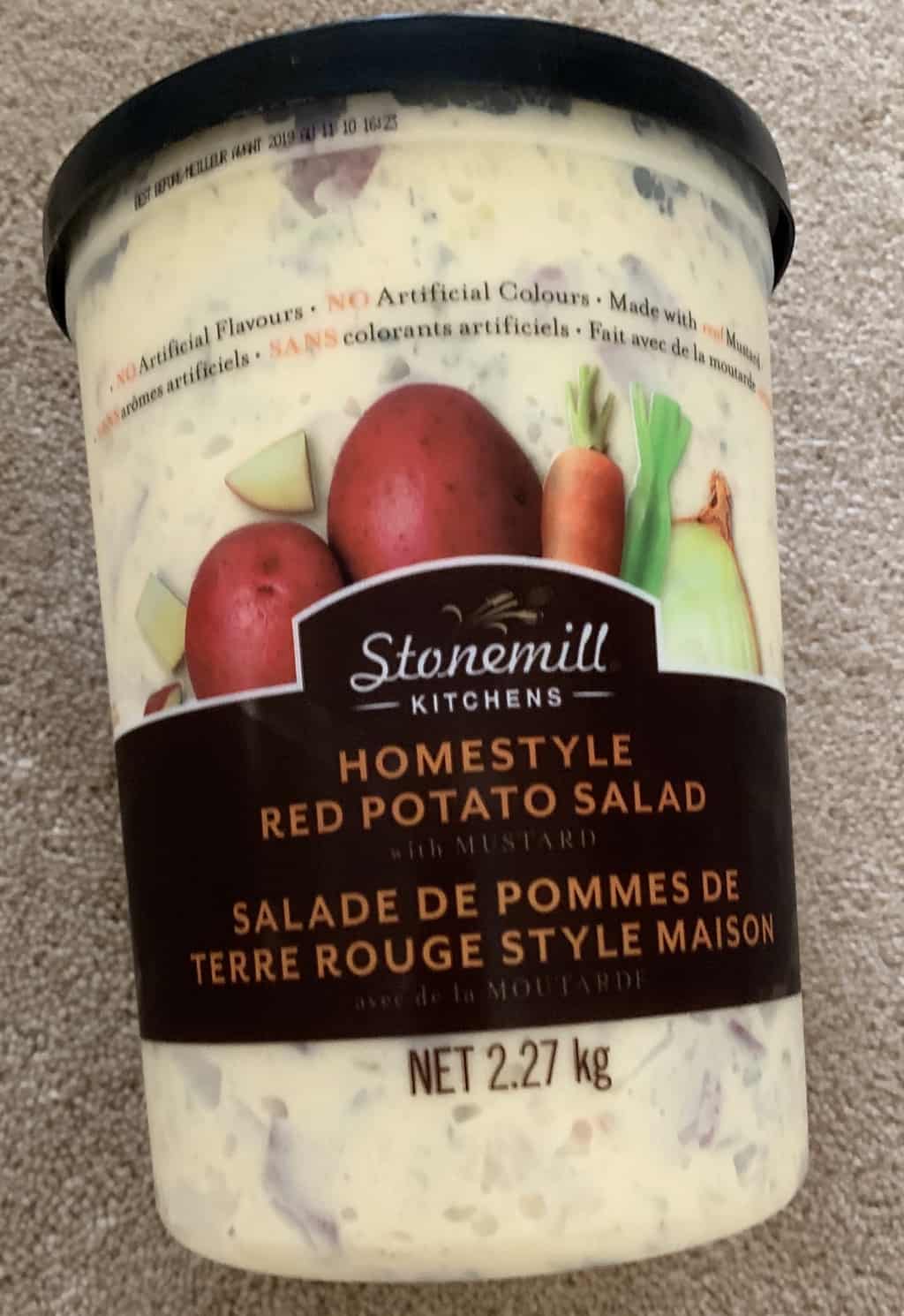 Clearly I'm going to review summer barbecue items during the summer! Thanksgiving items happen in the fall and then there's my favorite season ever, Christmas! Let's enjoy the summer while it's still around and talk about potato salad. The Costco Stonemill Kitchens Homestyle Red Potato Salad.
Taste
I've had a lot of nasty store bought potato salad before. Let's face it, store bought potato salad is never nearly as good as homemade. The Costco Stonemill Kitchens Homestyle Red Potato Salad is probably one of the tastiest store bought potato salad I've had though. It's creamy and filling with big chunks of potatoes. The paprika, mustard, turmeric and dill add depth of flavor to the potato salad. There's a few chunks of celery and pickles throughout the potato salad so you can taste the sweetness of the pickles as well as there's some added sugar that adds a bit of a sweet after taste. Nothing compares to my mom's homemade potato salad but this is pretty good. The distinguishing factor that makes this potato salad better than other potato salads I've had is the huge chunks of potatoes and the fact there's less mayonnaise than potatoes. I find other potato salads can be super "wet and saucy" with not much actual
potato.
Cost
The 2.27 kg tub of Stonemill Kitchens Red Potato Salad cost $7.49 Canadian at Costco. That's quite a bit of potato salad for a reasonable cost!
Convenience
It's much easier to purchase potato salad than to make your own. The potato salad has a best before date of about three weeks from the purchase date and needs to be refrigerated.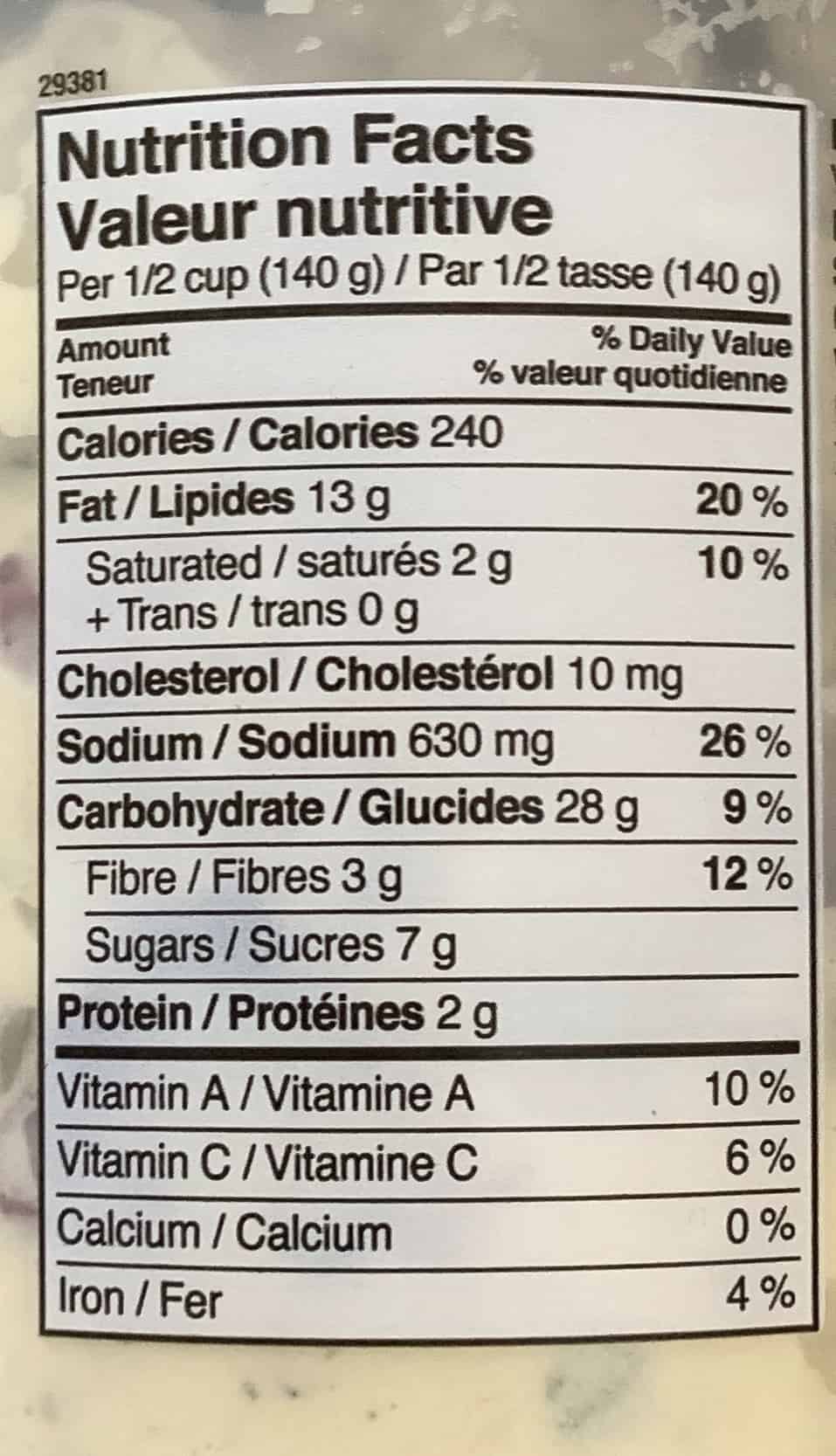 Nutrition
Oh me oh my. I probably ate like 500 calories worth of potato salad last weekend. Oh well! ½ cup of Stonemill Kitchens Red Potato Salad is 240 calories, 13 grams of fat, 28 grams of carbohydrates, two grams of protein, seven grams of sugar, three grams of fibre and 630 mg of sodium. That's quite a bit of calories, fat and sodium for only half a cup! The potato salad is also not preservative free it doesn't have any artificial flavors or preservatives though! It's also made with real mustard.

This is a massive tub of potato salad and I find one tub satisfies my potato salad cravings for the summer. If you're hosting a summer barbecue, family reunion or get together and don't have time to make homemade potato salad from scratch, I recommend Stonemill Kitchens Red Potato Salad from Costco.
Taste: 7/10
Cost: 9/10
Convenience: 10/10
Nutrition: 2/10
Do you like potato salad or macaroni salad? What's your favorite kind of salad to serve in the summer?