This is what I call comfort food!
Please note that this review was not paid for or sponsored by any third party. The opinions in this review/recipes are strictly my own. I am not affiliated with Costco or any of its suppliers. I am just a fan of the company. I write these honest reviews to help my fellow shoppers.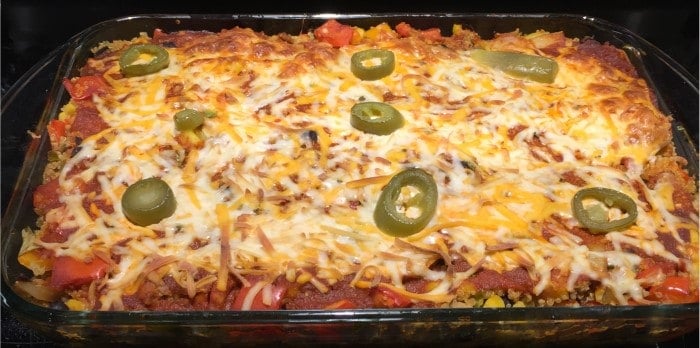 My husband has a few favorite meals I make and this is one of them. This is what I call healthy comfort food. This casserole is reasonably healthy and makes awesome leftovers and lunches. I used Kirkland Signature Ground Turkey (1 pack), Kirkland Signature Quinoa and Kirkland Signature Tex Mex Shredded Cheese in this recipe.
Ingredients:
1 Package of Costco Kirkland Signature Ground Turkey
3 Costco sweet bell peppers, chopped.
1 ¼ cups Costco Kirkland Signature quinoa
1 medium yellow onion, chopped.
1/2 cup fresh cilantro
1 can black beans no salt added
1 can whole kernel corn no salt added
½ cup Costco Kirkland Signature tex mex shredded cheese
2 cans chopped green chilies
1 packet of taco seasoning
1 jar or package of premade enchilada sauce or your own homemade.
Directions: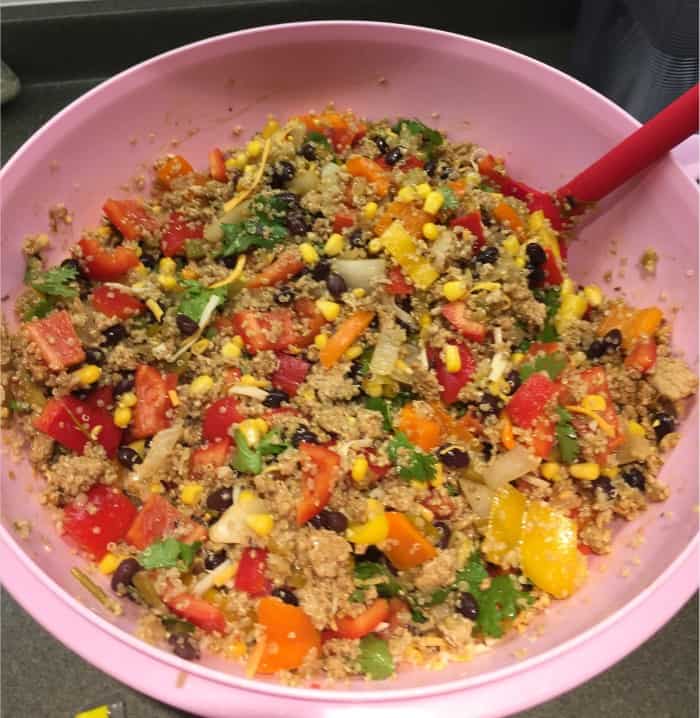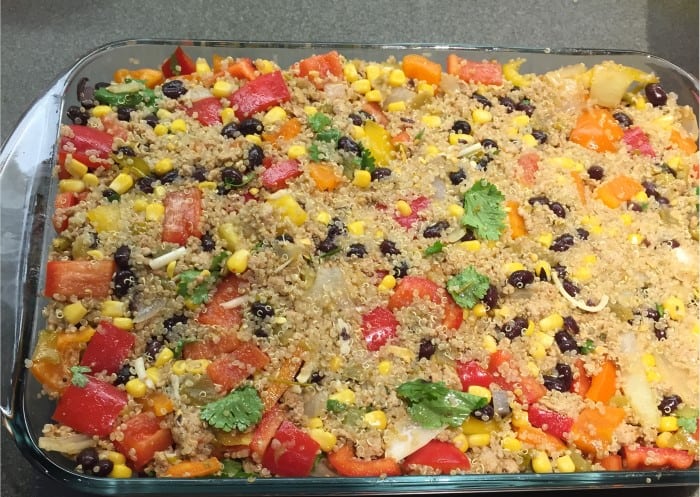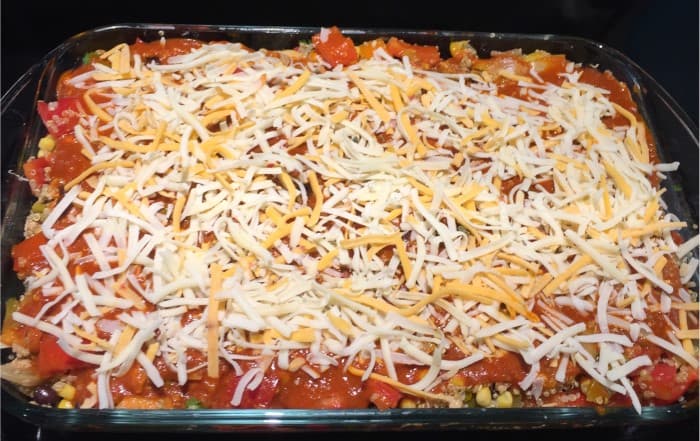 Drain and rinse black beans and corn. Keep the can for getting rid of any excess grease from ground turkey.
Add black beans, corn, chopped green chilies, bell peppers and cilantro to a large bowl, stir to combine.
Preheat oven to 415 degrees farenheit
Brown Costco Kirkland Signature ground turkey, drain excess grease, add taco seasoning and 1/3 cup water, add onions and simmer until onions are cooked and fragrant, remove from heat.
Boil 2 cups of water in a small sauce pan, when boiling add Costco Kirkland Signature quinoa and stir, cover pot and simmer Costco Kirkland Signature quinoa on low-medium for 15 minutes, remove from heat, let stand for 5 minutes then fluff with fork.
Add Costco Kirkland Signature ground turkey and onions and quinoa to large bowl with beans and peppers once cooled slightly. Stir to combine.
Pour casserole mix in the large bowl into a 9×13 baking dish, pack down with the back of a spatula.
Pour enchilada sauce over top of casserole, use a rubber spatula to spread sauce evenly. On top of the sauce sprinkle Costco Kirkland Signature Tex Mex cheese.
Cover casserole dish gently with aluminum foil, bake for 20 to 25 minutes with foil on top. Remove foil then bake an extra 5 minutes or until cheese is done to your liking.
I like to serve this with sour cream, Costco Pace brand salsa, fresh avocado, green onion and sometimes Concerto Cherry Tomatoes.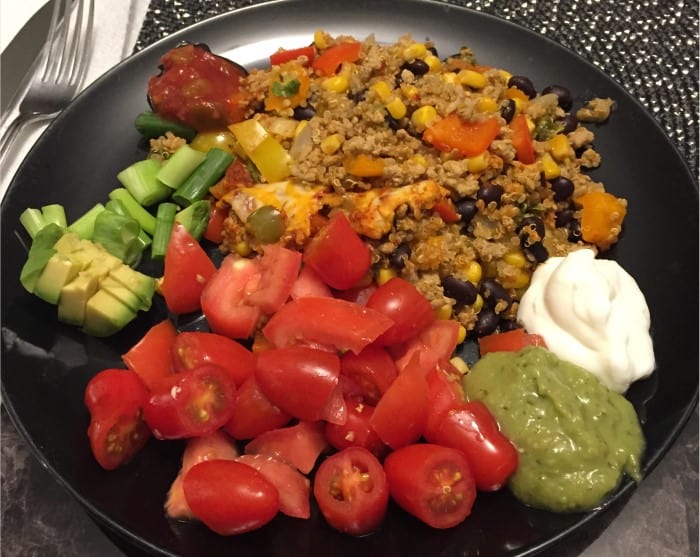 Any questions?! Let me know.