Amazingly delicious salmon poke packs available in the freezer section at Costco!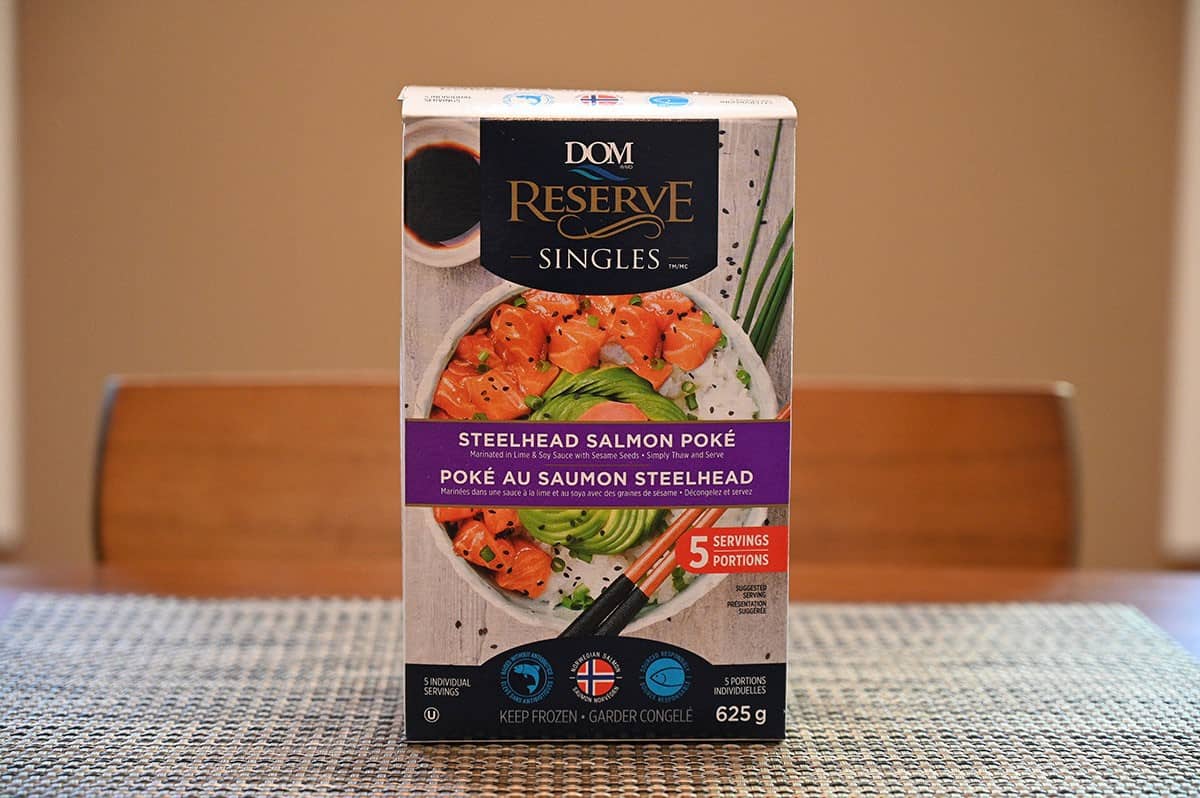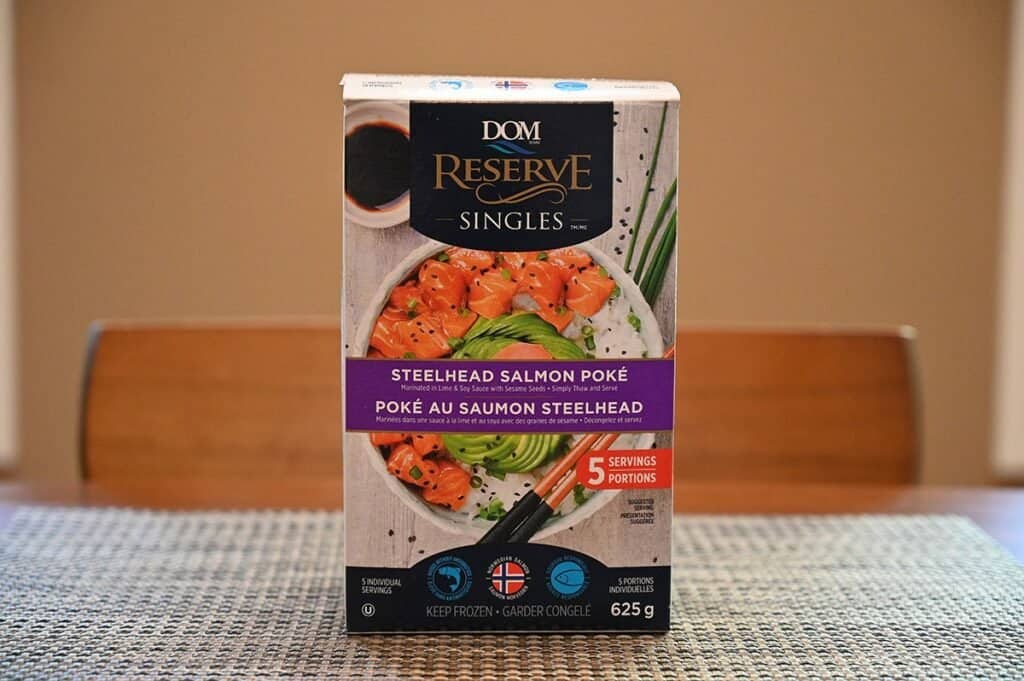 Costco now carries this frozen salmon poke! I picked some up this weekend to review on the blog! I don't eat poke regularly, the last time we had poke was in Maui and that was fresh catch of the day poke from a food truck which was so yummy.
Other seafood products I've reviewed on the blog include the Costco Trident Wild Pacific Pink Salmon Burgers, Costco Kirkland Signature Stuffed Salmon, Costco Kirkland Signature Tilapia Loins, Costco High Liner Miso Glazed Cod and the Costco Kirkland Signature Tail-On Cooked Shrimp.
A lot of Costco shoppers seem to really like the SoKusa Shrimp Chips from Costco as well!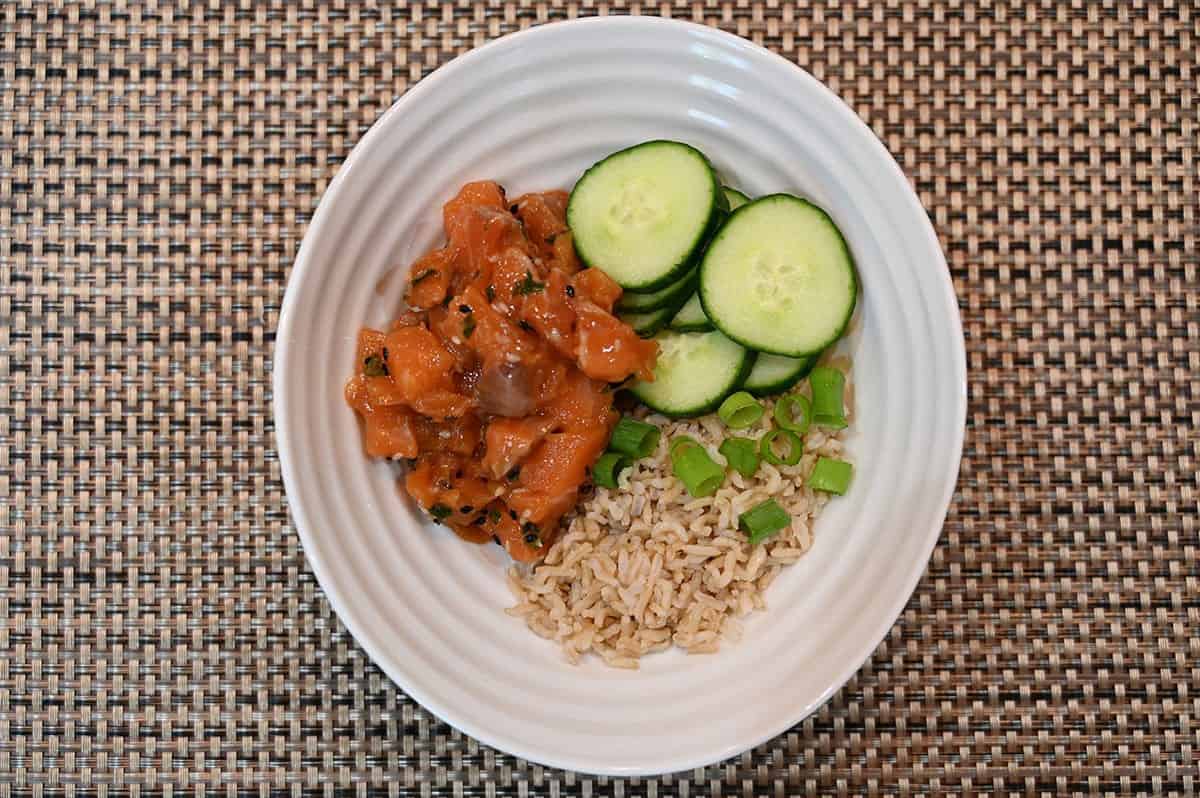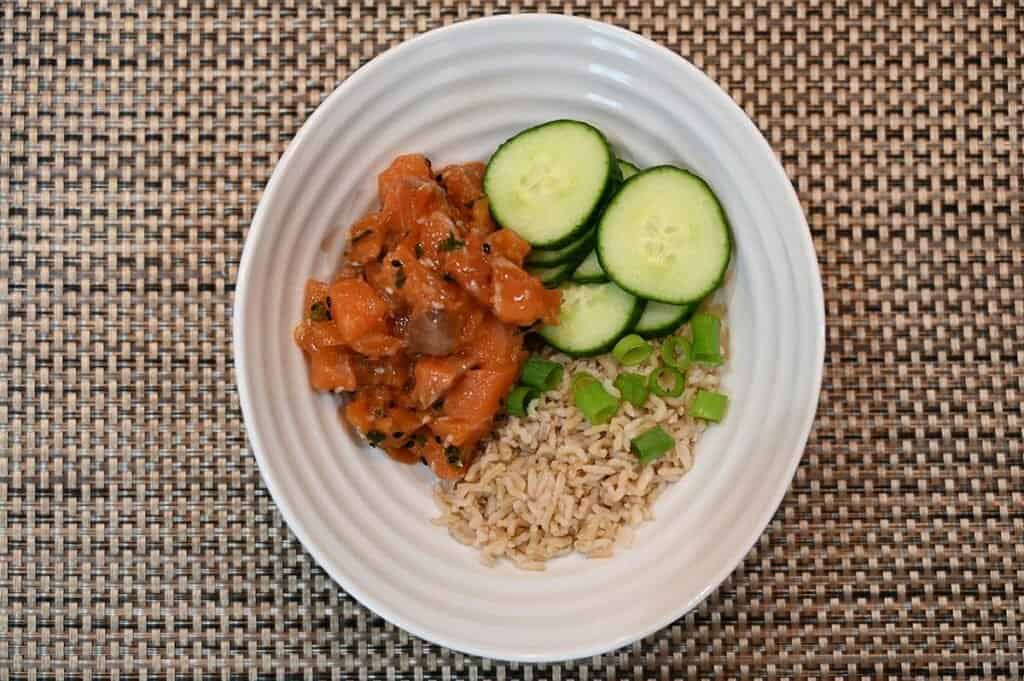 Location in Store
You can find the Dom Reserve Steelhead Salmon Poke Singles in the freezer section by all the other fish. The item number is 1467709. The box isn't very big so you may have to look closely.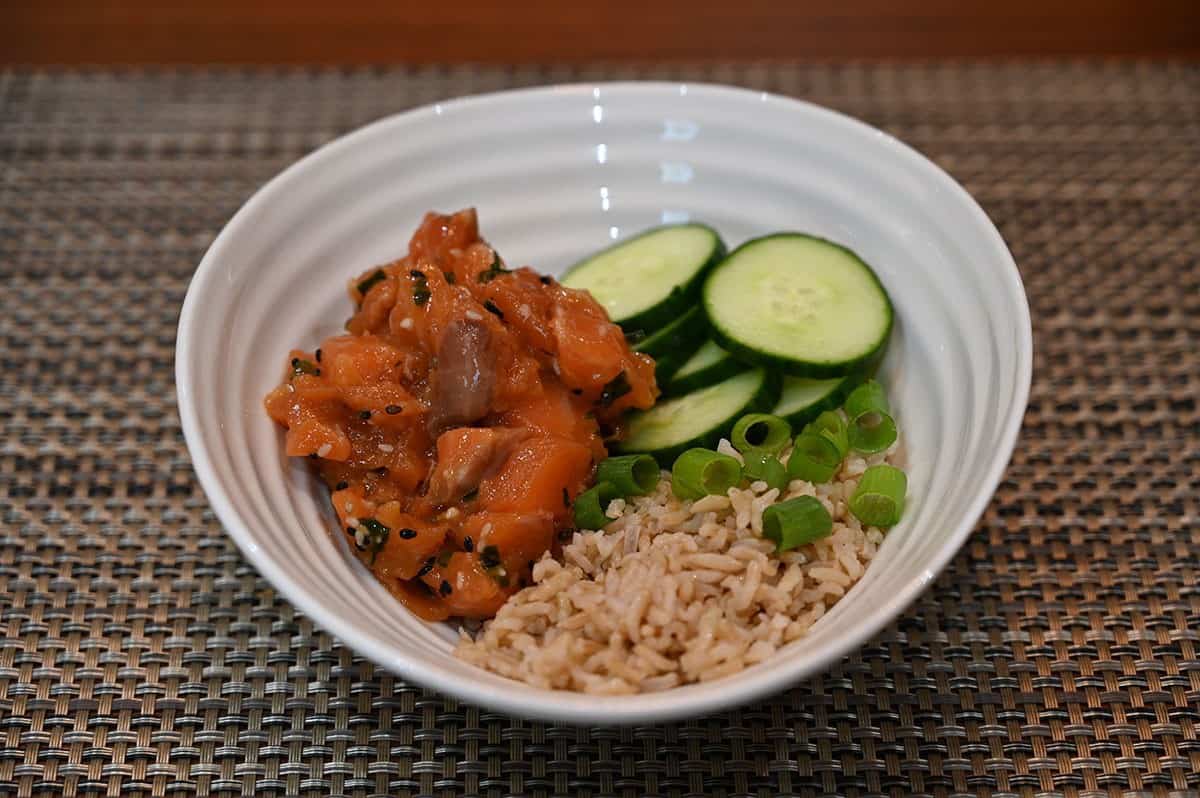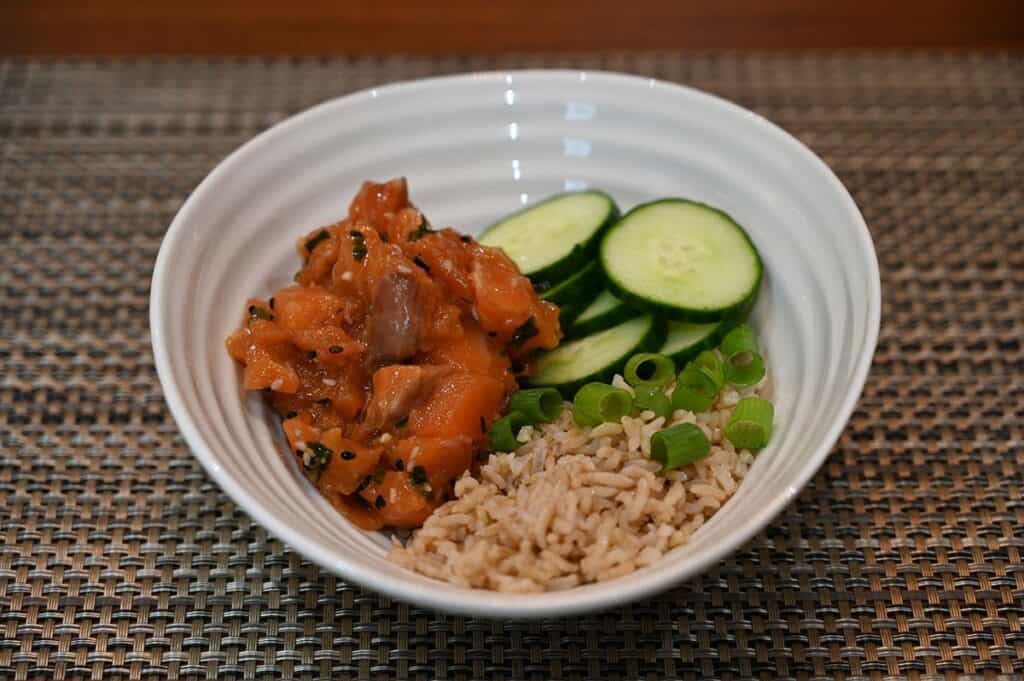 Taste
This Costco poke is so very delicious! I'm not a huge fan of raw fish but this is actually really good. I thought the texture of the salmon would be quite mushy but it's nice and firm.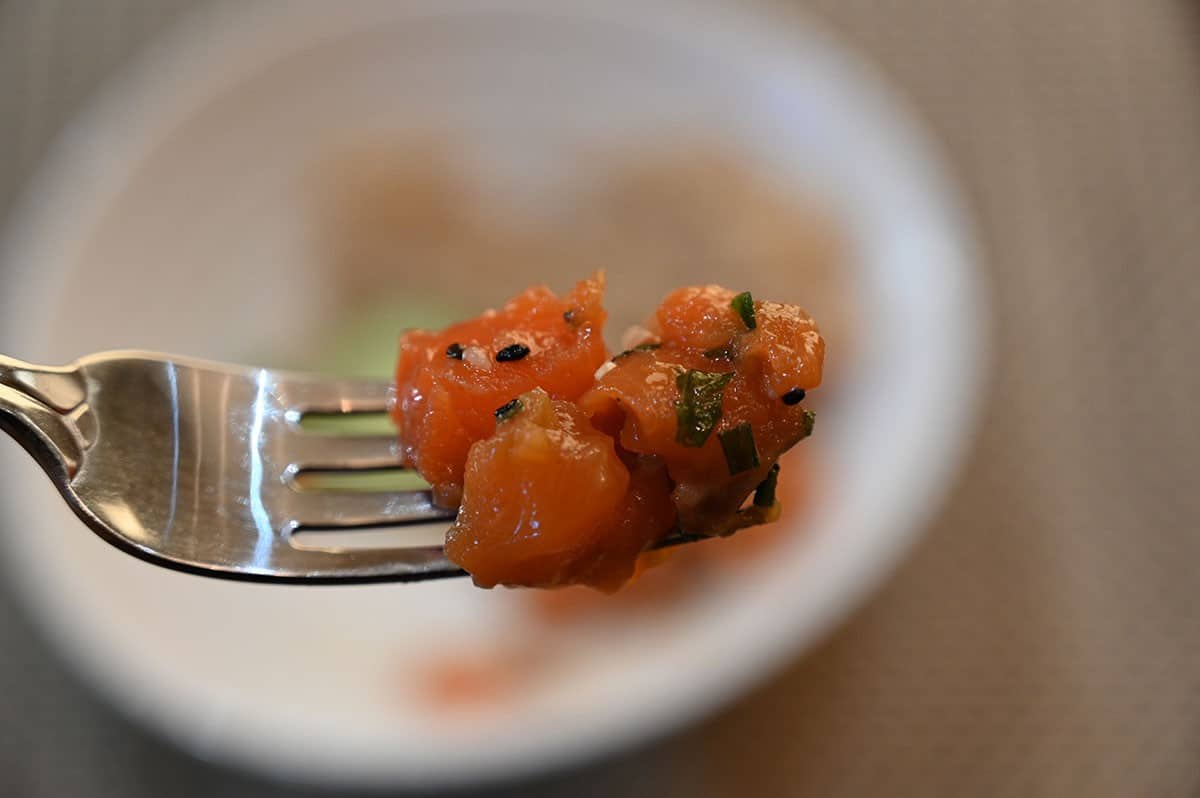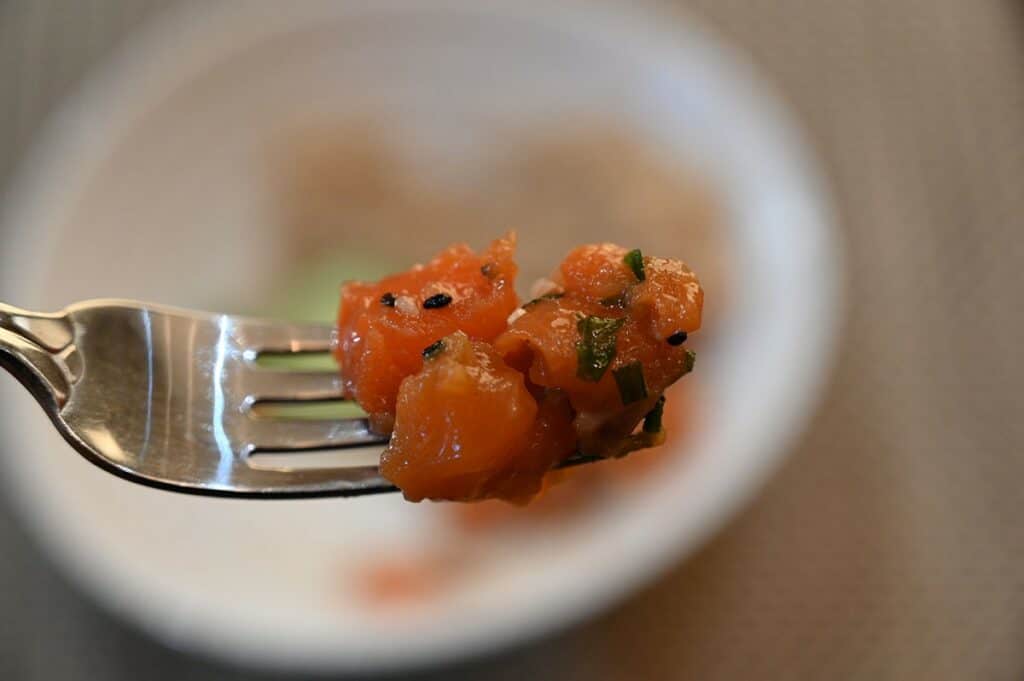 The flavor is outstanding, you can taste soy, sriracha, sesame as well as a hint of lime. I didn't add any extra sauce as I found the salmon was flavorful enough and I didn't find it too spicy. There's no fishy taste in this poke which really surprised us both.
I made a bowl with some cucumber, green onion and wholegrain brown rice and it all went together really well. I think next time I might add some radish and sliced avocado.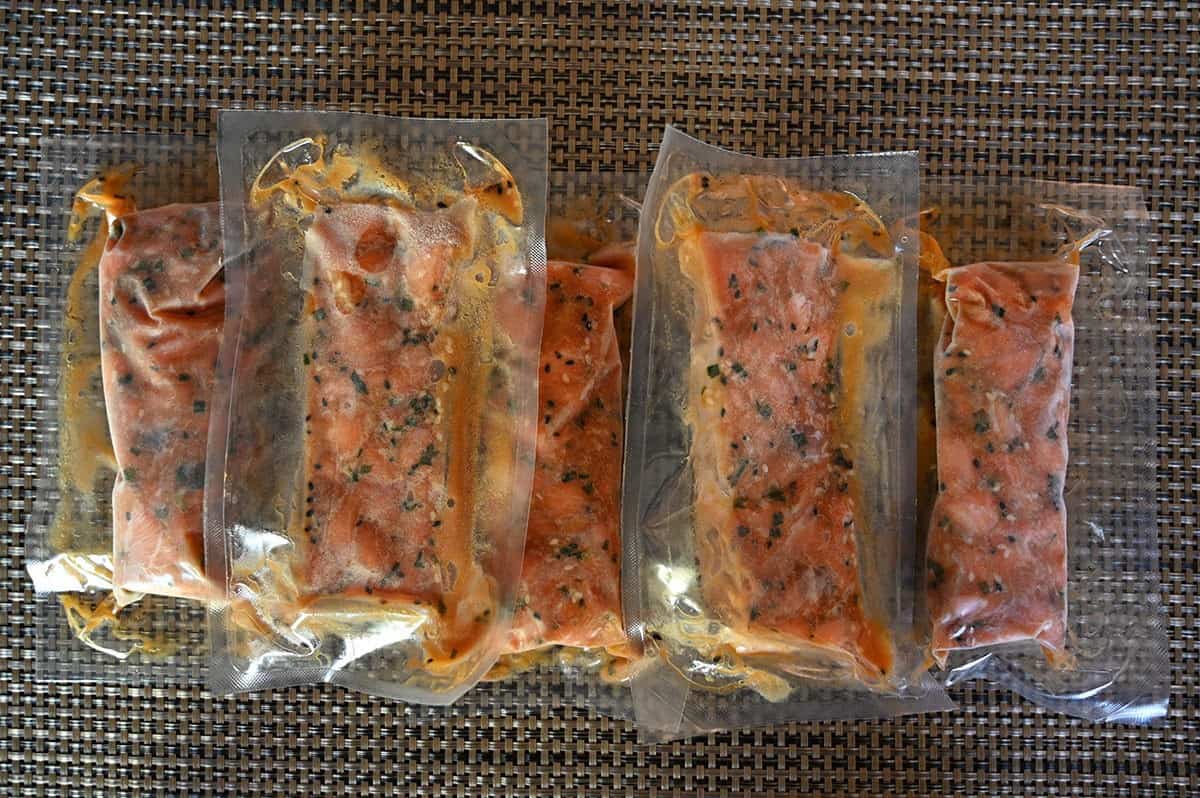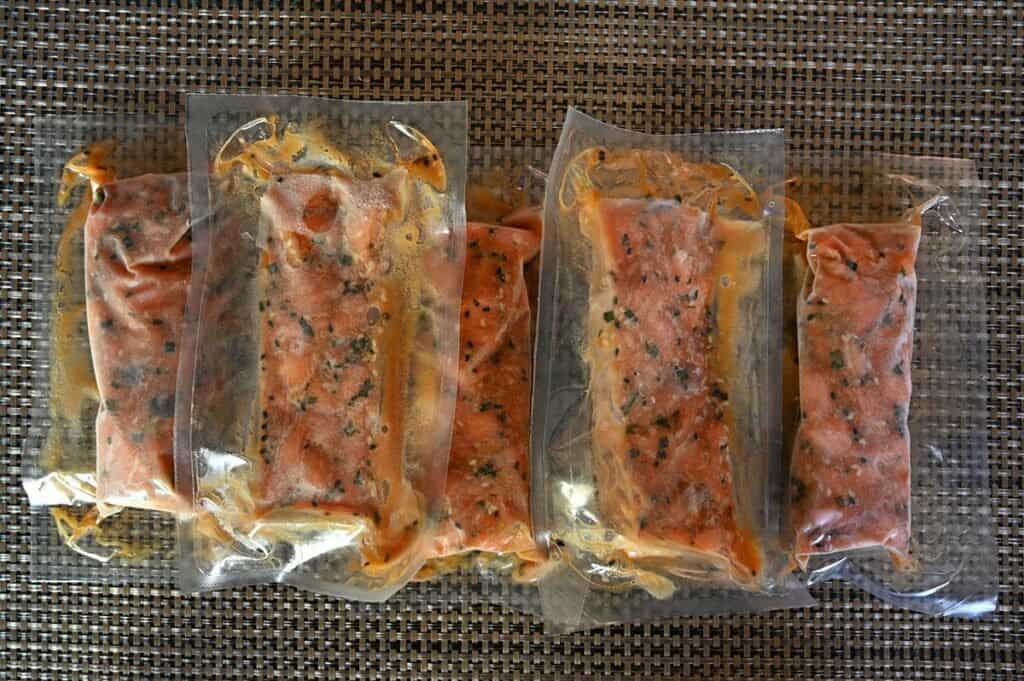 Cost
You get five single portions of steelhead salmon poke in the box. I paid $18.99 Canadian which isn't really bad at all! One poke bowl from a restaurant costs 10 or 15 dollars here!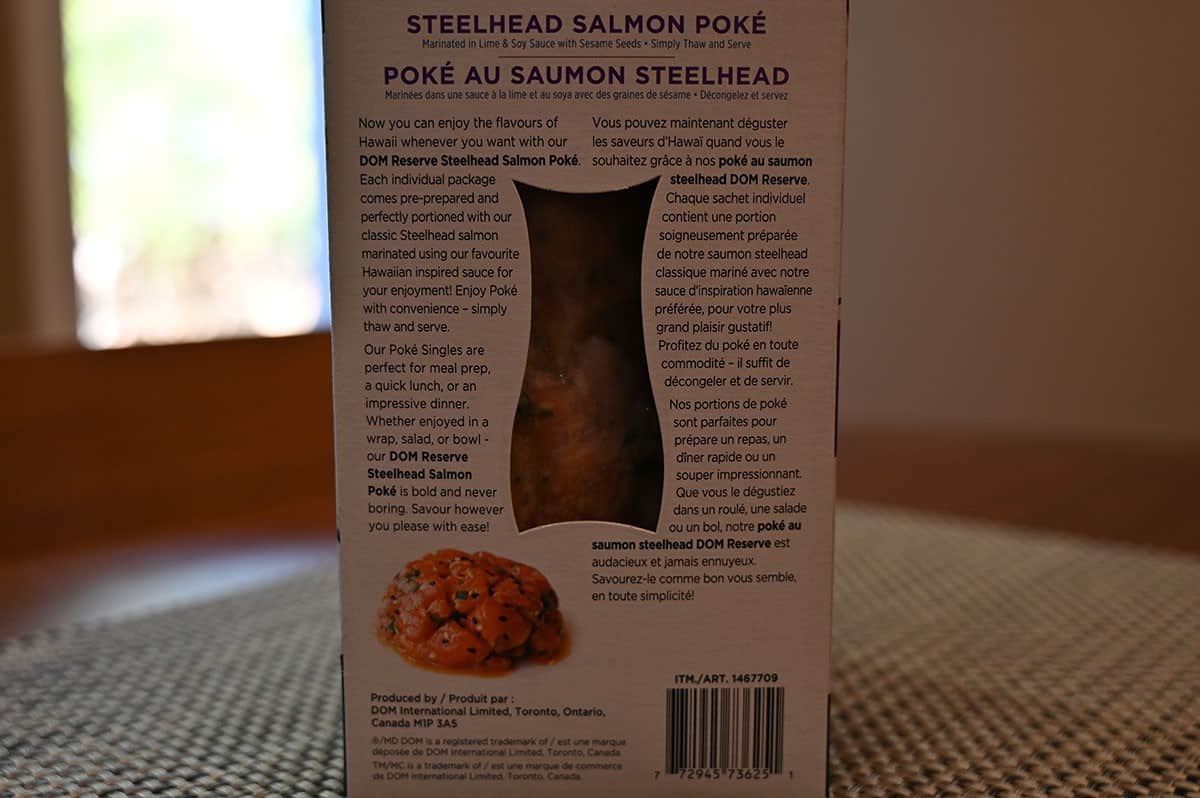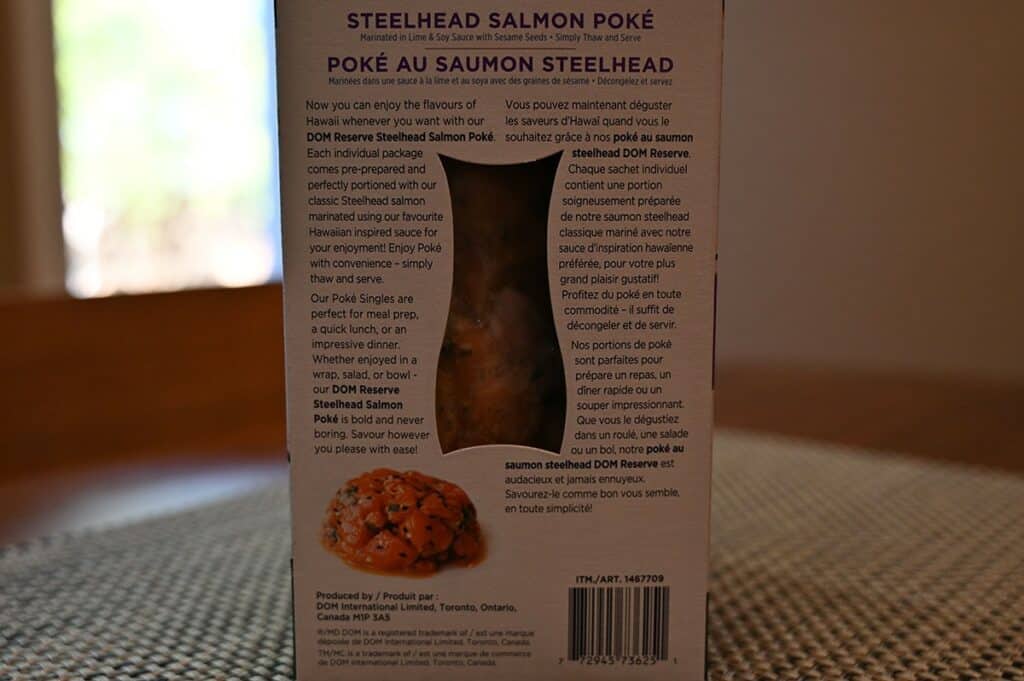 Although $18.99 for five small packages of salmon poke at Costco may seem like a lot it's not, it's actually quite reasonable.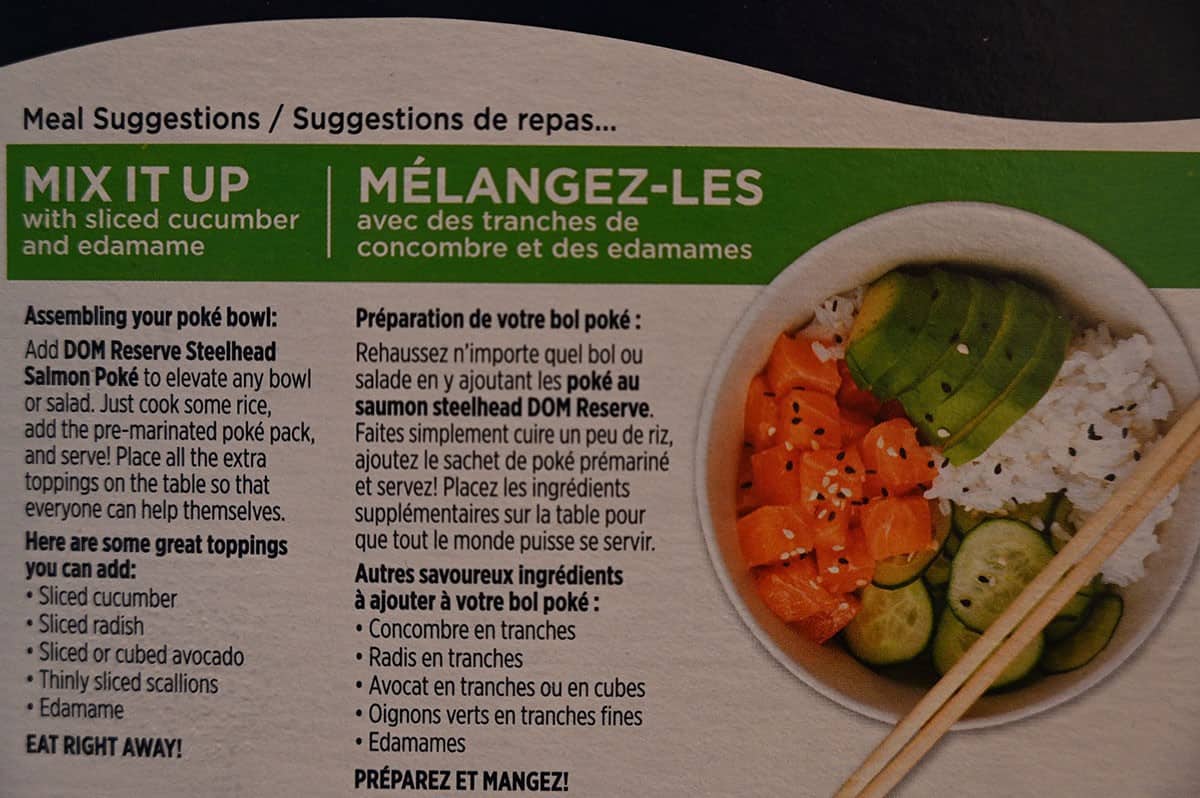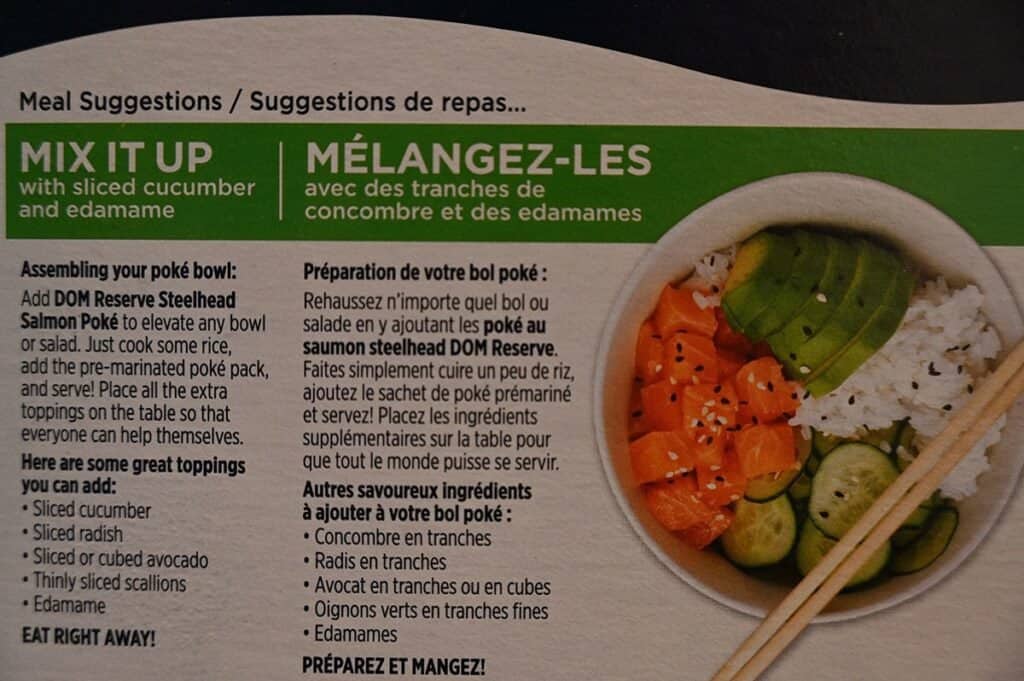 Convenience
You can conveniently enjoy a poke bowl at home with the Costco Dom Reserve Steelhead Salmon Poke. All you have to do is take the salmon package out of the freezer, pop it in your fridge to defrost and then once defrosted eat it right away!
Do not refreeze the salmon once defrosted and make sure to eat it within two days. The box gives meal suggestions for a poke bowl and a poke wrap. Both of them sound delicious!
You can be really creative when you make a poke bowl, you can add rice, cucumber, radish, edamame, soy sauce, scallions, green onions, seaweed, pickled red cabbage and jalapenos!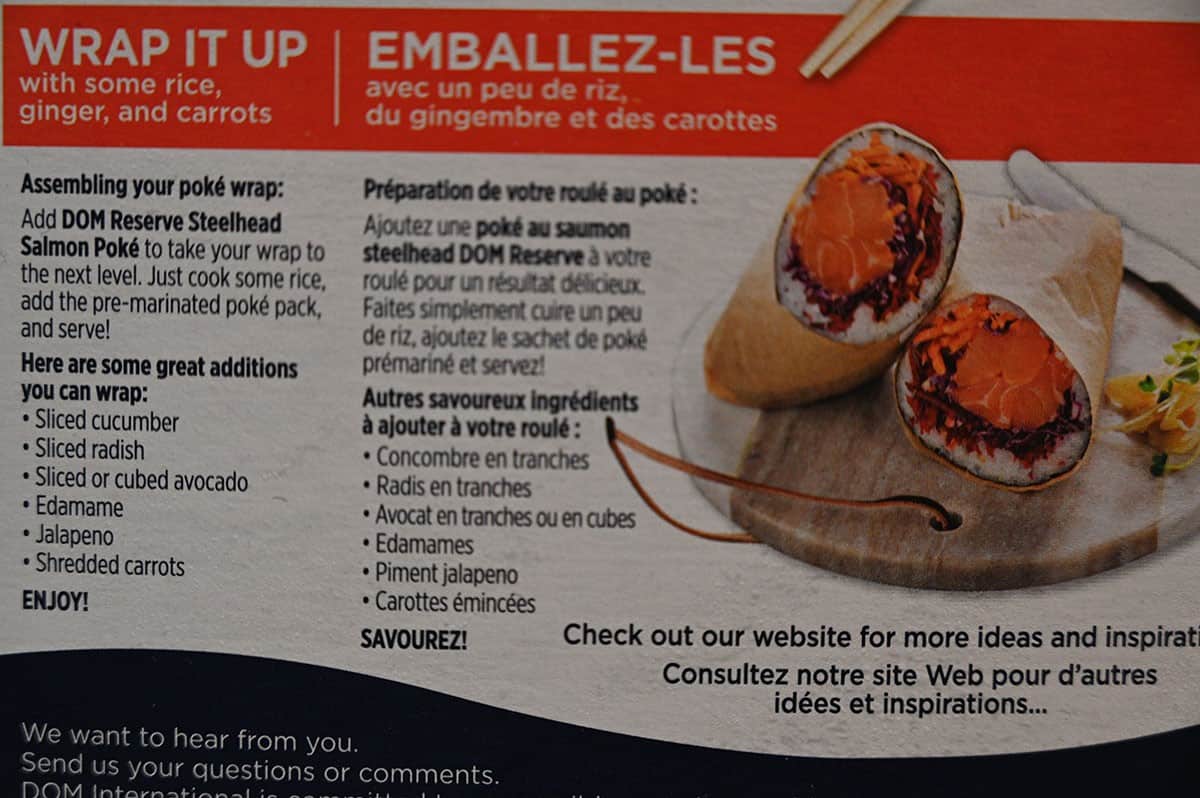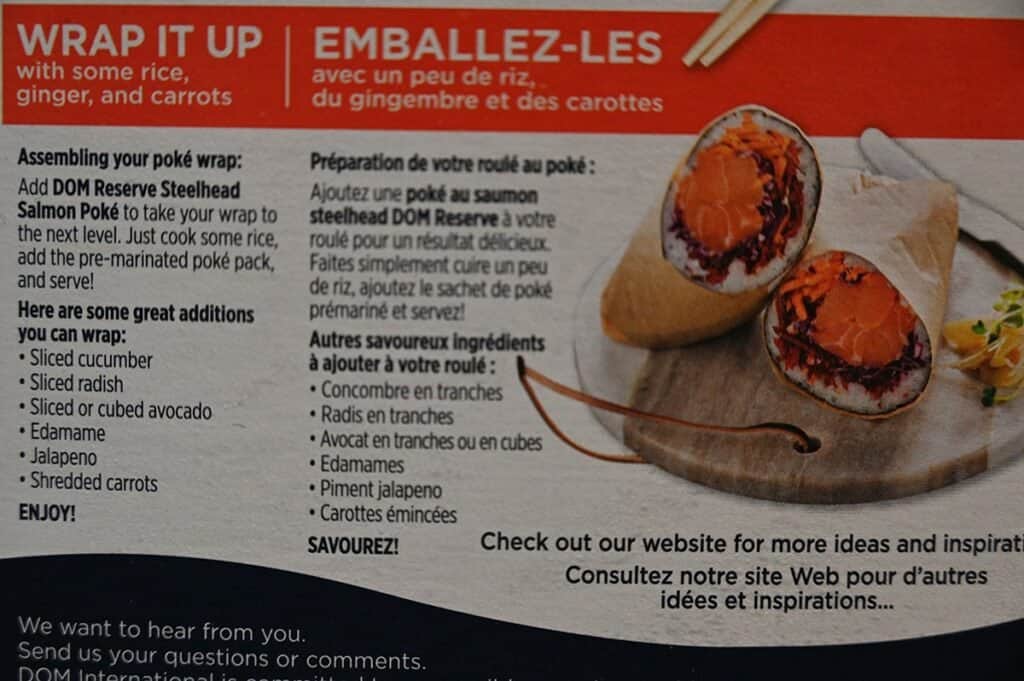 This is a quick and easy, filling and nutritious meal option from Costco, it can be whipped up in just minutes and also looks pretty fancy!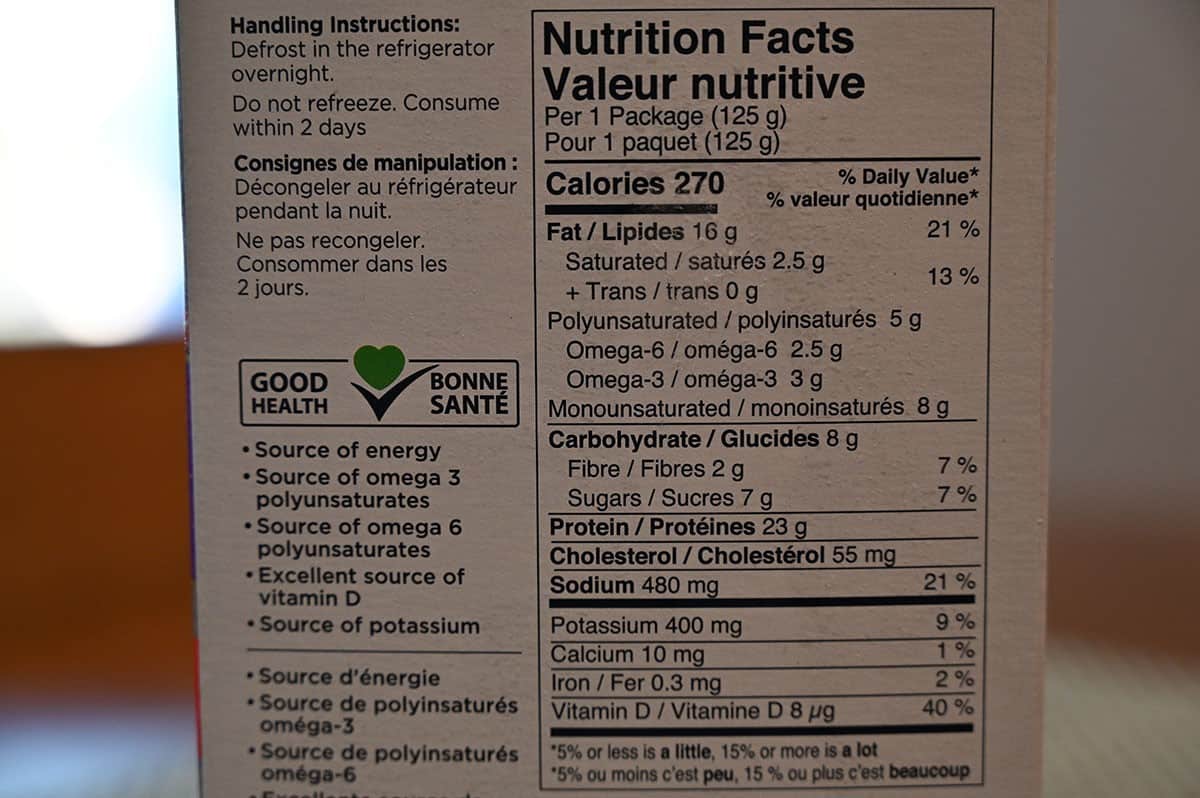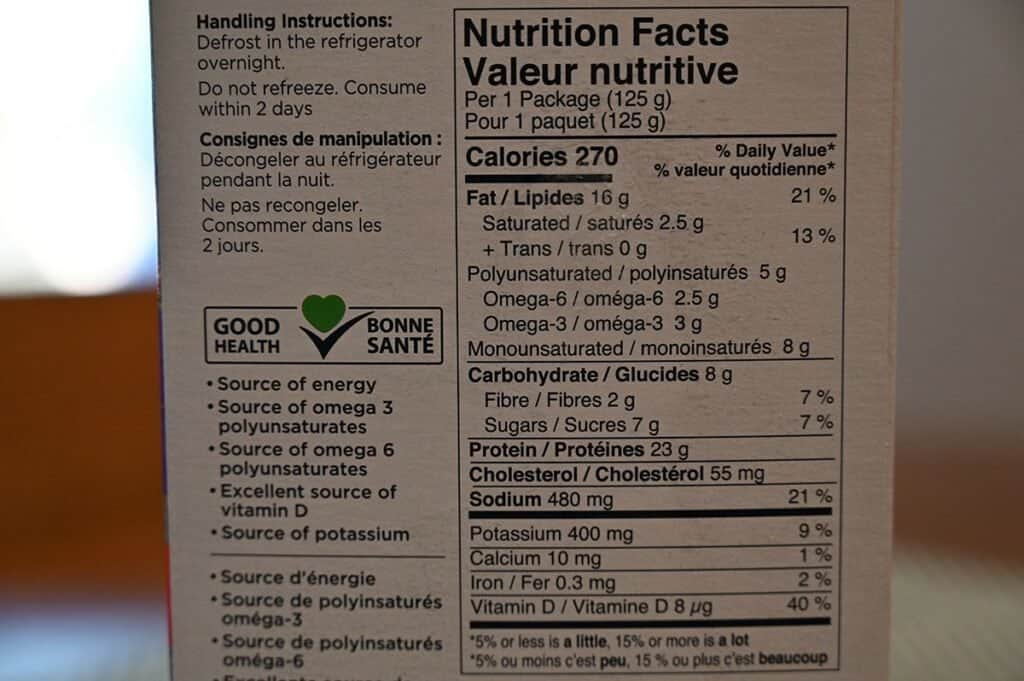 Nutrition
Calories
One package is 270 calories, sixteen grams of fat, eight grams of carbohydrates, two grams of fibre, seven grams of sugar and 23 grams of protein. Salmon is naturally high in healthy fats so don't be alarmed by the high fat content.
The 23 grams of protein is amazing and the calories aren't super high. I wish there was a little less sugar and a tiny bit less sodium but none of these nutrition facts are really shocking.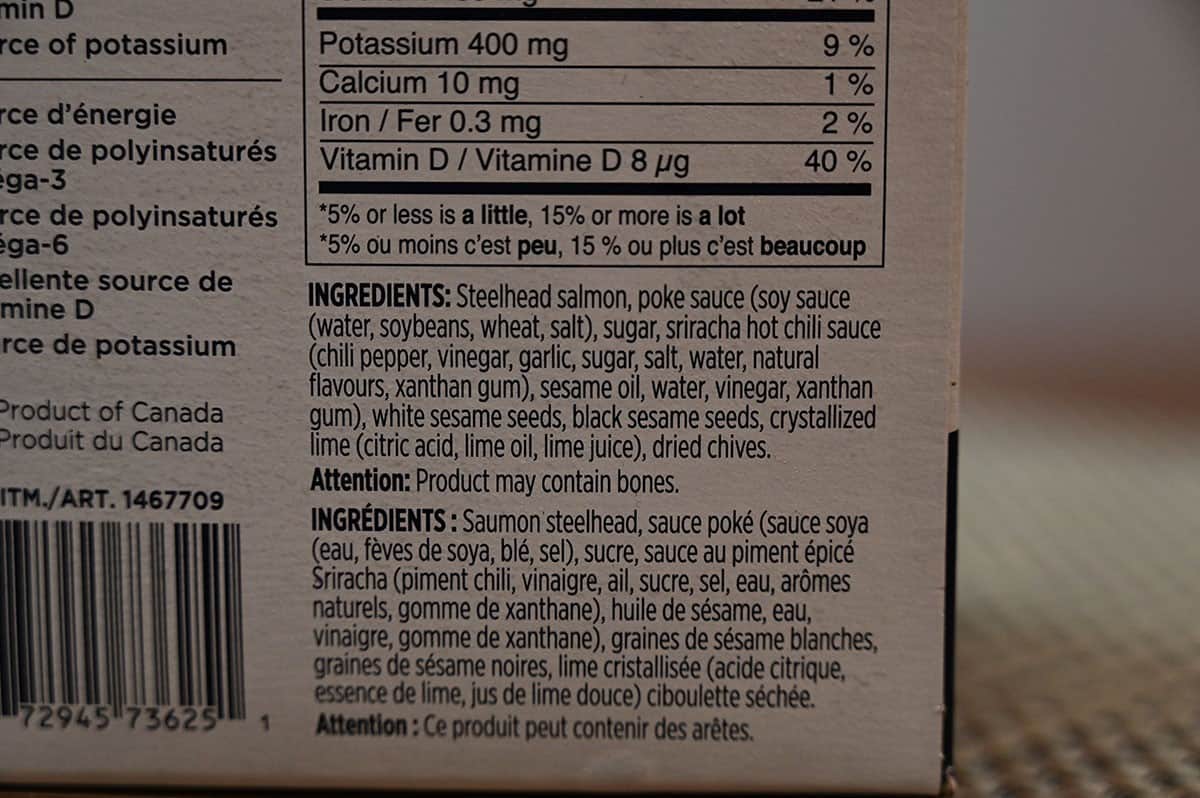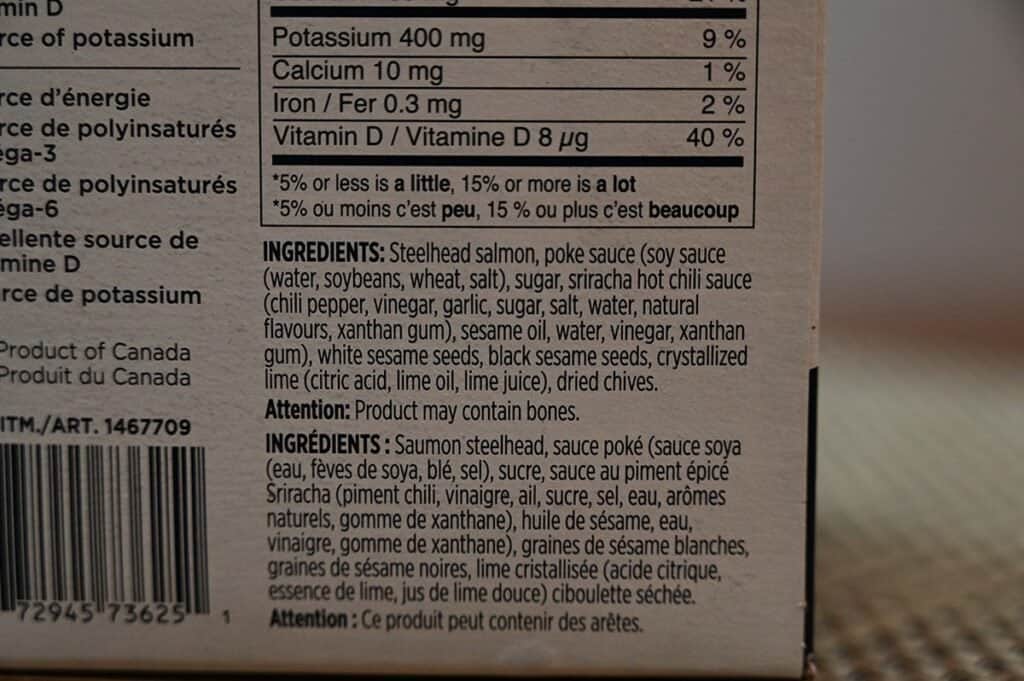 Ingredients
The first ingredient is salmon which is a good sign! The other ingredients are all ingredients I expected to see listed because I can distinctly taste them. For example, the sesame oil. sriracha and soy sauce.
Scoring
Taste: 9.5/10
Cost: 8/10
Convenience: 10/10
Nutrition: 8/10
Overall
Must buy!
Even if you're a bit leery about poke because it's raw, give this poke from Costco a chance! If you already love poke, I guarantee you'll find this so tasty!
Have you tried this? What did you think? What do you add to your poke bowl?
---
Please note that this review was not paid for or sponsored by any third party. This product was purchased by Costcuisine for the purpose of producing this review. The opinions in this review are strictly those of Costcuisine. Costcuisine is not affiliated with Costco or any of its suppliers. In the event that Costcuisine receives compensation for a post from the manufacturer of a product or some other third party, the arrangement will be clearly disclosed (including where the manufacturer of a product provides Costcuisine with a free sample of the product).