Restaurant quality salad that's conveient, delicious and available at Costco!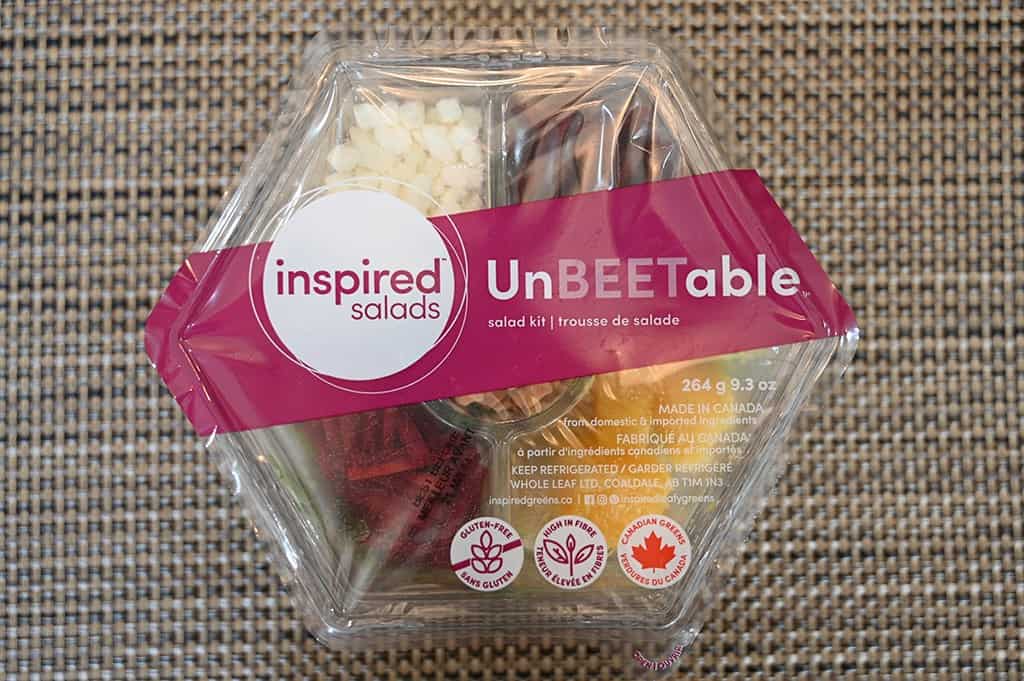 Despite all the sweets & treats I review, Sean and I eat relatively healthy, salads are a big part of our diet! I think I have tried every single salad I've been able to find at Costco since I started the blog back in 2018. Today I'm reviewing the Inspired Salads Unbeetable Salad Kit from Costco.
Other salads from Costco I've reviewed are the Winter Soltice Inspired Foods Salad, Kickin' Caprese Inspired Foods Salad, Taylor Farms Dill Pickle Salad, Taylor Farms Steakhouse Salad, Costco Kirkland Signature Quinoa Salad, Eat Smart Sweet Kale Salad Kit and the Taylor Farms Baja Chopped Salad Kit.
This beet salad can be found in the produce room and the item number is 1529652.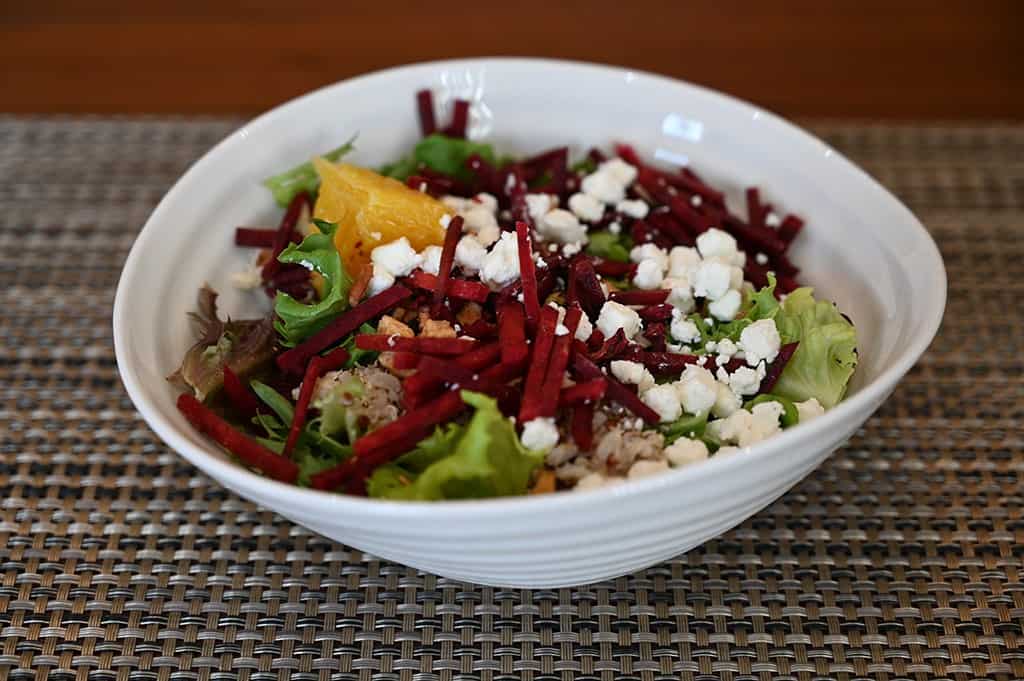 Taste
Love this salad from Costco! It's so unbelievably flavorful and tasty. The salad has so many ingredients in it that all mix with one another perfectly and create just a really delicious salad.
There's pumpkin seeds. goat cheese, lettuce, fresh beets, mixed grains, dried apples and dried beets all in this salad! You also get a seperate small container of an orange vinaigrette.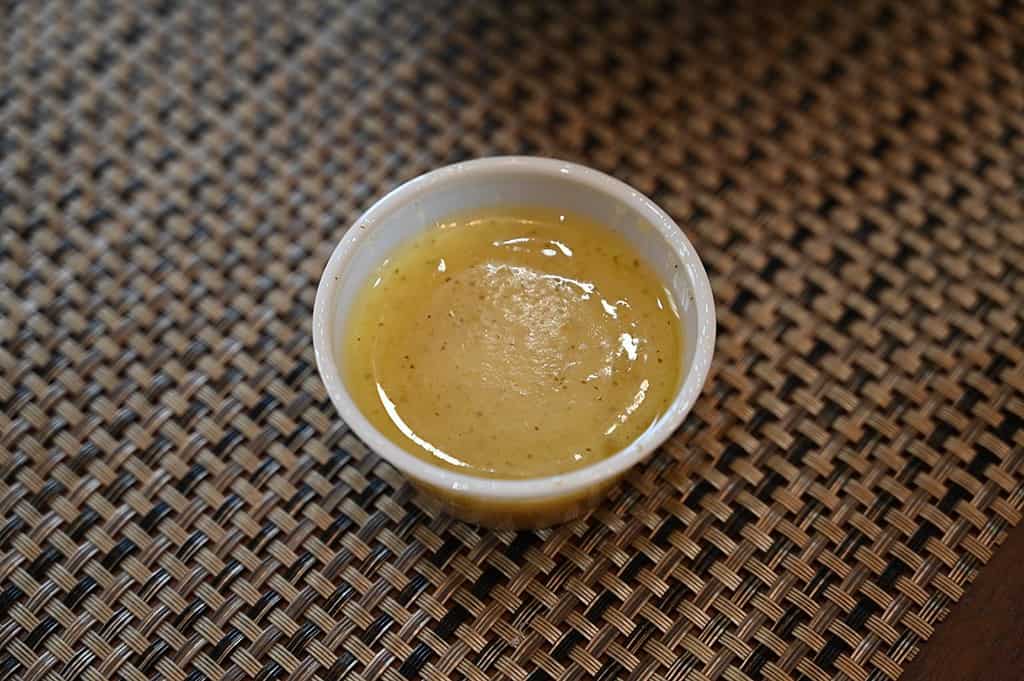 The orange vinaigrette is delicious and zesty, definitely has a strong citrus flavor that pairs well with the beets and goat cheese. Speaking of the goat cheese…Best goat cheese ever, it's so creamy, smooth and slightly tangy.
I really like the different textures of all the ingredients, you've got crunchy, soft and chewy all in one salad. In terms of flavor and quality, this salad tastes like an expensive salad I would order at a restaurant.
I'll be honest, this salad seems to have way more toppings than actual lettuce so if you prefer salads that are more lettuce heavy you could add your own additional lettuce to "thin this out" a bit!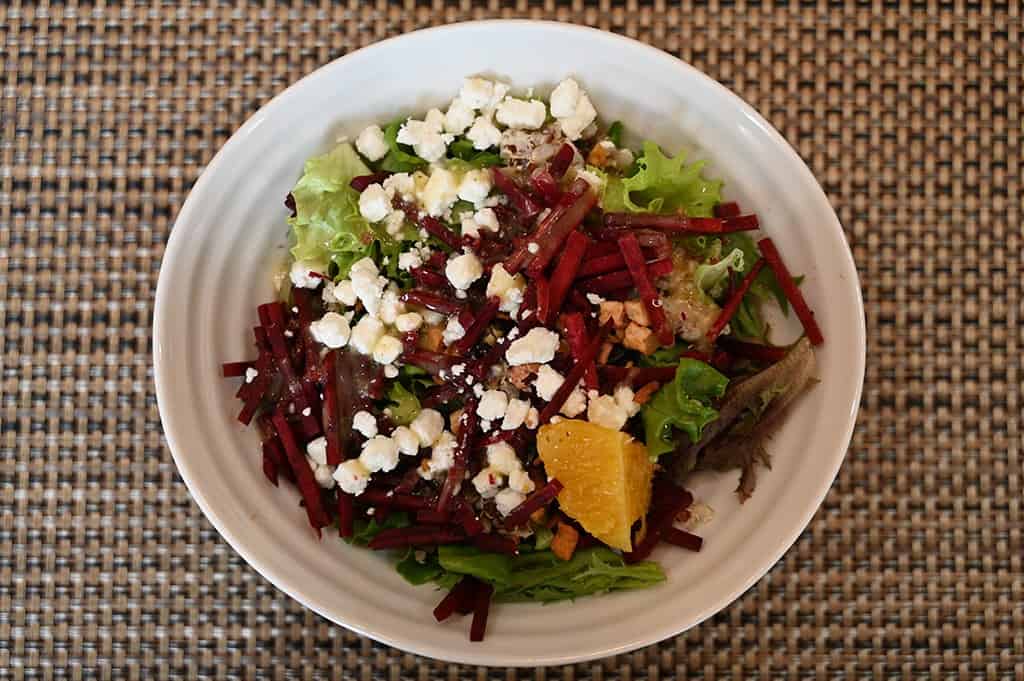 Cost
I paid $7.99 Canadian for the 264 gram salad which is not cheap but is not as unreasonable as you may initially perceive it to be after tasting the salad.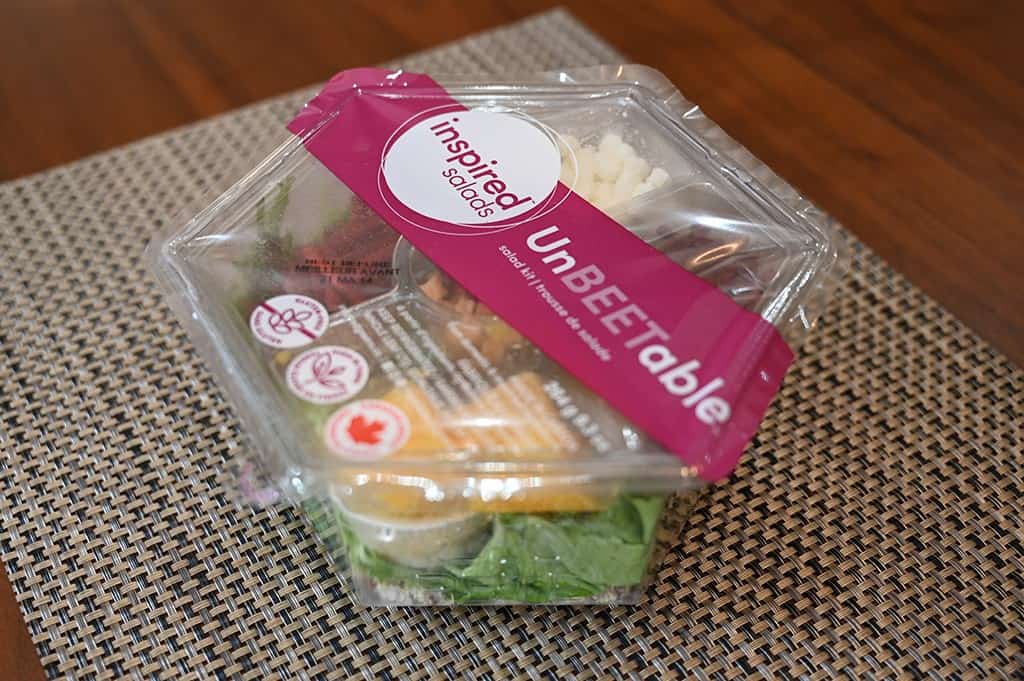 Convenience
You can eat the salad right out of the container after dumping the ingredients from the top tray into the bottom lettuce portion. This is perfect for one as a full-meal or as a side salad for one to four people.
If you're serving four people with one salad I'll mention that each person will be getting a teeny tiny bowl! I'd recommend sharing this with two people. The best before date is about five days from the date we purchased the salad.
This is also a really convenient lunch item to bring to work! You can just bring your salad and a fork. Sometimes we eat these for dinner with some chicken or steak.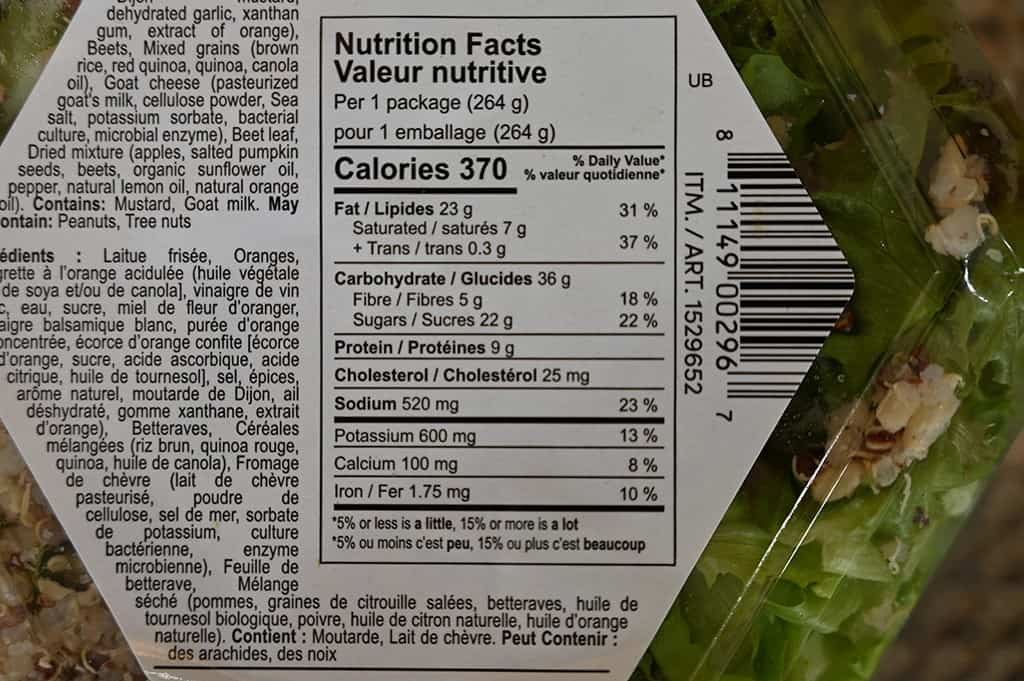 Nutritional
Definitely not as healthy as a salad can be. One entire container is 370 calories, 23 grams of fat, 36 grams of carbohydrates, five grams of fibre, 22 grams of sugar, nine grams of protein and 520 mg of sodium.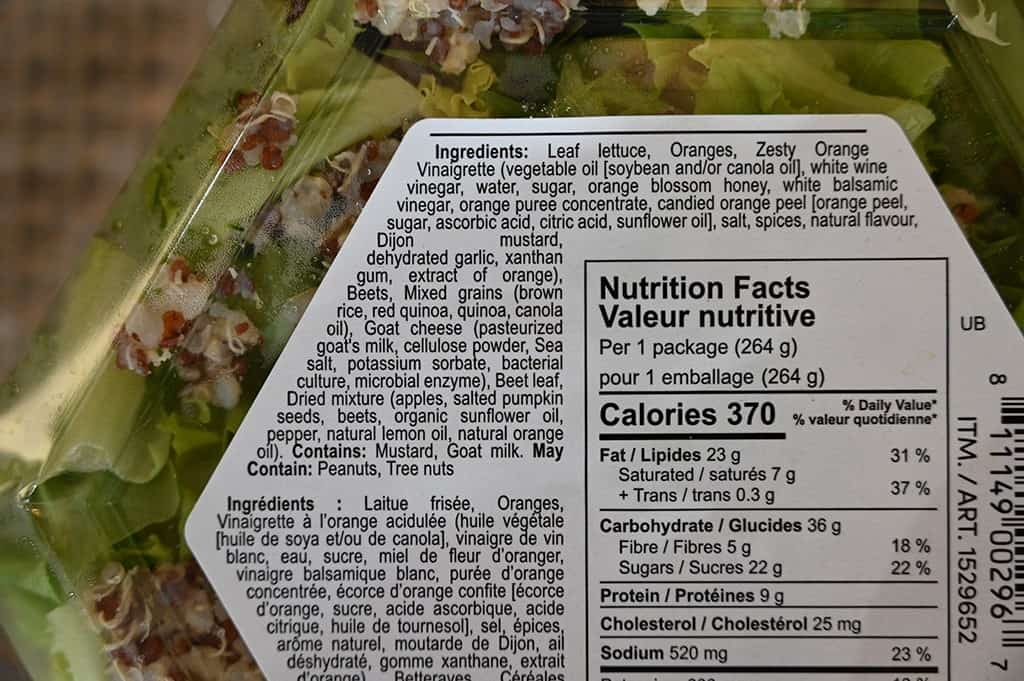 If you're watching your sugar intake you might want to skip this salad option. Also why does the salad dressing need to be made out canola oil?! Why can't they use olive oil or avocado oil?
Scoring
Taste: 8.5/10
Cost: 6.5/10
Convenience: 10/10
Nutrition: 5/10
Overall
Give it a try!
I think of these Inspired Salads from Costco as "treat salads" and buy them when we're having a fancier dinner at home!
Have you tried this? What did you think?
---
Please note that this review was not paid for or sponsored by any third party. This product was purchased by Costcuisine for the purpose of producing this review. The opinions in this review are strictly those of Costcuisine. Costcuisine is not affiliated with Costco or any of its suppliers. In the event that Costcuisine receives compensation for a post from the manufacturer of a product or some other third party, the arrangement will be clearly disclosed (including where the manufacturer of a product provides Costcuisine with a free sample of the product).