Breakfast sandwiches are easy to grab and go, but they're definitely not easy to make from scratch! You basically have to cook a full breakfast and then turn it into a sandwich. These Jimmy Dean Sausage, Egg & Cheese Croissant Sandwiches are much easier to make – you just microwave them and they're ready to go. Is it worth keeping a box in your freezer for days when you need a quick breakfast?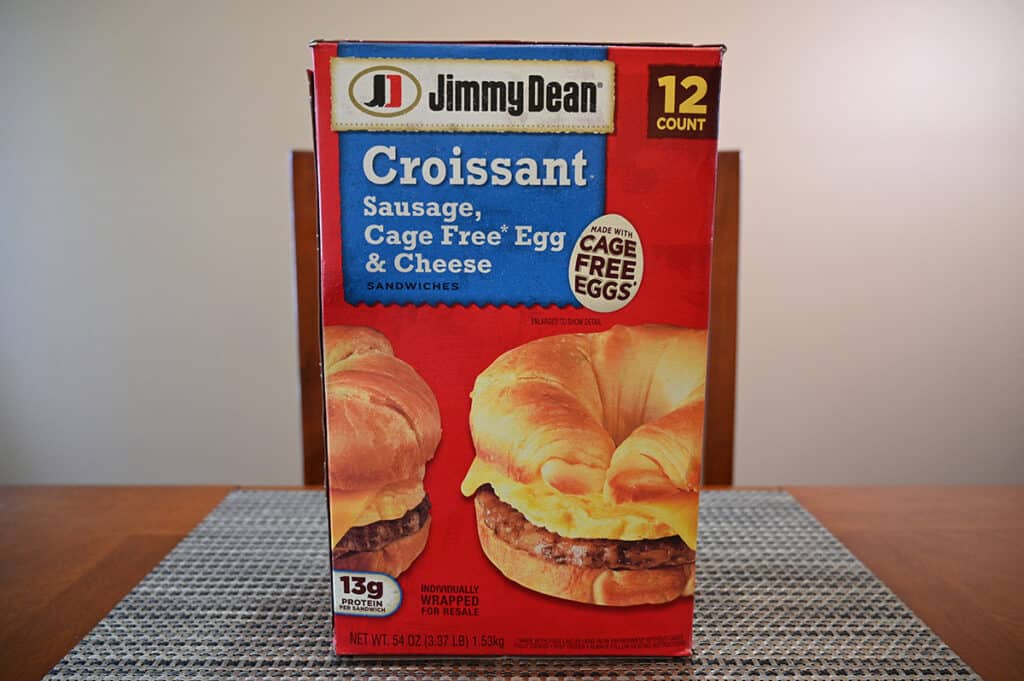 Other breakfast products from Costco are the El Monterey Breakfast Wraps, Greenfield Natural Natural Meat Co. Breakfast Sausage Rounds, Smokey River Meat Company Turkey Breakfast Sausage, Spudlers Breakfast Hash, Eat-In Breakfast Sandwiches, Kirkland Signature Maple Syrup, Golden Grill Hashbrown Potatoes and the Kirkland Signature Muffins.
Location in Store
I bought these in the Kalispell, Montana Costco and found them in the freezer aisle. The item number is 1312303.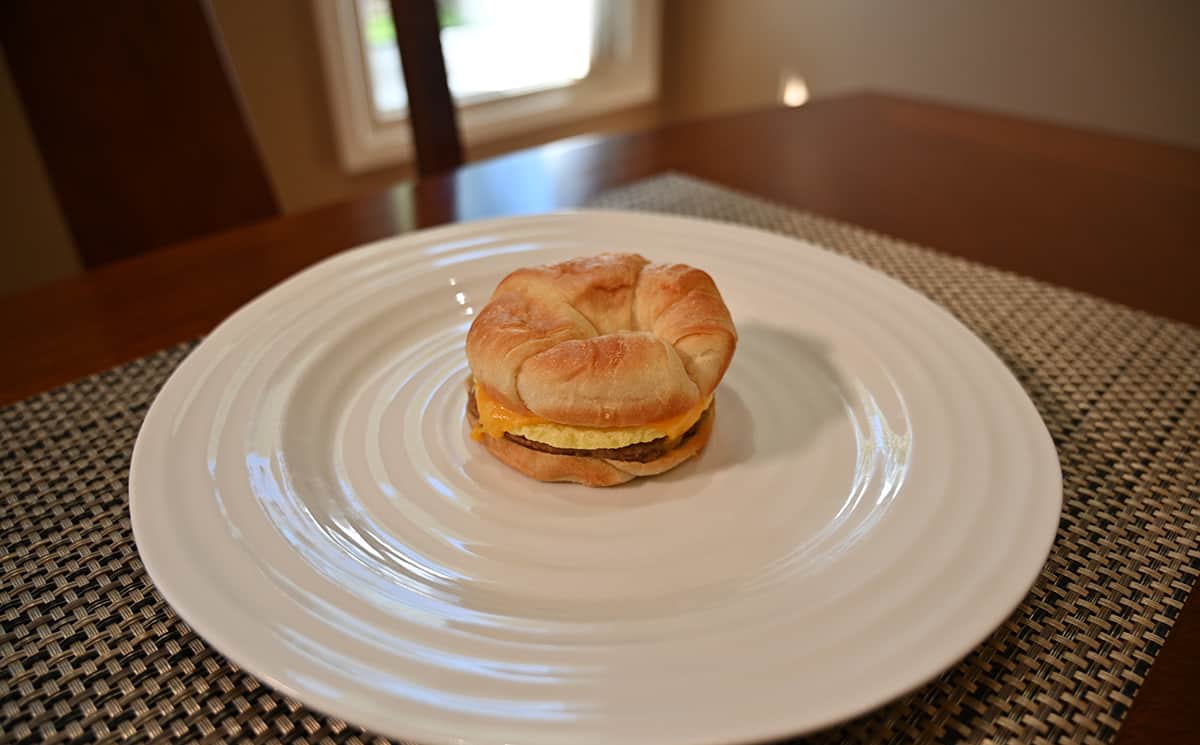 Taste
The first thing I noticed was that the croissants are soft and buttery. I could smell and feel the butter, and I could definitely taste the butteriness of the croissant as I was eating my breakfast sandwich. The croissants are obviously the biggest difference between these breakfast sandwiches and a typical one, and it makes them richer and sweeter.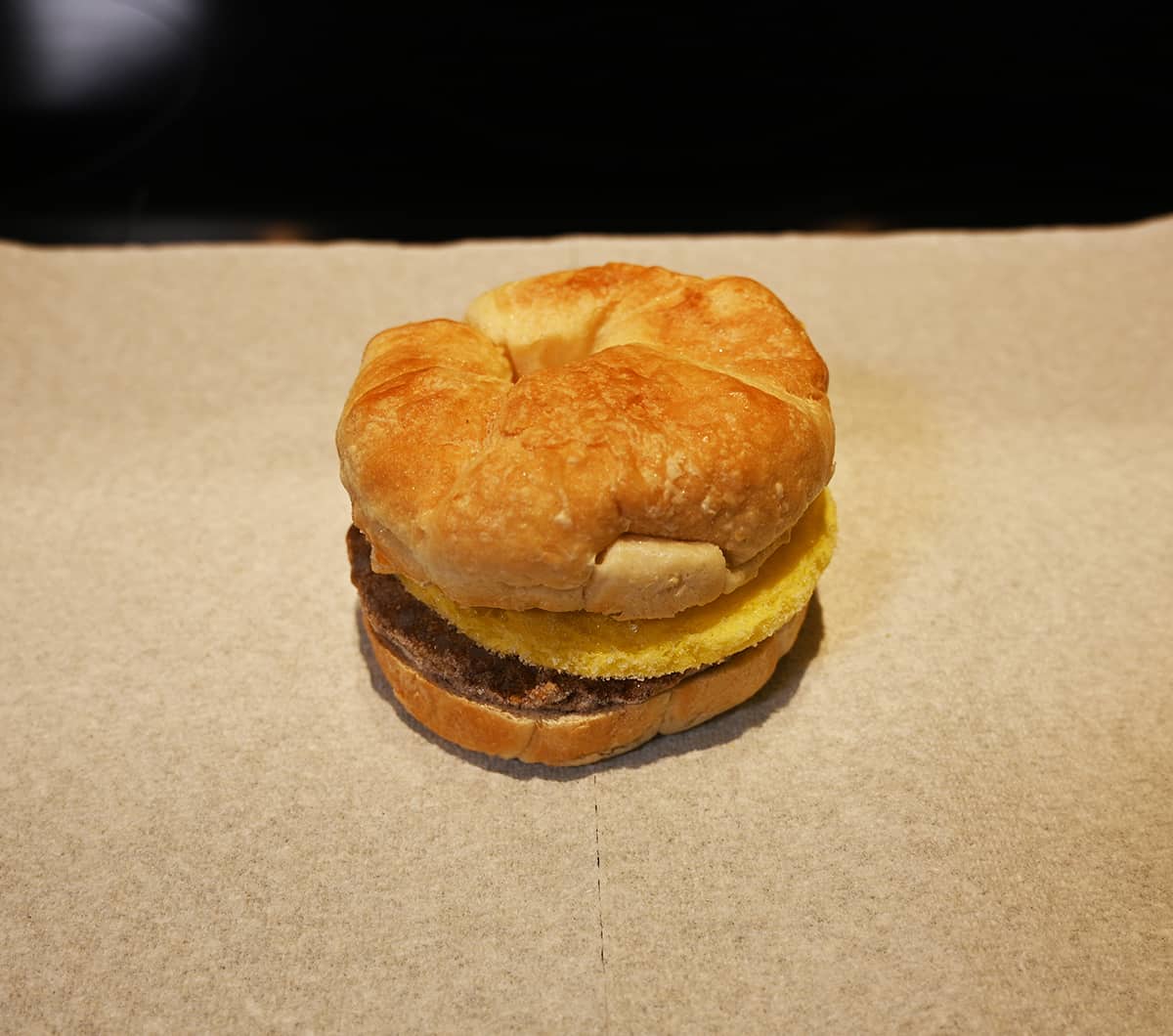 The other parts of the Sausage, Egg & Cheese Croissants are pretty typical. The sausage patty is fairly thin, a little on the greasy side and has some hard/gristly bits. The egg doesn't have much flavor. The cheese is a plain, mild cheddar.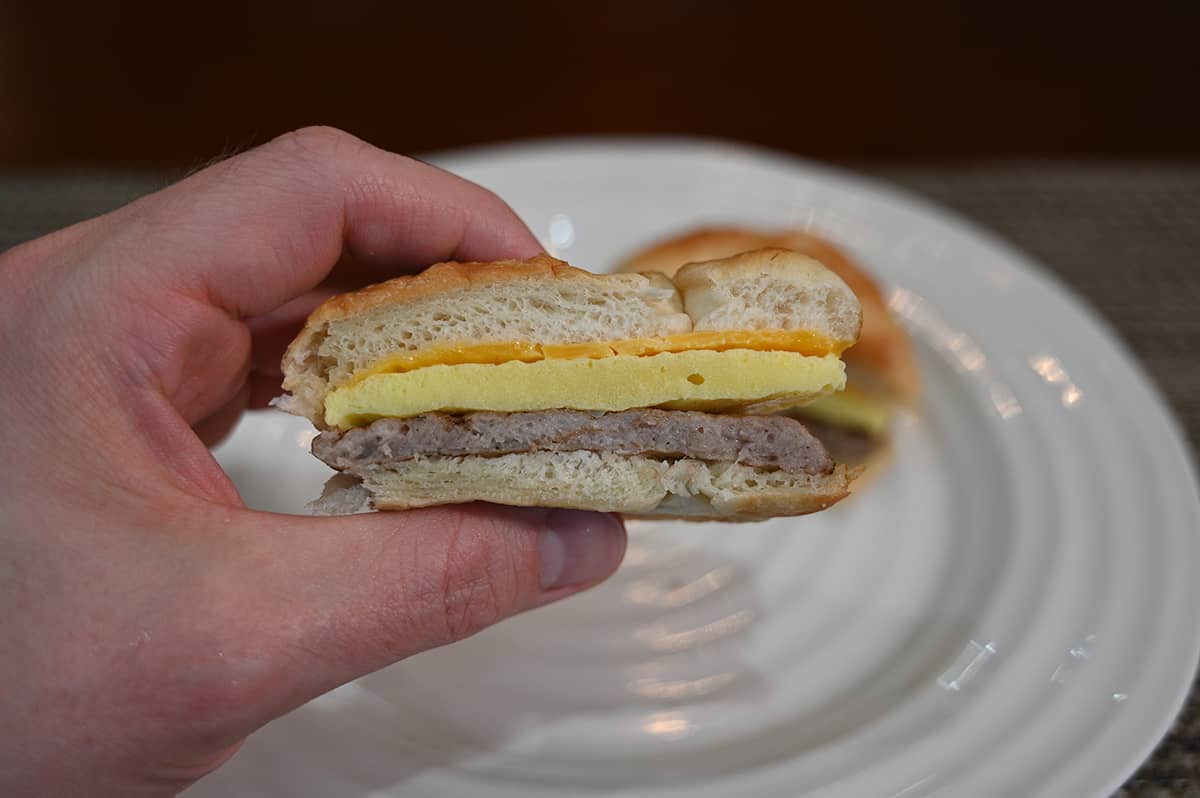 Personally, I found these Sausage, Egg & Cheese Croissants a little bit much. I prefer my breakfast sandwiches on a bun or English muffin so that they're less greasy and sweet. It doesn't help that the sausage patties on these ones are also pretty greasy.
Cost
The box contains 12 individually wrapped croissant breakfast sandwiches and costs $14.79 USD at Costco.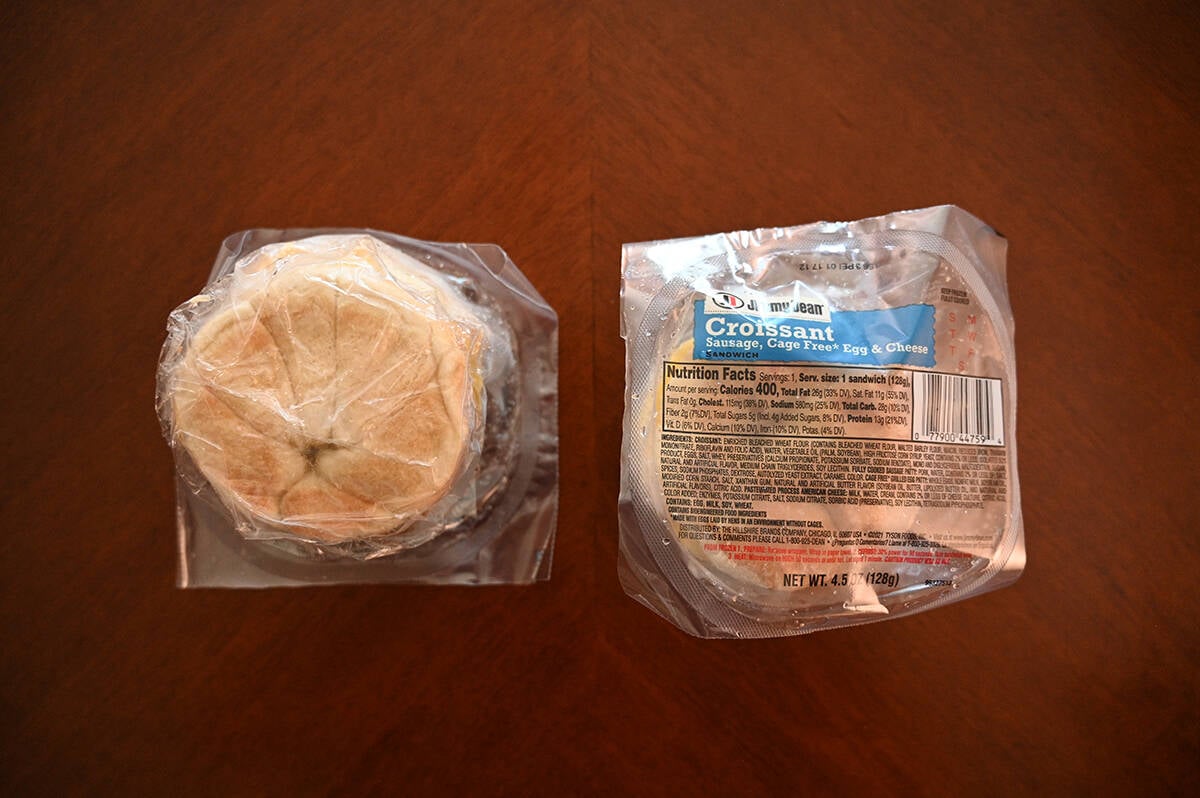 That works out to about $1.23 per sandwich which is cheaper than buying a breakfast sandwich from a restaurant or fast food restaurant but not super cheap.
Convenience
The sandwiches need to be kept frozen but can be refrigerated for up to three days if you want to thaw them before heating. If you're heating them from frozen you need to defrost them in the microwave at 30% power for 90 seconds before heating them for an additional 50 seconds on high.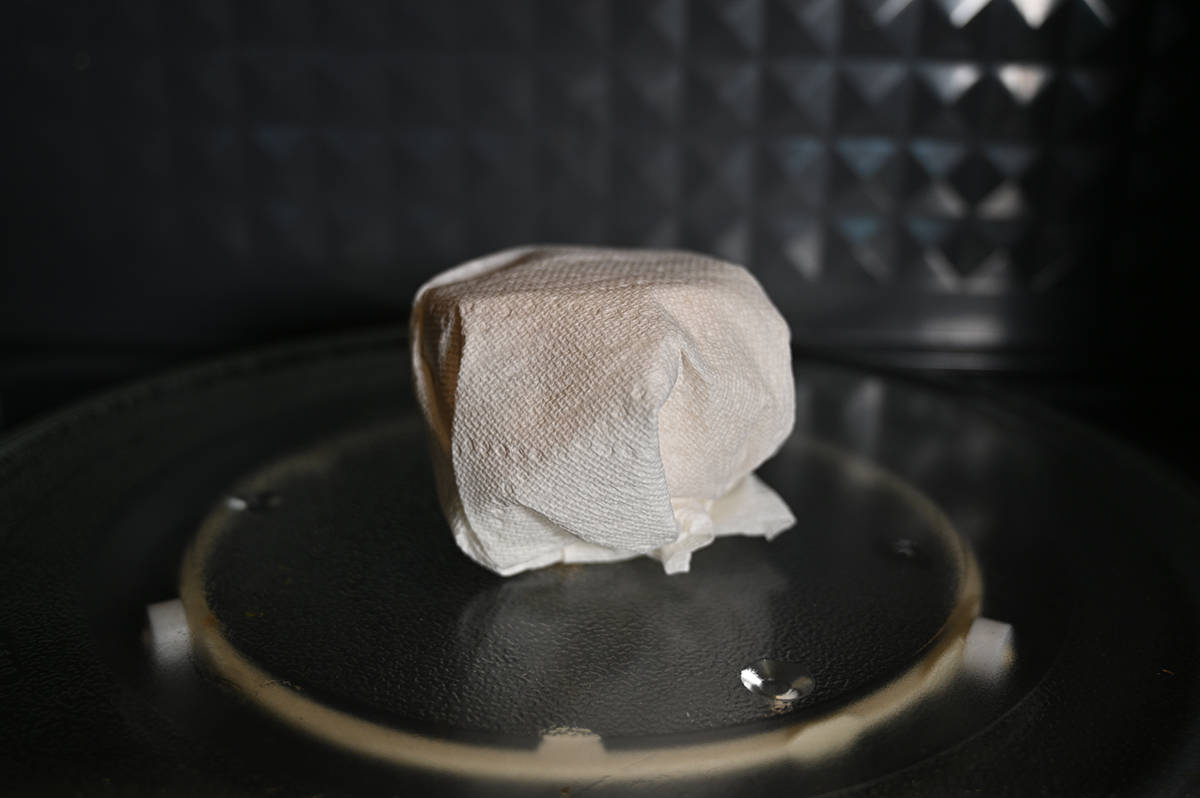 If you're heating them thawed you simply just microwave them on high for 50 second
There are only microwave heating instructions listed on the box. The best-before date is six months from when I purchased them. These Jimmy Dean Croissants are an easy, on-the-go breakfast.


Nutrition
Calories
One sandwich contains 400 calories, 26 grams of fat, 580 milligrams of sodium, 28 grams of carbohydrates, two grams of fiber, five grams of sugar and 13 grams of protein.
That's a ton of calories, fat and sodium but I expected this considering they're a processed croissant sandwich with sausage, cheese and egg in the middle.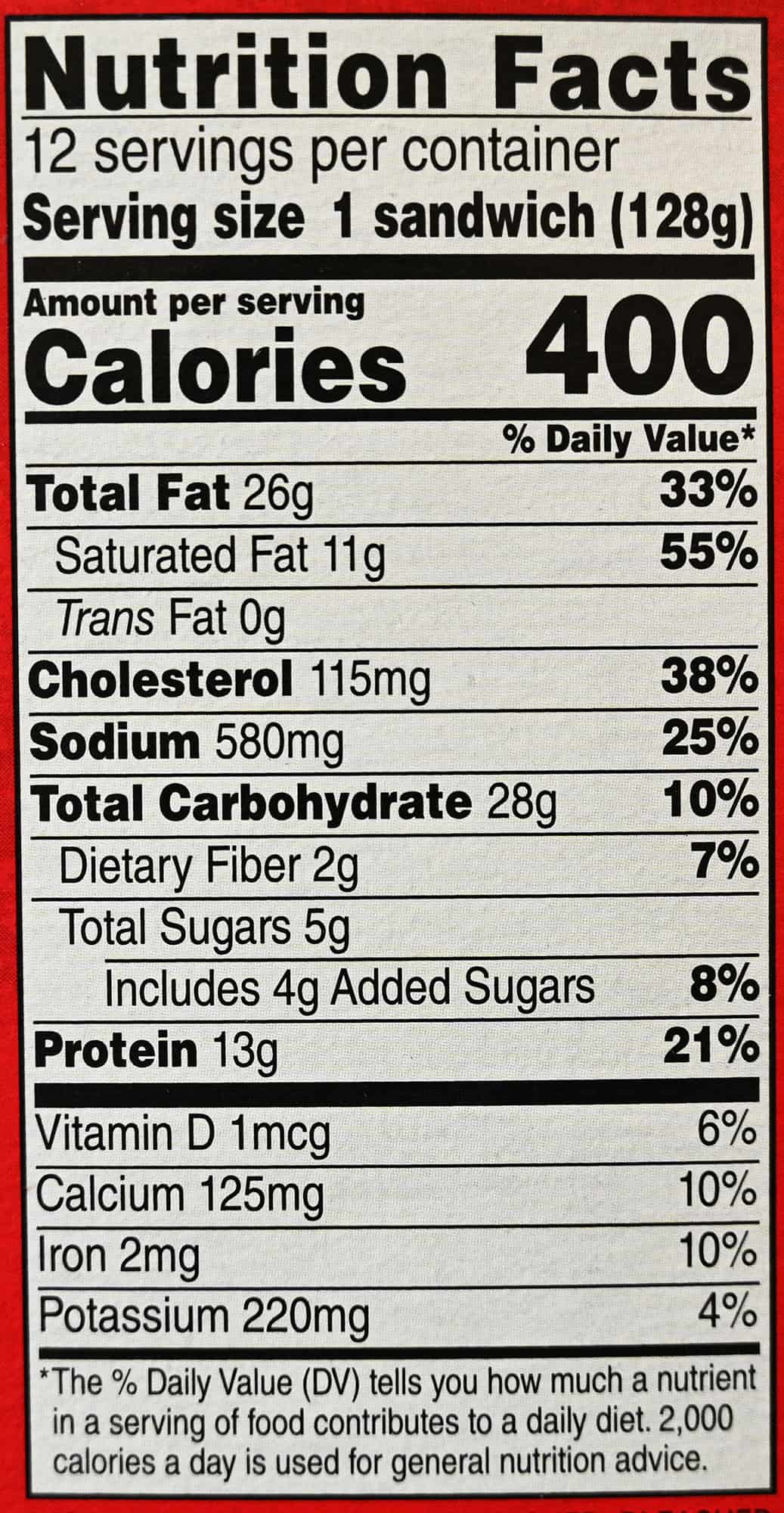 Ingredients
There are lots of unhealthy ingredients in these I cringe at seeing. For example, high fructose corn syrup, preservatives, palm and soybean oil, sugar, artificial flavors and soybean oil. These sandwiches also contain bioengineered food ingredients.
The sandwiches contain milk, soy, egg and wheat. Honestly just skip these and make your own breakfast sandwiches at home, save yourself the unnecessary ingredients.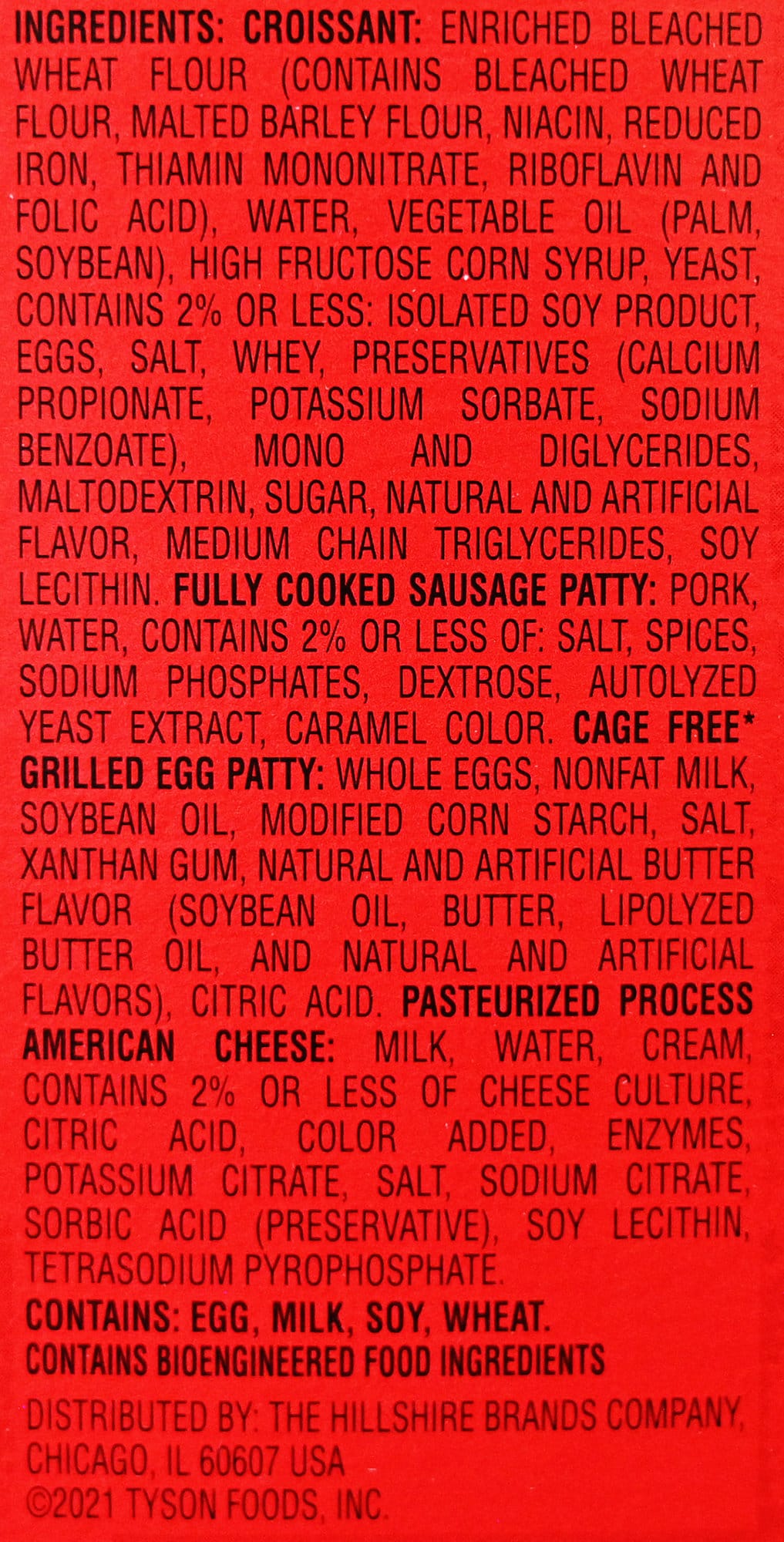 Scoring
Taste: 5.5/10
Cost: 7/10
Convenience: 10/10
Nutrition: 0/10
Overall
Walk on by!
Make your own breakfast sandwiches with simple whole ingredients. Processed food like this has a way of tasting good but it's just not worth it in my opinion.
Have you tried these Jimmy Dean Croissant Sandwiches? What did you think of them?
---
Please note that this review was not paid for or sponsored by any third party. This product was purchased by Costcuisine for the purpose of producing this review. The opinions in this review are strictly those of Costcuisine. Costcuisine is not affiliated with Costco or any of its suppliers. In the event that Costcuisine receives compensation for a post from the manufacturer of a product or some other third party, the arrangement will be clearly disclosed (including where the manufacturer of a product provides Costcuisine with a free sample of the product).