These convenient Costco keto bagels are soft, high in fibre and protein and low in carbs!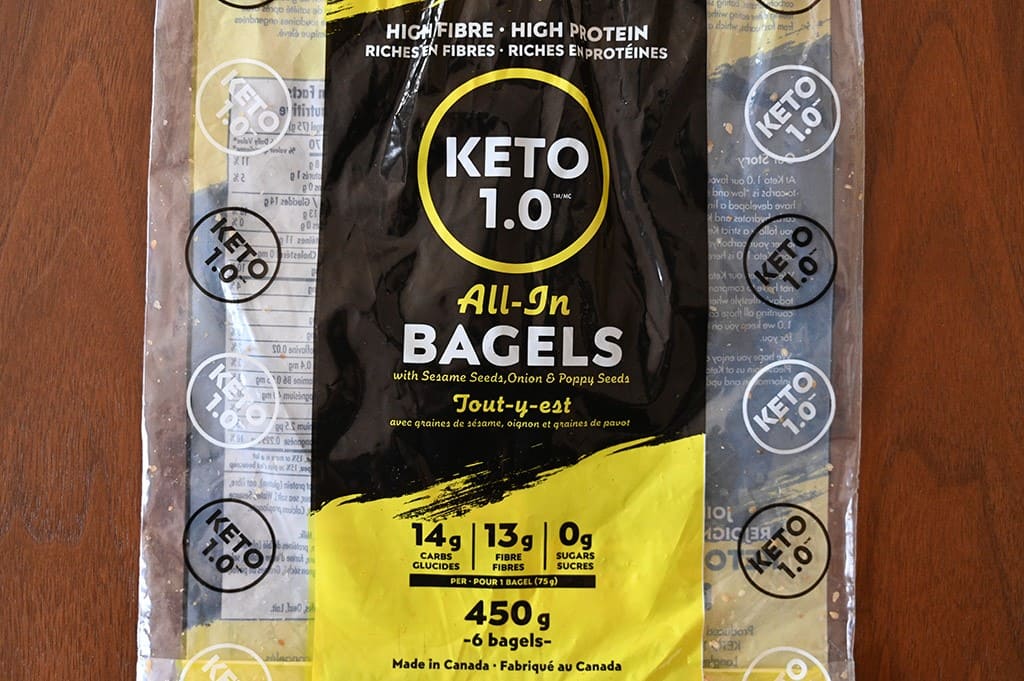 Today I'm reviewing the Costco Keto 1.0 All-In Bagels! I found these Costco keto bagels during our latest trip to Costco and decided I needed to pick them up to review here for anyone following a keto diet.
Other keto items I've reviewed that you may be interested in are the Costco Keto Skream Frozen Dessert Bars, Costco innofoods Keto Granola, Costco Universal Bakery Keto Bites, Costco innofoods Keto Crackers, Carbonaut Low Carb Keto Bread, Costco NoSugar Company Keto Bombs and the Costco Hungry Buddha Keto Bars.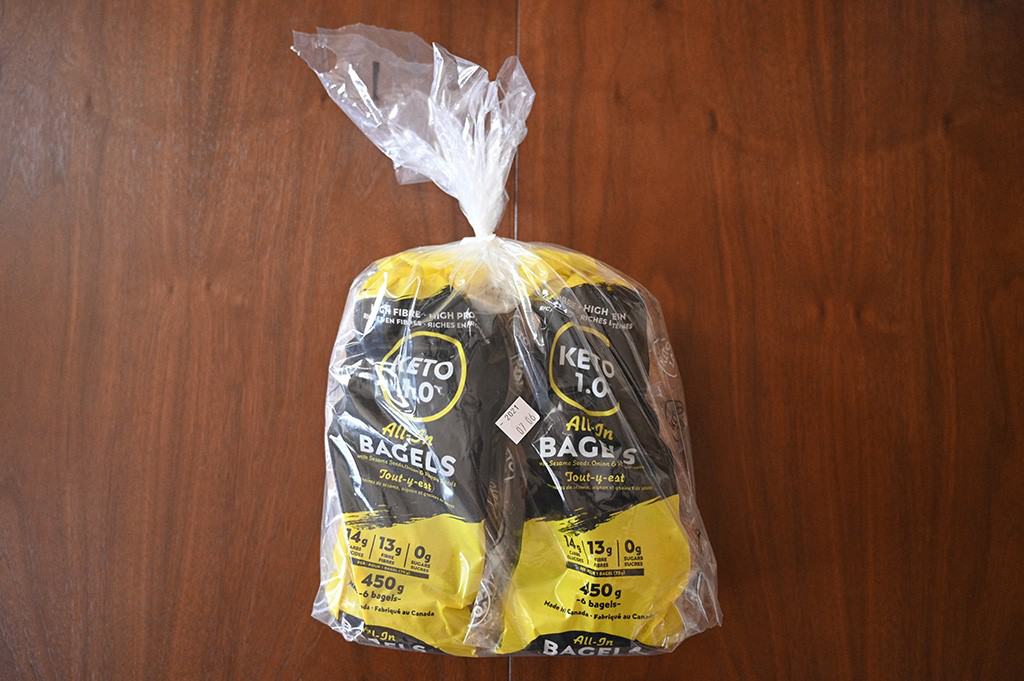 These keto bagels can be found in the bakery section by all the other bread. The item number is 1536171.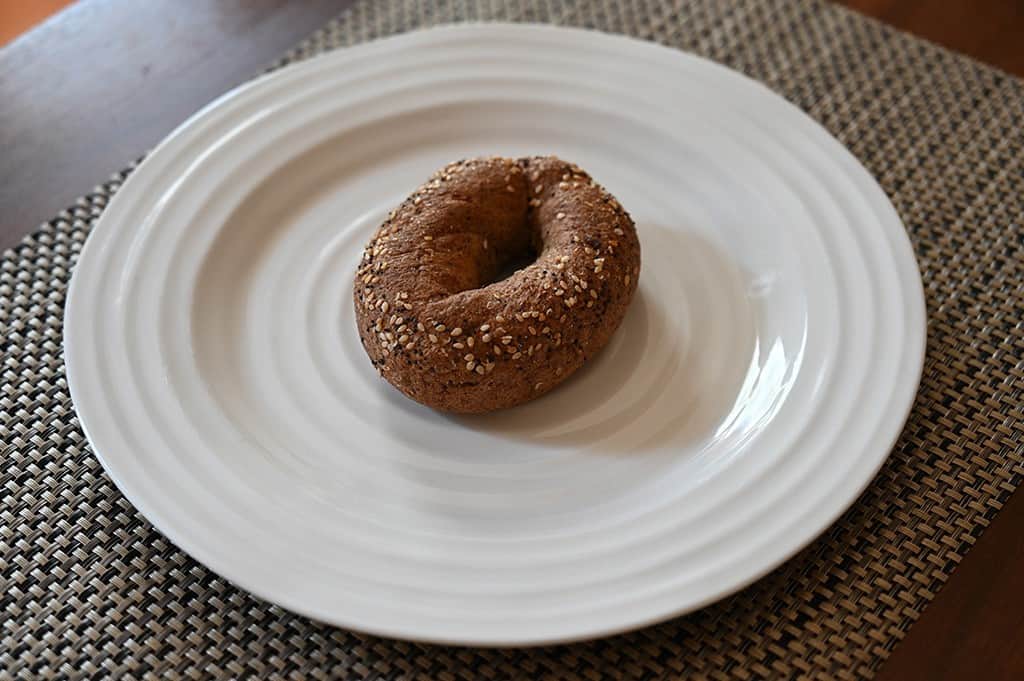 Taste
The keto bagels taste more like a whole grain bread than a bagel, they're missing that dense chewy texture that bagels normally have. Without toasting them the texture is quite spongey and even with toasting them they still taste more like bread than bagels. They don't have that nice crispness on the outside either.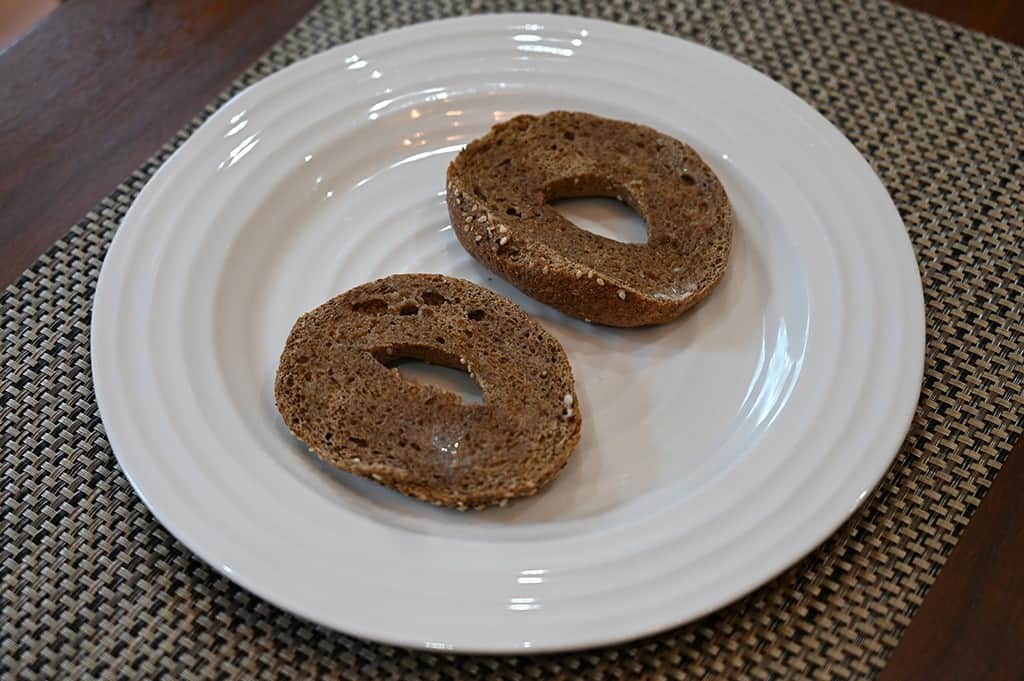 The overall flavor is pretty bland and flavorless except for a slight bitterness that lingers after each bite as well as hints of the sesame seeds, onions and poppy seeds. Luckily I found the bitterness goes away if you add butter or any kind of topping.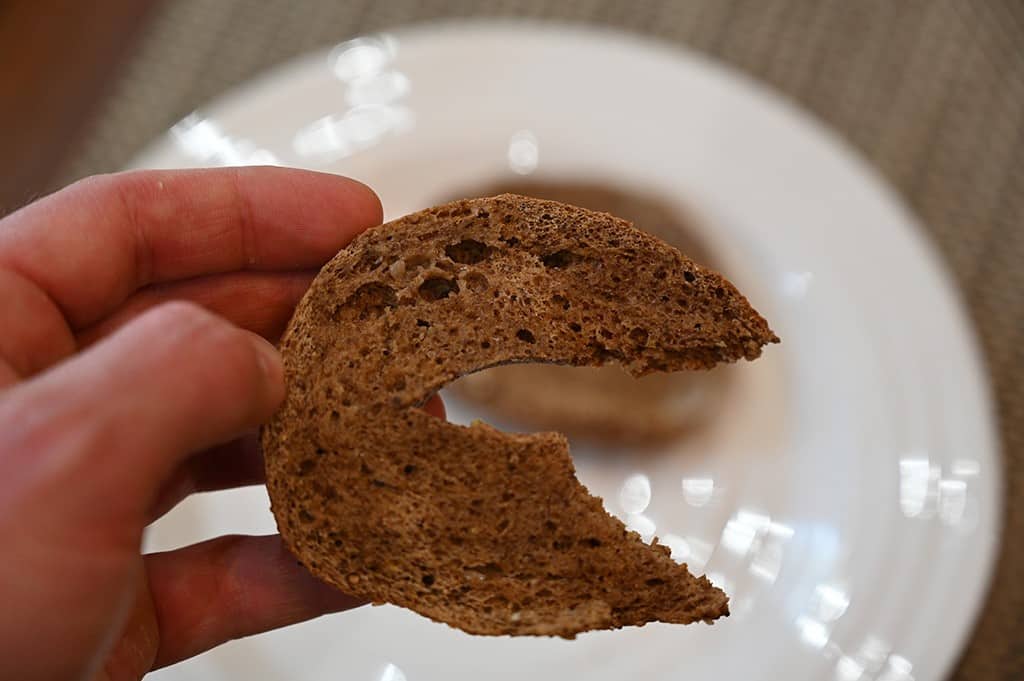 For a keto bread product these definitely aren't bad but if you're hoping to get something that tastes quite similar to a bagel in flavor and texture this isn't it.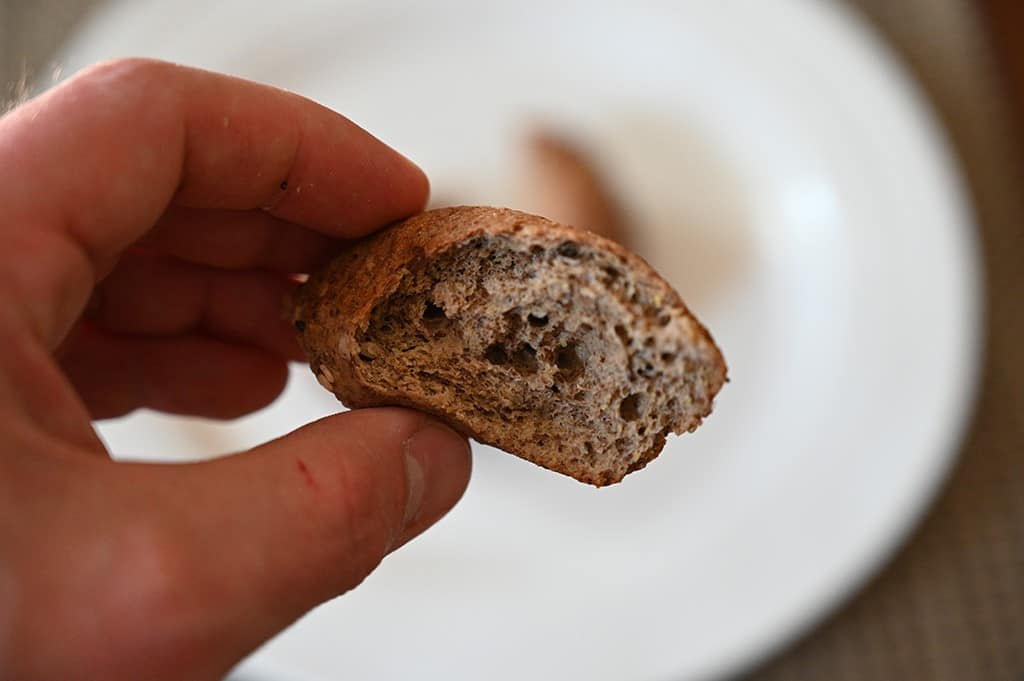 Cost
The regular price for the two bags of bagels is $7.99 Canadian. I paid $5.99 Canadian as they were on sale for $2 off. Each bag has six bagels in it. For a keto product, this price is extremely reasonable.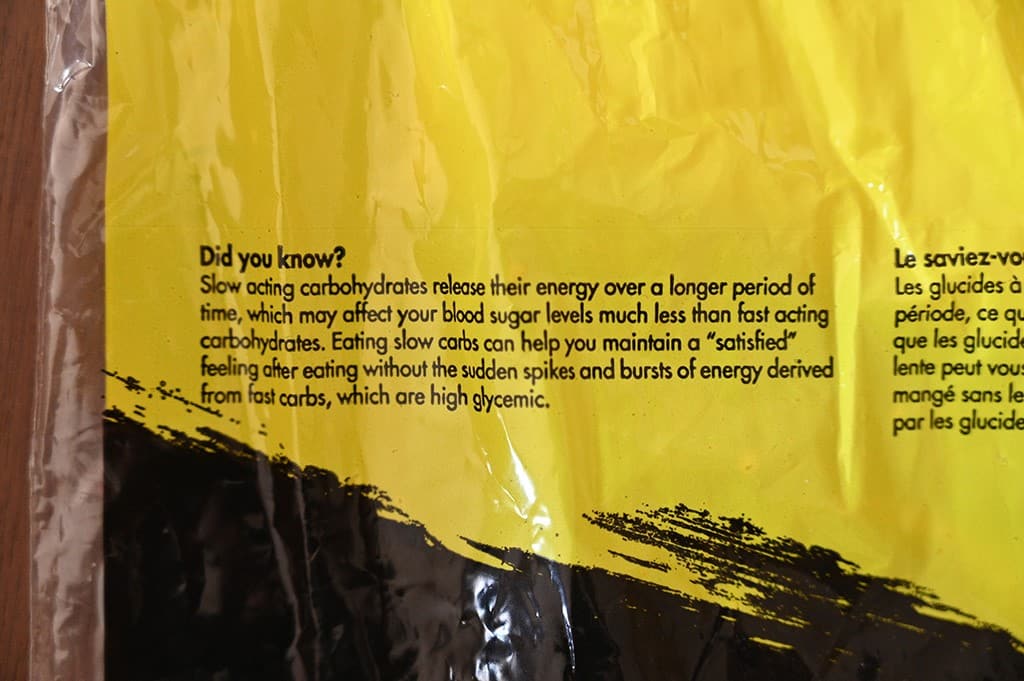 Convenience
The best before date on these Costco Keto 1.0 All-In Bagels is only four days from the date I purchased them on so into the freezer they go! They freeze just fine!
I would recommend toasting the bagels prior to having them and they definitely taste better with butter, cold cuts, vegetables, cream cheese or nut butter.
You get two bagels of bagels at Costco and each bag has 6 bagels. The bagels are also quite easy to in half!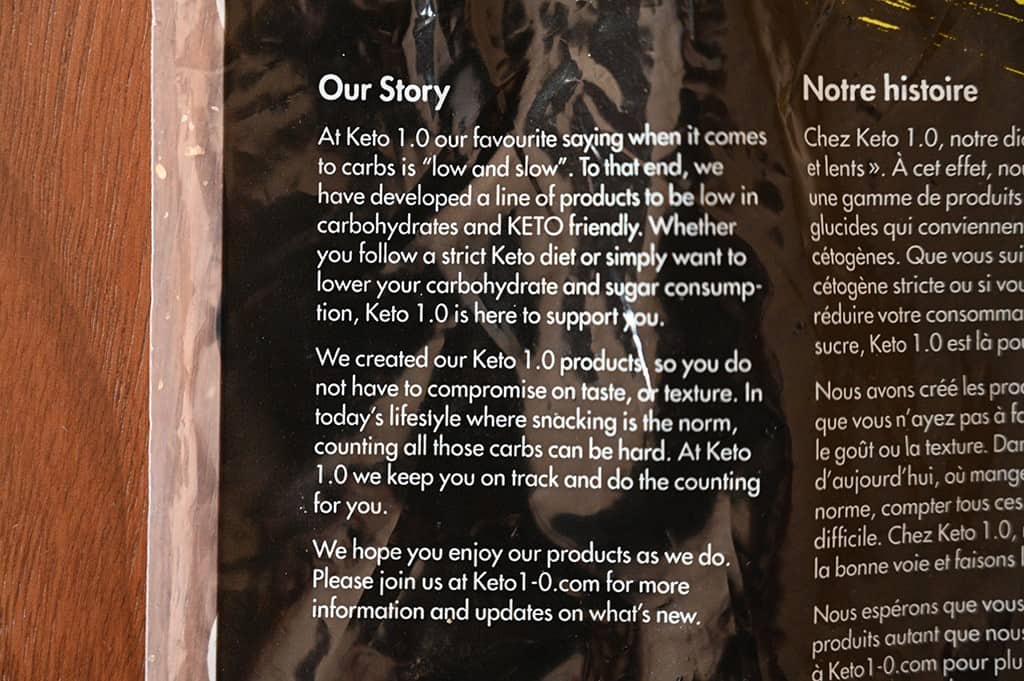 Nutrition
One bagel is 170 calories, eight grams of fat, 14 grams of carbohydrates, 11 grams of protein, 13 grams of fibre, zero grams of sugar and 240 mg of sodium.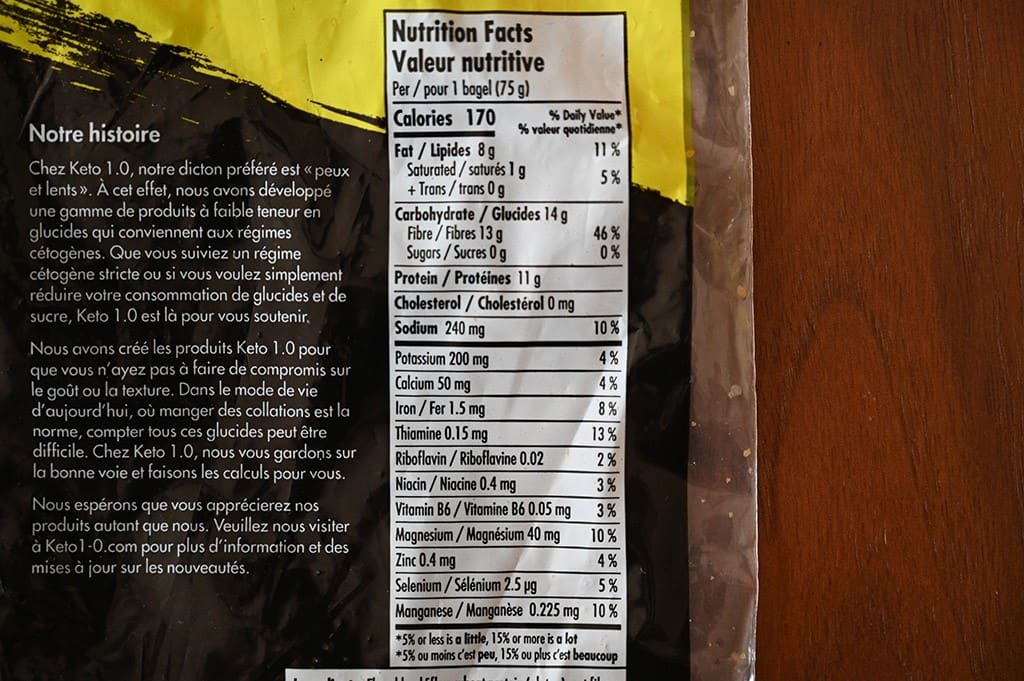 That's an awesome amount of protein and fibre! The fat is a little high for a bagel, especially compared to the Costco Kirkland Signature Plain Bagels but that's typical with keto foods!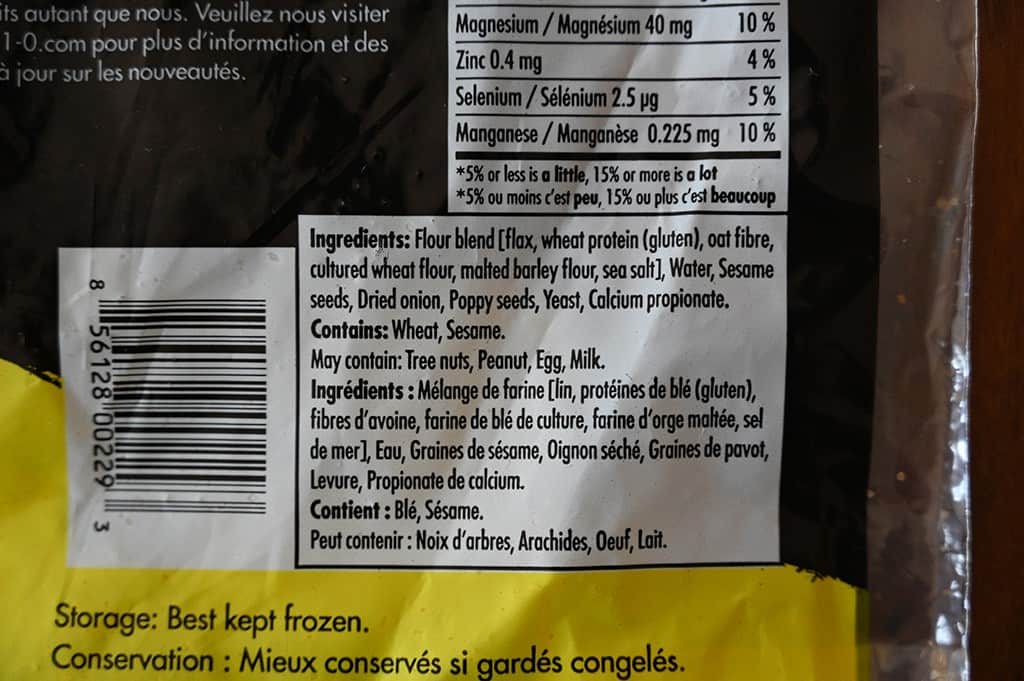 The ingredients list is short and sweet without a ton of additive or chemicals with I appreciate! These are NOT gluten-free though so if you're celiac or not eating gluten, unfortunately these aren't an option.
Scoring
Taste: 7.5/10
Cost: 9/10
Convenience: 10/10
Nutrition: 7/10
Overall
Give it a try!
If you're someone following a keto diet and are interested in trying a new keto bread product I would suggest trying these for yourself.
Have you tried the Costco keto bagels? What did you think of them?
---
Please note that this review was not paid for or sponsored by any third party. This product was purchased by Costcuisine for the purpose of producing this review. The opinions in this review are strictly those of Costcuisine. Costcuisine is not affiliated with Costco or any of its suppliers. In the event that Costcuisine receives compensation for a post from the manufacturer of a product or some other third party, the arrangement will be clearly disclosed (including where the manufacturer of a product provides Costcuisine with a free sample of the product).