The Kirkland Signature brand usually produces some tasty Christmas foods, are these luxury Belgian chocolates as good as they sound? I tried every single chocolate in the box of Costco Kirkland Signature Luxury Belgian Chocolates in order to provide an in-depth and honest review on them! 18 chocolates later, I'm ready to share my thoughts.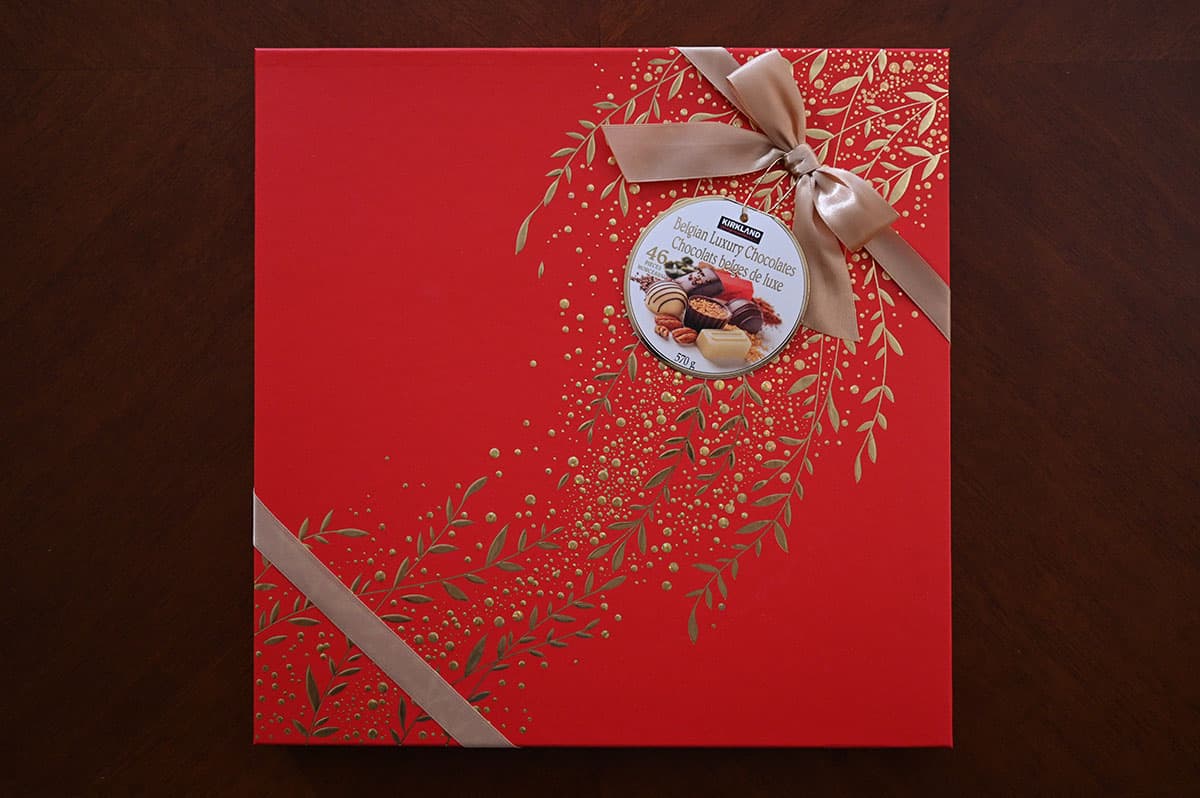 We're eating a lot of chocolate in our house and also giving a lot of half-eaten boxes to my parents lately! I've got another Costco Christmas chocolate review today. I'm talking all about the Kirkland Signature Belgian Luxury Chocolates.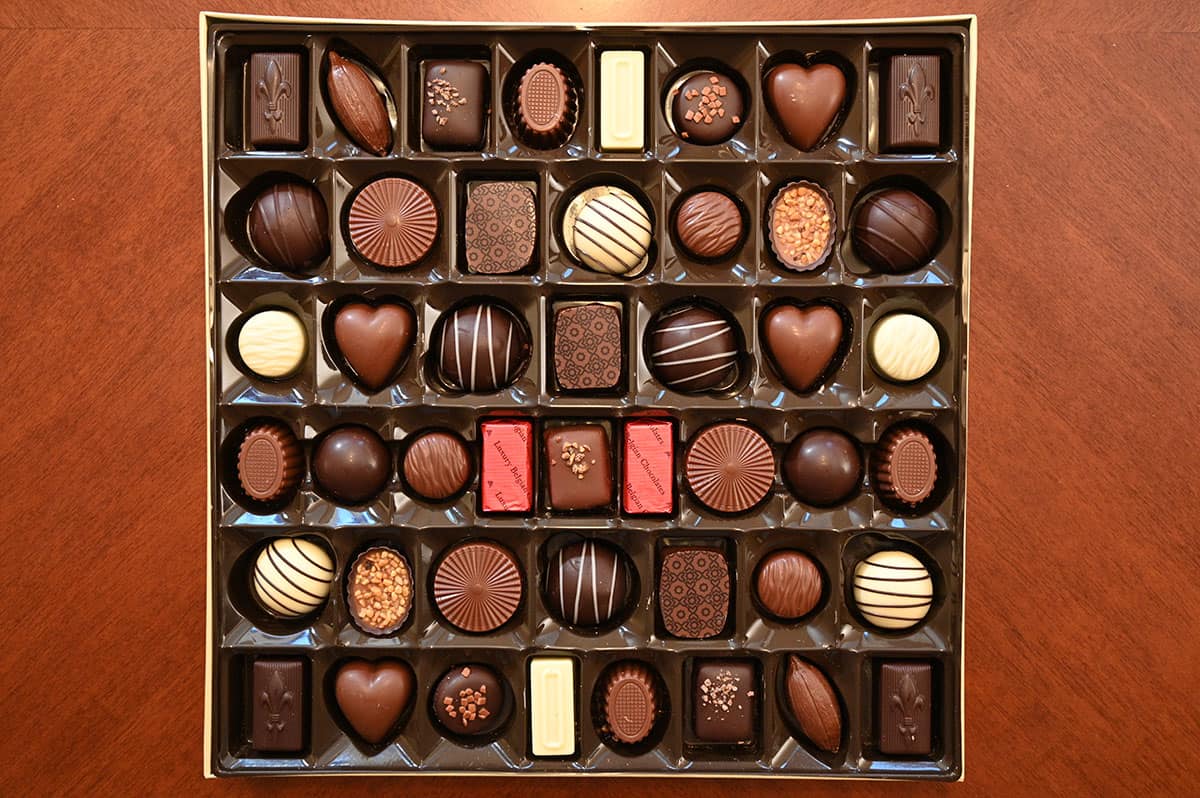 Other Christmas chocolates I love from Costco are the Kirkland Signature Macadamia Clusters, Lindor Assorted Chocolates, Grand Belgian Specialities Chocolates, Godiva Masterpieces Chocolates, Utah Truffles Mint Milk Chocolate Truffles, Truffettes De France Chocolate Truffles and the House of Brussels Chocolate Hedgehogs.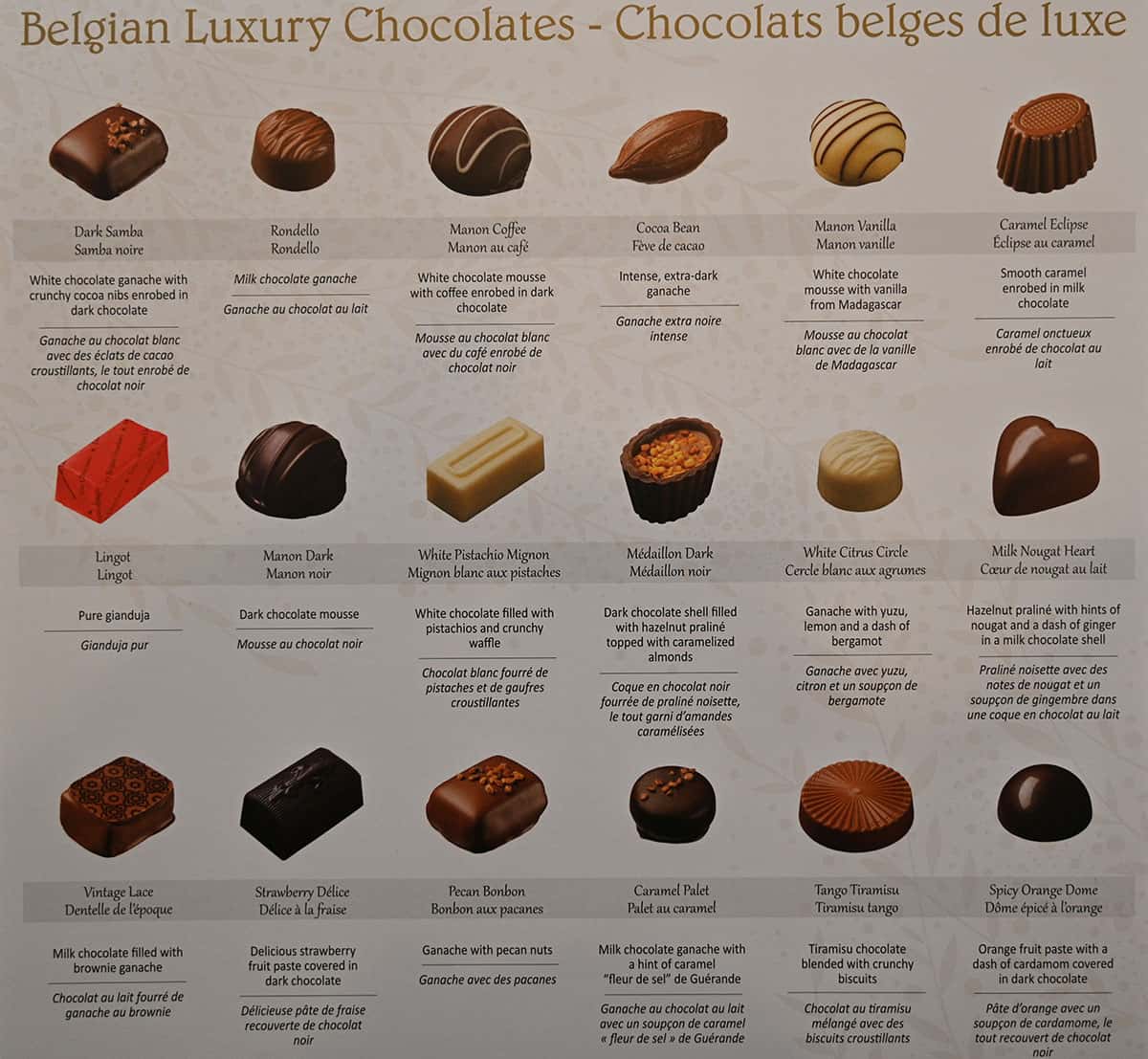 Location in Store
You can find these chocolates in the seasonal Christmas aisle at Costco, the item number is 131166.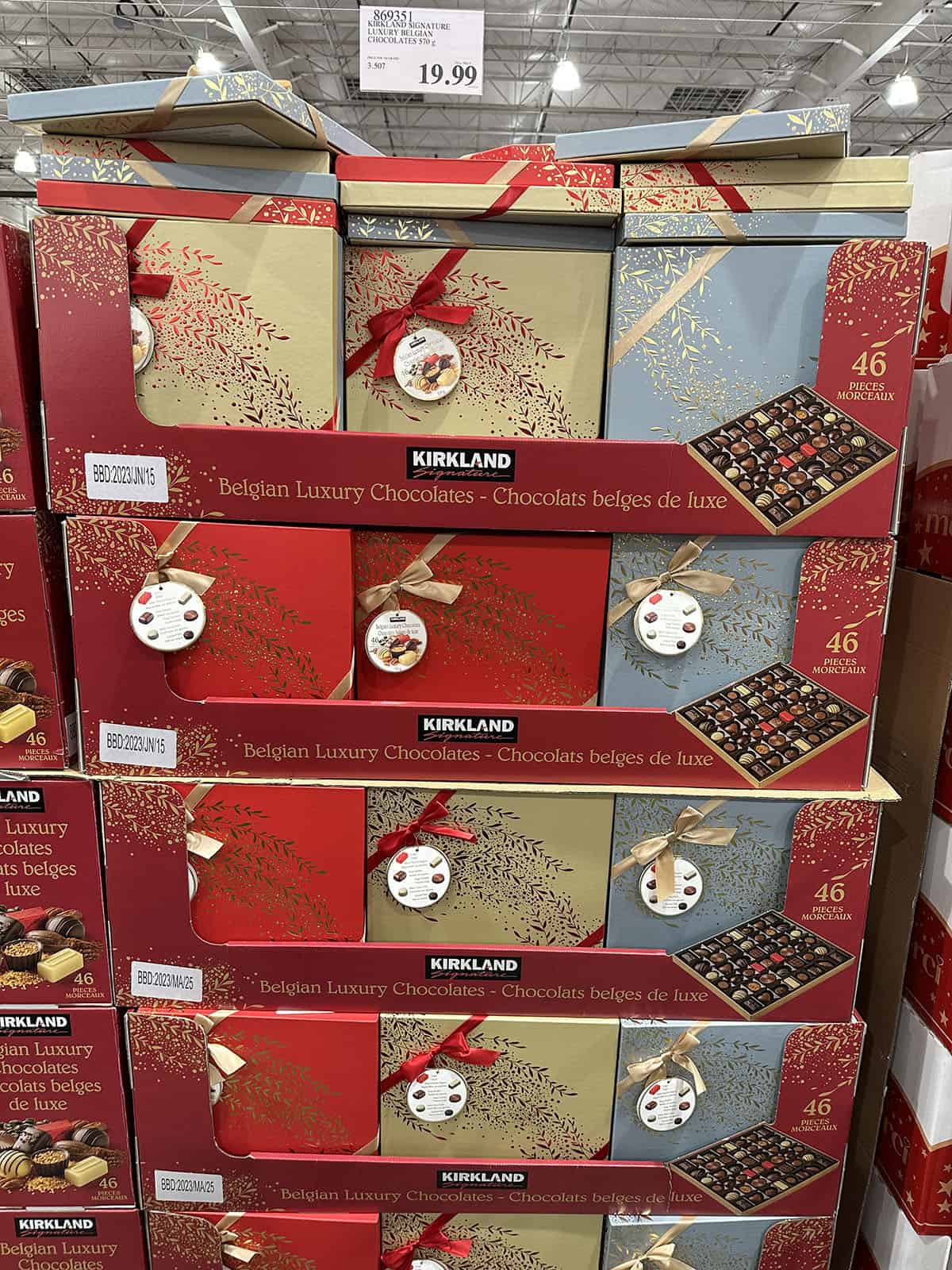 Taste
There are 18 different kinds of chocolates in the box and Sean and I tried each one. Here is the breakdown of each one and what we think of them!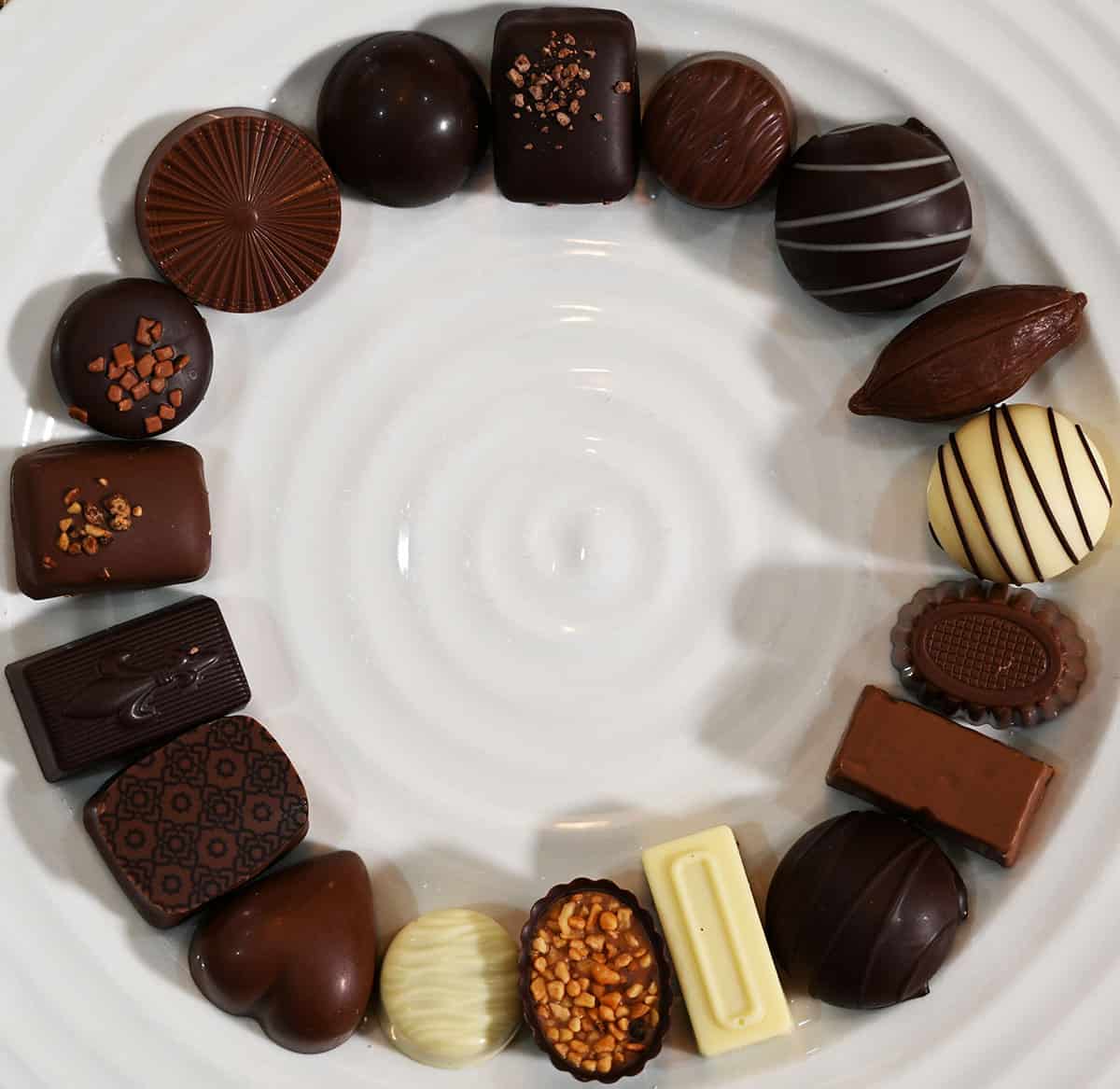 Dark Samba is a dark chocolate with a white chocolate filling. It has a little bit of crunch, pretty tasty but plain.
Rondello is a really tasty creamy smooth plain milk chocolate.
Manon Coffee is delicious light and fluffy with a strong coffee flavor. Reminds me of Haagen Dazs ice cream.
Cocoa Bean is tasty and kind of in between milk and dark chocolate in flavor.
Manon Vanilla is very sweet and doesn't have a strong vanilla flavor. The white chocolate is actually really good, I find white chocolate can be hit or miss but this is delicious.
Caramel Eclipse has a liquidy caramel center, is not overly sweet for caramel chocolate and tastes like a fancy Caramilk chocolate bar.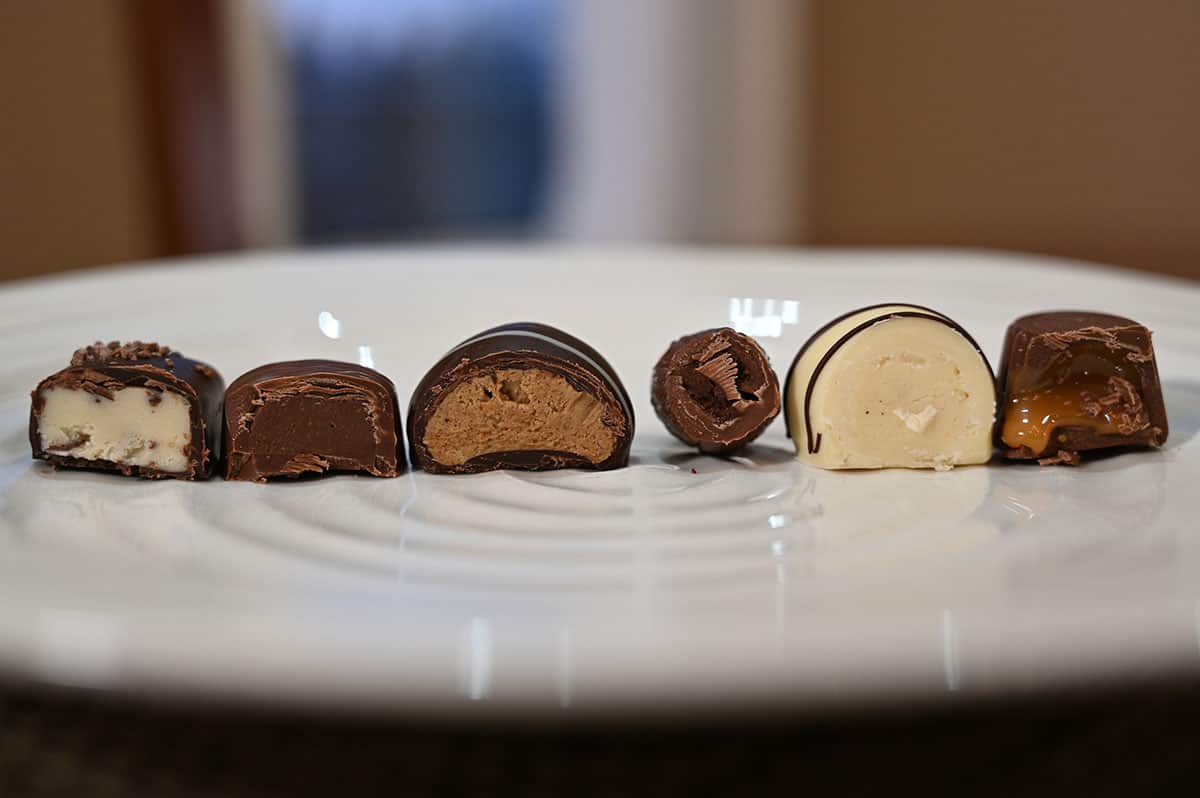 Lingot is very soft and melty smooth, it has a beautiful hazelnut flavor.
Manon Dark is smooth dark chocolate, it's not too sweet and is very creamy.
White Pistachio Mignon has a little bit of crunch and is milk chocolate with pistachio flavor. This is one of my favorites.
Medallion Dark has hunks of nuts that add some crunch. There's a nice hazelnut flavor and a smooth creamy semi liquidy center.
White Citrus Circle is really good, you can taste bergamot and citrus and overall is a very interesting flavor combination.
Milk Nougat Heart has a strong ginger flavor and a bit of heat.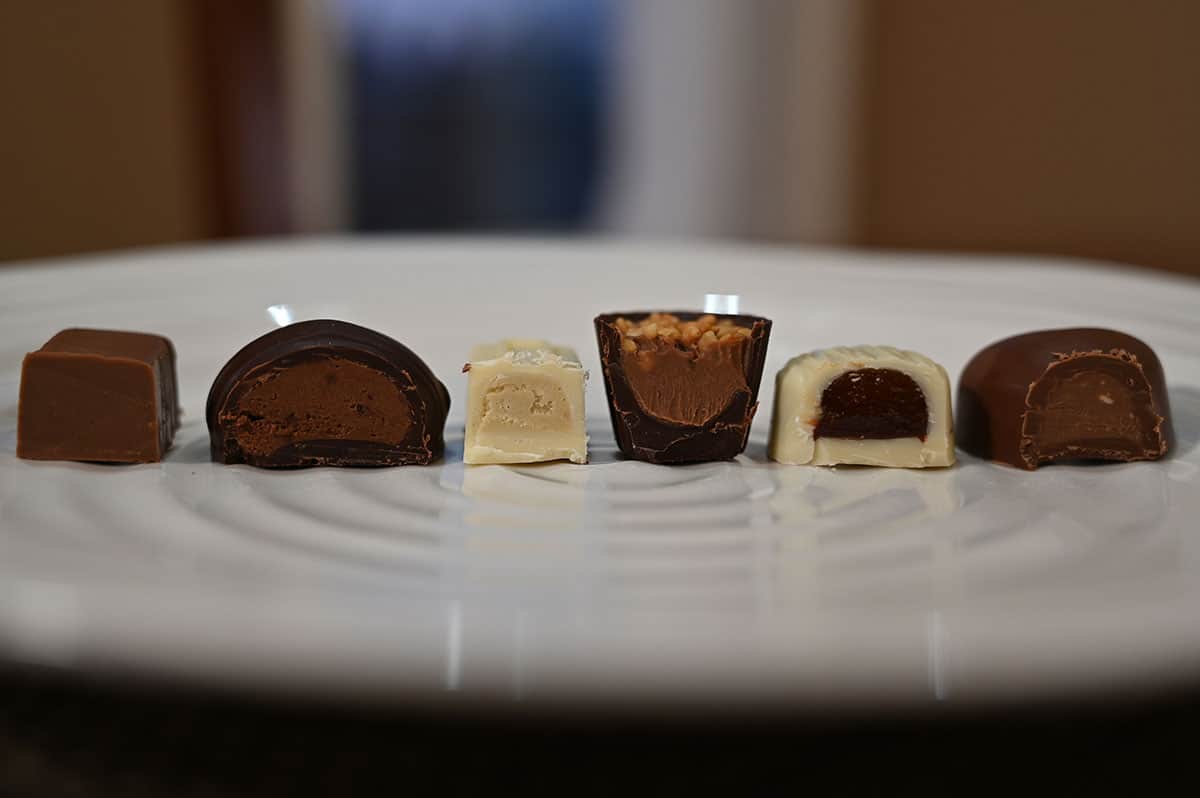 Vintage Lace is plain rich milk chocolate with a brownie center that tastes like dark chocolate fudge.
Strawberry Delice tastes like an artificial chocolate-covered strawberry, it's very sweet.
Pecan Bonbon is a milk chocolate with a slightly toasted pecan flavor.
Caramel Palet is a dark chocolate shell with a creamy caramel center
Tango Tiramisu tastes like plain chocolate with some crunchiness. The crunchy bit tastes more like chalkiness than crunch.
Spicy Orange Dome is really unique and tasty. I like the interesting cardamon orange flavor. There's a touch of heat, the shell is dark chocolate and the center is liquid.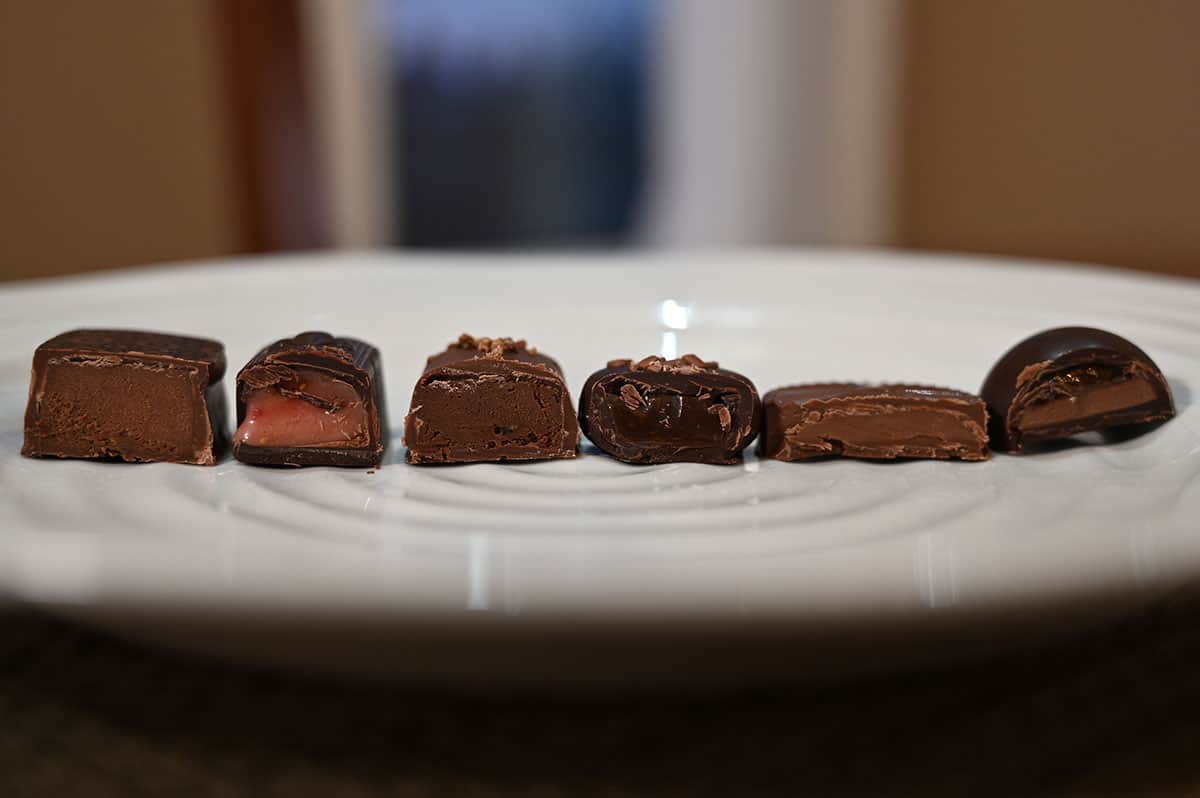 Cost
The 570-gram box of 46 chocolates costs $18.99 Canadian which I think is really reasonable after trying them.
I originally reviewed these chocolates in December 2019 and the price was $17.99 Canadian, so the price has gone up a dollar but there are the same number of chocolates in the box.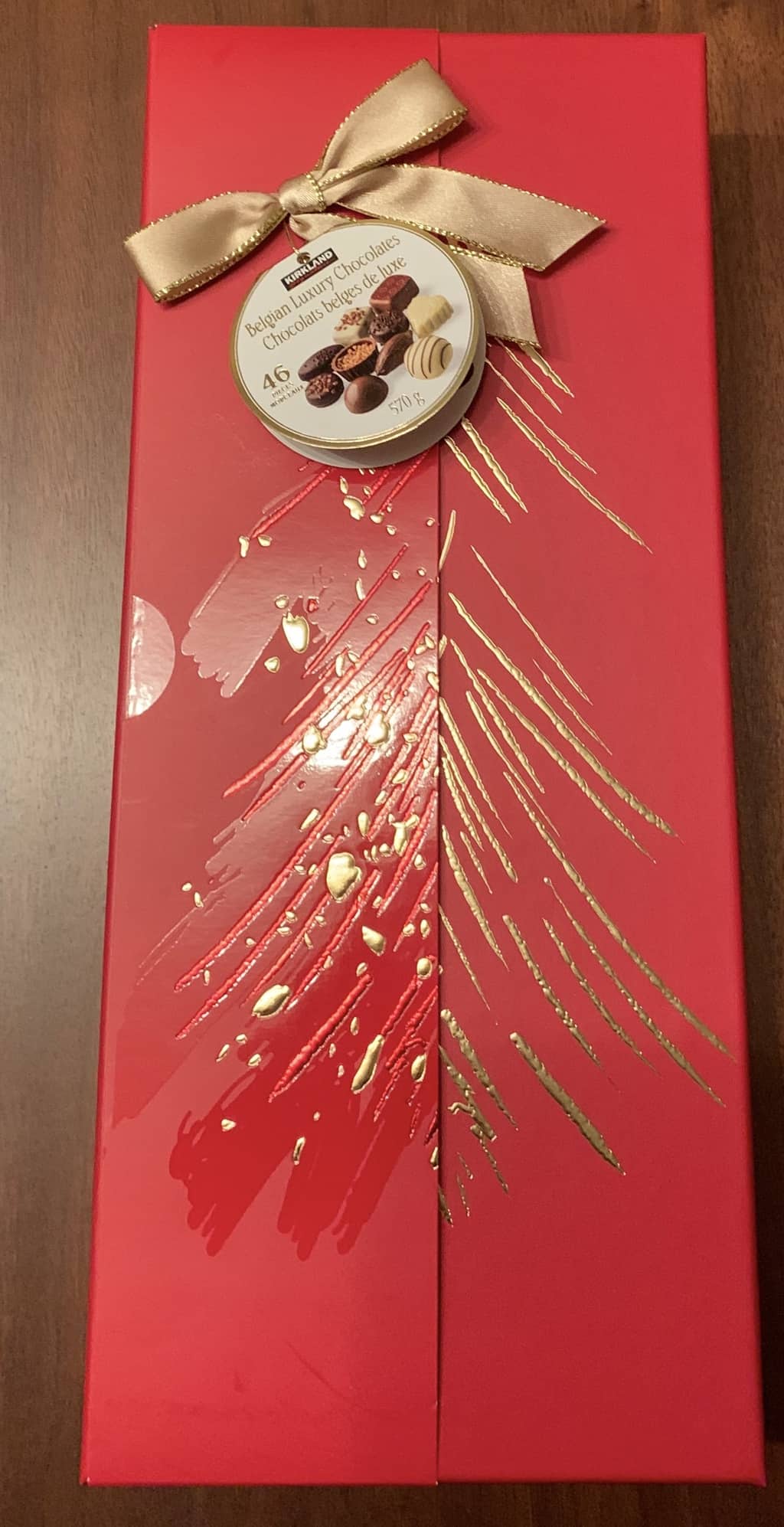 Convenience
There are some chocolates in the box there is only one of them so that can be a bit disappointing if you find one you absolutely love!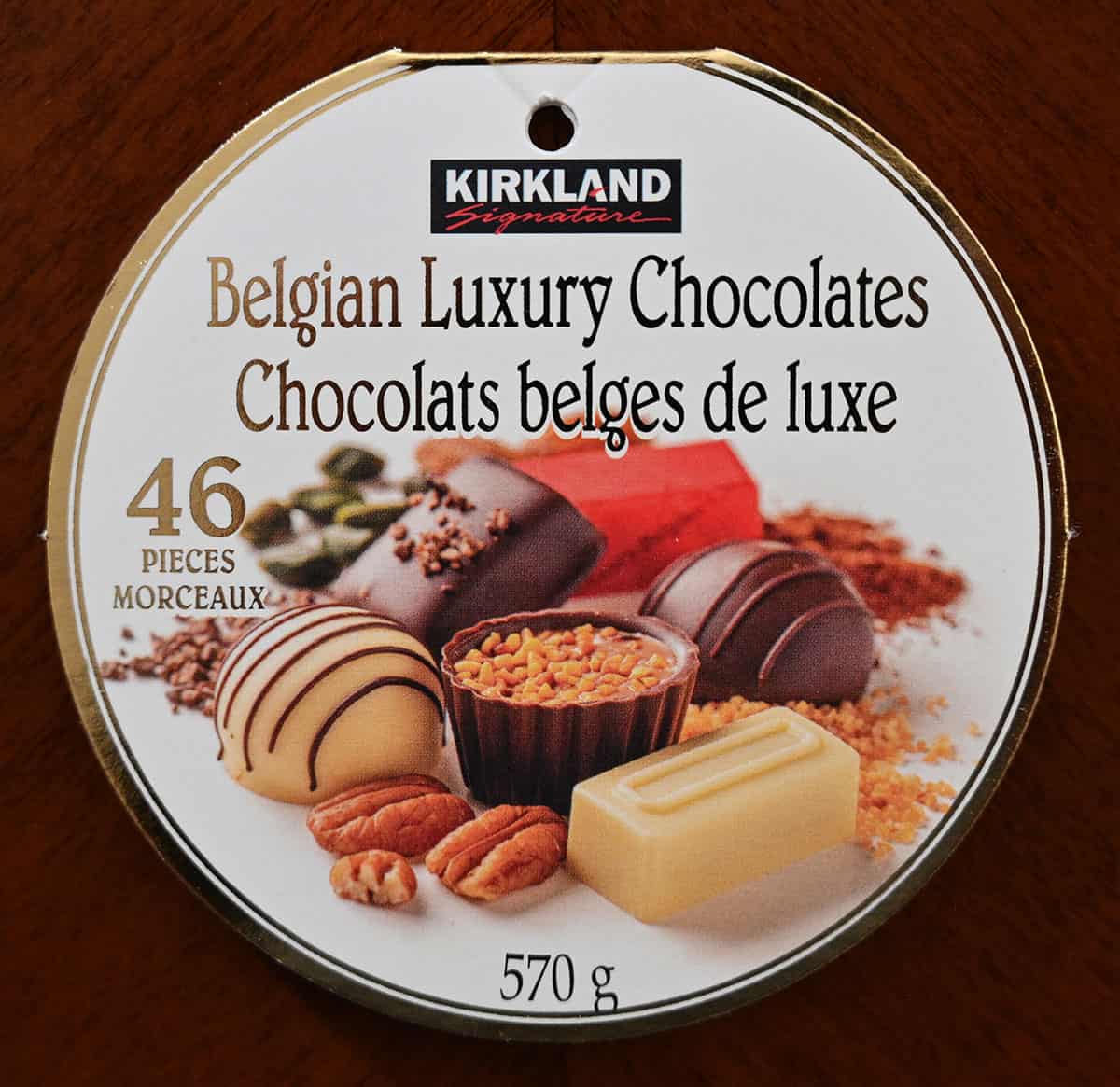 The chocolates are made in Belgian which I love and the best-before date is about seven months from when I purchased them from Costco. I think these are perfect to have open and around to offer guests over the holiday season or give as a gift.
Nutrition
Calories
Three chocolates contain 190 calories, 12 grams of fat, 18 grams of carbohydrates, one gram of fibre, 16 grams of sugar, two grams of protein and 20 milligrams of sodium. That's a decent amount of calories, fat and sugar but not terrible for three chocolates. These chocolates are worth spending your calories on in my opinion!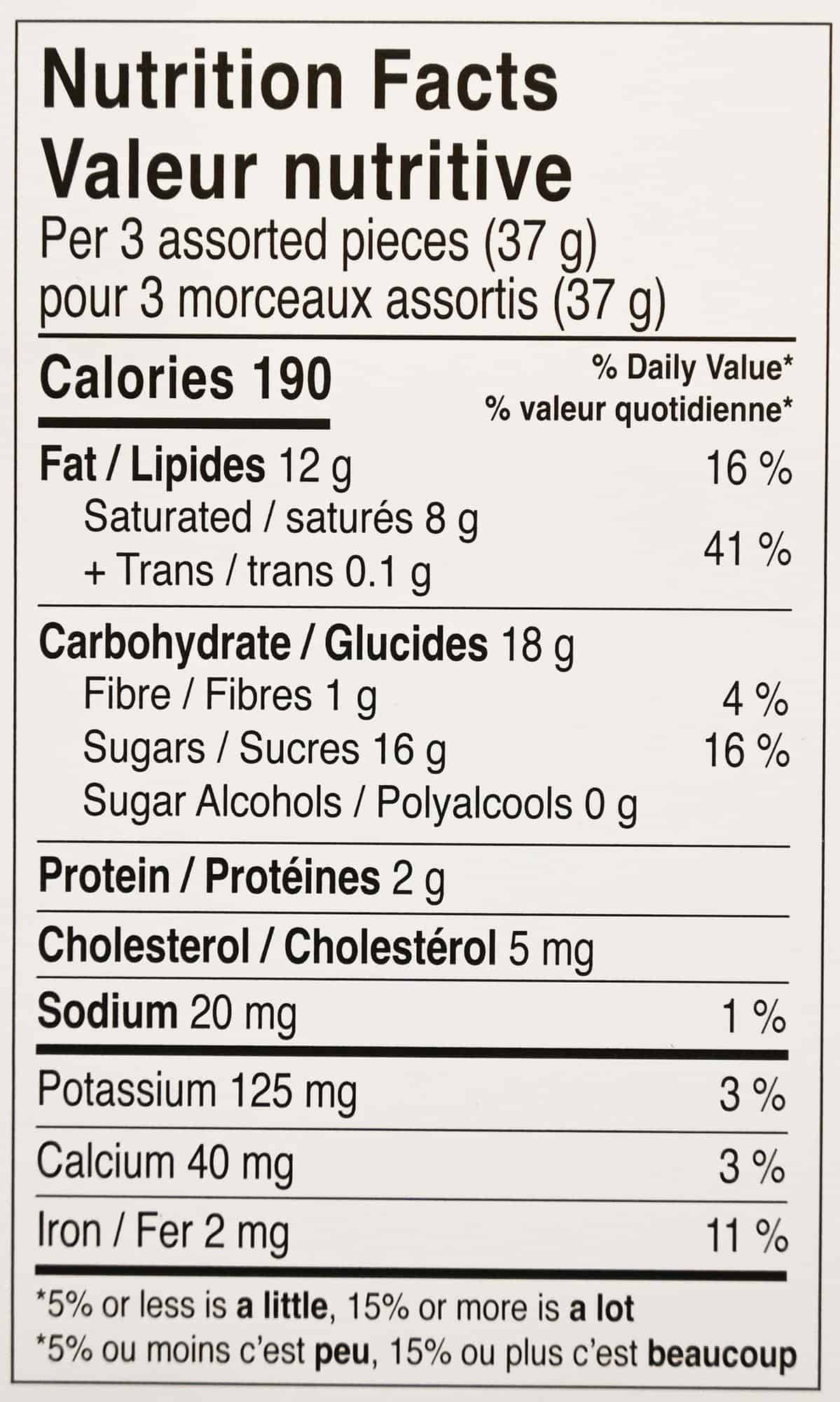 Ingredients
The chocolates contain hazelnuts, pecans, pistachios, almonds, milk, soy, egg and wheat and may contain sesame and other tree nuts. None of the ingredients listed are healthy but I don't expect chocolates to be healthy.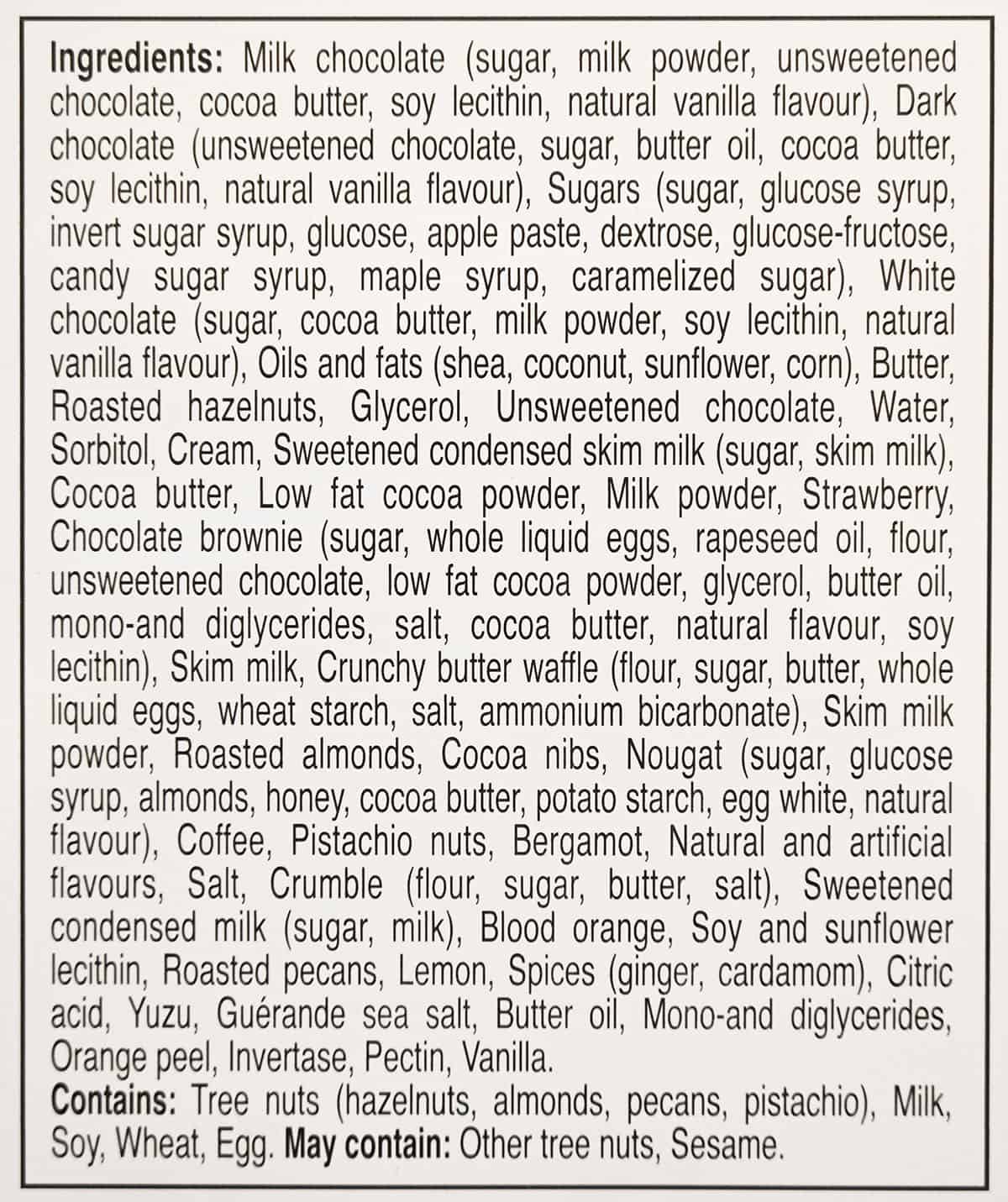 Scoring
Taste: 8.5/10
Cost: 9/10
Convenience: 10/10
Nutrition: 0/10
Overall
Must buy!
Out of the different Christmas chocolates from Costco my husband and I have tried this year, these are some of the best ones.
Have you tried these chocolates? What do you think of them?
---
Please note that this review was not paid for or sponsored by any third party. This product was purchased by Costcuisine for the purpose of producing this review. The opinions in this review are strictly those of Costcuisine. Costcuisine is not affiliated with Costco or any of its suppliers. In the event that Costcuisine receives compensation for a post from the manufacturer of a product or some other third party, the arrangement will be clearly disclosed (including where the manufacturer of a product provides Costcuisine with a free.