The Costco Kirkland Signature Goat Cheese, Pecan and Mixed Greens Salad looks as good as a salad from a restaurant, but it's much cheaper! Can it be an entree, or is it better to serve as a side? Does it taste as fancy as it looks? Read on to find out if it's worth buying.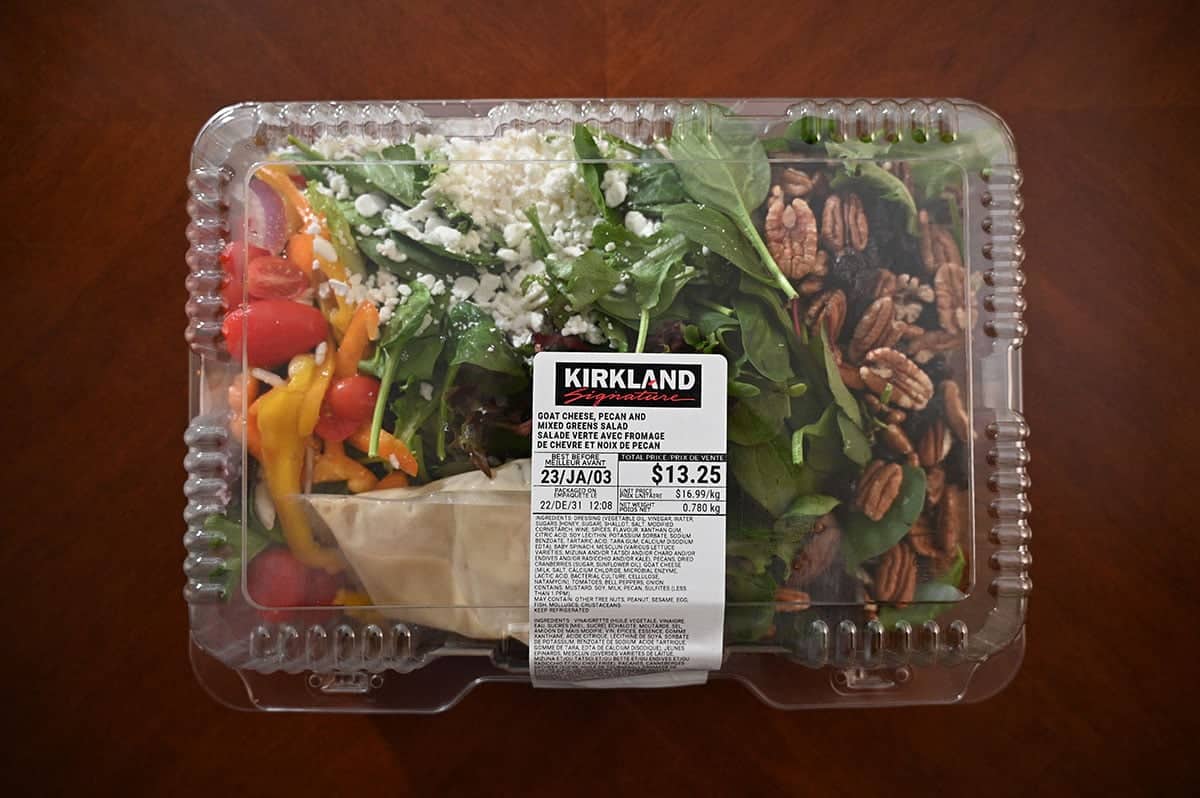 Costco came out with this new Kirkland Signature Goat Cheese, Pecan and Mixed Greens Salad in the pre-made meal section and I'm so excited to be trying it! This salad looked like their perfect side to go with our steak dinner!
Other salads from Costco I've reviewed are the Kirkland Signature Quinoa Salad, Stonemill Kitchens Homestyle Red Potato Salad, Eat Smart Sweet Kale Salad Kit, Azuma Seaweed Salad, Paisley Farm Four Bean Salad, Taylor Farms Dill Pickle Salad and the Kirkland Signature Caesar Salad.
Location in Store
You can find this salad in the pre-made deli section at Costco. The item number is 27472.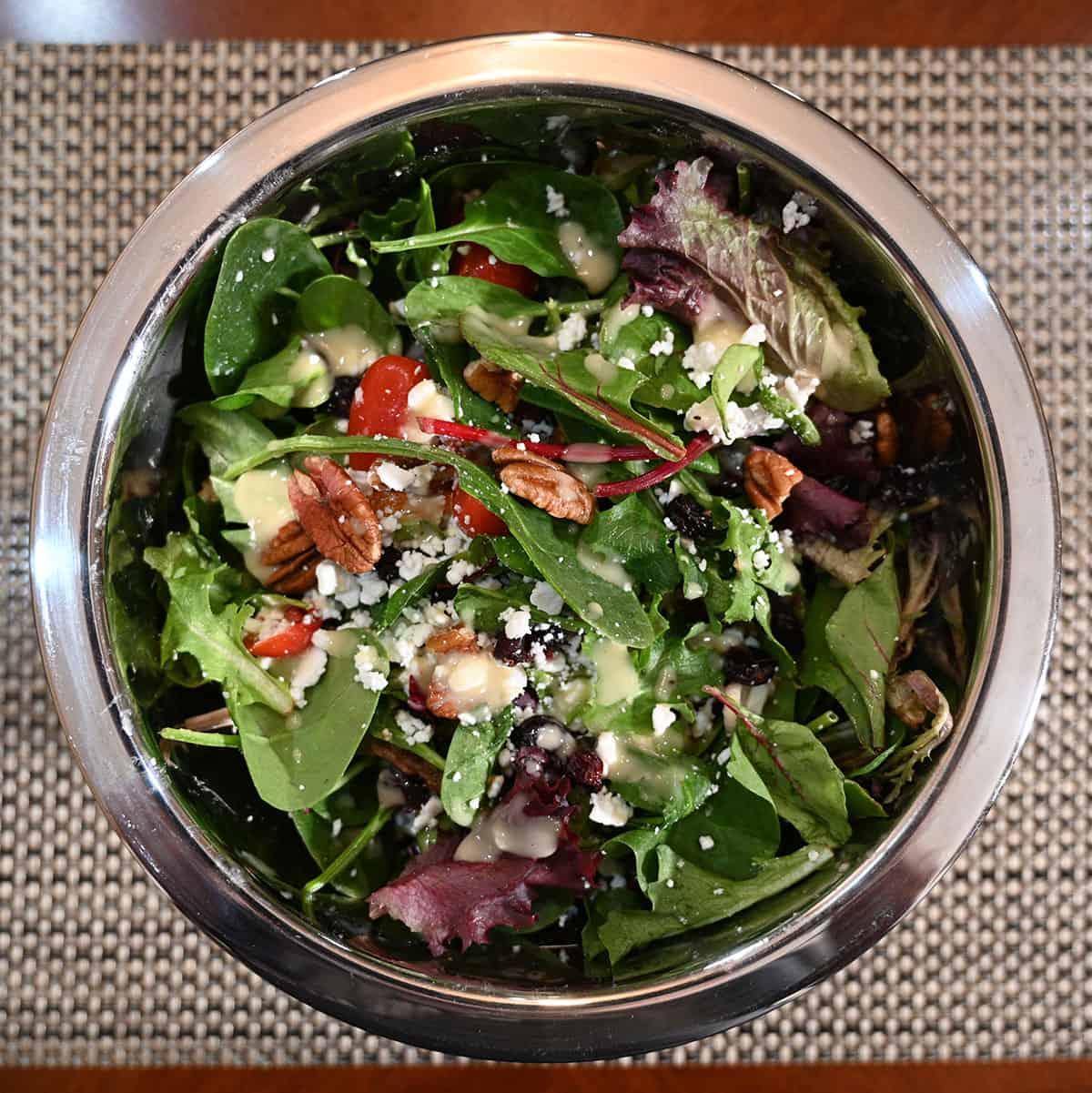 Taste
There are a lot of ingredients in this salad! Pecans, mixed greens, goat cheese, dried cranberries, bell peppers, tomatoes and red onion.
I love this salad. We served it as a side salad with steak and I ate about three bowls worth. It's delicious. The goat cheese is my favorite part. It's creamy, tangy and salty and pairs well with the sweetness of the dried cranberries.
There's an abundance of pecans in the salad which I appreciate! The greens, bell peppers, onions and tomatoes all taste really fresh. The dressing is a sweet honey vinaigrette.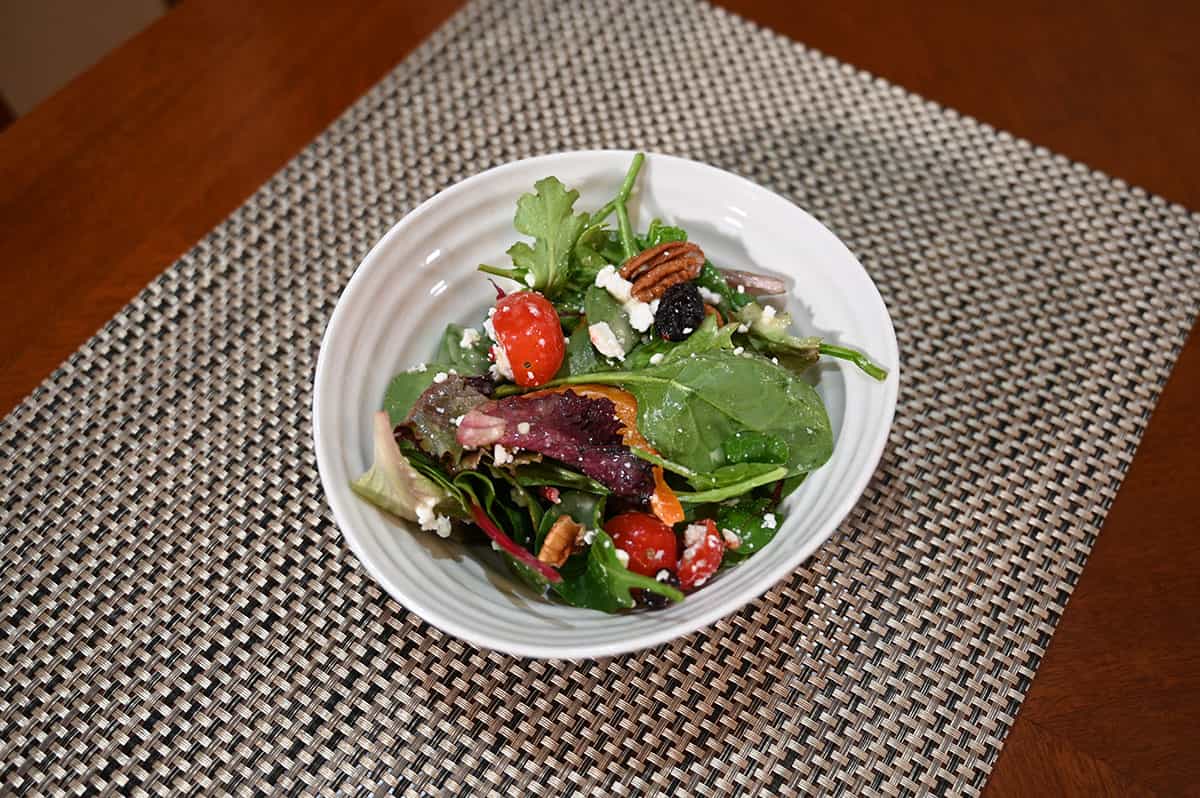 I really like the dressing but Costco gives you way more than you need for the salad. If I used the whole bag of dressing the salad would be completely saturated and the other flavors would be overpowered. I only used about half and found that to be more than enough.
Cost
The cost of the salad is dependent on the weight, it costs $16.99 Canadian per kilogram and I paid $13.25 for my salad. The salad was big enough to serve as a side salad for six adults.
Sean and I also said we wouldn't mind picking one up for ourselves to have as an entree.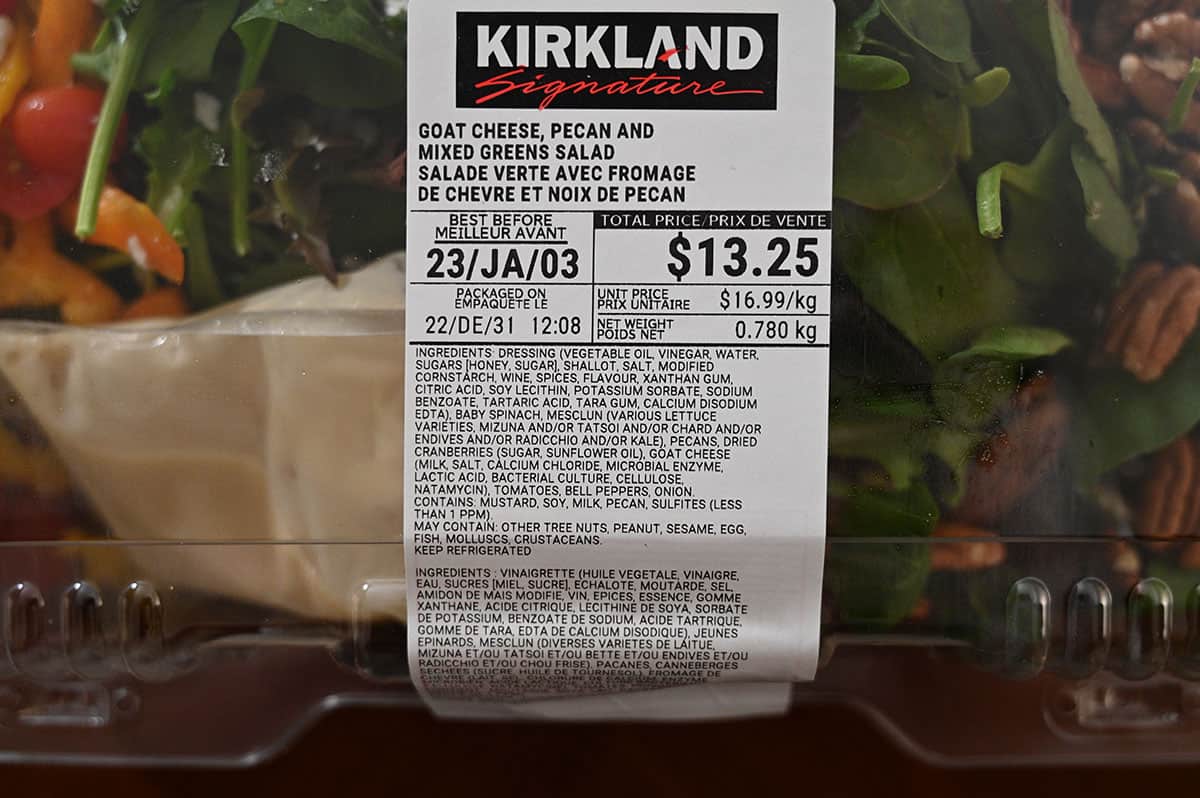 Convenience
Everything you need to make the salad comes in a plastic resealable container. If you don't want to eat all the salad in one night I recommend just taking a portion out and putting dressing on that portion. The dressing can be stored either in a glass container or jar or you could use a clothespin to store the open dressing.
The salad needs to be kept refrigerated best-before date is four days from the day it's packaged. We served it the day after it was packaged and it tasted really fresh.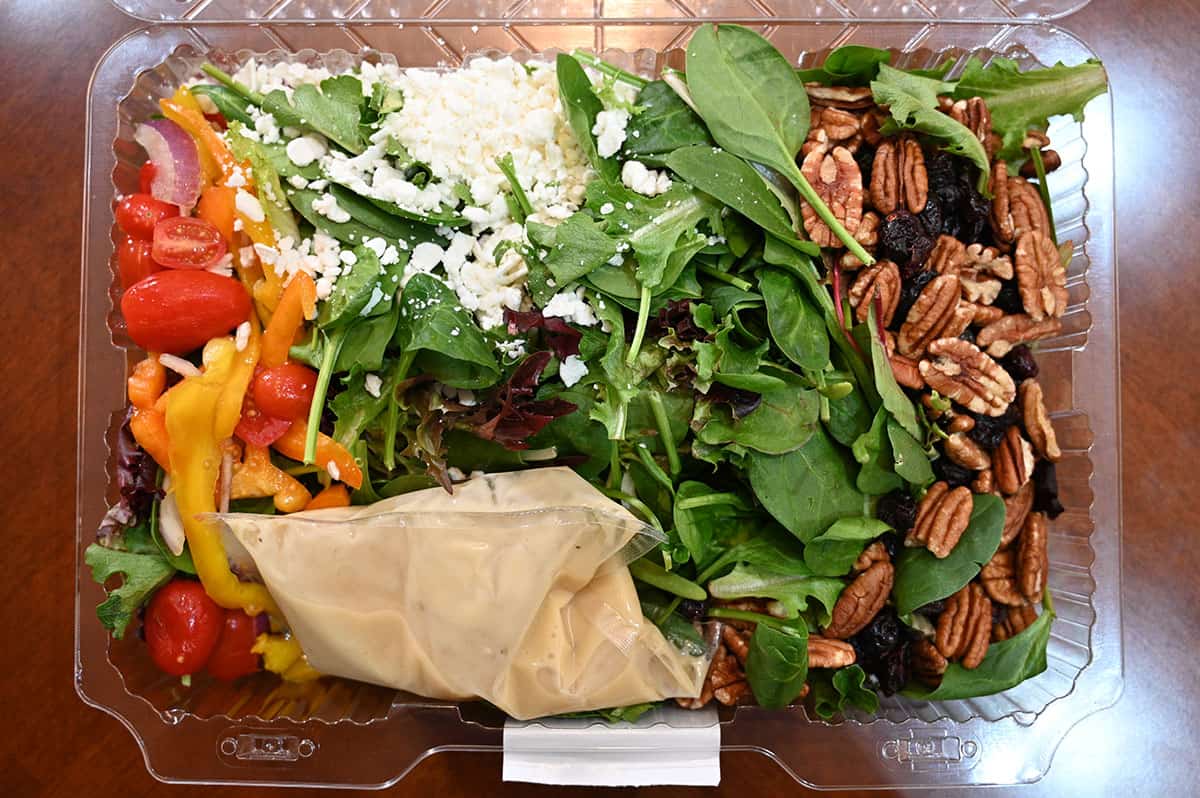 As a side salad, I wouldn't add any additional ingredients! As an entree, I might add some avocado and a protein, like salmon, chicken or hard-boiled eggs.
Nutrition
Calories
1/8th of the container of salad contains 270 calories, 22 grams of fat, 15 grams of carbohydrates, three grams of fibre, 10 grams of sugar four grams of protein and 240 milligrams of sodium.
Although salad seems healthy, 22 grams of fat and 270 calories is a lot for only 1/8th of the container. I probably ate a quarter of the container along with my whole dinner plate.
The high amount of fat and calories is most likely coming from the pecans, goat cheese and dressing.
Ingredients
The ingredients list has no surprises! The dressing is a bit unhealthy with vegetable oil and sugar in it but the rest of the ingredients are straightforward. The salad contains mustard, soy, milk, pecans, sulfites and may contain other tree nuts, peanuts, sesame, egg, fish, molluscs, and crustaceans.
I had to look up molluscs and an image of a snail popped up which freaked me out a bit but molluscs include octopus, mussels, clams, snails, oysters as well as other seafood.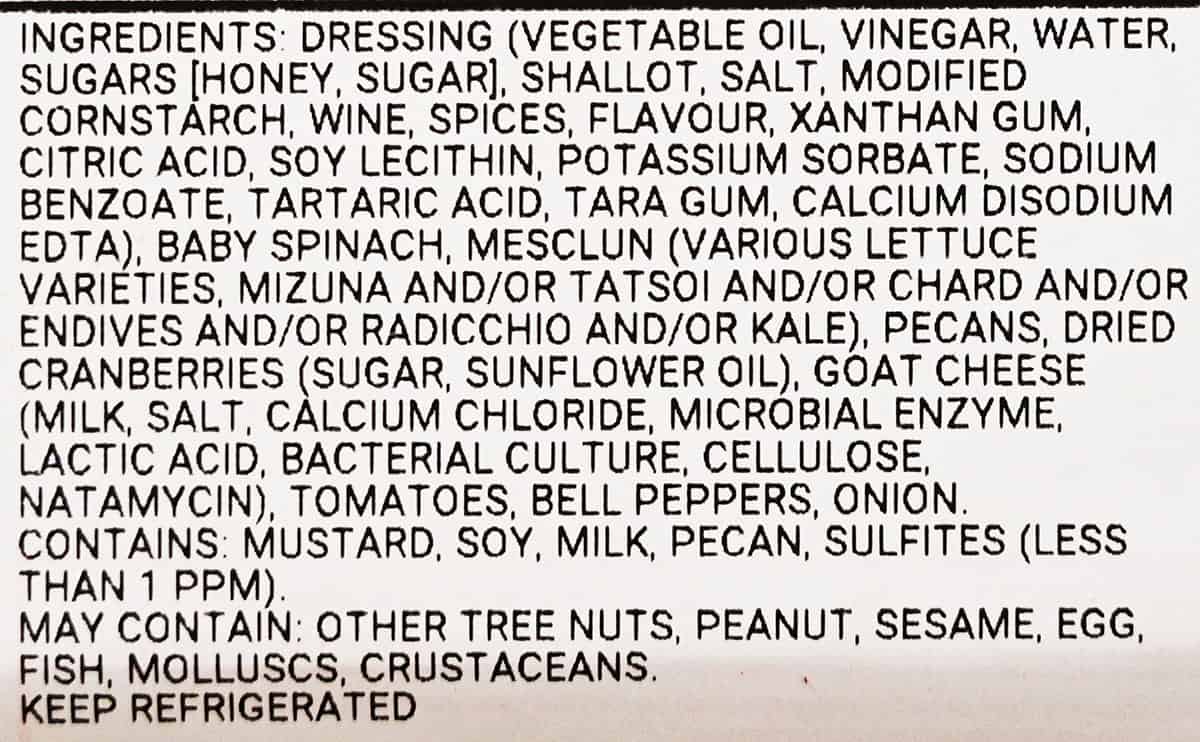 Scoring
Taste: 9/10
Cost: 8/10
Convenience: 10/10
Nutrition: 6/10
Overall
Must buy.
I will for sure buy this salad again and really enjoyed it! If you're someone like me who likes salads with a lot of delicious ingredients, you'll want to pick this up.
Do you have a favorite salad from Costco?
---
Please note that this review was not paid for or sponsored by any third party. This product was purchased by Costcuisine for the purpose of producing this review. The opinions in this review are strictly those of Costcuisine. Costcuisine is not affiliated with Costco or any of its suppliers. In the event that Costcuisine receives compensation for a post from the manufacturer of a product or some other third party, the arrangement will be clearly disclosed (including where the manufacturer of a product provides Costcuisine with a free sample of the product).