What do hemp hearts taste like? Are hemp hearts good for you?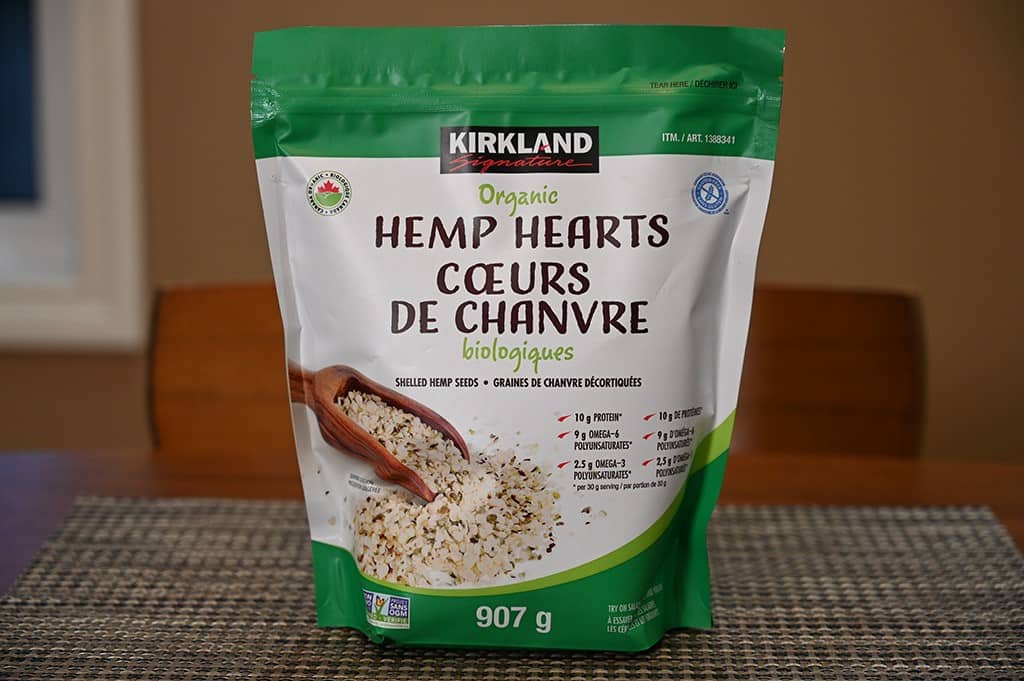 Hemp hearts are gaining popularity for their plant-based nutrition and health benefits! They're packed full of protein so they're a great addition to any plant-based, vegan or vegetarian recipes. I found a ton of recipes online for smoothies, oatmeals, cookies and even savory recipes that have hemp hearts in them. I'm always trying to add some healthier foods into my diet so I decided to pick up a bag of Kirkland Signature Hemp Hearts to review today.
I've reviewed a few Costco products that contain hemp as an ingredient! The innofoods Keto Crackers, innofoods Dark Chocolate Keto Nuggets, Nature's Path Organic Superfood Oats, Jojo's Guilt-Free Chocolate and Nature's Path Organic Creamy Coconut Superfood Instant Oatmeal.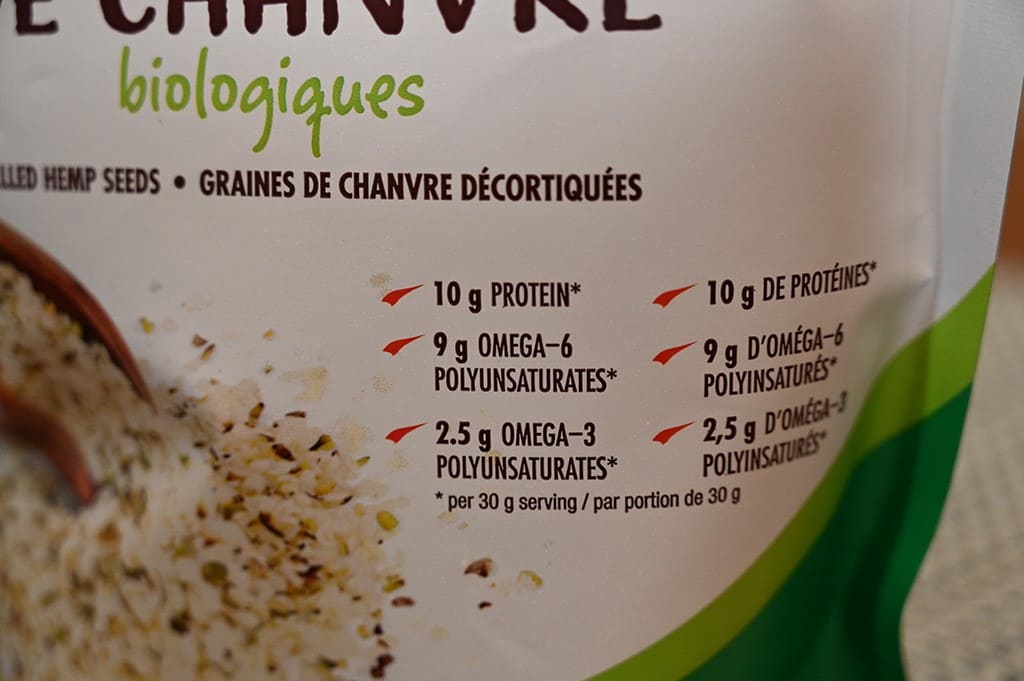 I'm just going to say it, in case you're wondering if you can get high from hemp hearts the answer is no. You absolutely can't get high from hemp seeds and they have no psychotropic effects.
You can the Kirkland Signature Organic Hemp Hearts in the aisle with the nuts, baking ingredients and flax seeds. The item number is 1388341.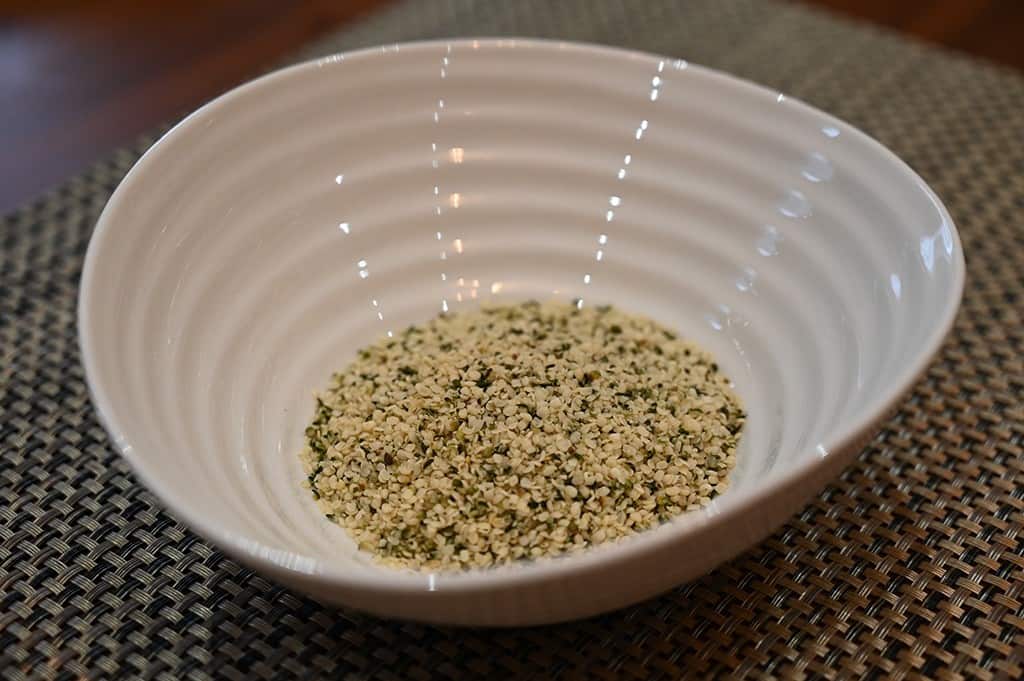 Taste
You might be wondering, so what do hemp hearts taste like? The flavor of hemp hearts is very mild. If you eat a spoonful of the hemp hearts alone like I did, you'll notice they have a unique but mild flavor, a bit earthy and nutty tasting, kind of like a hybrid between flax seeds and pumpkin seeds. The texture is dry, chewy and a bit crunchy.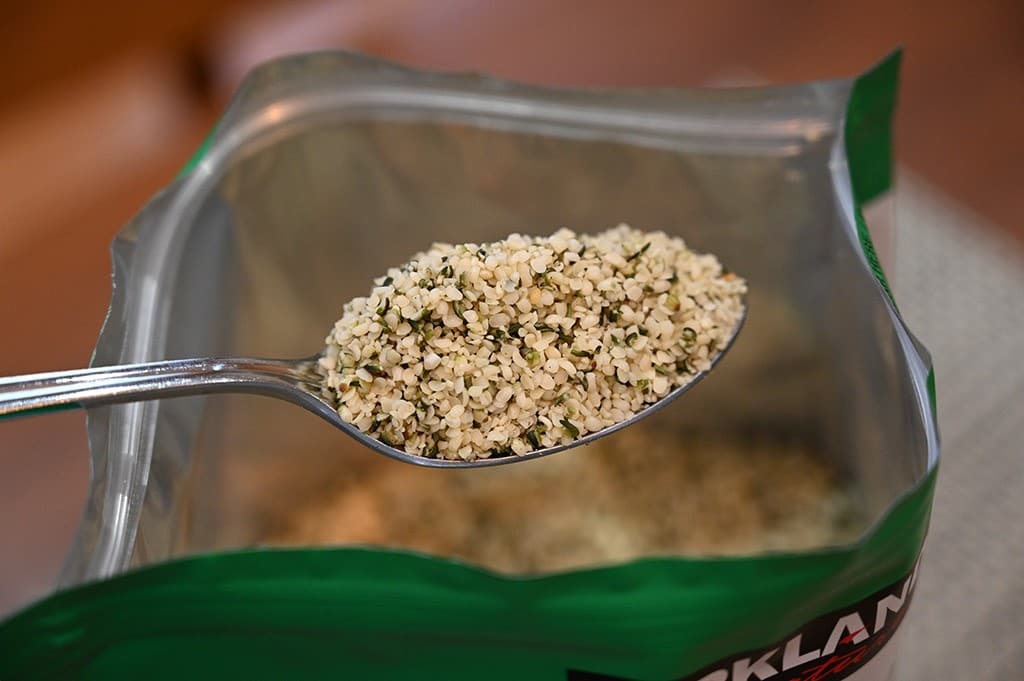 Hemp hearts are not amazingly delicious or flavorful, they don't taste like much but they pack a nutritional punch, to enjoy them I suggest adding them to something like a salad, a bowl of oatmeal or smoothie.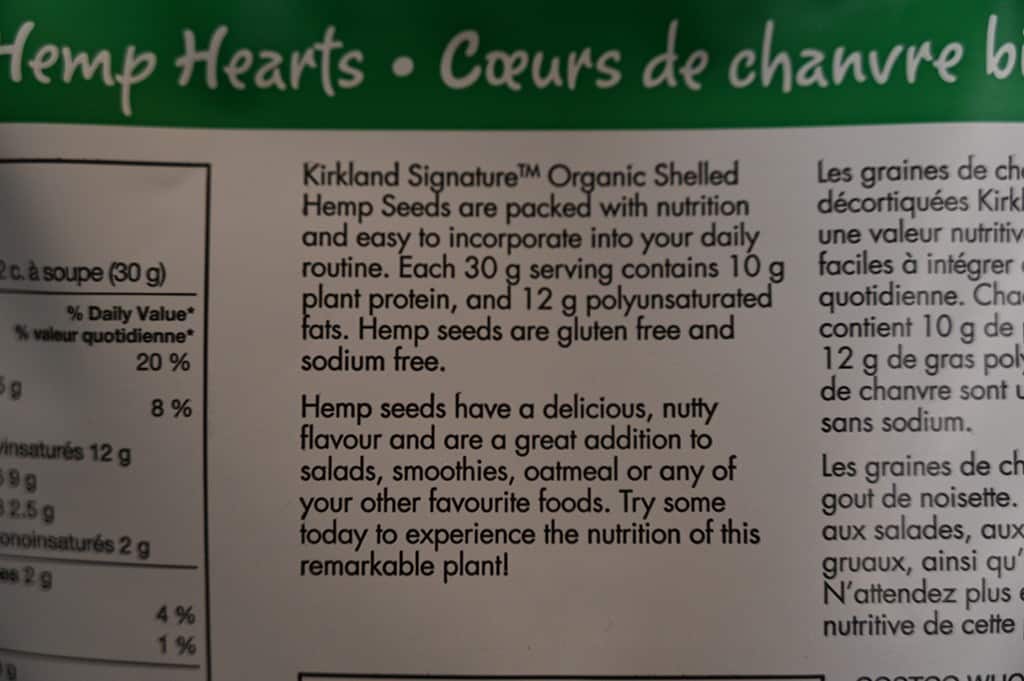 Cost
I paid $14.89 Canadian for the 907 gram bag of hemp hearts at Costco.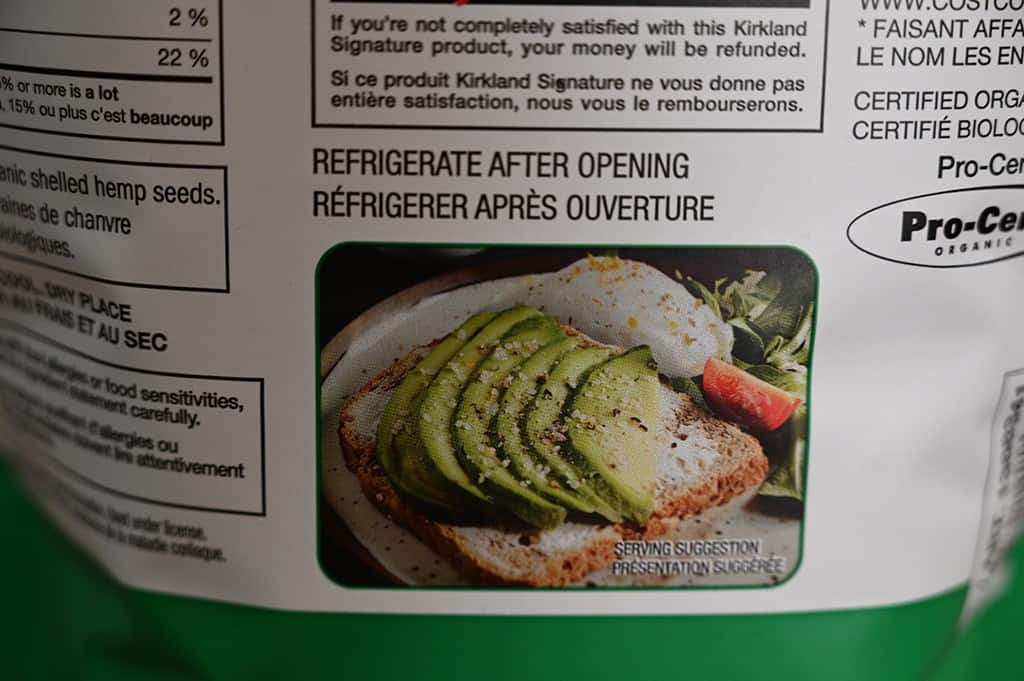 Convenience
Hemp hearts are the middle of the hemp seed which is the most nutritious part so you don't need to worry about shelling hemp seeds to get the hearts when you buy the Costco Kirkland Signature Organic Hemp Hearts. You can use hemp hearts in various recipes and the addition of hemp hearts is an easy way to add protein and nutrition to your meal or snack.
One thing I'll point out is that you need to refrigerate the hemp hearts after opening, which I wouldn't have done had I not read the bag because I didn't buy them in the refrigerated section. The best before date is almost a year and a half from the date I purchased the hemp hearts and the bag reseals after opening.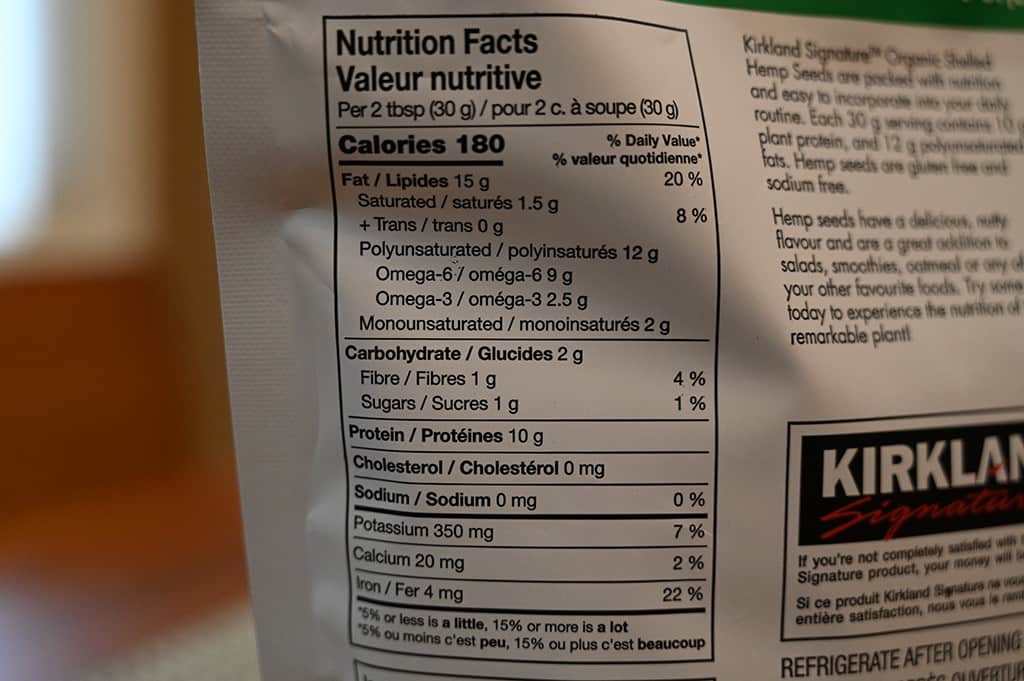 Nutrition
Are hemp hearts healthy? Yes! Hemp hearts are full of Omega 3 and Omega 6 which are also known as healthy fats, which help control blood sugar and reduce inflammation! They're organic, keto-friendly, gluten-free and have no sodium.
Hemp hearts are an amazing source of plant-based convenient protein! Because of their mild flavor you can pretty much add them to anything and everything to increase your daily protein intake which is perfect for vegans or vegetarians,
Two tablespoons is 180 calories, 15 grams of fat, one gram of sugar and fibre, two grams of carbohydrates, 10 grams of protein and zero grams of sodium. These aren't low in calories but they're high in healthy fat and plant-based protein. If you're concerned about the amount of calories and fat you could use one tablespoon instead of two on your oatmeal in the morning.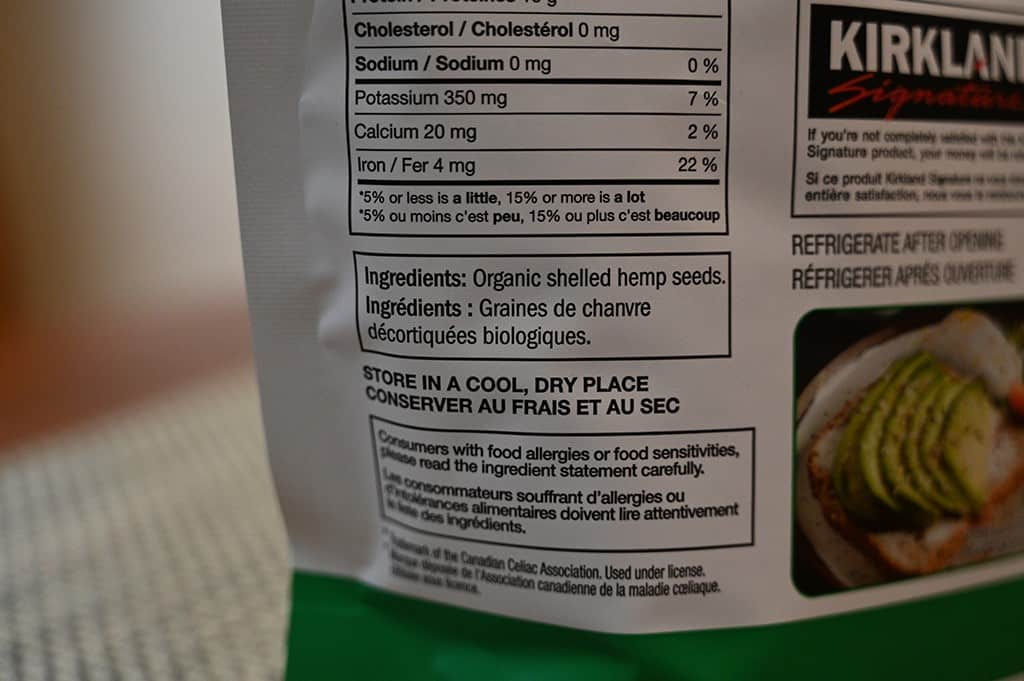 In summary, the Costco Kirkland Signature Hemp Hearts really don't taste like much and aren't really one of my most exciting food reviews but they're reasonably priced at Costco, good quality, nutritious and convenient.
Scoring
Taste: 6/10 (I don't mind them at all! They just aren't really extremely tasty)
Cost: 9/10
Convenience: 10/10
Nutrition: 10/10
Overall
Give it a try!
Hemp hearts provide a significant amount of plant-based protein as well as healthy fats!
Have you tried hemp hearts? Leave a comment and let me know what you think of them!
---
Please note that this review was not paid for or sponsored by any third party. This product was purchased by Costcuisine for the purpose of producing this review. The opinions in this review are strictly those of Costcuisine. Costcuisine is not affiliated with Costco or any of its suppliers. In the event that Costcuisine receives compensation for a post from the manufacturer of a product or some other third party, the arrangement will be clearly disclosed (including where the manufacturer of a product provides Costcuisine with a free sample of the product).