What's more festive than a red and white cake? The Costco Kirkland Signature Red Velvet Cheesecake pairs red velvet cake with plain cheesecake. It looks like the perfect dessert to end Christmas dinner with but is it worth taking a chance on? Find out below!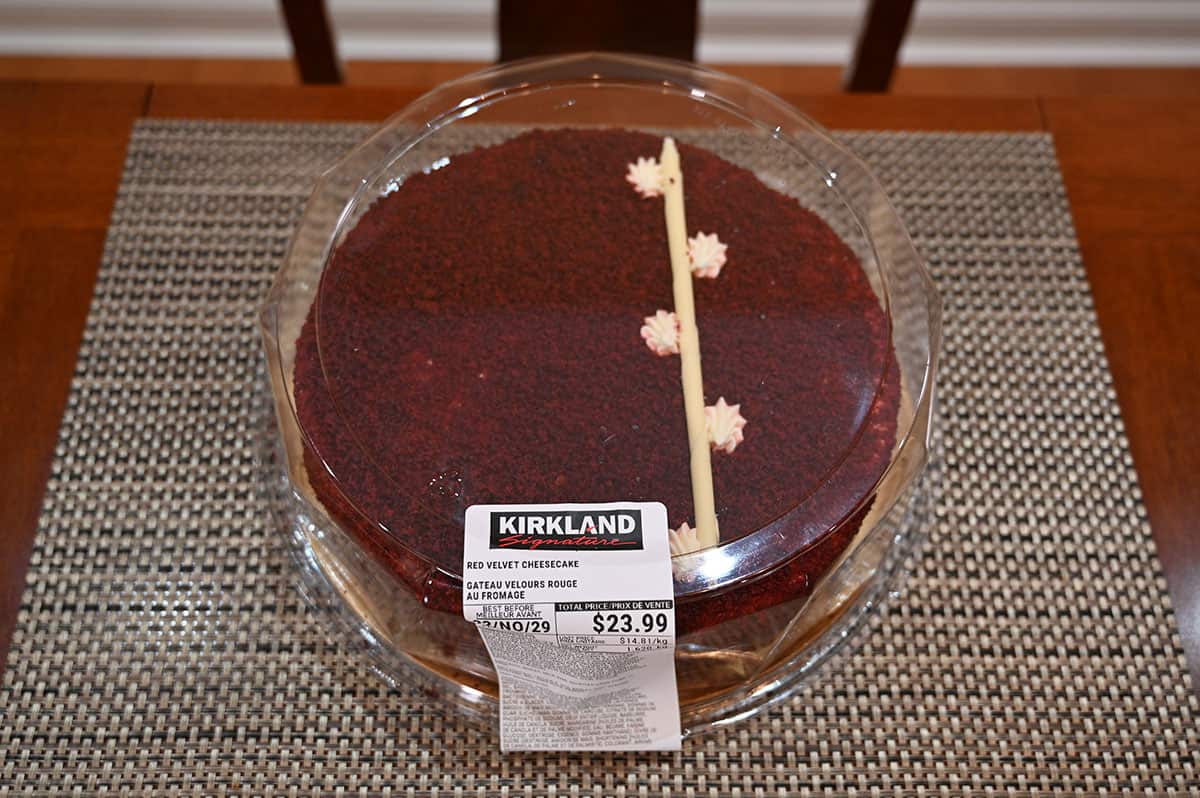 The Costco bakery has a few different options for Christmas dessert and one of those options is this Kirkland Signature Red Velvet Cheesecake. This cake just looks pretty festive and delicious so I decided to pick one up to enjoy and review.
Other cakes from Costco I love are the Kirkland Signature Christmas Fruit Cake, Kirkland Signature Tuxedo Cake, Kirkland Signature Tiramisu Cake, Kirkland Signature Strawberry Cheesecake, Kirkland Signature Yule Log and Kirkland Signature Strawberry Shortcake.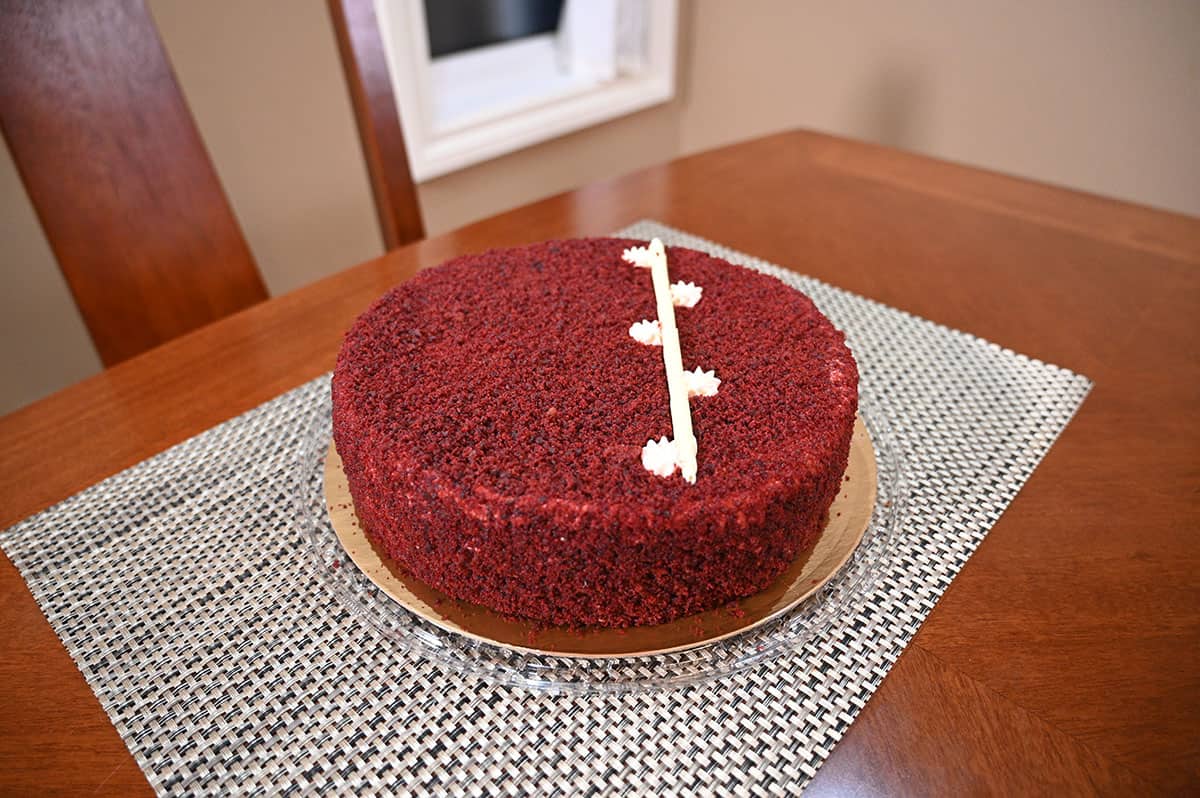 Location in Store
The red velvet cheesecake is located in the bakery department at Costco and the item number is 1360894.
Taste
The cake has layers of red velvet cake, layers of plain cheesecake and on top is sweet vanilla icing with crumbs of red velvet cake on top. The red velvet cake itself is a little dry and doesn't have a ton of chocolate flavor. The cheesecake layers are actually pretty good and it tastes the same as the cheesecake used in the strawberry cheesecake from Costco.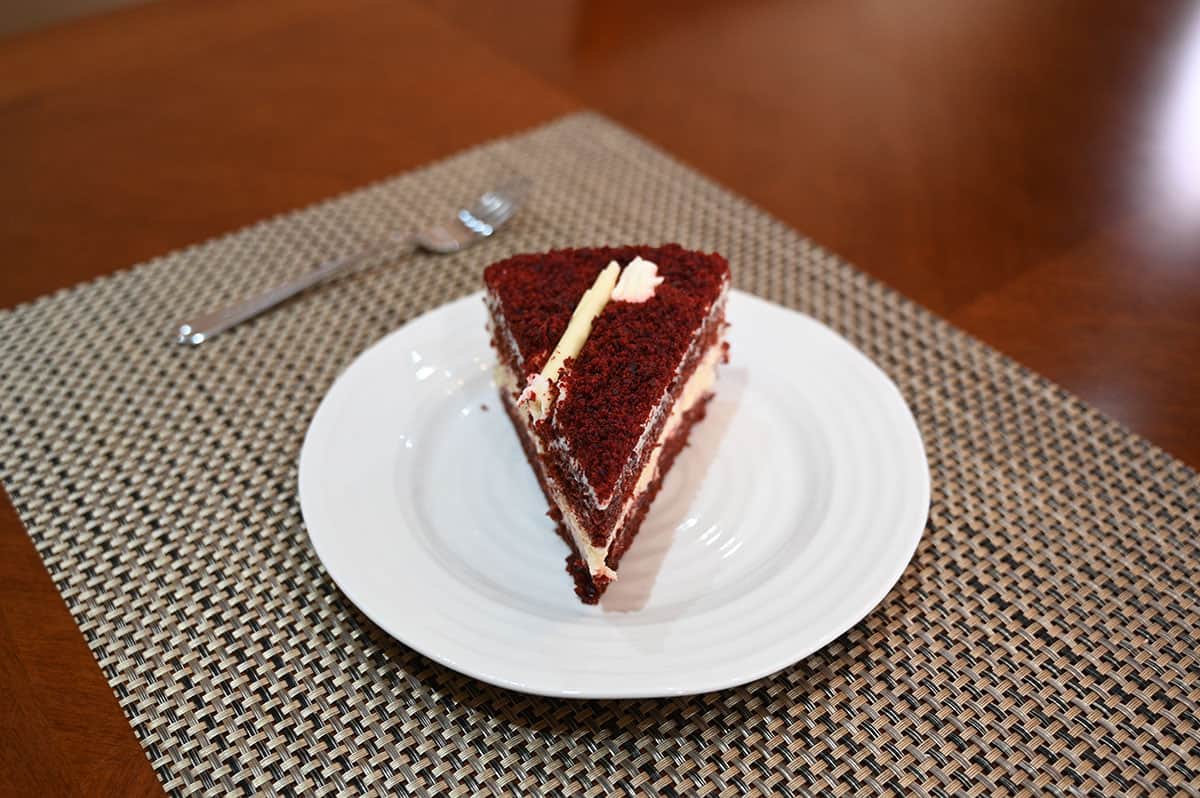 The icing is a sweet vanilla icing that I actually don't mind! There's not too much of it and it adds a bit of extra sweetness and flavor to the cake. The cake is garnished with a white chocolate stick on top that tastes quite nice. I actually tried this cake in 2019 and didn't like it very much but I think Costco has made a few positive tweaks to their recipe.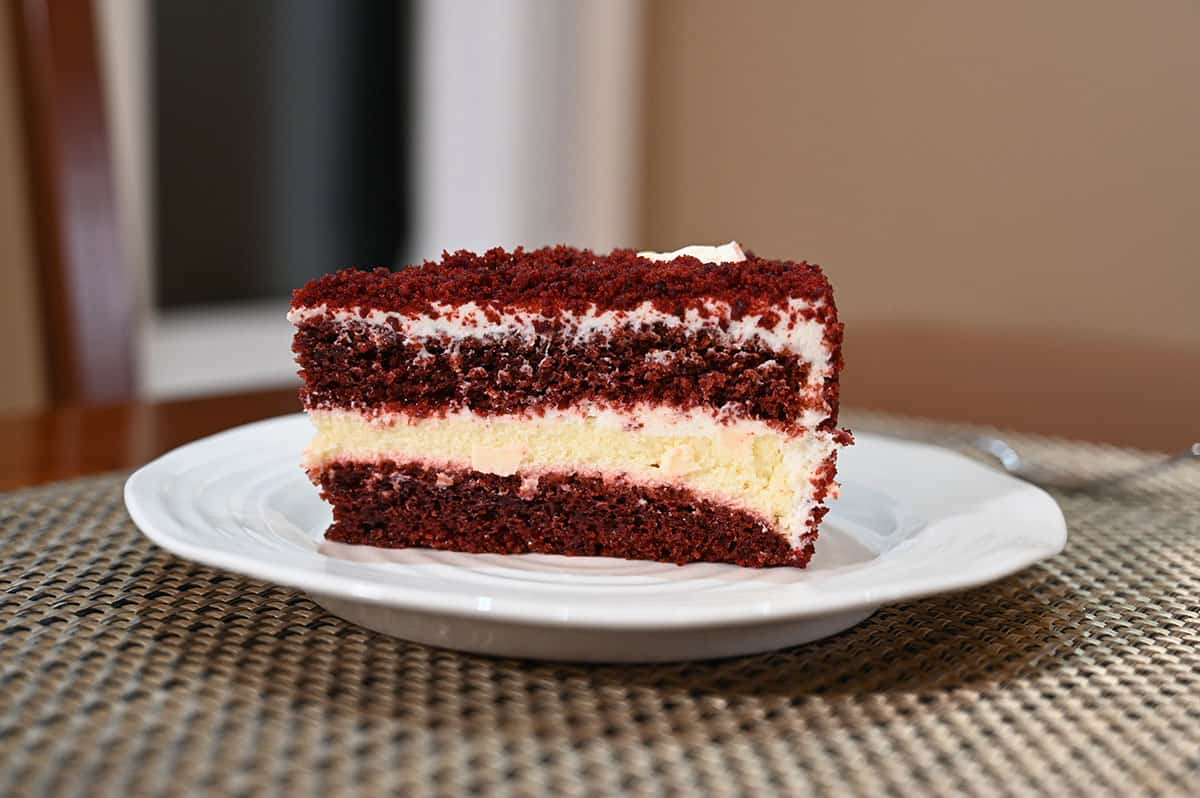 It's a pretty heavy, rich cake so a small slice is all I can handle and I have a sweet tooth!
Cost
I paid $23.99 for the Costco Kirkland Signature Red Velvet Cheesecake. It's a big cake and can feed a lot of people so $23.99 doesn't seem too unreasonable to me.
Convenience
The cake slices easily and freezes great. The best-before date listed is five days from the date it was packaged and the cake needs to be kept refrigerated.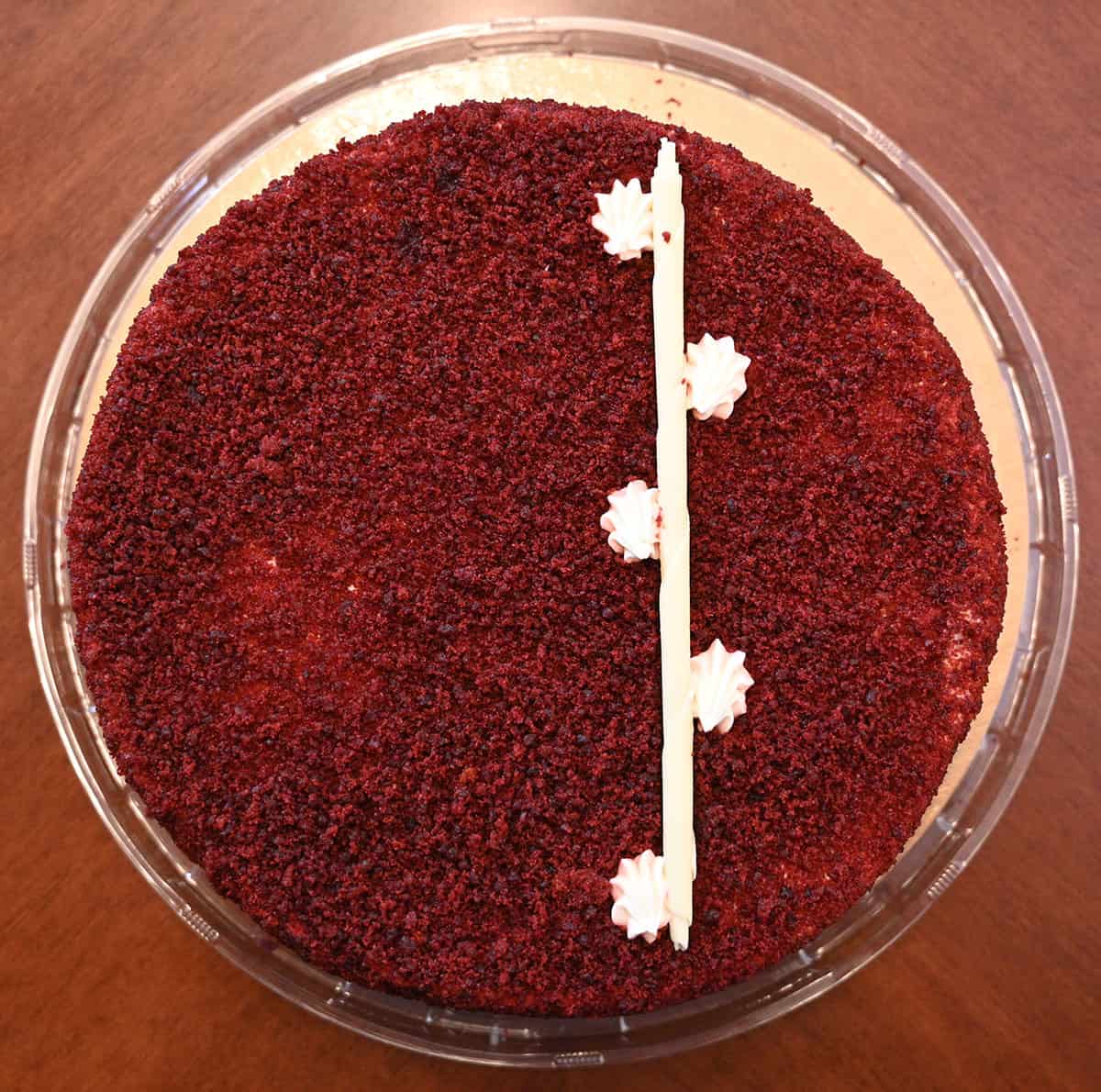 It's a really pretty-looking cake and I think it'd be great to bring to a Christmas potluck or serve as a dessert option at a family dinner. In my opinion, it's not as spectacular as Christmas dinner dessert should be but for other occasions it's fine!
Nutrition
Calories
This nutrition information was obtained from Costco in 2019. 1/16th of the cake contains 370 calories, 20 grams of fat, 330 mg of sodium, 45 grams of carbohydrates, one gram of fibre, 35 grams of sugar and four grams of protein.
Ingredients
The ingredients list seems pretty typical for a store-bought cake. If you make a cake like this from scratch at home you can save yourself some unhealthy ingredients like the oils found in the sugar frosting.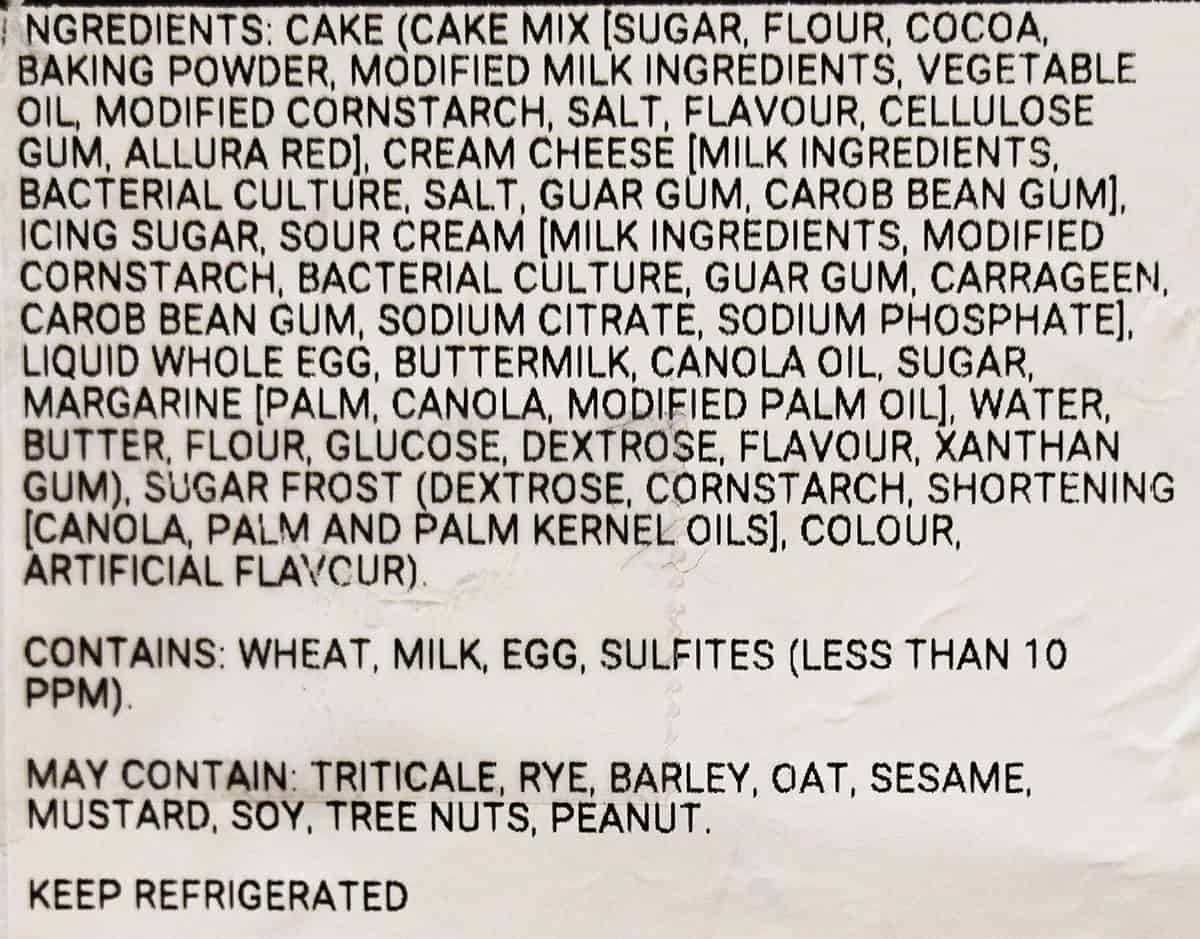 Scoring
Taste: 6/10
Cost: 7.5/10
Convenience: 10/10
Nutrition: 0/10
Overall
Give it a try!
This isn't my favorite Costco cake but if you love cheesecake and are looking for a really pretty-looking dessert this may be something to try!
Have you tried this cake? What did you think of it?
---
Please note that this review was not paid for or sponsored by any third party. This product was purchased by Costcuisine for the purpose of producing this review. The opinions in this review are strictly those of Costcuisine. Costcuisine is not affiliated with Costco or any of its suppliers. In the event that Costcuisine receives compensation for a post from the manufacturer of a product or some other third party, the arrangement will be clearly disclosed (including where the manufacturer of a product provides Costcuisine with a free sample of the product).