Are you a fan of the round, delicate, sweet, crispy and chewy cookie known as the macaron? Macarons are difficult to make at home and can be expensive to buy from a bakery. These Costco Le Chic Patisserie French Macarons are reasonably priced and look as good as the bakery version, but do they taste nearly as good? Find out below.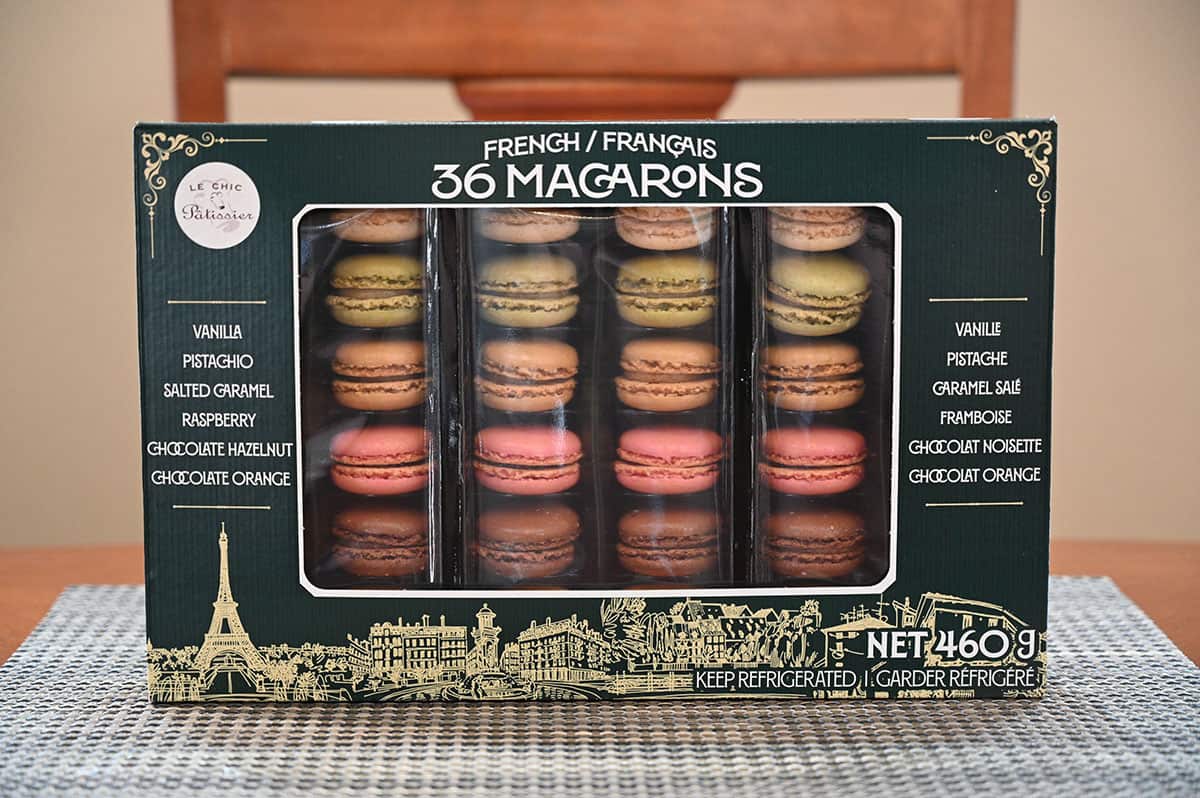 Macarons are a really popular gluten-free, fancy cookie! They come in all different flavors and are known for their crisp shell and chewy, sweet center. My Costco is carrying these new Le Chic Patisserie French Macarons and I decided to pick them up to try and review because I've reviewed the other brand of macarons that Costco carries, the Tipiak macarons.
I've previously reviewed the Costco Spring 2022 Tipiak French Macarons, Costco Le Bon Patisserie Heart Shaped Macarons, Costco Tipiak French Macarons Fall 2018, Costco Tipiak French Macarons Spring 2019 and Costco Tipiak French Macarons Fall 2019.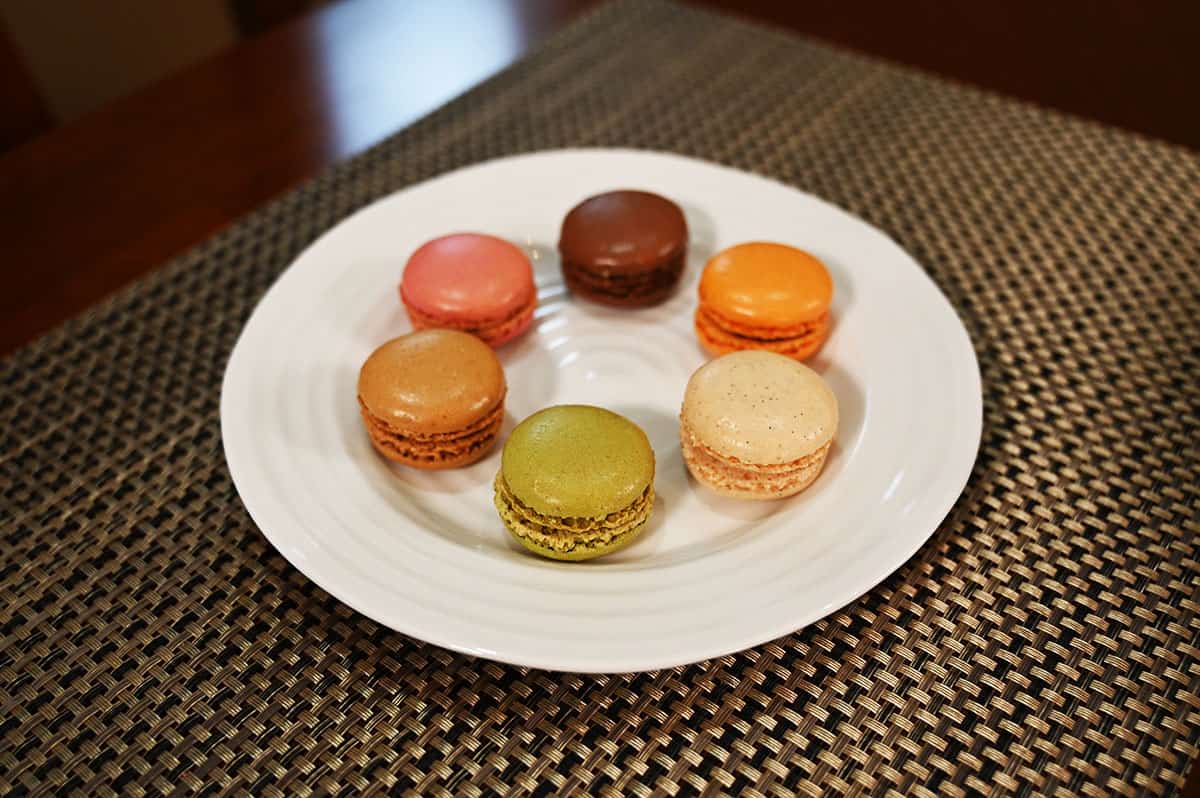 Location in Store
You can find the macarons in the refrigerated bakery section, in the cooler with the refrigerated cakes and other desserts. The item number is 1647503.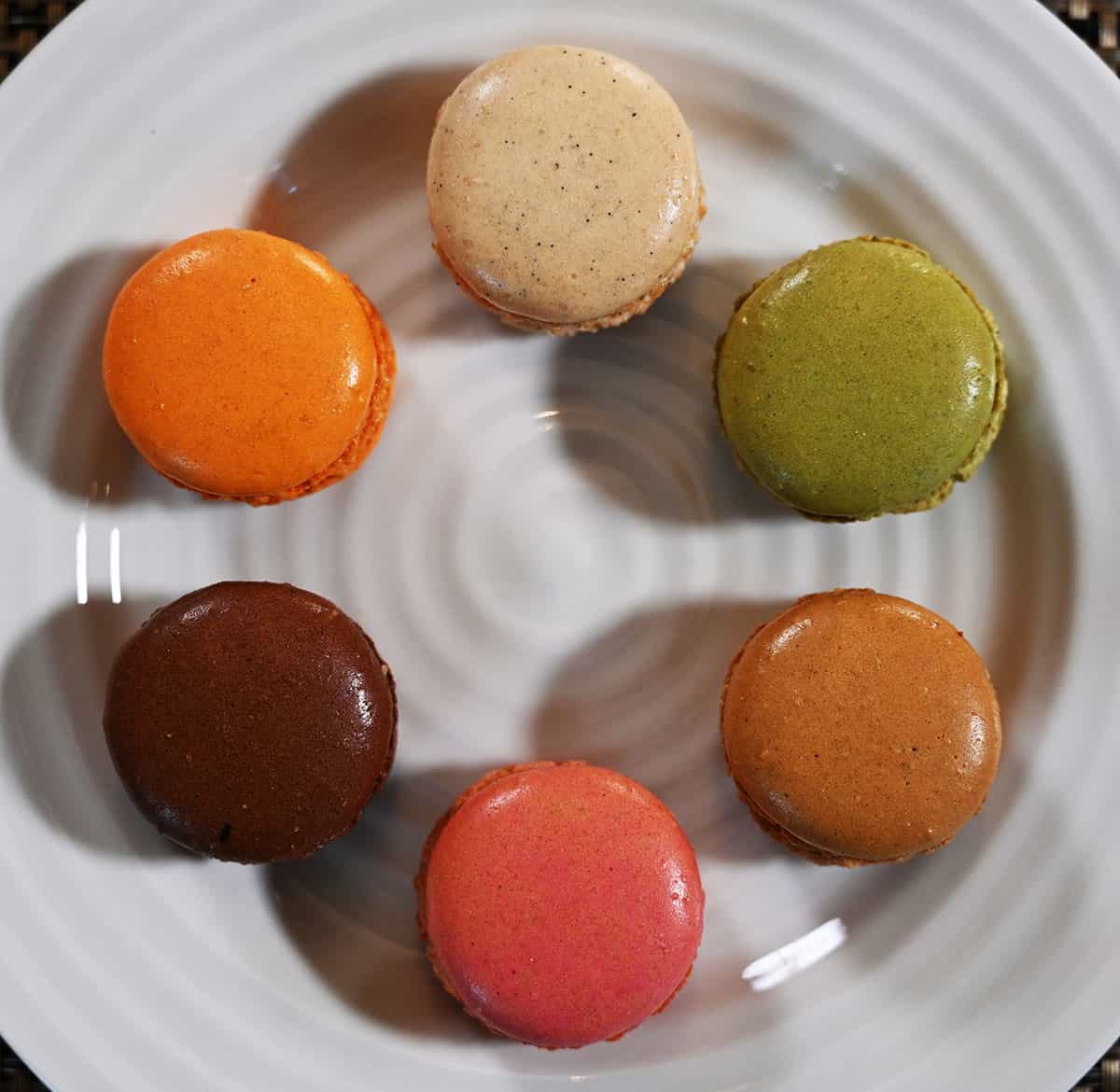 Taste
The macarons are all light with a fairly crisp shell and a good amount of chewiness. They're very good for a grocery store product, though bakery macarons that I've had have a crisper shell. One thing that stands out to me is how fresh these taste for a store-bought macaron.
Vanilla – Quite sweet with a mild but noticeable vanilla flavor.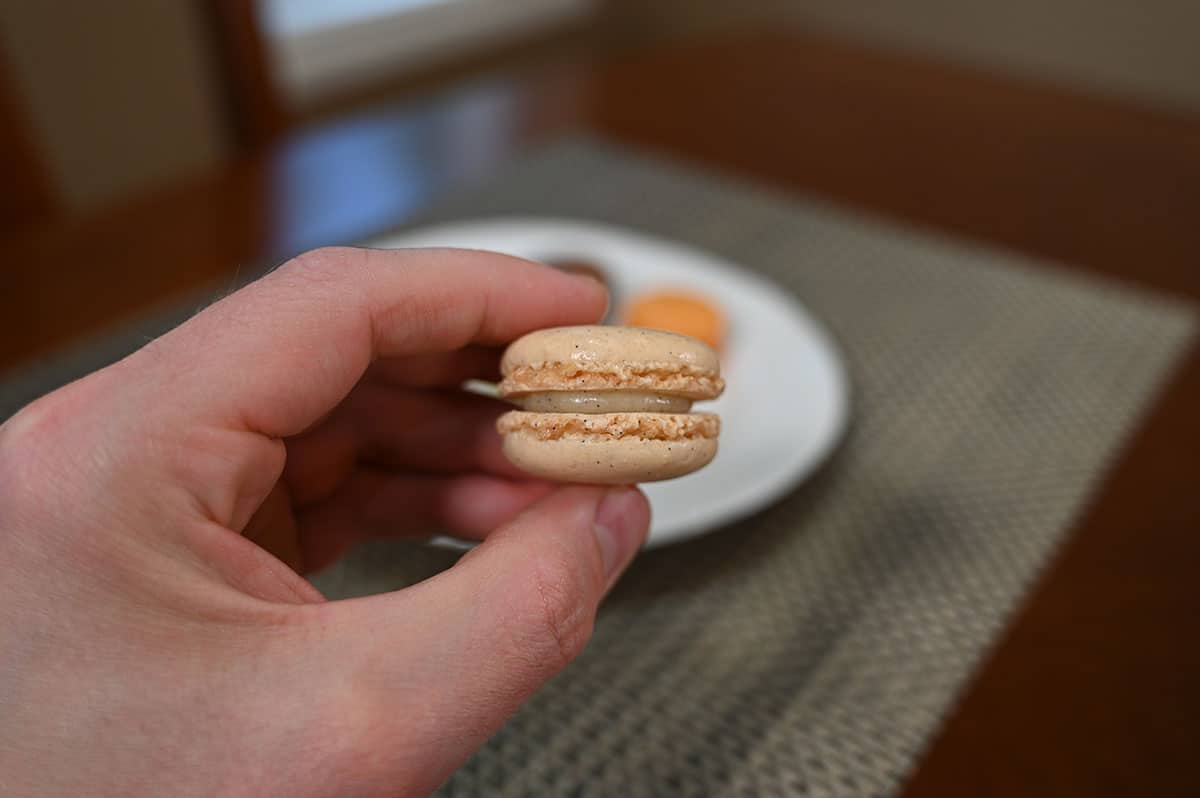 Pistachio – Not overly sweet with a pleasant but not overpowering pistachio flavor.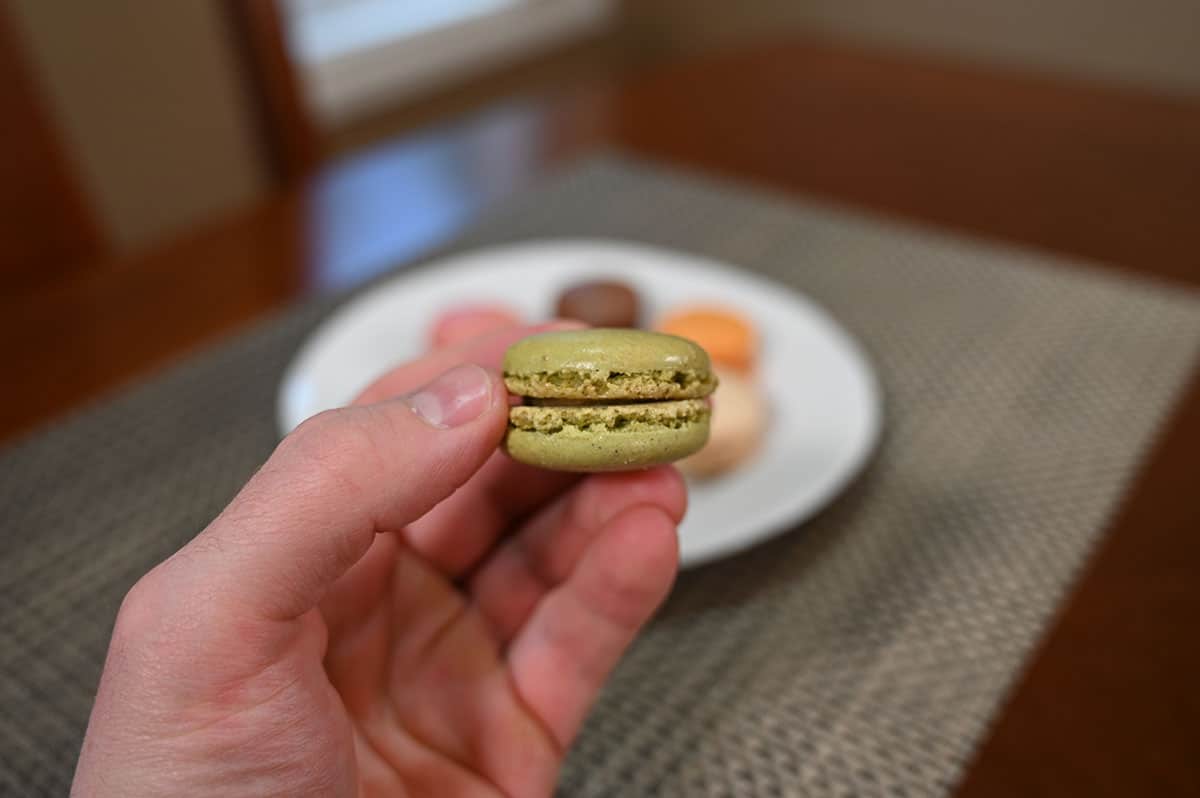 Salted caramel – Another one that's on the sweeter side, but the caramel flavor is really nice. It tastes like it has actual caramel in the center.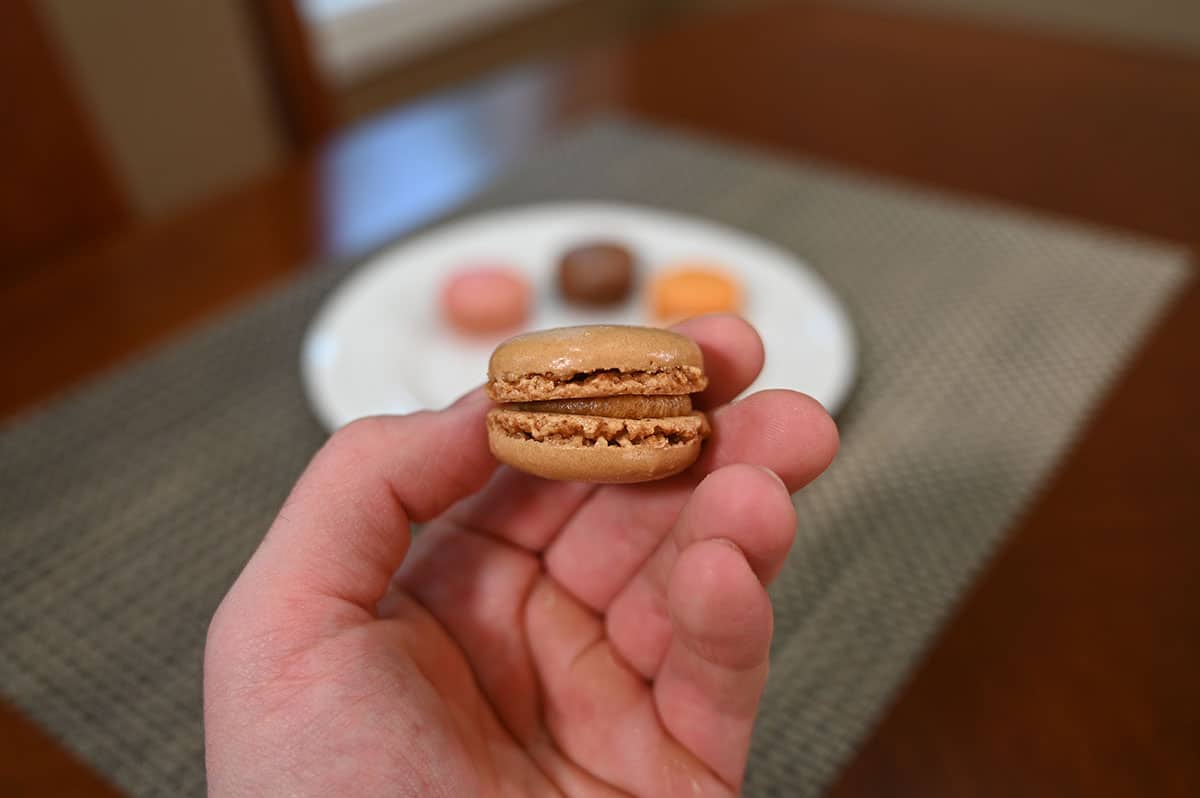 Raspberry – On the sweet side again, but has a great raspberry jam flavor (complete with a few seeds!). The center seems to be filled with actual raspberry jam.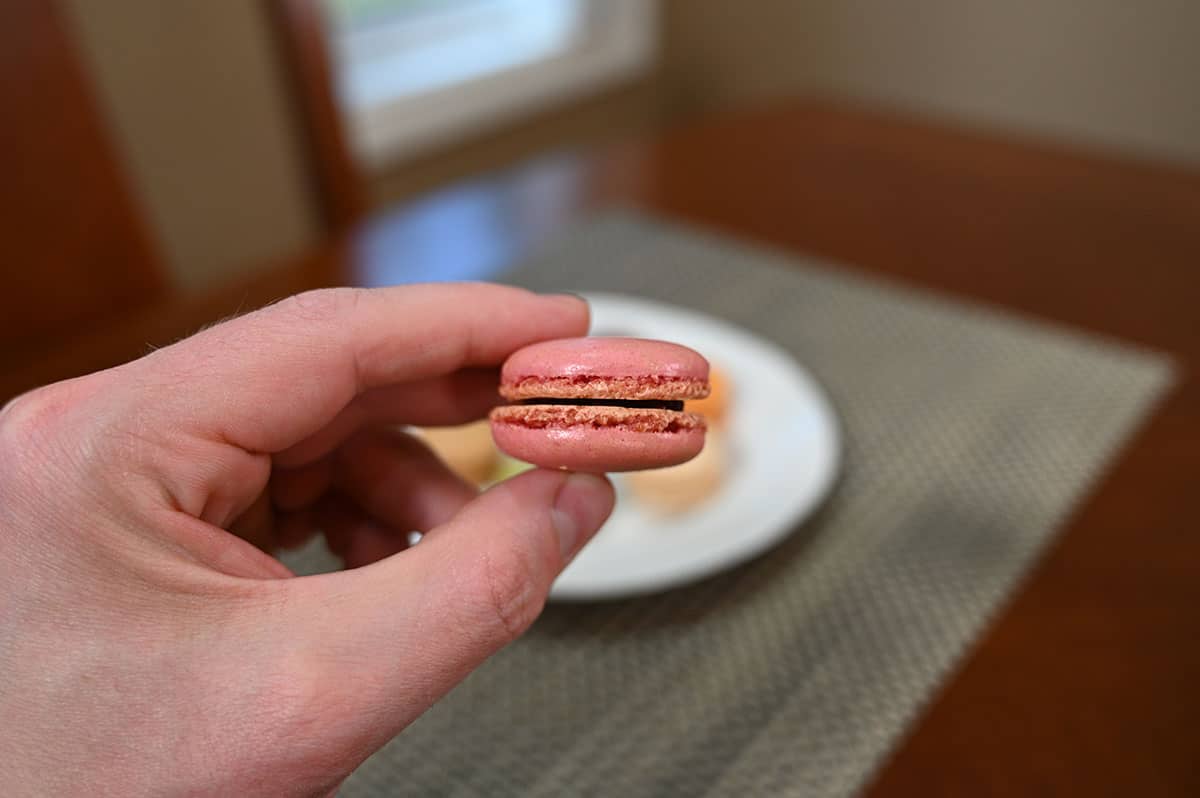 Chocolate hazelnut – I found the chocolate flavor a lot more noticeable than the hazelnut. They almost seem more like a pure chocolate macaron to me! The hazelnut flavor is there, but you really have to look for it.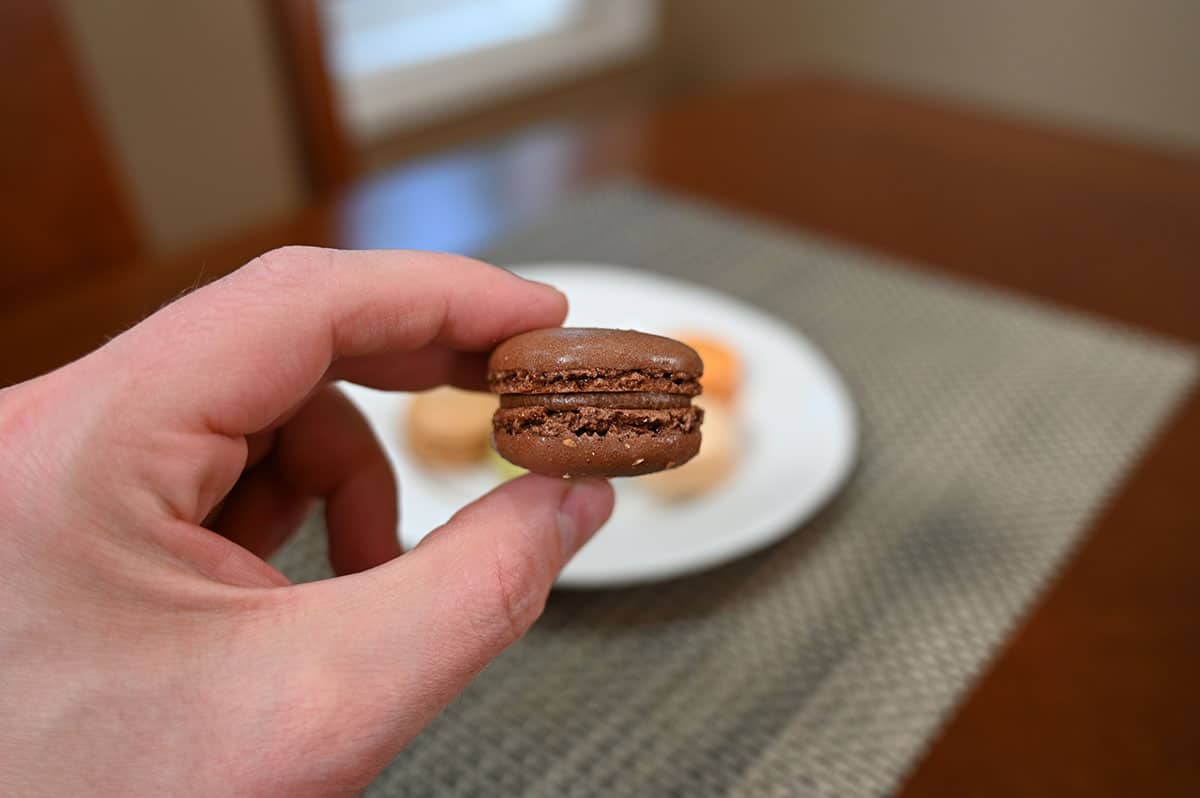 Chocolate orange – Very sweet with a strong artificial orange flavor. The chocolate filling takes a backseat, but you do notice it.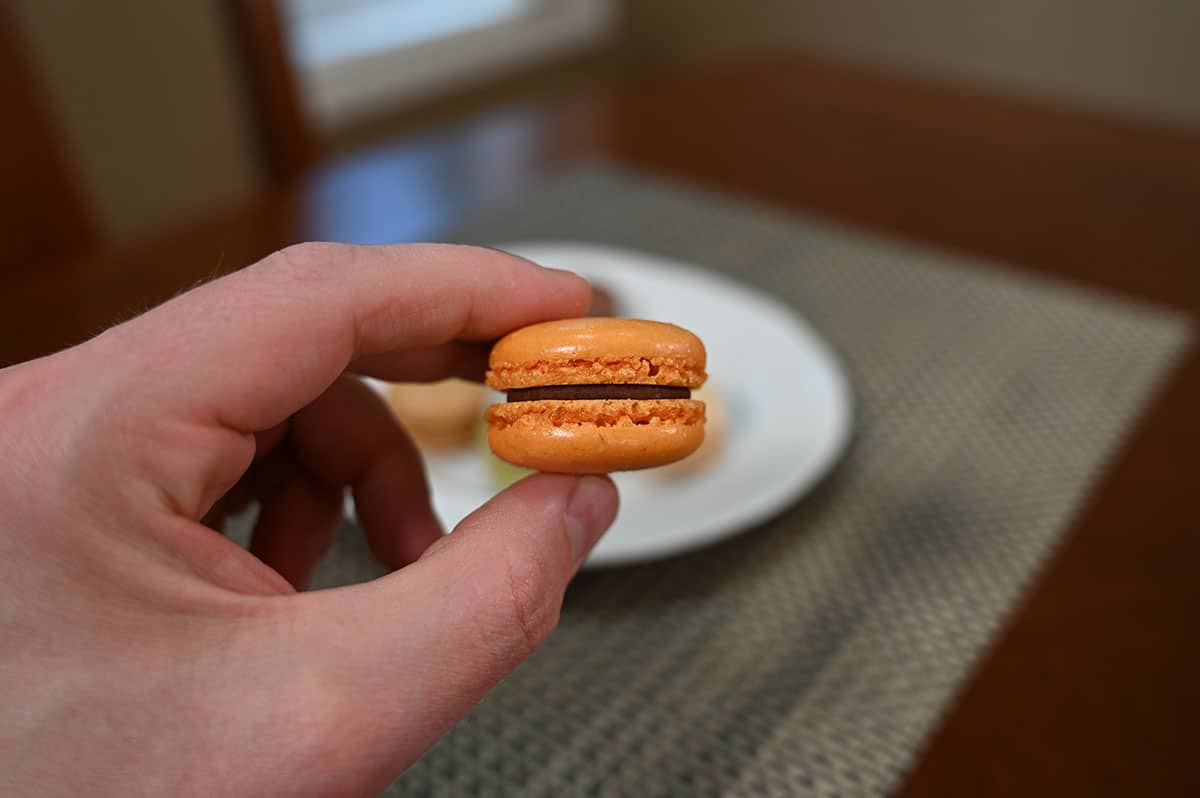 Overall I love the flavors of these macarons. I think the salted caramel and raspberry were my personal favorites.
Cost
The box of 36 macarons costs $17.99 Canadian which is really reasonable. One macaron at my local bakery costs $2.35. These Costco macarons are $0.50 per macaron!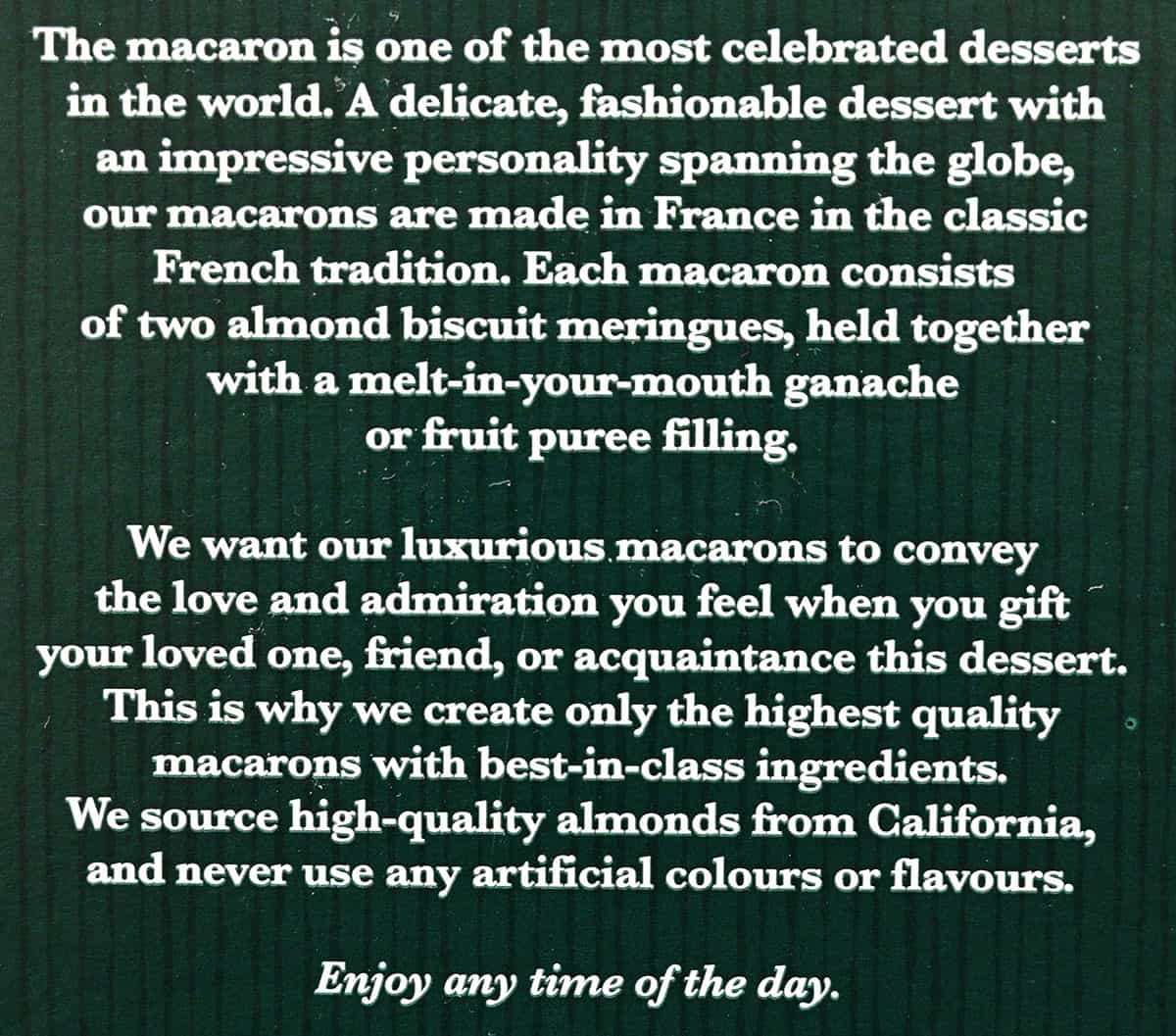 Convenience
The macarons come in a plastic shell that's sealed with clear plastic in the front. It's not resealable, but the macarons are separated into three cells with 12 macarons in each cell, so you can open them 12 at a time and keep the others fresh. I really like this since not everyone wants to eat 36 macarons right away!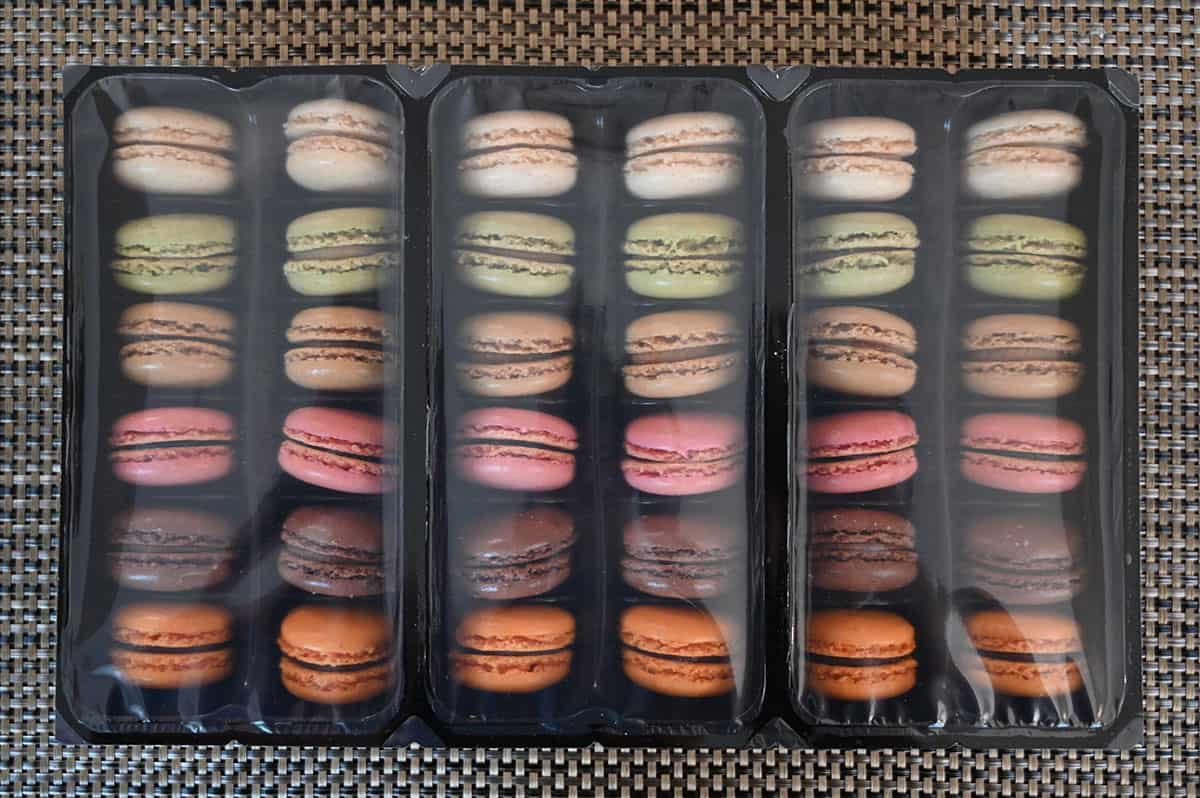 The macarons need to be kept refrigerated and the best before date is almost three weeks from the date I purchased the macarons. I think the macarons would be great served at a bridal shower, baby shower, engagement party or any get together! They're also nice to have at home just to enjoy whenever.
Nutrition
Calories
The nutrition facts vary slightly depending on the flavor of the macaron but they're 100 calories or less and four and a half grams of fat or less, the carbohydrates range from 12 to 15 grams, fibre is one gram for all six flavors, sugar ranges from 11 to 14 grams and protein is two grams for all six flavors of macarons. These nutrition facts are for two macarons.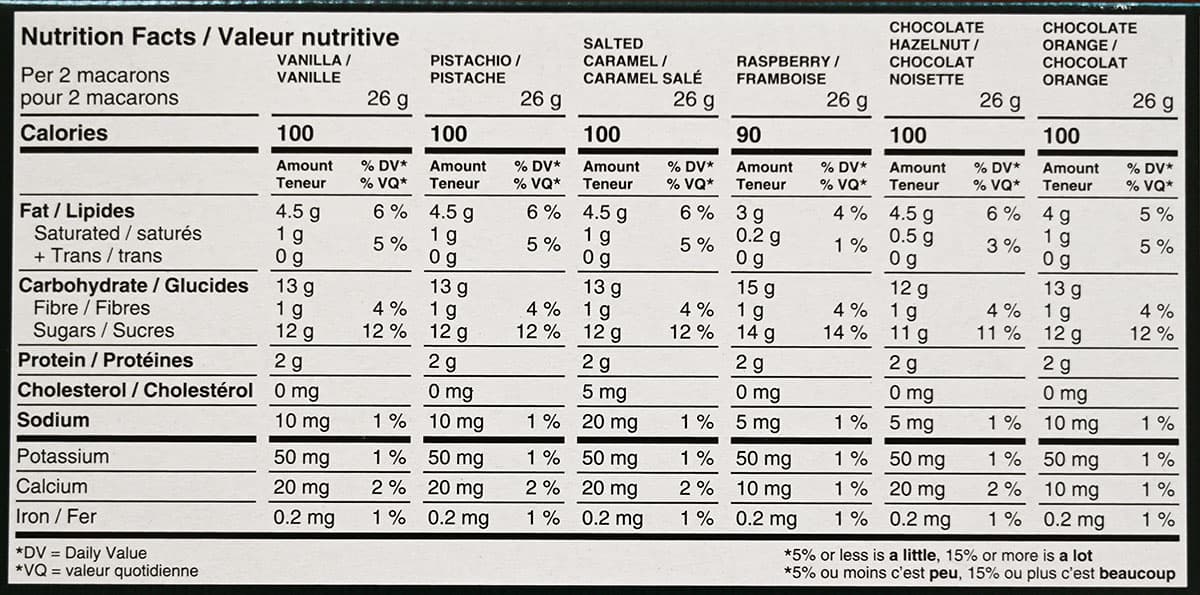 Ingredients
The main ingredients in macarons are sugar, egg whites and almond flour. They're a gluten-free cookie because they're made of almond flour! Just because they're made of almonds and are gluten-free it doesn't make them healthy. The vanilla and chocolate orange flavor contain carrageenan which is banned in foods in the European Union due to being linked to some negative health consequences.


Scoring
Taste: 9/10
Cost: 9/10
Convenience: 10/10
Nutrition: 0/10
Overall
Give it a try!
Overall I love the flavors of these macarons. I think the salted caramel and raspberry were my personal favorites.
Have you tried this brand of macaron? Do you prefer these or the Tipiak ones at Costco?
---
Please note that this review was not paid for or sponsored by any third party. This product was purchased by Costcuisine for the purpose of producing this review. The opinions in this review are strictly those of Costcuisine. Costcuisine is not affiliated with Costco or any of its suppliers. In the event that Costcuisine receives compensation for a post from the manufacturer of a product or some other third party, the arrangement will be clearly disclosed (including where the manufacturer of a product provides Costcuisine with a free sample of the product).