Dark roast coffee beans are roasted longer resulting in a less sour flavor and a reduced amount of caffeine. A lot of people enjoy dark roast coffee for its bitter, bold flavor. The Costco Level Ground East Africa Dark Roast coffee beans are fair trade as well as organic. Find out if they produce a stellar cup of joe below!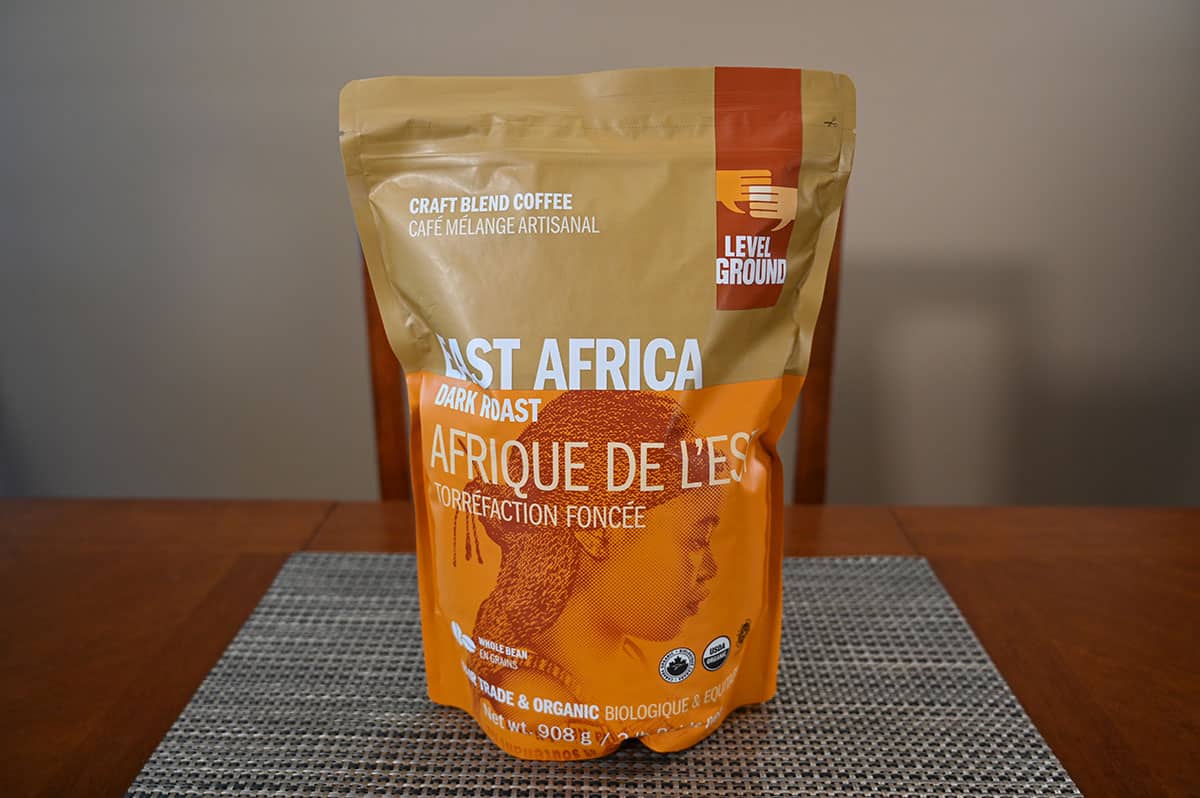 Coffee is something I look forward to every morning, I gave it up for nine months during my pregnancy so now that I'm not pregnant anymore and very sleep deprived, I want all the coffee! I don't do a lot of Costco coffee reviews so I decided to pick up these Level Ground East Africa Dark Roast coffee beans during a recent trip to Costco.
Other Costco coffee products I've reviewed are the Costco Salt Spring Coffee, Costco Starbucks Caramel Macchiato Coffee Enhancer, Costco Ethical Bean Coffee Lush Medium Dark Roast, Costco Kirkland Signature Cold Brew Colombian Coffee, Costco Starbucks Winter Blend Coffee and the Costco Starbucks Fall Blend.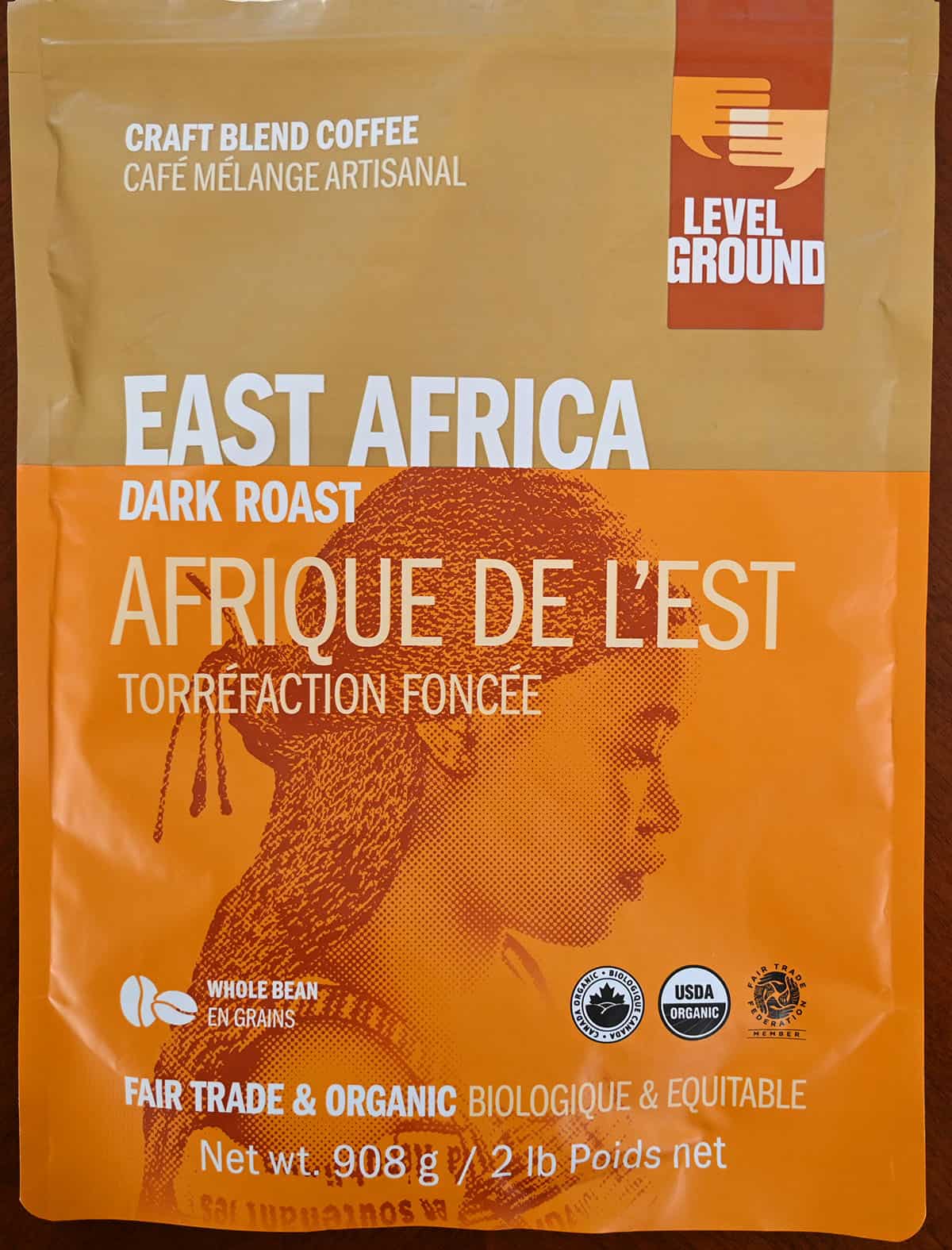 Location in Store
You can find these coffee beans in the aisle with the other coffee beans and teas. The item number is 2009011.
Taste
The beans have a nice aroma, as dark roasts often do. I brewed a strong cup and found the flavor to be a very strong and fairly typical dark roast flavor. I drink mostly lighter roasts because I find the flavors more interesting. Most dark roasts taste pretty similar to me.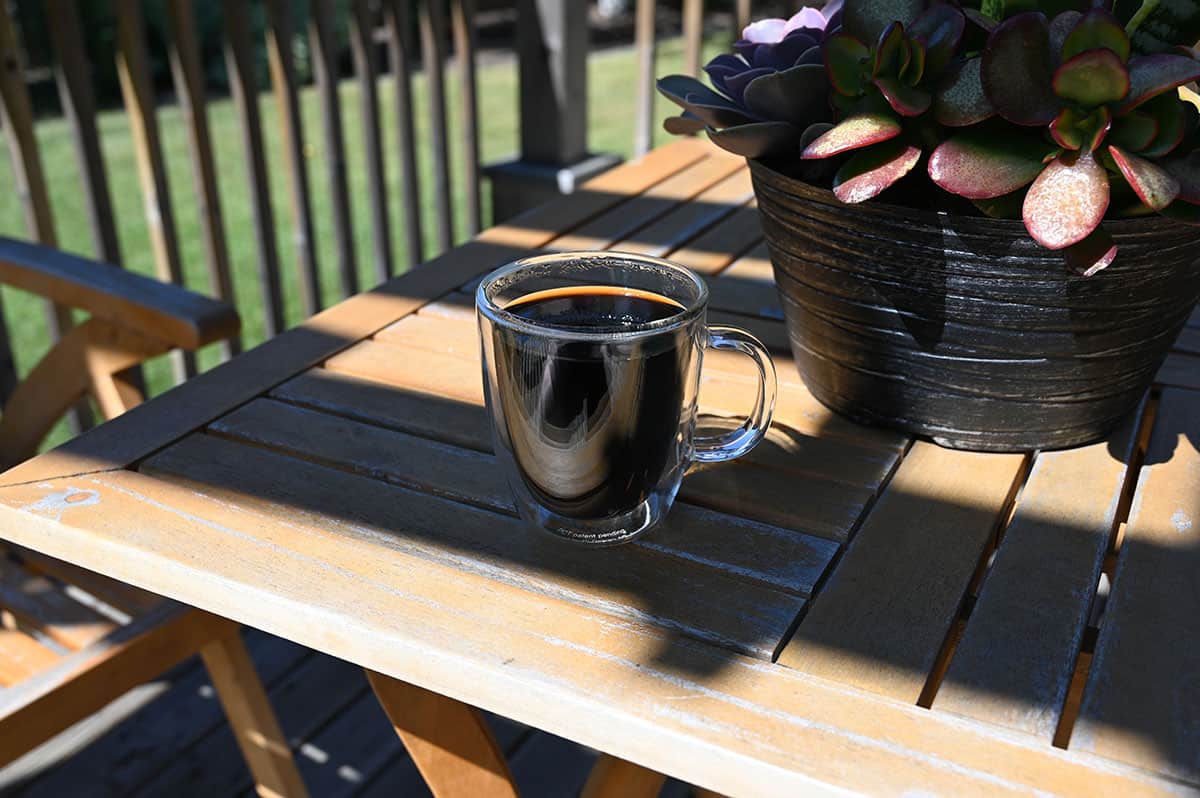 The bag says the coffee had a spicy flavor, but I didn't notice that. It has a slight amount of bitterness to me, but it's not unpleasant.
I prefer my coffee with oat milk, and I find that adding oat milk to this coffee gives it a less bitter and more rich and bold flavor (which is the same as pretty much any other type of coffee, but I find oat milk or cream makes a bigger improvement with dark roasts like this).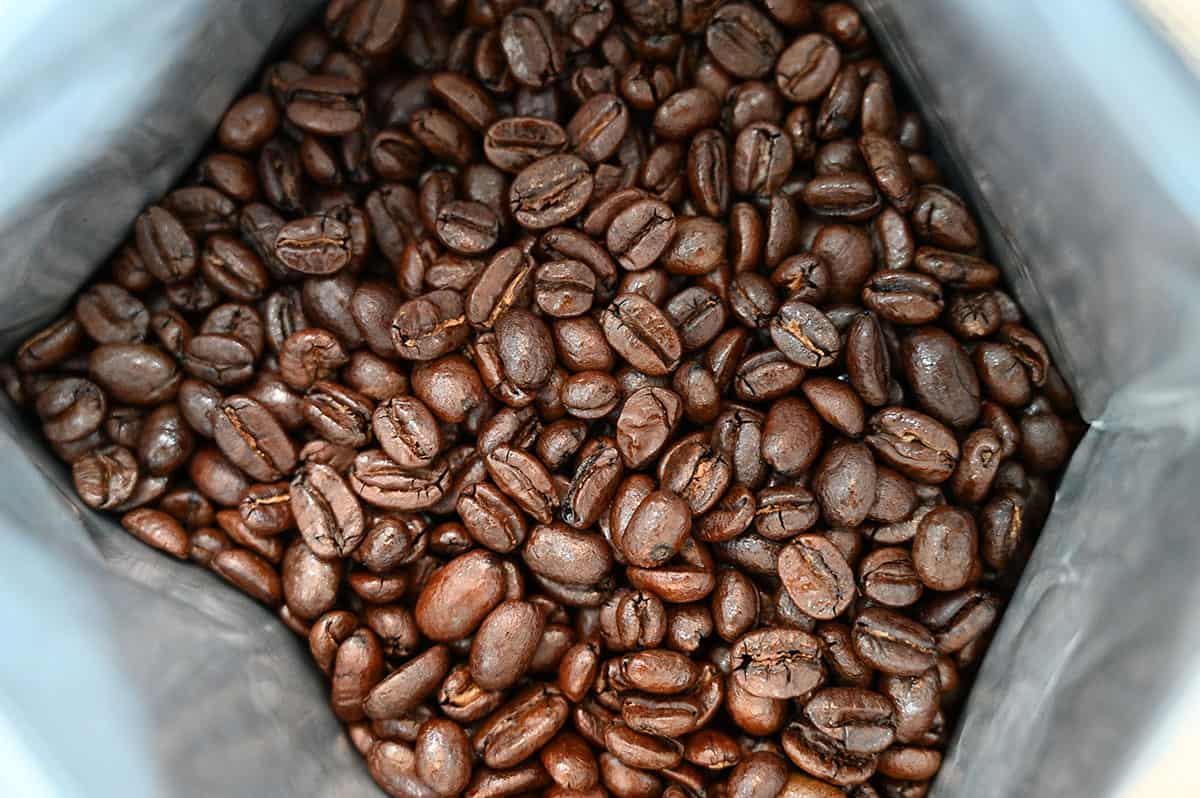 Cost
The 908 gram bag of organic coffee beans costs $17.99 Canadian at Costco, which is a similar price to all the other coffee beans at Costco. I think this is quite reasonable for a fair-trade, organic coffee bean.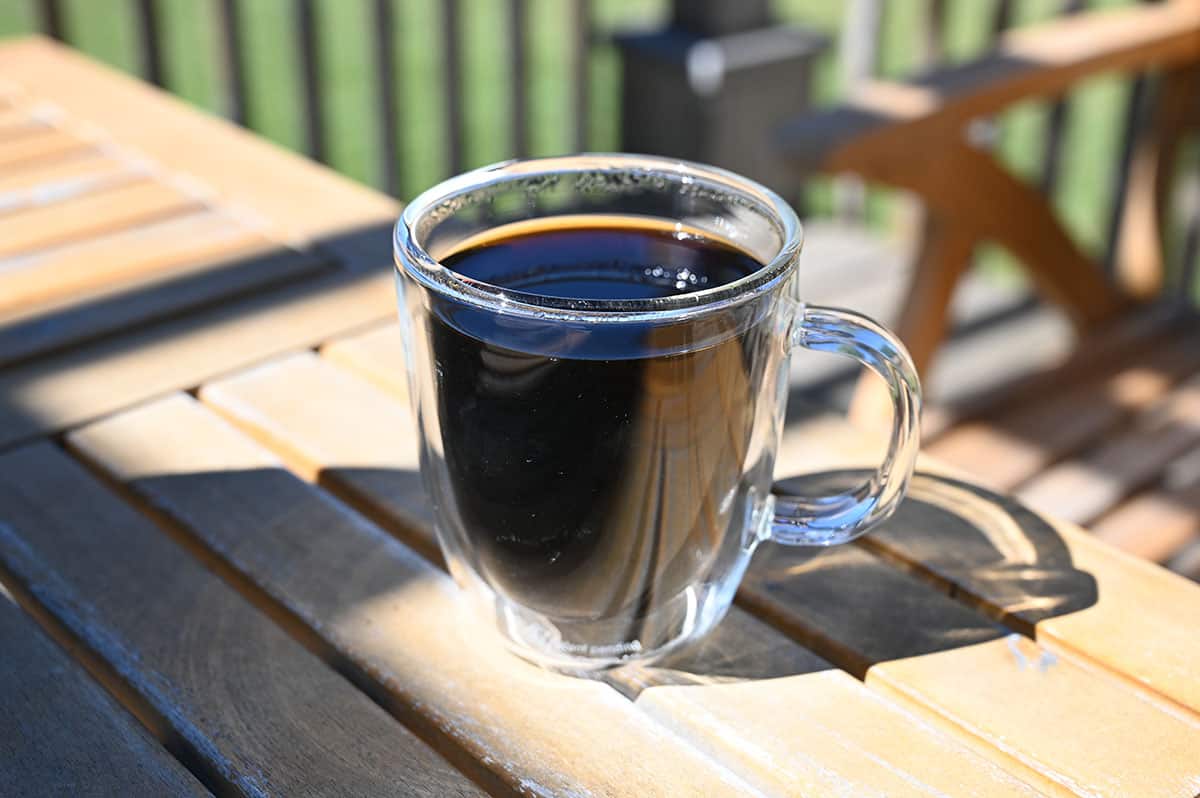 Convenience
The coffee beans come whole so you need to grind them and brew your coffee which is not as convenient as instant coffee or the coffee machines that use pods like a Keurig or Nespresso. The back of the bag of beans has instructions on how to prepare the beans in a french press or using a 12 cup drip brewer.
The bag is resealable which is convenient and the best before date listed on the bag is 11 months from the date we purchased the beans.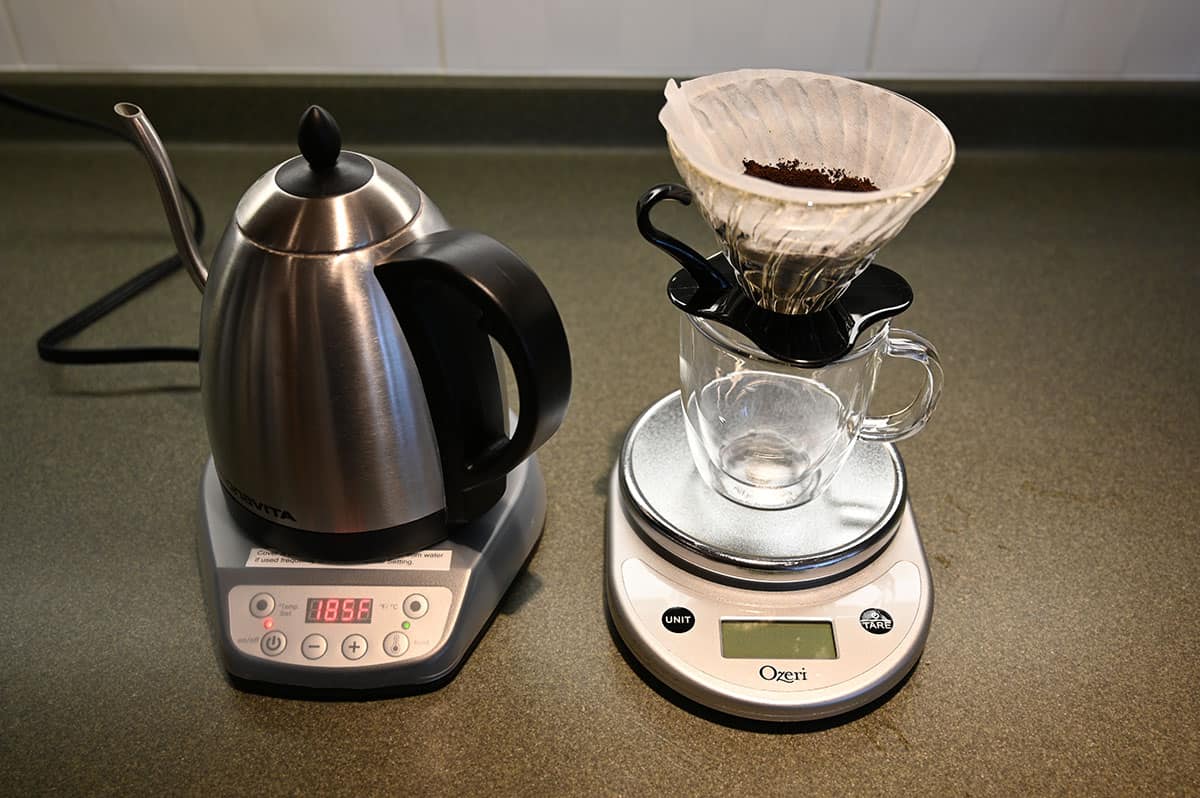 Nutrition
Calories
Coffee served black is very low in calories, like five or less calories in a cup. When you add coffee creamer, oat milk, sugar and syrups is how you can end up with a pretty high-calorie coffee!
Ingredients
There's only one ingredient, organic coffee beans from East Africa. The bag states the beans are Kosher, I really appreciate that Level Ground produces a Fair Trade, organic coffee bean.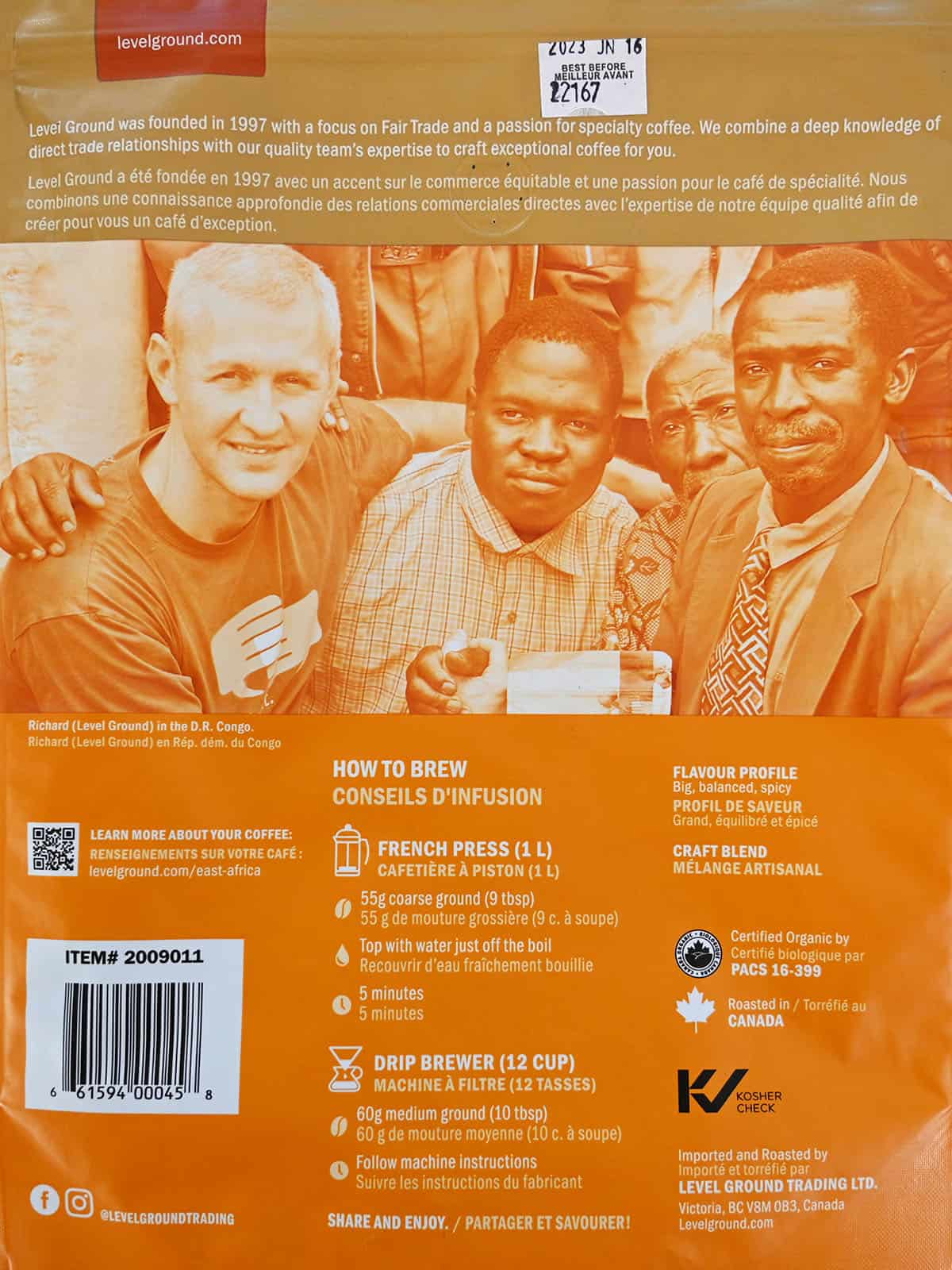 Scoring
Taste: 7.5/10
Cost: 8/10
Convenience: 2/10
Nutrition: Not applicable. Coffee is something that some people say is healthy and others say it's not.
Overall
Give it a try!
If you like a typical dark roast coffee, this is it. It's nothing special but isn't bad at all!
What's your favorite coffee to buy from Costco?
---
Please note that this review was not paid for or sponsored by any third party. This product was purchased by Costcuisine for the purpose of producing this review. The opinions in this review are strictly those of Costcuisine. Costcuisine is not affiliated with Costco or any of its suppliers. In the event that Costcuisine receives compensation for a post from the manufacturer of a product or some other third party, the arrangement will be clearly disclosed (including where the manufacturer of a product provides Costcuisine with a free sample of the product).