Coffee crisp is a chocolate bar made of crispy vanilla-coffee flavored wafers covered in a thin chocolate coating. Nestle has now turned the loved Canadian Coffee Crisp into a frozen treat! How do these Costco Nestle Coffee Crisp Ice Cream Bars compare to the non-frozen chocolate bar?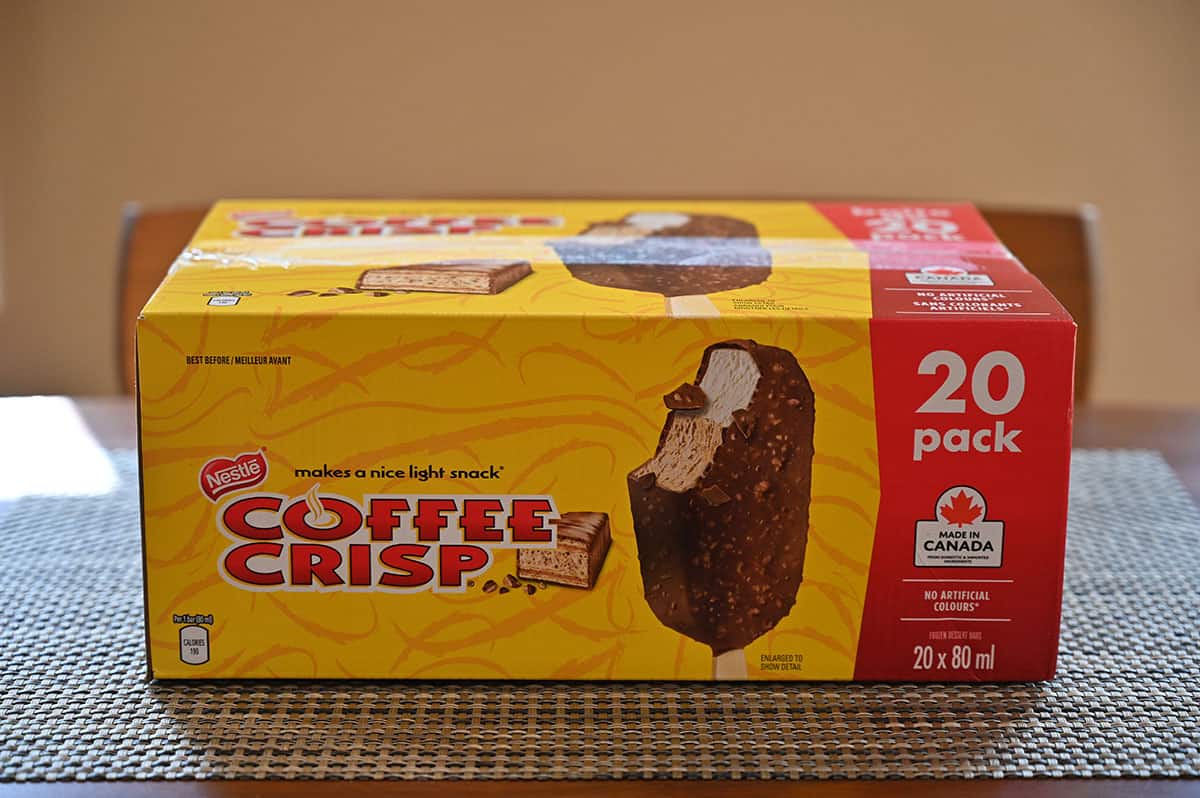 Coffee Crisp is my favorite chocolate bar along with Kit Kat. I grew up loving Coffee Crisp and come by it honestly as my mom also loves them! I never knew that Coffee Crisp is only available in Canada until my mom started shipping the chocolate bar to my uncle who lives in the U.S. Costco is now carrying these Nestle Coffee Crisp Ice Cream Bars and I decided to pick a box up to try.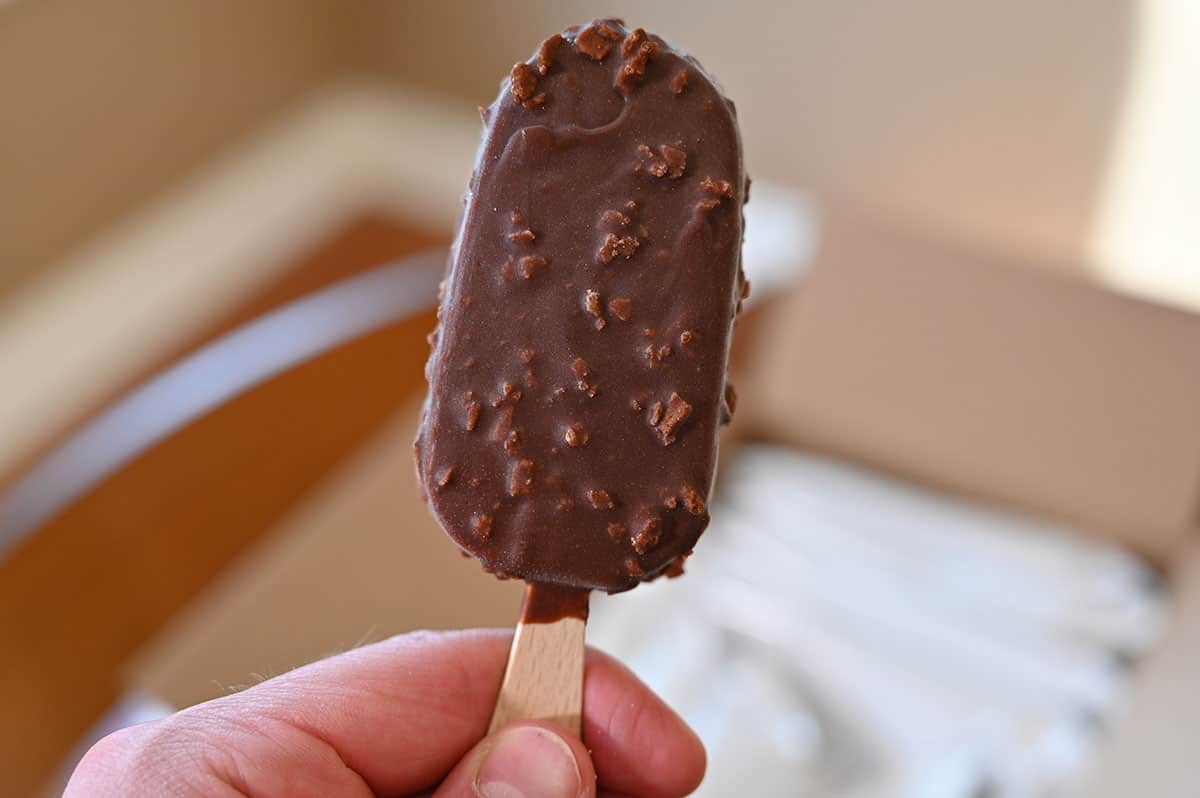 Other frozen desserts from Costco are the Costco Traditions Variety Ice Cream Pack, Costco Nestle Kit Kat Ice Cream Bars, Costco Traditions Mega Ice Cream Sandwiches, Costco Kirkland Signature Vanilla Almond Ice Cream Bars and the Costco Christie Oreo Ice Cream Sandwiches.
Location in Store
You can find the Coffee Crisp ice cream bars in the freezer section at Costco, the item number is 1609363.
Taste
The first thing I notice is that it has much less coffee flavor than a Coffee Crisp chocolate bar! This is more of a chocolate-covered ice cream bar than a Coffee Crisp. I personally find Coffee Crisps a little dry, but obviously, that's not an issue with the ice cream bars. The bits of the wafer in the chocolate coating provides some of the signature crispiness of a Coffee Crisp.
The vanilla ice cream doesn't have much flavor, but it's typical for an ice cream bar. The coffee ice cream is pretty tasty and has a nice, sweet Coffee Crisp coffee flavor. I wish they'd used only coffee ice cream in these bars personally. The chocolate used for the shell is of decent quality.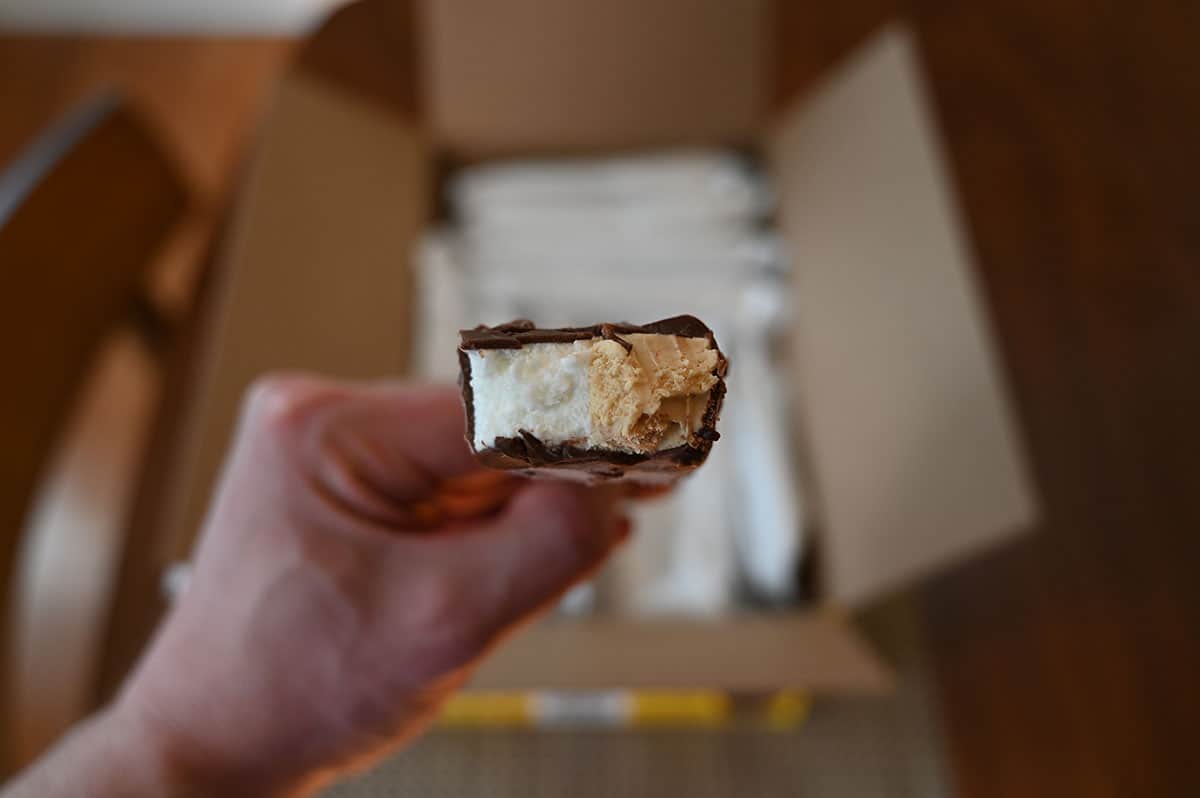 As an ice cream bar, these Coffee Crisp ice cream treats are very enjoyable! As someone who loves the chocolate bar, I enjoyed them a lot. Coffee Crisp lovers might be a little disappointed by how different they are though because they aren't an exact replica of the chocolate bar.
Cost
The box of 20 bars costs $16.99 Canadian at Costco. Each bar is 80 milliliters. They aren't the cheapest frozen ice cream bars but the Costco price is much cheaper than what you'd pay at a gas station or convenience store.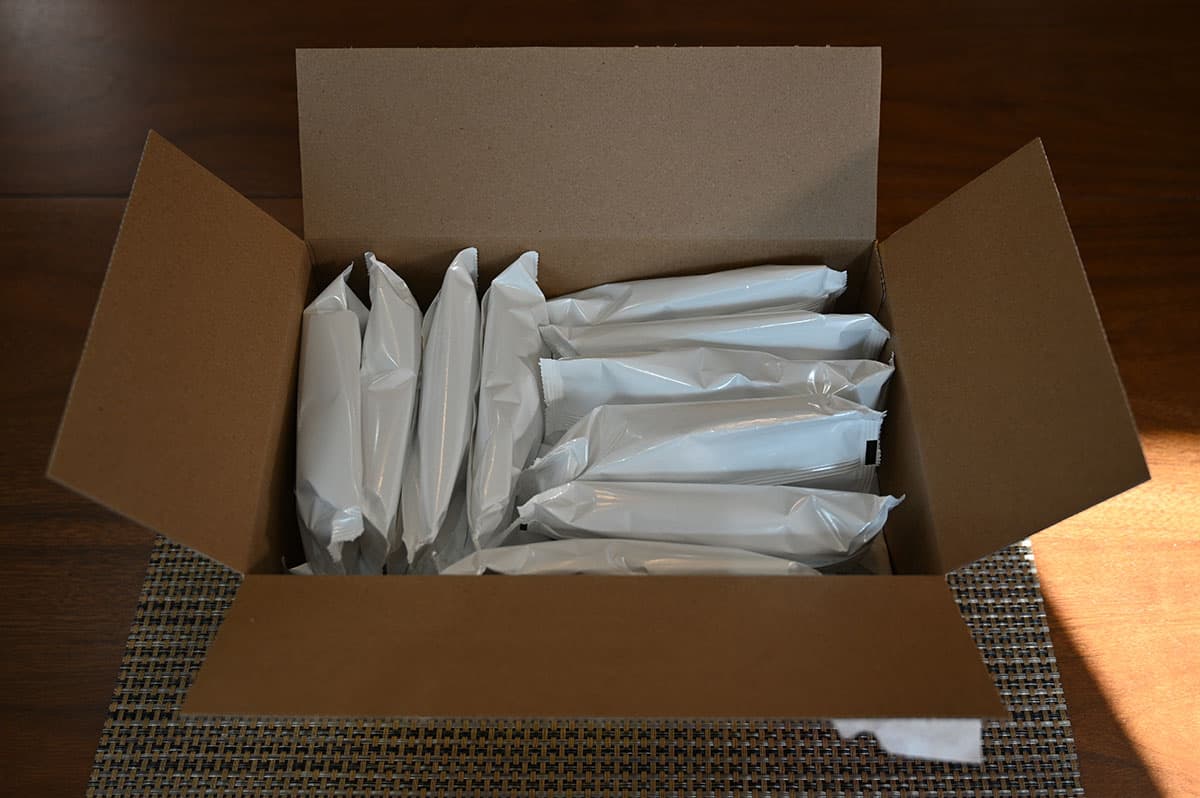 Convenience
Each bar is individually wrapped and the best before date listed on the box is eight months from the date I purchased the bars.
Having a box in the freezer during the summer months is convenient because you can offer them to guests if you tend to have a lot of neighborhood kids coming over or lots of last-minute get-togethers!
Nutrition
Calories
Each bar is 190 calories, 11 grams of fat, 21 grams of carbohydrates, one gram of fibre, 16 grams of sugar, two grams of protein and 50 mg of sodium.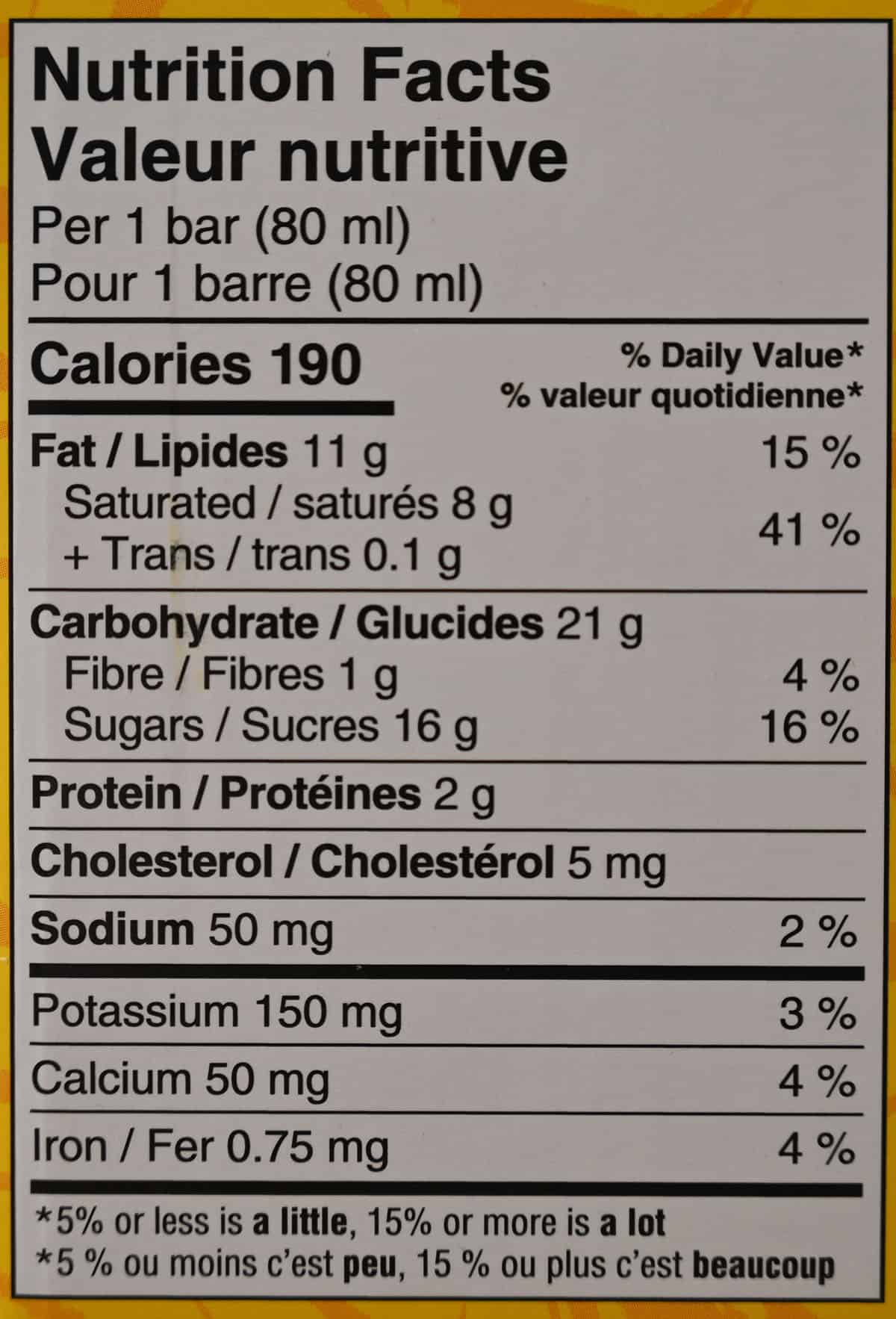 Ingredients
These are not at all healthy. the ingredients list is long and there are a few artificial ingredients. The Costco Nestle Coffee Crisp Ice Cream Bars don't have any nuts listed but they "may contain" peanuts and tree nuts and are also not dairy-free or gluten-free.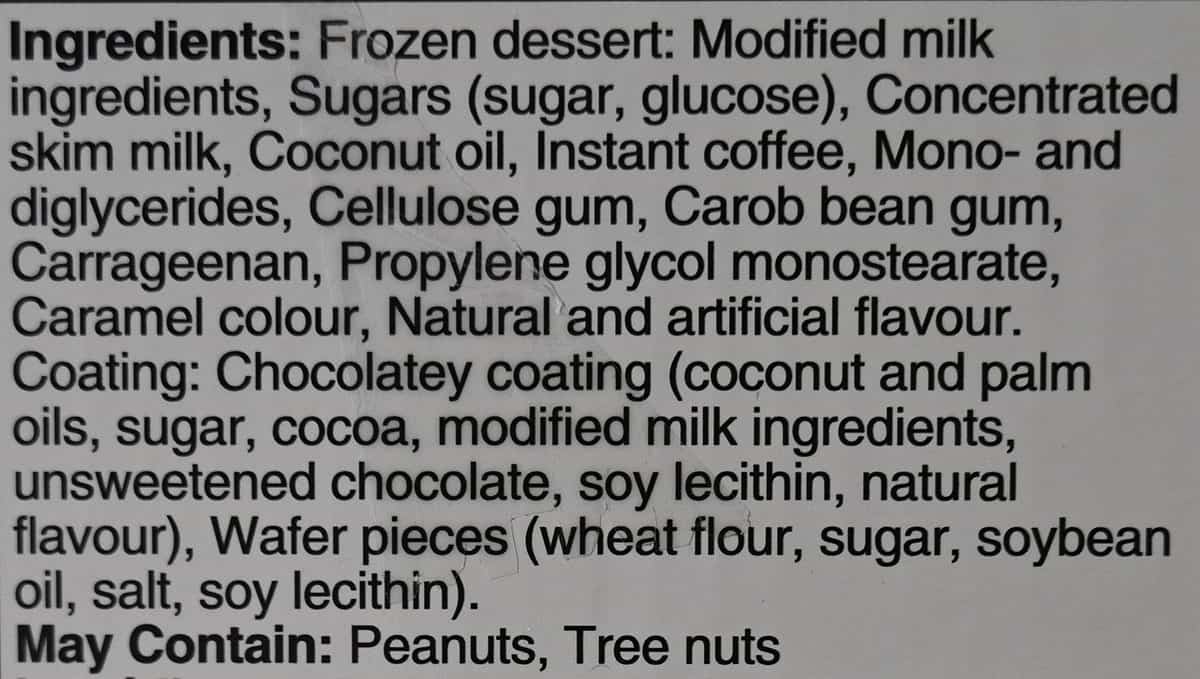 Scoring
Taste: 7/10
Cost: 6.5/10
Convenience: 10/10
Nutrition: 0/10
Overall
Give it a try!
These Coffee Crisp Ice Cream Bars from Costco aren't an exact replica of the chocolate bar in frozen ice cream bar form. They're not as good as Coffee Crisp Chocolate Bars but as an ice cream bar in general, they're pretty good.
Have you tried Coffee Crisp? Would you buy these bars? Why or why not?
---
Please note that this review was not paid for or sponsored by any third party. This product was purchased by Costcuisine for the purpose of producing this review. The opinions in this review are strictly those of Costcuisine. Costcuisine is not affiliated with Costco or any of its suppliers. In the event that Costcuisine receives compensation for a post from the manufacturer of a product or some other third party, the arrangement will be clearly disclosed (including where the manufacturer of a product provides Costcuisine with a free sample of the product).