This Costco frozen pizza is like a super tasty chicken fajita pizza! Highly recommend!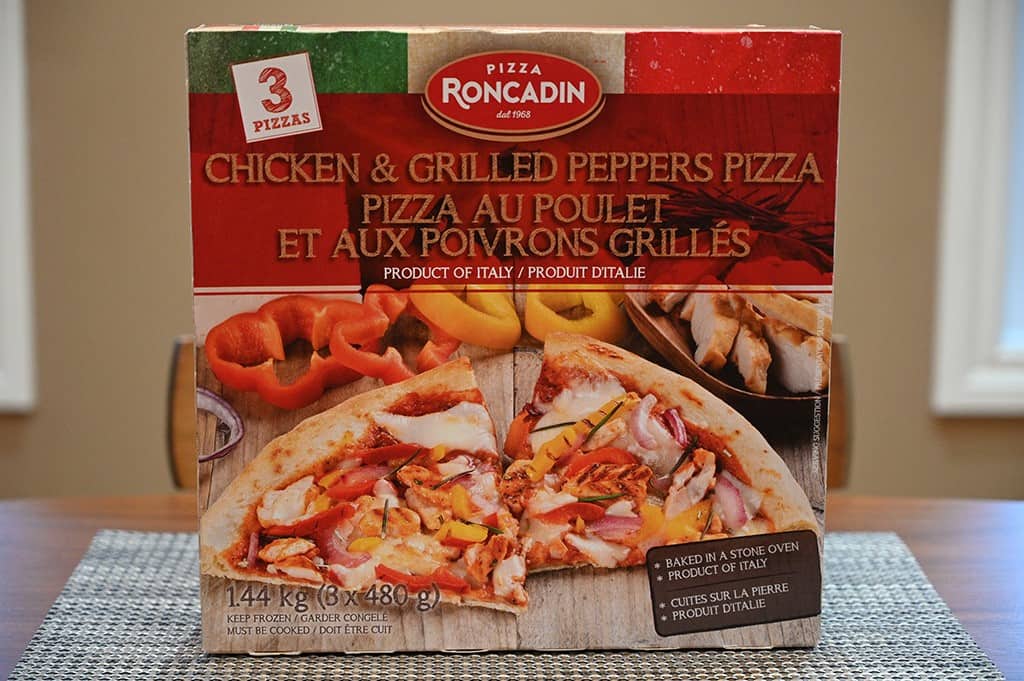 Way back in the day (like years ago) I remember my mom purchased a chicken fajita pizza from Costco that I really liked. As often the case at Costco, it disappeared and hasn't been seen since. Sean and I have already tried the Pizza Roncadin Salami, Bacon & Mushroom pizza from Costco and loved it but noticed it has been replaced with this Pizza Roncadin Chicken & Grilled Peppers Pizza so we picked it up to try.
I've reviewed other pizzas from Costco like the Sabtasso's Gluten-Free Four Cheese Pizza, Kirkland Signature Four Cheese Pizza, Pizza Delight Garlic Cheese Fingers from Costco and have even reviewed pizza crusts, like the Molinaro's Cauliflower Pizza Crust and the original Molinaro's Pizza Crust Kit.
The Pizza Roncadin can be found in the freezer aisle by the other frozen pizza. The item number is 2314371.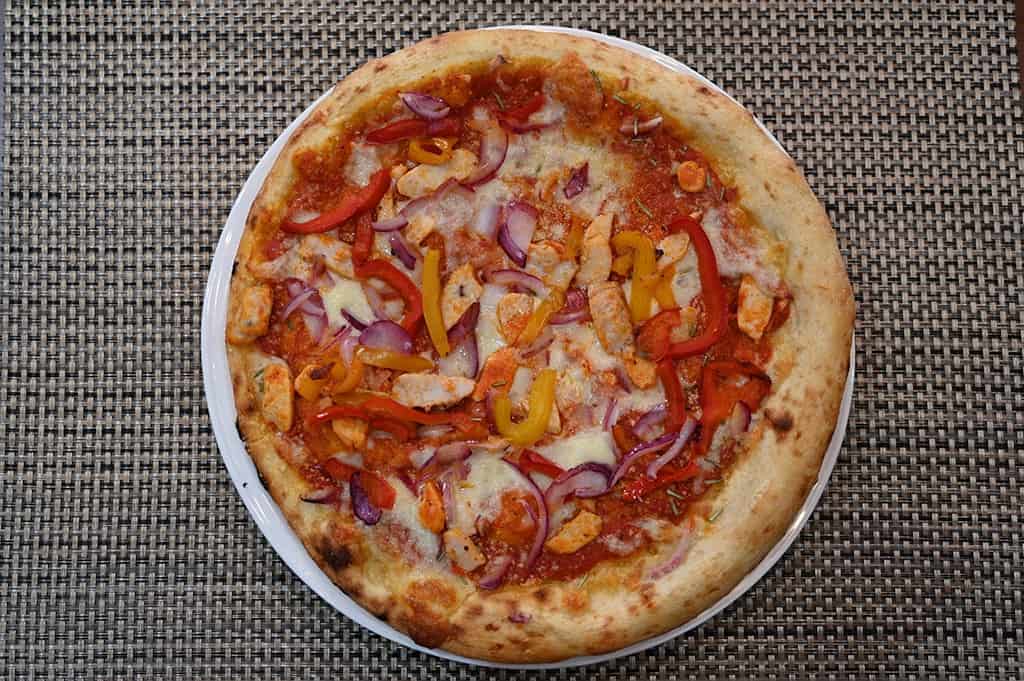 Taste
This reminds of the chicken fajiita pizza that Costco used to sell! I really, really enjoyed the Costco Pizza Roncadin Chicken & Grilled Peppers pizza and will happyily finish my box and buy it again.
This pizza has chicken, purple onion, grilled red and yellow peppers, cheese and a delicious ever so slightly spicy tomato sauce. The sauce just has a hint of heat to give it that fajita pizza flavor but I wouldn't say this is a spicy pizza at all.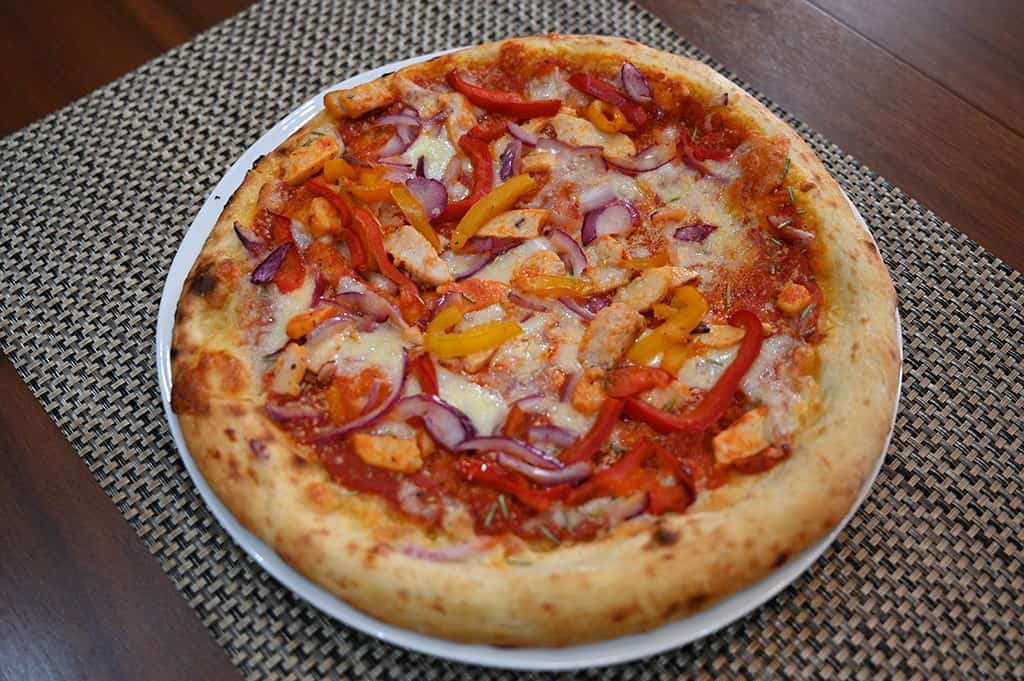 The crust is amazing, nice and crispy in the middle and soft on the edges. The Pizza Roncadin has a crust that is already baked in a stone pizza oven in Italy so it tastes similar to the kind of pizza you get in an authentic Italian pizza restaurant!
There's not a ton of cheese on the pizza so if you like tons of cheese I suggest just adding a little more at home before baking. The vegetables tasted fresh and were semi-crispy after baking.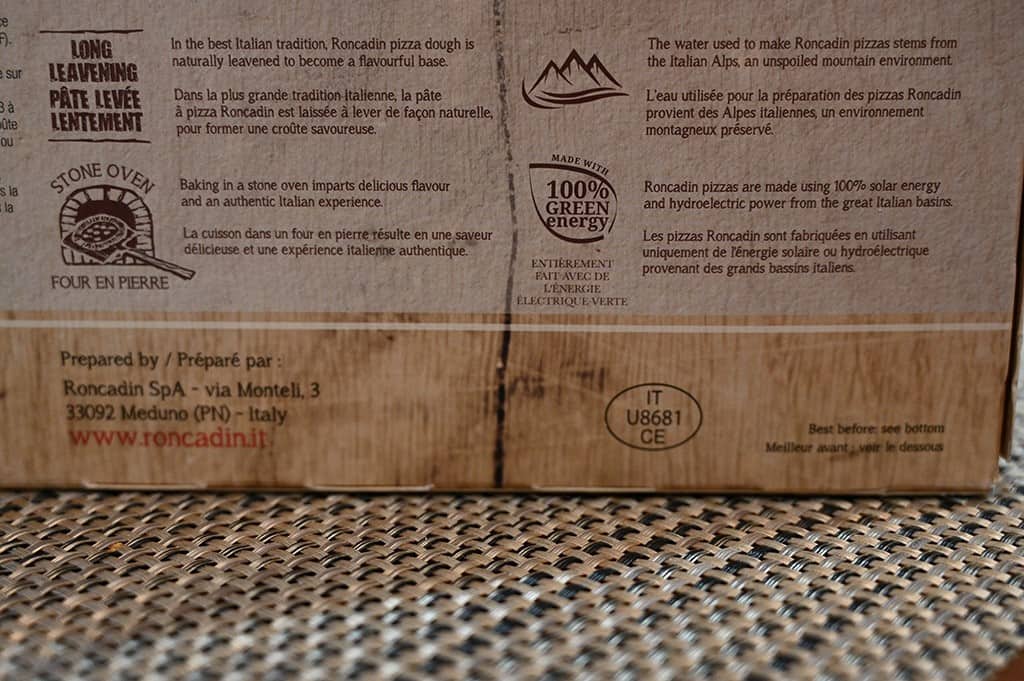 Cost
I paid $14.99 Canadian for three pizzas. The pizza isn't huge, about the size of a large dinner plate, Sean could easily eat one himself and I can eat about half a pizza. Three pizzas for $14.99 is pretty reasonable.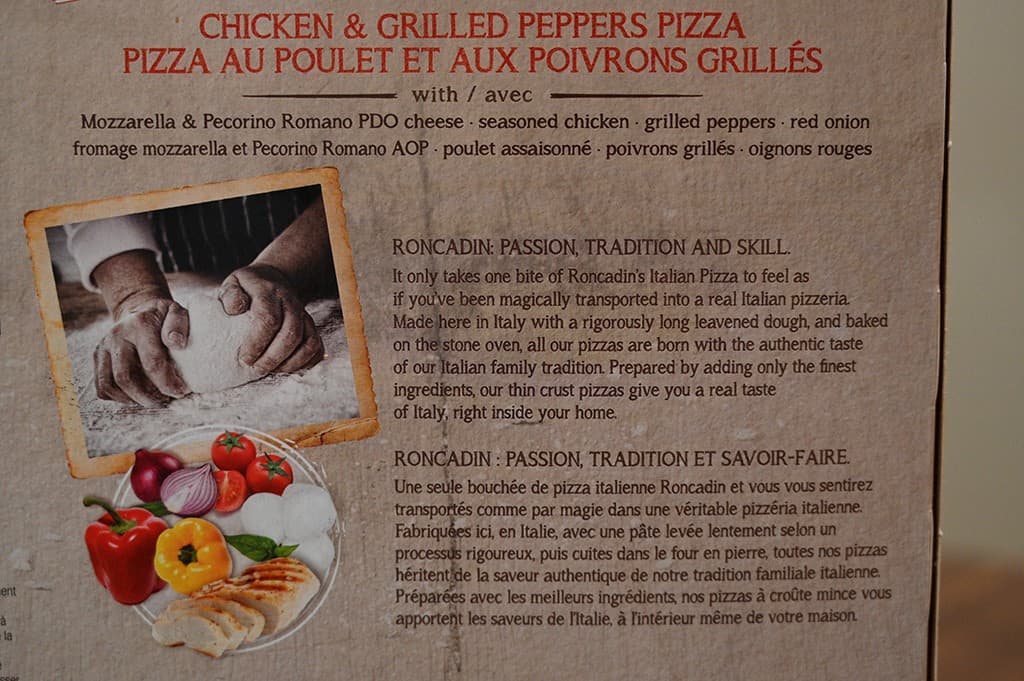 Convenience
The absolute easiest dinner ever. You bake the pizza from frozen so just preheat the oven, bake the pizza for about 12 to 14 minutes and voila! Amazing pizza at home.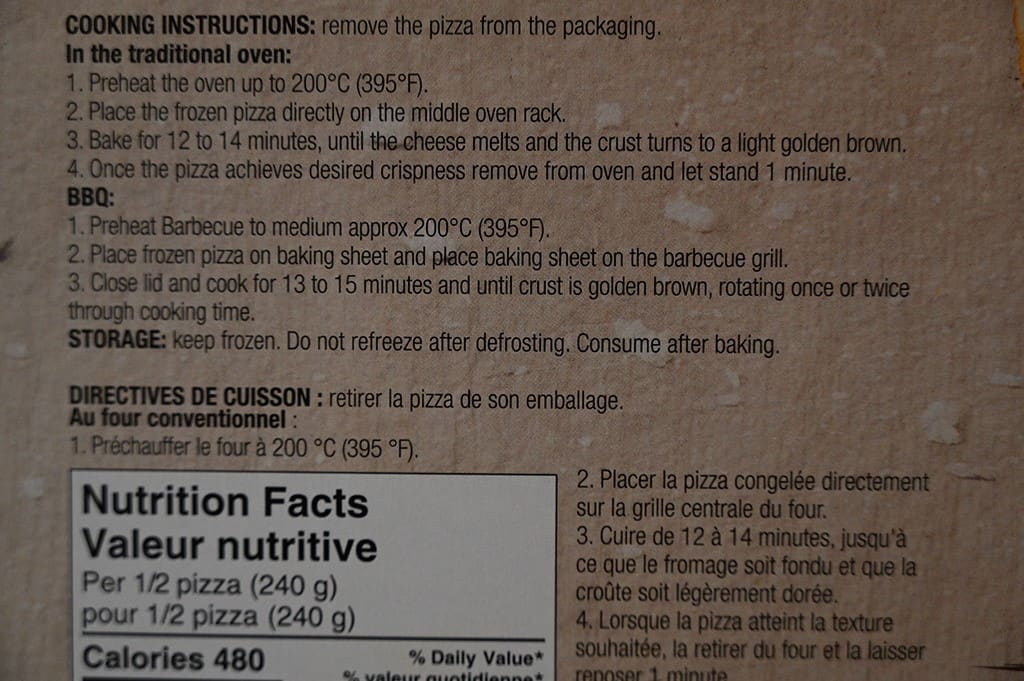 These make a convenient item to have in your freezer if you're having people over or want a quick and convenient meal for the family. If you have leftover pizza it makes awesome leftovers for lunch.
The best before date is about six months from the date I purchased the pizzas. Make sure you keep your pizza in the freezer!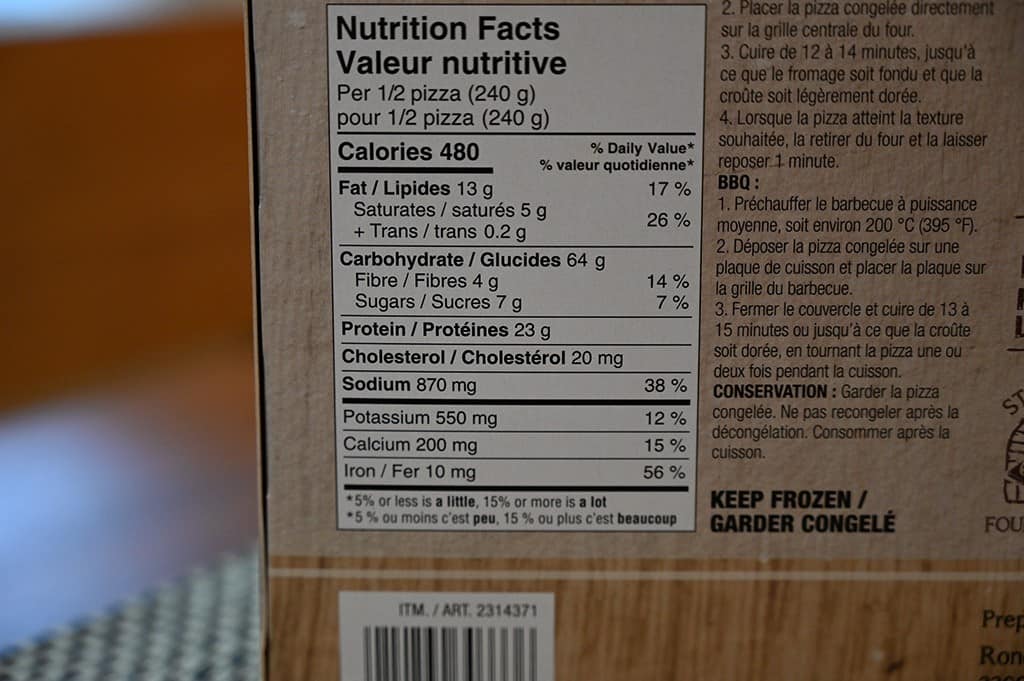 Nutrition
Obviously not the healthiest meal you could choose but worth every calorie in my opinion and actually not that bad for half a pizza.
1/2 a pizza is 480 calories, 13 grams of fat, 64 grams of carbohydrates, four grams of fibre, seven grams of sugar, 23 grams of protein and 870 mg of sodium.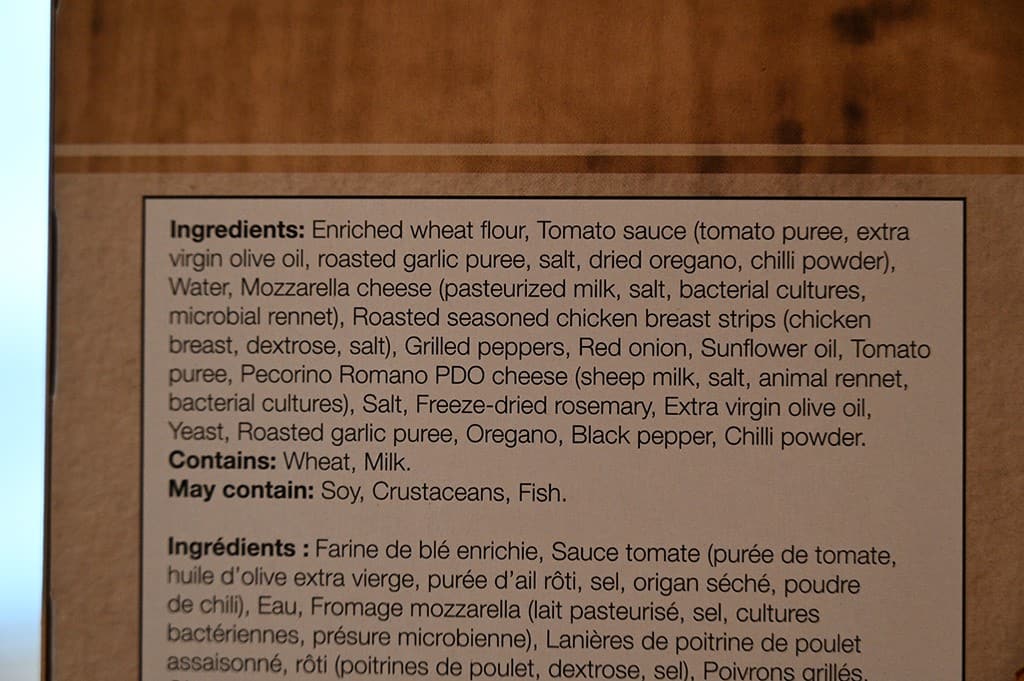 The ingredients are all the normal ingredients I'd expect to see in a chicken & grilled pepper pizza!
Scoring
Taste: 9/10
Cost: 9/10
Convenience: 9/10 (you have to bake it)
Nutrition: 5/10
Overall
Must buy!
Definitely try this, it's so good! Especially if you remember liking the chicken fajita pizza Costco used to carry.
Do you have a favorite frozen pizza from Costco? Would you try this?
---
Please note that this review was not paid for or sponsored by any third party. This product was purchased by Costcuisine for the purpose of producing this review. The opinions in this review are strictly those of Costcuisine. Costcuisine is not affiliated with Costco or any of its suppliers. In the event that Costcuisine receives compensation for a post from the manufacturer of a product or some other third party, the arrangement will be clearly disclosed (including where the manufacturer of a product provides Costcuisine with a free sample of the product).