I don't know about you, but I find spicy foods more and more appealing as the weather gets colder! I also find myself craving hearty comfort foods as the temperature drops. If you're like me and looking for something to warm you up on a cold winter day, this Spice Mantra Chicken Tikka Masala from Costco might be just what you're looking for. It packs plenty of heat and fits the hearty comfort food description too.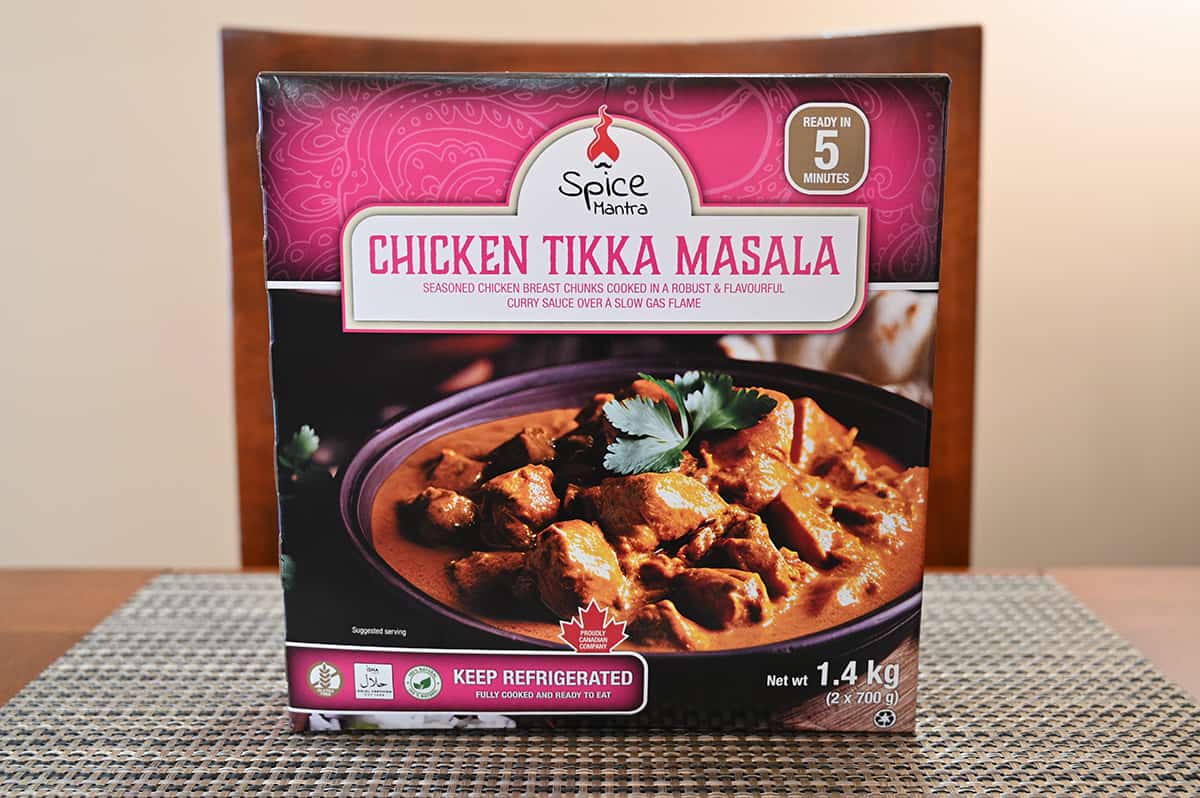 Some similar products from Costco I've bought are the Mayura Cuisine Tikka Masala Sauce, KFI Vindaloo Cooking Sauce, Byblos Tandori Naan Bread, KFI Coconut Curry Sauce, Spice Mantra Tandori Chicken, KFI Butter Chicken Sauce, Kirkland Signature Chicken Vindaloo and the Panaji Original Naan Minis.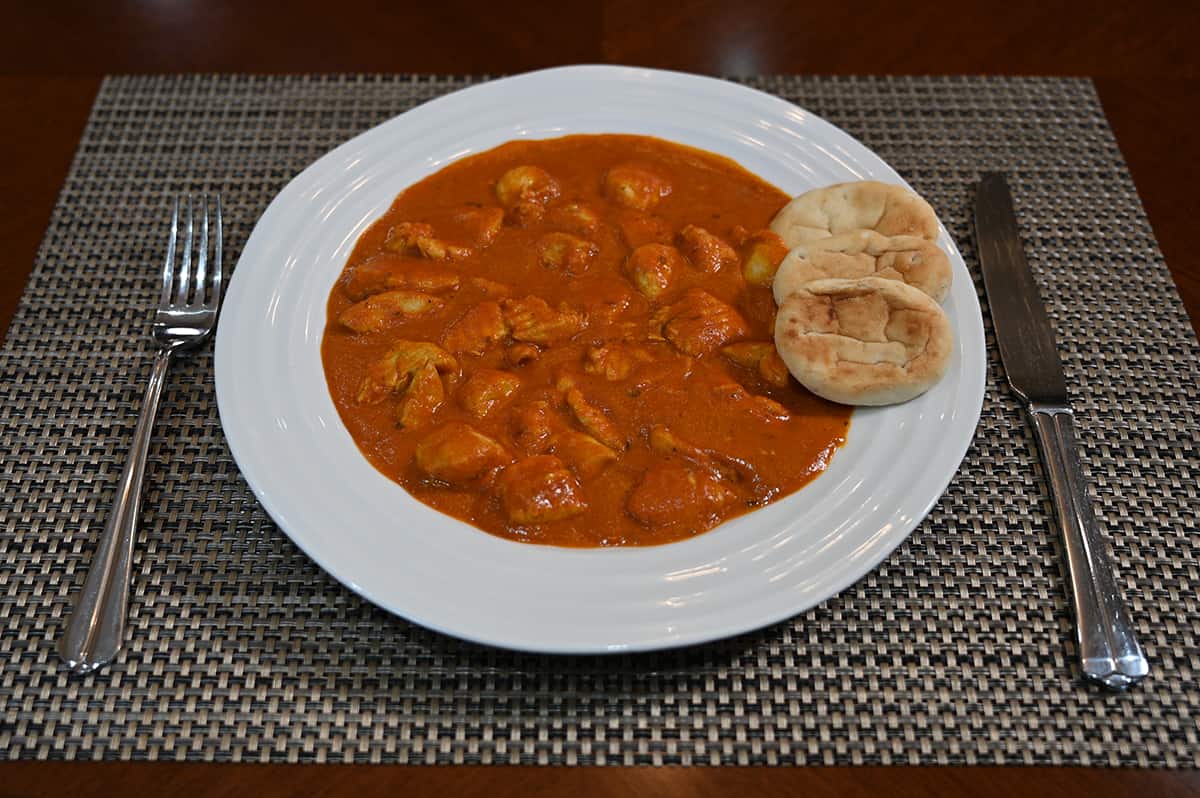 Location in Store
This is located in the refrigerated deli section at my Costco, near the dips, cheeses and cold-cut meats. The item number is 5665666.
Taste
There's a reason why the company is called Spice Mantra! This dish has a medium to medium-high spiciness that sneaks up on you a bit. When I had my first bite I thought oh this isn't very spicy but after a few seconds, the spice is apparent.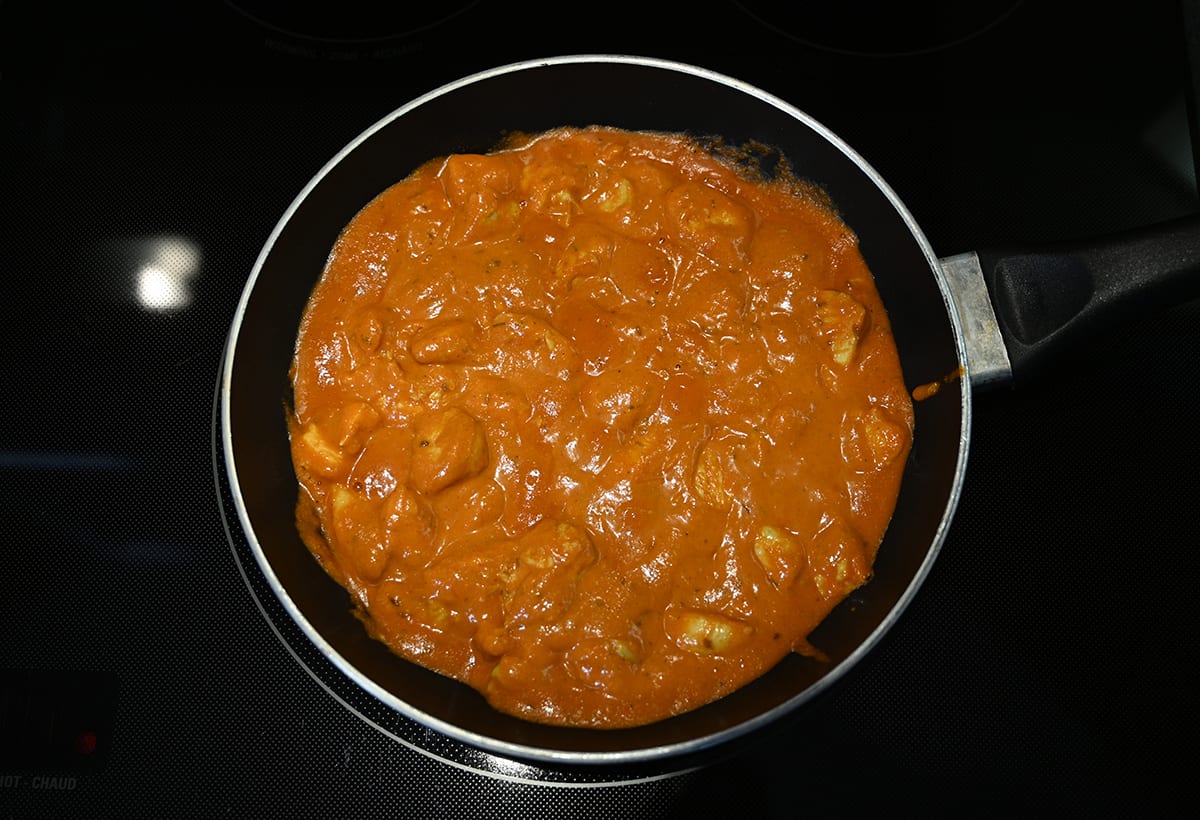 I've tried quite a few different tikka masala dishes and I really like the flavor of this one. One thing I'll say is that this is spicy enough that if you're sensitive to spice it's probably not the dish for you. I personally found it too spicy but my husband liked the heat.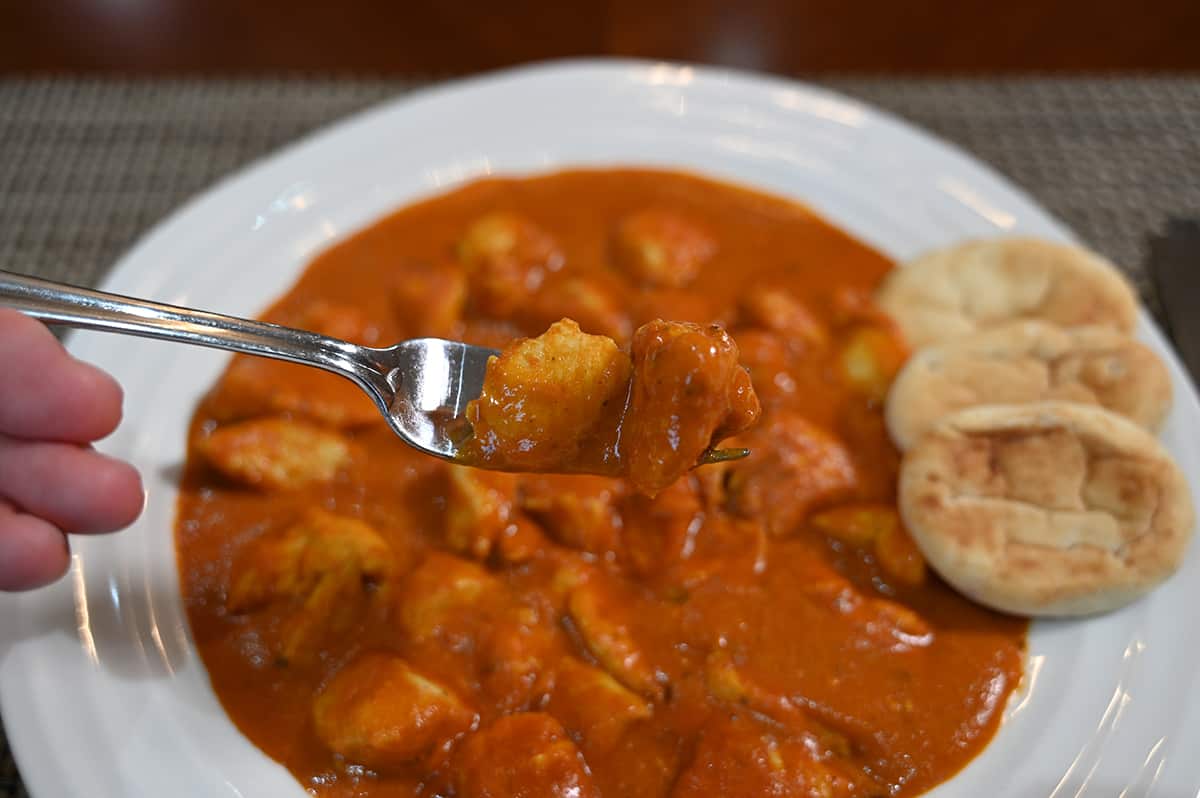 The chicken is fairly moist and tender and there's a bit more than I expected there to be in the dish. The quality of the chicken seems pretty good. There's the odd piece with a bit of gristle but most is pretty good.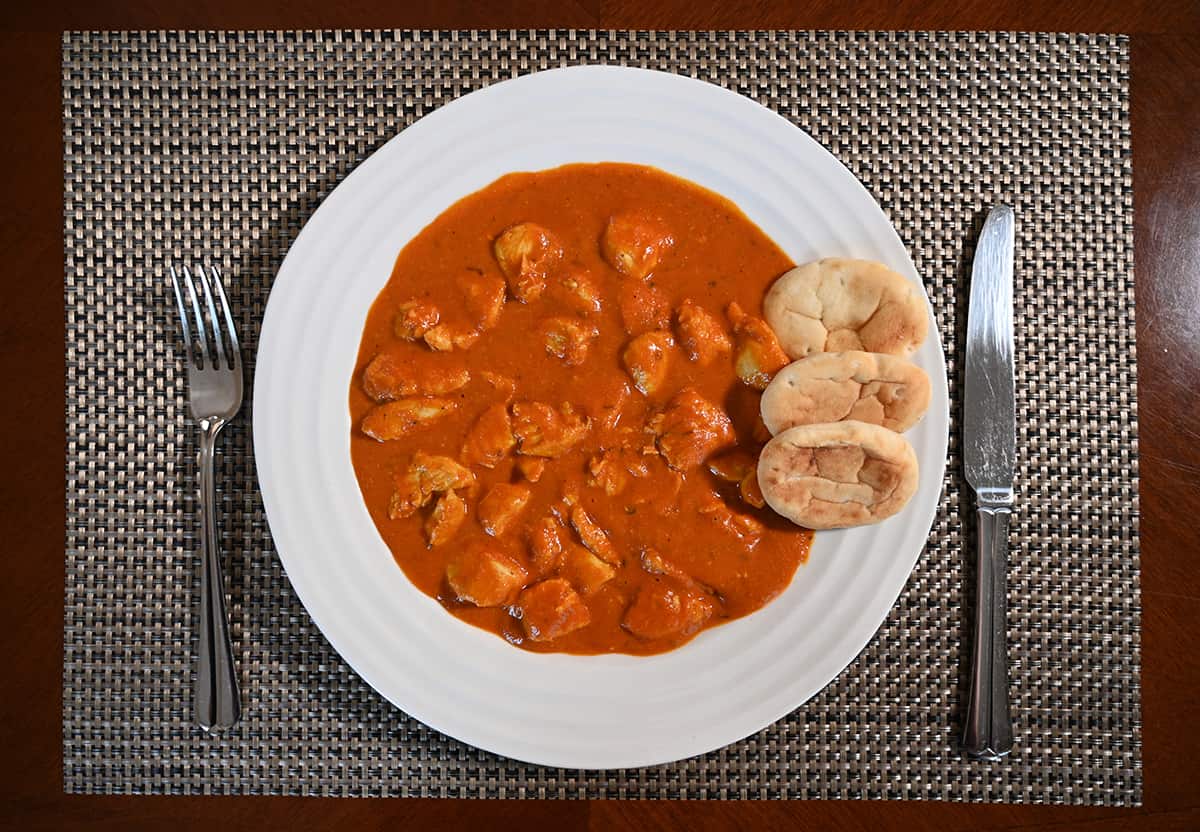 Cost
There are two 700-gram packs in the 1.4-kilogram box and I paid $18.99 Canadian, which isn't cheap but you're paying for the convenience and there's actually a decent amount of chicken in each pack.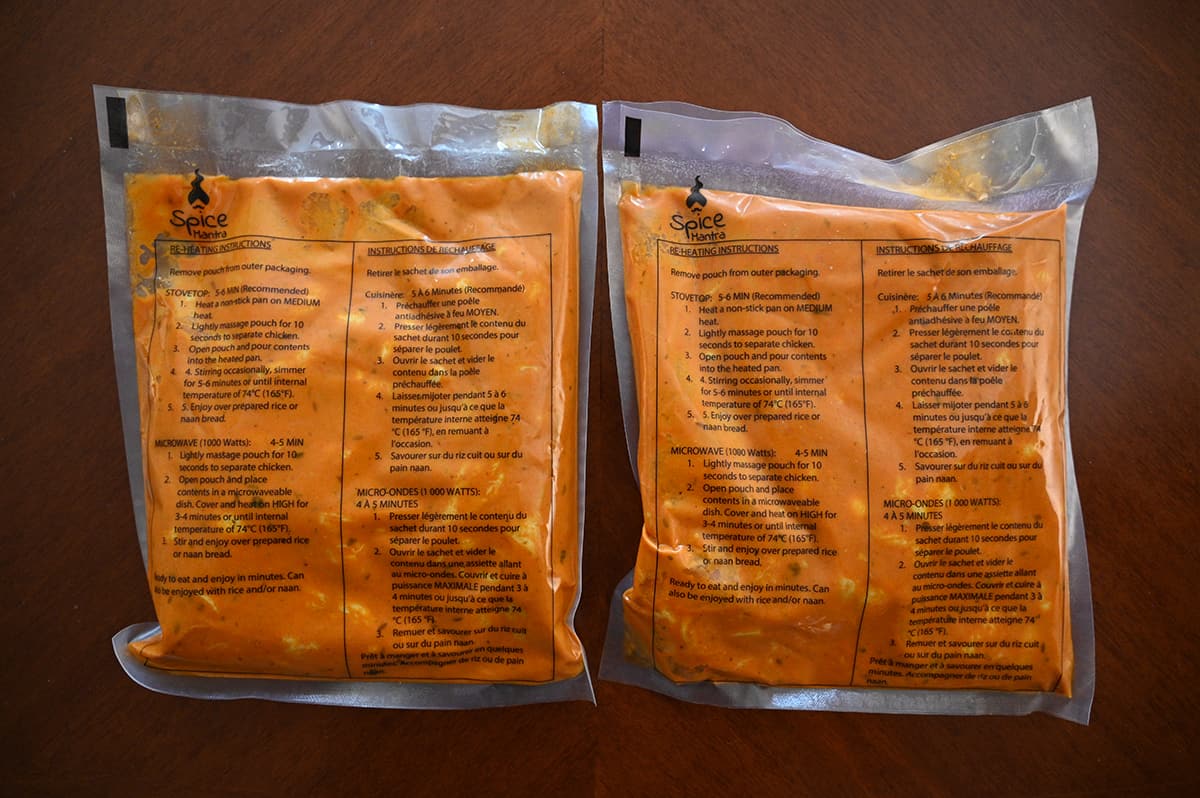 Convenience
It's nice that they put the directions on the bag and box in case you get rid of your box! but it's a bit hard to get all of the chicken masala out of the pouches. The Spice Mantra Chicken Tikka Masala needs to be kept refrigerated and the best-before date is about three months from when I purchased it.

The tikka masala is already fully cooked so there are re-heating instructions on the box for a stovetop or microwave method. We used the stovetop method and it turned out great. Either method results in chicken tikka masala being ready to serve in about five minutes!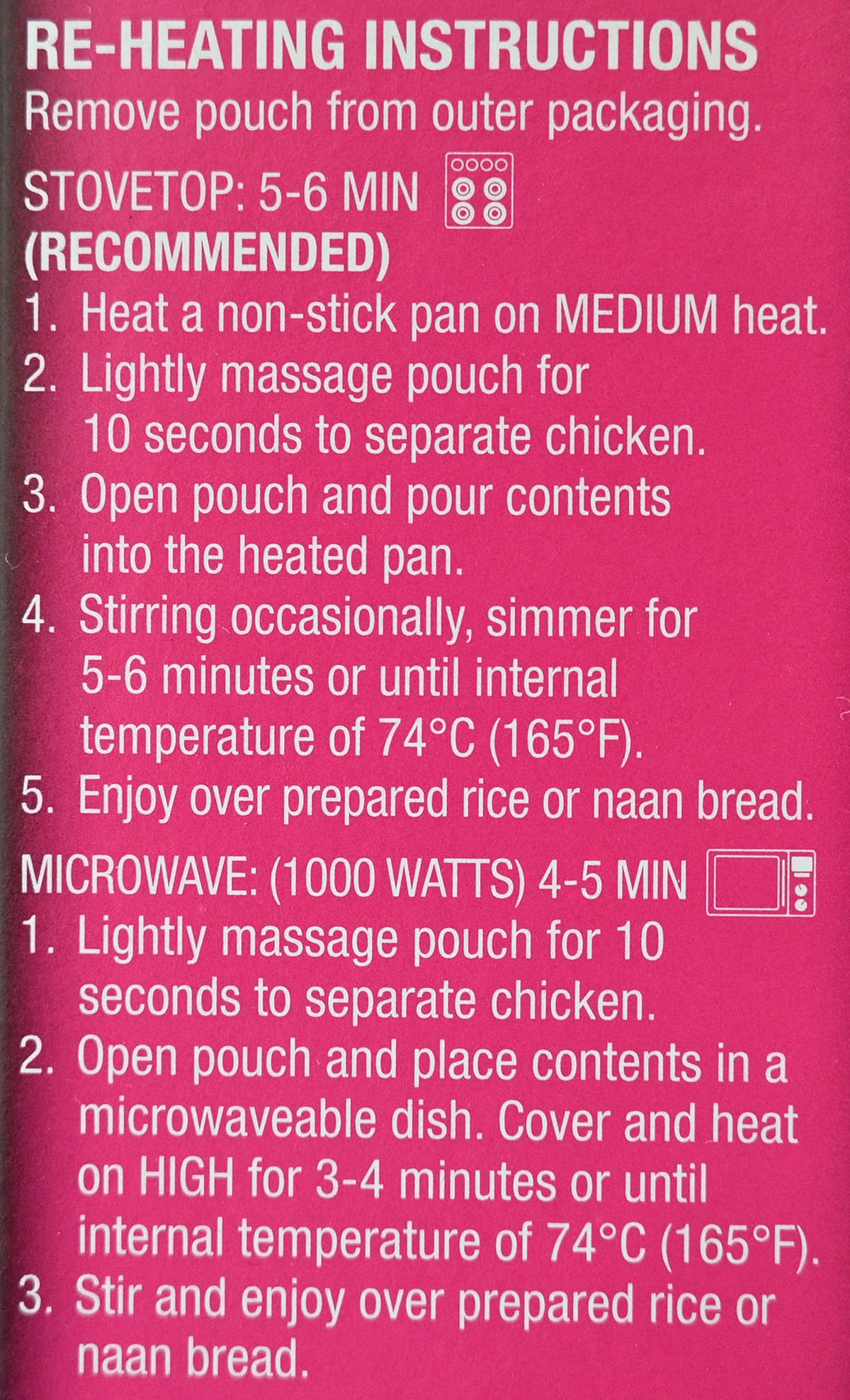 Each pouch is enough for 2-3 people unless you're having pretty small portions. We served ours with mini naan from Costco as a side. You could also serve it with rice. I think kids will find this a bit too spicy but adults who enjoy hot food will love it.
Nutrition
Calories
A 2/3 cup serving contains 170 calories, seven grams of fat, seven grams of carbohydrates, one gram of fibre, one gram of sugar, 20 grams of protein and 460 milligrams of sodium.
This is reasonably low in carbs, low in sugar and high in protein! The amount of sodium, calories and fat isn't super high either for a two-thirds of a cup serving, it's about what I would expect.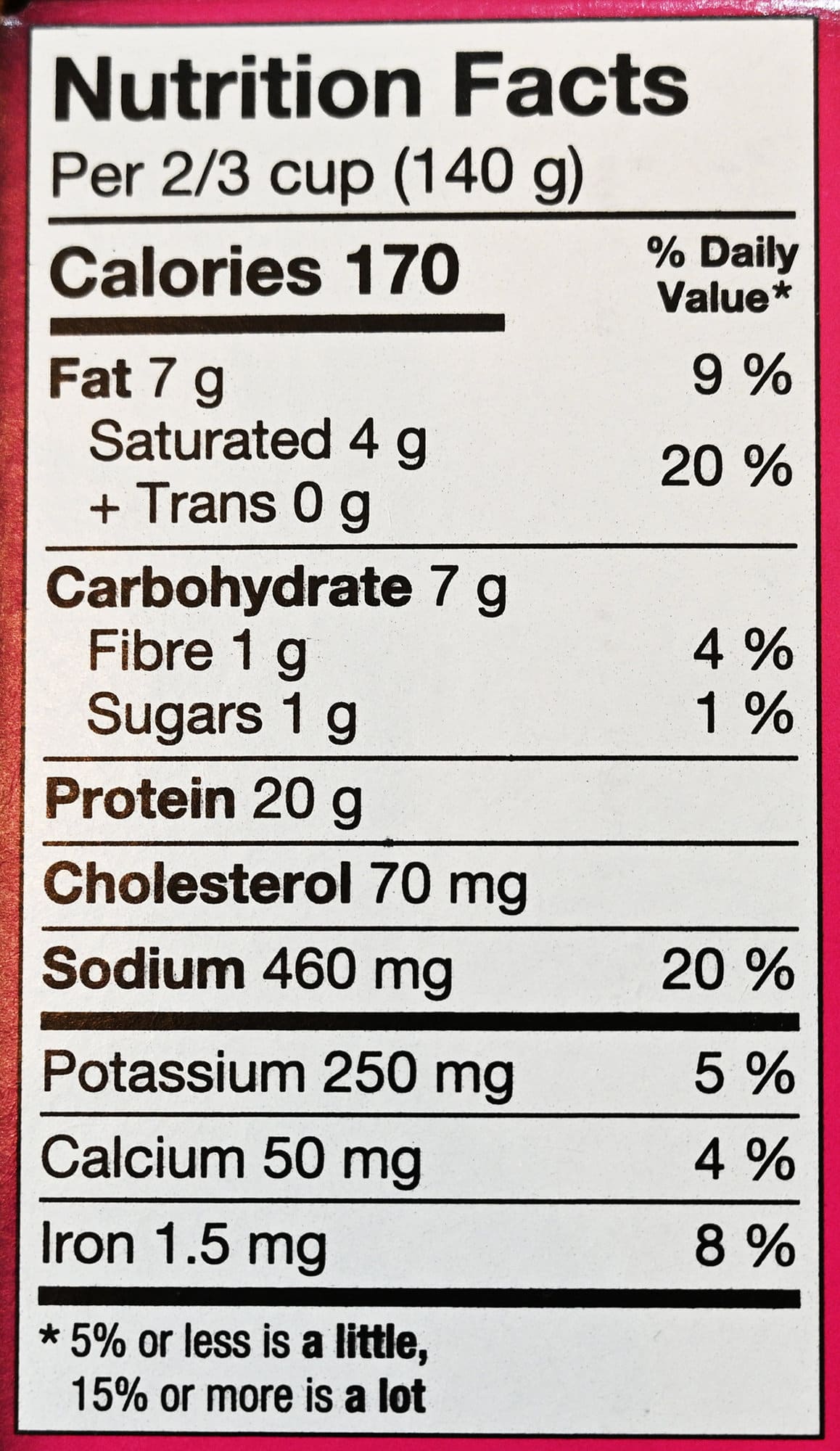 Ingredients
I love the ingredients list! Most of the ingredients are ones you would use in a homemade tikka masala and there aren't things like preservatives or artificial flavors. The dish is gluten-free and also Halal. It's not dairy-free though and contains milk.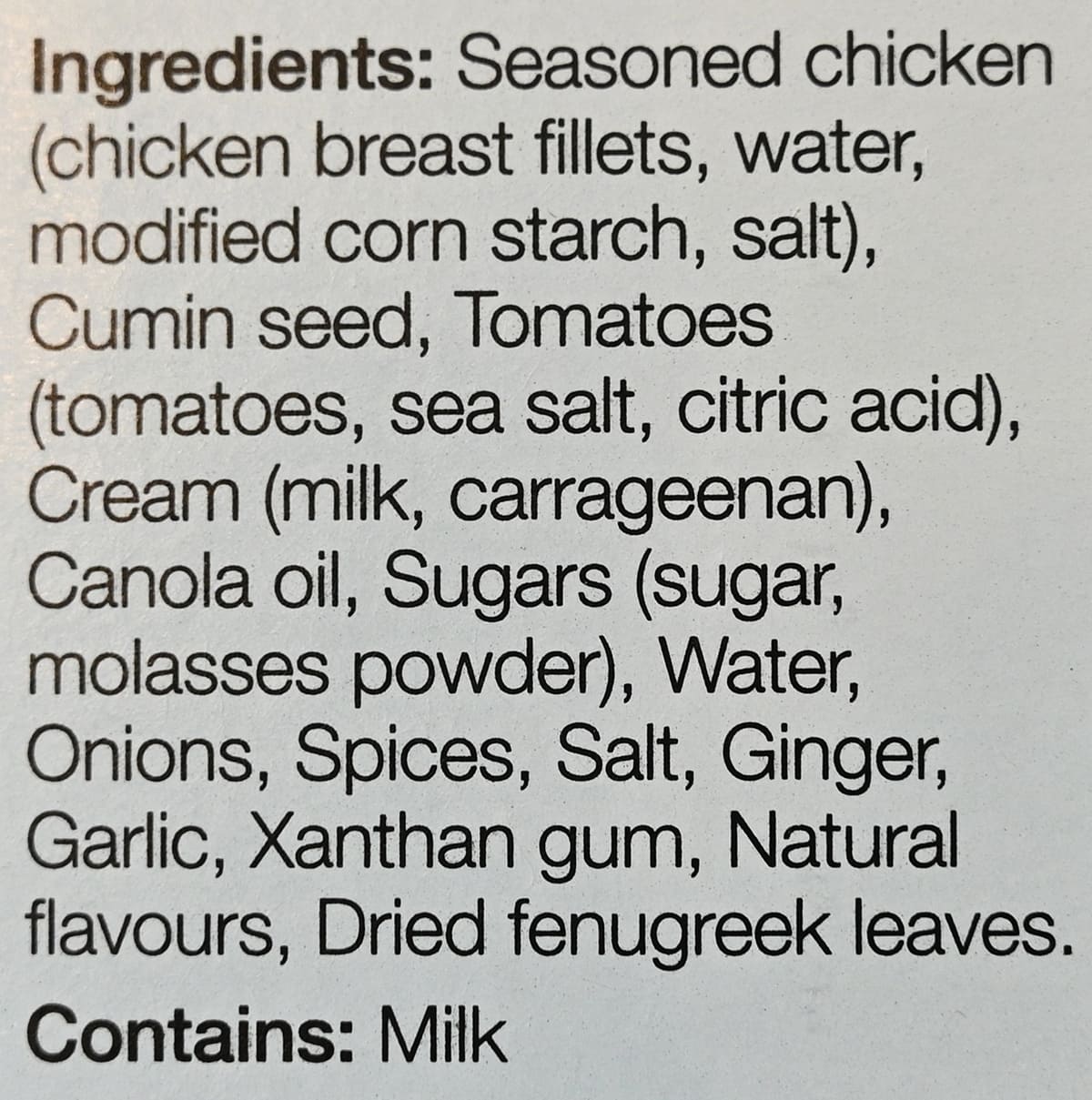 Scoring
Taste: 7.5/10
Cost: 7/10
Convenience: 10/10
Nutrition: 8/10
Overall
Give it a try!
If you're someone who enjoys tikka masala, I think you'll really like this. Their name is Spice Manta so some people who are turned off by an overly mild version of chicken tikka masala will probably love this.
Have you tried the Spice Mantra Chicken Tikka Masala from Costco? What did you think of it?
---
Please note that this review is sponsored by Spice Mantra. However, the opinions in this review are strictly those of Costcuisine and Costcuisine has complete control over the content in this review. Costcuisine does not give sponsors editorial control over reviews. Costcuisine is not affiliated with Costco or any of its suppliers (aside from this sponsorship arrangement).