I enjoy Indian food occasionally, and I especially love pre-made meals that I would never try to make on my own, so I was excited to try this Kirkland Signature Chicken Vindaloo from Costco. Having naan bread in the package and looking a lot like butter chicken didn't hurt its appeal either! Does this Costco creation do Indian cuisine justice? Is it something people who haven't tried a lot of Indian foods can enjoy? Read on to find out!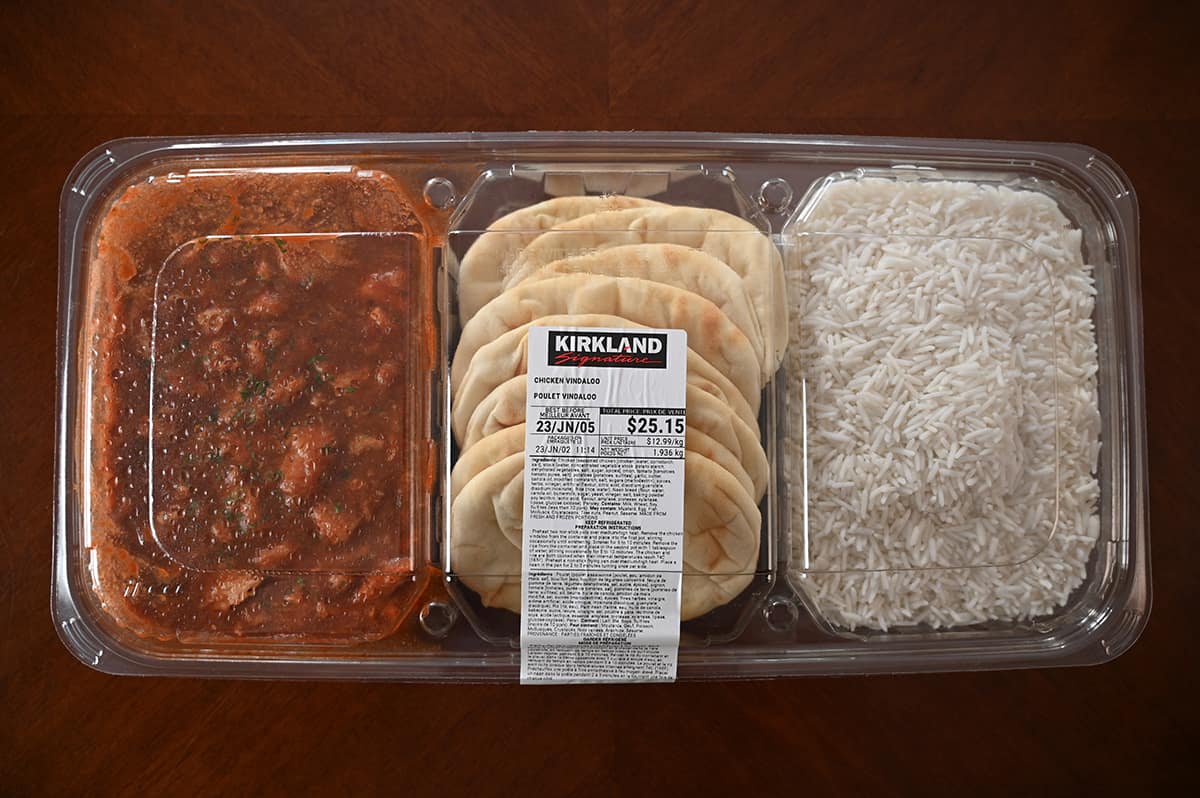 Other pre-made meals from Costco are the Goat Cheese, Pecan and Mixed Greens Salad, Kirkland Signature Rotisserie Chicken, Kirkland Signature Quinoa Salad, Kirkland Signature Seasoned Chicken Wings, Kirkland Signature Chicken Penne Alfredo, Kirkland Signature Fish and Chips Meal Kit, Kirkland Signature Chicken Burger Meal Kit, Kirkland Signature Stuffed Salmon and the Kirkland Signature Chicken Pot Pie.
Location in Store
This is located in the refrigerated pre-made meal section at Costco near the back of the store. The item number is 29428.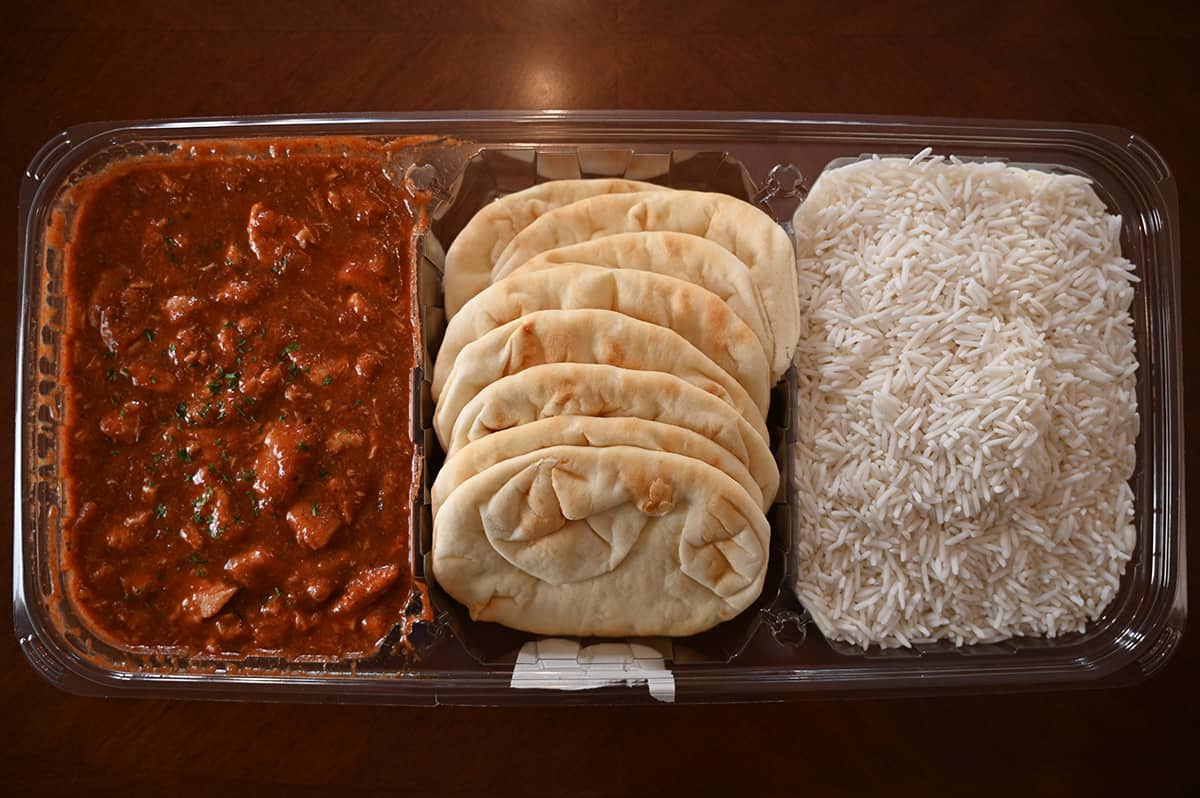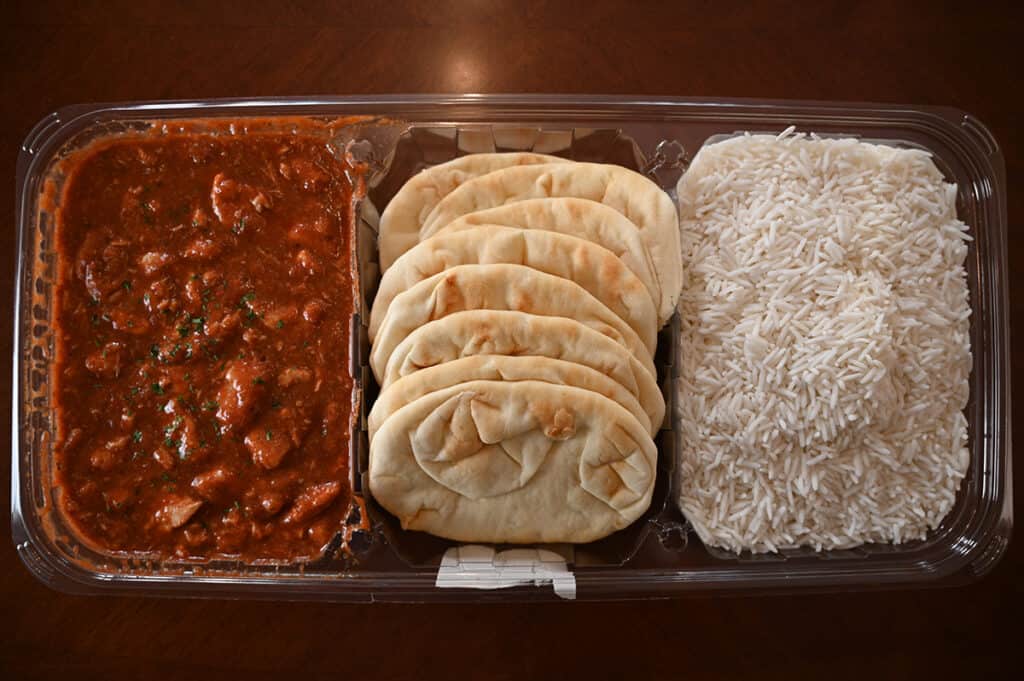 Taste
I find this is very similar tasting to butter chicken but it has additional potatoes in it. The potatoes go well with the chicken and sauce but it's a bit carb-heavy! I was expecting the tomato-based sauce to be quite spicy but it's really not. There's a little bit of heat in the sauce but not enough to turn anyone off, even those who don't like spicy food.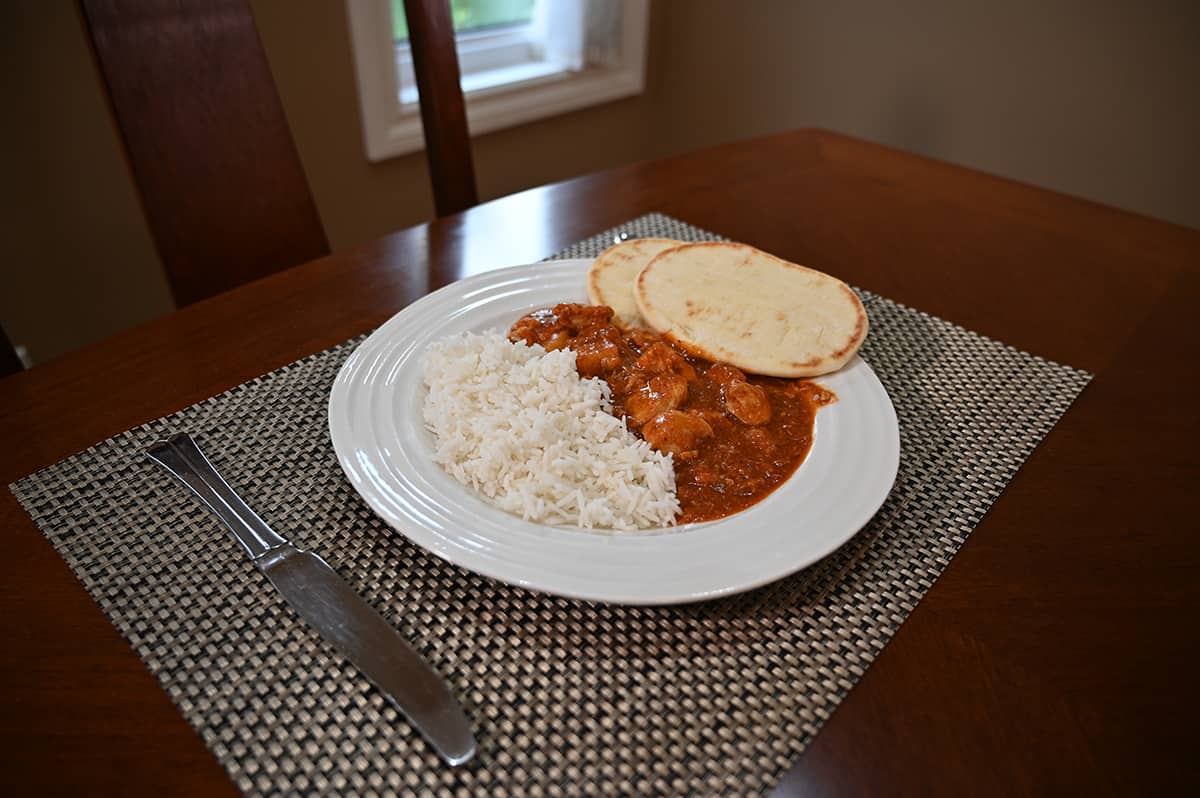 I did a quick google search on vindaloo and it's apparently supposed to be quite spicy but this is not. Maybe Costco wanted to make a version that everyone would find appealing.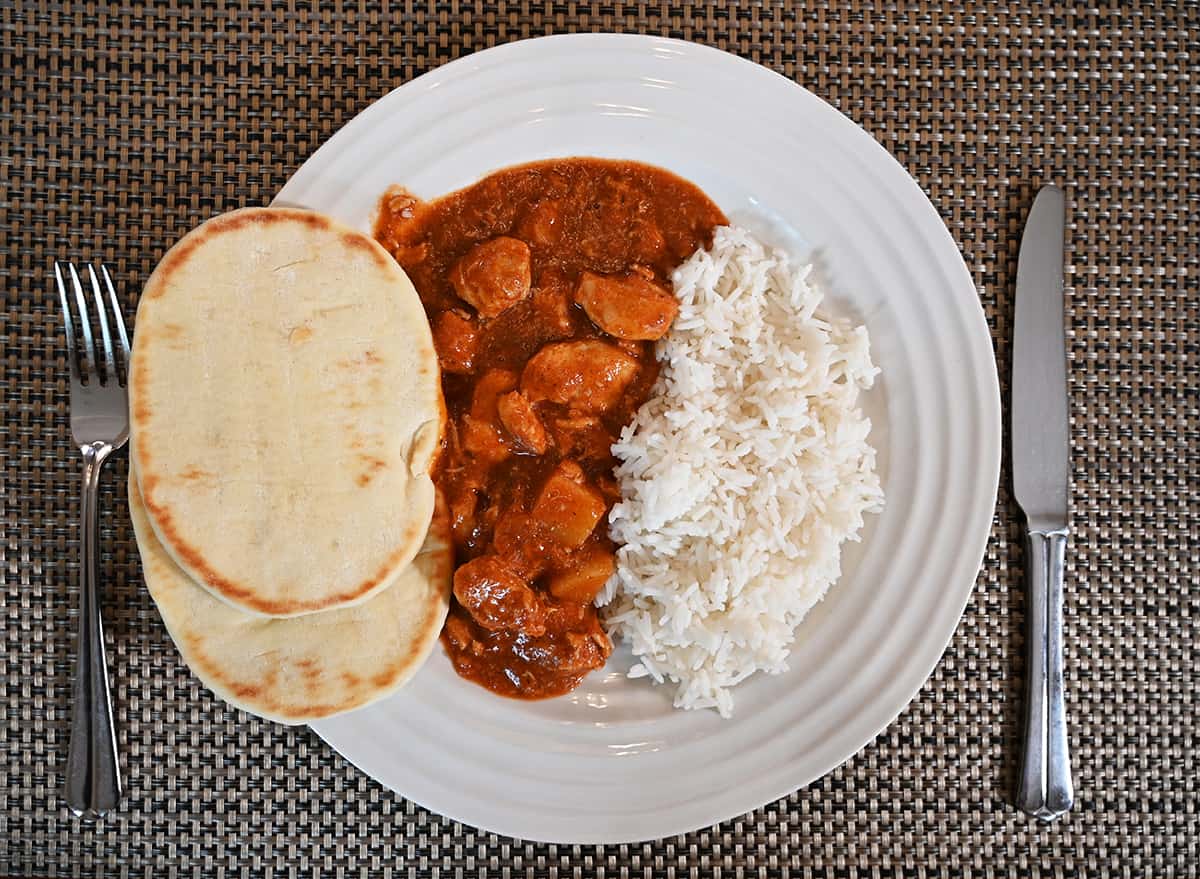 The rice isn't very tasty and doesn't seem fully cooked. I followed the instructions on the packaging on how to cook the rice and it kept sticking to the pot and then seemed undercooked. It also has a really earthy flavor that I don't care for.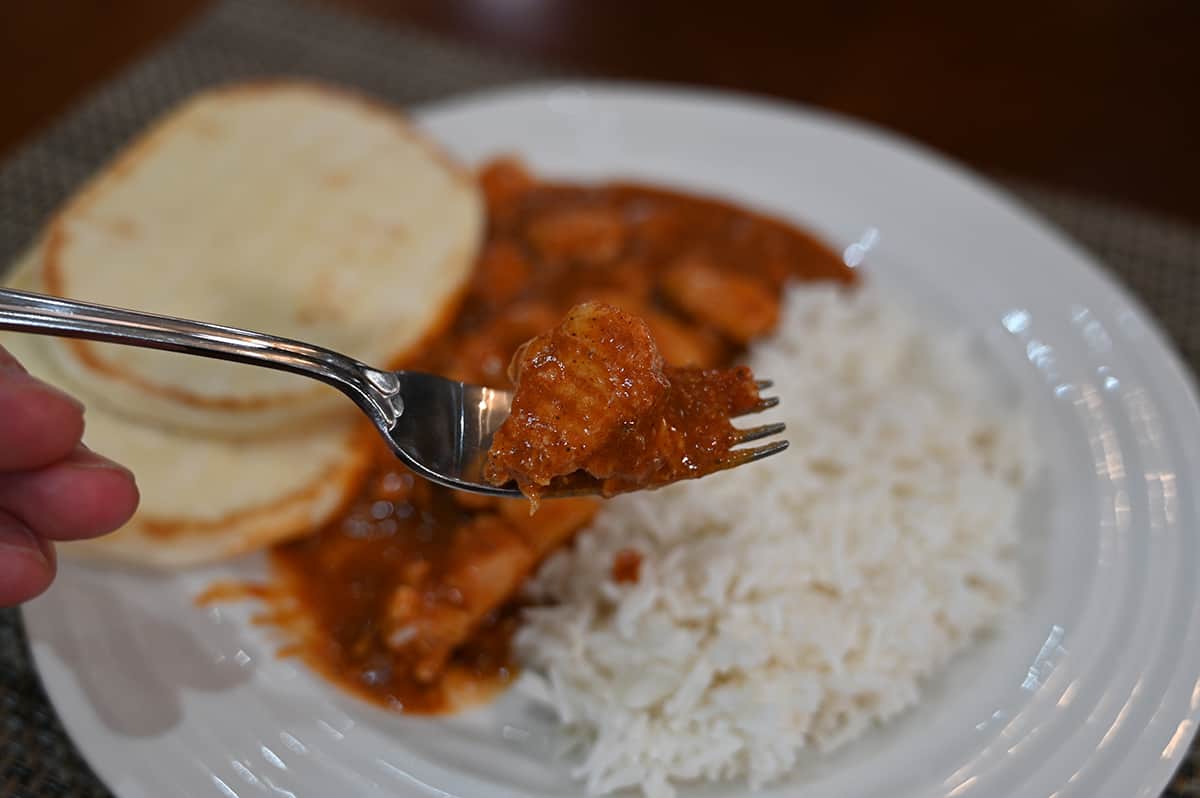 The chicken seems to be of decent quality. The naan is decent and tastes similar to the Panaji Original Mini Naans from Costco. It's not as good as homemade but it's still good.
Cost
The price is dependent on the weight of tray, my meal cost $25.15 Canadian at Costco. This seems reasonable to me, it's a lot of food. They don't skimp on the rice or naan but there's not an absolute ton of chicken.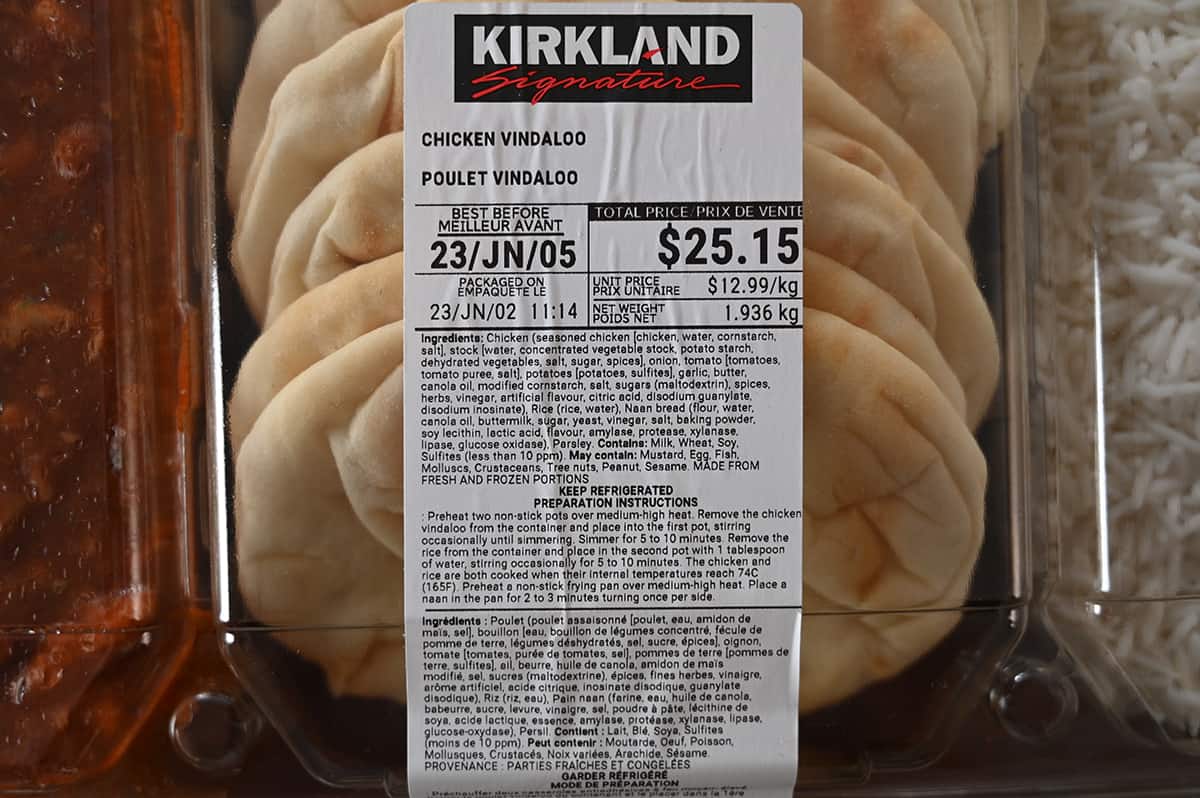 Convenience
Next time I wouldn't bother cooking everything in pots. To be completely honest I'd just microwave the rice and chicken vindaloo. I think the rice would have most likely turned out better in the microwave because it wouldn't be sticking to the pot. I also don't think the vindaloo would taste any different in the microwave versus the stovetop.

The best-before date is three days from the day it was packaged and it needs to be kept refrigerated. I think leftovers could be frozen without any effect on the quality or taste. Meals like this are quick and convenient when you don't really feel like cooking but don't want take out or to go to a restaurant either.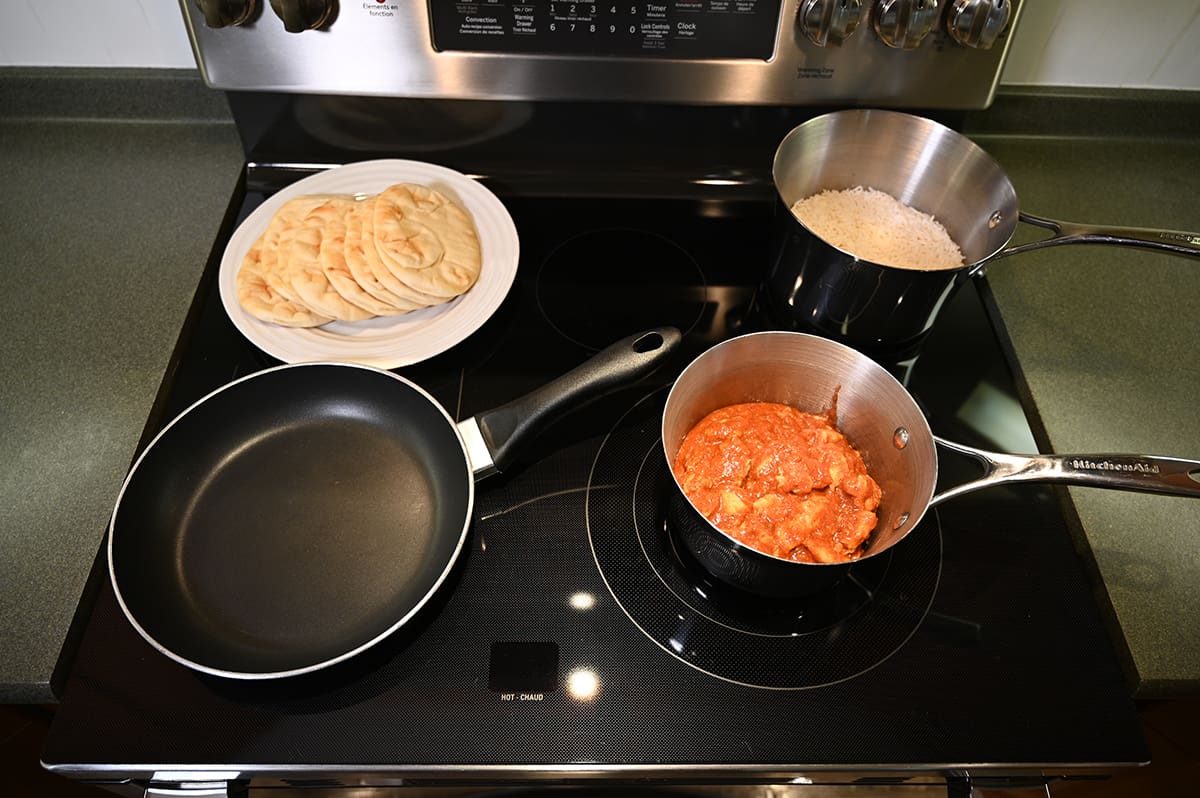 Nutrition
Calories
In 1/6th of the tray, there are 420 calories, nine grams of fat, 61 grams of carbohydrates, three grams of fiber, five grams of sugar, 25 grams of protein and 810 milligrams of sodium.
I told you it was carb-heavy! Also not light in sodium but the calories and fat aren't crazy and I do like seeing the higher amount of protein.
Ingredients
The ingredients list is pretty much what I expected. Obviously making your own chicken vindaloo and naan from scratch would allow you to cut out things that a store-bought version like this has such as sugar, artificial flavor as well as any preservatives.
The meal ontains milk, wheat, soy and sulfites and may contain mustard, egg, fish, molluscs crustaceans, tree nuts, peanuts and sesame.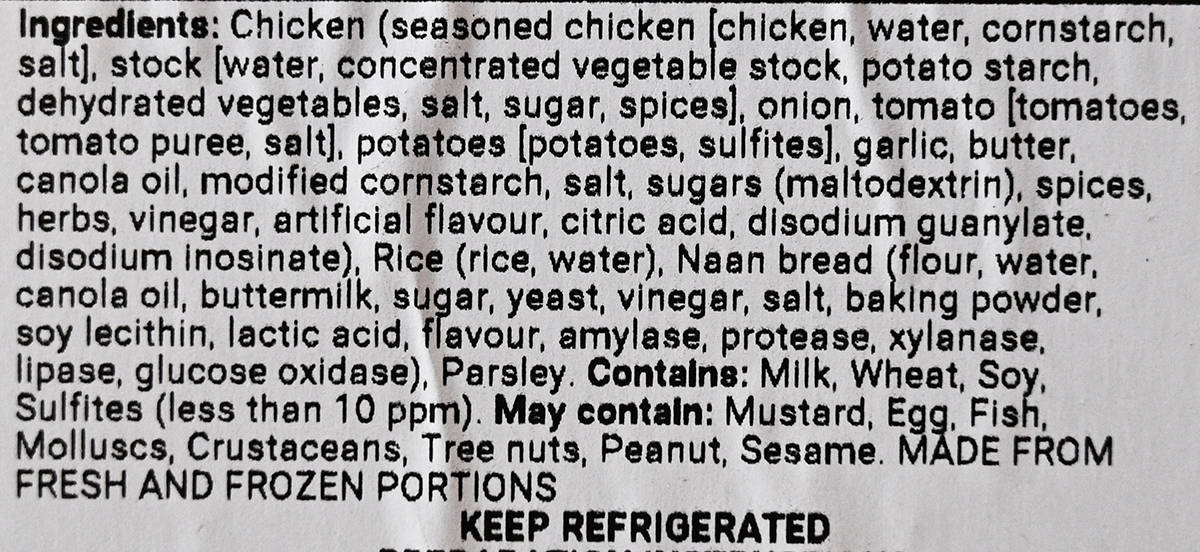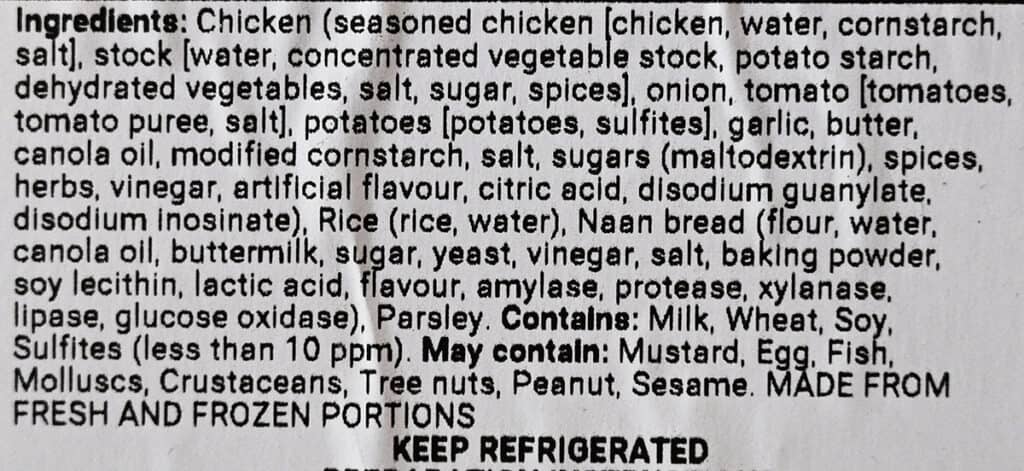 Scoring
Taste: 7.5/10
Cost: 7/10
Convenience: 9/10
Nutrition: 5/10
Overall
Give it a try!
This is a good butter chicken-like comfort dish. If you like butter chicken, you'll enjoy it. It's not my favorite pre-made meal from Costco, so I probably won't buy it again, but I don't regret trying it.
Have you tried this meal? What did you think of it?
---
Please note that this review was not paid for or sponsored by any third party. This product was purchased by Costcuisine for the purpose of producing this review. The opinions in this review are strictly those of Costcuisine. Costcuisine is not affiliated with Costco or any of its suppliers. In the event that Costcuisine receives compensation for a post from the manufacturer of a product or some other third party, the arrangement will be clearly disclosed (including where the manufacturer of a product provides Costcuisine with a free sample of the product).