The Costco Kirkland Signature Rotisserie Chicken is well known for being cheap and convenient. People line up to get one warm off the rotisserie! Why is this chicken from Costco so famous and popular? Find out here why customers flock to this product!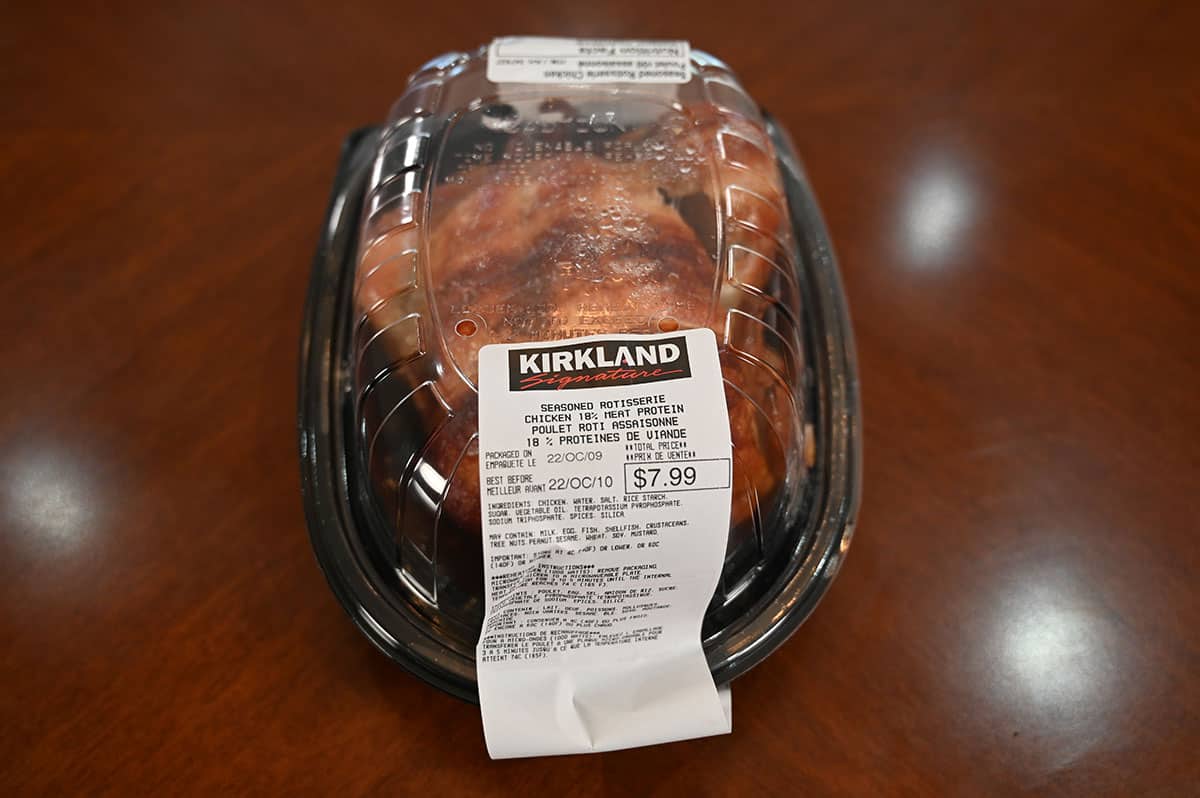 When Sean and I were in Hawaii years ago we went to Costco for quick and easy dinners. One dinner we came up with was this Costco Kirkland Signature Seasoned Rotisserie Chicken with the Costco Kirkland Signature Quinoa Salad. This is the first time I was introduced to the rotisserie chicken from Costco and I've had it a handful of times since. I picked one up recently and decided to review it here!
Other pre-made meals from Costco are the Kirkland Signature Roasted Garlic Chicken Legs, Kirkland Signature Chicken Pot Pie, Kirkland Signature Chicken Tacos, Kirkland Signature Chicken Chow Mein, Kirkland Signature Chicken Penne Alfredo and the Kirkland Signature Seasoned Chicken Wings.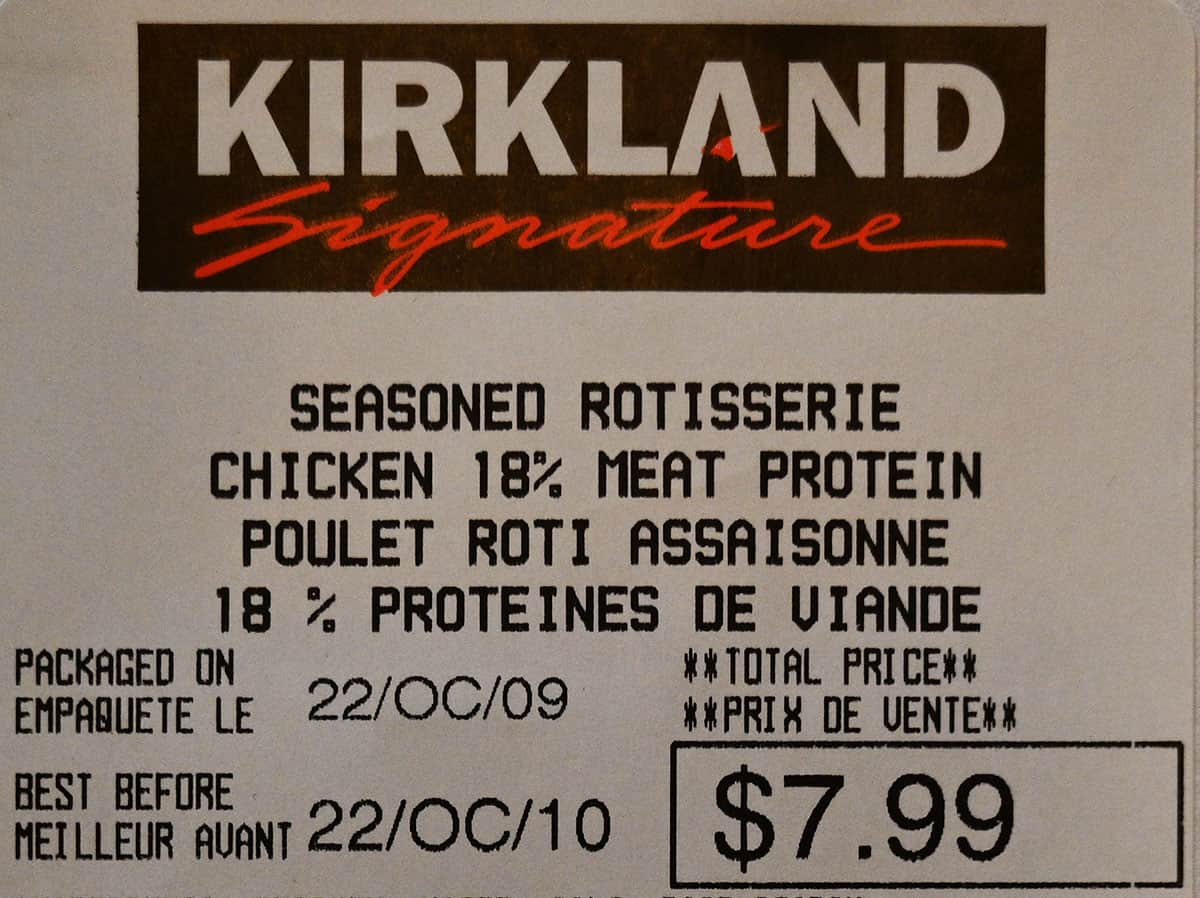 Location in Store
You can find this in the pre-made meal and deli section at Costco, the item number is 347937.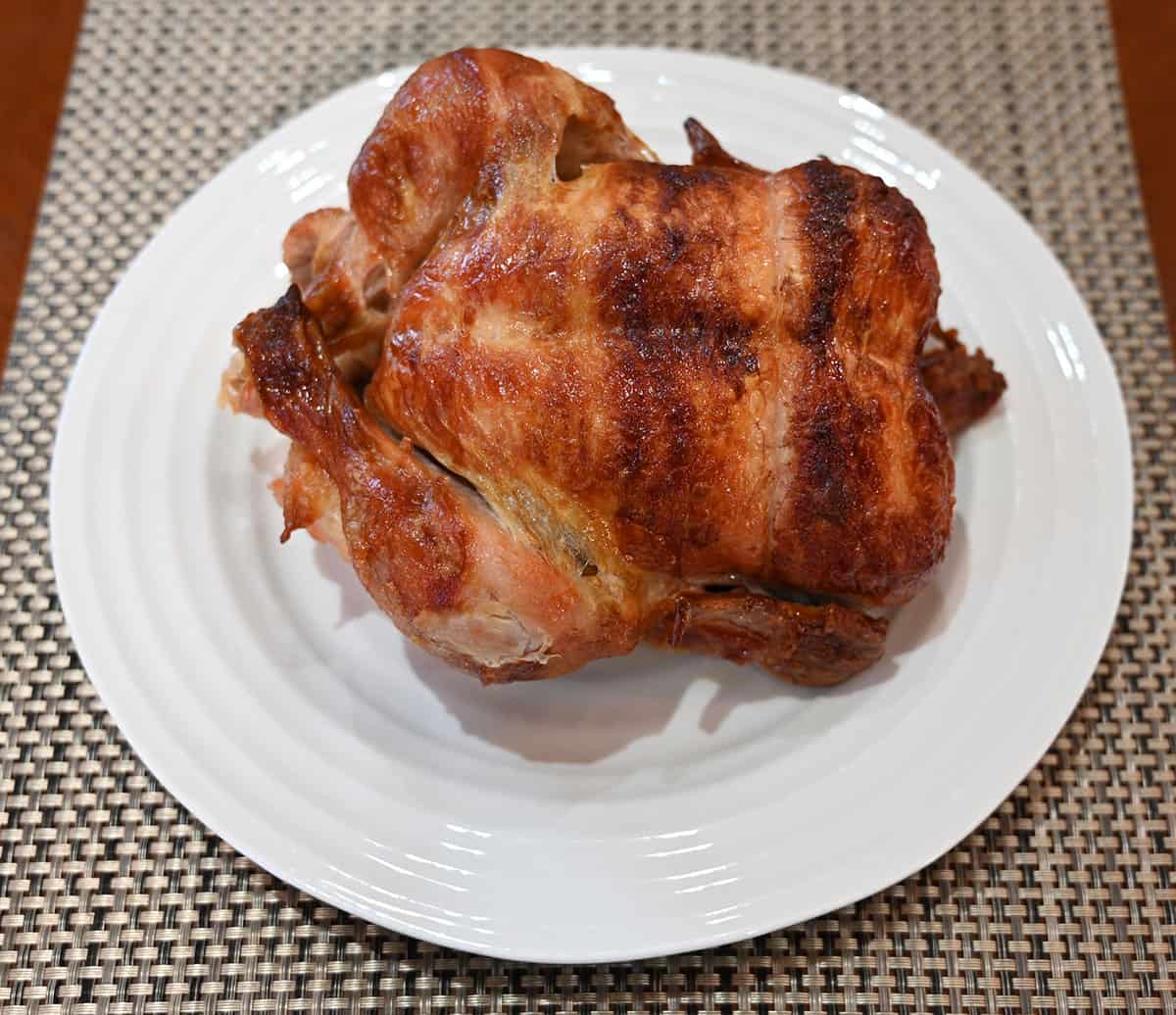 Taste
The Costco Kirkland Signature Rotisserie Chicken definitely has tasty parts such as the white breast meat but I also find it has parts I find unappetizing. For example, there are some fatty and inedible pieces as well as gristle. All the oil and congealed liquid in the bottom of the tray kind of turns me off.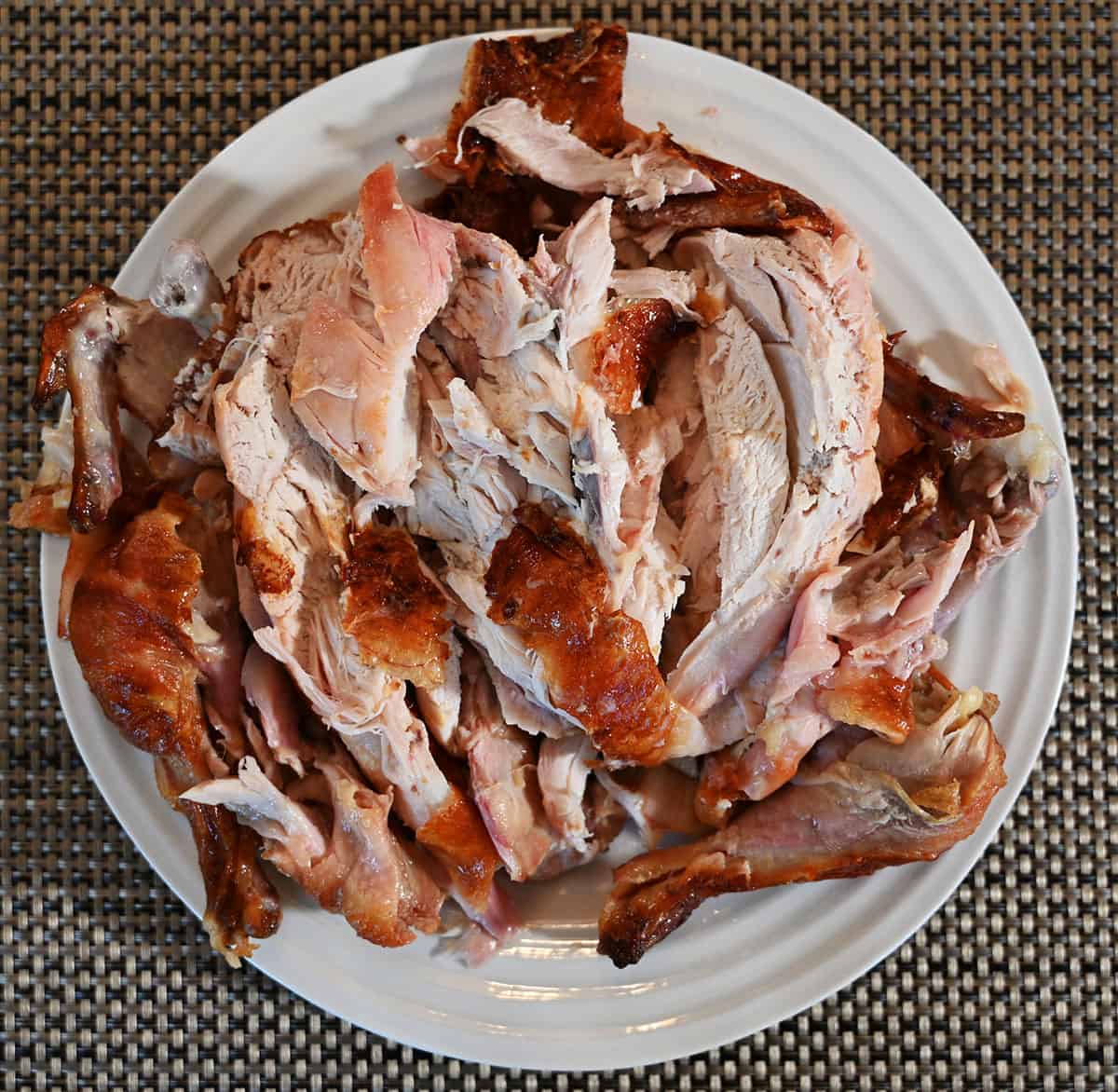 The chicken is seasoned really well, and that saltiness is addictive. I like chicken skin in small quantities and like that the skin is crispy and golden brown.
You can tell there's a lot of oil in the chicken, it's very shiny and glistens and also tastes pretty oily. Even the breast meat is suspiciously super moist! Day to day I prefer my chicken less oily and not so salty for health reasons. But I do admit the parts of the rotisserie chicken that are edible are pretty darn tasty.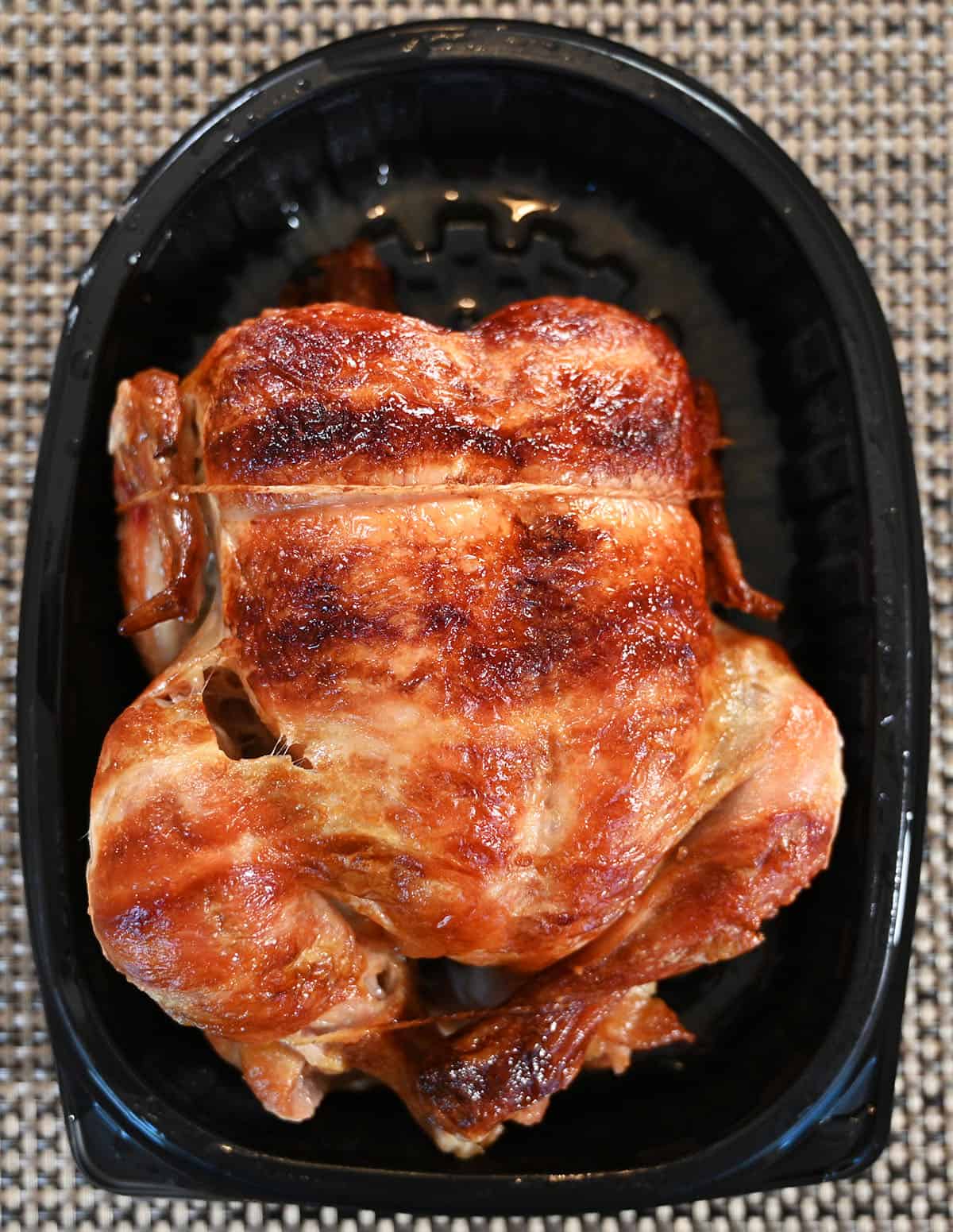 Cost
For $7.99 Canadian, you get an entire Costco Kirkland Signature Rotisserie Chicken. The price is really reasonable. Even though there are bits of chicken I don't eat, it's a lot of chicken for $7.99.
One reason Costco chicken is so popular is that Costco hasn't raised the price of rotisserie chicken despite inflation. The chickens aren't actually profitable for Costco but they make money off the numerous other products shoppers pick up when they go in to buy a chicken. It's hard to enter Costco and only buy one item and Costco knows this!
Convenience
This is the most convenient way to buy chicken. You can do so much with one! Enjoy it with some rice and vegetables, and use it to make sandwiches, casseroles, soups or even your own chicken pot pie. I think a lot of people pick these chickens up when they're out of ideas for dinner, have a busy night or need to find something that's quick, reasonably priced and easy.

The best-before date is only one day after it's packed. The chicken either needs to be stored at four degrees celsius (40 degrees Fahrenheit) or lower. Alternatively, it can be stored at 60 degrees Celsius (140 degrees Fahrenheit) or higher.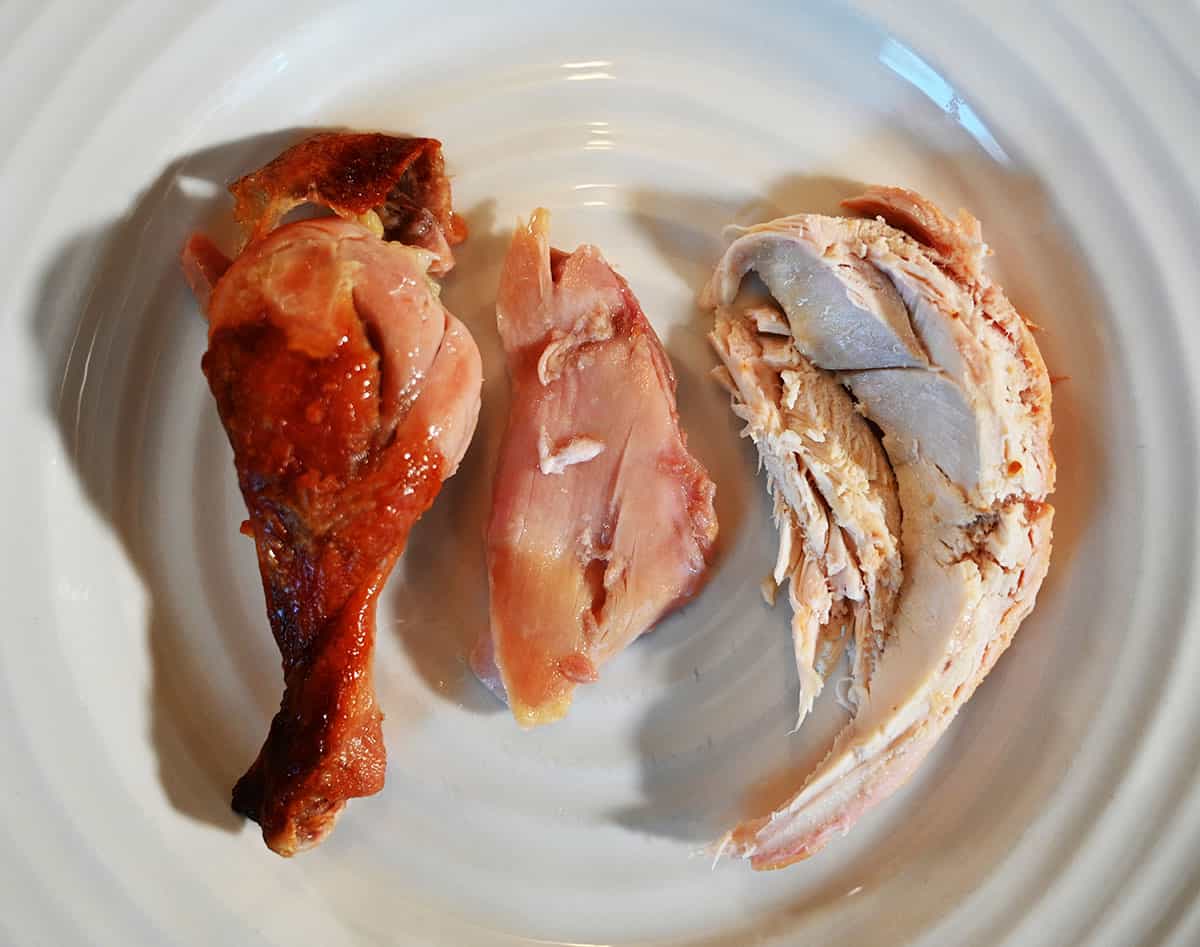 To reheat the Costco Kirkland Signature Rotisserie Chicken, remove the packaging and transfer it to a microwaveable plate. Then heat on high for three to five minutes in the microwave until the temperature reaches 74 degrees celsius or 165 degrees Fahrenheit.
Nutrition
Calories
A 100-gram edible portion (this means no bones) is 140 calories, seven grams of fat, 350 milligrams of sodium, two grams of carbohydrates, one gram of fibre, zero grams of sugar and 18 grams of protein. A 100-gram serving isn't actually that much so it seems easy to eat a decent amount of fat when having the Costco Rotisserie Chicken.
The amount of protein is always good because it keeps you full for longer and chicken is notorious for being high in protein!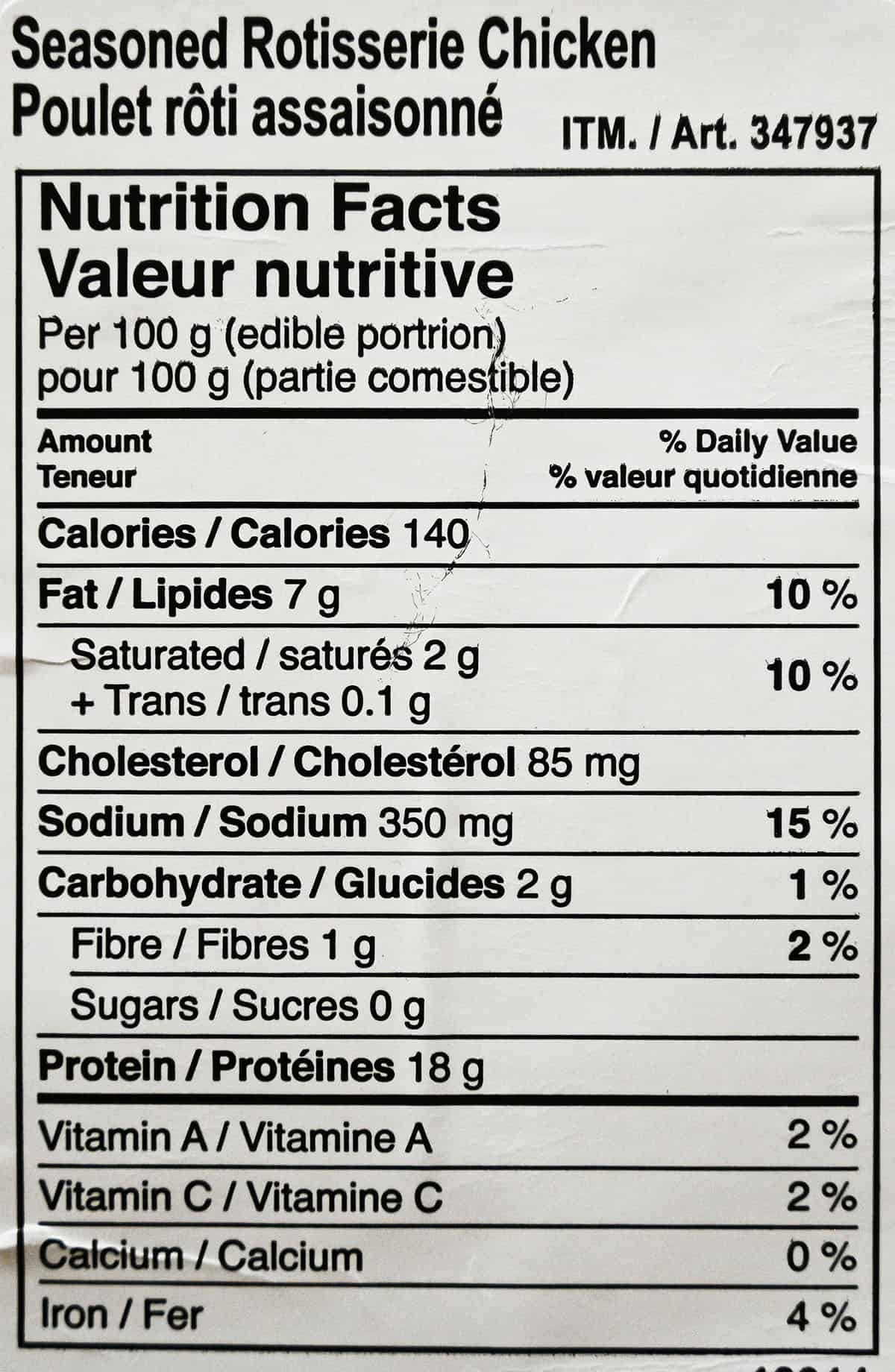 Ingredients
I think there's a reason the rotisserie chicken tastes so good and that's because there are a lot of things added to it! The Costco Kirkland Signature Rotisserie Chicken definitely isn't your healthiest chicken option. There's the fatty skin, the dark meat,. added oil and a lot of sodium. It's not the worst option for a meal, but also not as healthy as some may think.
There are also a few ingredients that I'm not in love with the sound or Google-sourced description of, like tetrapotassium pyrophosphate, silica and sodium triphosphate.

Scoring
Taste: 8/10 (The parts that are edible are pretty tasty).
Cost: 10/10
Convenience: 10/10
Nutrition: 3/10
Overall
Must buy!
If given the choice, I prefer to make my own chicken at home using Costco Kirkland Signature Boneless Skinless Chicken Breasts. However, if you need a quick, convenient meal and want lots of protein, I definitely wouldn't hesitate to recommend a Costco Kirkland Signature Rotisserie Chicken just based on the price alone!
What are your thoughts on the Costco Kirkland Signature Rotisserie Chicken?
Please note that this review was not paid for or sponsored by any third party. This product was purchased by Costcuisine for the purpose of producing this review. The opinions in this review are strictly those of Costcuisine. Costcuisine is not affiliated with Costco or any of its suppliers. In the event that Costcuisine receives compensation for a post from the manufacturer of a product or some other third party, the arrangement will be clearly disclosed (including where the manufacturer of a product provides Costcuisine with a free sample of the product).