If you're a fan of the Costco rotisserie chicken but are in the mood to try something different? You may want to check out the Costco Kirkland Signature Roasted Garlic Chicken Legs. I was a bit shocked when I saw the price of the chicken legs as they cost around double what the rotisserie chicken costs, considering this are they worth picking up?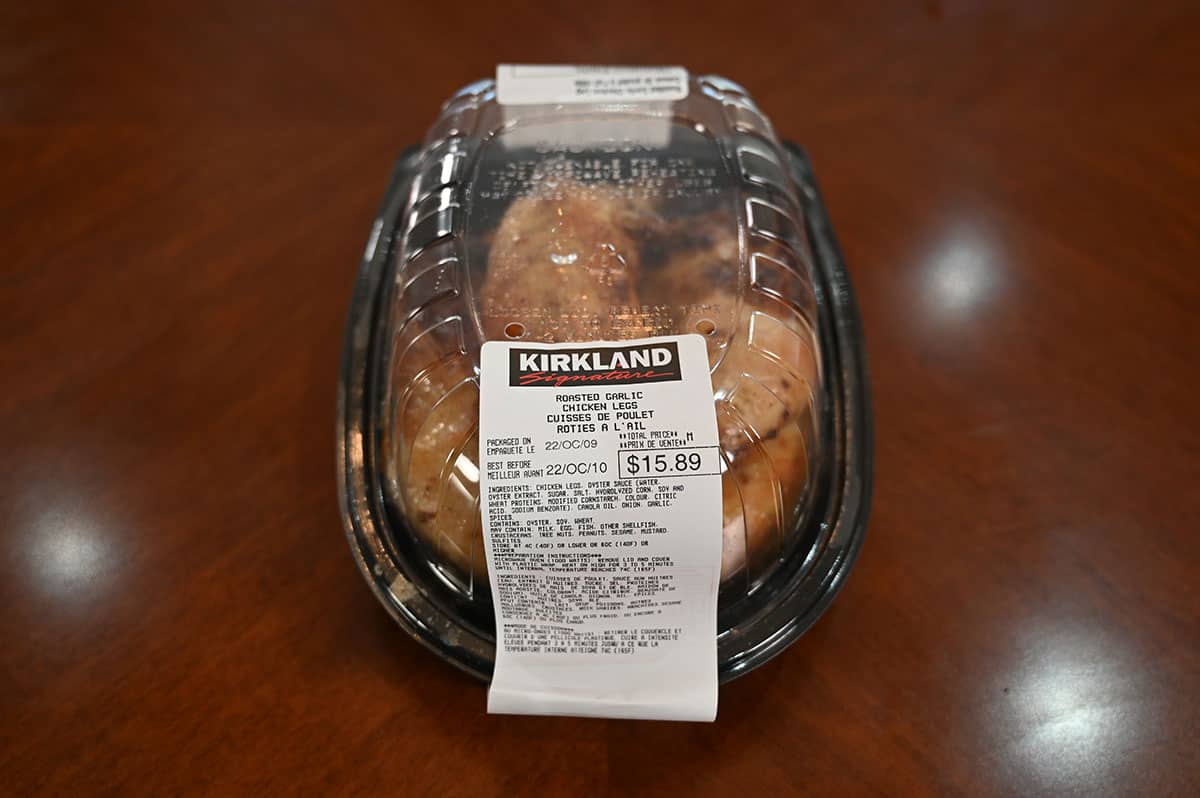 I've had Costco rotisserie chicken many times before but I've never tried these Kirkland Signature Roasted Garlic Chicken Legs before. I'm not even sure when Costco brought them out but I picked some up to try and review here!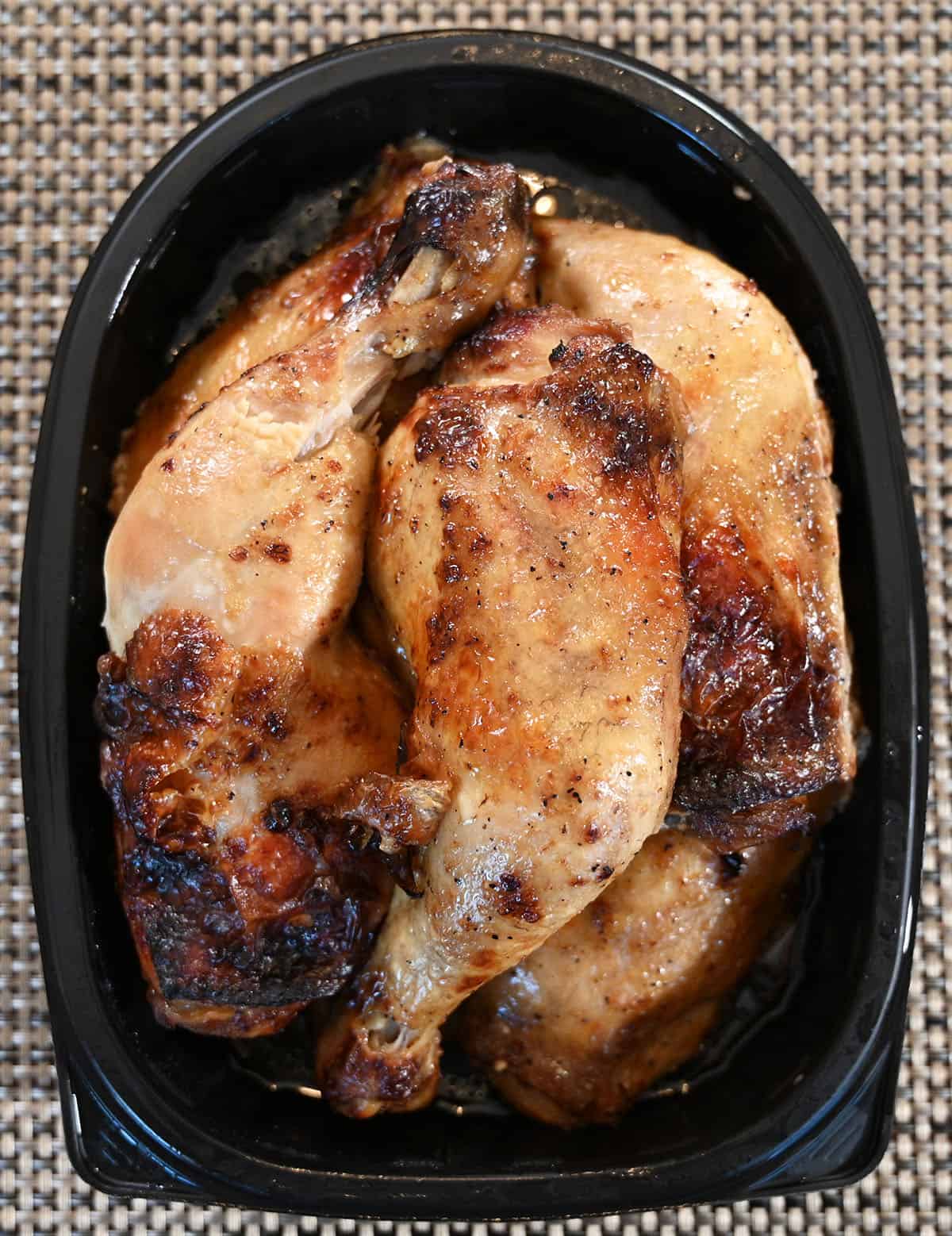 Other pre-made meals from Costco I enjoy are the Costco Kirkland Quinoa Salad, Costco Kirkland Signature Seasoned Chicken Wings, Costco Kirkland Signature Chicken Burger Meal Kit, Costco Kirkland Signature Stuffed Salmon, Costco Kirkland Signature Chicken Pot Pie, Costco Kirkland Signature Stuffed Peppers and the Costco Kirkland Signature Meat Lasagna.
Location in Store
You can find the legs beside the rotisserie chickens, under the warmer in the pre-made meal section at Costco. The item number is 51579.
Taste
I love the flavor of the chicken legs, the roasted garlic is delicious. Weirdly, the seasoning and flavor of the legs remind me of the same flavor I get when enjoying Thanksgiving stuffing or gravy. I knew just by looking at the legs that they were going to be fatty and greasy tasting. The skin on the legs was glistening and super shiny from grease and oil.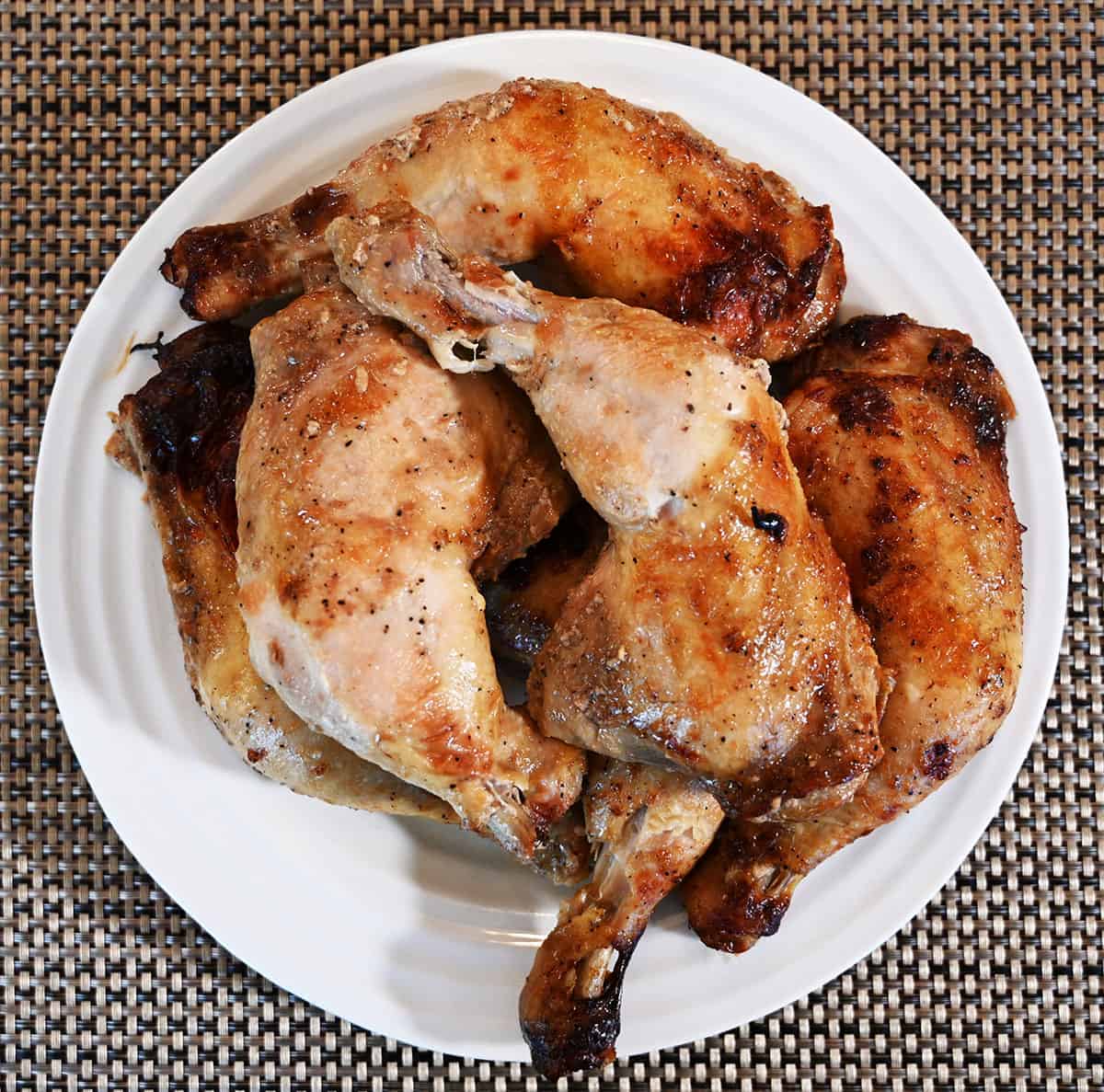 I was hoping the skin would be nice and crispy but instead, it was slimy so I opted to pull the skin off. I'm happy to say the chicken leg meat itself is still flavorful and seasoned with roasted garlic even with the skin pulled off.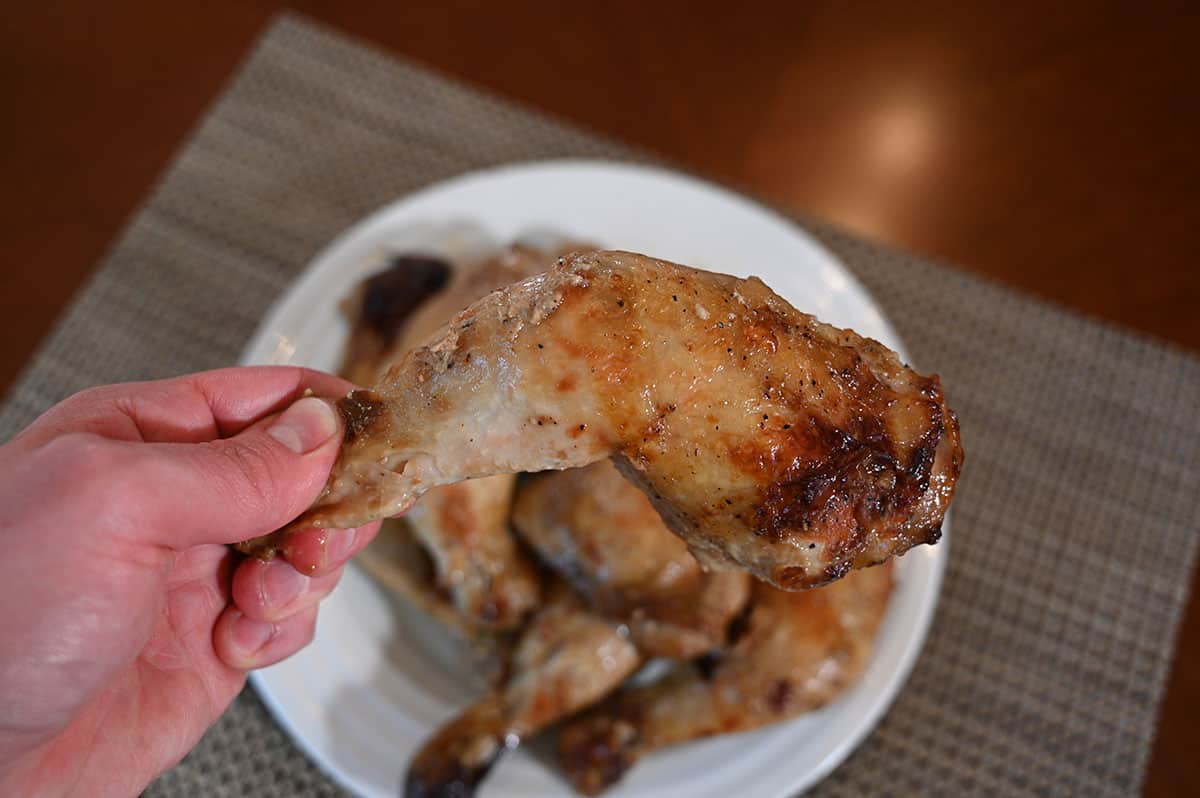 As with all chicken legs, I found some pieces of gristle and fat but I'm not too surprised by this because dark meat tends to be fattier. For this reason, I prefer chicken breast meat. If you know you're someone who prefers dark meat and doesn't mind the fattier bits (like my grandma) then you'd probably enjoy these!
Cost
Our container came with six large chicken legs and it costs $15.89 Canadian at Costco. This seems a bit expensive considering the rotisserie chicken is about half that! Overall it's still a reasonable deal for a large amount of ready-to-eat chicken!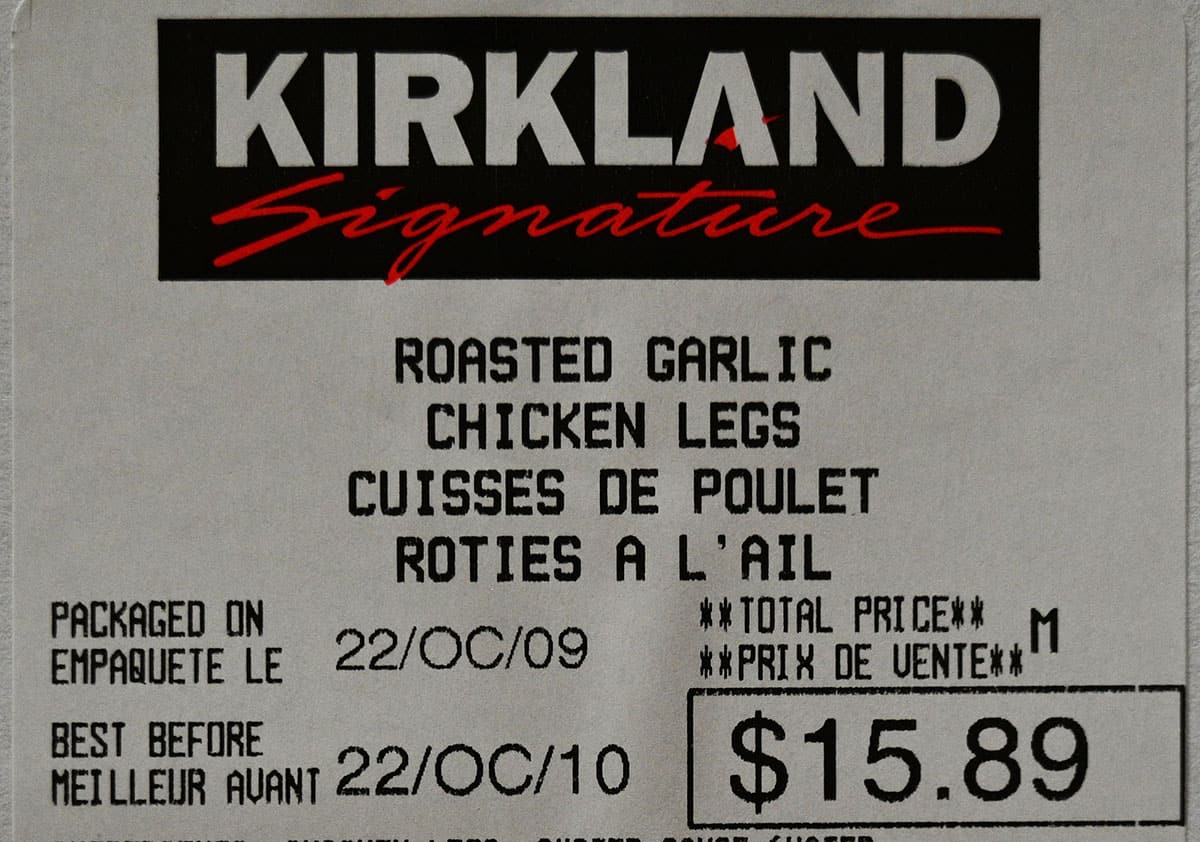 Convenience
These are already cooked and warm when you get them at Costco so they're ready to eat as soon as you pay for them! It doesn't get more convenient than this! The best-before date is one day from the day they're packaged on.

The packaging recommends storing the chicken legs at or lower than four degrees celsius or 40 degrees Fahrenheit or higher than 60 degrees celsius or 140 degrees Fahrenheit. Basically, either put them in the fridge or put them in the oven to keep them warm.
To reheat the legs the package recommends microwaving with plastic wrap on top after removing the lid but I prefer not to microwave plastic wrap so would transfer the thighs to a microwave safe dish with a glass lid before microwaving.
I think these would be popular to bring to a party or potluck or serve at a big family dinner or get-together. I think they'd also work for a game-day snack!
Nutrition
One chicken leg is 380 calories, 27 grams of fat, 330 milligrams of sodium, one gram of carbohydrates, zero grams of fibre and sugar and 33 grams of protein. The amount of sodium isn't as high as I expected it to be. The amount of fat per leg is quite high but that's to be expected with dark meat.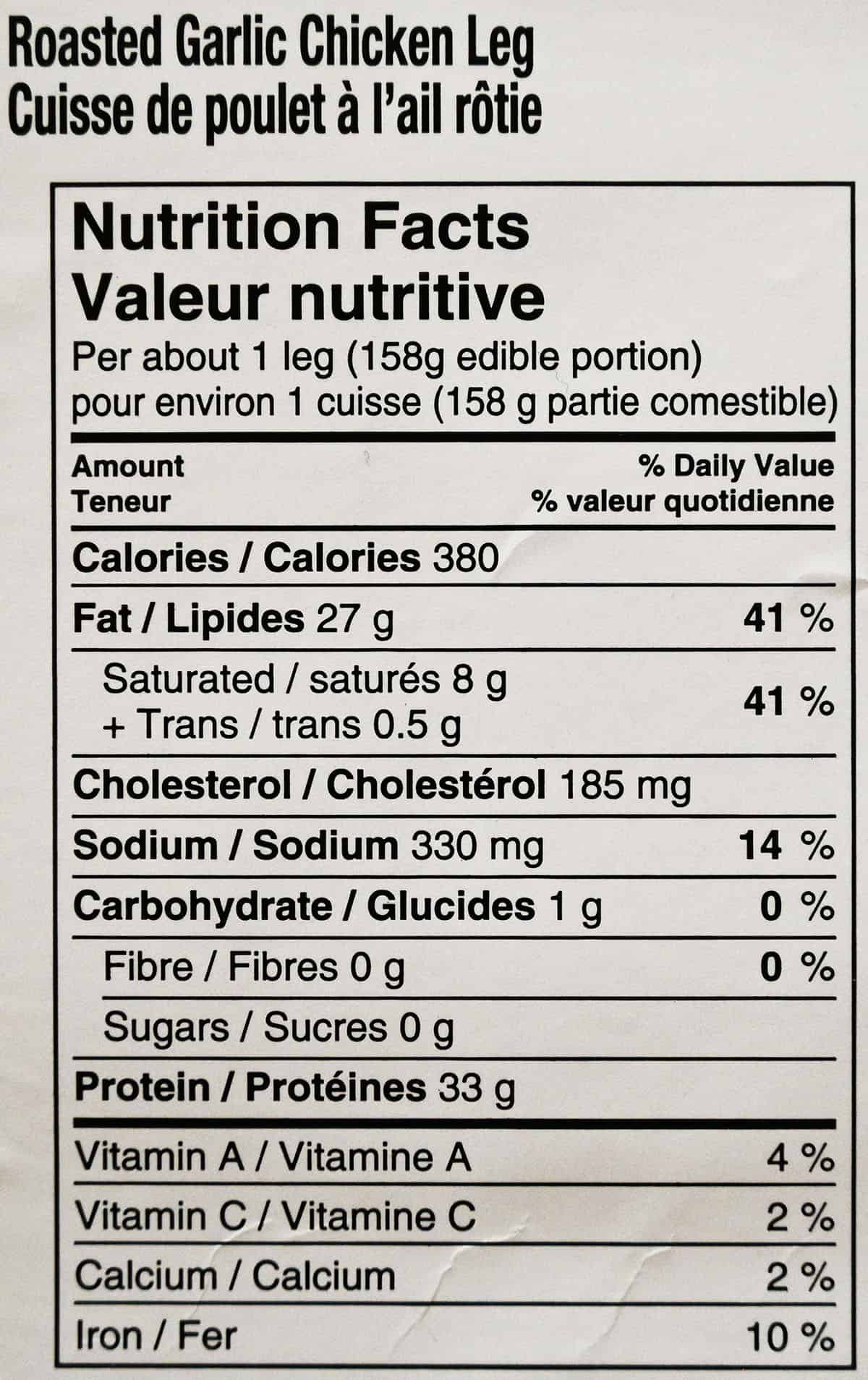 Ingredients
I don't like this ingredient list at all. First of all, I'm surprised by the oyster sauce, I wasn't expecting to see that. But also, why is the third ingredient sugar? And why is there soy and wheat proteins? Most individuals would assume chicken legs are gluten and soy free. Not these. There's also canola oil which adds to the amount of fat per leg.
To be honest I'd much rather make my own chicken legs at home. Although it's far less convenient they would not have soy, sugar and wheat.

Scoring
Taste: 6.5/10
Cost: 6/10
Convenience: 10/10
Nutrition: 2/10 (Points for protein).
Overall
Give it a try!
I really enjoy the flavor of the chicken legs but I don't love the skin, fat, gristle or ingredients!
Have you tried these? What did you think of them?
Please note that this review was not paid for or sponsored by any third party. This product was purchased by Costcuisine for the purpose of producing this review. The opinions in this review are strictly those of Costcuisine. Costcuisine is not affiliated with Costco or any of its suppliers. In the event that Costcuisine receives compensation for a post from the manufacturer of a product or some other third party, the arrangement will be clearly disclosed (including where the manufacturer of a product provides Costcuisine with a free sample of the product).