Cranberries and jalapeno peppers aren't ingredients I would ever think to pair up, so I was intrigued when I spotted this Stonemill Kitchens Creamy Cranberry Jalapeno Dip at my local Costco. When I think of cranberries, I immediately think of Thanksgiving and Christmas, but I don't normally think of jalapenos as a holiday food! Is this dip more sweet or more savory? What should you serve it with? Will it be out of place at a holiday-themed gathering? I've tried to answer all of these questions.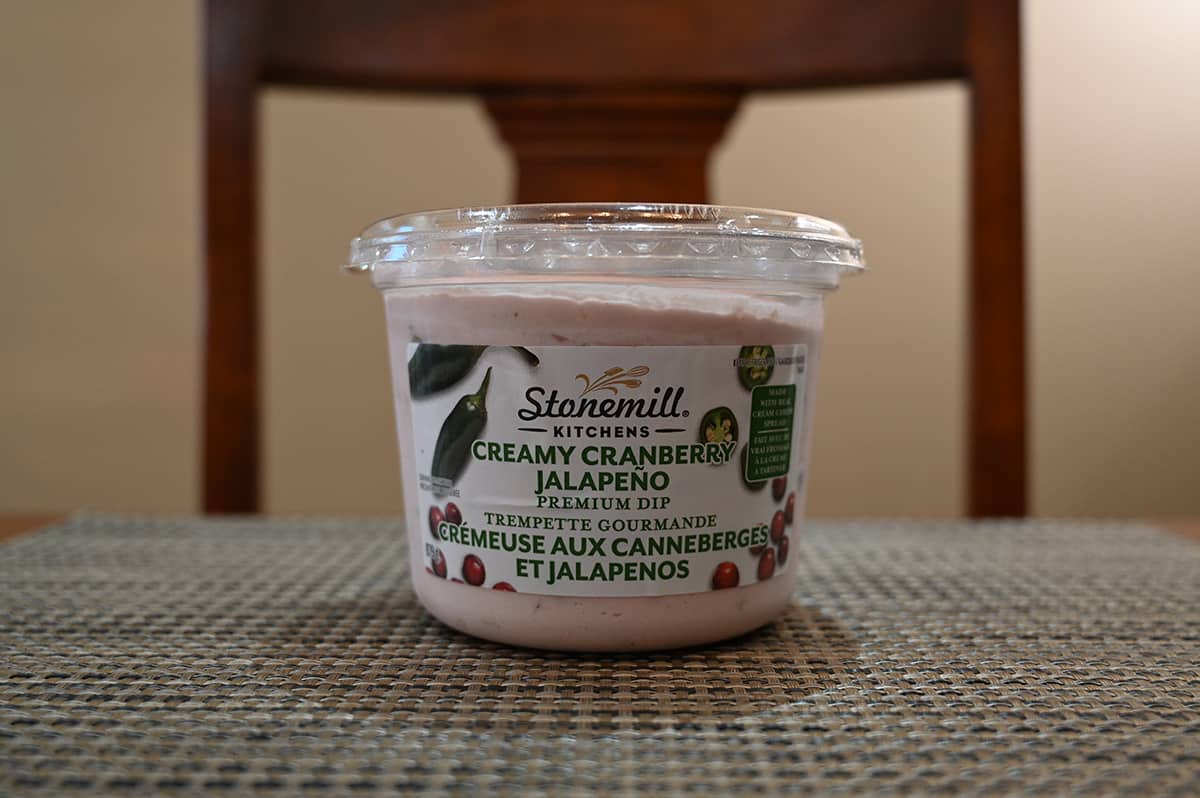 Other dips from Costco I love are the Rojo's Street Corn Dip, Culinary Treasures Jalapeno Lime Aioli, Fontaine Santé Humm! Caramelized Onion Hummus, Kewpie Deep Roasted Sesame Dressing & Marinade, Good Foods Plant Based Queso Style Dip, La Terra Fina Queso Dip with Cheddar and the Kirkland Signature Organic Chunky Guacamole.
Location in Store
This is located in the refrigerated deli section at Costco near all the other dips and cheeses. The item number is 1752409.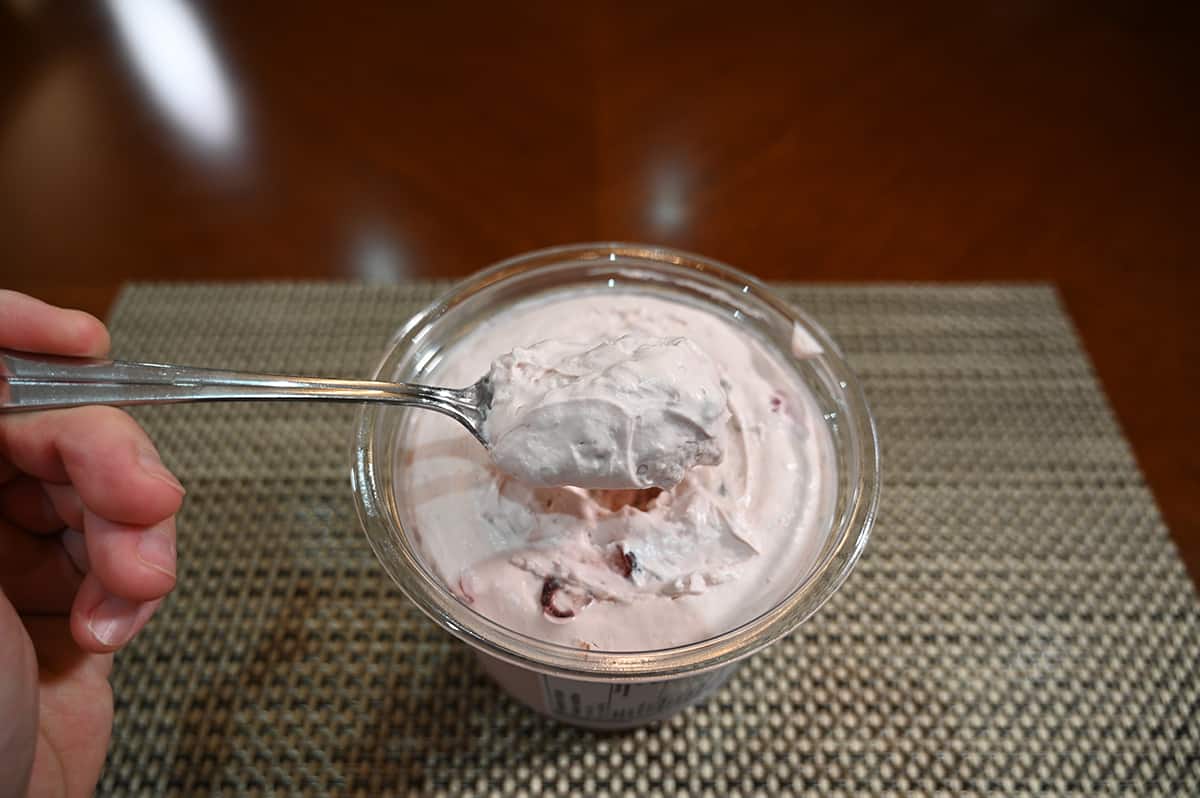 Taste
Wow, this is a unique dip, I've never tasted anything quite like it. It actually has a ton of heat and a strong jalapeno flavor. The combination of the jalapeno with sweet cranberry is very interesting and I'm not really sure I like it.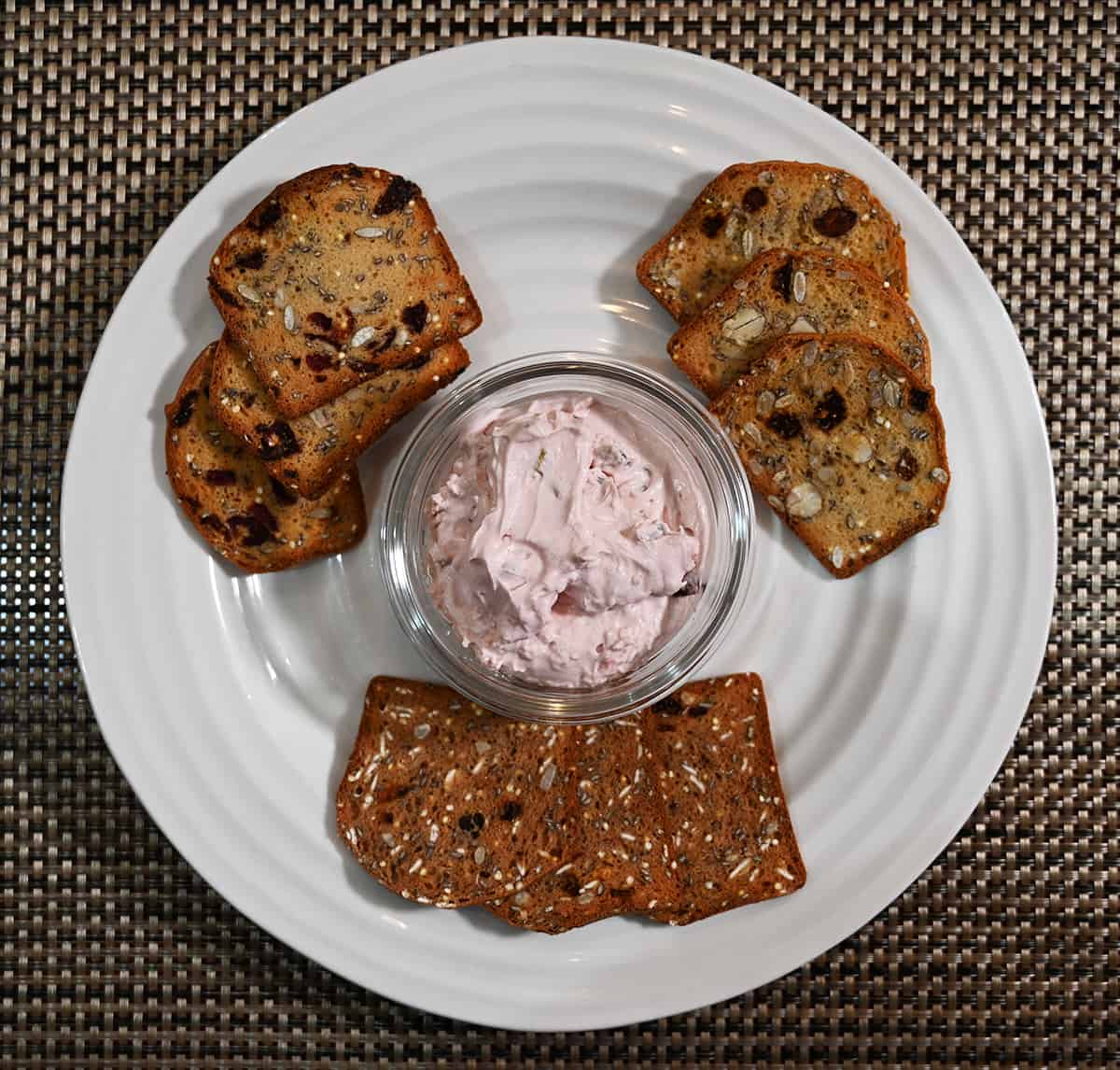 The dip has a noticeable slightly tangy cream cheese base. The texture of the dip is smooth and thick with small chunks of real cranberries and jalapenos. I want to like this but I don't, it's such a peculiar flavor combination and the cranberry is way too sweet and also too spicy. I admit I don't like spicy things but even if I did I wouldn't like this because of how sweet the cranberry is.
Both Sean and I tried this and decided we had no idea what we'd serve it with. The flavor is so sweet and strong that I think it would only go well with some very plain, salty crackers.
Cost
The 879-gram tub of dip costs $11.99 Canadian at Costco. I wish the tub was smaller and less expensive. Unless you're hosting a big party, this is a lot of dip for one family!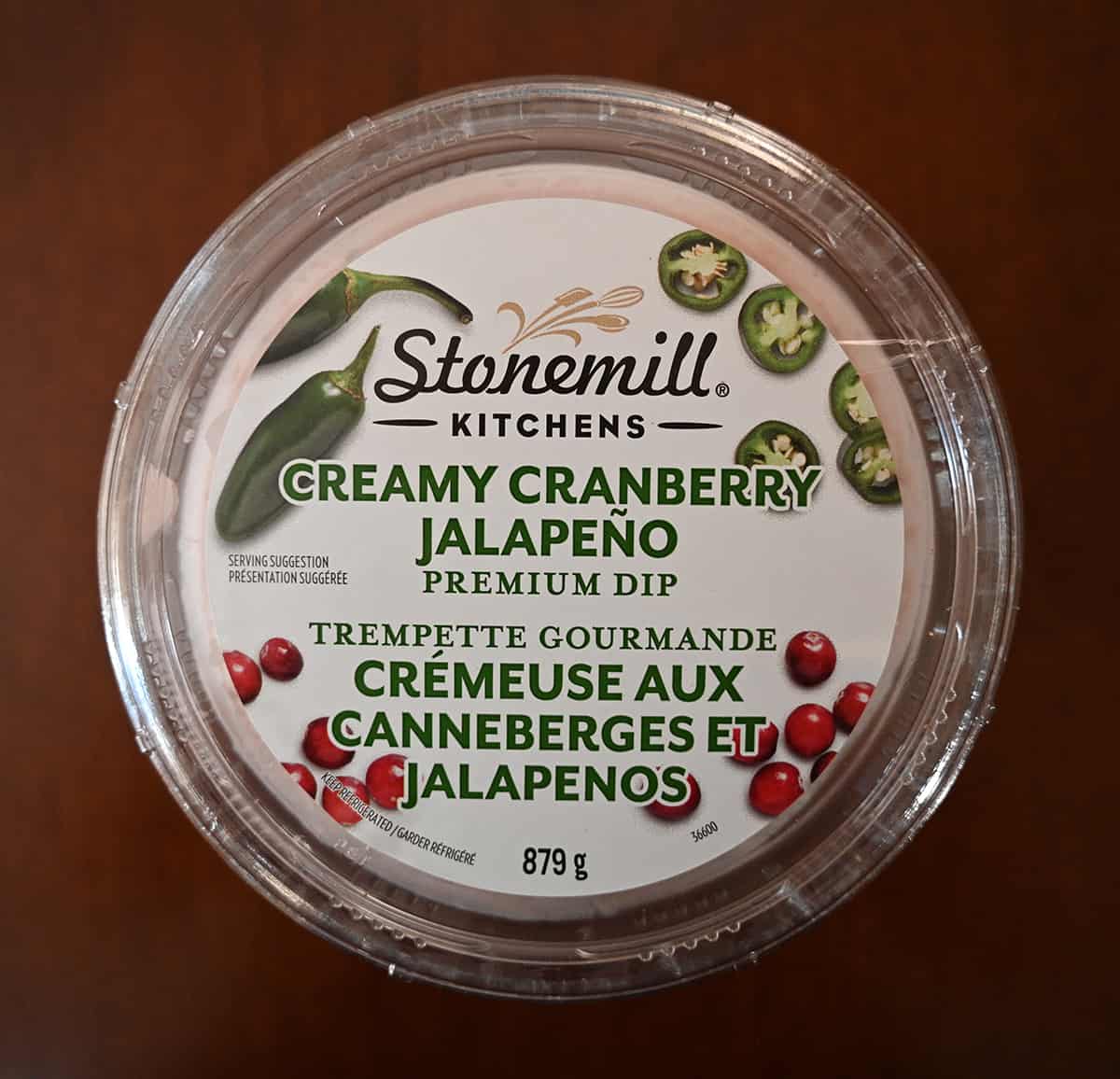 Convenience
The dip needs to be kept refrigerated and the best-before date is only three weeks from the date I purchased it. I probably wouldn't keep an open container in my fridge for three weeks, I'd toss it at after about ten days maximum.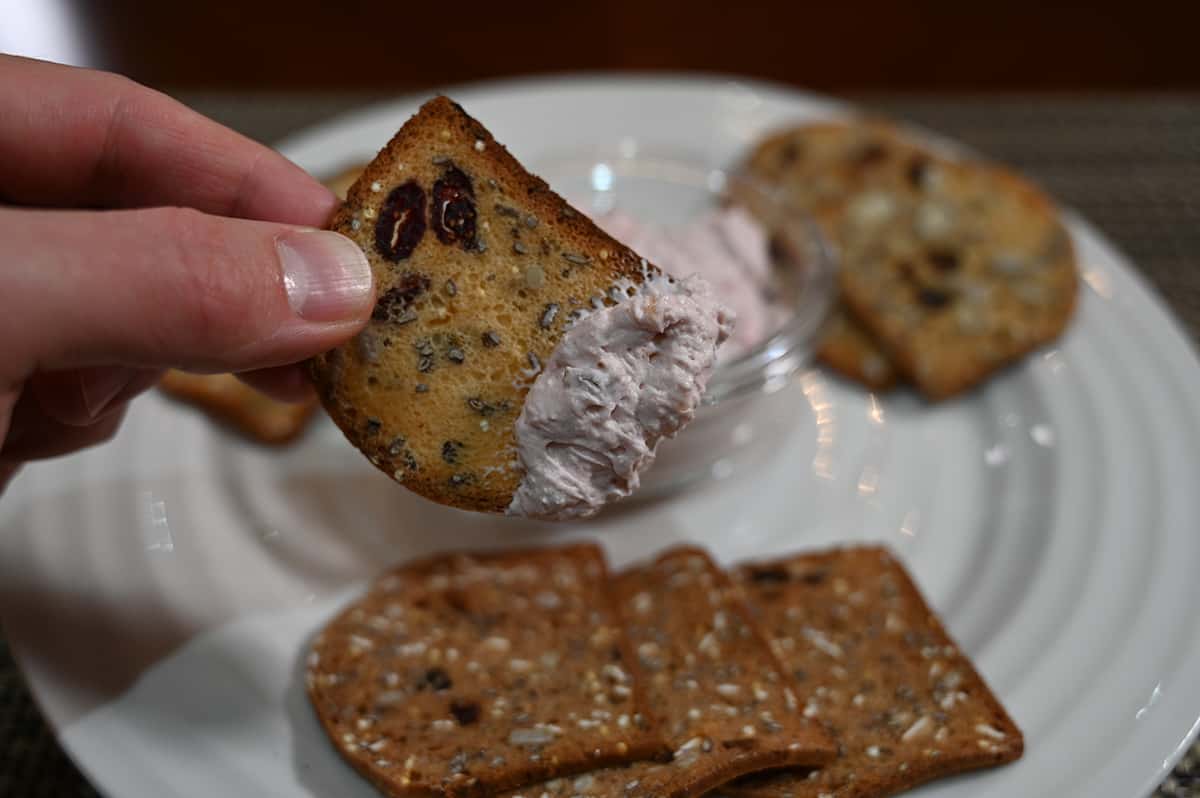 This Stonemill Kitchens Creamy Cranberry Jalapeno Dip is made in the USA. The website recommends serving the dip with vegetables, chips, crackers or pretzels. I could see pretzels and crackers working with the dip but not vegetables.
Nutrition
Calories
Two tablespoons of dip contain 90 calories, six grams of fat, seven grams of carbohydrates, zero grams of fiber, six grams of sugar, one gram of protein and 120 milligrams of sodium.
I can't see people eating too much of this because it's so flavorful. Obviously it's not low in calories or fat but the sugar isn't as high as I thought it would be!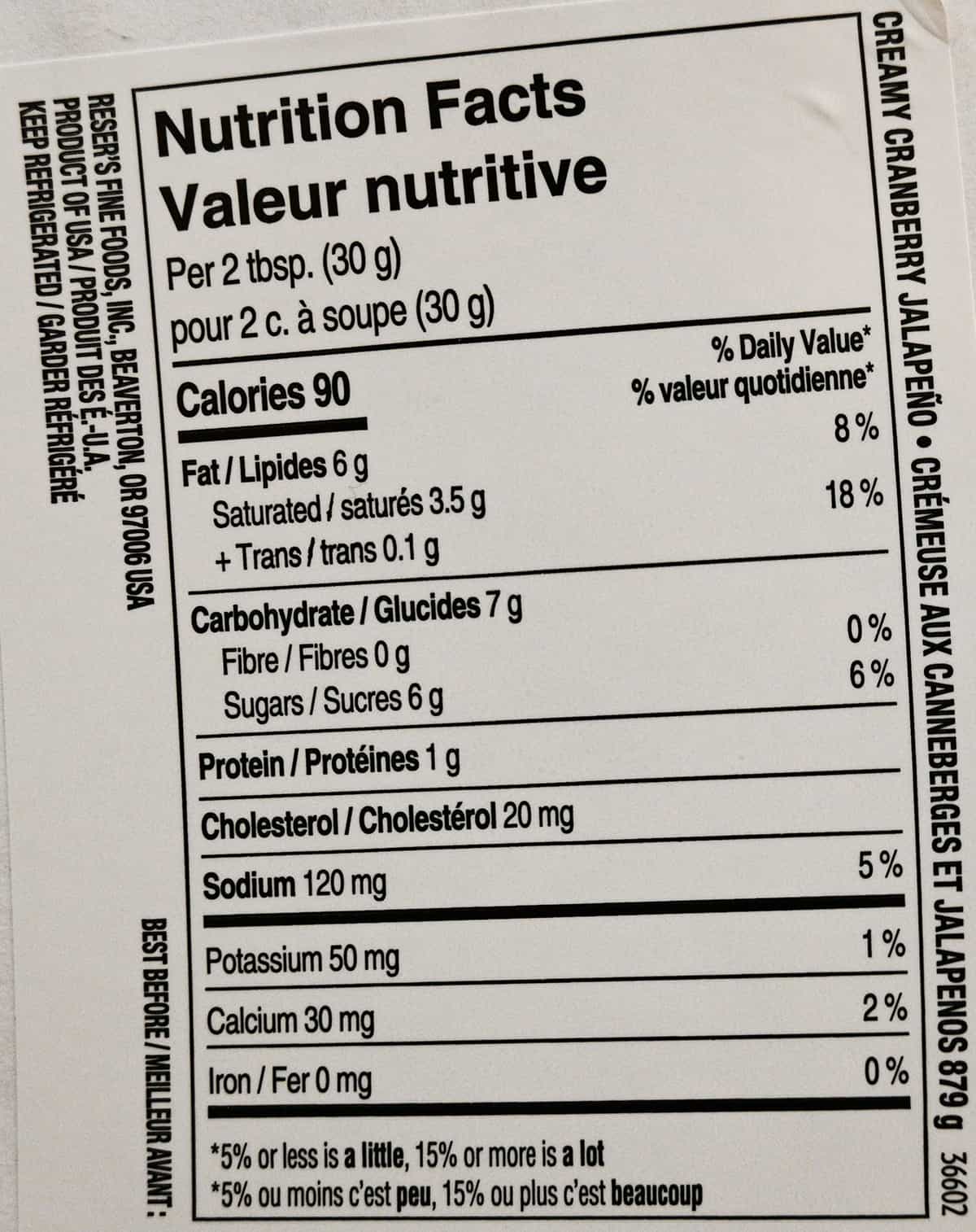 Ingredients
Just like I thought, cream cheese is the first ingredient. The ingredients list isn't actually that bad and it's all things you would use to make a dip like this at home. The only difference between store-bought versus homemade would mostly be the preservatives.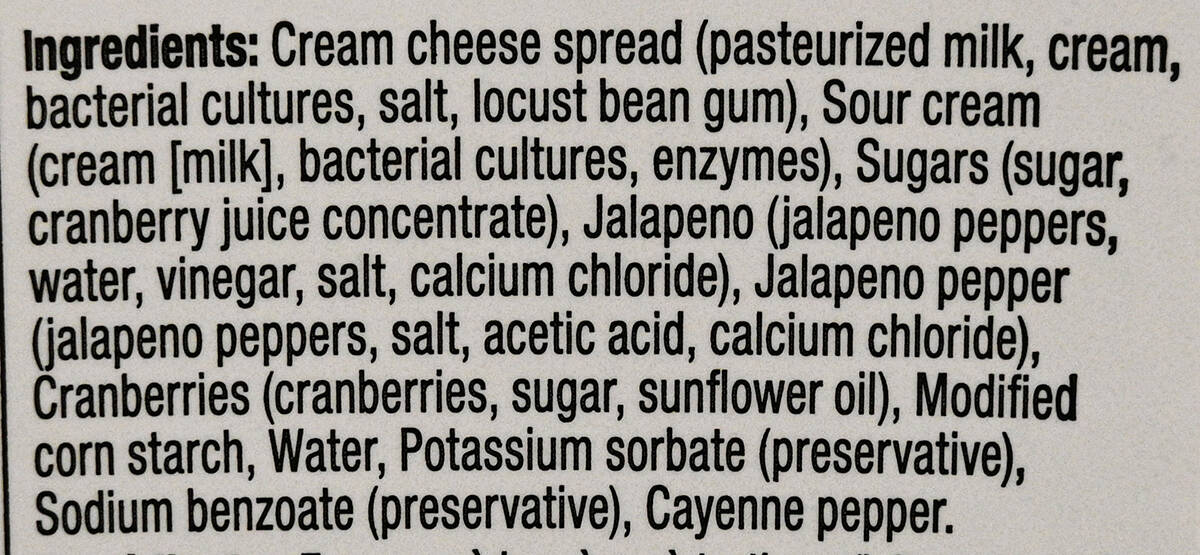 coring
Taste: 6/10
Cost: 7/10
Convenience: 10/10
Nutrition: 3/10 (Points for a pretty simple ingredients list).
Overall
Walk on by!
I wouldn't purchase this again, it's too sweet and the flavor combination is too odd for my liking.
Have you tried the Cranberry Jalapeno Dip from Costco? What did you think of it? Leave a comment below!
---
Please note that this review was not paid for or sponsored by any third party. This product was purchased by Costcuisine for the purpose of producing this review. The opinions in this review are strictly those of Costcuisine. Costcuisine is not affiliated with Costco or any of its suppliers. In the event that Costcuisine receives compensation for a post from the manufacturer of a product or some other third party, the arrangement will be clearly disclosed (including where the manufacturer of a product provides Costcuisine with a free sample of the product).