Are you someone who likes to snack? I definitely am, and hummus is one of my favorite dips for snacking. I like plain hummus and a lot of the different flavored ones I've tried. The Fontaine Sante Humm! Caramelized Onion Hummus is technically a flavored version, though the flavoring is pretty mild. Is it tasty enough to become my go-to hummus when I'm snacking on vegetables and crackers?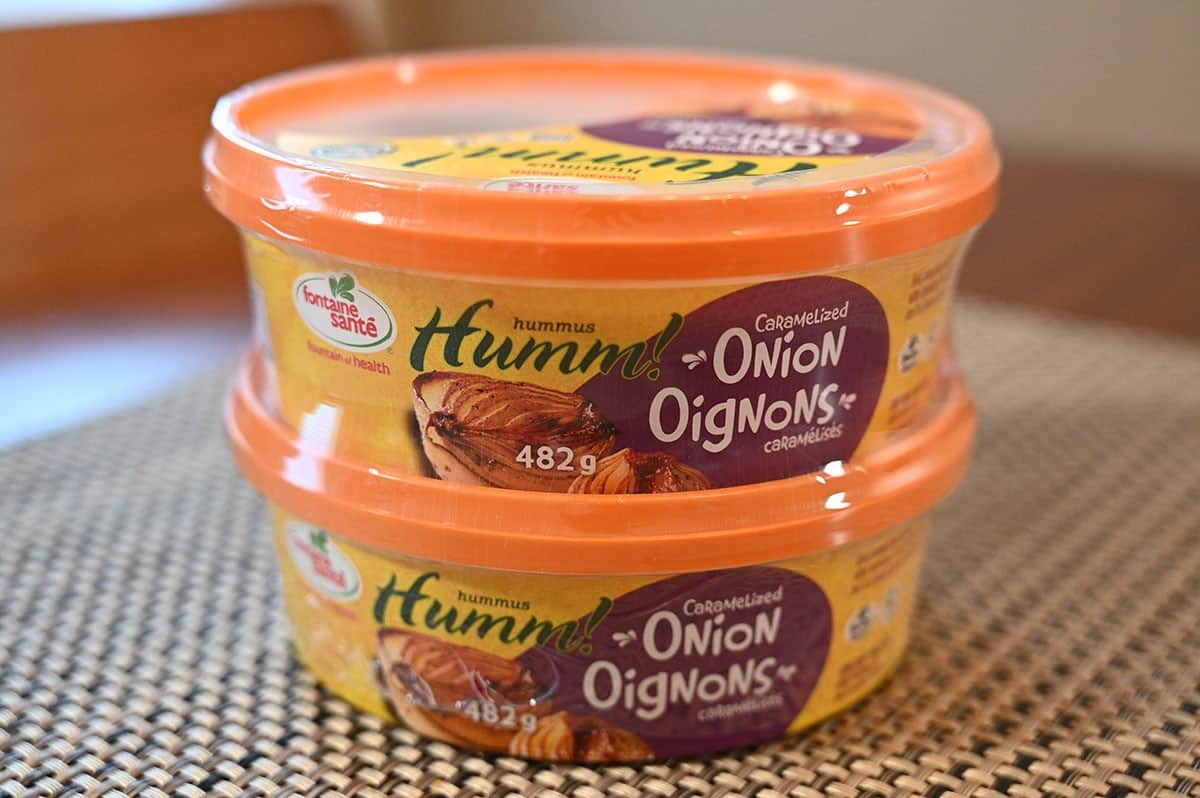 Today I'm reviewing my latest snack addiction! The Costco Fontaine Santé Humm! Caramelized Onion Hummus.
Some other dips from Costco I enjoy are the Costco Good Foods Plant Based Queso Style Dip, Costco La Terra Fina Queso Dip with Cheddar, Costco Wholly Guacamole Organic Minis and the Costco Fontaine Santé Spinach Dip.
Location in Store
You can find the hummus in the refrigerated section at Costco with all the meats, cheeses and dips. The item number is 217018.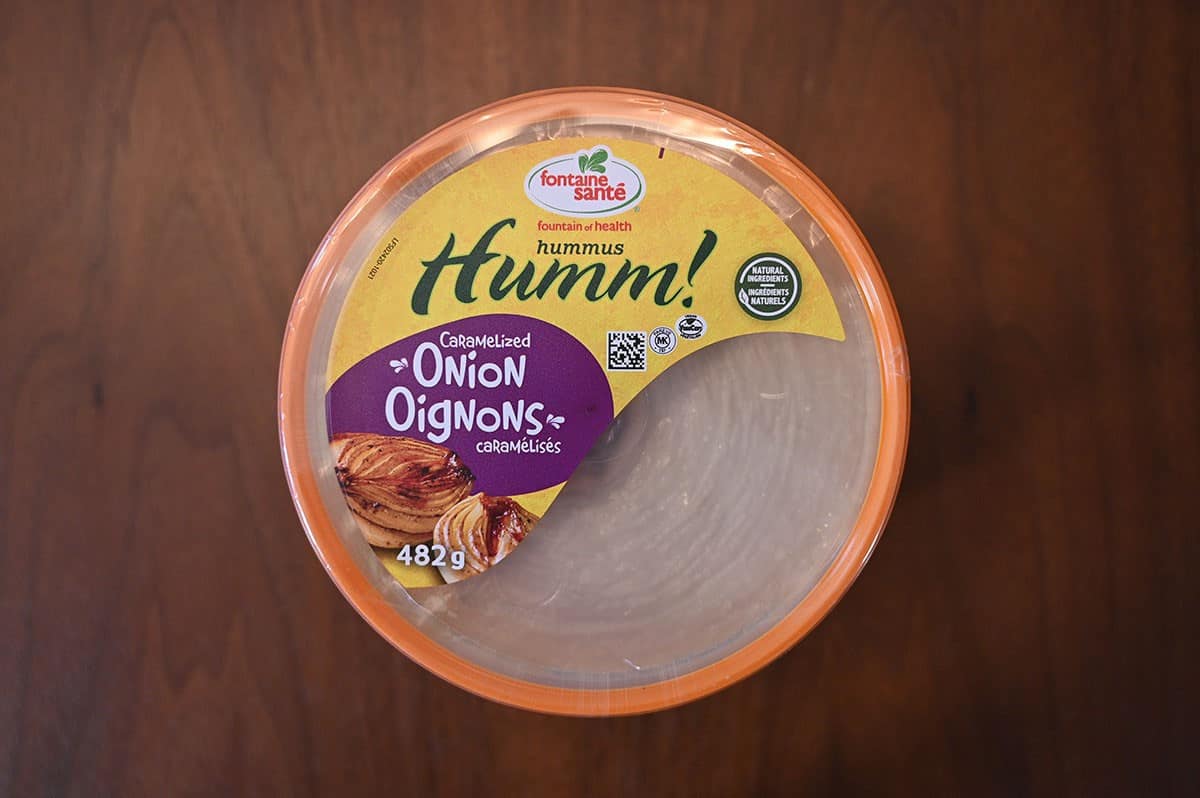 Taste
I prefer the texture of this hummus to other varieties I've tried, it's creamy, fluffy, light and not too thick. I generally like original plain hummus so I was a little hesitant to try the caramelized onion flavor. There's only a small bit of it in the center of the hummus so you can easily eat around it.
I dipped a cracker right into the caramelized onion part and it's actually pretty good. It's like soft sweet onions and has the perfect combination of savory and sweet flavors.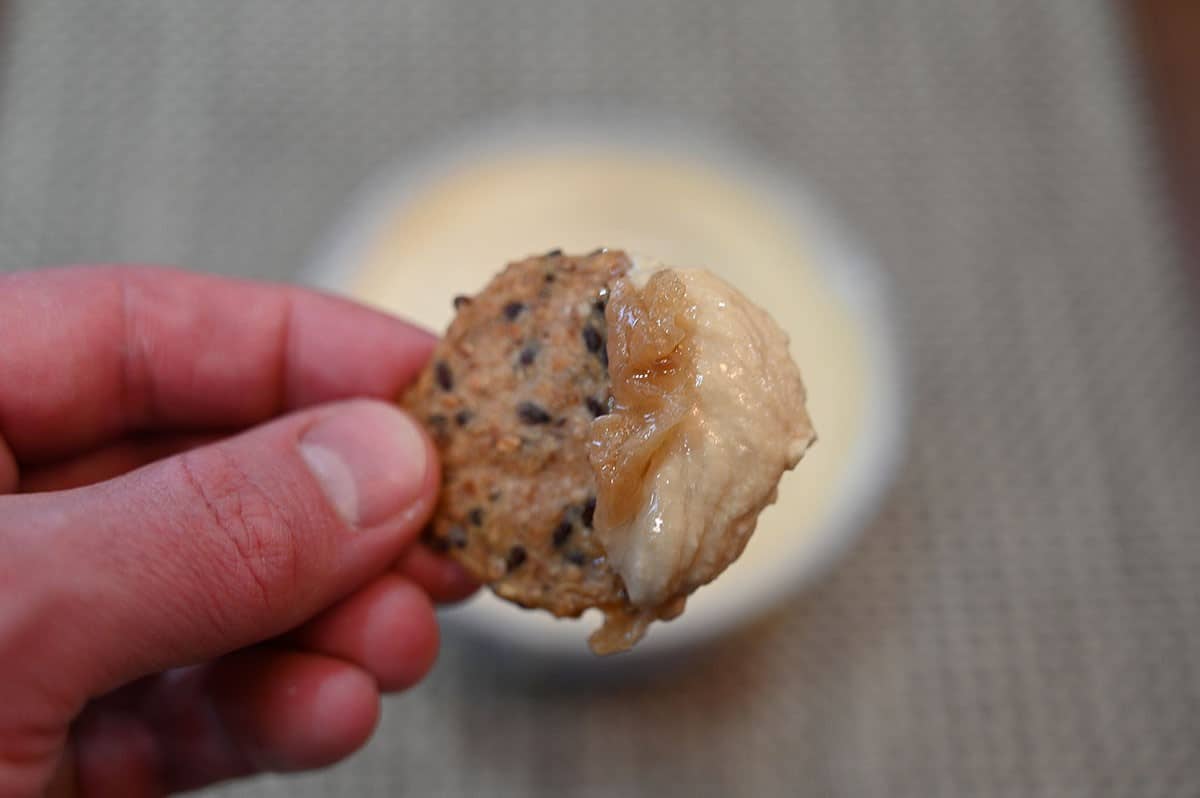 By mixing the caramelized onion in the middle with the rest of the hummus you get a slight onion flavor throughout the hummus. The main flavor is chickpeas along with savory tahini, with a touch of noticeable vinegar and garlic.
Cost
For two 482 grams of hummus the cost is $6.49 which is extremely reasonable and much cheaper than my local grocery store.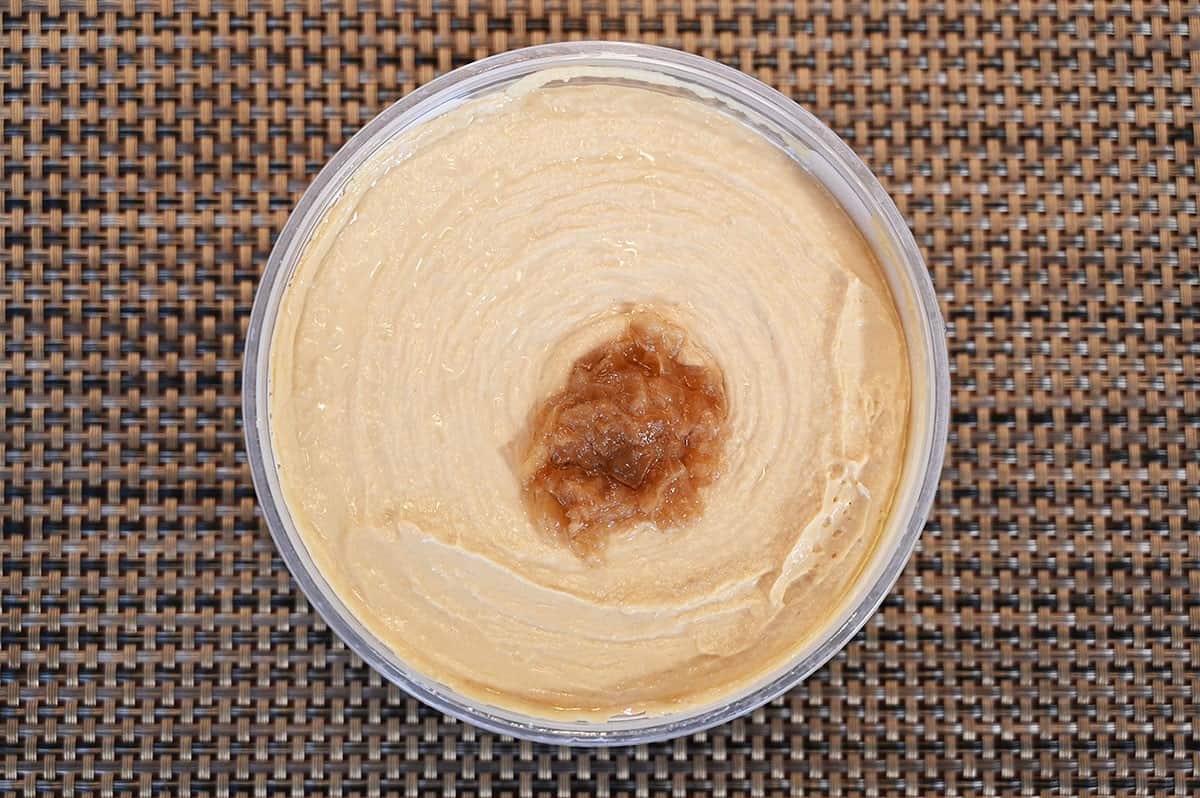 Convenience
All hummus needs to be kept refrigerated and the best before date listed on the hummus is two months from the date I purchased it. However that doesn't mean you can keep your hummus open in the refrigerator for two months. The packaging recommends consuming the hummus in three to five days. I'm the only one who eats hummus in the house so I've safely stretched that to seven days before.
I love hummus with the Costco Simples Mills Almond Flour Crackers, Costco Mary's Organic Crackers as well as celery, cucumber and carrots! This is a great appetizer and works well for lunch or a snack.
Nutrition
Calories
In a two tablespoon serving there are 70 calories, four a half grams of fat, five grams of carbohydrates, one gram of fibre, one gram of sugar, two grams of protein and 115 mg of sodium.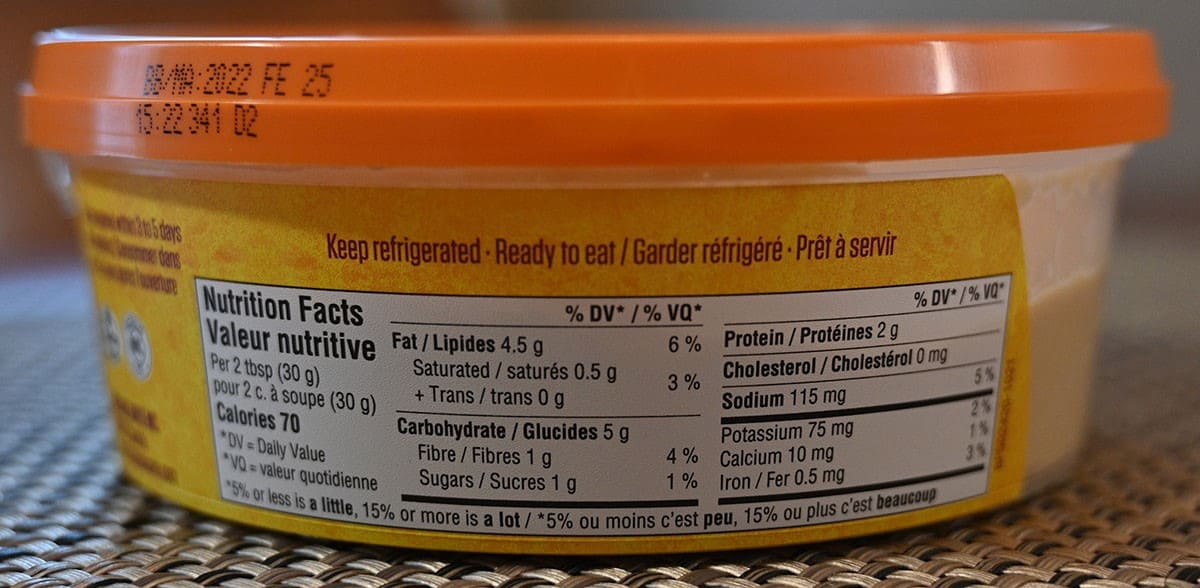 Ingredients
The ingredients list is short and sweet with everything I would expect to see in hummus! I'm still waiting for the day when store-bought hummus has extra virgin olive oil instead of canola oil.

Scoring
Taste: 8/10
Cost: 10/10
Convenience: 8/10 (it's hard to finish a big container in a few days)
Nutrition: 9/10
Overall
Must buy!
I think this will be my go-to store bought hummus. No store bought hummus compares to fresh homemade hummus though!
Do you have a favorite flavor of hummus? Have you tried this? What did you think?
---
Please note that this review was not paid for or sponsored by any third party. This product was purchased by Costcuisine for the purpose of producing this review. The opinions in this review are strictly those of Costcuisine. Costcuisine is not affiliated with Costco or any of its suppliers. In the event that Costcuisine receives compensation for a post from the manufacturer of a product or some other third party, the arrangement will be clearly disclosed (including where the manufacturer of a product provides Costcuisine with a free sample of the product).