I love avocados and guacamole, but I hate it when they turn brown! Storing partially-used avocados and containers of guacamole just doesn't work. This Kirkland Signature Organic Chunky Guacamole from Costco solves that problem by using individual-serving-size containers, so you can enjoy your guacamole without worrying that you'll end up throwing the rest of the package out a day or two later. Ironically, this guacamole is so good that you probably wouldn't have leftovers even if it came in one big container!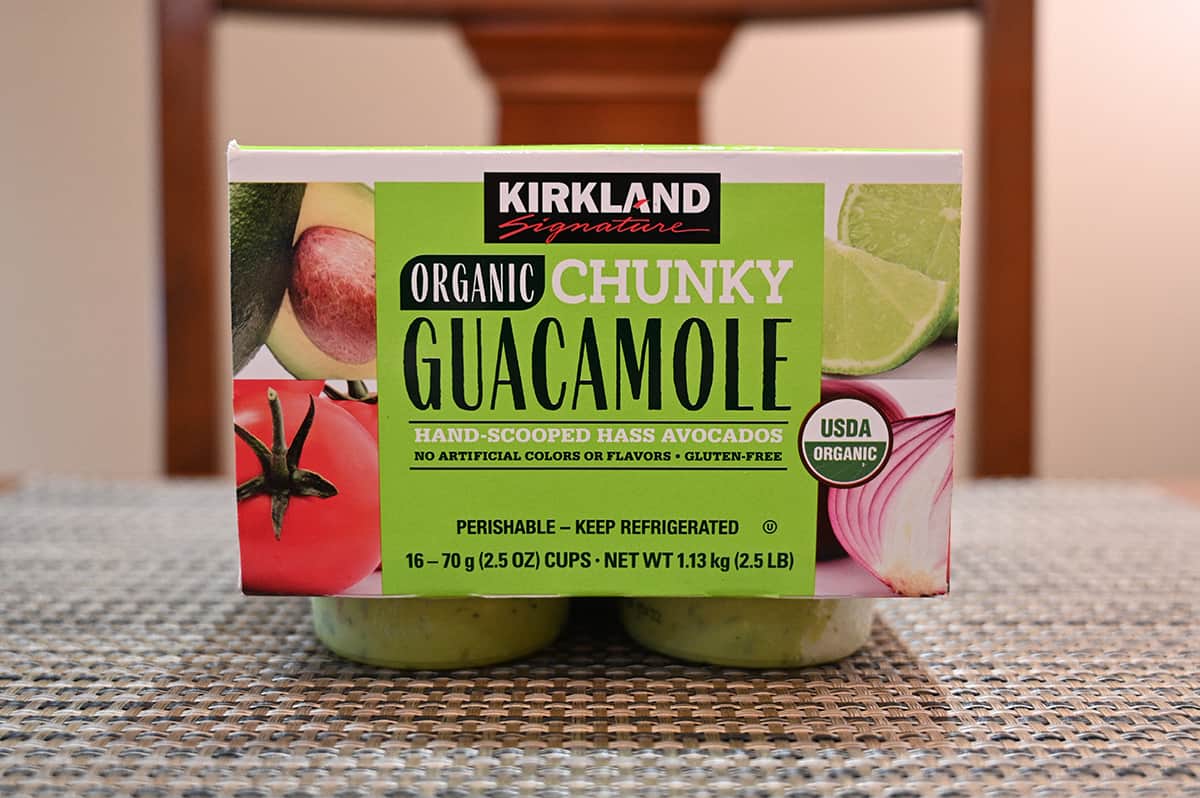 Tortilla chips and guacamole is always a snack I enjoy but if I buy a big container I never use it up before it expires or goes brown. When I saw these individual snack packs of the Kirkland Signature Organic Chunky Guacamole I didn't hesitate to pick them up! They look like they'd be perfect for when I'm snacking solo or need a bit of guacamole for tacos or fajitas.
Other dips I recommend trying from Costco are the Rojo's Black Bean Six Layer Dip, La Terra Fina Queso Dip with Cheddar, Good Foods Plant Based Queso Style Dip, Rojo's Street Corn Dip and the Fontaine Sante Spinach Dip. This Kirkland guacamole is also really similar to the Wholly Guacamole Organic Minis.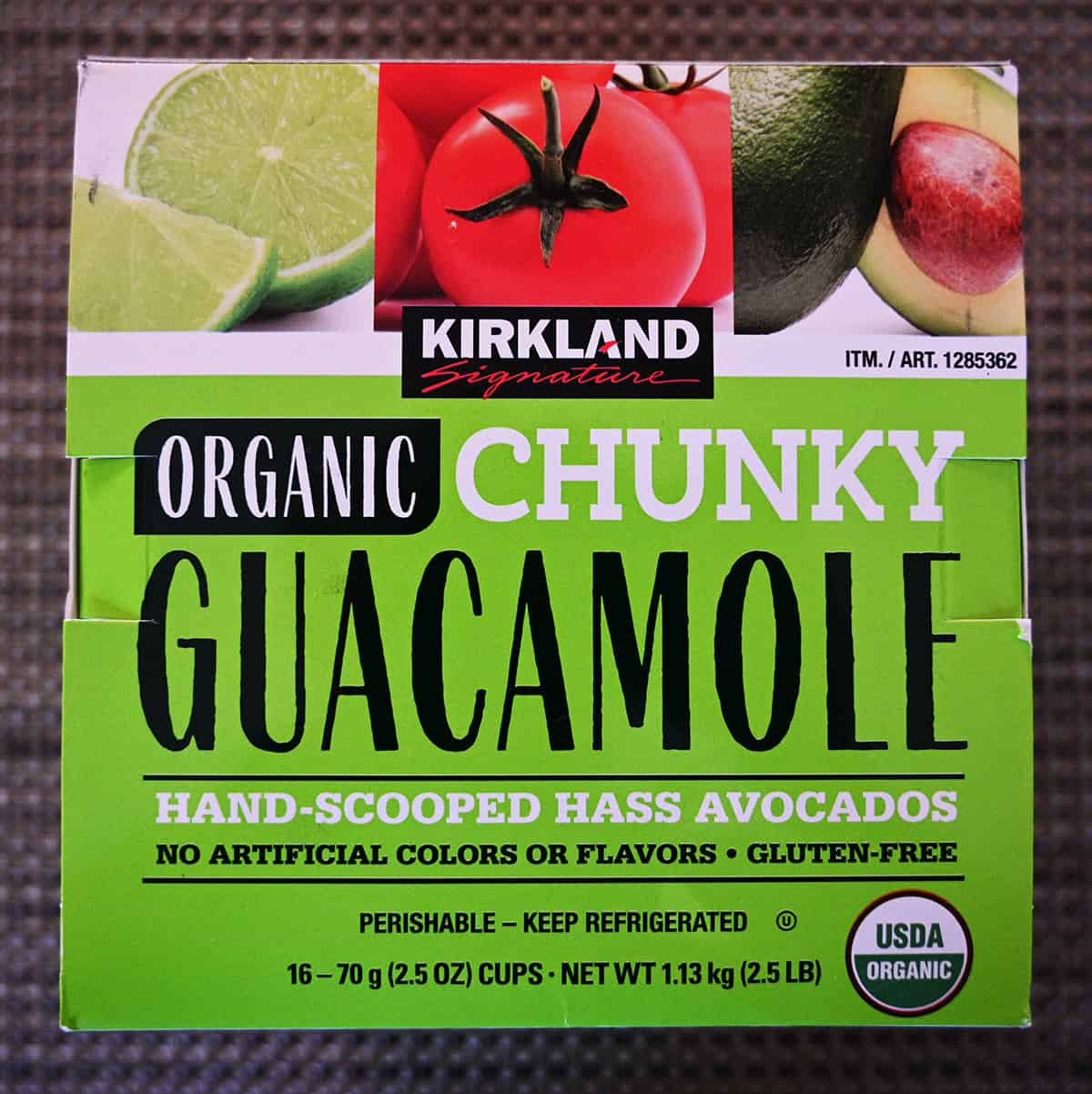 Location in Store
You can find this in the refrigerated deli section near all the dips. I bought this in the Kalispell, Montana Costoc and the item number is 1285362.
Taste
This is a basic, really good guacamole. It's super flavorful and nicely seasoned. It's fairly salty, but I liked the saltiness. It has a bit of heat, but probably not enough to turn anyone off. It's nice and smooth, but the peppers and onion add some texture.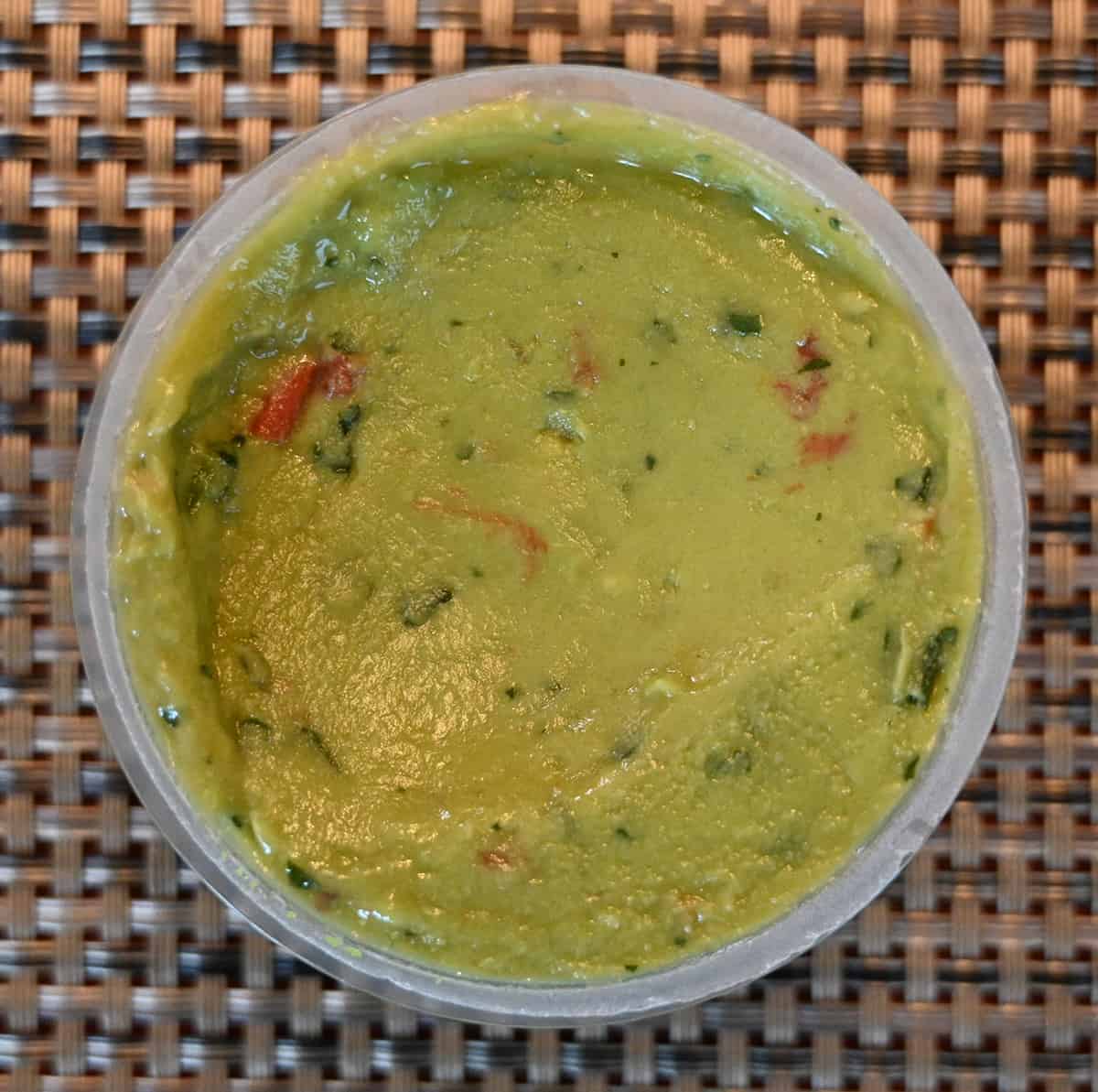 The small containers are a double-edged sword. On the one hand, they're super convenient and you won't have to worry about your guacamole going brown. On the other hand, you might find yourself going through a couple of containers at a time because it's so tasty!
Cost
The pack of 16 cups costs $12.99 USD, which isn't bad but isn't super cheap. I think the fact they're organic influences the price, as does the individually-packaged cups of guacamole.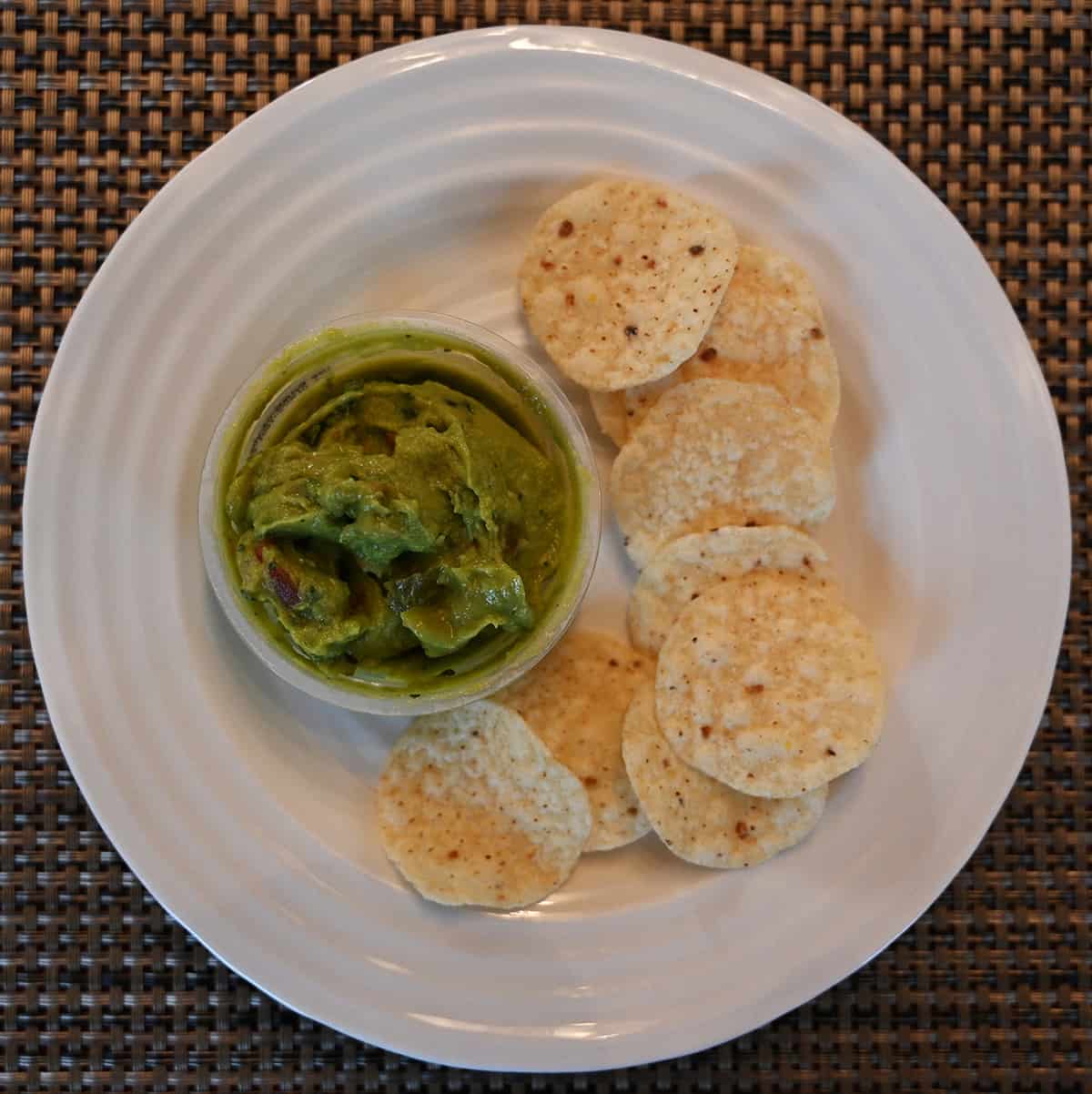 Convenience
The 70-gram cups have the perfect amount of guacamole for dipping some vegetables, crackers or tortilla chips in. They're also great if you're a smaller household and are having tacos or something similar for dinner and need just a bit of guacamole, not a ton.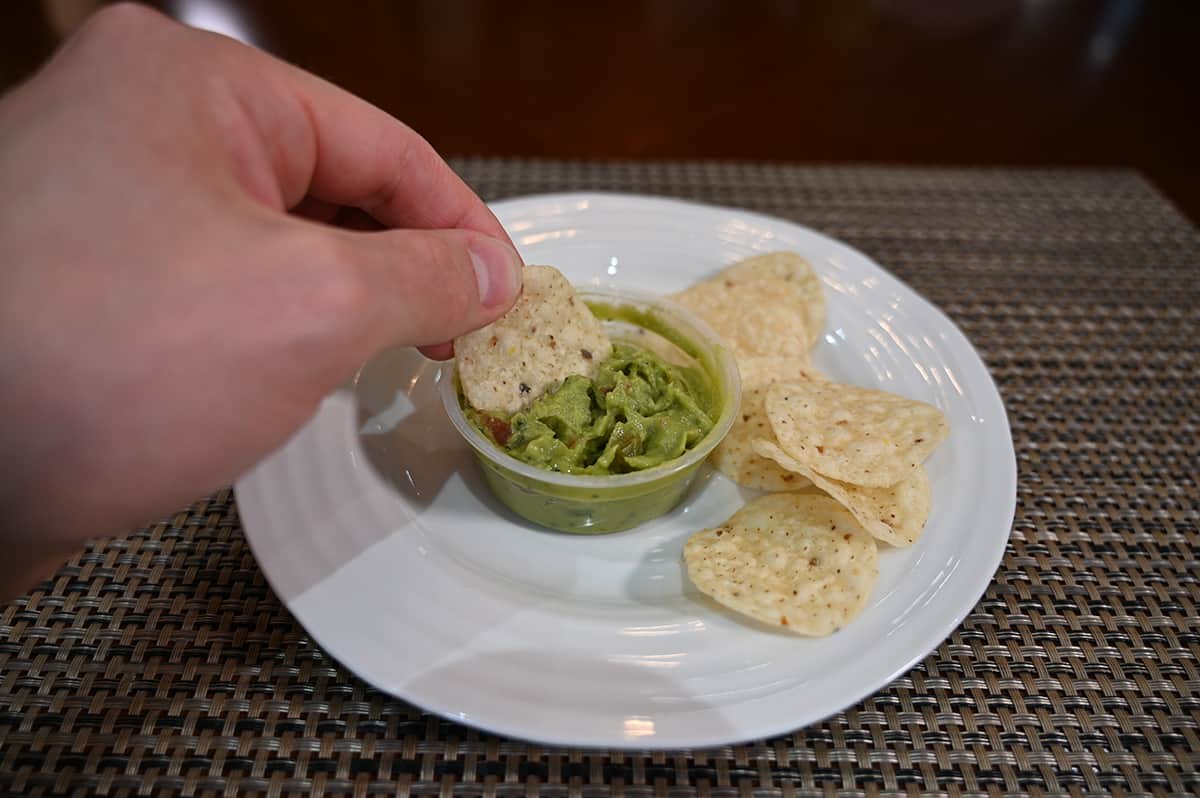 These cups are also great for toddlers to have as a snack because they're loaded with healthy fats which are great for brain development. The guacamole needs to be kept refrigerated and the best-before date is about five weeks from when I purchased it.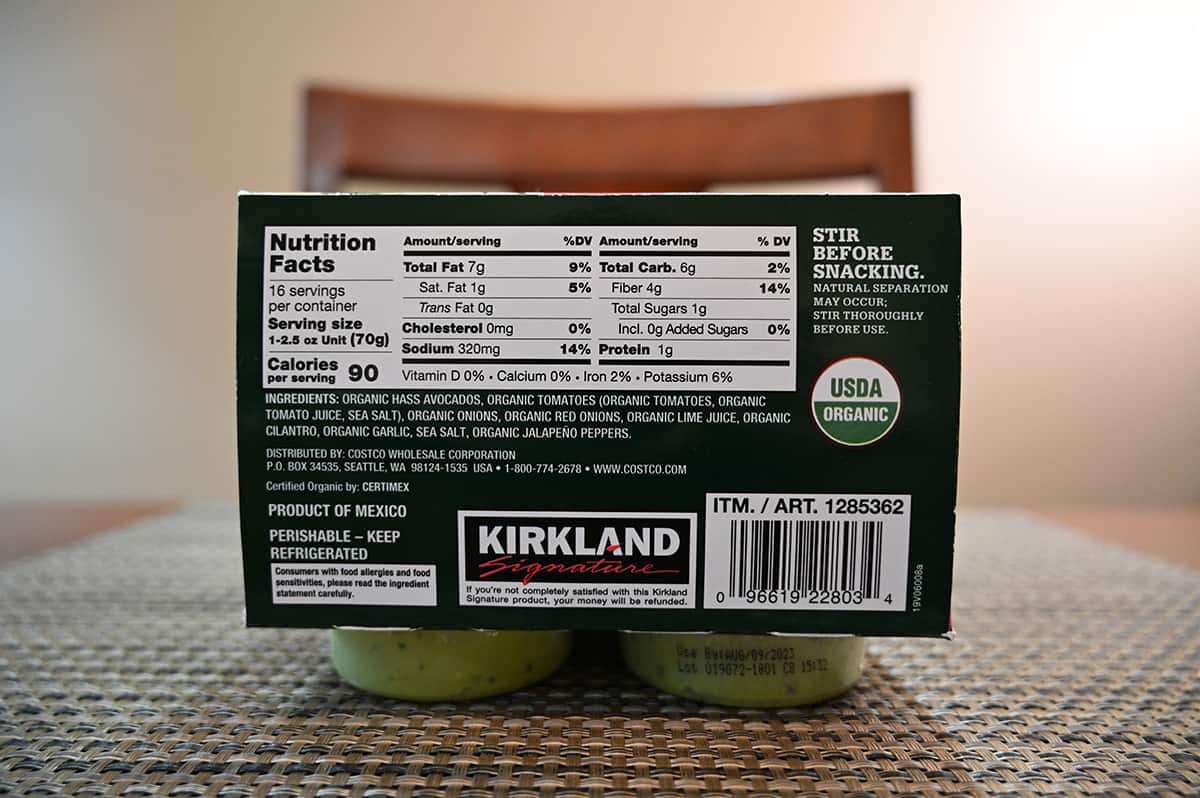 The guacamole tastes amazing with the Kirkland Signature Corn Chip Dippers from Costco that I've raved about.
Nutrition
Calories
One container contains 90 calories, seven grams of fat, 320 milligrams of sodium, six grams of carbohydrates, four grams of fibre, one gram of sugar and one gram of protein. The sodium is a bit high for 90 calories but if you're just eating one cup it's not too bad.

Ingredients
This is probably one of the "cleanest" products I've reviewed. The ingredients are all organic and there aren't any artificial ingredients or preservatives. Guacamole is extremely healthy, it's full of healthy fats, fiber and low in carbs and sugar.

Scoring
Taste: 9/10
Cost: 7.5/10
Convenience: 10/10
Nutrition: 10/10
Overall
Must buy if you like guacamole!
As someone who regularly enjoys guacamole, I definitely recommend the Kirkland Signature Organic Chunky Guacamole. It's delicious, convenient and full of healthy ingredients.
Have you tried this guacamole? What did you think of it?
---
Please note that this review was not paid for or sponsored by any third party. This product was purchased by Costcuisine for the purpose of producing this review. The opinions in this review are strictly those of Costcuisine. Costcuisine is not affiliated with Costco or any of its suppliers. In the event that Costcuisine receives compensation for a post from the manufacturer of a product or some other third party, the arrangement will be clearly disclosed (including where the manufacturer of a product provides Costcuisine with a free sample of the product).