I love corn chips! They're very similar to tortilla chips, which I also like, but I've always liked corn chips a little bit better. It might be partly because I eat tortilla chips a lot more frequently, so corn chips are more exciting. Anyway, I was very excited when I saw these Kirkland Signature Corn Chip Dippers in my local Costco. Kirkland Signature has a good track record of taking simple chips and making them taste amazing – the Kirkland Signature Kettle Krinkle Cut Himalayan Salt Potato Chips are probably my favorite plain potato chip. Has Kirkland Signature elevated another simple chip to perfection with these corn chips?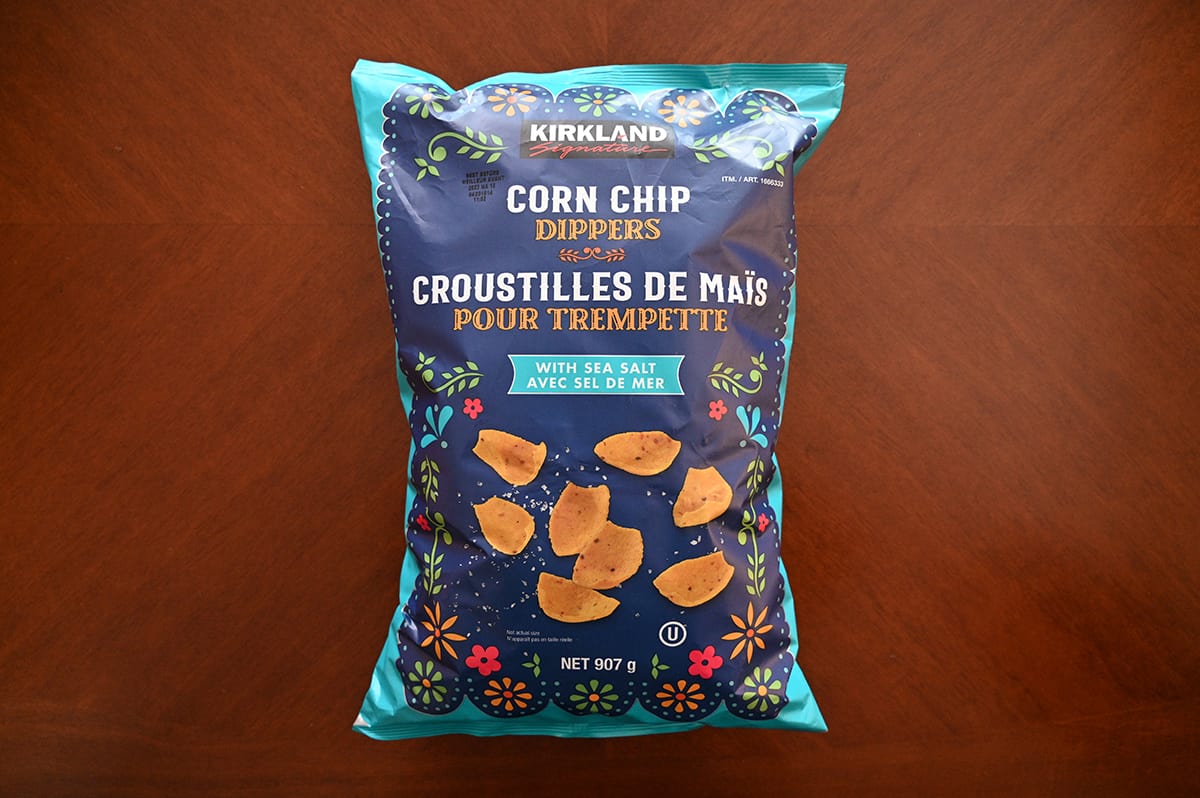 My husband and I don't eat a ton of chips but we like to snack on them on the weekends for a treat. When I spotted these Kirkland Signature Corn Chip Dippers I immediately picked up a bag because I thought they'd go perfectly with our Saturday night margaritas. If you like margaritas too, I have the best recipe for a Cadillac margarita on my Kirkland Signature Margarita Mix Review.
Other chips and snacks from Costco we've tried are the Sweet Maui Onion Kettle Chips, Miss Vickie's Spicy Dill Pickle Chips, Kirkland Signature Que Pasa Organic Tortilla Chips, SoKusa Shrimp Chips, Sensible Portions Garden Veggie Straws, Angie's Boom Chicka Pop Sea Salt Popcorn and the Schwartz Brothers Bakery Organic Everything Bagel Chips.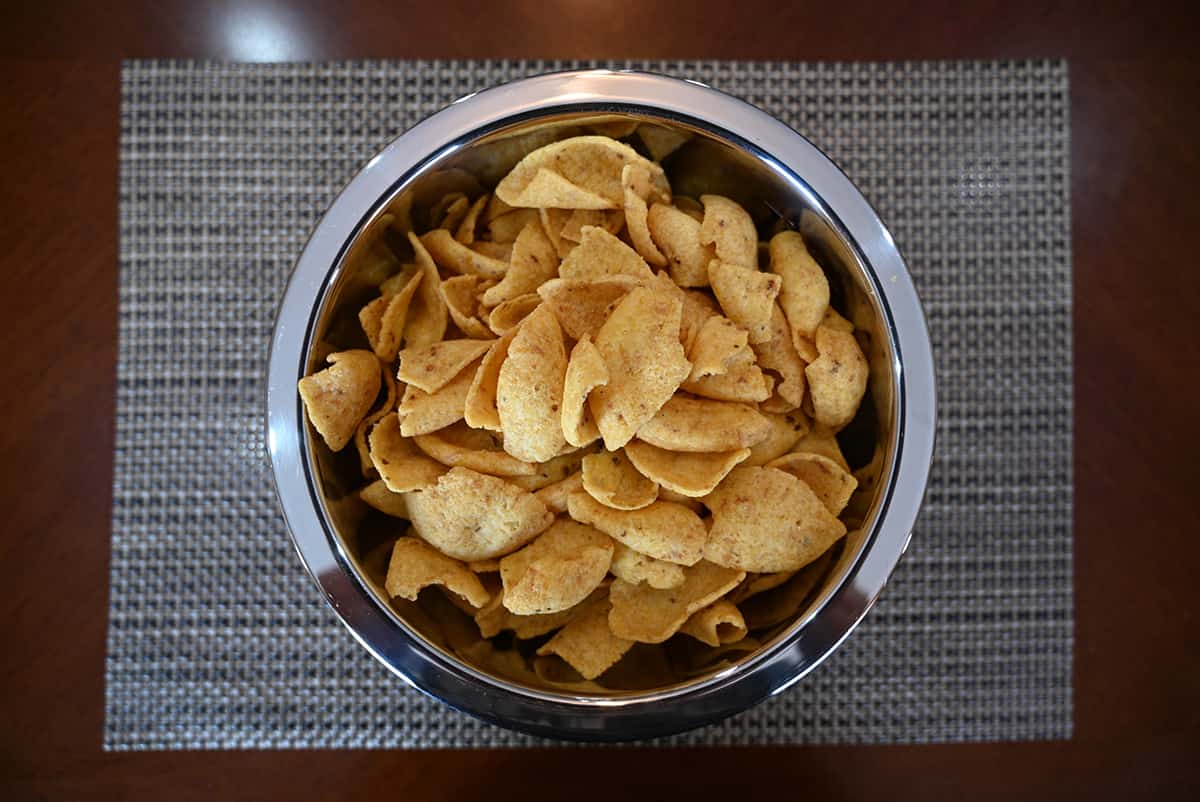 Location in Store
You can find these corn chips near all the other chips at Costco which at my store is on the side around the perimeter of the store. The item number is 1666333.
Taste
I love these corn chip dippers from Costco so much! They're simply delicious. They've got a lot of flavor for only having a few ingredients. They're salty and you can really taste the flavor of the corn and immediately recognize they're a corn chip.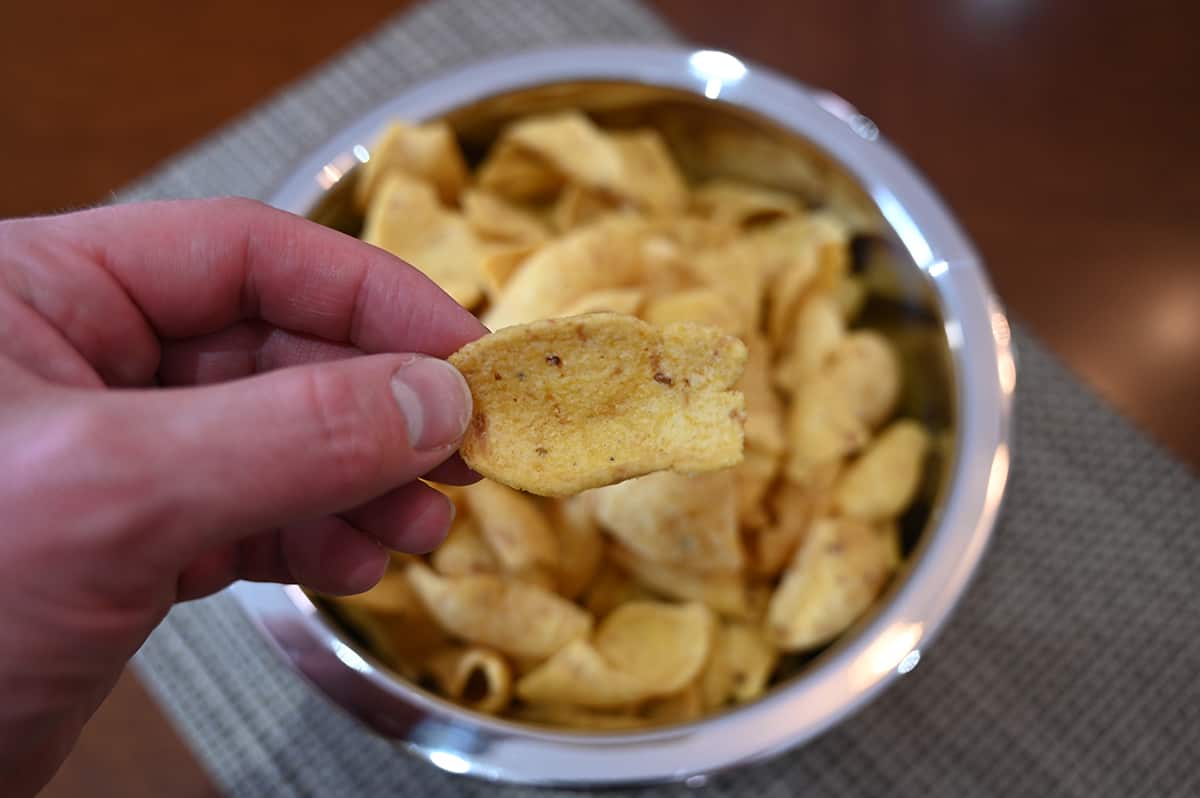 These are similar to a tortilla chip but better in my opinion. They're thick and sturdy enough for any dip but the texture is light and crispy. I paired them with the Summer Fresh Spicy Dill Pickle Dip and I enjoyed the combination but Sean felt that the dill pickle was too overpowering and these corn chips taste good enough on their own. Salsa is also fabulous on them!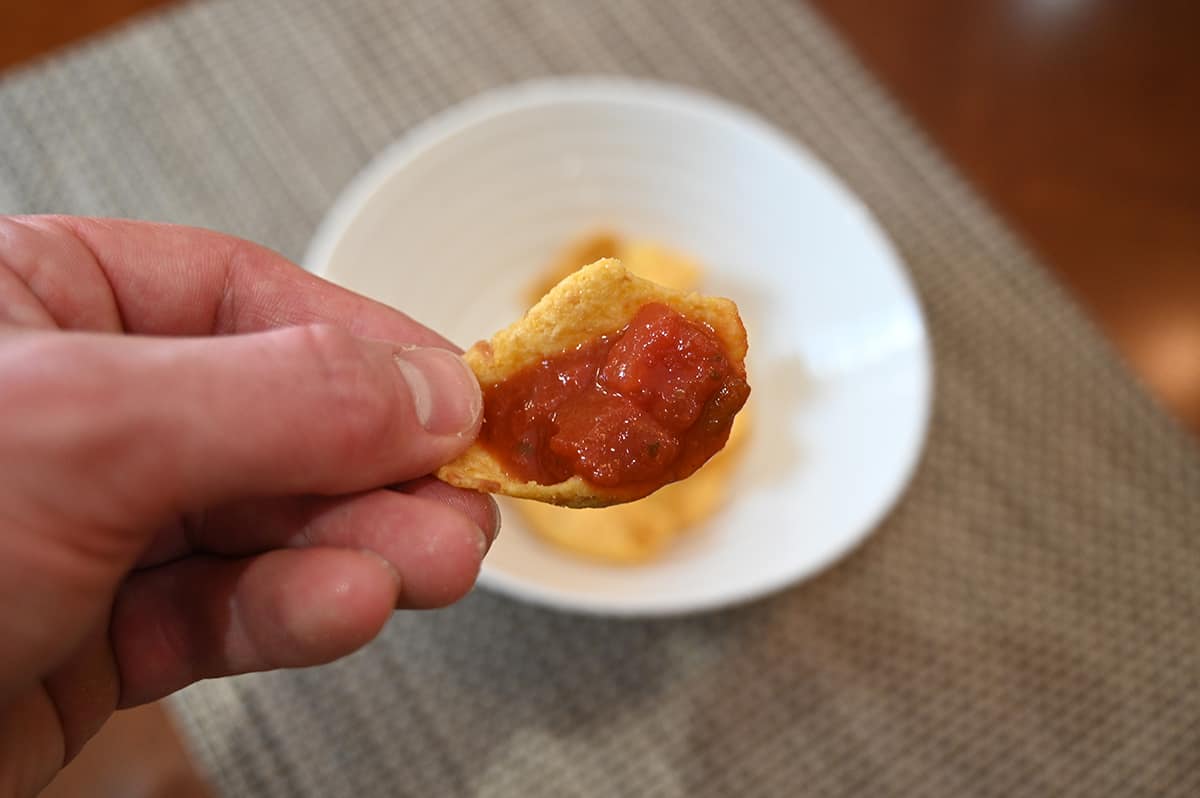 Cost
The 907-gram bag costs $6.49 Canadian at Costco which is super reasonable for a large bag of tasty chips.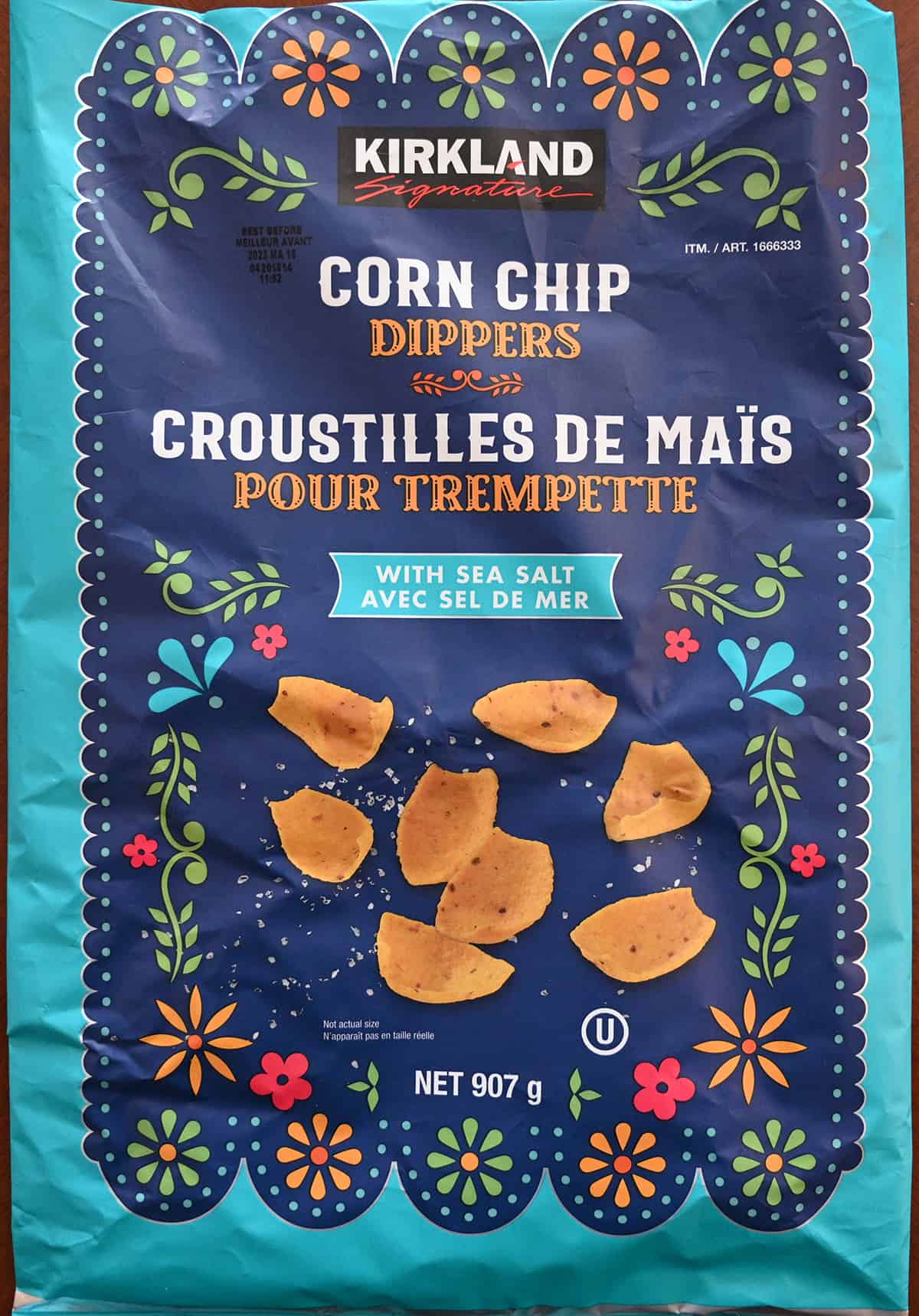 Convenience
Unfortunately, the bag doesn't reseal after opening so Sean ended up putting the corn chip dippers in large ziplock bags. I probably would have just put an elastic around the bag or used a clothing pin. The best-before date on the bag we bought is three months from when they were purchased.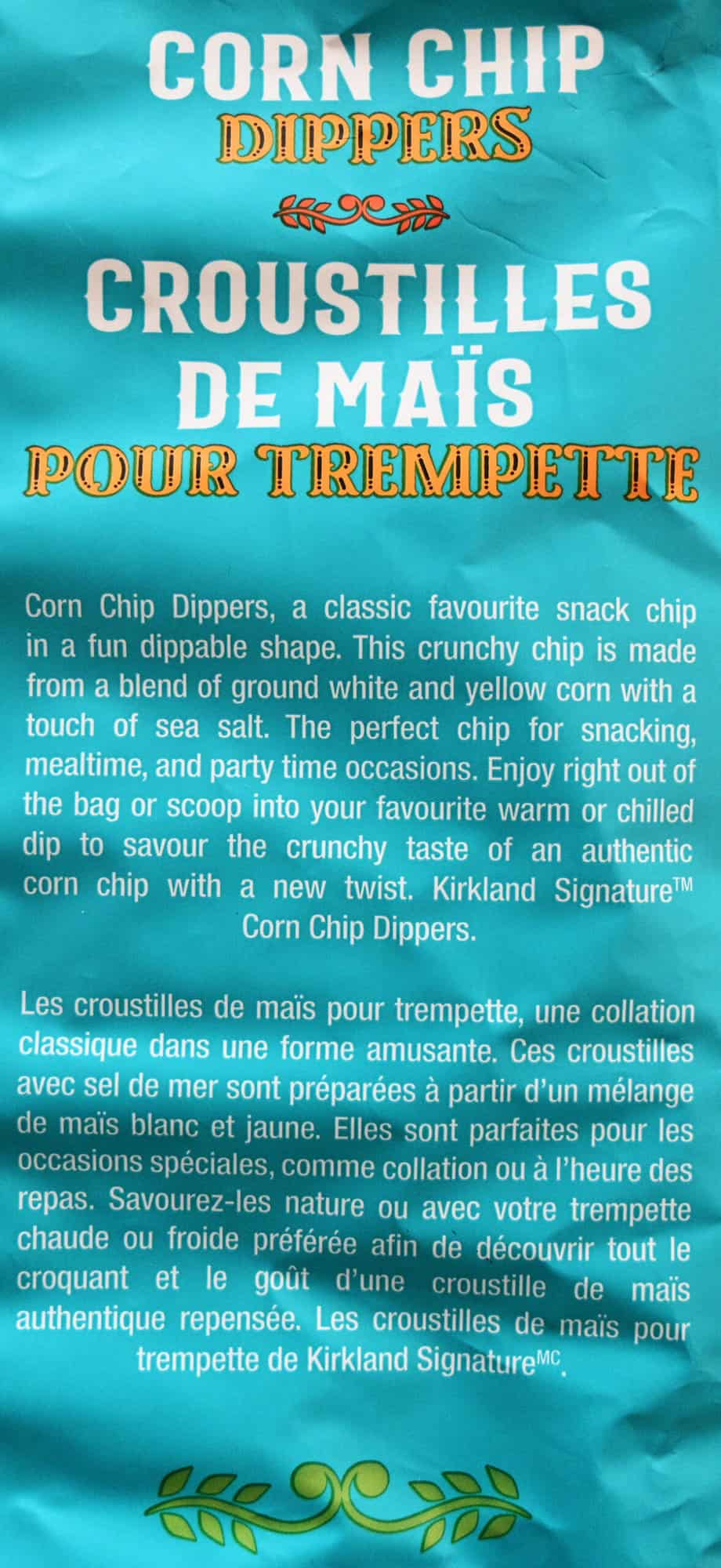 Honestly, I can eat these plain and enjoy them but I also think they'd be amazing with the Fontaine Sante Spinach Dip from Costco, Good Foods Plant Based Queso Style Dip, Rojo's Black Bean Six Layer Dip and the La Terra Fina Queso Dip With Cheddar. I think they'd also make pretty delicious nachos.
Nutrition
Calories
The Costco Kirkland Signature Corn Chip Dippers aren't low in calories or fat, unfortunately. 16 chips contain 280 calories, 17 grams of fat, 28 grams of carbohydrates, two grams of fibre, zero grams of sugar, three grams of protein and 200 milligrams of sodium.
The amount of sodium is a lot less than I expected per sixteen chips because they taste pretty salty!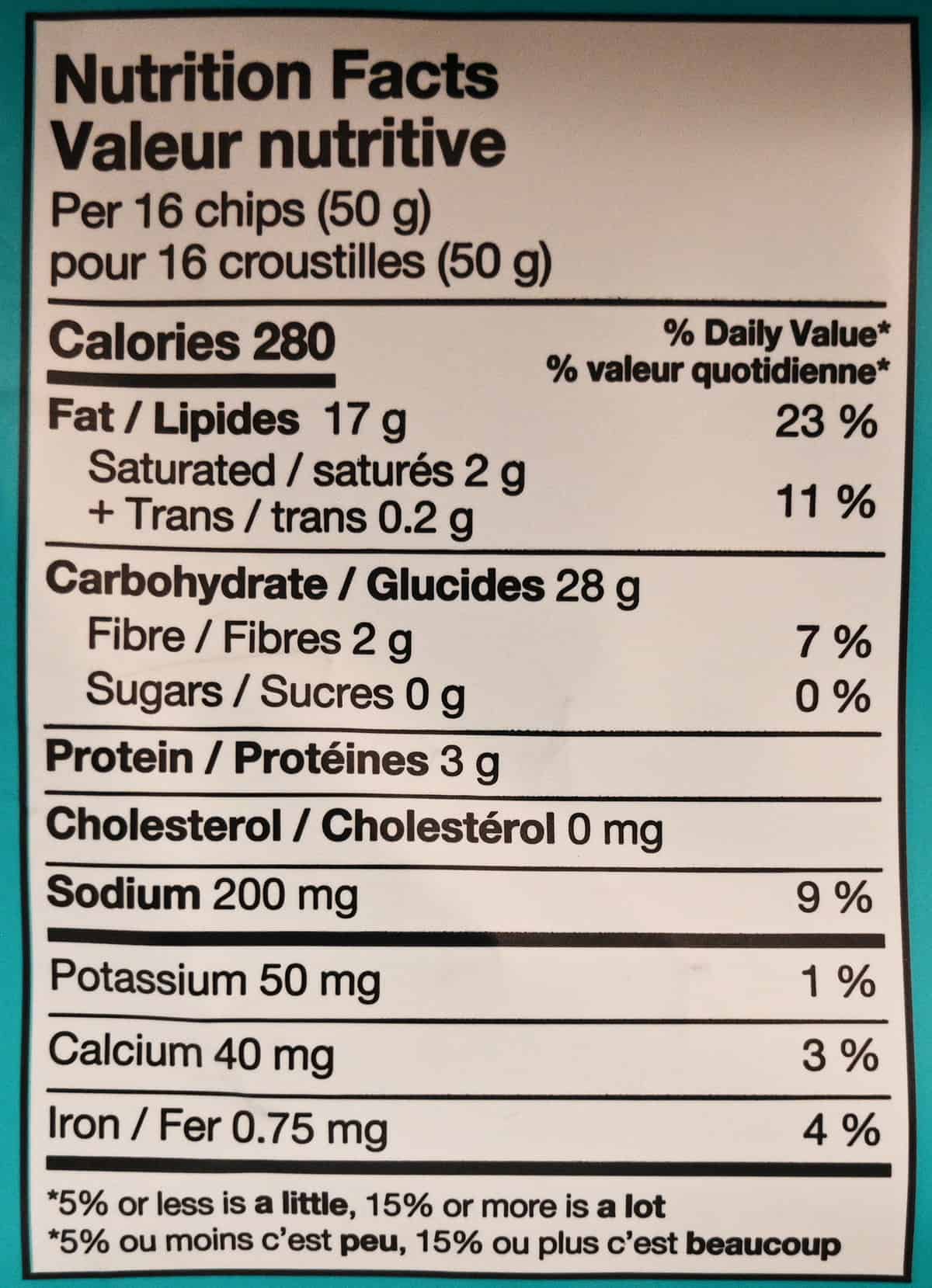 Ingredients
There's not much to say about the ground corn, vegetable oil and sea salt, which are the only ingredients listed. These corn chips are dairy-free, sugar-free and vegan. They aren't labelled as gluten-free but there are no wheat ingredients listed.
These aren't exactly nutritious and are a far cry from being "good for you" but they're definitely delicious.

Scoring
Taste: 10/10
Cost: 9/10
Convenience: 10/10
Nutrition: 2/10 (Points for the short ingredients list).
Overall
Must buy!
These are my favorite chip from Costco currently, they're very simple but so tasty and addictive!
Have you tried the Costco Kirkland Signature Corn Chip Dippers? What do you think of them?
---
Please note that this review was not paid for or sponsored by any third party. This product was purchased by Costcuisine for the purpose of producing this review. The opinions in this review are strictly those of Costcuisine. Costcuisine is not affiliated with Costco or any of its suppliers. In the event that Costcuisine receives compensation for a post from the manufacturer of a product or some other third party, the arrangement will be clearly disclosed (including where the manufacturer of a product provides Costcuisine with a free sample of the product).