Sponge toffee is known to be sweet, light, crisp and crunchy. Crunchie is a famous chocolate bar that combines sponge toffee and milk chocolate. How do the Costco Waterbridge Sponge Toffee Bites taste in comparison to the Cadbury bar that people love so much?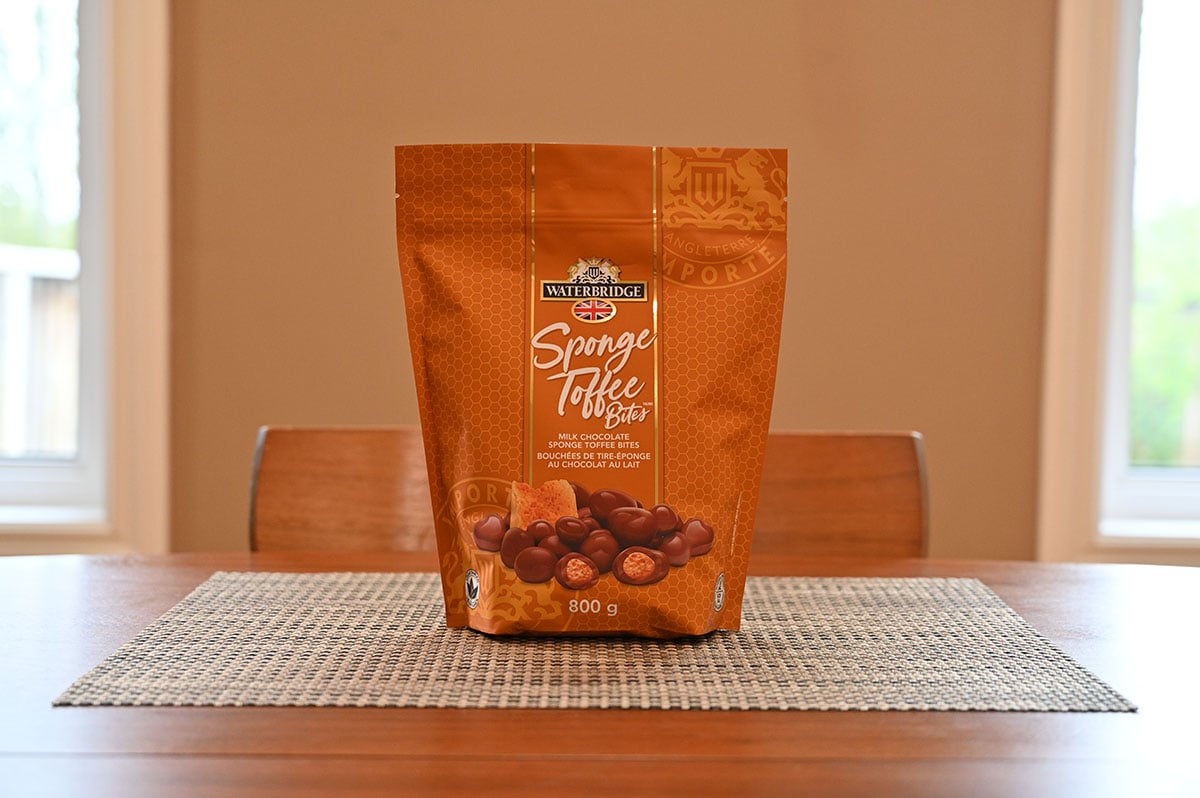 I scoured the snack section during my last Costco trip to find some new treats to review and came across these Waterbridge Sponge Toffee Bites. We usually don't buy any treats with toffee in them so I wanted to try these!
Other chocolate treats from Costco are the Costco Kirkland Signature Dark Chocolate Covered Mangoes, Costco Kirkland Signature Chocolate Covered Raisins, Costco Kirkland Signature Chocolate Covered Almonds, Costco Sanders Dark Chocolate Sea Salt Caramels, Costco Lindt Lindor Assorted Chocolates and Costco OMG Milk Chocolate Almond Toffee Clusters.
Location in Store
You can find the sponge toffee bites in the snack section a Costco,near the front of the store. The item number is 1514559.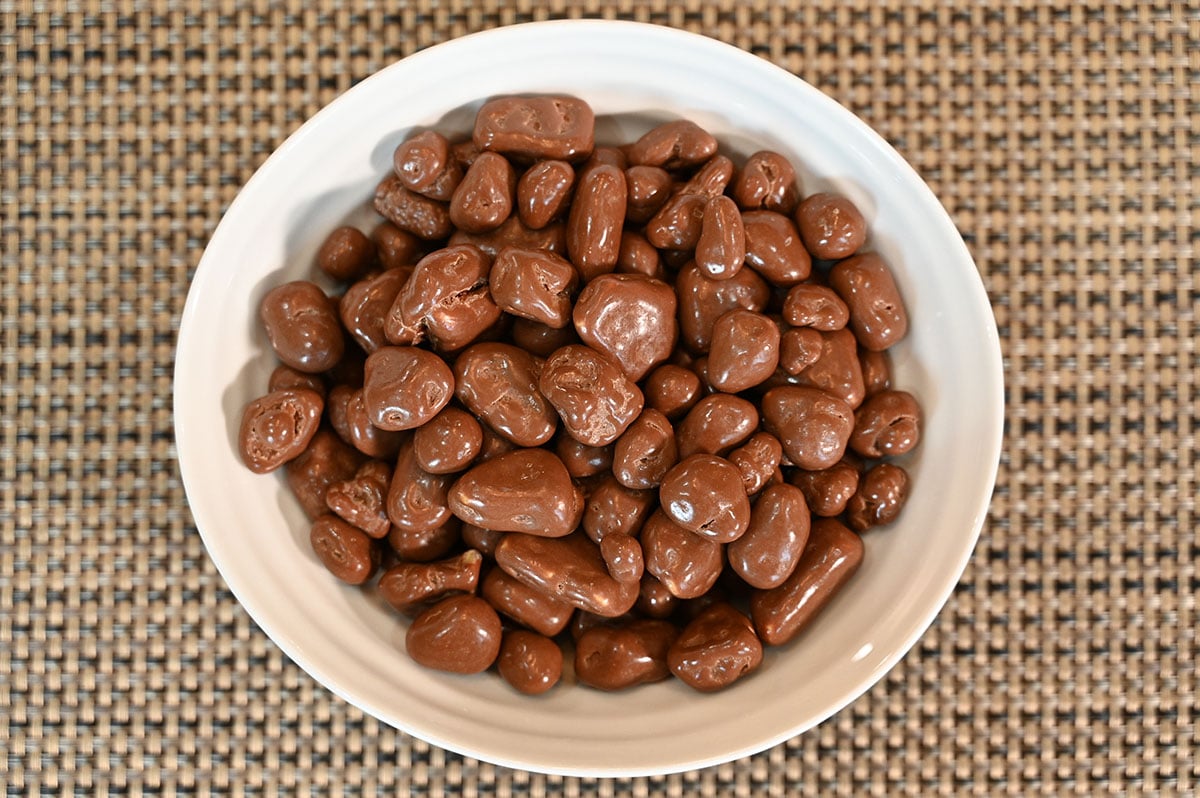 Taste
The first thing that you notice is that the toffee bites are very hard and crunchy, maybe a bit stale tasting! The toffee inside is light, but as I said before, hard and crunchy. Most of each bite is toffee as the layer of chocolate on the outside is fairly thin.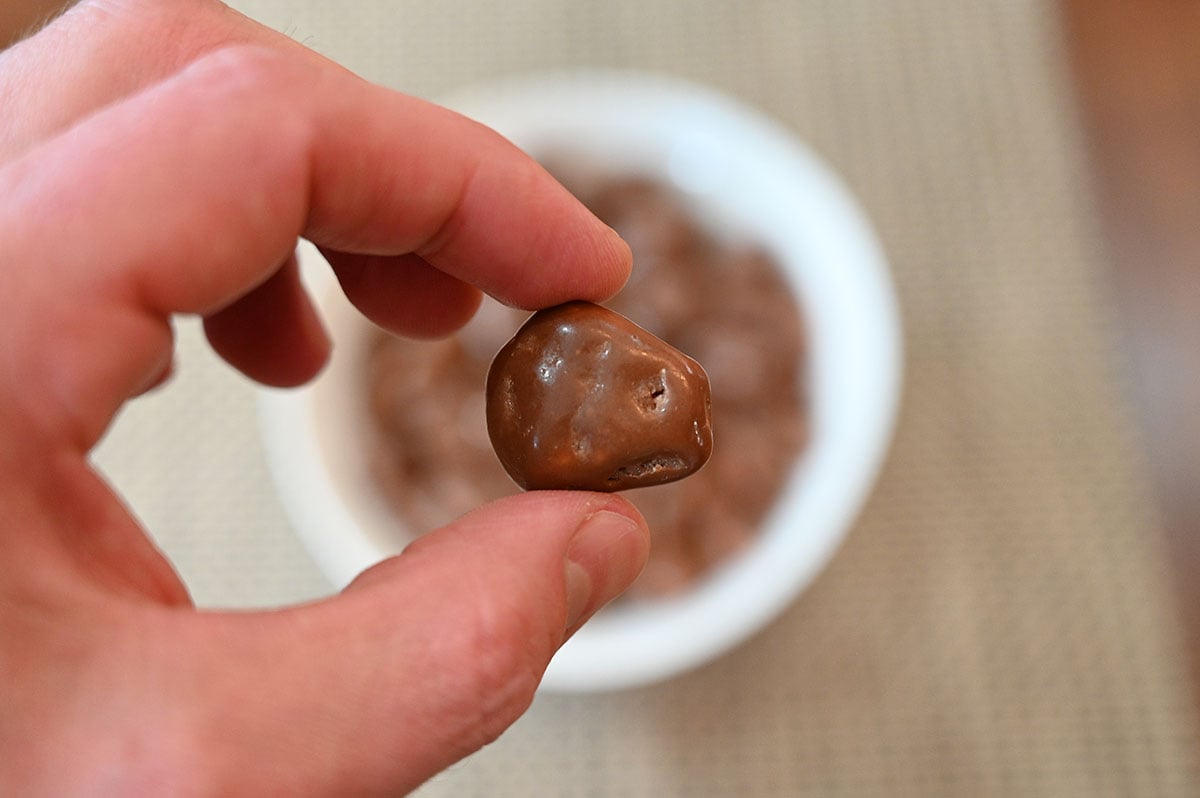 If you've ever had a Cadbury Crunchie bar, these Sponge Toffee Bites are similar but not as good. They're quite a bit sweeter and the toffee isn't as light, fresh and crispy, it's harder. The bite format is easier to eat than a bar with how crunchy the sponge toffee is, so that's a plus but I favor the Crunchie bar over these.
Cost
The bag costs $9.89 Canadian at Costco which isn't completely overpriced but also isn't exactly cheap and I wouldn't pay that again based on the taste.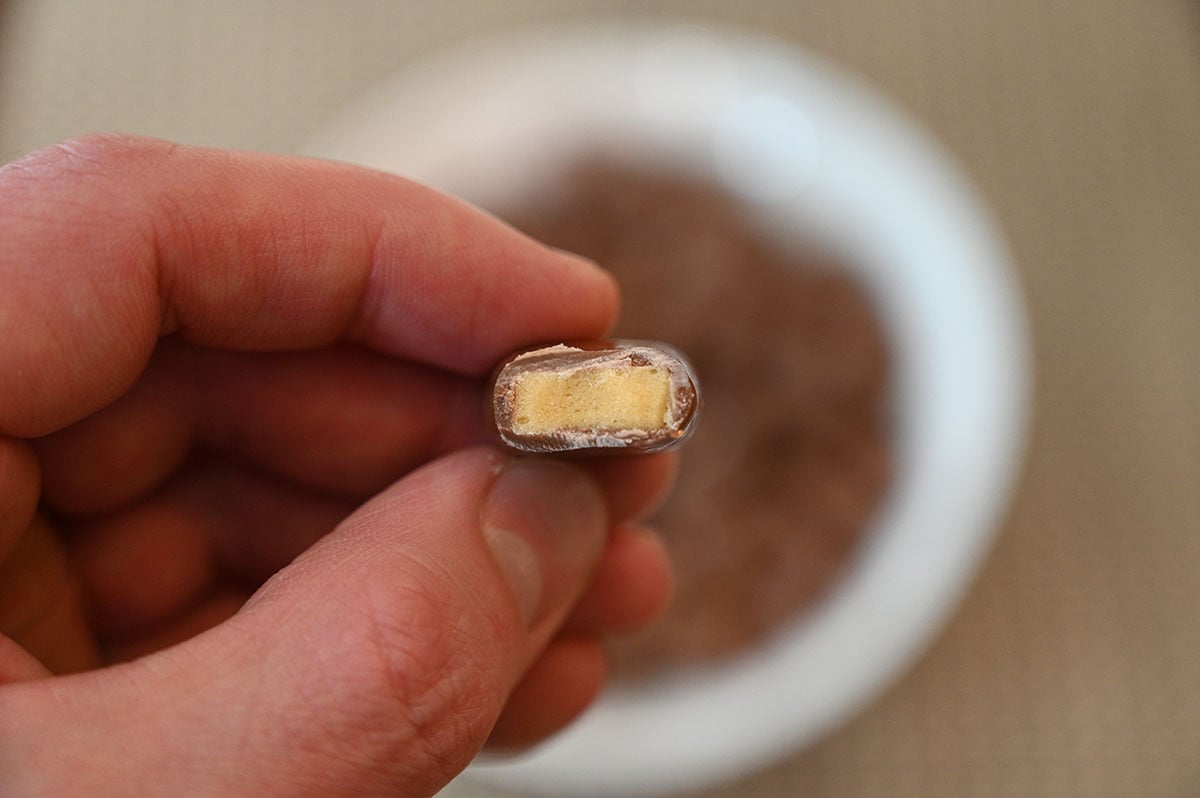 Convenience
The bag reseals which helps keep the toffee bites fresh but, even with the bag being resealable we noticed they taste a bit stale after a few weeks. The best before date is about nine months from the date the sponge toffee was bought.
Because these are bite-sized they're a bit more convenient to snack on versus buying a whole Crunchie bar, but like I said, they're not as good.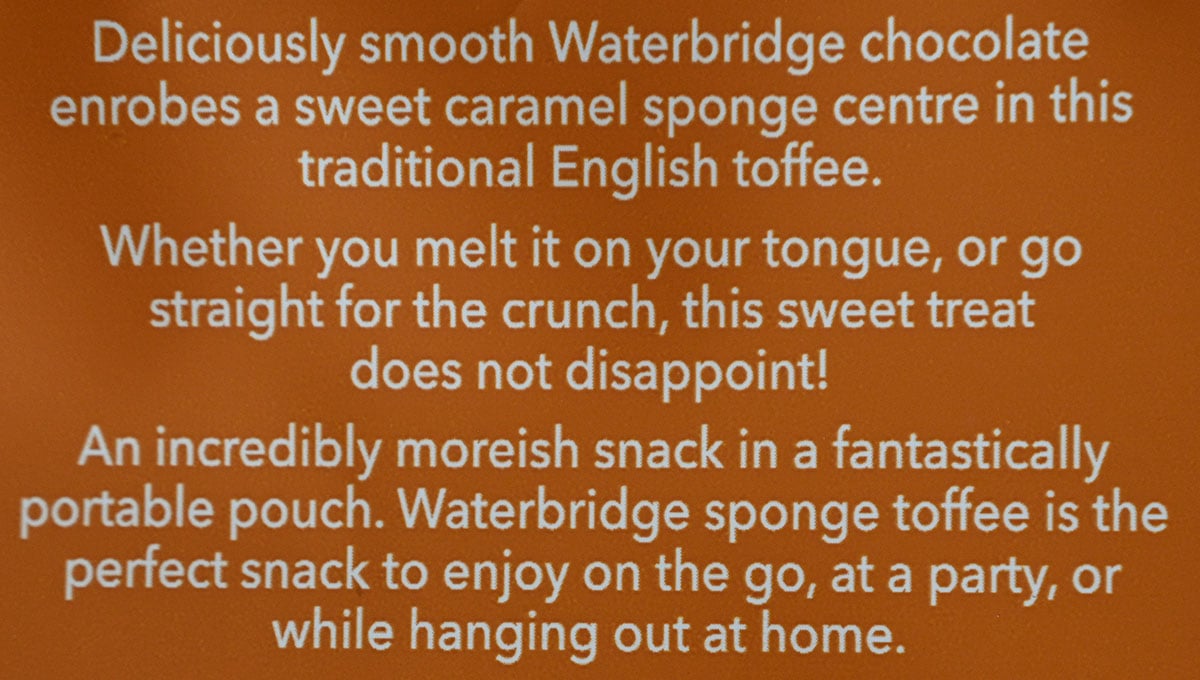 Nutrition
Calories
You can't expect sponge toffee to be low in calories or sugar. A 1/3 cup serving is 230 calories, seven grams of fat, 40 grams of carbohydrates, zero grams of fibre, 33 grams of sugar, two grams of protein and 65 mg of sodium.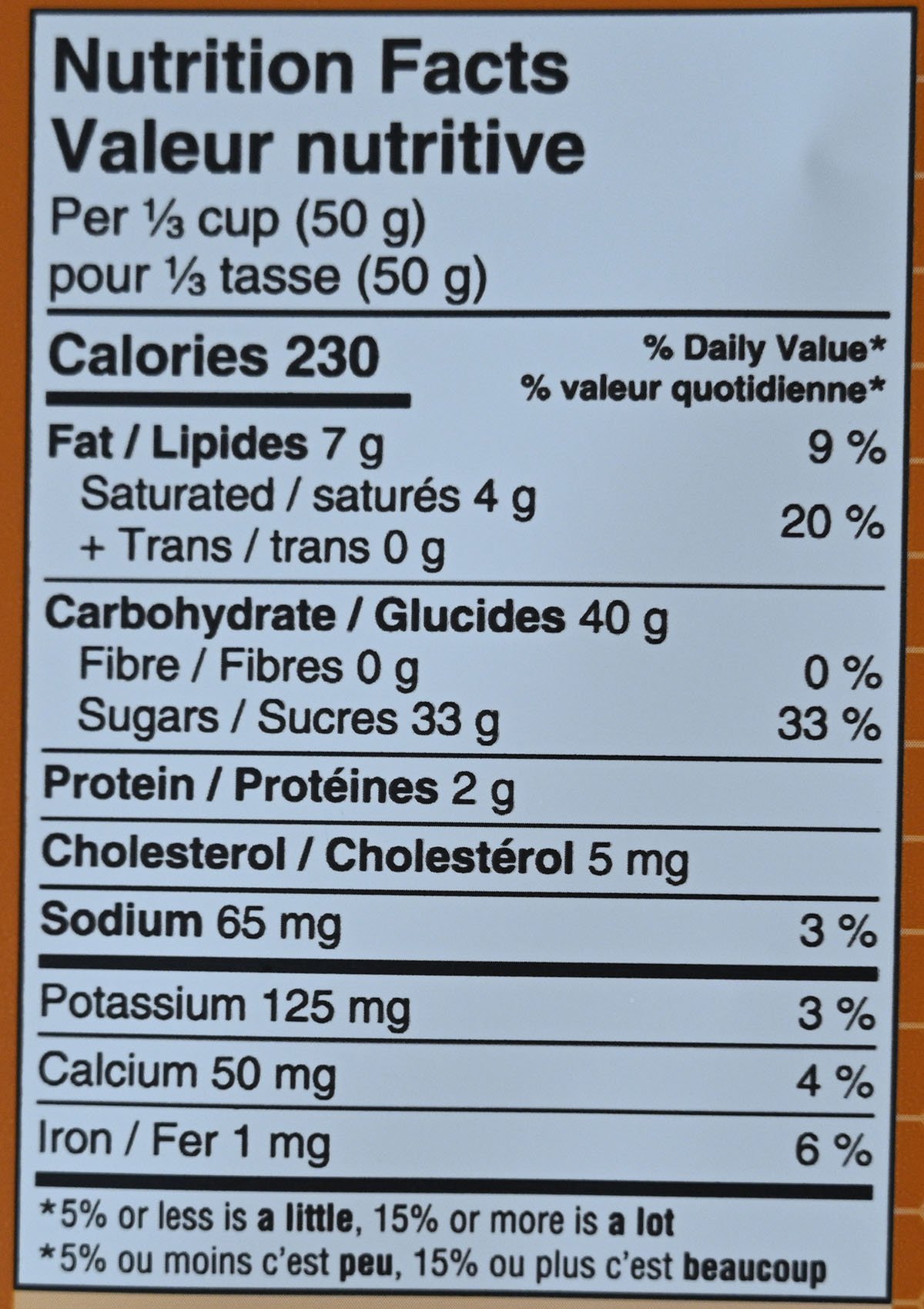 Ingredients
The Costco Waterbridge Sponge Toffee Bites are basically made out of a lot of sugar. There are zero healthy ingredients and the toffee bites contain wheat and dairy and may contain peanuts and tree nuts.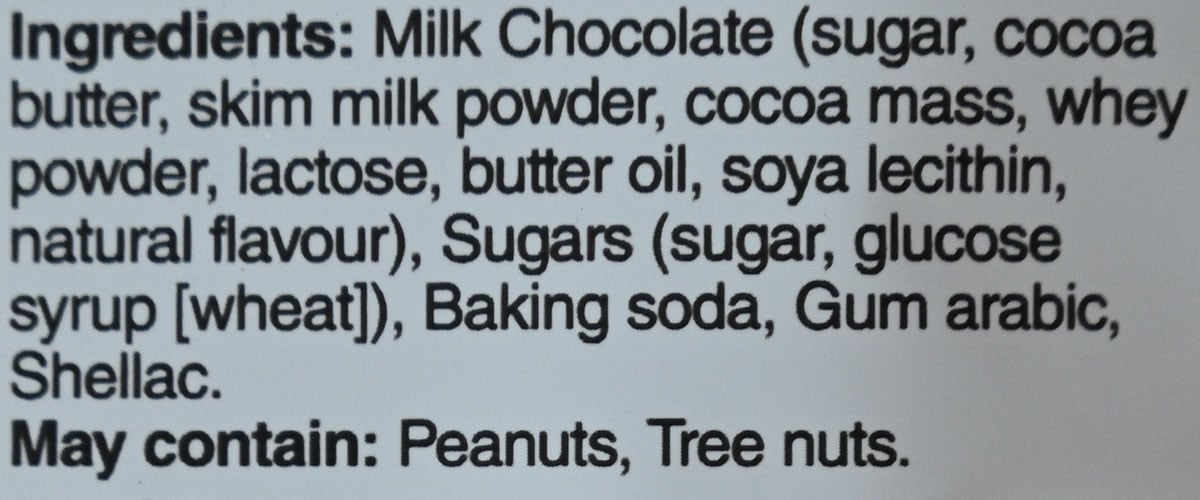 Scoring
Taste: 6/10
Cost: 6.5/10
Convenience: 10/10
Nutrition: 0/10
Overall
Walk on by!
If you're a fan of sponge toffee and milk chocolate, stick to the Cadbury Crunchie Bar.
Have you tried these? What did you think of them?
---
Please note that this review was not paid for or sponsored by any third party. This product was purchased by Costcuisine for the purpose of producing this review. The opinions in this review are strictly those of Costcuisine. Costcuisine is not affiliated with Costco or any of its suppliers. In the event that Costcuisine receives compensation for a post from the manufacturer of a product or some other third party, the arrangement will be clearly disclosed (including where the manufacturer of a product provides Costcuisine with a free sample of the product).