If you're someone who likes sausage but prefers chicken over beef or pork the Costco Connie's Kitchen Feta and Spinach Chicken Sausages might be right up your alley! Does the combination of feta and spinach work in a chicken sausage? Find out below!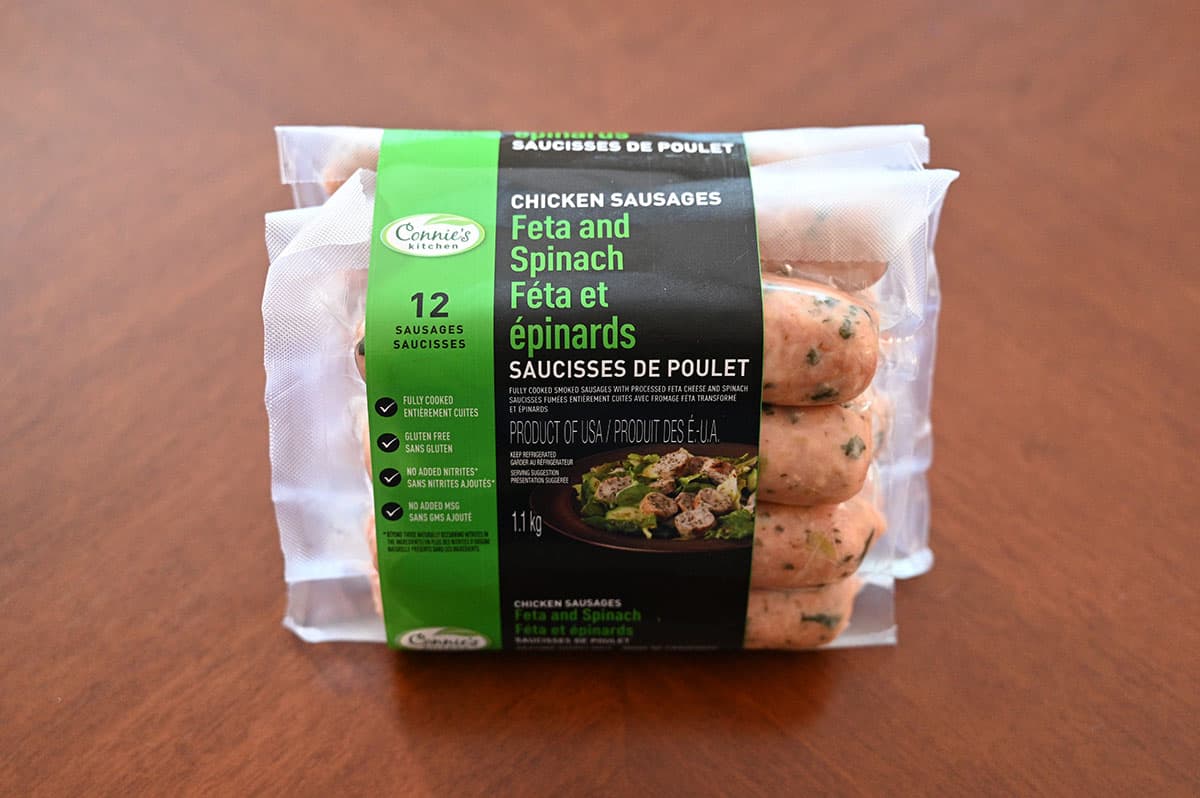 I prefer chicken or turkey sausages over beef and pork, I've only had a beef or pork sausage in the last few years for the purpose of writing a review! The Costco Connie's Spinach and Feta Chicken Sausages are a product I've seen at Costco for a long time but just never bought to review until today.
Other sausages from Costco are the Maple Leaf Wild Garlic & Thyme Chicken Sausages, Beyond Meat Beyond Sausage, Kirkland Signature Beef Polish Sausages, Siwin Japanese Style Sausage, Prairie Creek Kitchen Beef Sausage Rolls, Olympic Craft Meats Garlic Sausage, Smokey River Meat Company Turkey Breakfast Sausage and the Kirkland Signature All Beef Wieners.
Location in Store
You can find these sausages in the refrigerated deli section, by the cold cuts and cheese. The item number is 425417.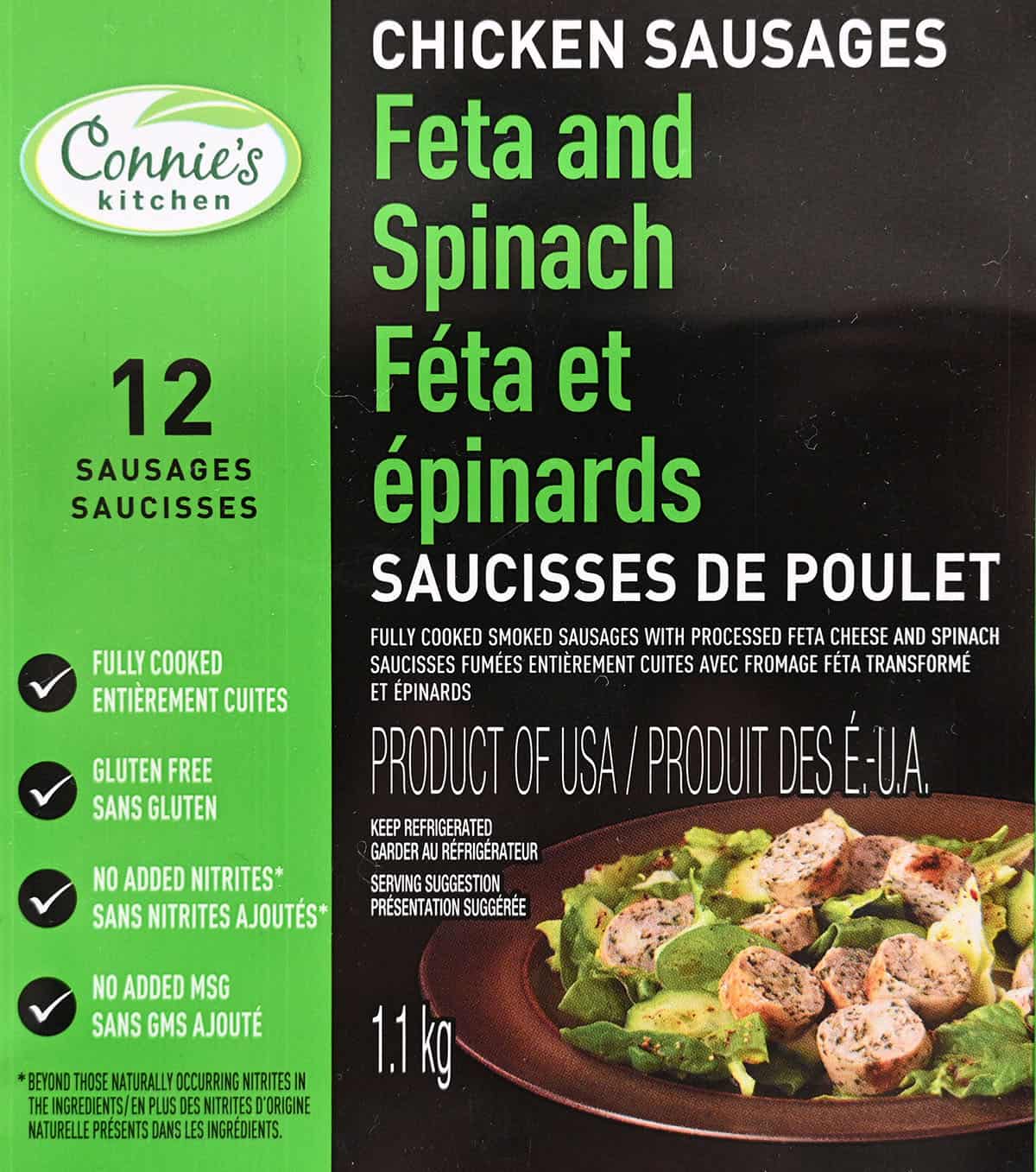 Taste
I want to love these sausages, but I don't! They're so salty, too salty for my liking. The saltiness must be coming from the feta although I don't taste a distinct feta flavor, I do taste cheesiness but can't discern it's feta. I can see specks of spinach in the sausages but I can't taste the spinach at all.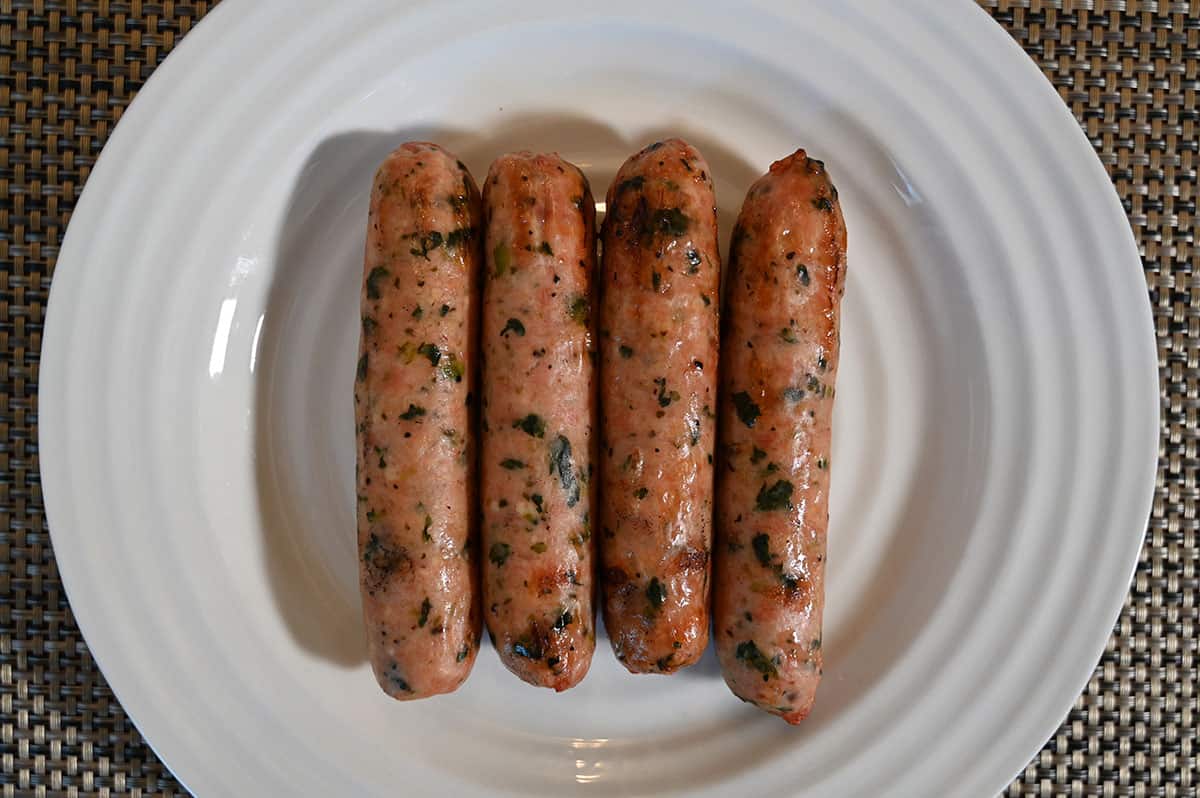 The texture of the sausages and the casing is great, the casing is not super thick, tough and chewy like some sausages. I can't really tell you what the flavor of the chicken is like because all I taste is saltiness. I find most sausages/wieners pretty salty so the saltiness isn't really out of the ordinary, just too much for me. If you're someone who likes and appreciates heavily seasoned meats, you might enjoy these.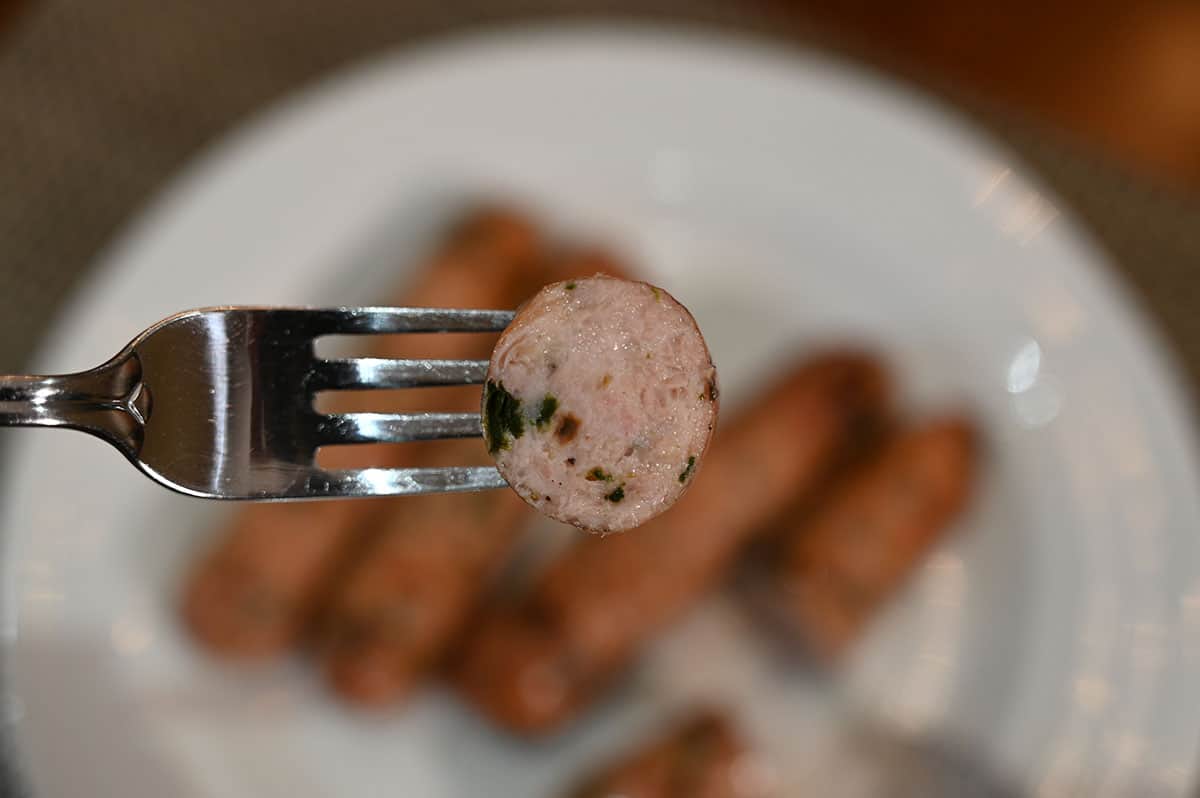 I don't notice any gross hard pieces or fatty bits in the sausages so if they weren't so salty I think I'd really like them.
Cost
12 Connie's Kitchen Feta Spinach Chicken Sausages cost $15.99 Canadian at Costco. I think this is a tad expensive for sausages!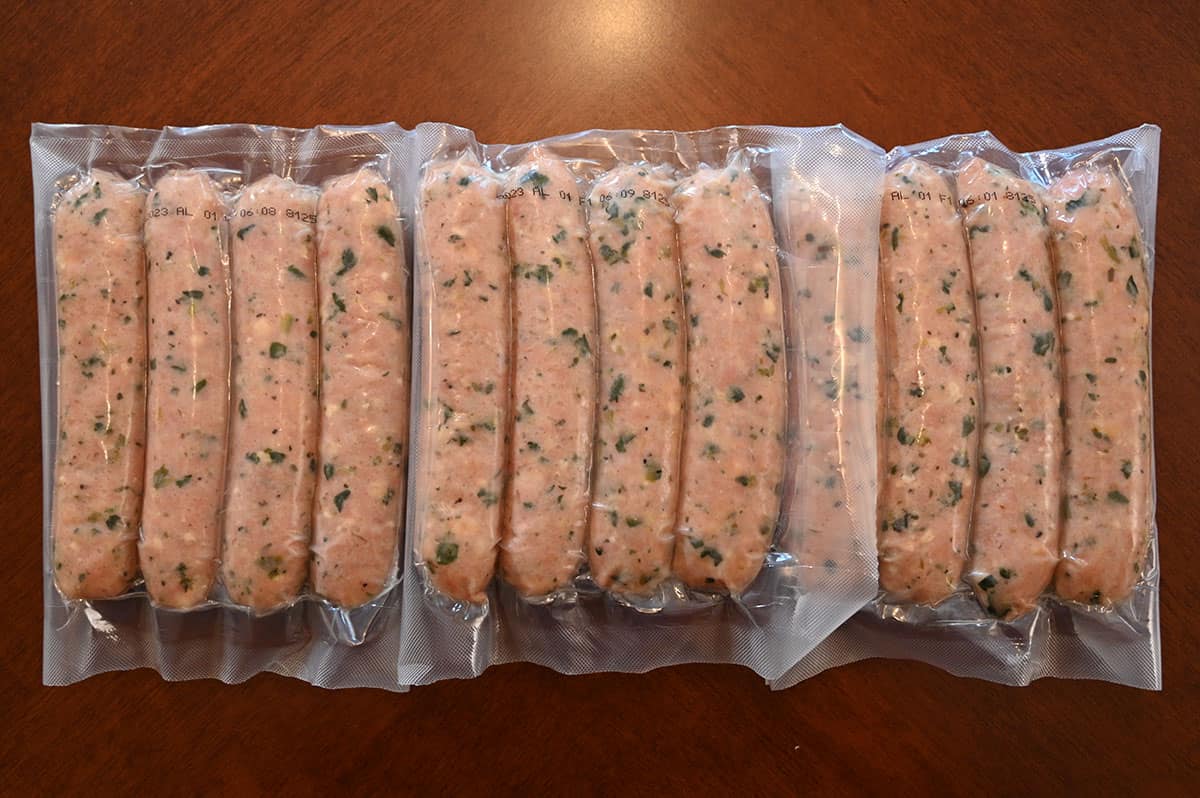 Convenience
I can't believe that the best-before date on my package of sausages is seven months from the date I bought them. Personally, I wouldn't be eating them after seven months in the fridge.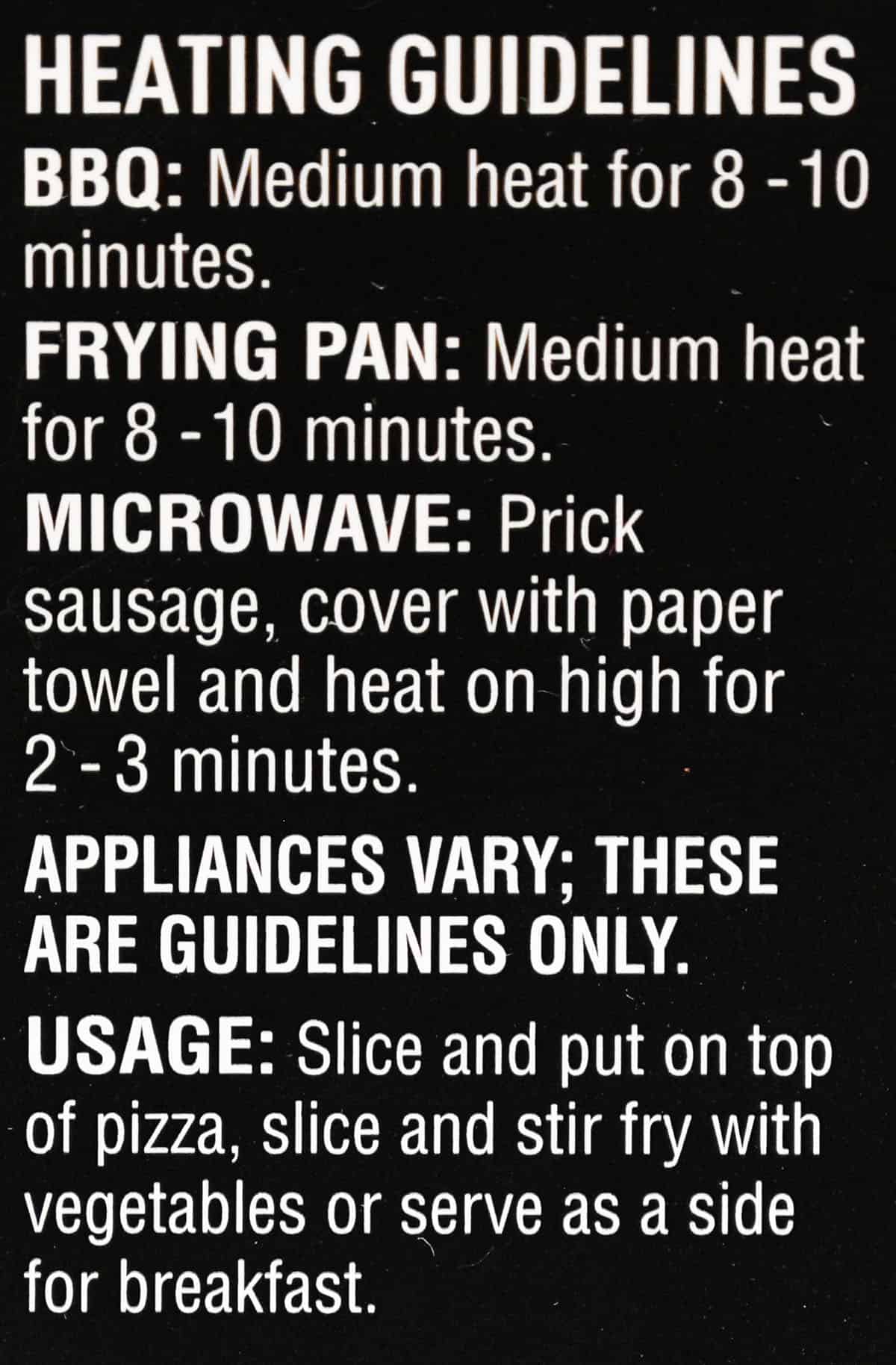 The sausages come in three packs of four and can be heated in a pan, microwave or barbecue, you could probably also air fry them but there aren't any instructions on the package for air frying. I think these would work as a breakfast sausage or go well with rice, salad or potatoes.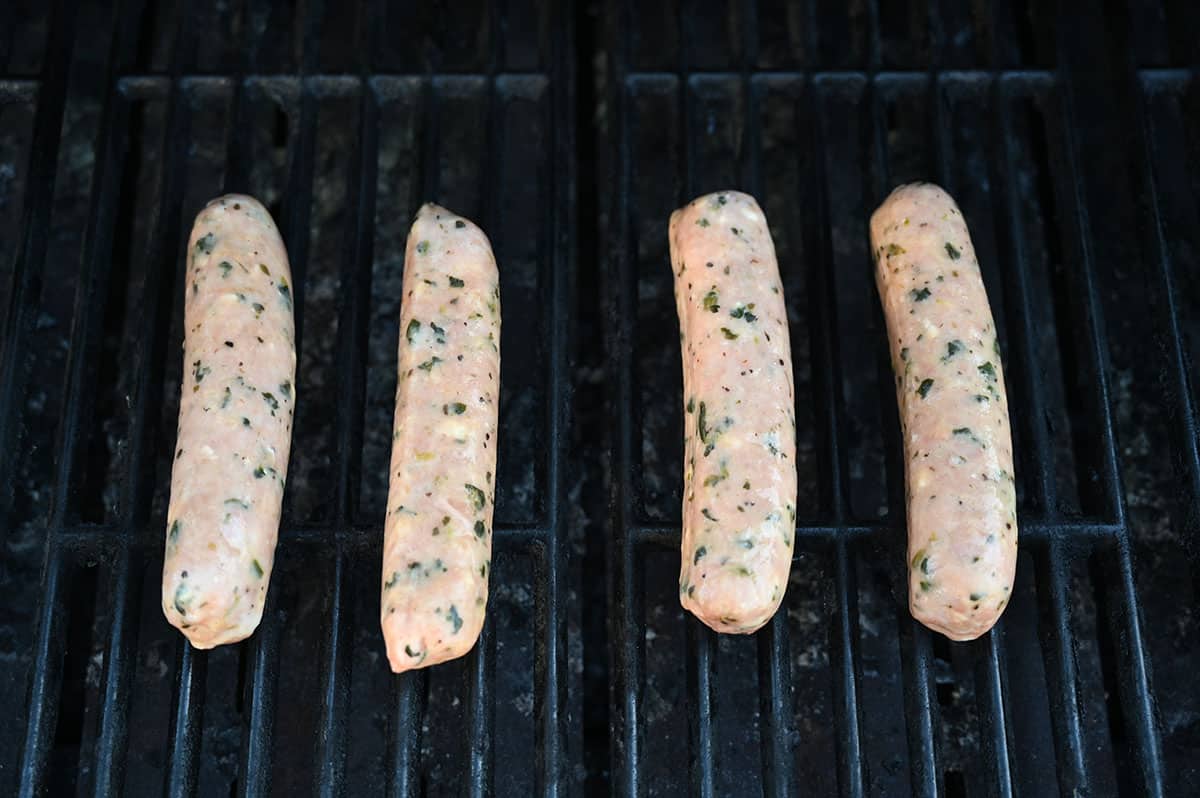 Nutrition
Calories
One sausage is 160 calories, 10 grams of fat, two grams of carbohydrates, zero grams of fibre and sugar, 16 grams of protein and 670 milligrams of sodium. That's a lot of sodium and considering they're chicken sausages I'd expect them to be a bit less fat and calories. I'm guessing the feta adds extra fat, sodium and calories.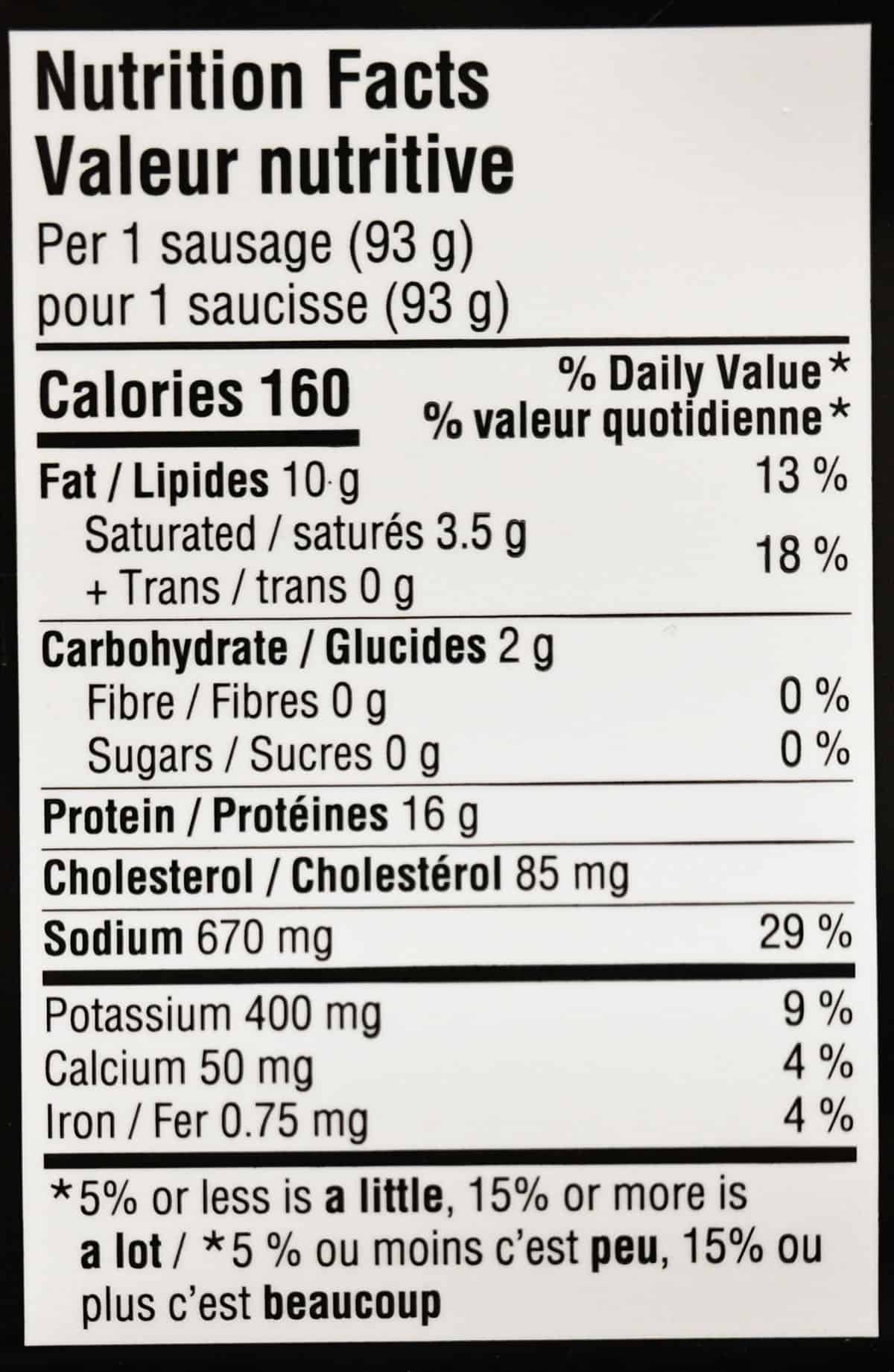 Ingredients
The ingredients list really isn't all that bad. I don't know why sugar is listed when the nutrition facts state that there are zero grams of sugar. I do appreciate that they list what the casing is made of because a lot of sausages don't specifically identify what the casing is.

Scoring
Taste: 6/10
Cost: 4/10
Convenience: 9/10
Nutrition: 4/10
Overall
Give it a try!
I find these sausages too salty but I have heard a lot of people enjoy them. I gave some to my parents who enjoyed them, so you might just have to taste them for yourself and see if you like them or not.
Have you tried these? What did you think?
Please note that this review was not paid for or sponsored by any third party. This product was purchased by Costcuisine for the purpose of producing this review. The opinions in this review are strictly those of Costcuisine. Costcuisine is not affiliated with Costco or any of its suppliers. In the event that Costcuisine receives compensation for a post from the manufacturer of a product or some other third party, the arrangement will be clearly disclosed (including where the manufacturer of a product provides Costcuisine with a free sample of the product).