Sweet caramel and coffee are combined to make this decadent Costco dessert that looks as if it came right from an Italian restaurant. The Costco Dessert Italiano Caramel Macchiato is a unique mousse-like version of a popular caffeinated beverage. Is this worth picking up for your next dinner party?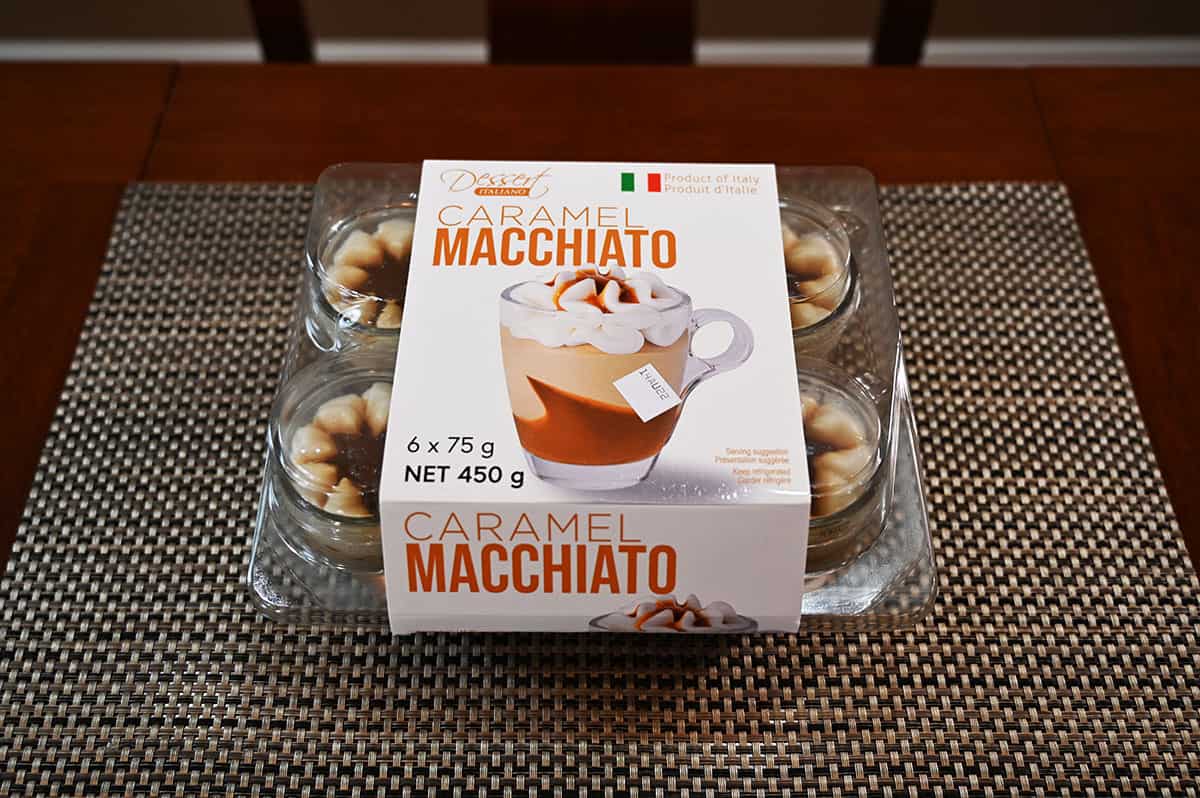 I used to be a caramel macchiato addict. Every shift as a new nurse I'd treat myself to one from Starbucks and if I was doing a 16-hour shift I'd upgrade to a venti to treat myself. I love the combination of bitter coffee and sweet caramel and enjoyed the beverage both hot and iced.
When I saw the Dessert Italiano Caramel Macchiato desserts at Costco, I knew I had to try them.
Other desserts from Costco that seem similar are the Costco Dessert Italiano Tiramisu, Costco Delici Chocolate S'mores Souffle, Costco Marie Morin Creme Brulee, Costco Marie Morin Caramel Flan, Costco Delici Belgian Chocolate Souffle and the Costco Delici Sea Salt Caramel Mousse.
Location in Store
You can find these desserts in the refrigerated section in the bakery, with all the cakes. The item number is 1458378.
Taste
I think these are okay, my husband likes them more than I do and both my mom and dad really like them. I find they're a little sweet for my liking, which is surprising because I have such a major sweet tooth.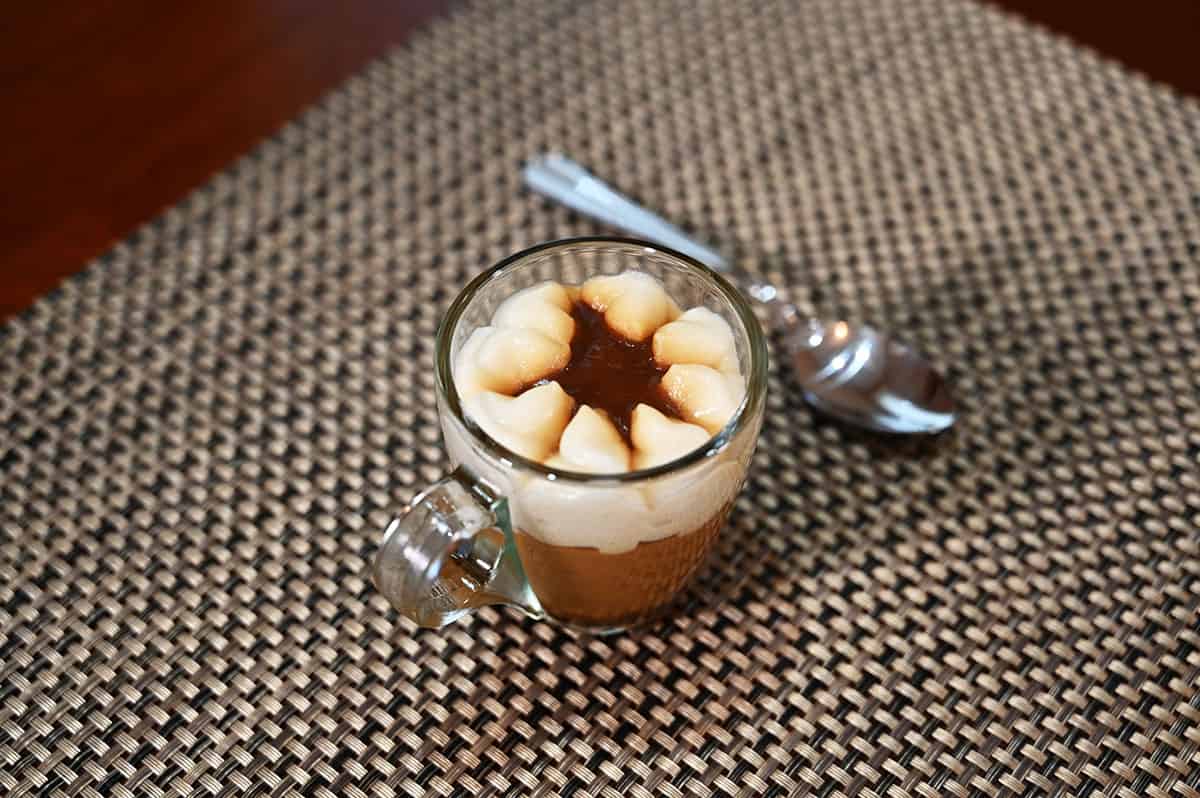 There's a plain cream mousse layer on top with super sweet caramel drizzle in the middle and then there's a coffee-caramel mousse on the bottom. The mousse on the bottom tastes exactly like tiramisu mousse and has a strong hint of alcohol as well as coffee flavor.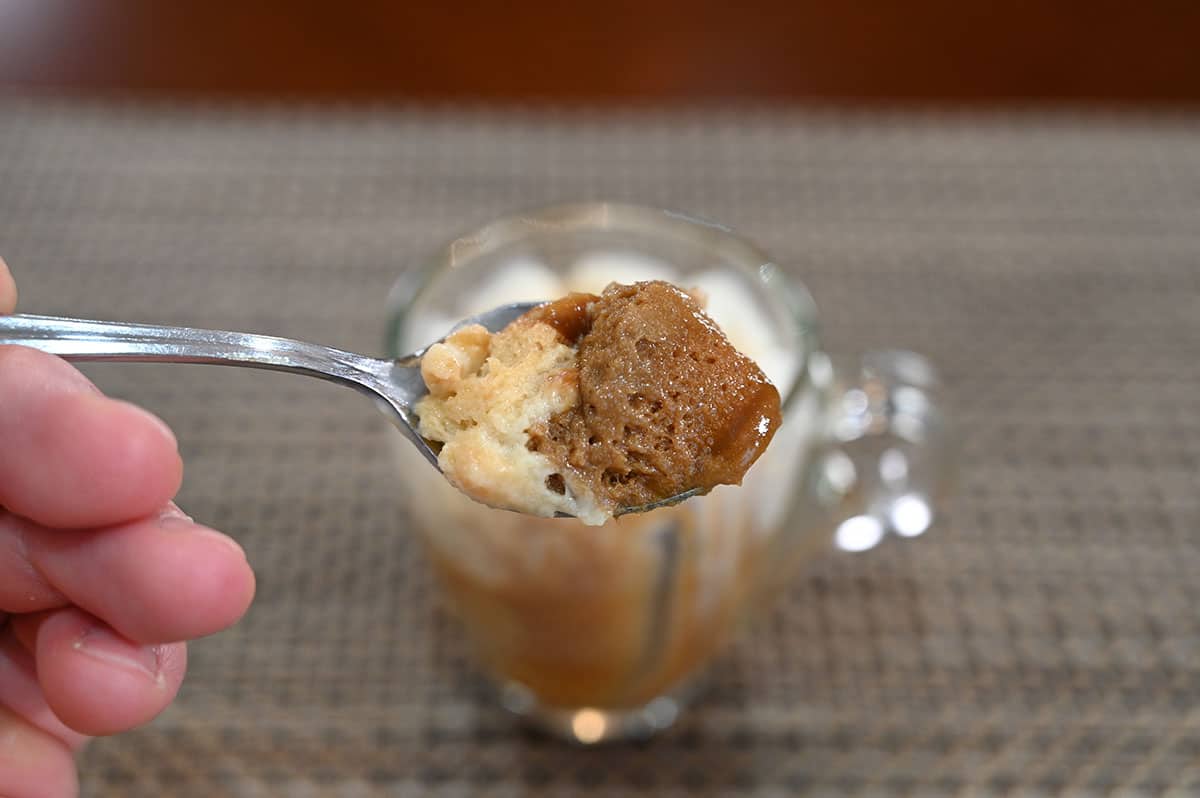 The caramel in the middle is super sweet as well as the plain cream mousse on the top. I find these really rich! They look a little small to begin but because they're so decadent you wouldn't want them any bigger.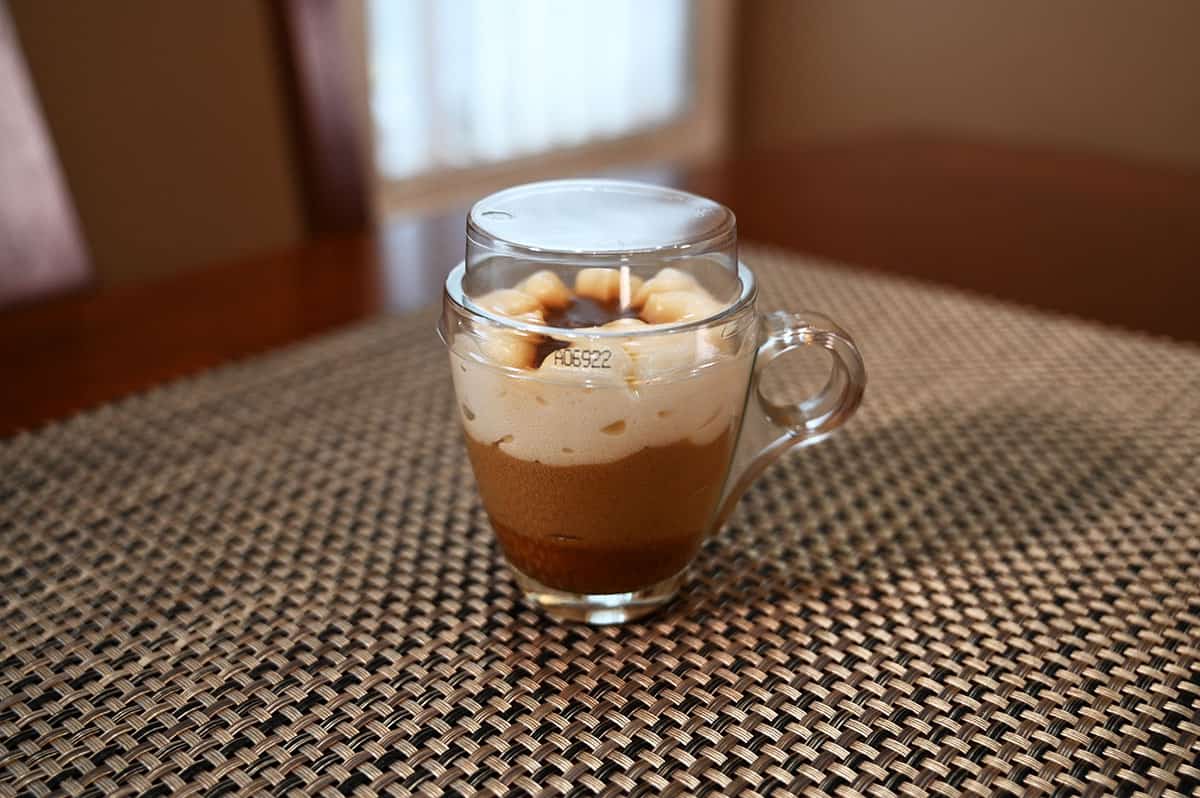 Cost
For six caramel macchiato desserts in the package the cost is $13.99 Canadian. This may seem really expensive for six small desserts but you do get six little glass mugs that the desserts come in.
Convenience
The little glass mugs the desserts are packaged in would be great for espresso or to add to a child's tea party set. The best before date listed on the dessert is about 3 weeks from the date we purchased the desserts.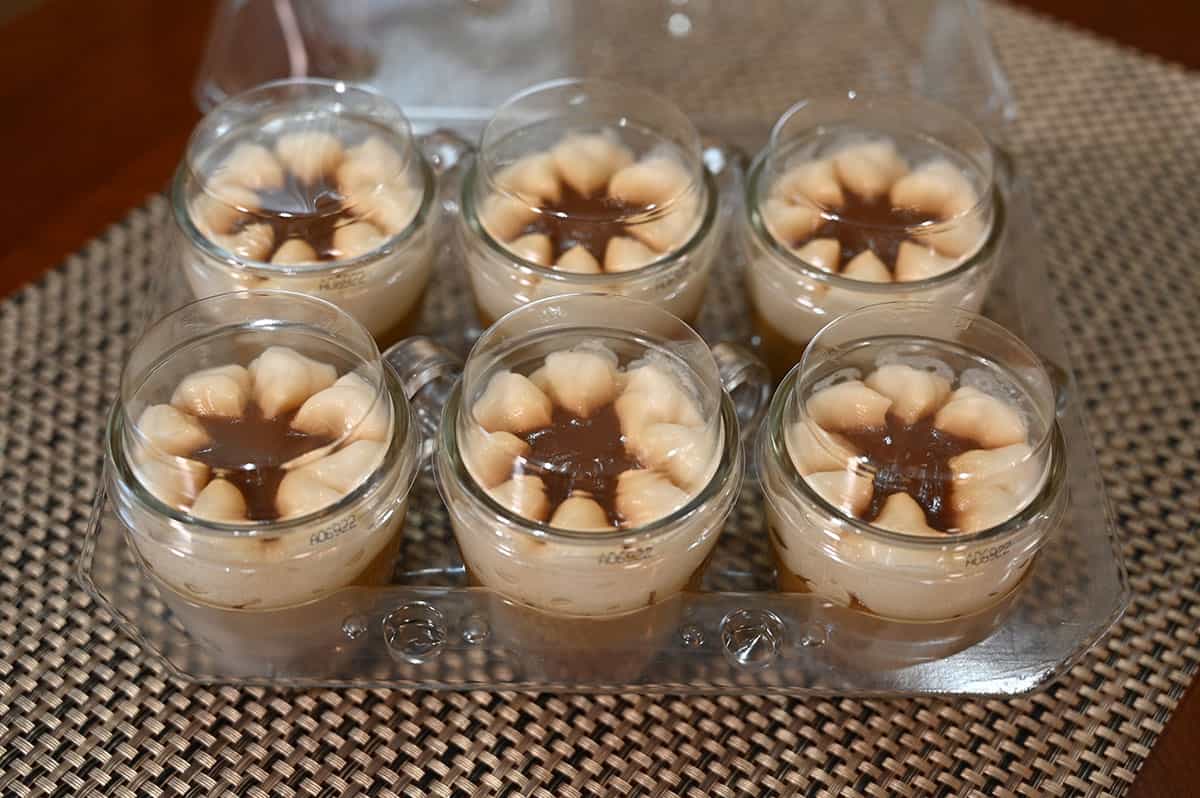 The caramel macchiato desserts need to be kept refrigerated and the package specifically states not to freeze them. I think they'd be great for a dinner party or to have as a treat at home for a more indulgent dessert!
Nutrition
Calories
One glass of dessert is 260 calories, 11 grams of fat, 33 grams of carbohydrates, one gram of fibre, 20 grams of sugar, four grams of protein, and 40 mg of sodium. I honestly think they taste sweet then only having 20 grams of sugar.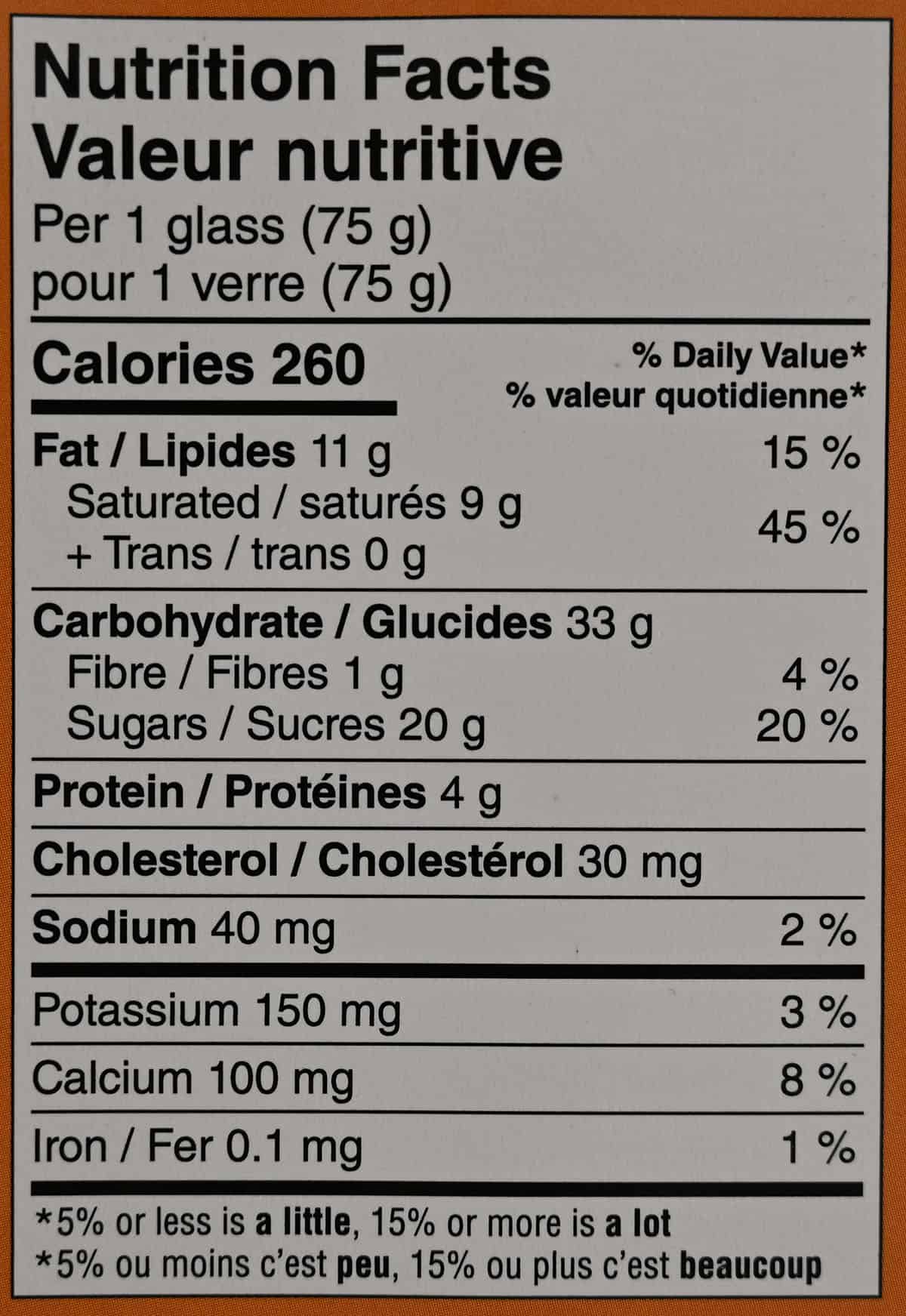 Ingredients
Some people may want to take note that there is alcohol in the Dessert Italiano Caramel Macchiato from Costco. Sugar is the second ingredient which doesn't surprise me because I find it quite sugary! They contain milk and eggs and may contain tree nuts, wheat and soy. If you're not severely allergic to gluten or celiac you probably can enjoy these!

Scoring
Taste: 7/10 My husband and parents give it an 8/10 though.
Cost: 6.5/10
Convenience: 10/10
Nutrition: 0/10
Overall
Give it a try!
Although this isn't my favorite refrigerated dessert from Costco my parents and husband like them. They taste like a caramel tiramisu and have a definite coffee and alcohol flavor.
Have you tried these? What do you think of them?
---
Please note that this review was not paid for or sponsored by any third party. This product was purchased by Costcuisine for the purpose of producing this review. The opinions in this review are strictly those of Costcuisine. Costcuisine is not affiliated with Costco or any of its suppliers. In the event that Costcuisine receives compensation for a post from the manufacturer of a product or some other third party, the arrangement will be clearly disclosed (including where the manufacturer of a product provides Costcuisine with a free sample of the product).