There are many different boxes of chocolates at Costco to choose from during the holiday season and some are better than others. These Godiva Assorted Chocolate Creations from Costco come in an elegant box. Do the chocolates taste as luxurious as the box looks?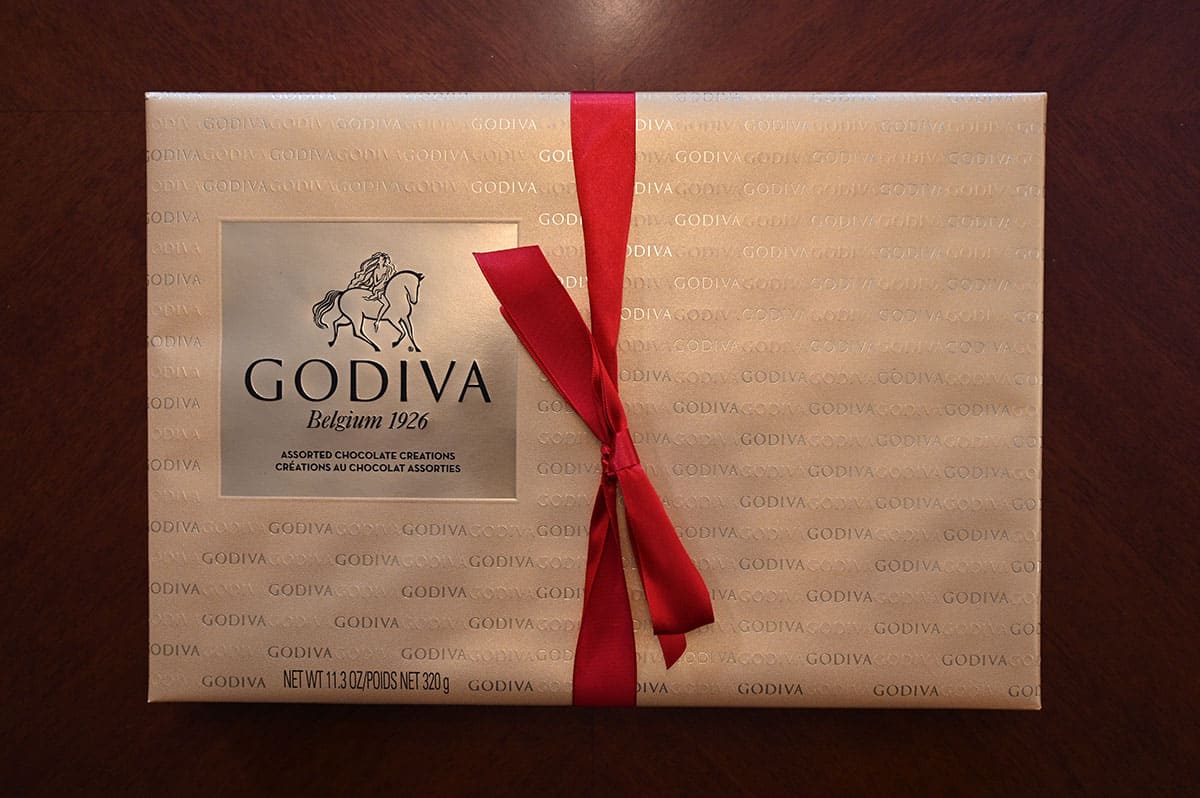 I think by the time Christmas rolls around I'll be so sick of chocolate after trying so many boxes from Costco! I'm going to review the Godiva Assorted Chocolate Creations today. My husband and I sat down and tried all the different kinds of chocolates in the box so I can write this review!
Other boxes of chocolates from Costco are the Kirkland Signature Luxury Belgian Chocolates, Deavas Belgian Chocolates, Grand Belgian Specialties Chocolates, House of Brussels Chocolate Hedgehogs, Lindt Lindor Assorted Chocolates, Anthon Berg Liquor Filled Dark Chocolates, Baileys Irish Cream Chocolates and the Utah Truffles Mint Milk Chocolate Truffles.
Location in Store
You can find these Godiva chocolates in the seasonal Christmas aisle at Costco. The item number is 1480774.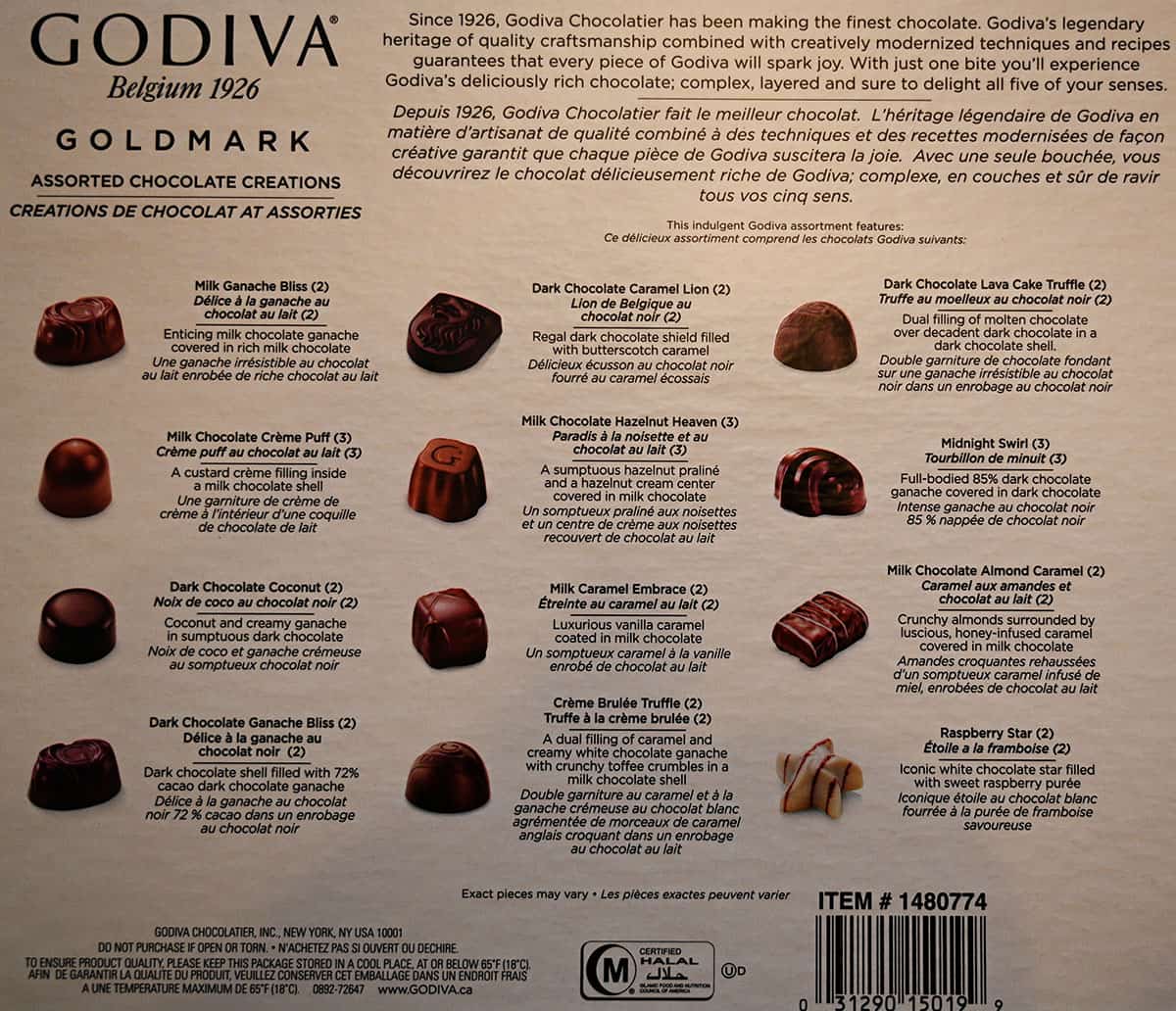 Taste
There are 12 different kinds of chocolates in the box and I wrote a short description of each one.
Milk Ganache Bliss is a plain smooth milk chocolate. It's a little sweet but tasty.
Milk Chocolate Creme Puff is very sweet and artificial-tasting. The filling is a super sweet custard and the chocolate shell tastes kind of like cheap chocolate.
Dark Chocolate Coconut is good. The coconut filling has a nice flavor, reminds me of the Ruffles cookies.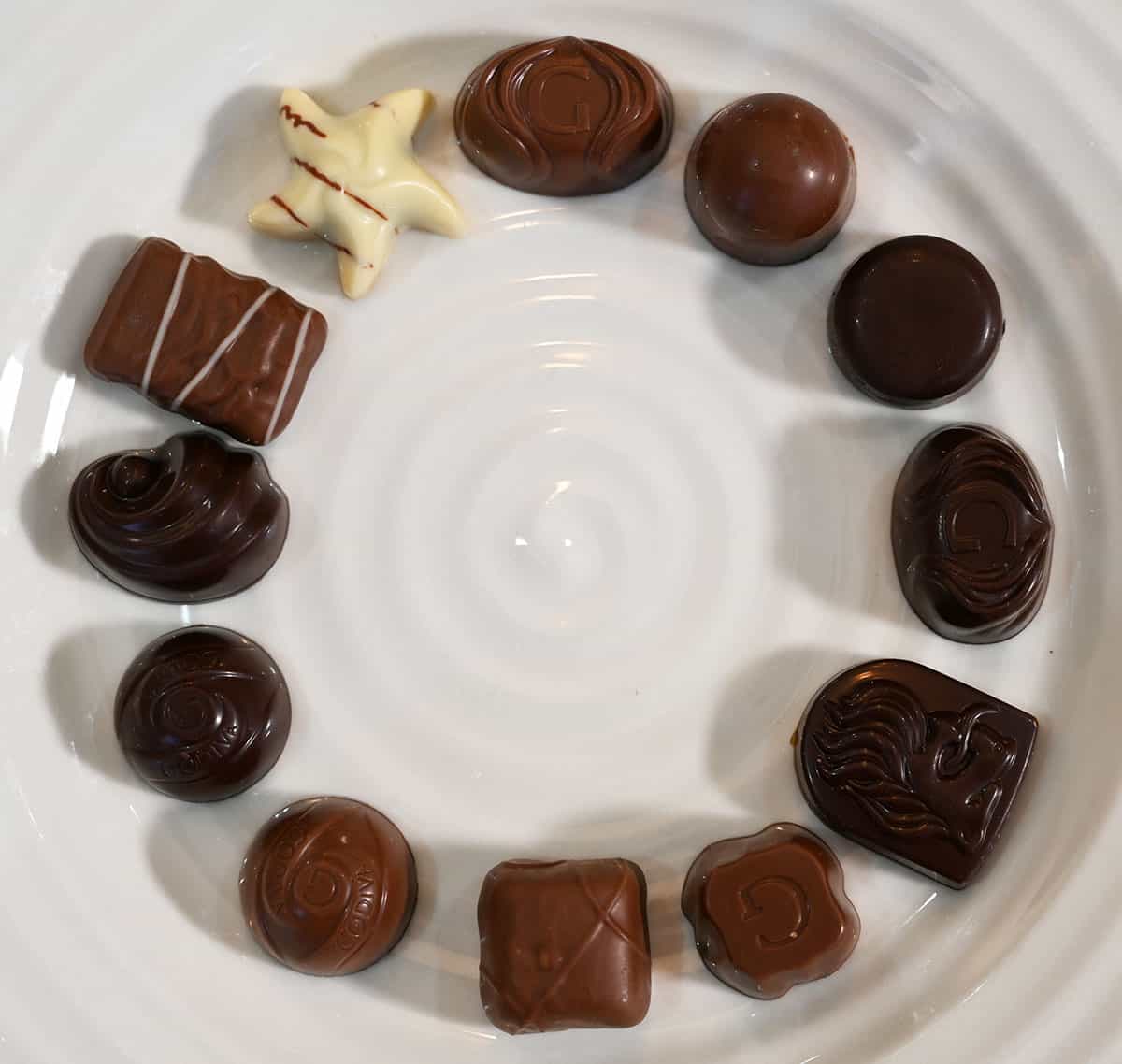 Dark Chocolate Ganache Bliss is plain dark chocolate, not great.
Dark Chocolate Lion Caramel doesn't have a ton of flavor and is messy to eat. 
Milk Chocolate Hazelnut Heaven has sweetness that overpowers the hazelnut. Also the hazelnut flavor isn't that good, very artificial. 
Milk Caramel Embrace has a chewy caramel center and a mild flavor, not the greatest caramel.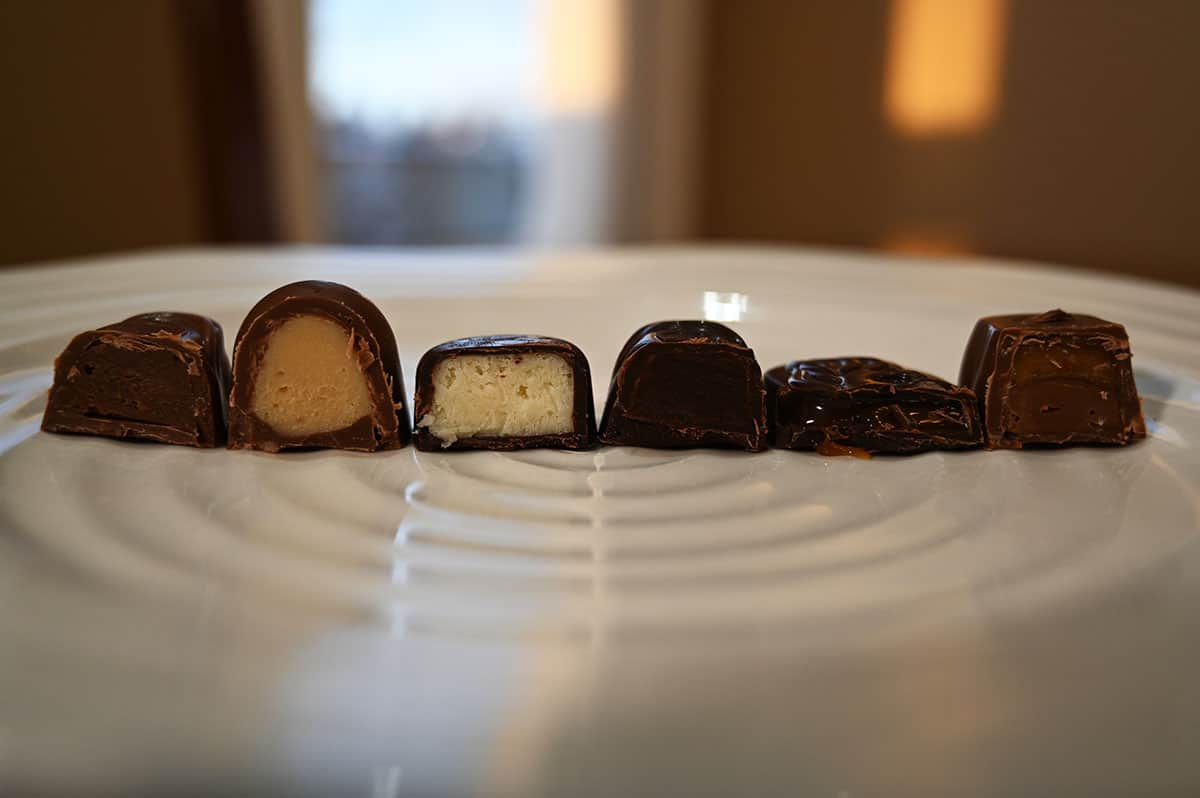 Creme Brulee Truffle is very sweet and has a very sweet artificial vanilla caramel flavor.
Dark Chocolate Lava Cake Truffle has a very sweet dark chocolate flavor. Too sweet in my opinion.
Midnight Swirl has a dark chocolate flavor but is very sweet for dark chocolate.
Milk Chocolate Almond Caramel has a little bit of crunchy chewy caramel center and is too sweet.
Raspberry Star has a jam-like filling and is probably the best out of the box. Unfortunately, there's only one but the box says there are supposed to be two.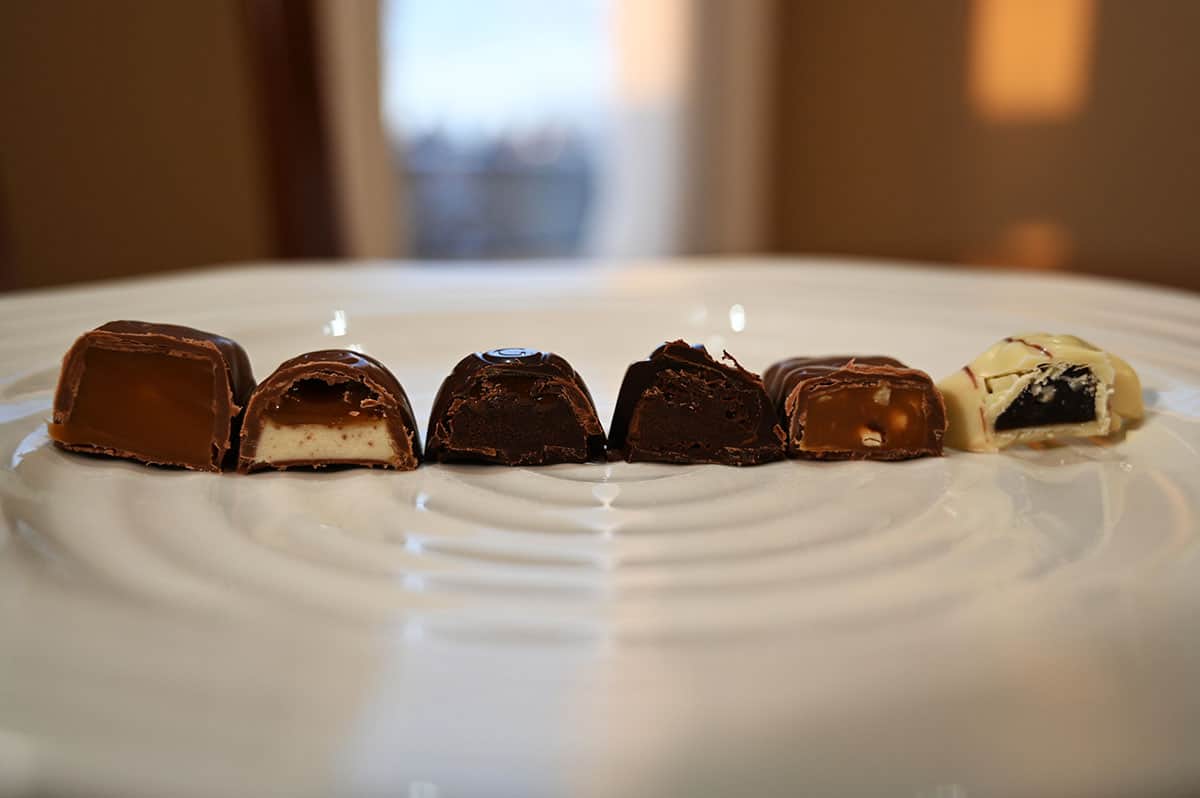 Cost
The Godiva box contains 27 chocolates and costs $20.99 which is more than other boxes of chocolates at Costco and I don't like these nearly as much as some of the cheaper options.
Convenience
There's one layer of chocolates in the box and the best-before date is nine months from the date we purchased them.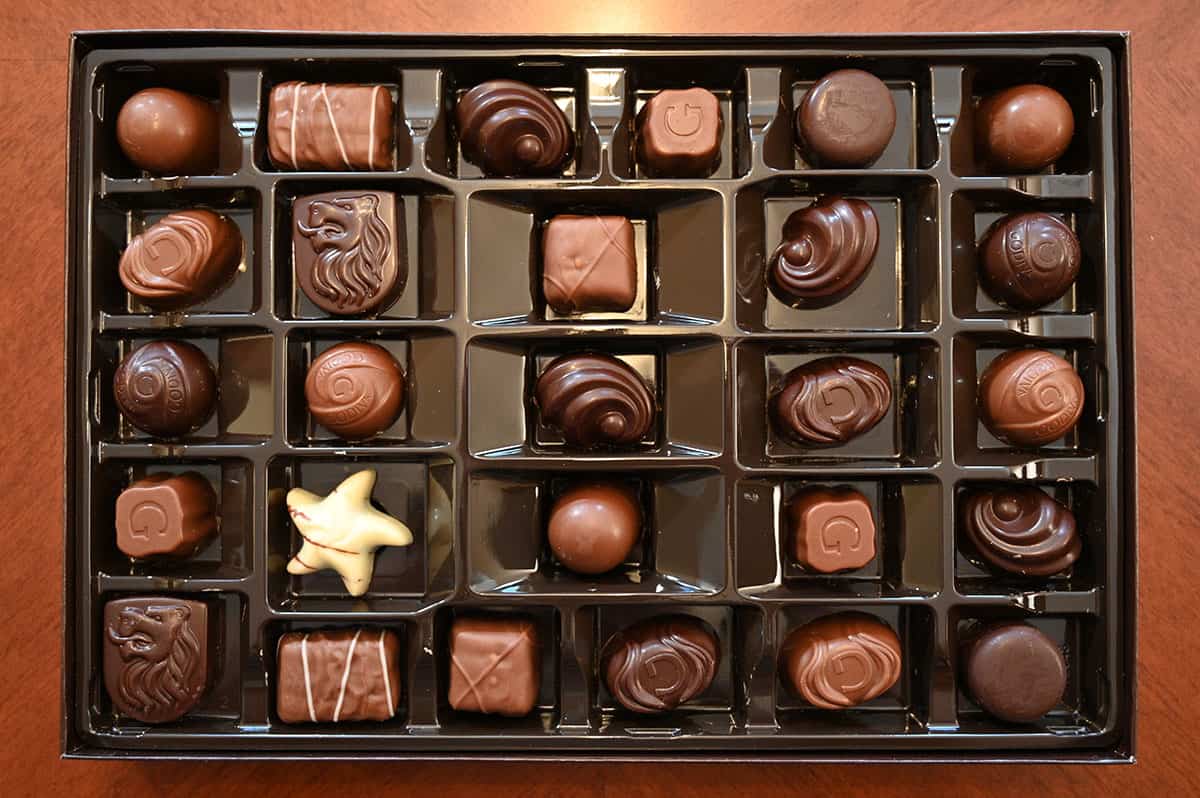 The Godiva chocolates are a product of New York and need to be stored in a cool, dry place. I usually recommend a box of chocolates as a gift during the holidays but I think there are better boxes of chocolate you can buy, like the Kirkland Signature Luxury Belgian Chocolates for a similar price point.
Nutrition
Calories
Three chocolates contain 170 calories, 10 grams of fat, 20 grams of carbohydrates, one gram of fibre, 16 grams of sugar, two grams of protein, 25 milligrams of sodium.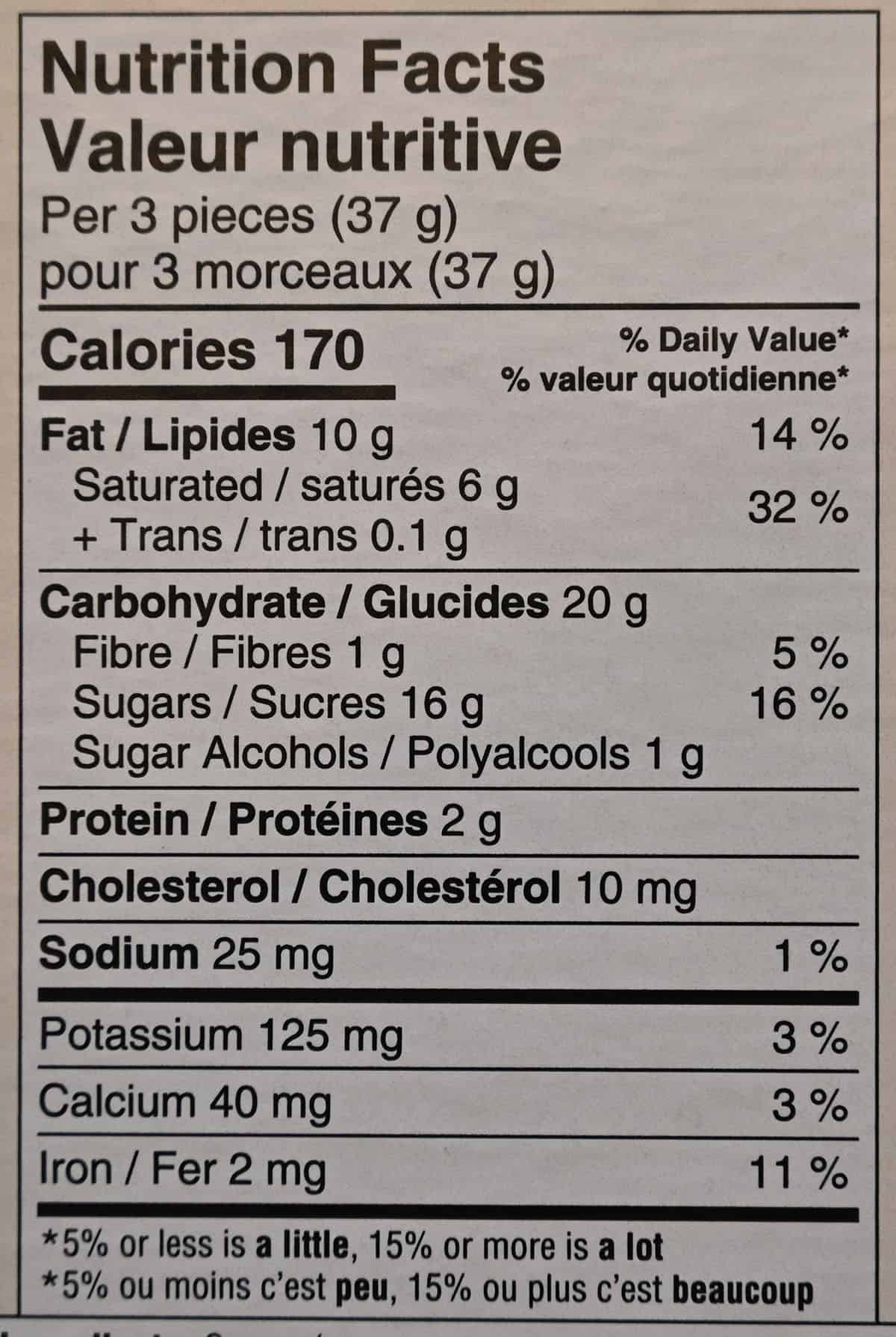 Ingredients
Of course, the first ingredient is sugar! Although I don't expect chocolates to be healthy I don't love the palm oil, soy, artificial flavor and preservatives listed. The chocolates contain hazelnuts, almonds, coconut and may contain other tree nuts.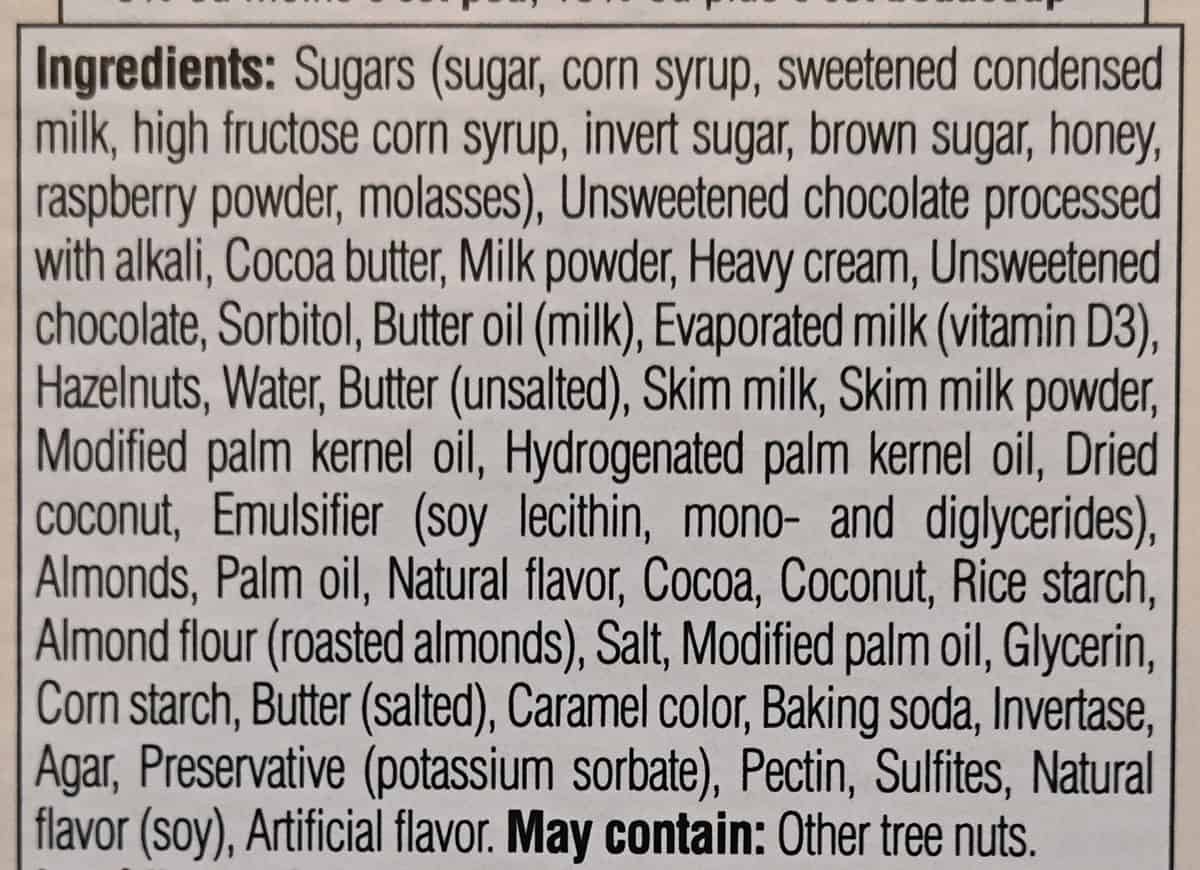 Scoring
Taste: 6/10
Cost: 6/10
Convenience: 10/10
Nutrition: 0/10
Overall
Walk on by!
There are other boxes of chocolates I prefer at Costco, such as the Lindt Lindor Assorted Chocolates, Deavas Belgian Chocolates or Kirkland Signature Luxury Belgian Chocolates.
Which box of chocolates do you like to buy from Costco?
---
Please note that this review was not paid for or sponsored by any third party. This product was purchased by Costcuisine for the purpose of producing this review. The opinions in this review are strictly those of Costcuisine. Costcuisine is not affiliated with Costco or any of its suppliers. In the event that Costcuisine receives compensation for a post from the manufacturer of a product or some other third party, the arrangement will be clearly disclosed (including where the manufacturer of a product provides Costcuisine with a free.