Inflation is hitting Costco's cheesecakes hard! This Kirkland Signature English Toffee Cheesecake costs $5 more than the Raspberry Cheesecake I reviewed just a few months ago, and they're the same size! Is it tasty enough to justify the price? How does it compare to some of Costco's other cheesecakes? Read on to find out!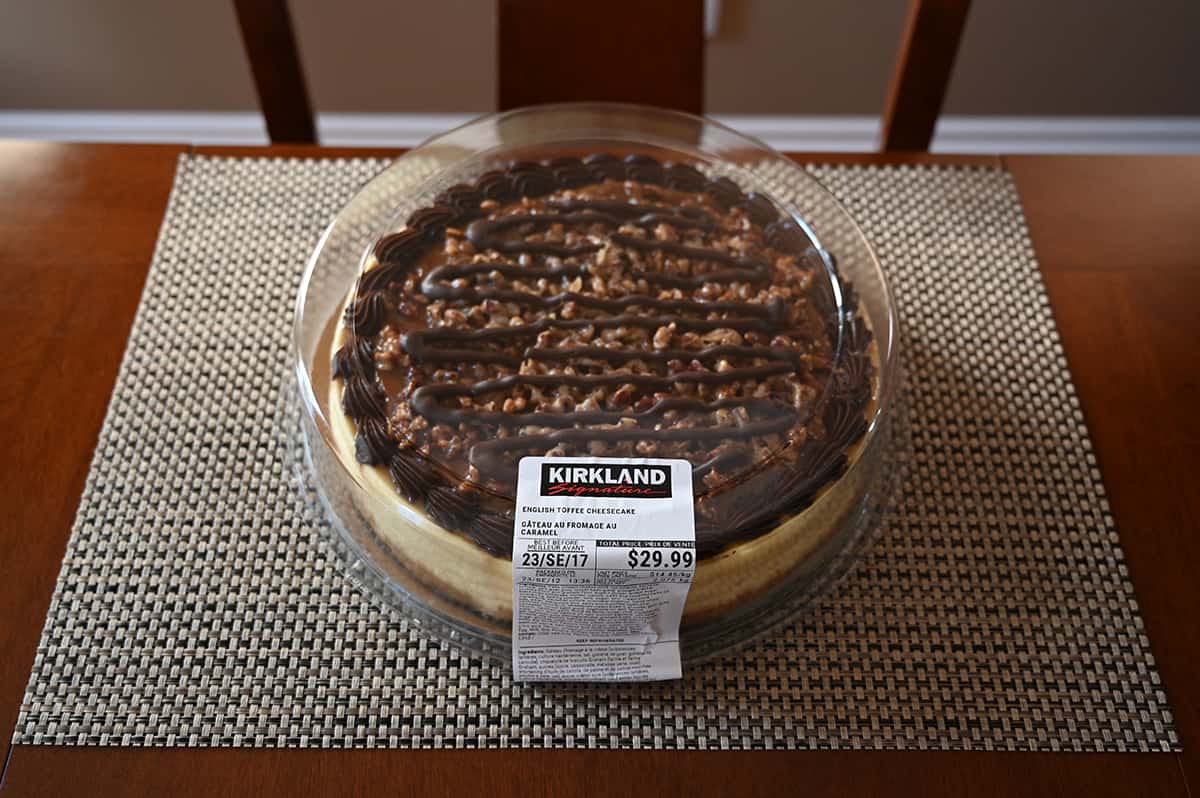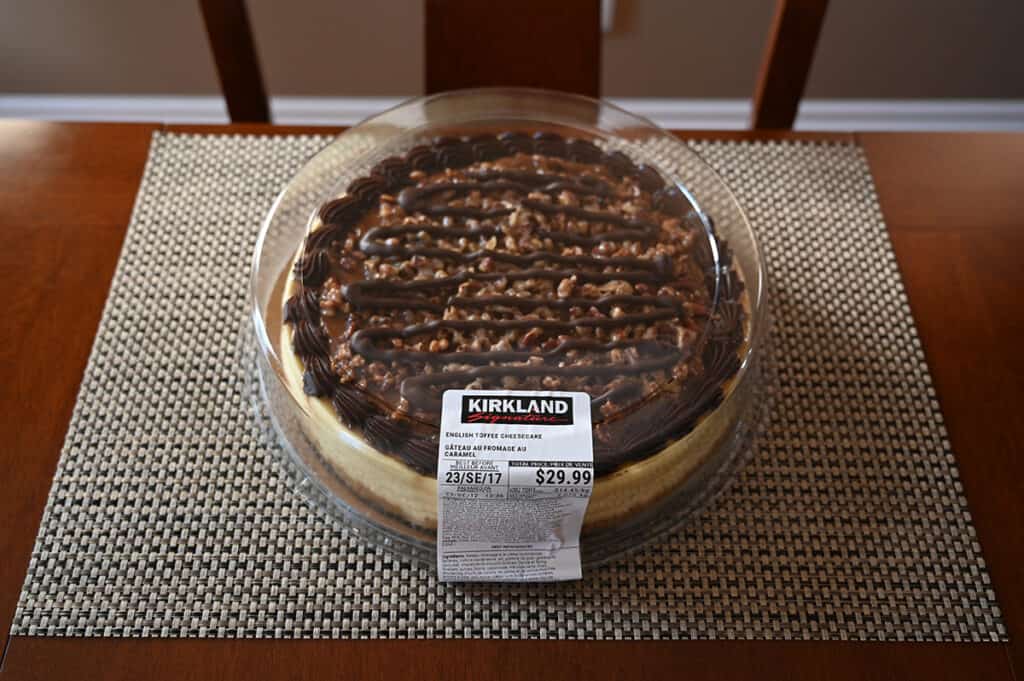 Other cakes from the Costco bakery are the Kirkland Signature Tuxedo Cake, Kirkland Signature Maple Pecan Coffee Cake, Kirkland Signature Carrot Cheesecake, Kirkland Signature Raspberry Cheesecake, Kirkland Signature Red Velvet Cheesecake, Kirkland Signature Tiramisu, Kirkland Signature Key Lime Cake, Kirkland Signature Raspberry Lemonade Cake and the Kirkland Signature Pistachio Cake.
Location in Store
This is located in the bakery section at Costco, in the refrigerator by all the other cakes. The item number is 1757309.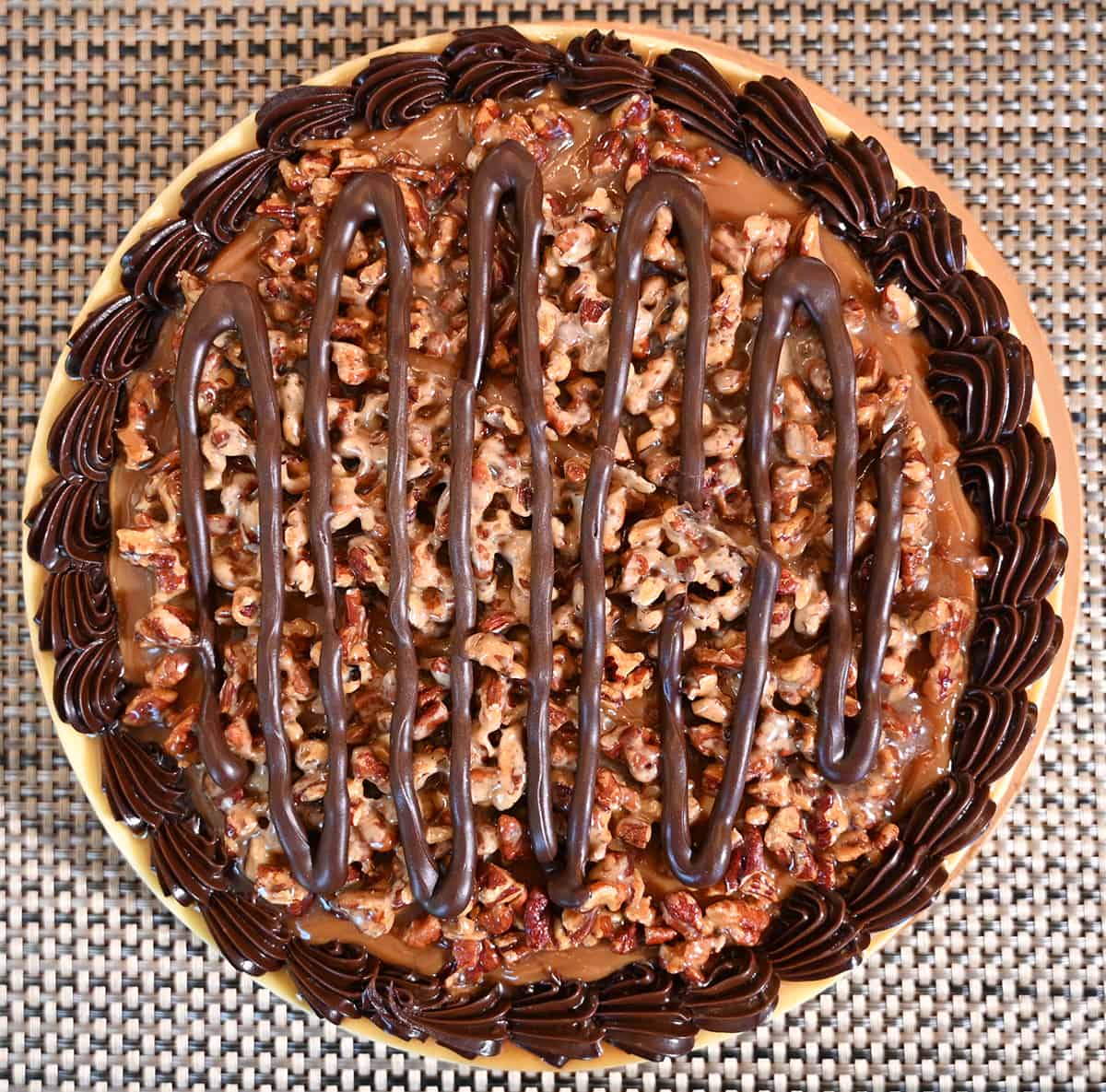 Taste
In my experience, Costco's cheesecakes are the same aside from the toppings. The cheesecake itself and the graham crumb base in the English Toffee Cheesecake are the same as other Costco cheesecakes. The cheesecake is quite plain. It doesn't have any toffee or anything in it. I find it less tangy/flavorful than some cheesecakes I've had, but it's still good.
The graham crumb base is good too. It has a nice flavor with a hint of sweetness. The base of my cake is a fairly soft/soggy and not as crunchy as I'd like, but it's fine.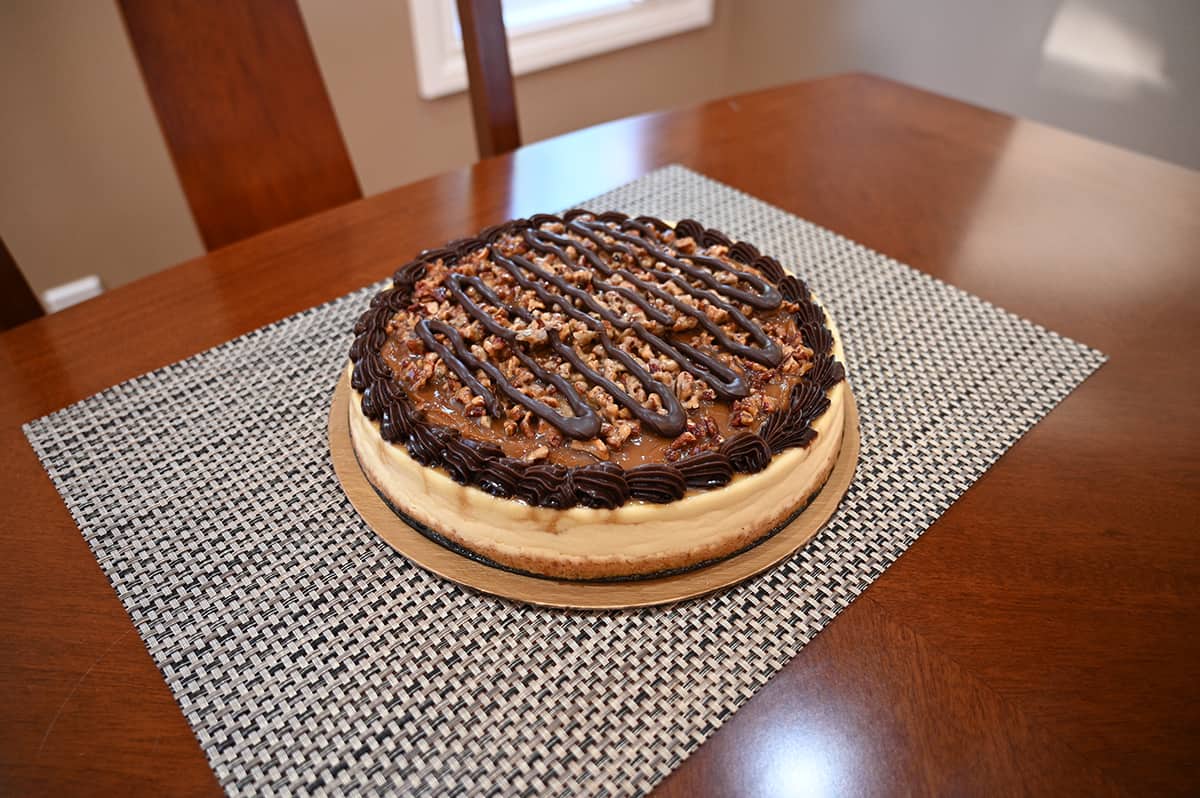 As with other Costco cheesecakes, the topping is what sets the English Toffee Cheesecake apart. It adds ton of flavor and texture and makes the cake. Taste wise you have toffee (obviously), pecans, sweet caramel (dulce de leche) and chocolate (from the icing around the edge and drizzle).
The topping is pretty sweet, but it's balanced out by the mild cheesecake. The flavors are all pretty good too, especially the toffee. There's also a lot of crunch, mainly from the pecans. We shared this with my parents and my mom and dad both found it really rich and said they'd likely not buy it. Both Sean and I have a sweet tooth so we enjoyed it more than my parents.
It's a decadent dessert that might appeal more to caramel and toffee lovers more than diehard cheesecake fans, who might find the cheesecake part lacking.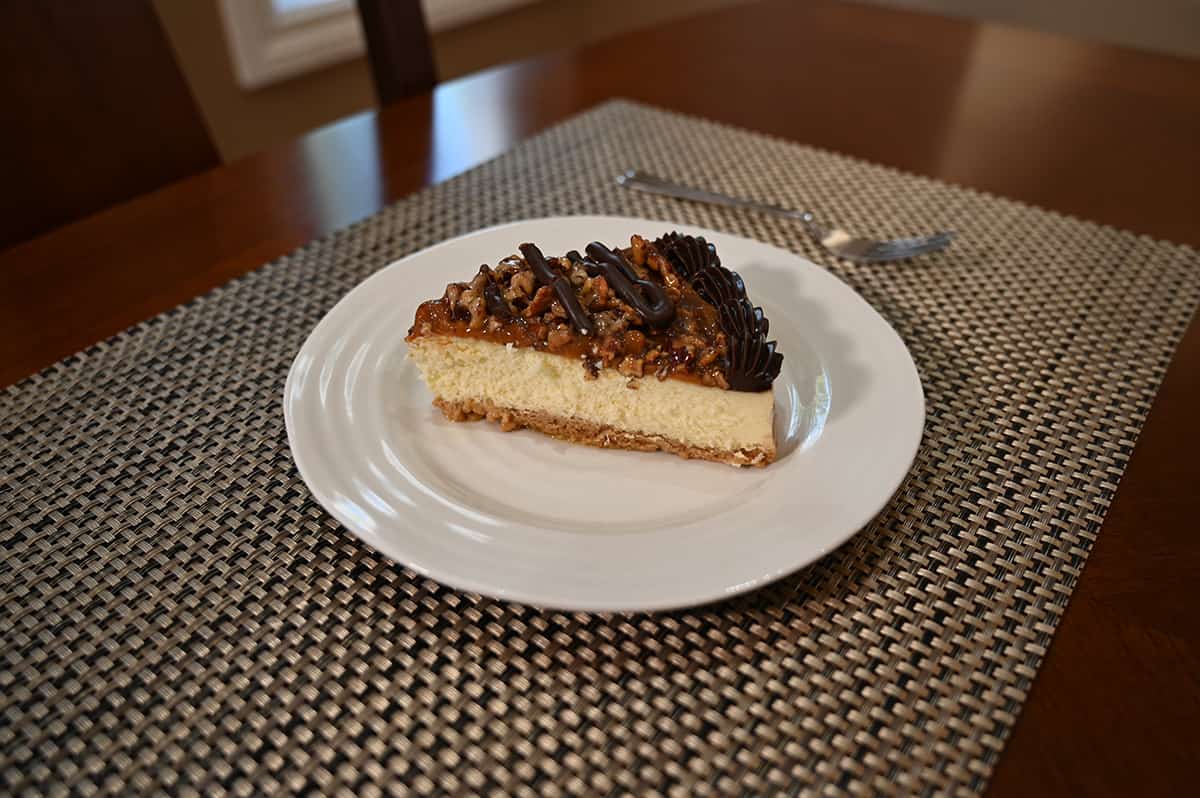 Cost
Just because this cheesecake is from a grocery-store and not a stand-alone bakery doesn't mean it's cheap! It costs $29.99 Canadian, but it is pretty big and loaded with decadent toppings.
Only three months ago in June, the raspberry cheesecake from Costco that's the same size cost $24.99 Canadian. In 2018 when I reviewed the Kirkland Signature New York Style Strawberry Cheesecake the price was only $17.99!
Convenience
The cake is a bit hard to cut because of the pecan brittle/toffee on top, but I managed to cut mine without too much collateral damage.
The cheesecake needs to be kept refrigerated and has a best-before date that's five days from the day it was packaged on. Even though the cheesecake has been previously frozen, I still freeze my cheesecake (it's a lot for two people) and have never had an issue.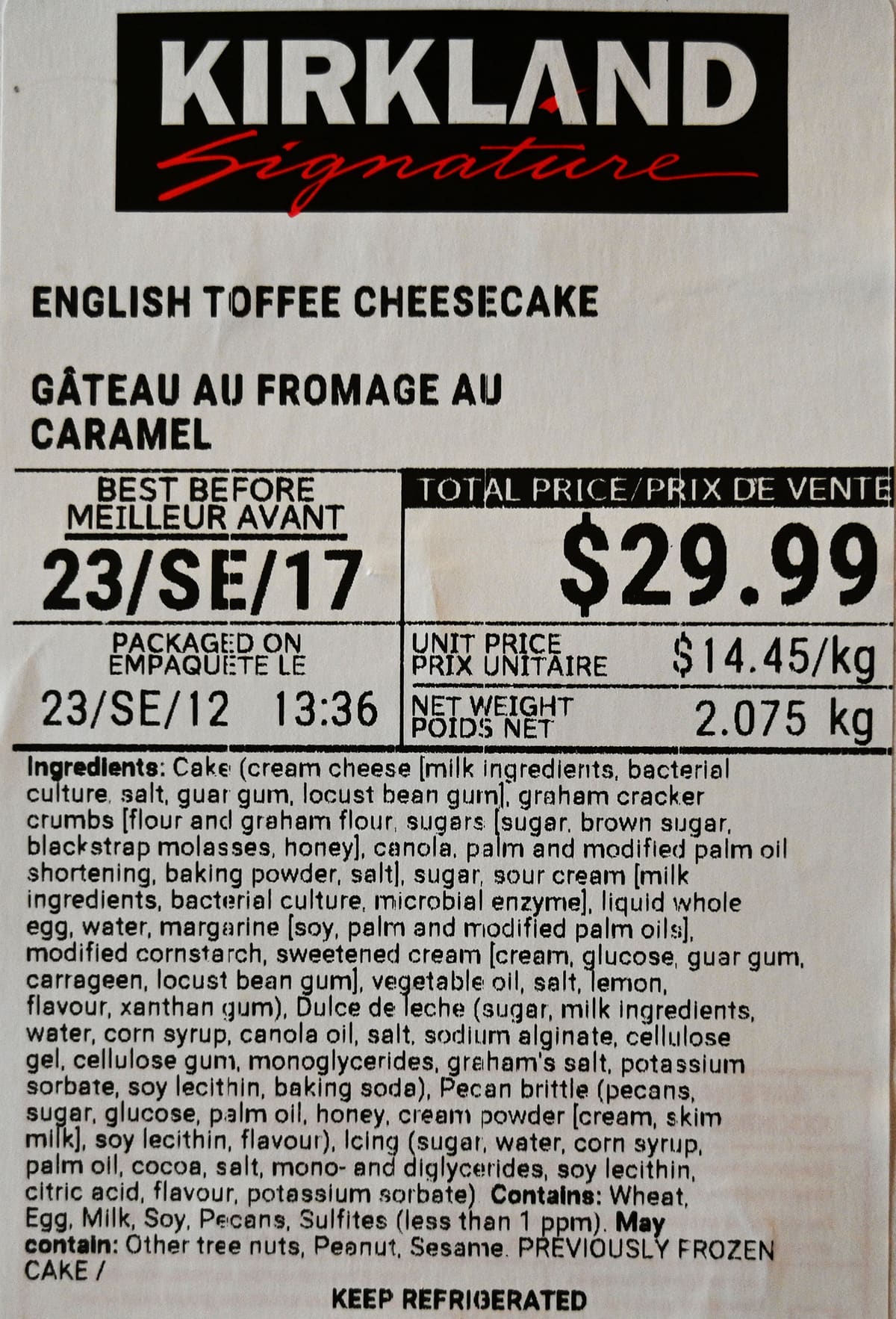 This is perfect for a birthday party or get-together. It's really large and really rich so I think you'd have to know people like cheesecake and really sweet desserts or maybe just cut smaller pieces!
Nutrition
Calories
1/17th of the cake contains 450 calories, 28 grams of fat, 45 grams of carbohydrates, one gram of fibre, 32 grams of sugar, seven grams of protein and 370 milligrams of sodium.
I expected this to be really high in calories, sugar, fat and carbohydrates based on the taste. My husband definitely served us slices that were bigger than 1/17th of the cake, so I don't even want to imagine the nutrition facts for my serving!
Ingredients
There are a ton of different ingredients in the cheesecake. One of the benefits of making cheesecake at home from scratch rather than buying it at a grocery store is that you get to control what goes in it. There's soy, palm and modified palm oils, corn syrup and "flavors" listed as ingredients which are ones I don't love to see.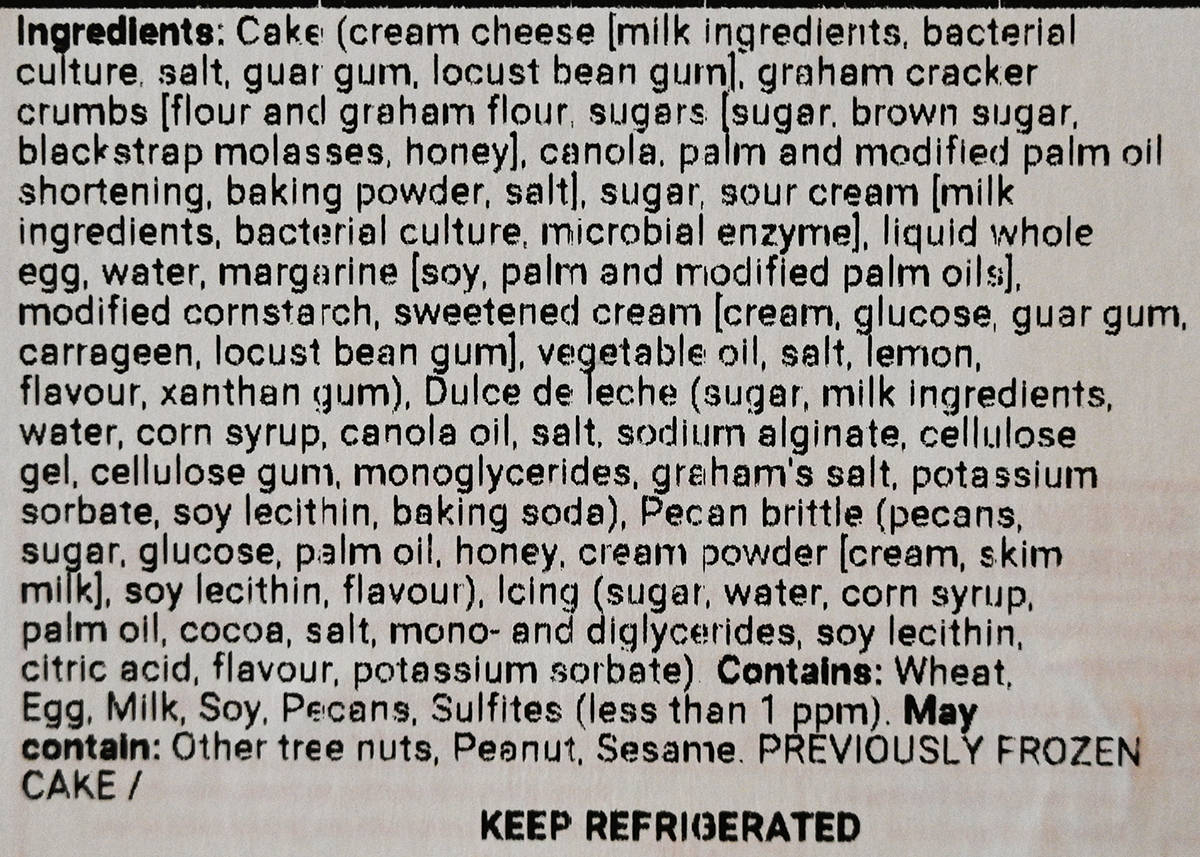 The cheesecake contains milk, soy, pecans, egg and wheat and may contain other tree nuts, peanuts and sesame. Pretty much all of the major allergens are in this except for shellfish/seafood.
Scoring
Taste: 8/10
Cost: 6/10
Convenience: 9.5/10
Nutrition: 0/10
Overall
Give it a try!
Overall the cake is pretty sweet and very rich, but I enjoyed it! The toppings would be way too sweet for me without the mild cheesecake, but the combination works alright.
If you've tried this Costco Kirkland Signature English Toffee Cheesecake, what did you think of it? Leave a comment below!
---
Please note that this review was not paid for or sponsored by any third party. This product was purchased by Costcuisine for the purpose of producing this review. The opinions in this review are strictly those of Costcuisine. Costcuisine is not affiliated with Costco or any of its suppliers. In the event that Costcuisine receives compensation for a post from the manufacturer of a product or some other third party, the arrangement will be clearly disclosed (including where the manufacturer of a product provides Costcuisine with a free sample of the product).