Pulled pork is one of the staple meals in our house. We probably have it about once a month. It's actually fairly convenient; you throw your pork in a slow cooker or pressure cooker for a while with some type of seasoning and then shred it. The hardest parts are shredding it and cleaning up! With that being the case, I don't necessarily see a huge need for a more convenient option like Costco's Kirkland Signature Smoked Pulled Pork. Is it really a better option than homemade pulled pork?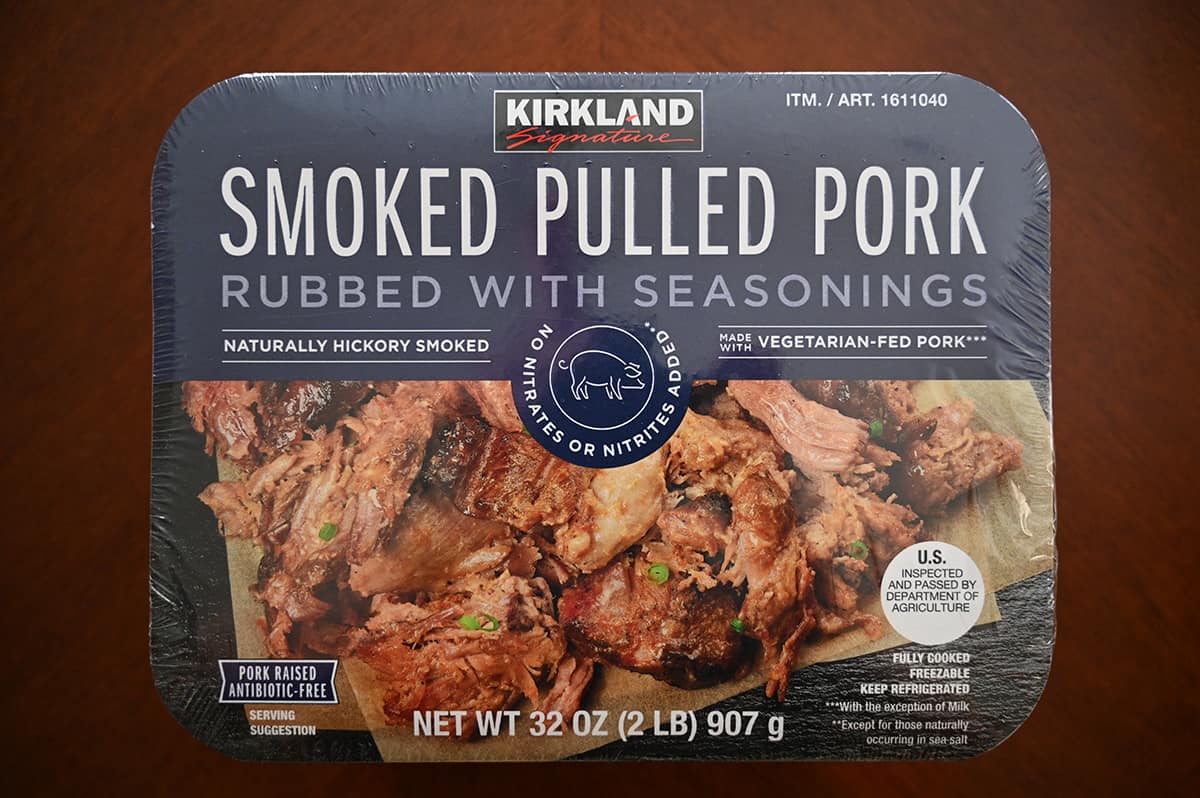 Other convenient meat products from Costco that are similar to this pulled pork are the Cuisine Solutions Sliced Grass-Fed Beef Sirloin, Del Real Foods Pork Carnitas, Kirkland Signature Beef Pot Roast, Dom Reserve Singles Steelhead Salmon Poke, Schwartz's Smoked Meat, Kirkland Signature Rotisserie Chicken, Kirkland Signature Roasted Garlic Chicken Legs, Kirkland Signature Italian Style Beef Meatballs and the Kirkland Signature Turkey Breast.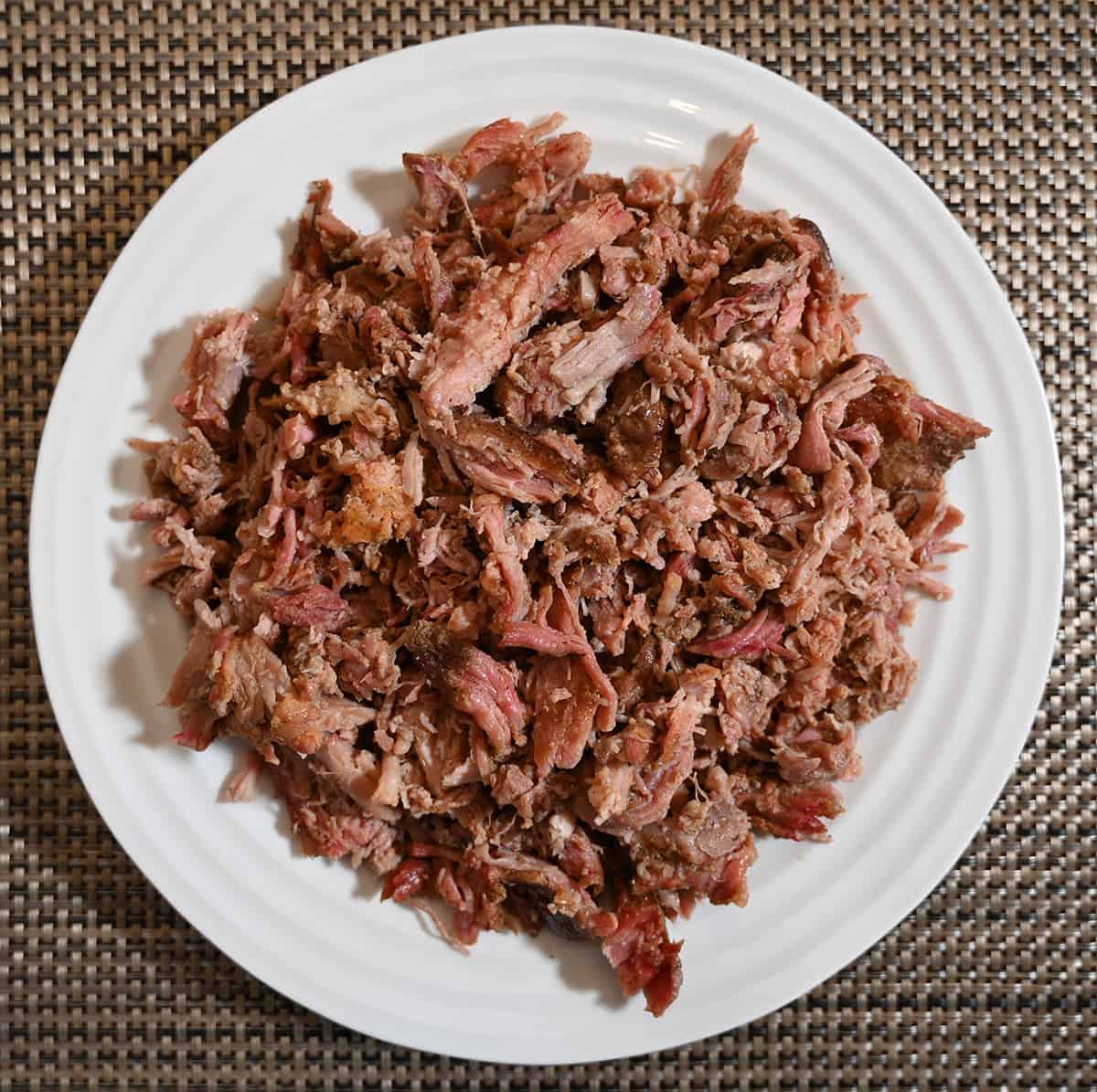 Location in Store
The pulled pork is located in the refrigerated deli section at Costco, the item number is 1611040. I bought it at the Kalispell, Montana Costco however I have also purchased it in Canada and reviewed it originally here back in 2018.
Taste
This is a big nope for me. Unfortunately, I could tell as soon as I opened the pouch that I was going to be disappointed by this pulled pork. It's very fatty/greasy and the quality of the meat is poor. My pack was full of fatty and gristly pieces that were very noticeable just from looking at the pork.
If you manage to get a good piece of the pork, it has a decent flavor. It's very smoky, which I like, but almost tastes more like very processed ham. It's not horrendous though. The flavor works well in a pulled pork sandwich, which is how I tried my pulled pork.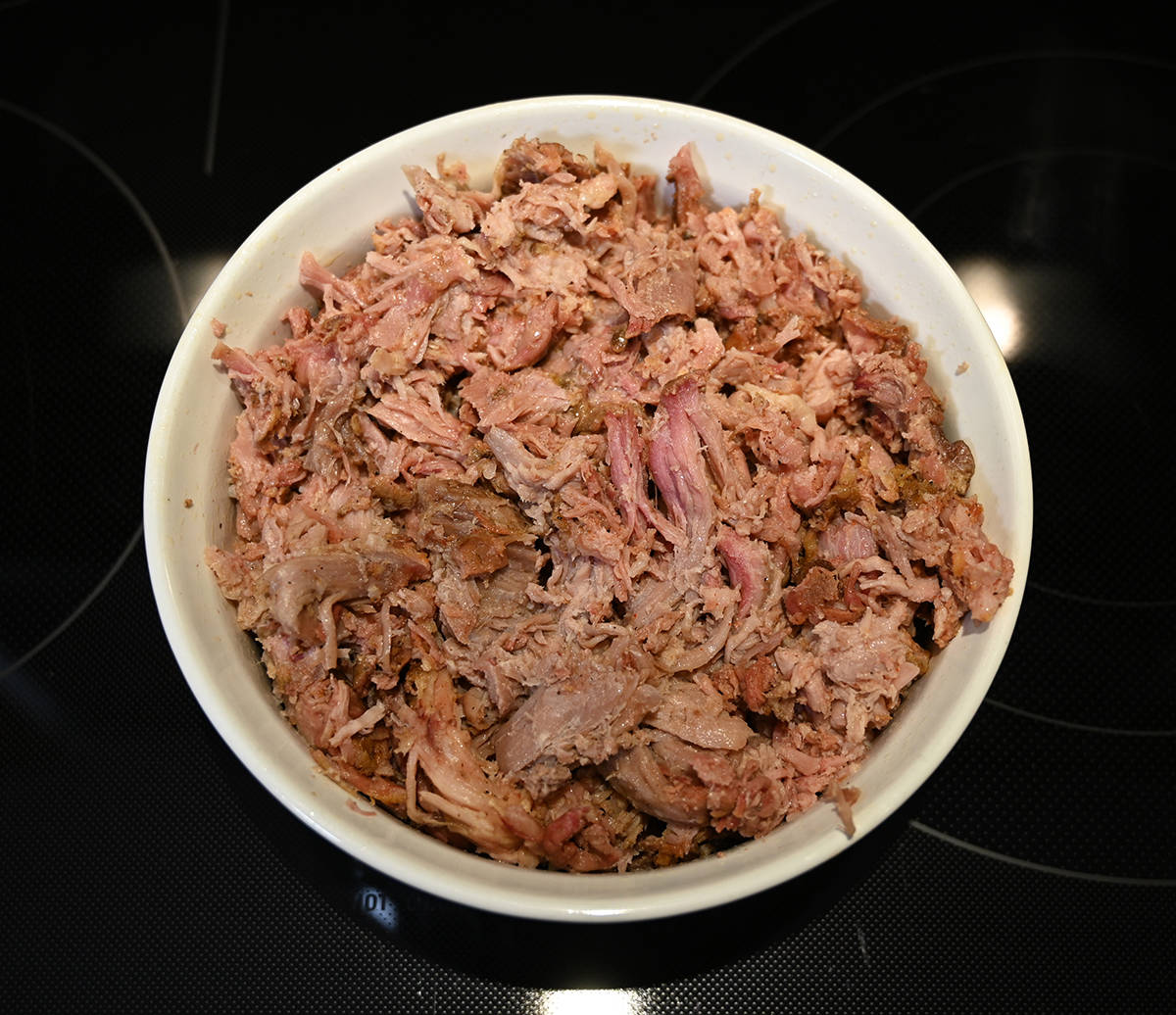 To be completely honest, this is one of the worst Kirkland Signature products I've ever had. The quality of the meat is poor. At least a quarter to a third of my pack was meat I found inedible. The rest of the meat was fairly greasy from all the fat in the pack and tasted just okay.
The only way to get a decent meal out of this pulled pork would be to carefully pick out all the gross bits before you serve it, which means a lot of effort for a supposedly convenient item. You'd probably still end up having some gross bites slip through because there are so many bad parts and there's no way to get rid of all the grease.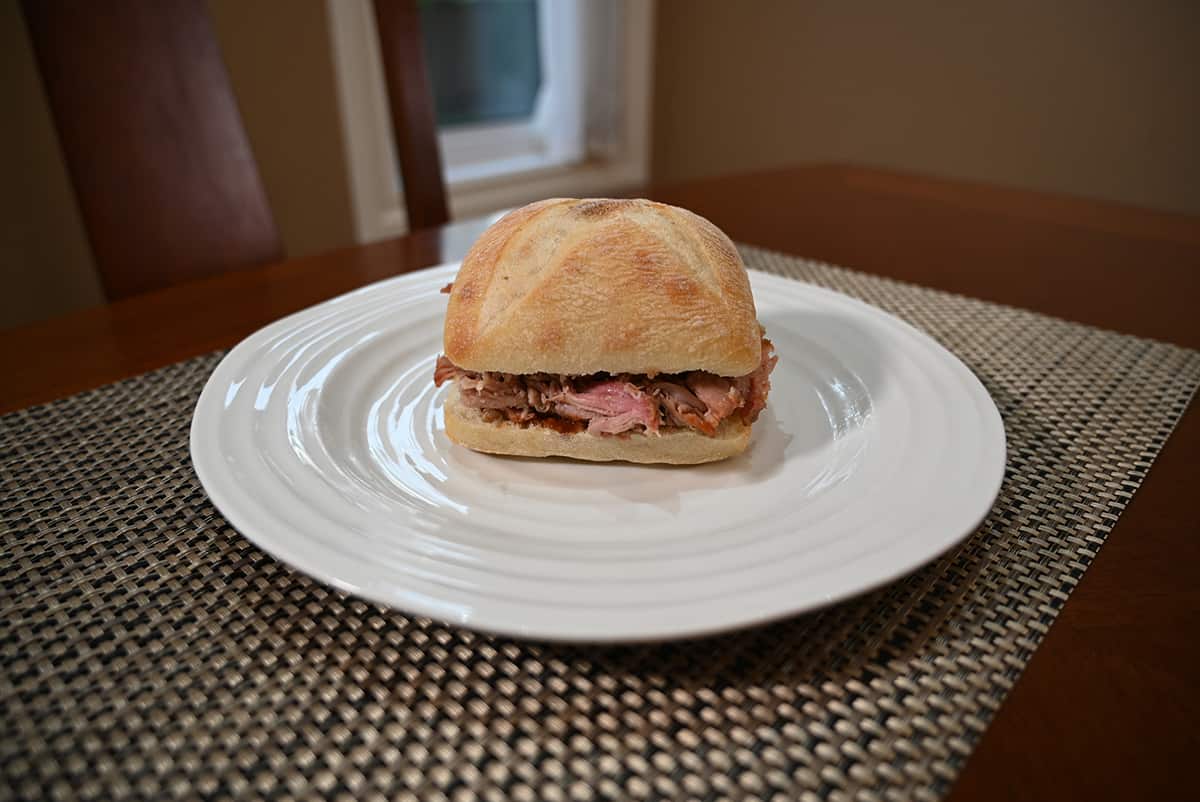 Cost
The two-pound tray of pork costs $13.99 USD which doesn't seem that expensive but it's not worth it in my opinion, even though it's convenient.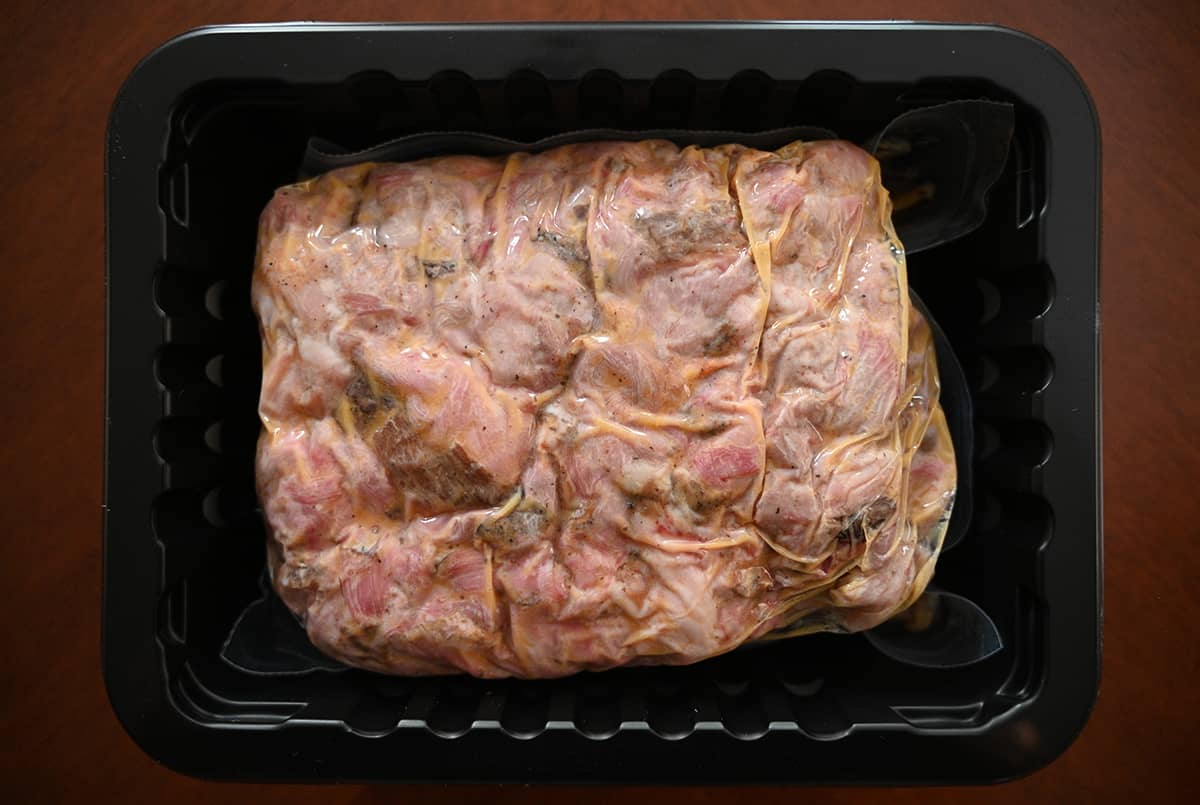 Convenience
I warmed my pulled pork in the microwave, and it definitely smelled delicious! By about halfway through, my kitchen had a nice smoky pork smell. The pulled pork is fully cooked already and comes vacuum-sealed in plastic.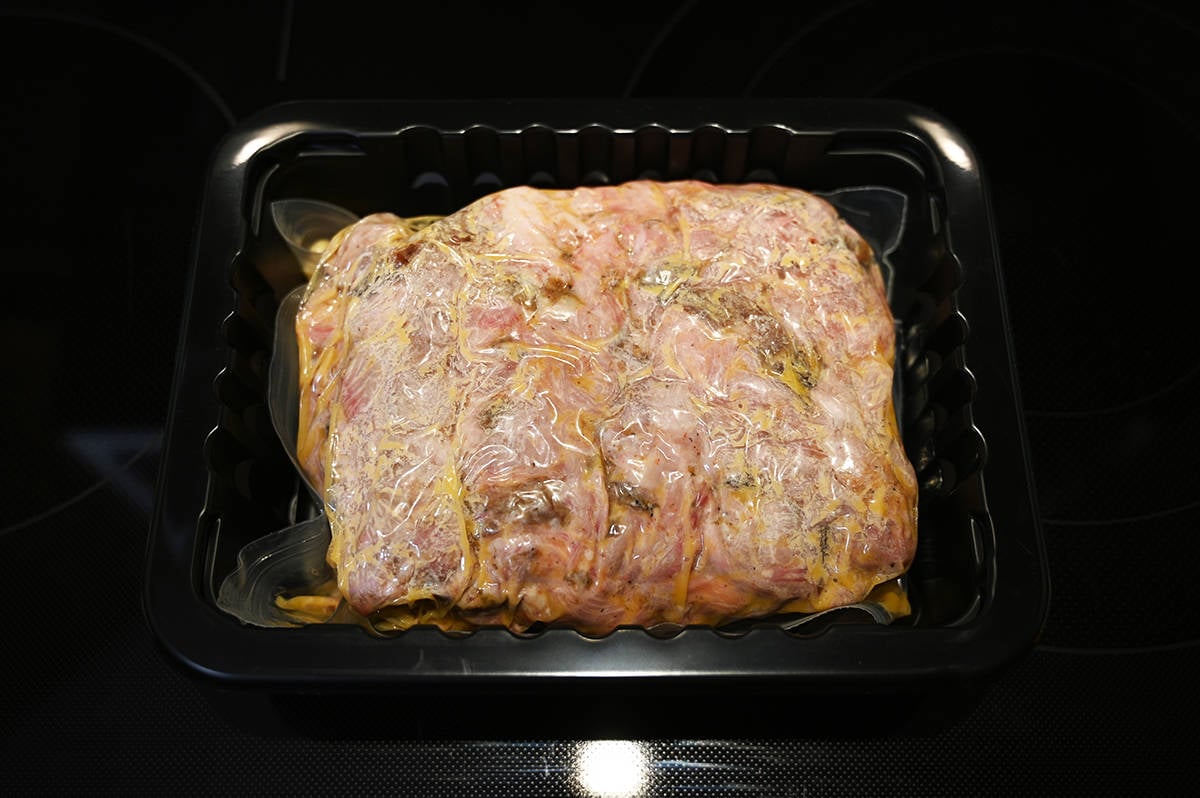 I'm not a big fan of the two cooking methods. Both tell you to heat the pork in the plastic pouch it comes in.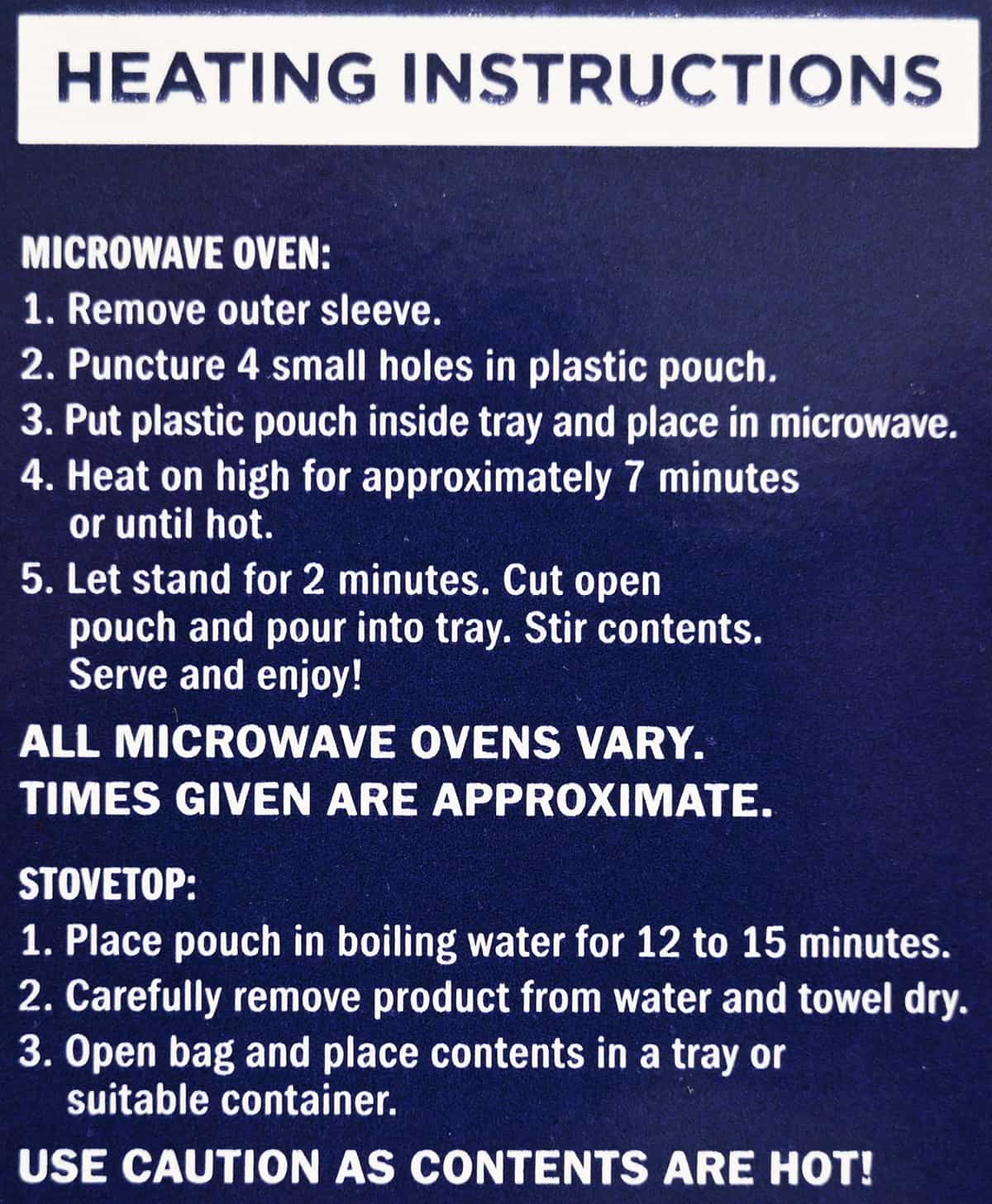 This doesn't seem great from a health perspective and also ends up not even being very convenient when you're trying to get your very hot, very greasy pork out of the pouch at the end. I dripped grease all over and burned my fingers!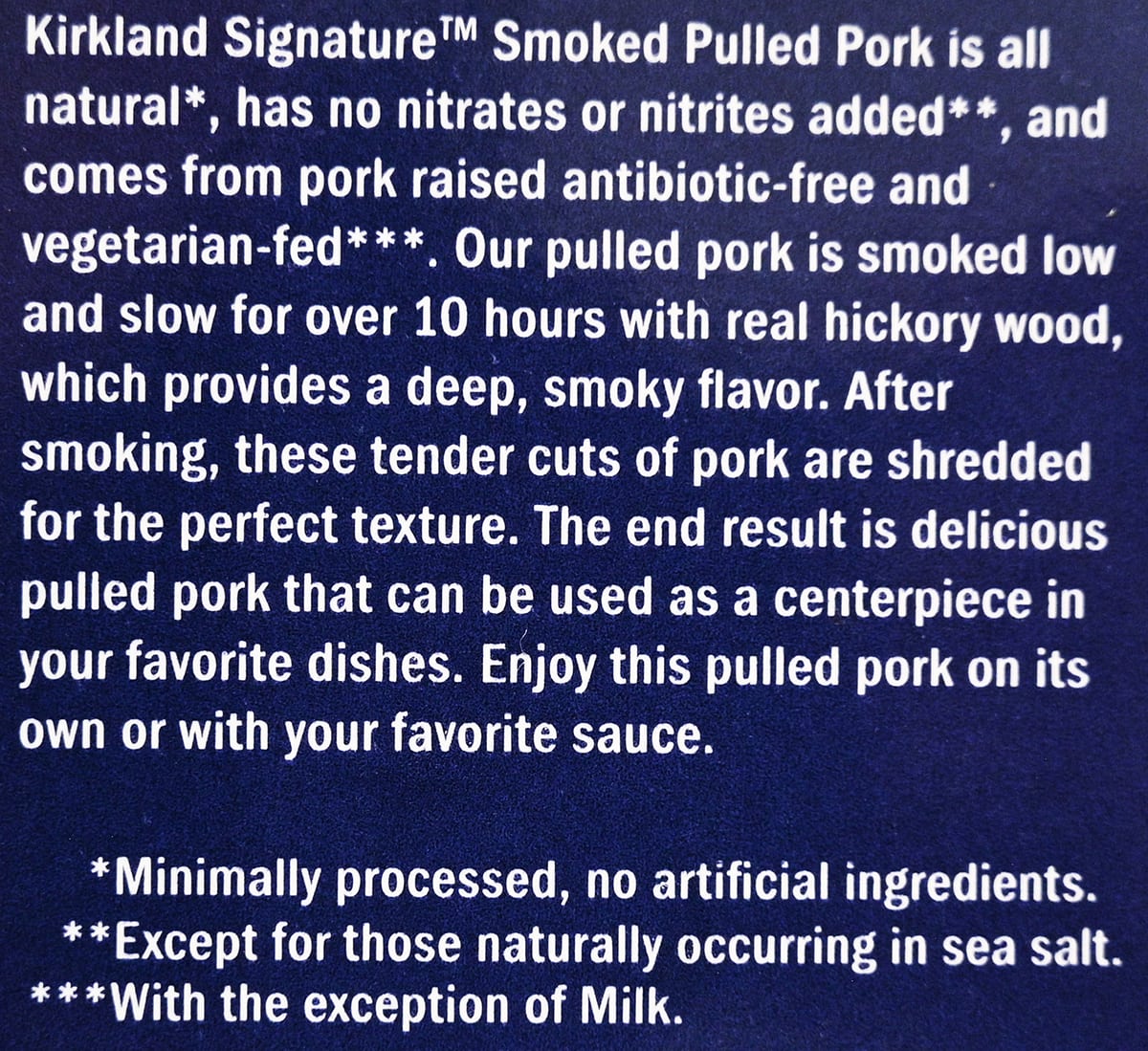 The pork needs to be kept refrigerated the best-before date is about nine weeks from when we purchased it. If you're not going to use it by the best-before date you can also freeze it. Some ideas for using on how to use pulled pork are tacos, salads and sandwiches.

Nutrition
Calories
A 3-ounce or 84-gram serving contains 160 calories, 11 grams of fat, four grams of saturated fat, 60 milligrams of cholesterol, 780 milligrams of sodium, one gram of carbohydrates, zero grams of fiber and sugar and 16 grams of protein.
With so little carbohydrates the pulled pork is definitely keto-friendly.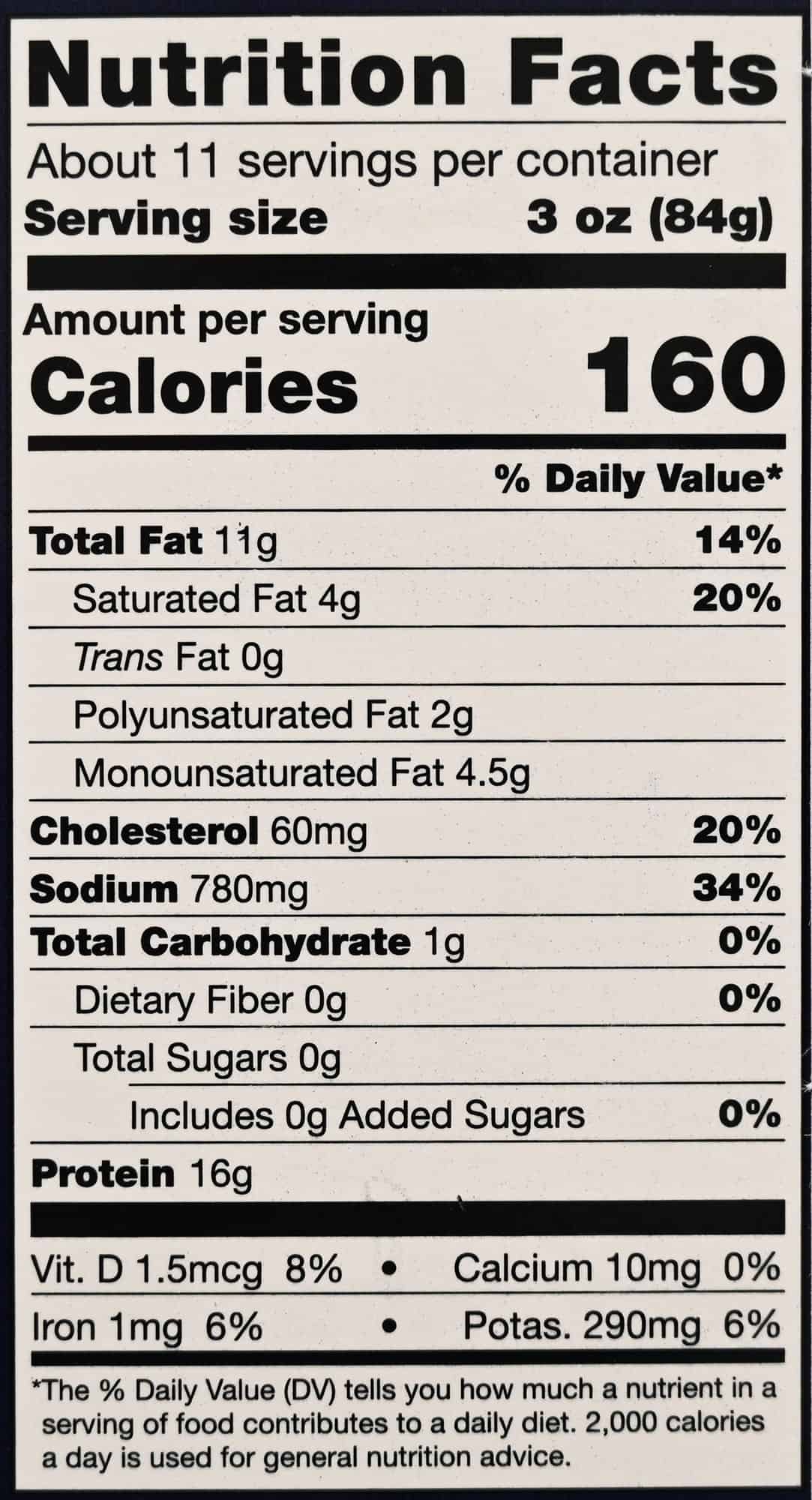 Ingredients
The ingredients list is short and sweet without any artificial ingredients. The pork is vegetarian-fed and antibiotic-free. There are no nitrates or nitrites added to the pulled pork. I'm surprised that it's "all-natural" because of how processed it tastes.
The pulled pork is gluten-free as well as dairy-free.

Scoring
Taste: 3/10 – The best pieces are a 6 or a 7, but too much of the meat is a 0.
Cost: 4/10
Convenience: 10/10
Nutrition: 9/10
Overall
Walk on by!
We eat a fair amount of pulled pork in our house, both homemade and from a couple of restaurants we like. While it's usually not made from prime cuts of pork (though we make ours from pork tenderloin), pulled pork shouldn't be this fatty.
Have you tried the Costco Kirkland Signature Smoked Pulled Pork? Do you like it?
---
Please note that this review was not paid for or sponsored by any third party. This product was purchased by Costcuisine for the purpose of producing this review. The opinions in this review are strictly those of Costcuisine. Costcuisine is not affiliated with Costco or any of its suppliers. In the event that Costcuisine receives compensation for a post from the manufacturer of a product or some other third party, the arrangement will be clearly disclosed (including where the manufacturer of a product provides Costcuisine with a free sample of the product).