Not bad for a frozen gluten-free pizza from Costco but it needs more cheese!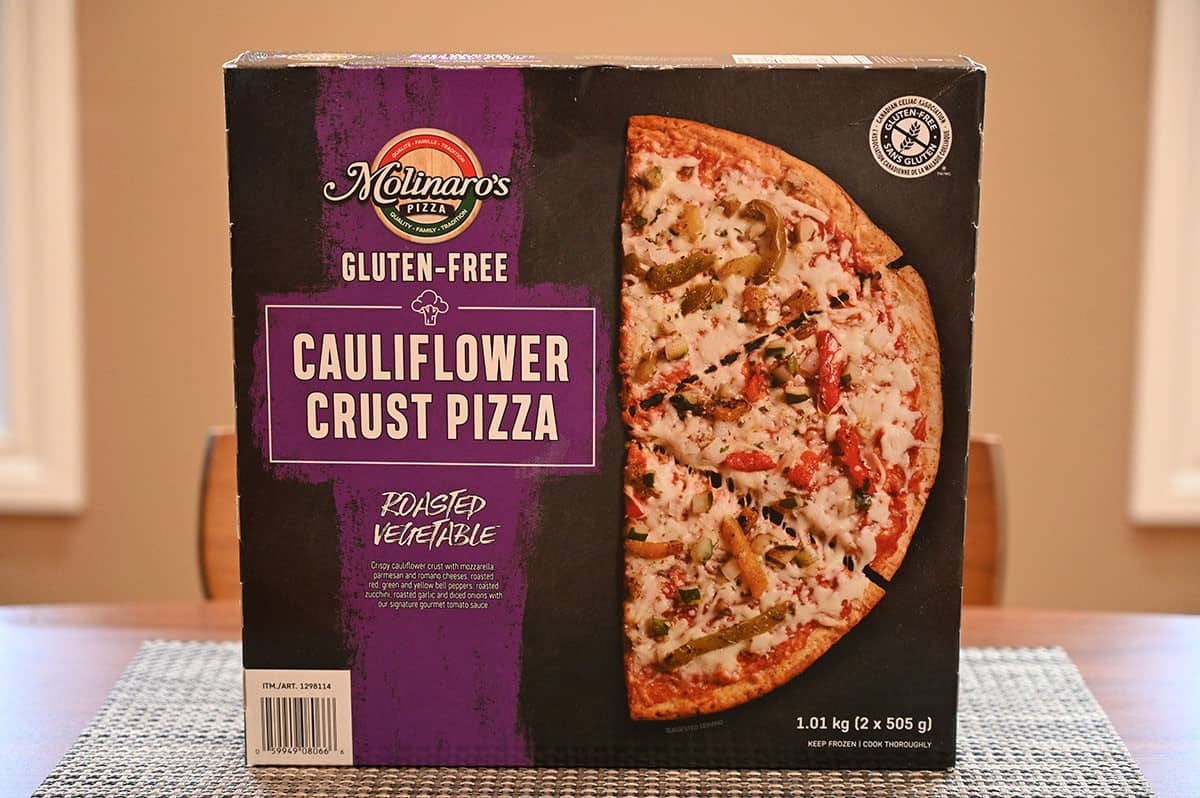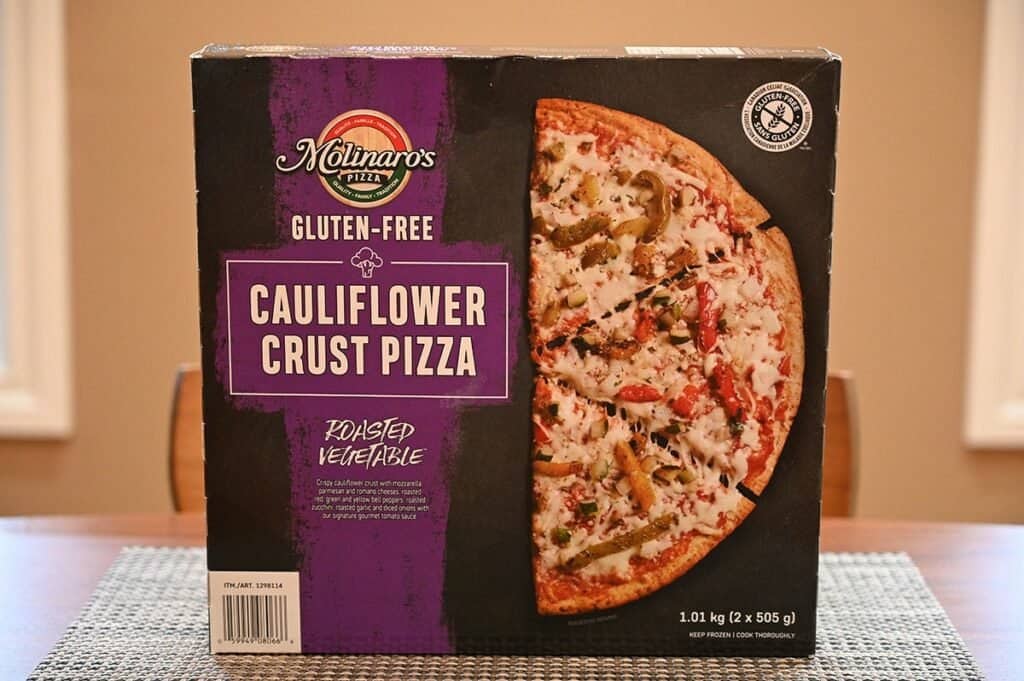 Today I'm reviewing the Costco Molinaro's Gluten-Free Cauliflower Crust Frozen Roasted Vegetable Pizza. I recently tried going gluten-free for about six weeks to see if I felt any improvement in my overall health. I picked this gluten-free, cauliflower crust pizza up from Costco to try during that time.
Another popular gluten-free pizza at Costco is the Sabatasso's Gluten Free Four Cheese Pizza, if you want to make your own gluten-free cauliflower crust pizza you can just buy the Molinaro's Cauliflower Crust Pizza Kit from Costco.
Some other gluten-free foods from Costco are the Wholly Veggie Buffalo Cauliflower, the Crepini Egg Wraps, the Kirkland Signature Hemp Hearts and the innofoods Keto Crackers.
Location in Store
You can find this in the freezer aisle at Costco, near the other frozen pizzas. The item number is 1298114.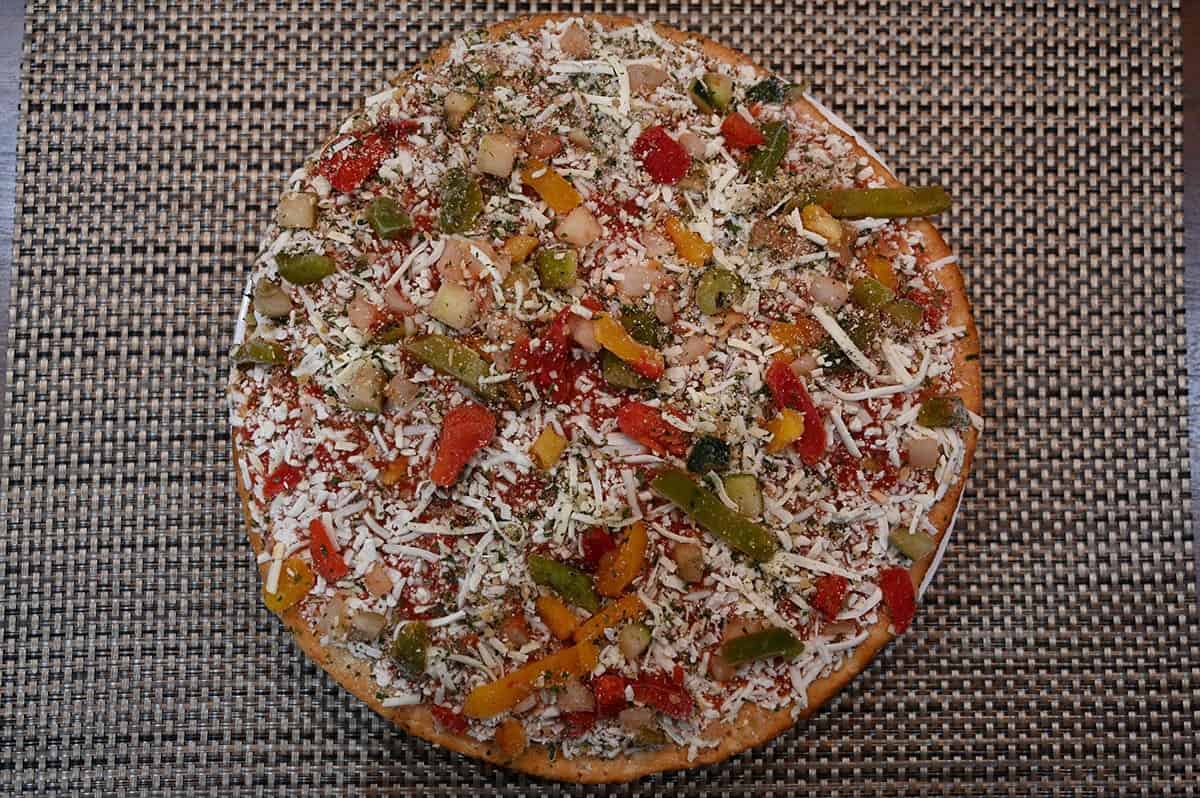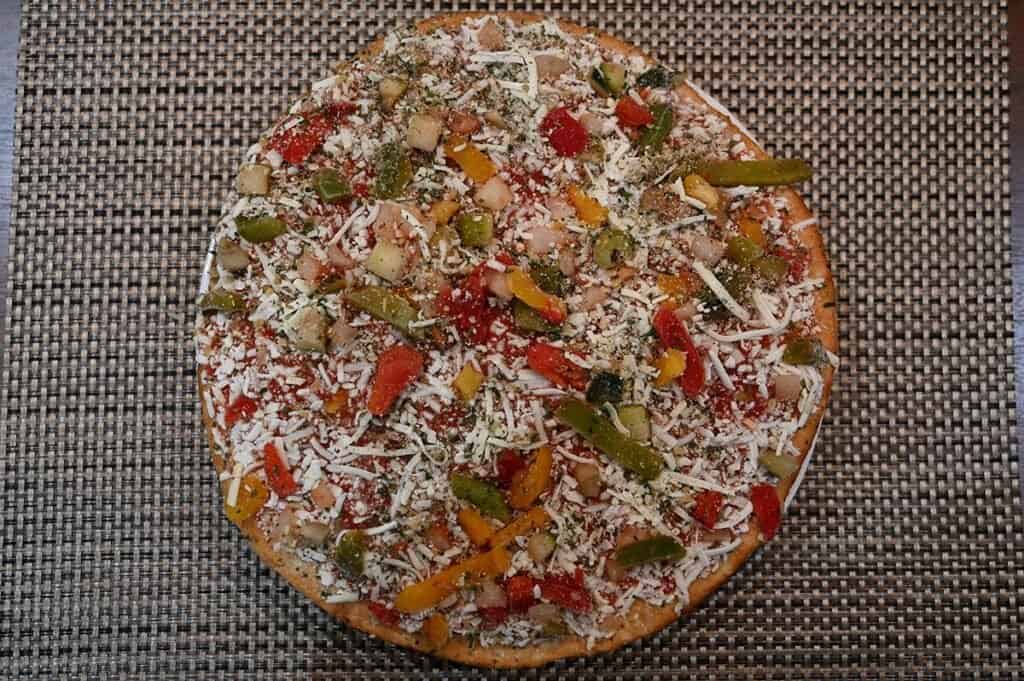 Taste
This isn't bad for a gluten-free pizza! After the first bite you can tell something is missing and it tastes different than wheat pizza. The more of it you eat, the more you forget that it's gluten-free and the crust is made of cauliflower.
There's a tomato sauce on the base of the pizza and mozzarella, parmesan and romano cheeses. The toppings are bell pepper, roasted zucchini, roasted garlic and dried oregano as well as parsley.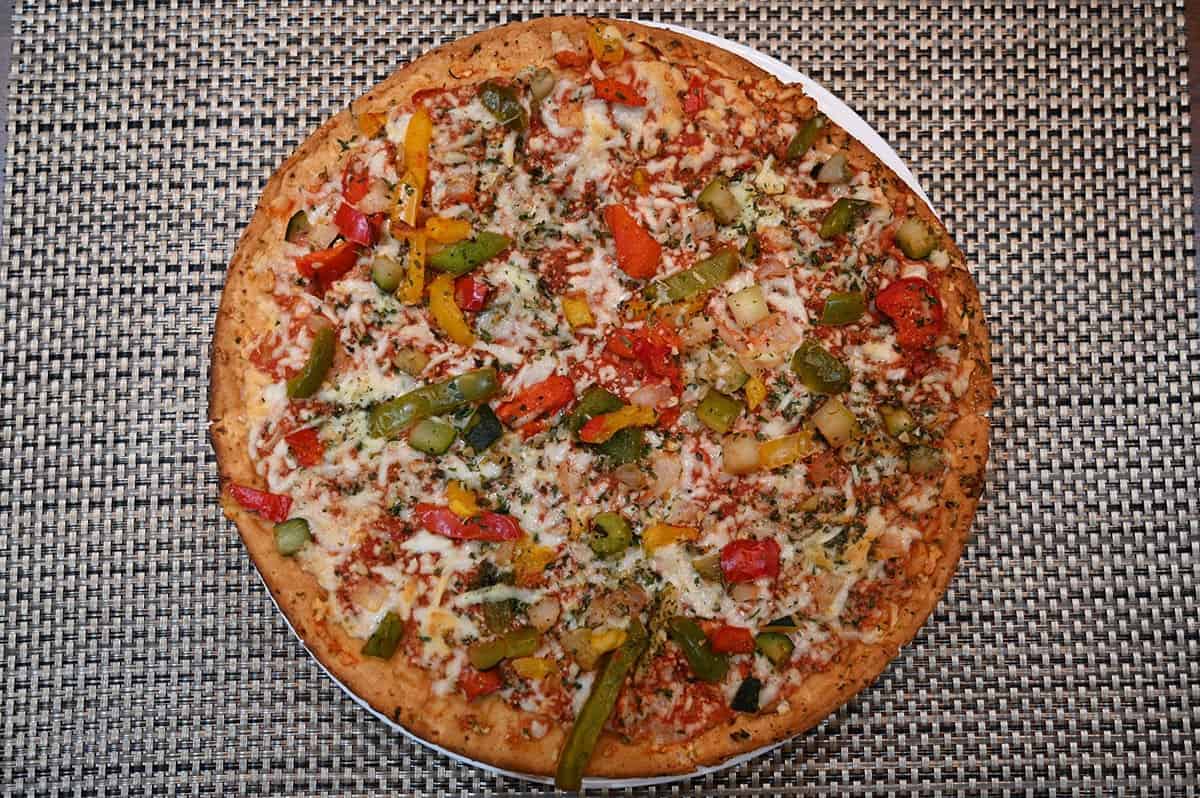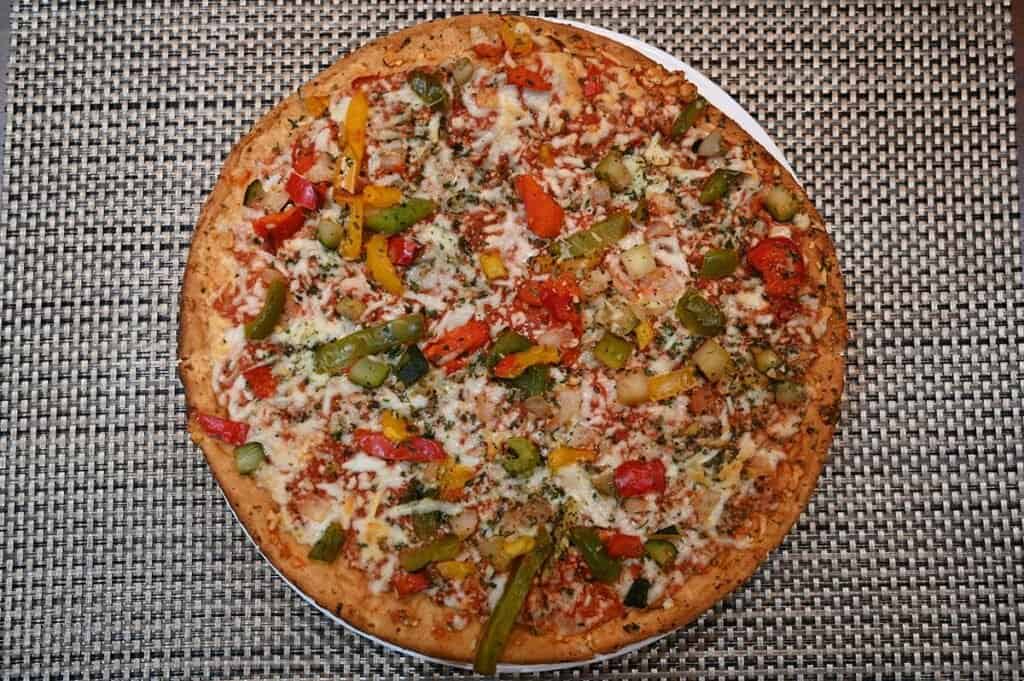 The roasted garlic and oregano flavor is quite strong but pairs well with the peppers and roasted zucchini. The sauce is nice and is like your basic pizza sauce. I wish there was more cheese though, I think this pizza would taste a whole lot better with additional cheese!
The crust is flavorful from the cheese and seasonings that are added to the crust. You don't taste any sort of cauliflower flavor. This is a thin crust pizza and the crust turned out nice and crispy. The texture of the crust is much more dense than a wheat crust.
I personally enjoy meat on my pizza so would probably add some grilled chicken breast and extra cheese to make this a little tastier.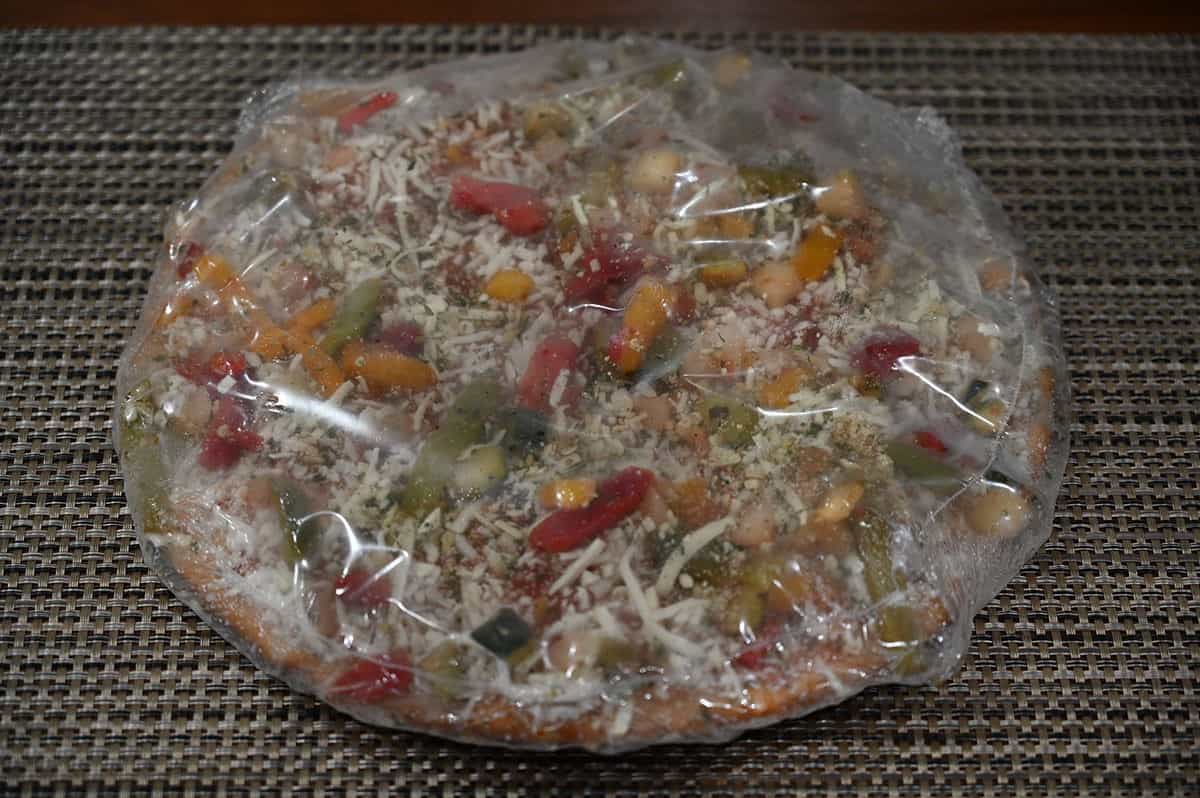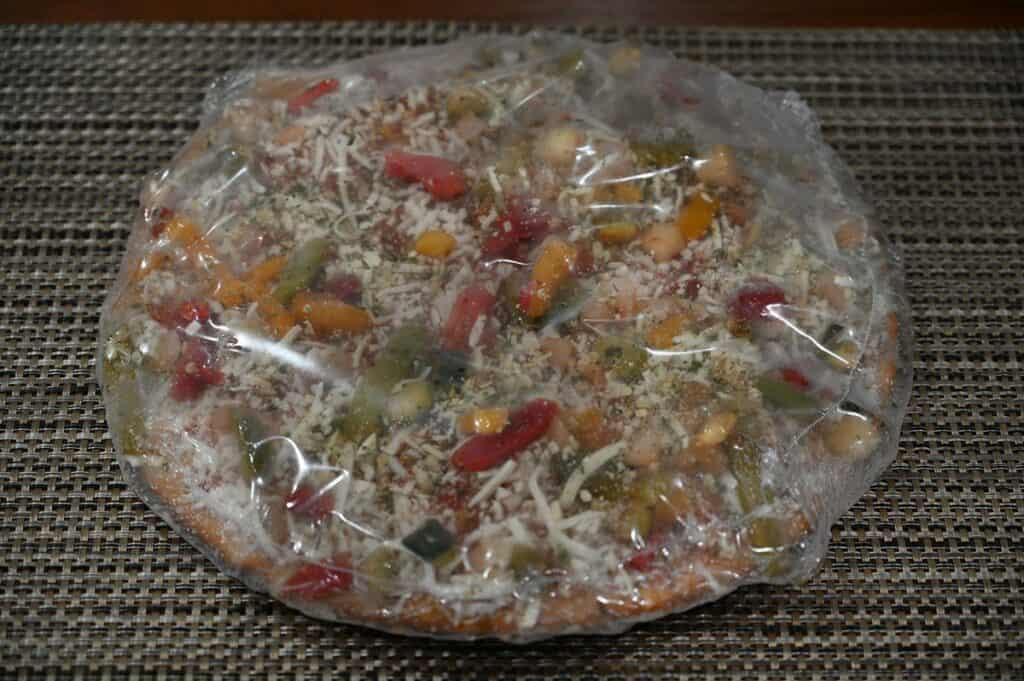 Cost
I paid $13.99 Canadian for a box of 2 x 505 gram pizzas. This price isn't exactly cheap because the pizzas are quite thin and aren't that big but this isn't totally overpriced either.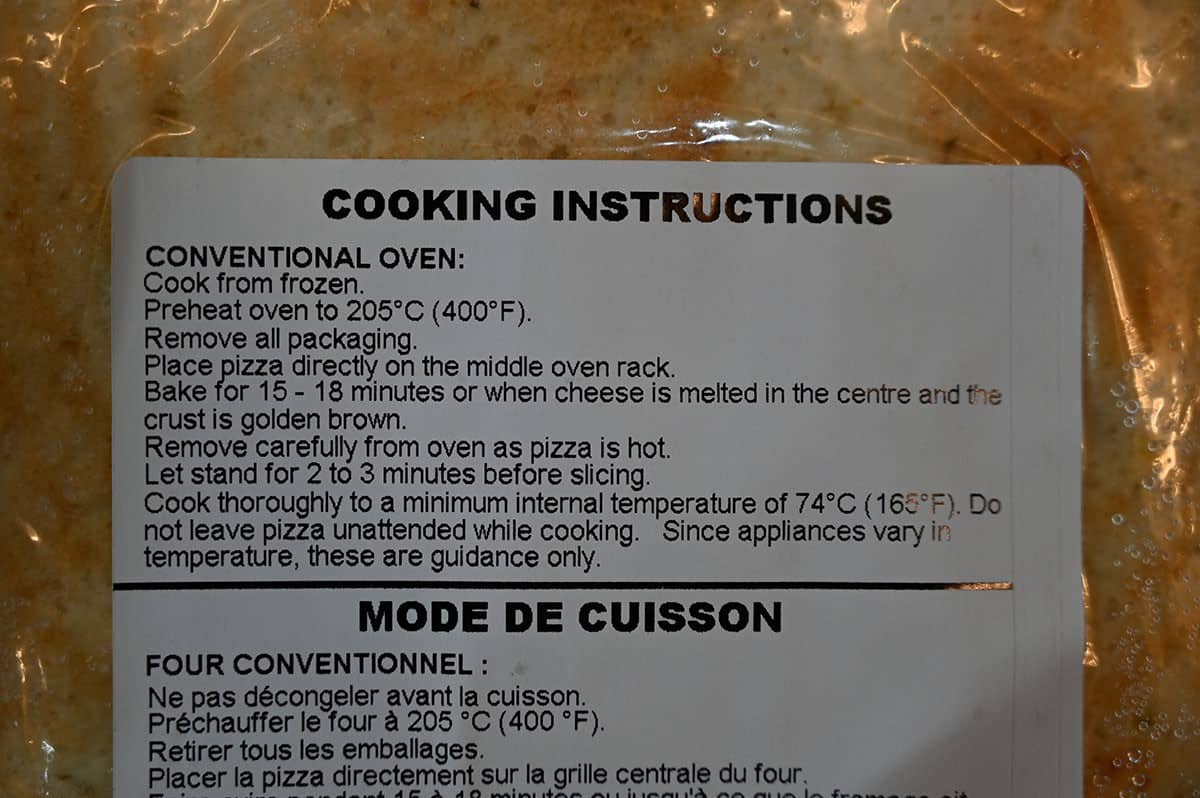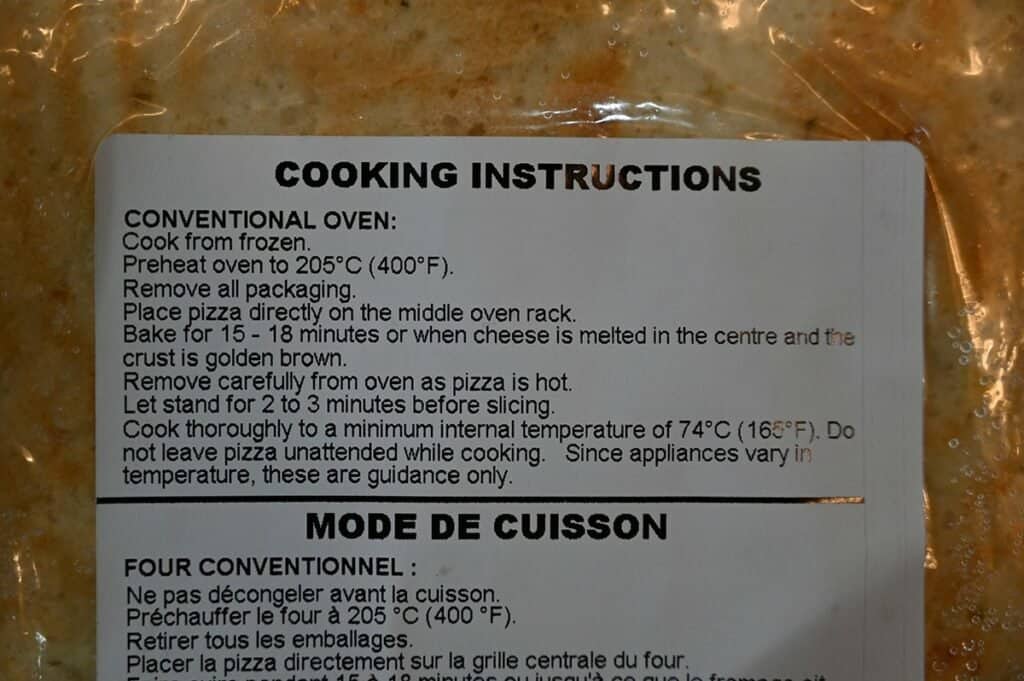 Convenience
Frozen pizza makes a quick and convenient meal that requires little work to prepare! To cook the pizza, preheat your oven to 400 degrees fahrenheit. Remove all the packing, place the pizza directly on the middle oven rack for 15 to 18 minutes.
Once the crust is golden brown and the cheese is nice and melted, let the pizza stand for about two minutes before slicing.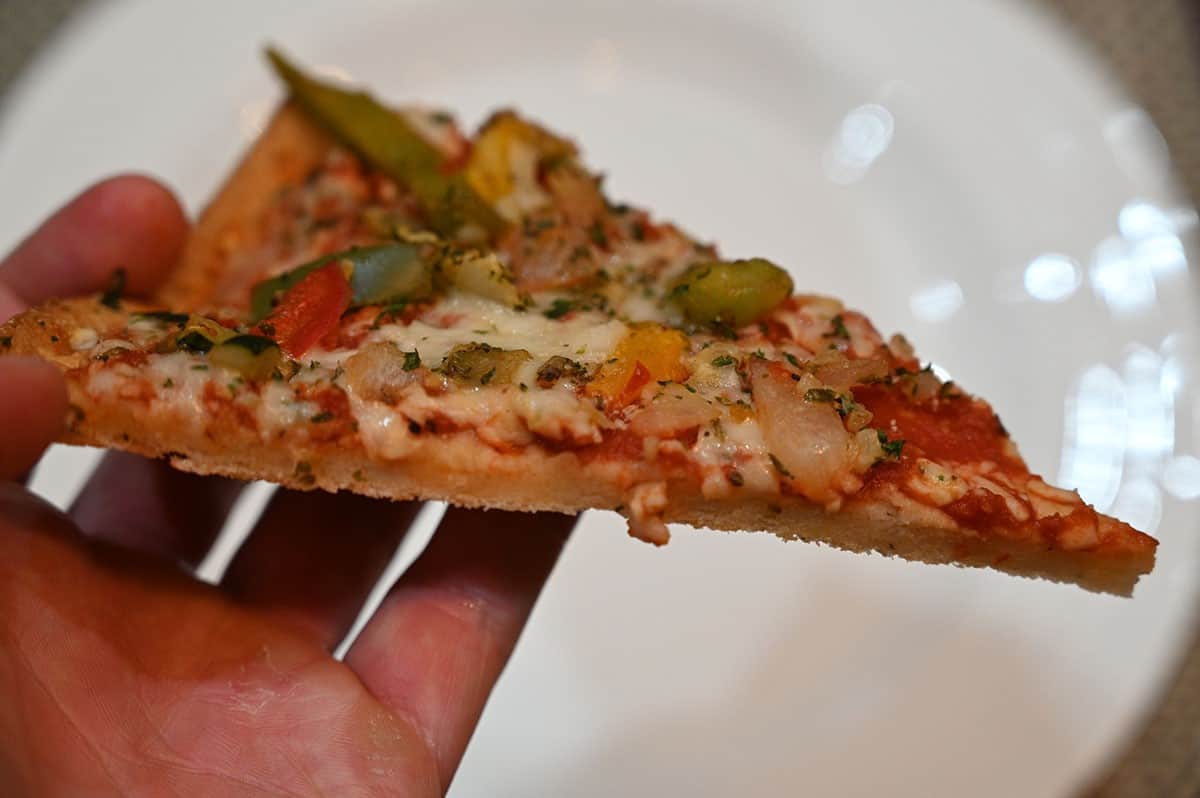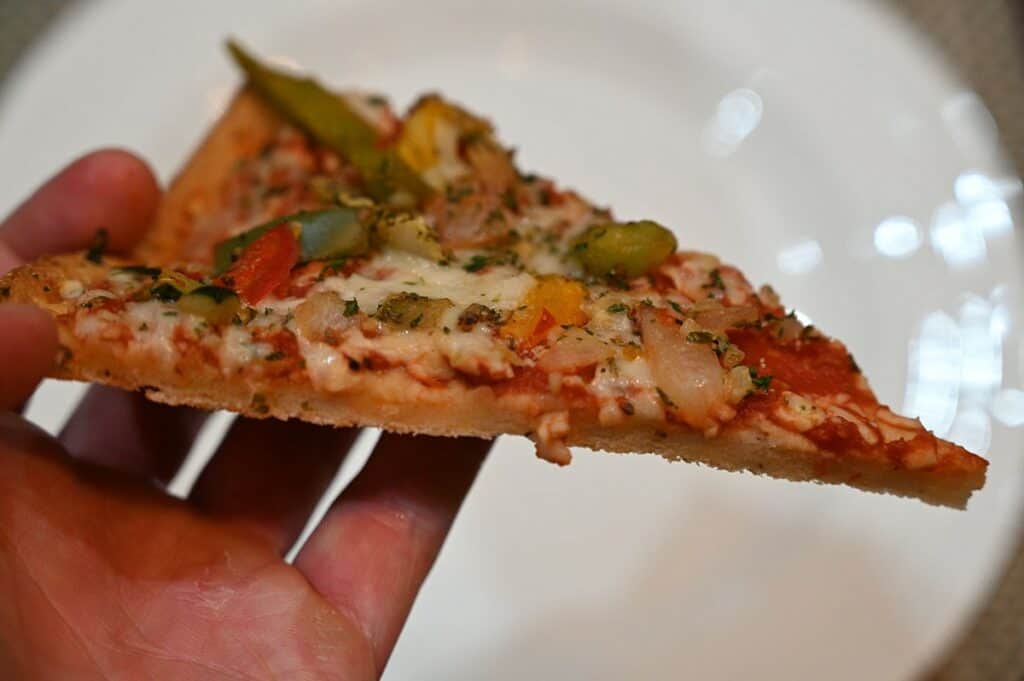 When I cook pizza directly on my oven rack I put a cookie sheet on the rack below. This is so any melting cheese or drippings don't get on the bottom of my oven. The pizza needs to be kept frozen and the best before date is about five months from the date we purchased it.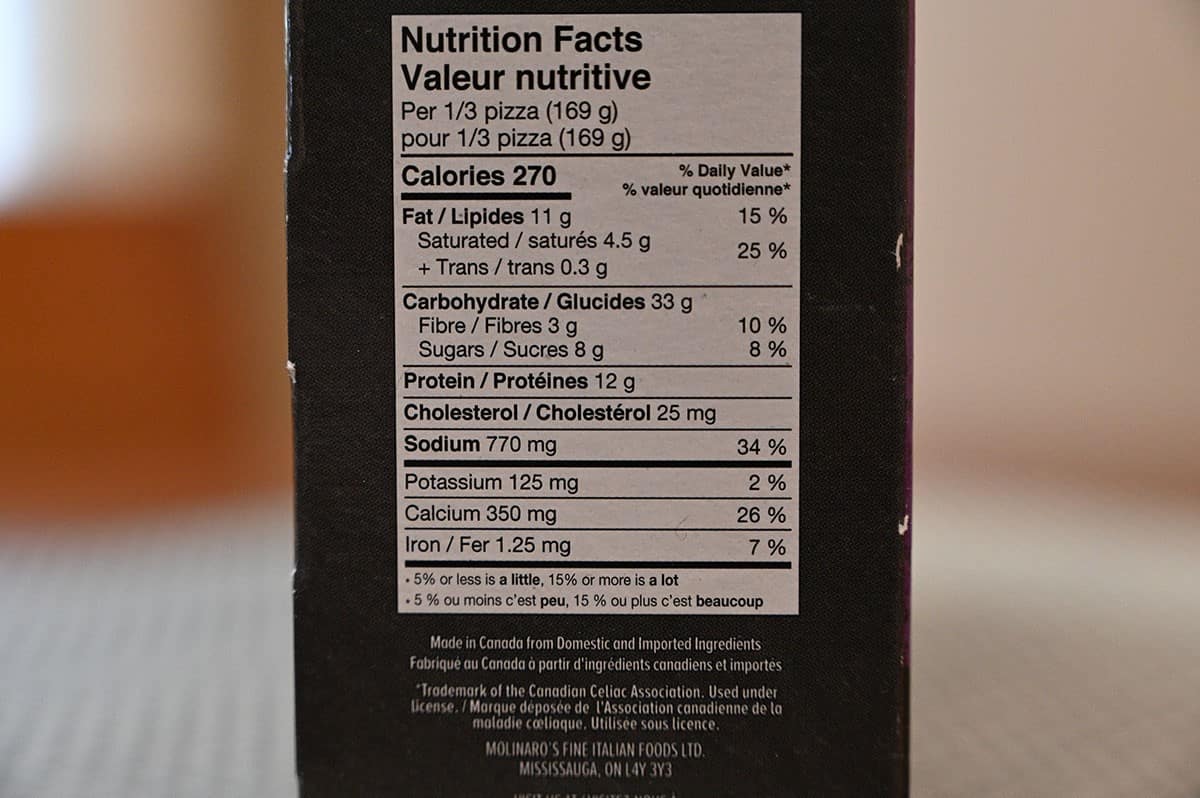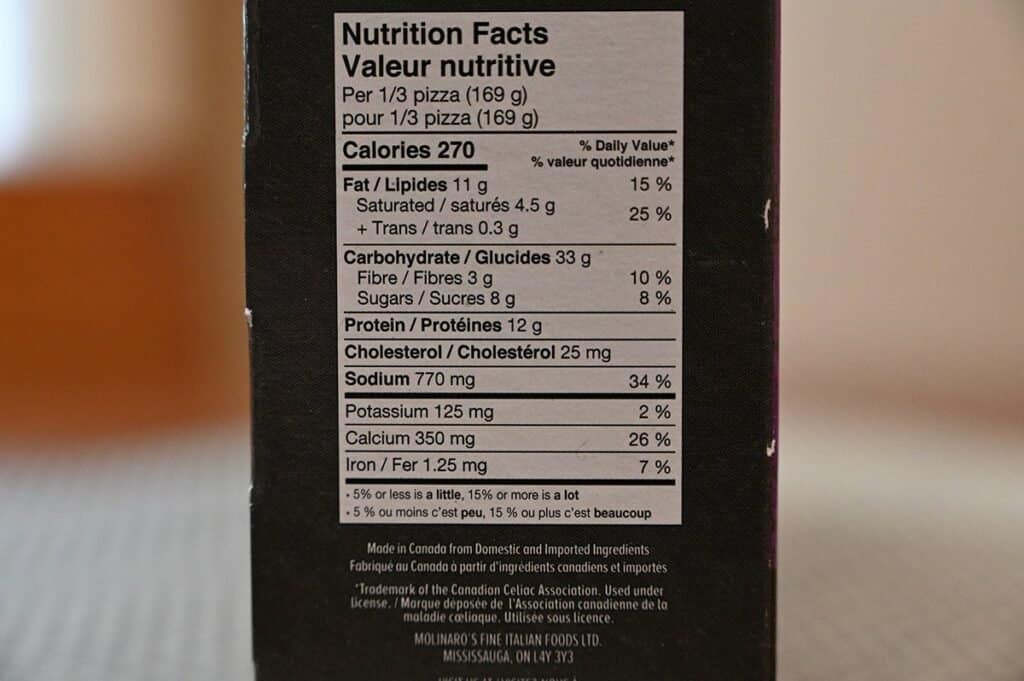 Nutrition
Calories
A third of one pizza is 270 calories, 11 grams of fat, 33 grams of carbohydrates, three grams of fibre, eight grams of sugar, 12 grams of protein and 770 mg of sodium.
I honestly could easily eat half of a pizza or more because it's thin and doesn't really have much protein. Protein is what keeps me full so I wish this had just a touch more protein as well as less sodium. The calories and fat seem pretty normal to me for a third of any kind of pizza.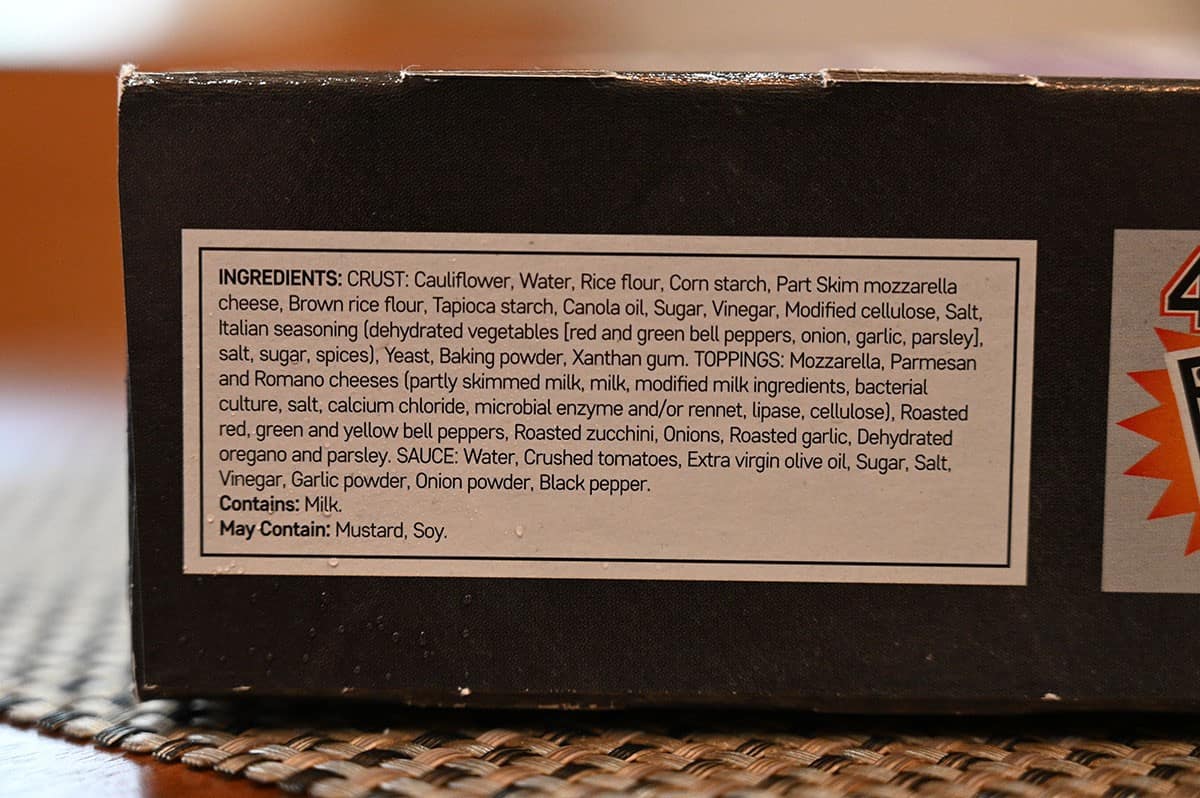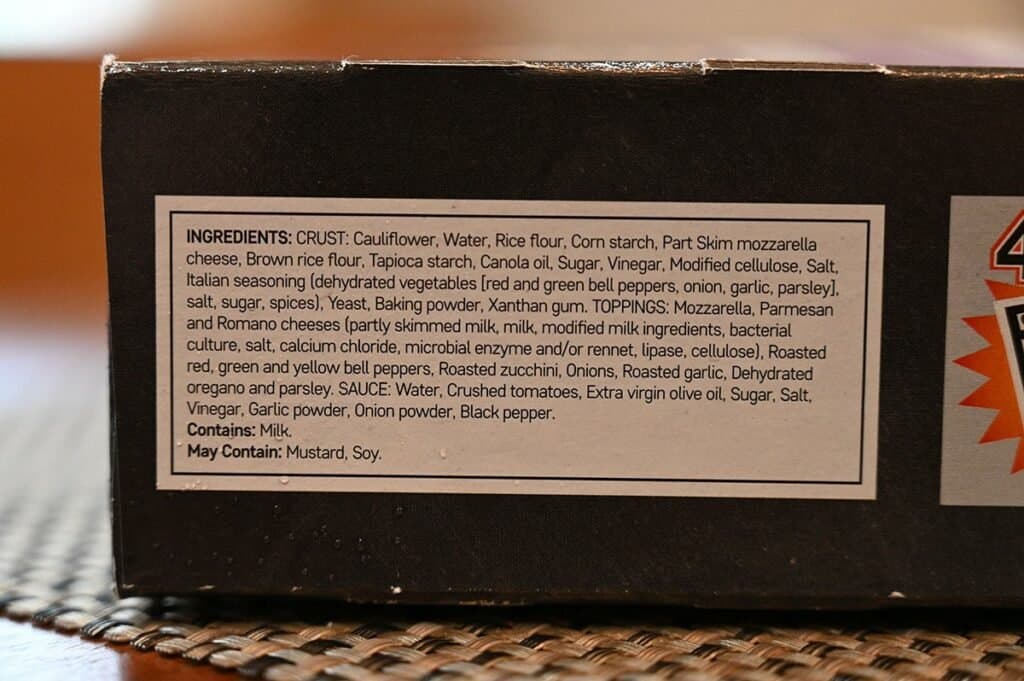 Ingredients
Add this to your Costco gluten-free shopping list! It's not dairy-free though. There are a lot of vegetables listed on the ingredients list but that doesn't necessarily make this totally healthy. I do appreciate that the sauce has extra virgin olive oil in it rather than an inflammatory oil.
Scoring
Taste: 6.5/10
Cost: 7/10
Convenience: 9/10
Nutrition: 6/10
Overall
Give it a try!
If you're looking to try a frozen gluten-free pizza you may want to pick up this one! I recommend adding additional ingredients like extra cheese, mushrooms, possibly some meat or just extra roasted vegetables!
Have you tried this gluten-free frozen pizza from Costco? What did you think?
---
Please note that this review was not paid for or sponsored by any third party. This product was purchased by Costcuisine for the purpose of producing this review. The opinions in this review are strictly those of Costcuisine. Costcuisine is not affiliated with Costco or any of its suppliers. In the event that Costcuisine receives compensation for a post from the manufacturer of a product or some other third party, the arrangement will be clearly disclosed (including where the manufacturer of a product provides Costcuisine with a free sample of the product).