With a combination of sunflower seeds, pumpkin seeds, and sweetened dried cranberries, this Costco naturSource Salad Topper seems like it would work well for adding taste and texture to a lot of different things. However, the fact that it uses soy sauce for seasoning makes it a bit tricky to pair with sweeter things like yogurt or baked goods. If you're a salad lover like me, this product may have you wondering: does it deliver on taste? Read on to find out!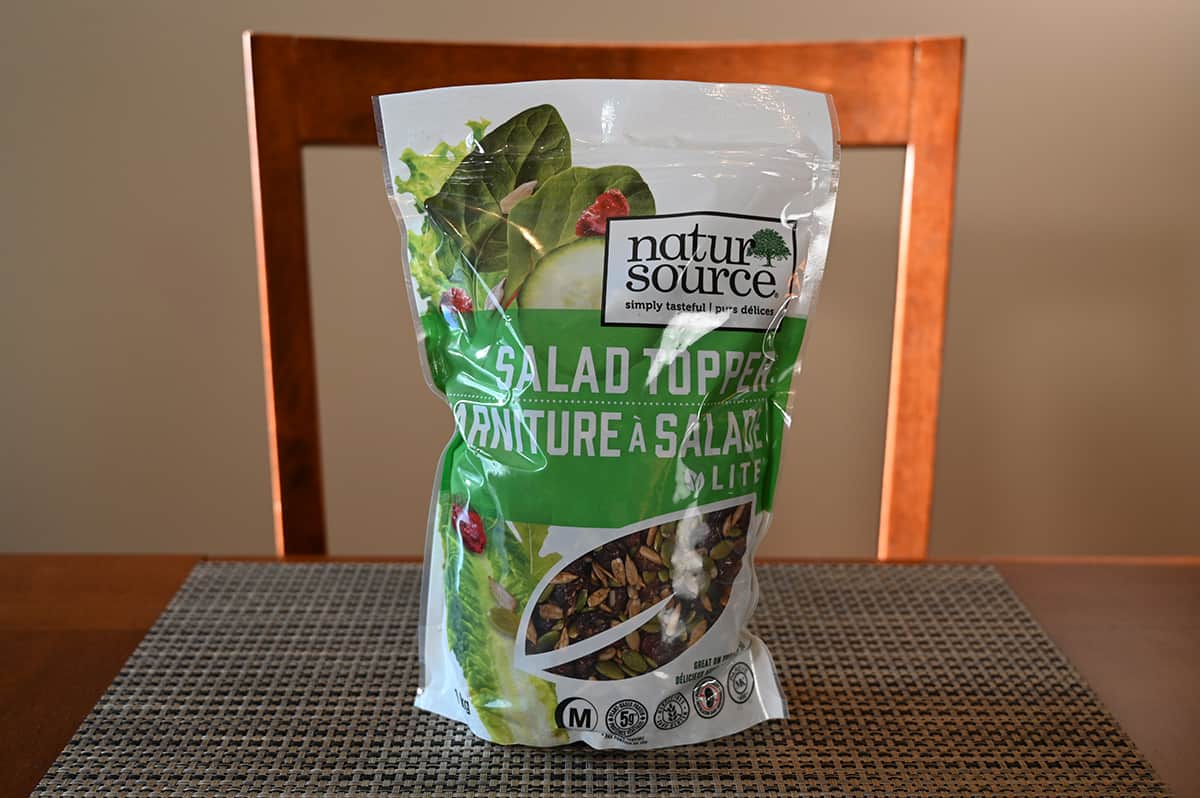 Sean and I eat a lot of salad, we eat salad for dinner two to three times a week and if it's not our main entree that night we're having it as a side! Despite all of our salad eating I've never bought this naturSource Salad Topper because most of the salad kits I buy already contain some kind of topping. I've recently decided to start making my own salads and stop buying the kits so I picked this up to try.
My favorite salads from Costco are the Stonemill Kitchens Homestyle Red Potato Salad, Taylor Farms Dill Pickle Salad, Kirkland Signature Quinoa Salad, Eat Smart Sweet Kale Salad Kit, Kirkland Signature Goat Cheese, Pecan and Mixed Greens Salad, Kirkland Signature Kale & Ancient Grains Salad and Kirkland Signature Caesar Salad.

Location in Store
This salad topper is located in the aisle that has olive oil, salad dressings and dried fruit. The item number is 387546.
Taste
This salad topper isn't anything special. It consists of sunflower seeds, pumpkin seeds and sweetened dried cranberries. I find the cranberries are very dry and tough despite tasting them from a freshly opened bag which is disappointing.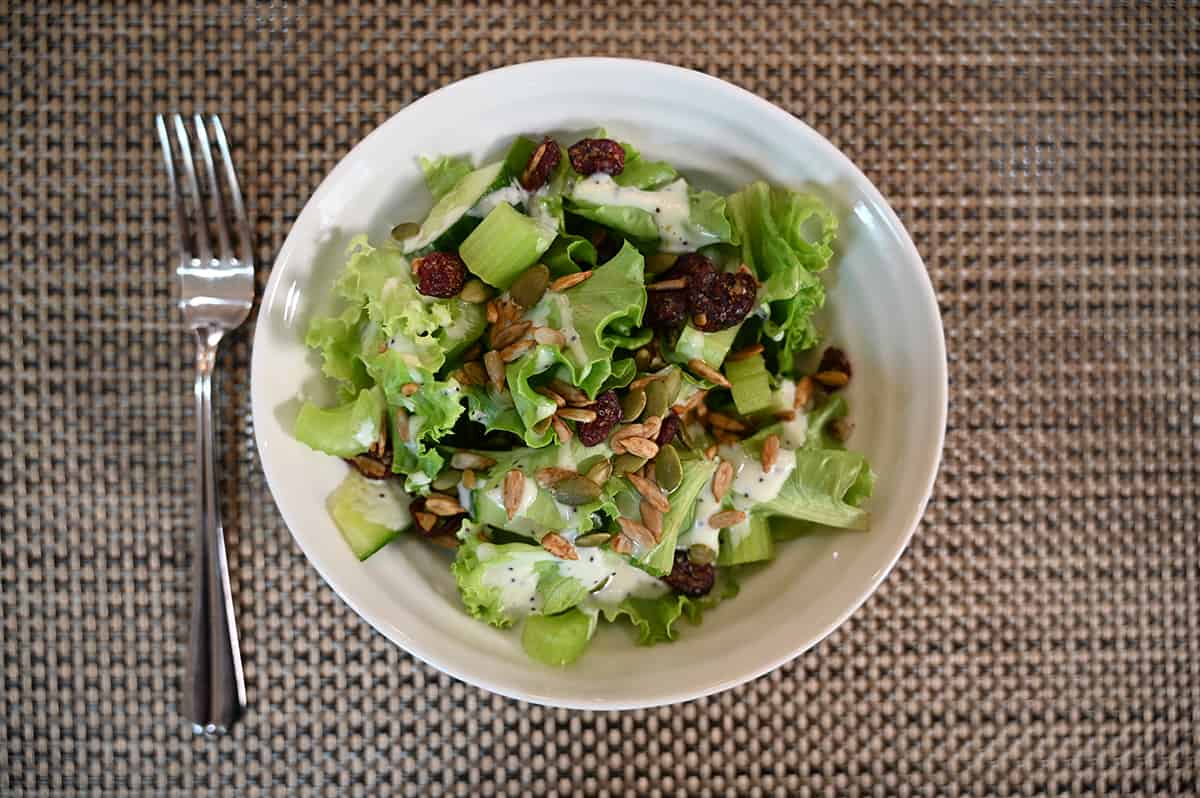 When I bought the bag I also thought it would be pretty versatile and I could use it on my yogurt or even some baking but there's a salty, umami taste coming from the soy sauce. I don't think the flavor will pair well with sweeter things like yogurt or muffins. I actually don't even really like the flavor of the soy, I think it's an odd choice for a salad topper that has sweet cranberries.
Cost
The one-kilogram bag costs $10.99 Canadian at Costco which isn't bad for such a large bag of pumpkin, sunflower and dried cranberries. It will last you forever!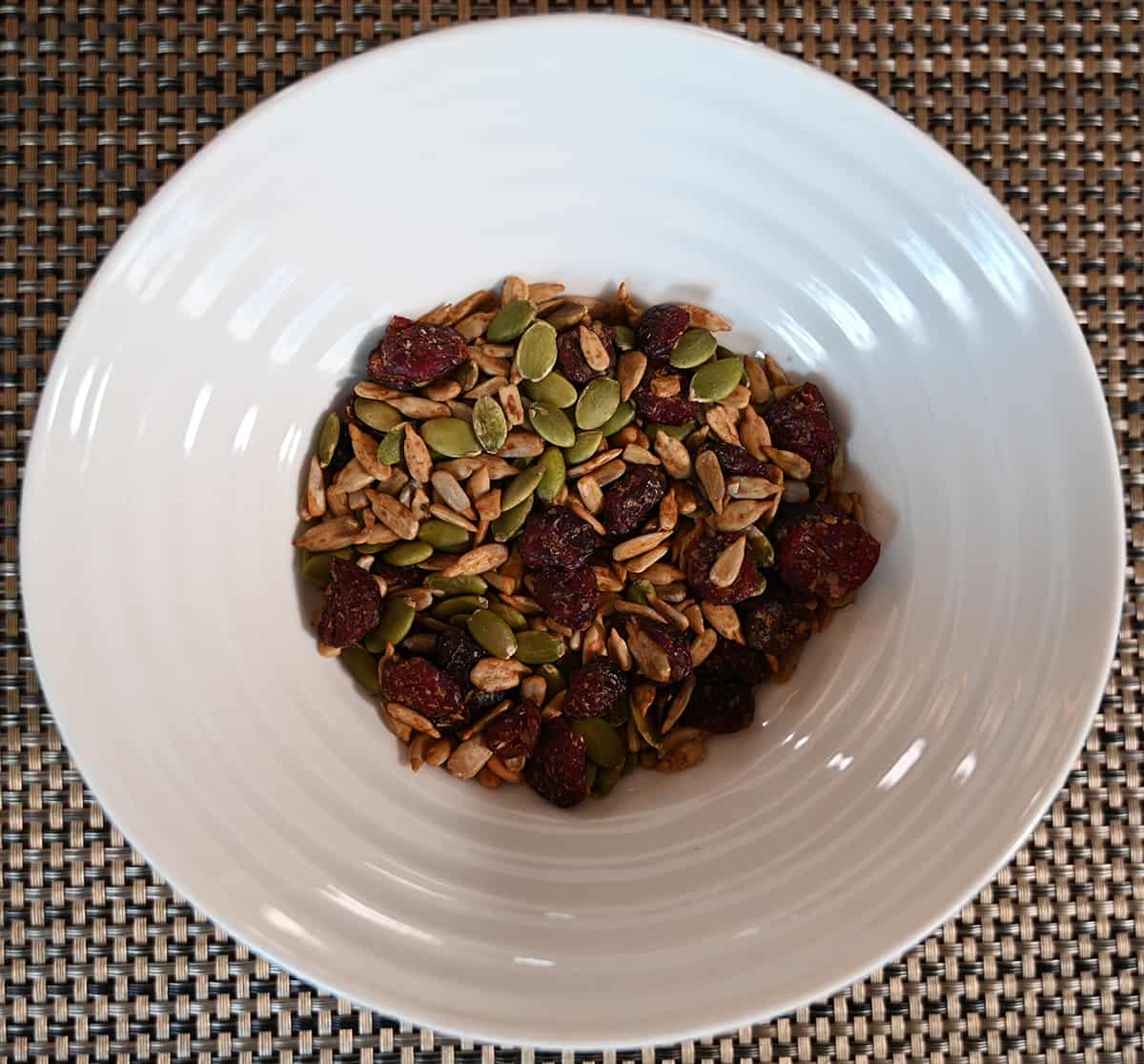 Convenience
The bag reseals which helps keep it fresh and the best-before date is seven months from when I purchased it. The bag recommends storing the bag in the refrigerator after opening or at least in a cool-dry place.

I recommend using this for more savory foods rather than sweet ones! Things like salads, stir fry, baked potatoes and roasted vegetables.
Nutrition
Calories
A 1/4 cup serving contains 140 calories, 10 grams of fat, 10 grams of carbohydrates, two grams of fibre, seven grams of sugar, five grams of protein and 70 milligrams of sodium.
I don't think a lot of people would be consuming this much topper, a quarter cup is probably what you'd use on an entire salad, if not less so. A person probably eats one to two tablespoons of the topper.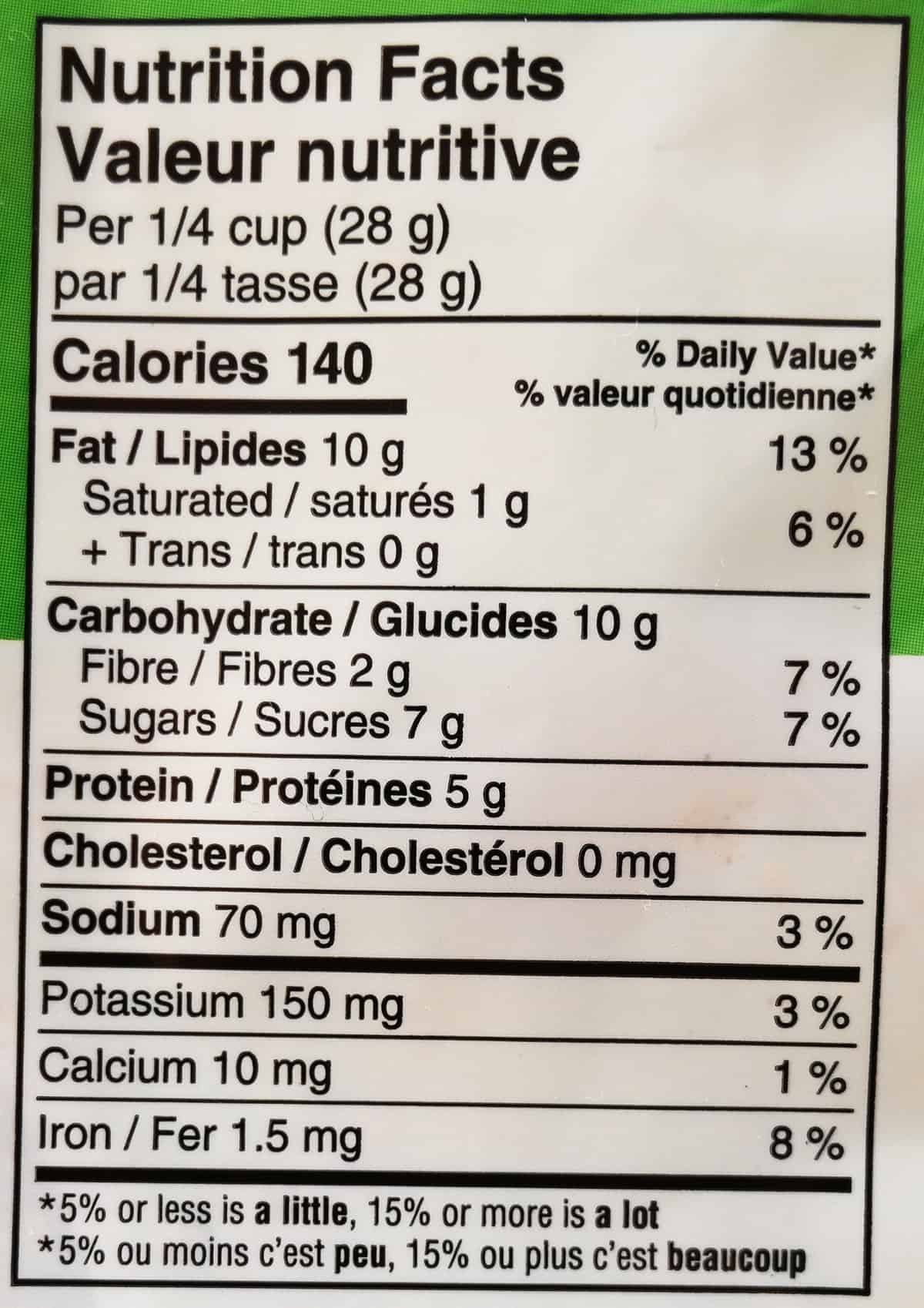 Ingredients
The ingredients list is short and sweet and the only unhealthy ingredient is a bit of sugar on the cranberries! Sunflower seeds and pumpkin seeds are both full of vitamins and healthy fats.
The topper contains soy and may contain tree nuts and sesame. It's gluten-free, dairy-free and vegan.

Scoring
Taste: 6/10
Cost: 7/10
Convenience: 10/10
Nutrition: 8.5/10
Overall
Walk on by!
I wanted to love this but I just can't see myself using up the entire one-kilogram bag. I wish they just salted the pumpkin and sunflower seeds instead of using soy sauce.
If you
If you've tried this salad topper, what did you think of it?
---
Please note that this review was not paid for or sponsored by any third party. This product was purchased by Costcuisine for the purpose of producing this review. The opinions in this review are strictly those of Costcuisine. Costcuisine is not affiliated with Costco or any of its suppliers. In the event that Costcuisine receives compensation for a post from the manufacturer of a product or some other third party, the arrangement will be clearly disclosed (including where the manufacturer of a product provides Costcuisine with a free sample of the product).