If you enjoy the Kirkland Signature Quinoa Salad from Costco but find it a bit lacking in flavor, this Kirkland Signature Kale & Ancient Grains Salad might be for you! It has a grain base that's similar to quinoa, but includes a much wider variety of tastes and textures in the form of dried fruits, kale, nuts and vegetables! Does it work, or is Costco experimenting with too many different ingredients at once?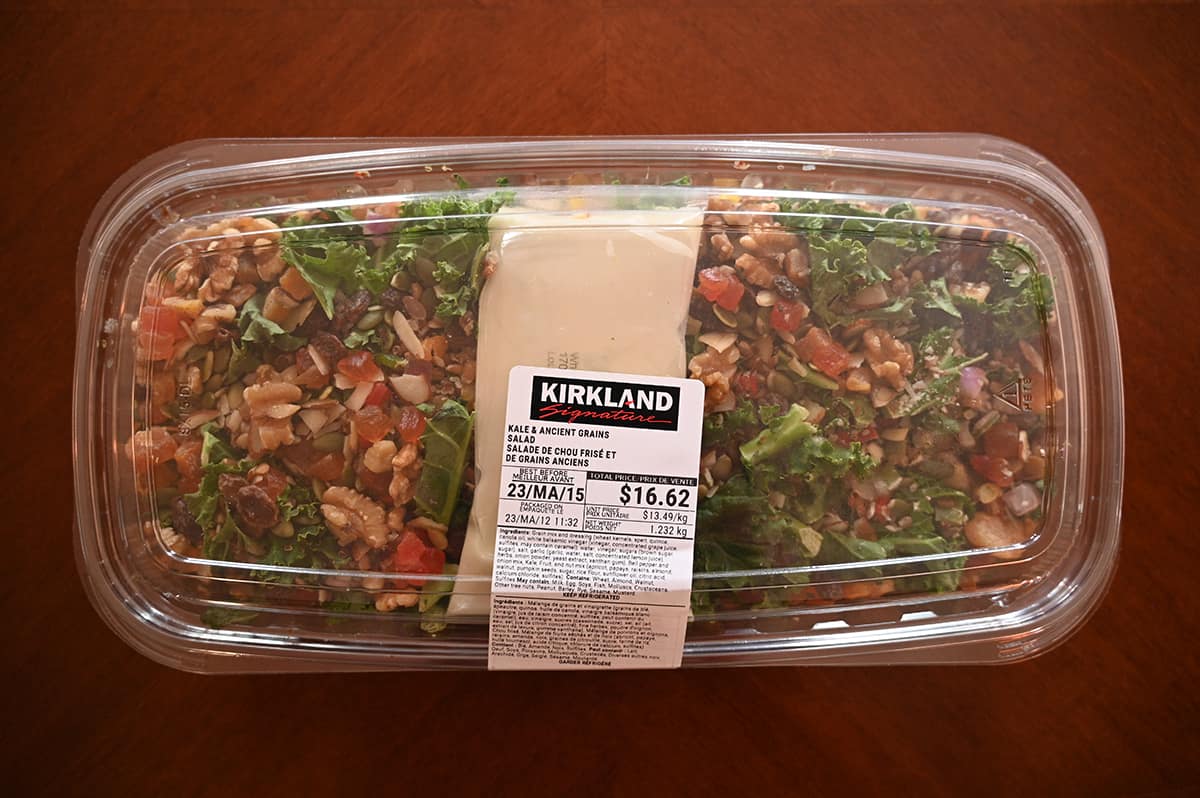 I love it when the Costco pre-made meal section comes out with a new salad! Years ago, they had the phenomenal Kirkland Signature Mediterranean Pasta Salad and I'm still sad that it disappeared and hasn't come back. I like the Kirkland Signature Quinoa Salad too, but I find it a bit lacking in the flavor department. This new Costco Kirkland Signature Kale & Ancient Grains Salad definitely looks appetizing – you can easily see that it's packed full of different textures and flavors!
Other salads from Costco that I love are the Taylor Farms Dill Pickle Salad, Eat Smart Sweet Kale Salad Kit, Kirkland Signature Goat Cheese, Pecan and Mixed Greens Salad, Stonemill Kitchens Homestyle Red Potato Salad and the Taylor Farms Baja Chopped Salad Kit.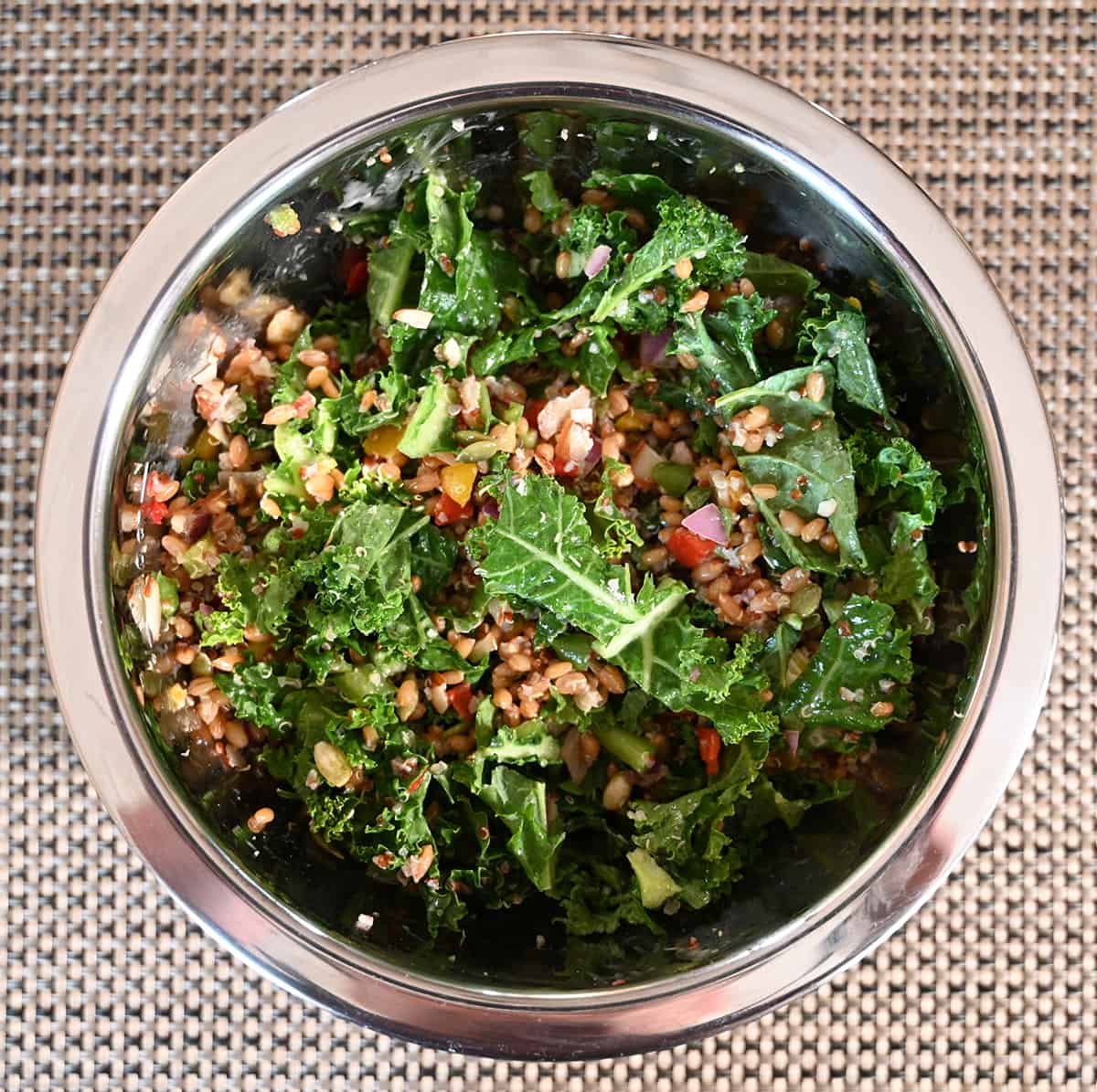 Location in Store
The salad is in the refrigerated meal section at Costco, near the Kirkland Signature Chicken Penne Alfredo and Kirkland Signature Shepherd's Pie. The item number is 29087.
Taste
The salad comes with a lot of dressing – probably close to double what you need. The dressing basically tastes like you would expect. It's got a nice tangy vinaigrette flavor with a bit of creaminess. The texture of the dressing is very thin so a little goes a long way.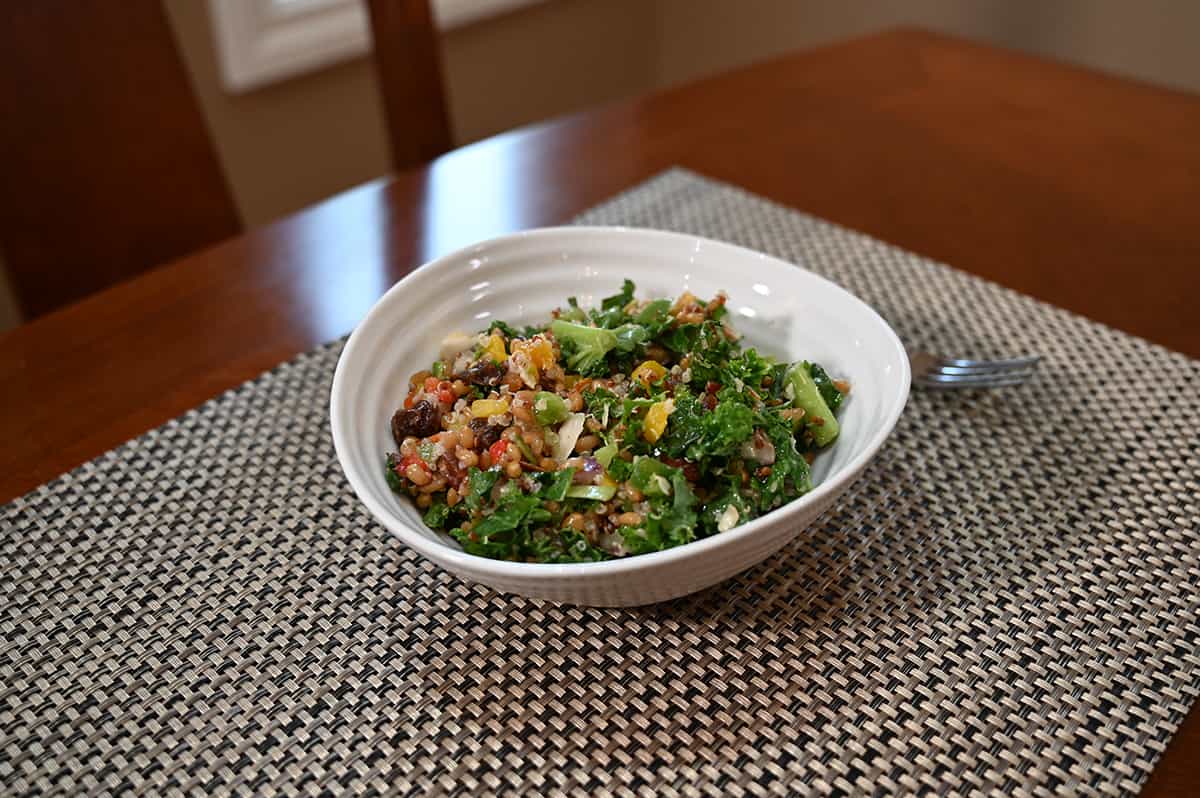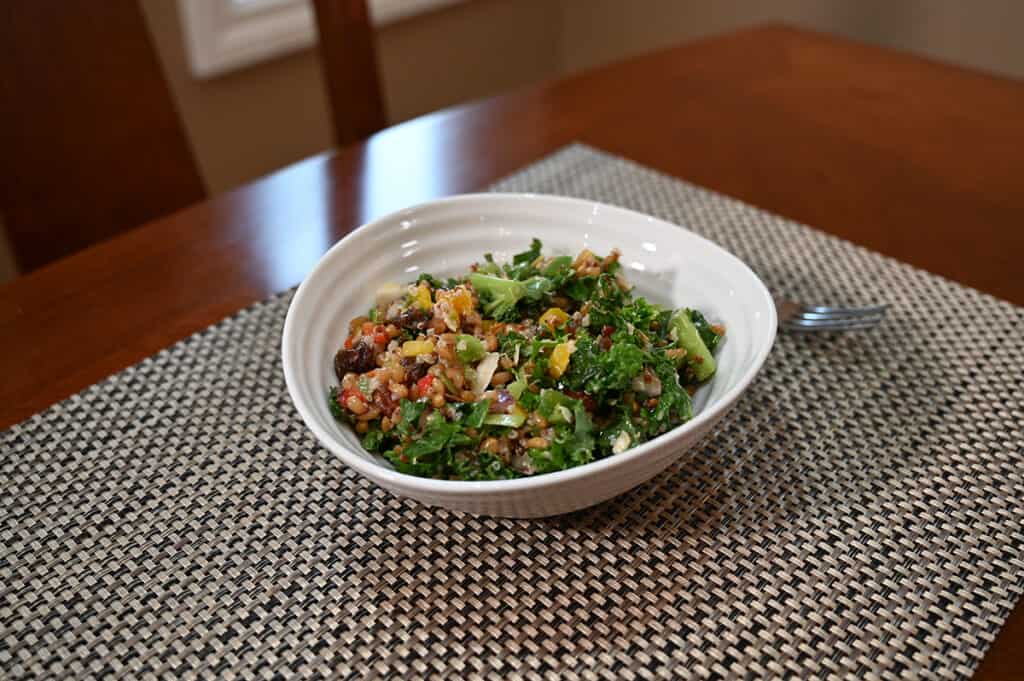 The salad itself is tasty and full of different flavors and textures. The kale and grain mix provide the base, but there are plenty of bell peppers, onions, dried fruit and nuts too. Everything goes together well.
I think the overall flavor of the salad is much more sweet than savory, I like adding sweet things to salads like fruit but I almost find this one too sweet. I think the dried fruit is a little much.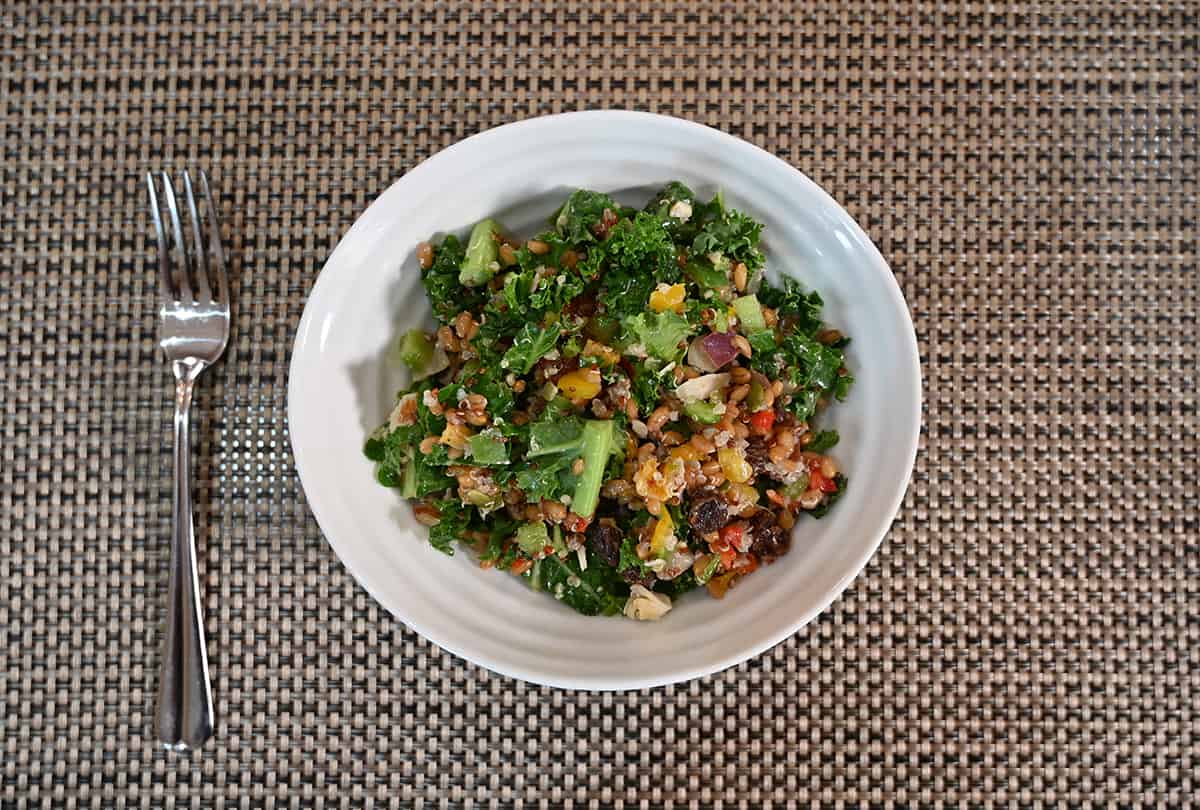 This isn't a light salad. The dried fruit, nuts and grains make it fairly heavy and filling. You could easily turn it into a meal by adding some meat and if you're having it as a side or appetizer, you might not want to have a lot!
Cost
The salad costs $13.49 Canadian per kilogram so the price is dependent on the weight of the salad tray. I paid $16.62 for my tray.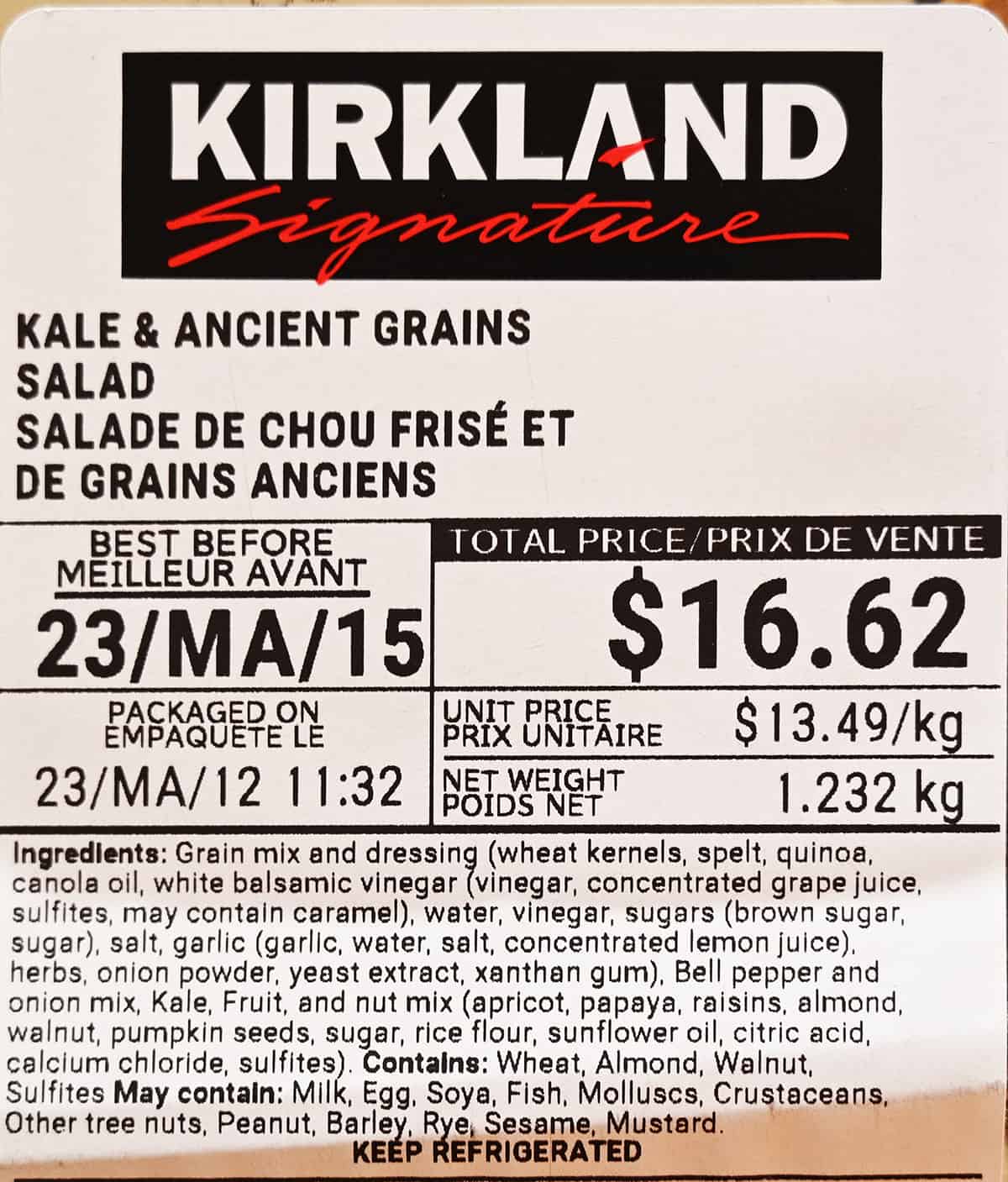 Convenience
The salad needs to be kept refrigerated and the best-before date is three days from the date it was packaged. I don't recommend pouring the whole packet of salad dressing on the salad, there's way too much and if you use the whole package you'll totally over-saturate your salad.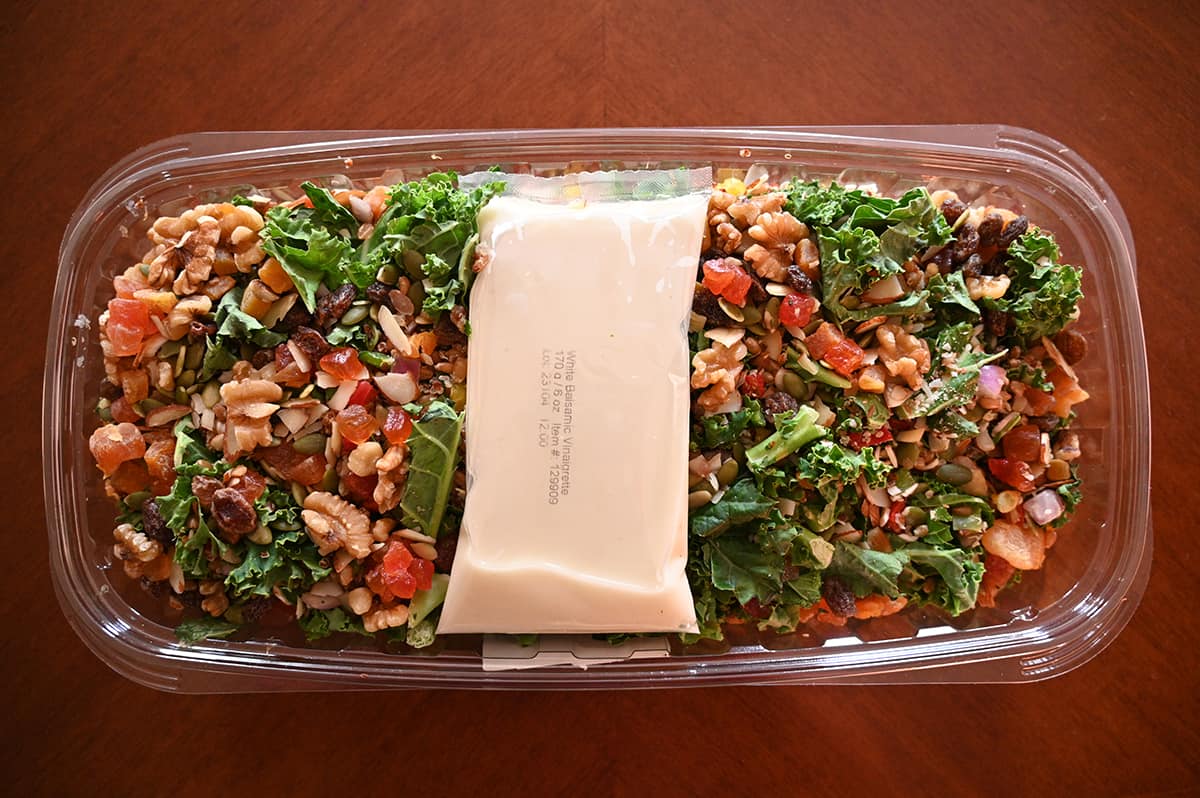 I think this salad will pair well with white meats like salmon and chicken but if you're a vegetarian it's definitely filling enough to have on its own as a meal.
Nutrition
Calories
1/12th of the tray contains 220 calories, 11 grams of fat, 27 grams of carbohydrates, four grams of fibre, nine grams of sugar, five grams of protein and 75 milligrams of sodium. I think a lot of people will likely eat more than 1/12th of the salad! The sodium is surprisingly quite low which is nice.
Ingredients
Something I find unfortunate is that the salad could be made gluten-free by using just quinoa instead of using spelt and wheat kernels. The ingredients list is pretty straightforward with nothing surprising.
Thr salad contains wheat, almonds, walnuts and sulfites. It may contain milk, egg, soya, fish, molluscs, crustaceans, other tree nuts, barley, rye, sesame and mustard.

Scoring
Taste: 7.5/10
Cost: 7/10
Convenience: 10/10
Nutrition: 5/10
Overall
Give it a try!
Overall I like this salad. I might buy it a few times a year to serve at family barbecues and things like that.
Have you tried this pre-made salad? What did you think of it?
---
Please note that this review was not paid for or sponsored by any third party. This product was purchased by Costcuisine for the purpose of producing this review. The opinions in this review are strictly those of Costcuisine. Costcuisine is not affiliated with Costco or any of its suppliers. In the event that Costcuisine receives compensation for a post from the manufacturer of a product or some other third party, the arrangement will be clearly disclosed (including where the manufacturer of a product provides Costcuisine with a free sample of the product).