Are you a fan of jalapeno poppers but you're looking to switch up your appetizer game? The Costco Partini Bacon Wrapped Jalapenos are similar to a jalapeno popper in some ways but are also vastly different!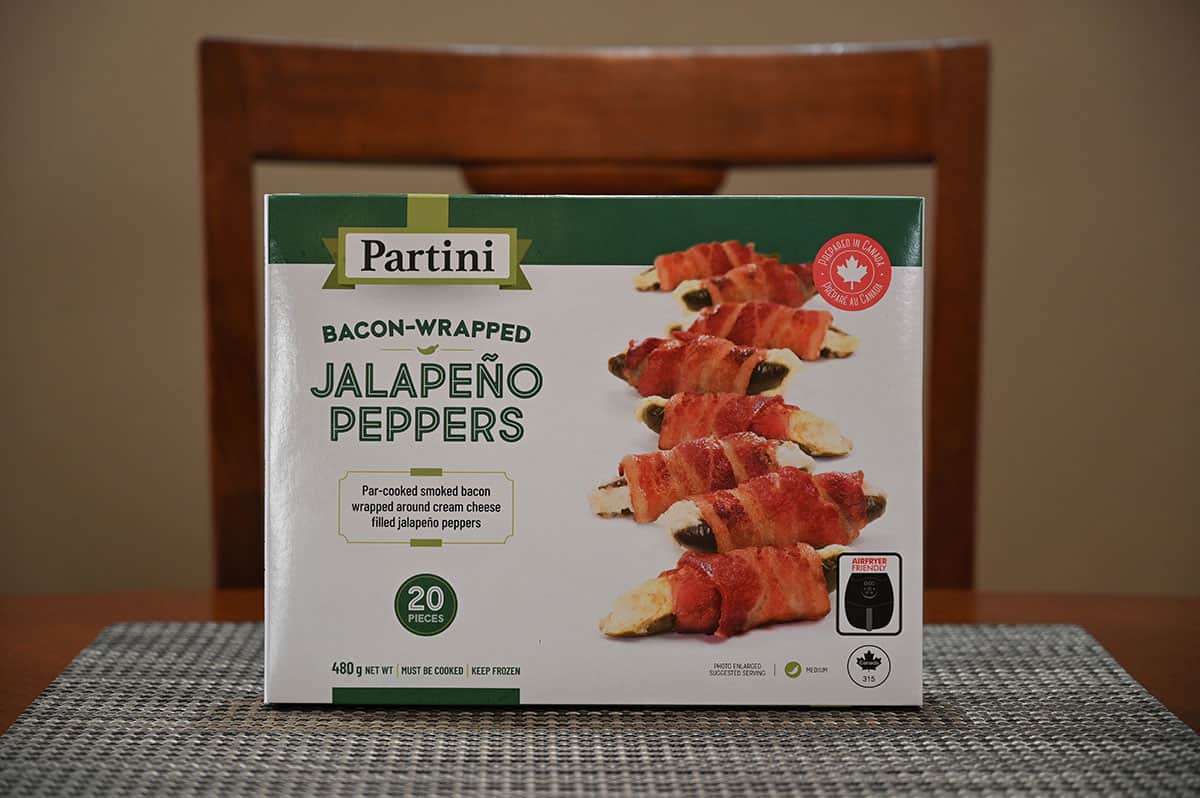 I love trying all the various appetizers from Costco and as soon as I see a new one I get excited to buy and review it. The Partini Bacon Wrapped Jalapenos from Costco are something I haven't seen previously so I bought them to try and review.
I've previously reviewed The Original Poppers Stuffed Jalapenos from Costco. Some other Costco appetizers I enjoy are the Minh Pork Egg Rolls, Kirkland Signature Tempura Shrimp, Kirkland Signature Seasoned Chicken Wings, Hampton House Dry Garlic Ribs, Pinty's Buffalo Chicken Flings, Synear Soup Dumplings and the TGI Fridays Loaded Potato Skin.
Location in Store
You can find these in the freezer section at Costco. The item number is 1446652.
Taste
I'll cut to the chase, I find these have way too much cream cheese and not enough bacon. Eating these is basically like eating a big spoonful of cream cheese with a tiny piece of bacon in half of a jalapeno. They're not breaded and deep-fried like jalapeno poppers.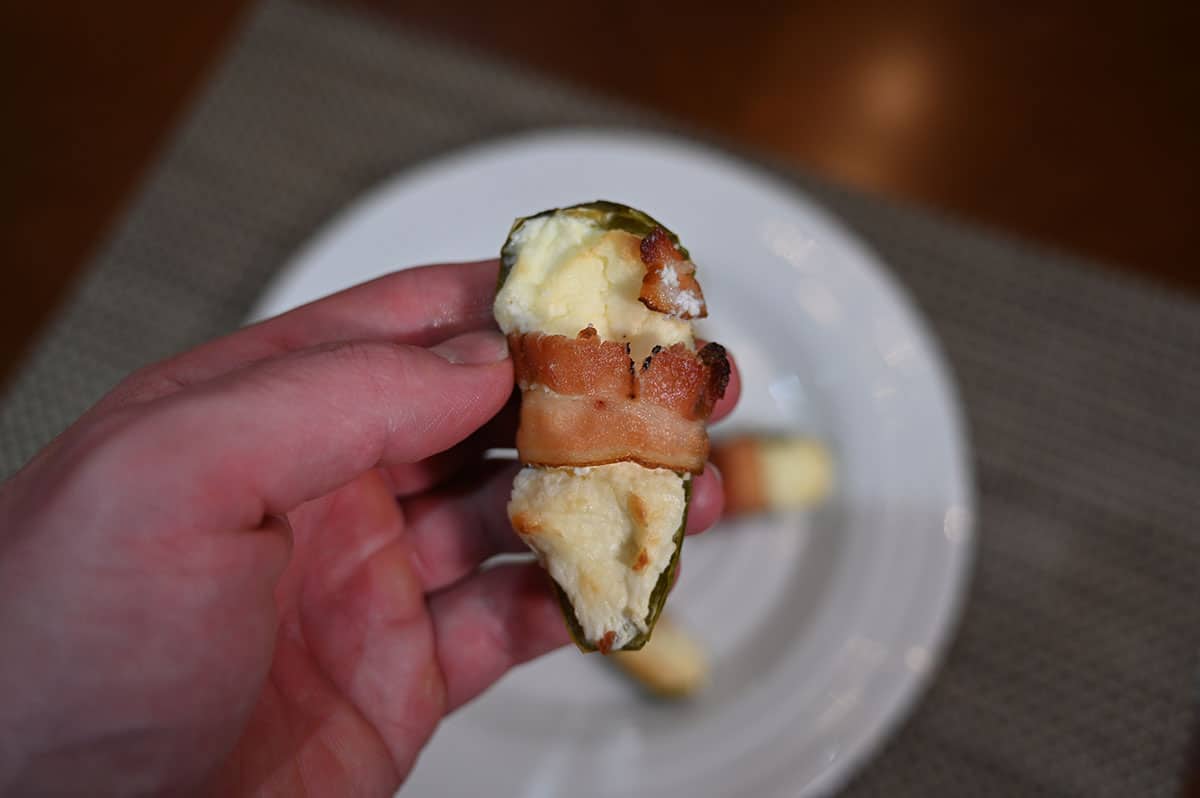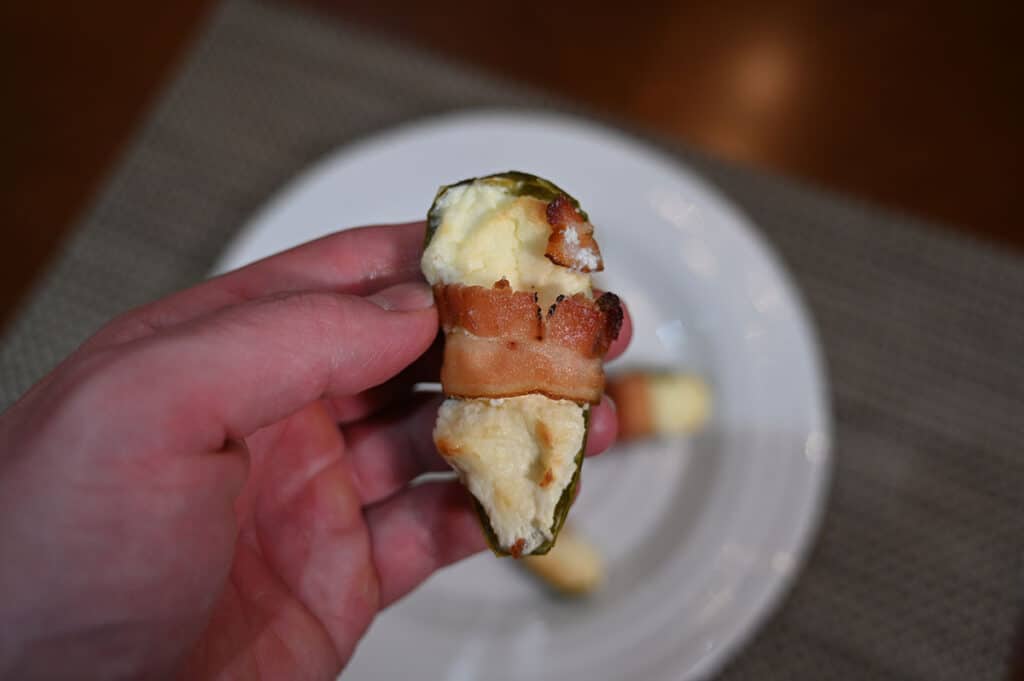 In terms of heat, the Costco Partini Bacon Wrapped Jalapenos aren't very spicy at all and any heat they do have is offset by the cream cheese. The jalapenos themselves aren't soggy like I thought they might be, they're decently firm.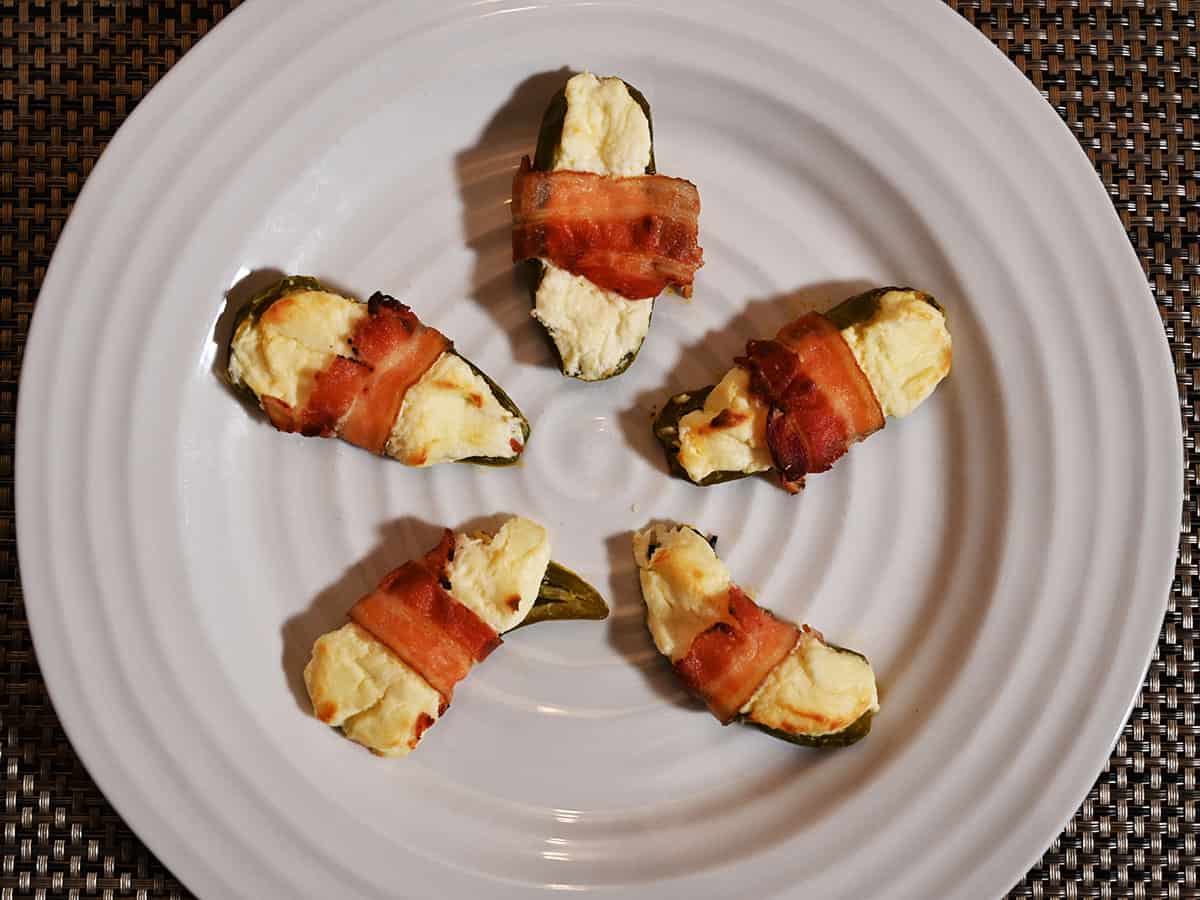 There's not enough bacon and the bacon that is wrapped around the jalapenos and cream cheese doesn't get very crispy. I'd prefer a bit more bacon! These aren't bad, they're just not amazing and I think I could make a better version at home pretty easily.
Cost
A box of 20 bacon-wrapped jalapenos costs $14.99 Canadian. I think these are overpriced, they don't have much bacon and I can replicate these at home pretty easily.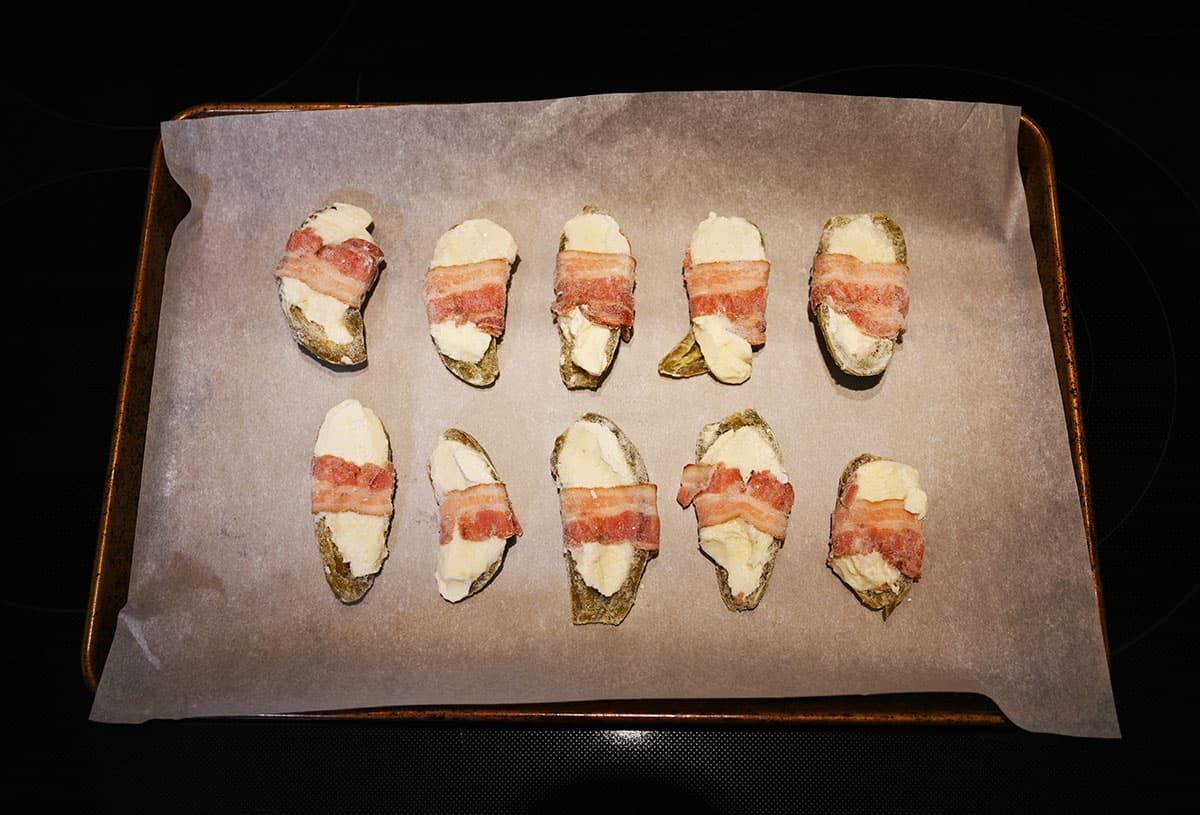 Convenience
There are oven and barbecue method cooking instructions. We cooked our jalapenos in the oven and they turned out fine. To cook in the oven bake them at 450 degrees Fahrenheit on a parchment-lined baking sheet for 14 to 16 minutes.

These are great as a game-day snack or party appetizer! The jalapeno peppers need to be kept frozen and the best-before date is almost a year from when I purchased them. I can't see kids loving these but I may be mistaken.
Nutrition
Calories
Four bacon-wrapped jalapenos are 220 calories, 18 grams of fat, six grams of carbohydrates, one gram of fibre, two grams of sugar, eight grams of protein and 540 milligrams of sodium.
That's quite a bit of fat and the reason they're so high in fat is the cream cheese and bacon. Unfortunately, these aren't low in sodium either.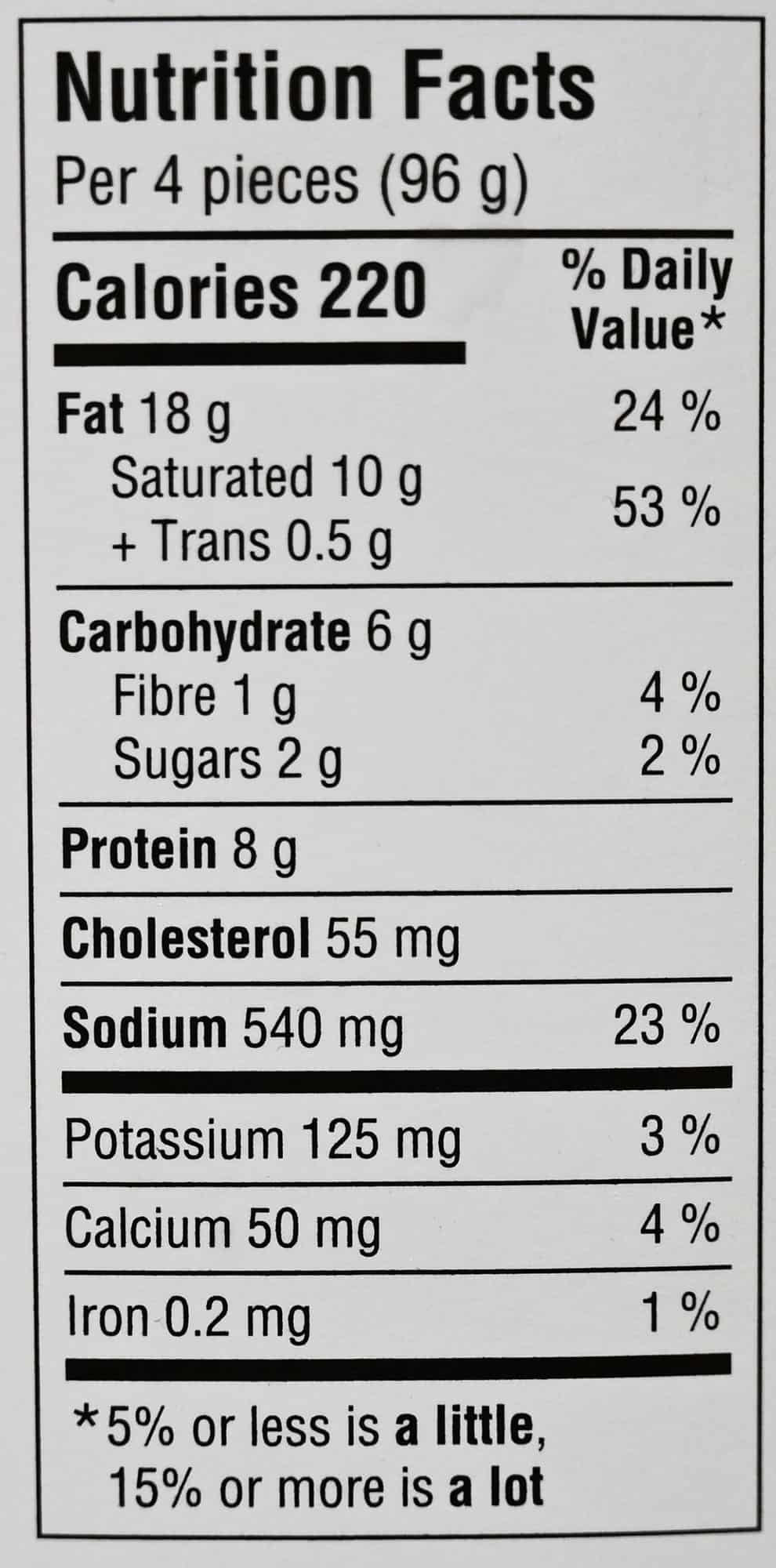 Ingredients
The ingredients list is very basic and exactly what I expect to see! Jalapeno peppers, cream cheese, and bacon. Having only a few ingredients confirms to me that I can easily make these at home.

Scoring
Taste: 6/10
Cost: 5/10
Convenience: 9/10
Nutrition: 1/10
Overall
Walk on by!
I prefer the Costco The Original Poppers – Stuffed Jalapenos over these. As I said, I can easily make these at home and my own version would have way less cream cheese and a decent-sized piece of bacon.
Have you tried these? What did you think?
---
Please note that this review was not paid for or sponsored by any third party. This product was purchased by Costcuisine for the purpose of producing this review. The opinions in this review are strictly those of Costcuisine. Costcuisine is not affiliated with Costco or any of its suppliers. In the event that Costcuisine receives compensation for a post from the manufacturer of a product or some other third party, the arrangement will be clearly disclosed (including where the manufacturer of a product provides Costcuisine with a free sample of the product).