The freezer aisle at Costco is loaded with a variety of wing options and I surprisingly haven't reviewed any on the blog until now! The Pinty's Crispy Chicken Wings are fully cooked, pub style and come with three sauces and are already seasoned! How do these Pinty's wings from Costco compare to restaurant chicken wings?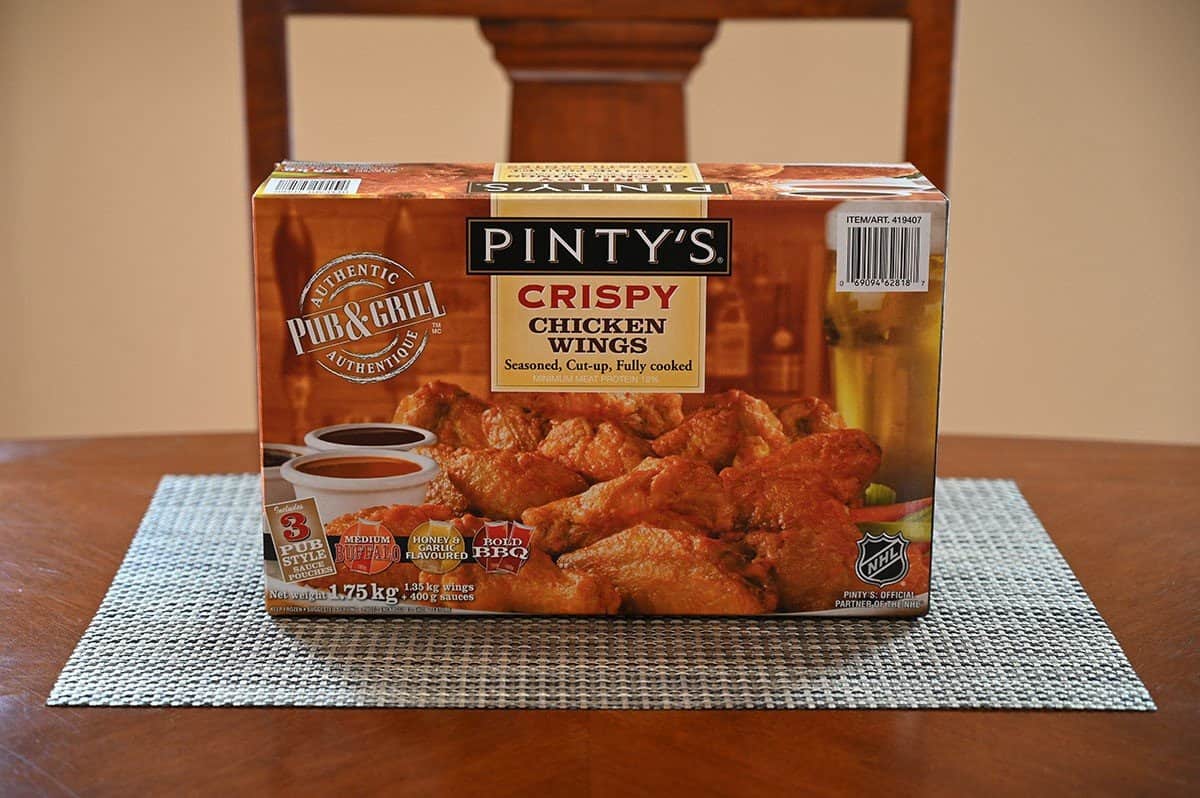 I've reviewed a ton of different foods from Costco on the blog but this is my first wing review! I like wings but I usually only have them in a restaurant and haven't had them recently so I'm actually quite excited to be trying these Costco Pinty's Crispy Chicken Wings.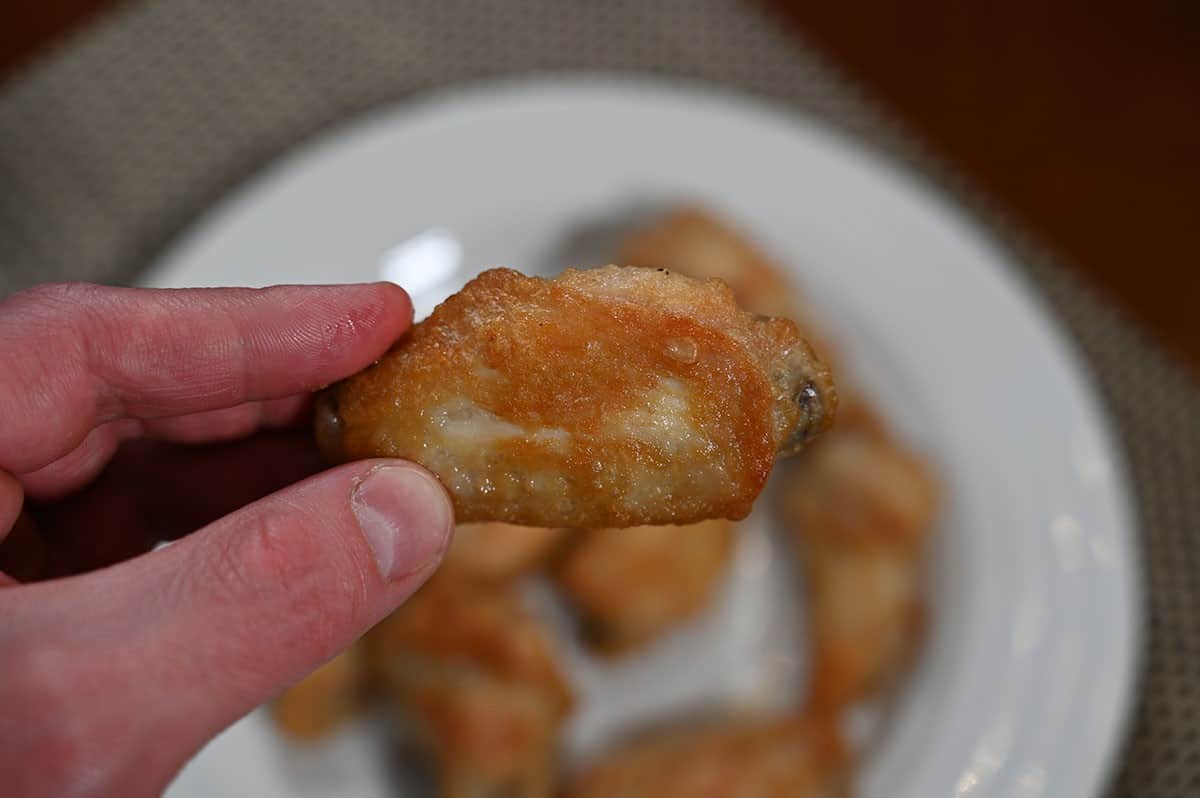 Other chicken products I've reviewed from Costco are the Costco Hampton House Popcorn Chicken, Costco Pinty's Oven Roasted Chicken Breasts, Costco Pinty's Buffalo Chicken Flings, Costco Kirkland Signature Chicken Burger Meal Kit, Costco Hampton House Chicken Strips and the Costco Kirkland Signature Chicken Pot Pie.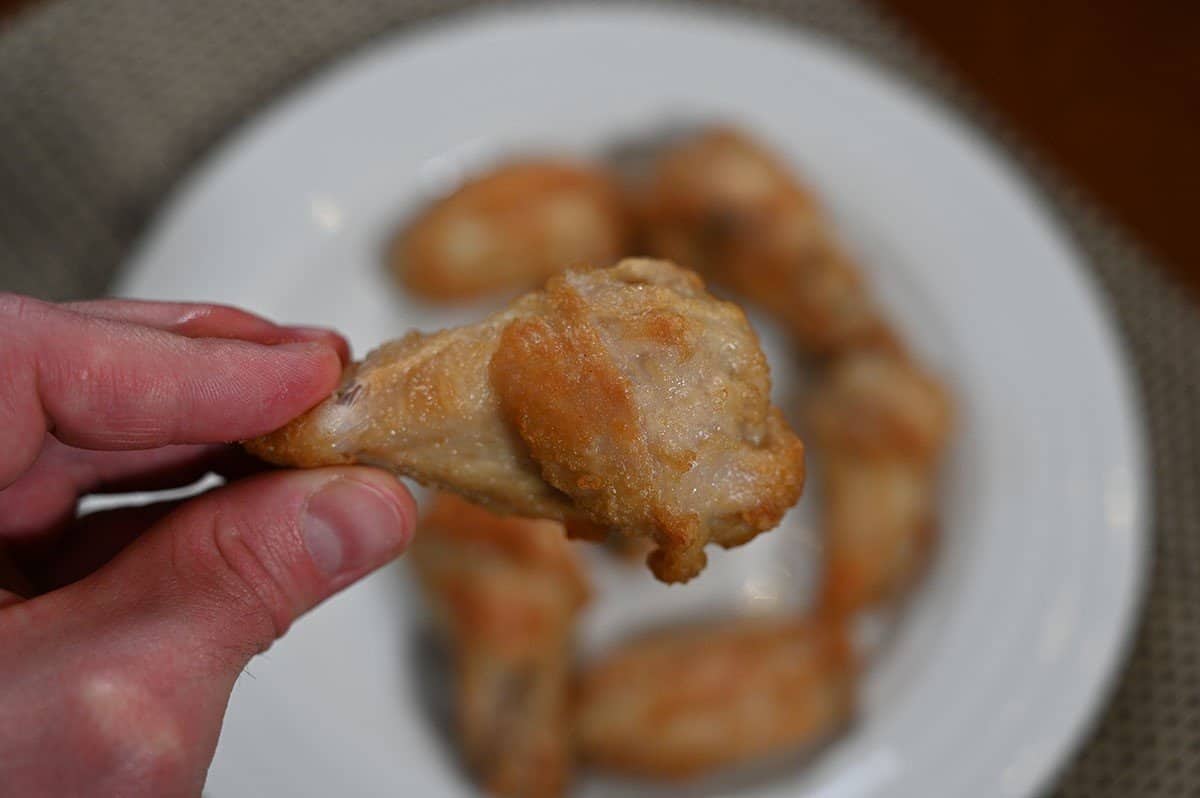 Location in Store
You can find these wings in the freezer aisle at Costco near the other wings and frozen appetizers. The item number is 419407.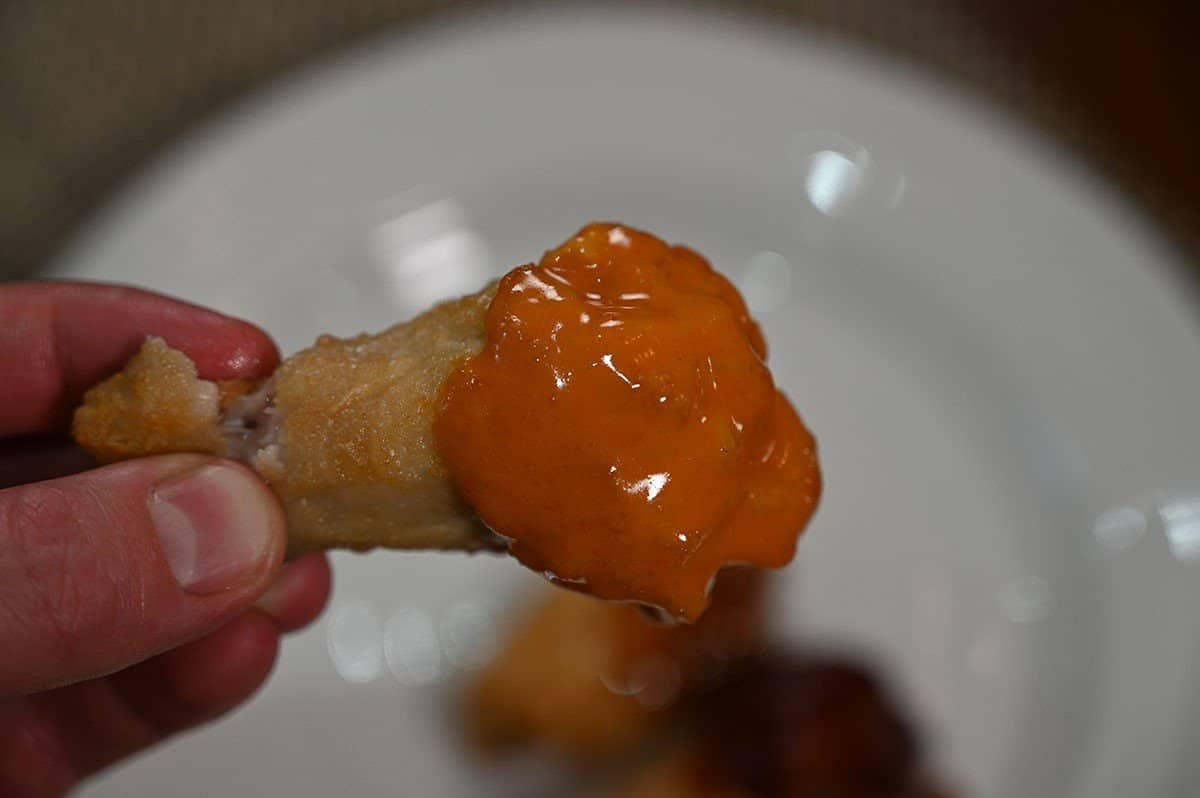 Taste
The wings are quite a bit larger than the ones I've had at restaurants. One thing I don't like about wings is that the quality of meat isn't the greatest and I find the Pinty's Crispy Wings have lots and lots of fat as well as gristle. Despite this, I enjoy the overall flavor of the crispy wings!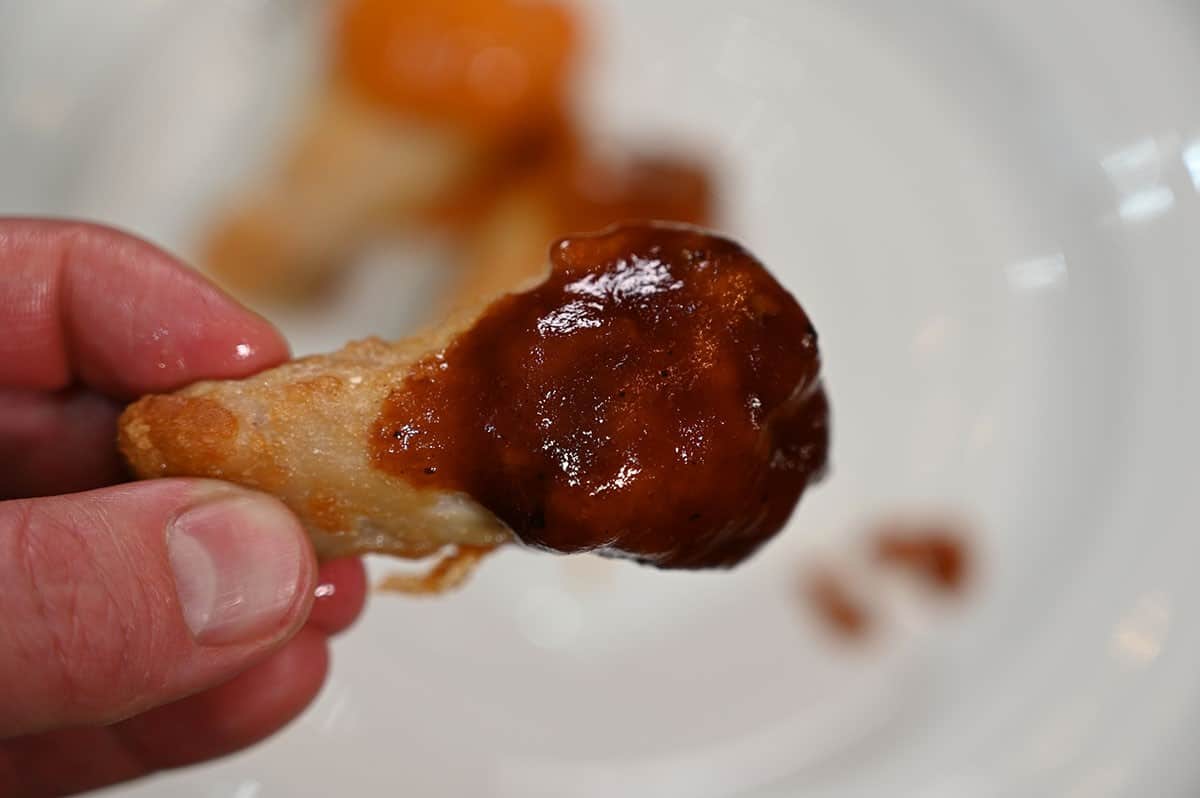 There's a lot of grease on the cookie sheet after baking the wings, they also taste nice and greasy. The batter on the wings isn't overly seasoned and there's a thick coating of batter on each piece of chicken. Without sauce, the wings don't have a ton of flavor but all of the sauces are really good.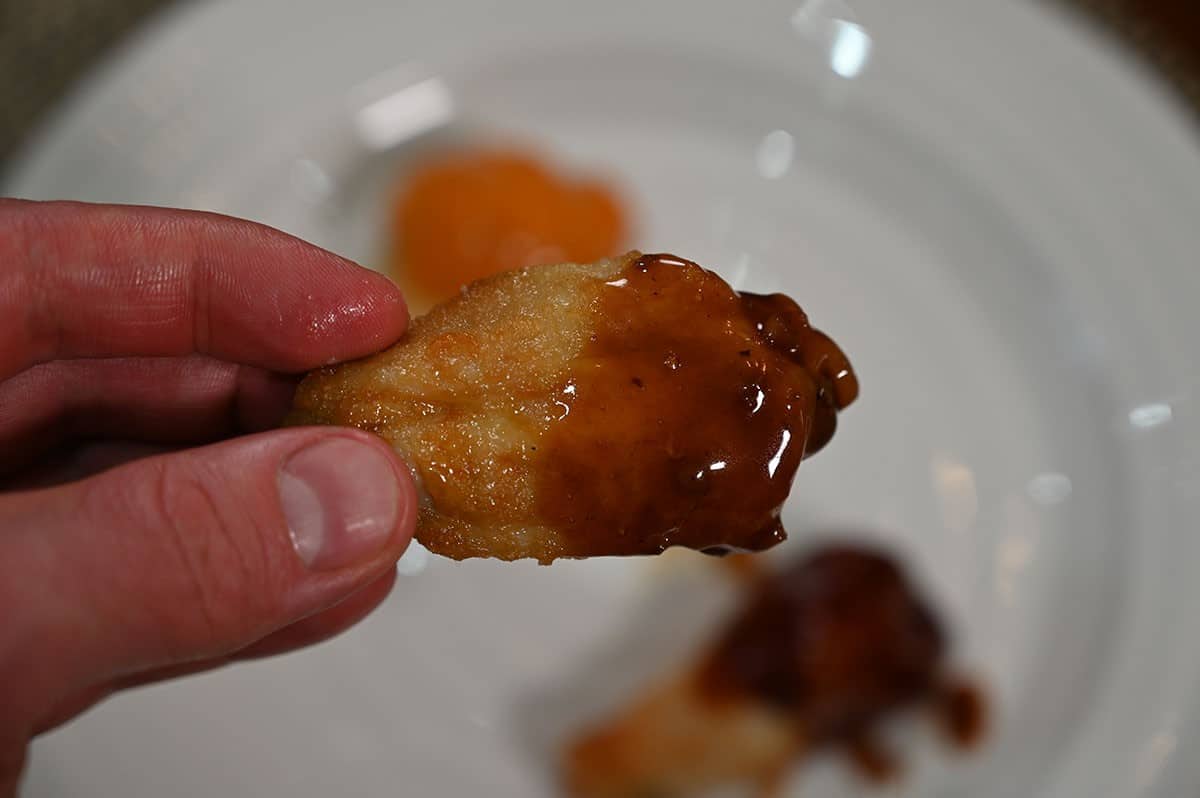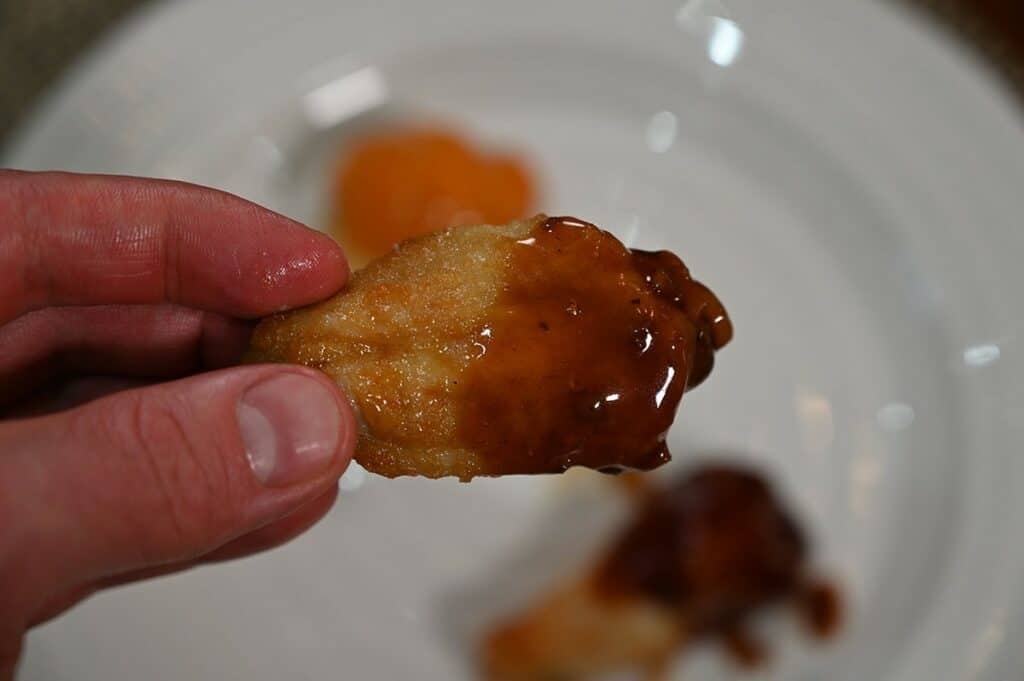 My husband likes the buffalo sauce best, it's got a mild amount of heat. I like the barbecue sauce because it has a slight tang to it. The honey garlic sauce is really good too but very sweet.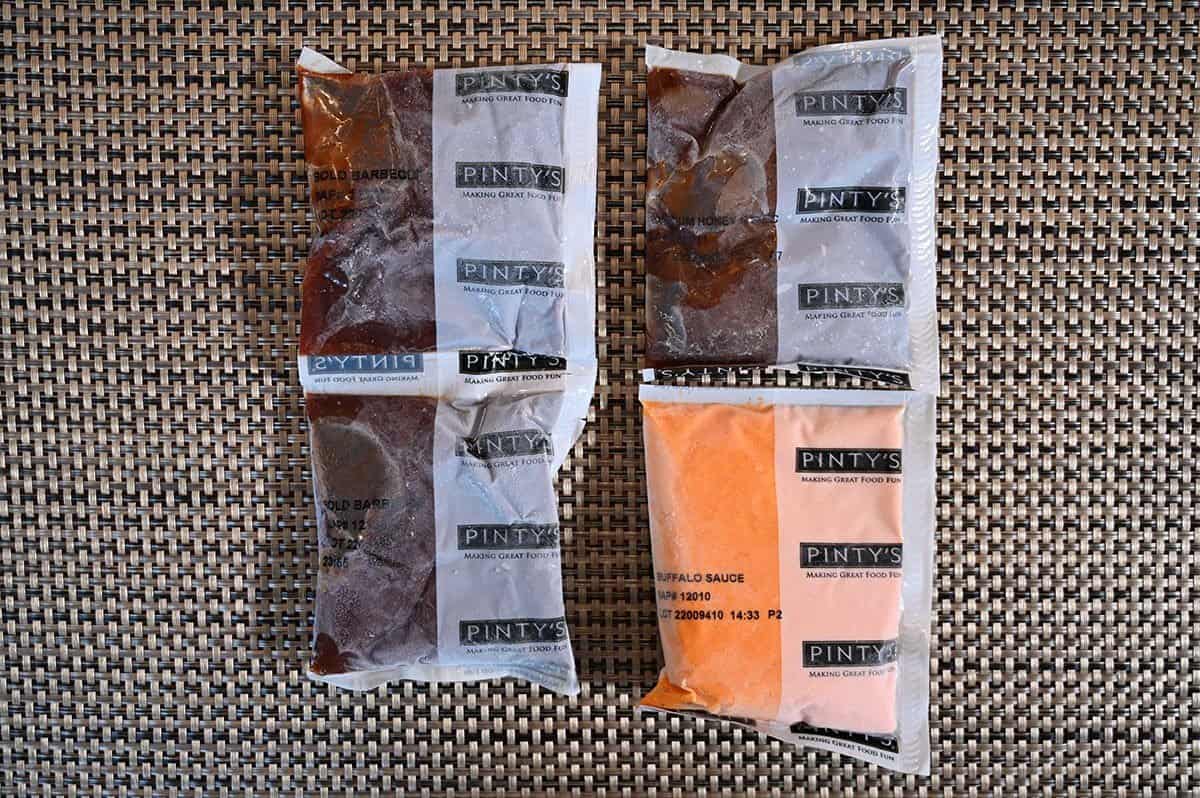 I cooked the wings in the oven and they didn't turn out as crispy as I would have liked. I think they would get crisper in an air fryer.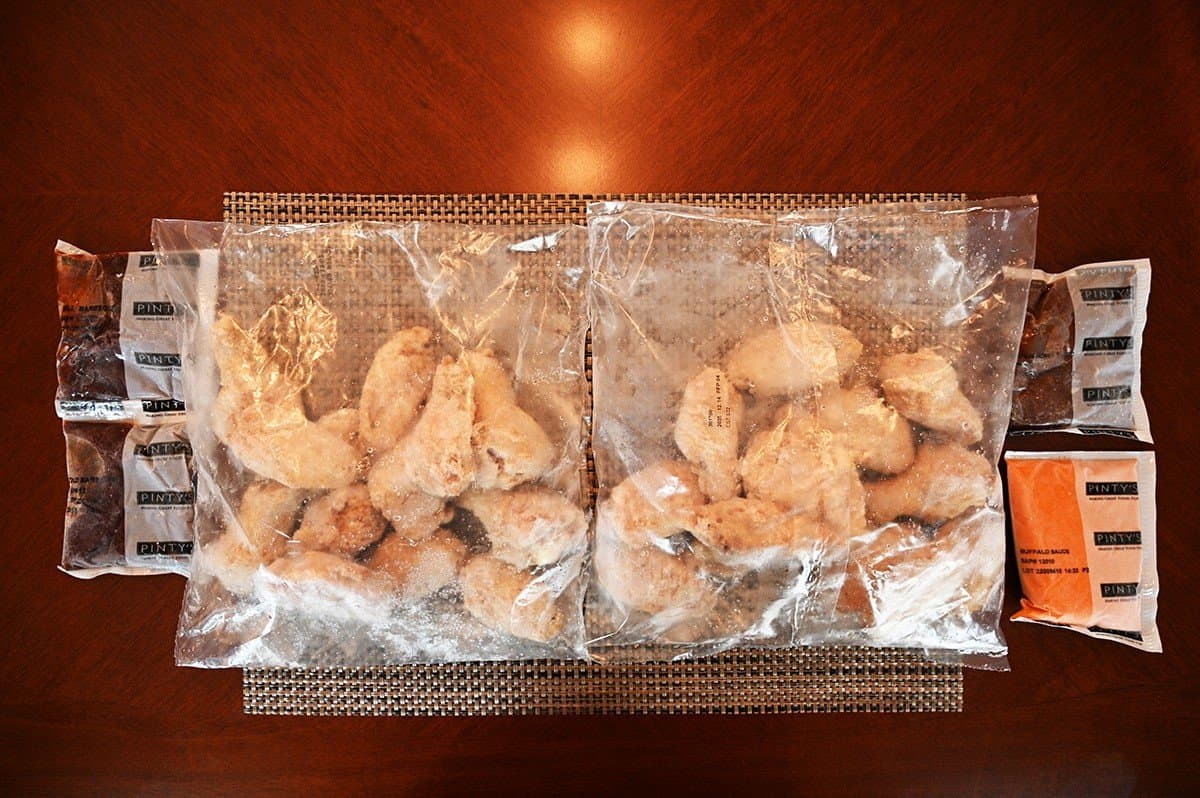 Cost
The 1.75-kilogram box that contains two bags of wings and four sauce packets costs $23.49 Canadian. Definitely not the cheapest wings, but not outrageously overpriced.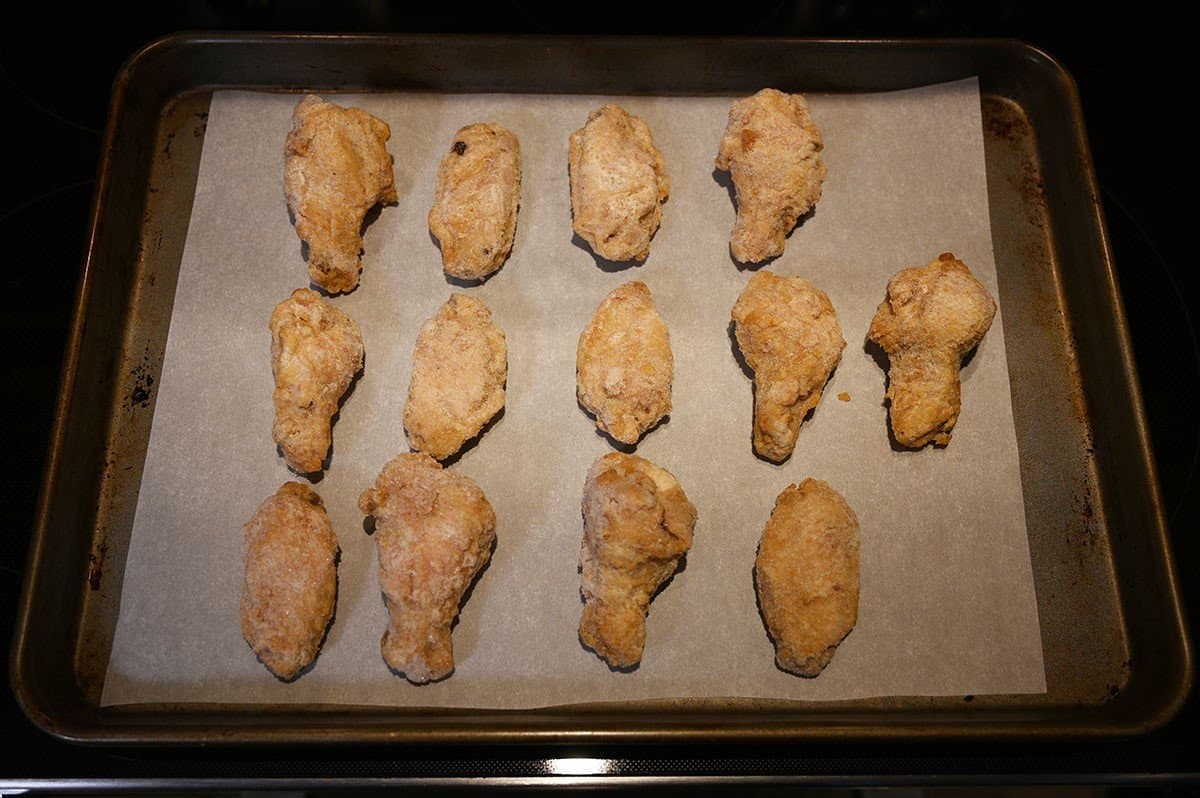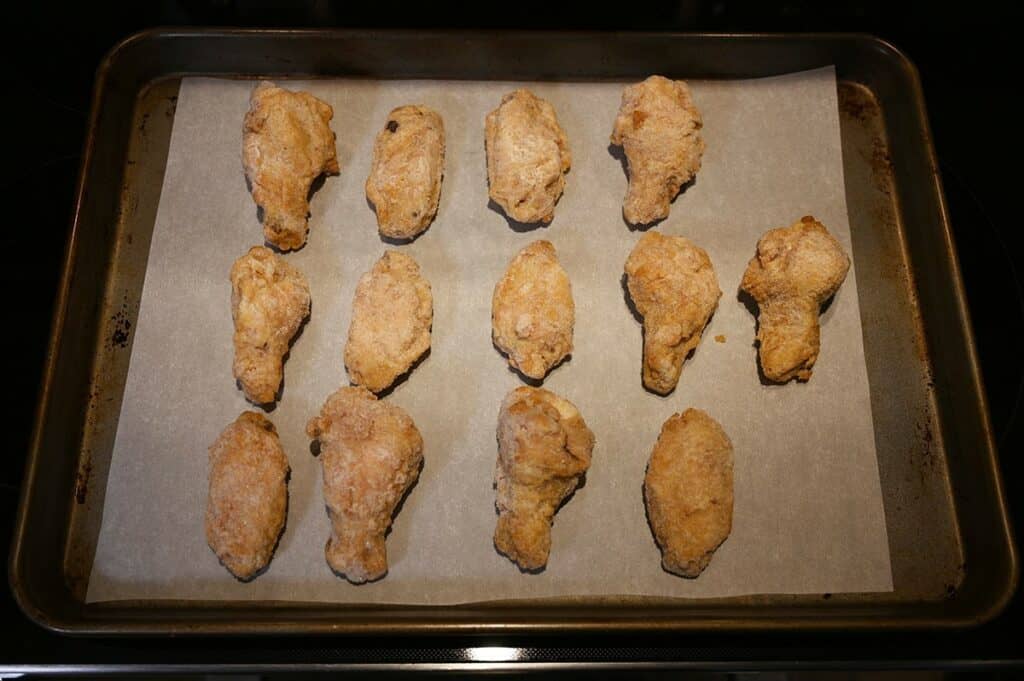 Convenience
There are oven cooking instructions and barbecue cooking instructions. We used the oven to cook the wings but I think an air fryer would make these so much better! Cooking them in the oven is really easy. To thaw the sauces from frozen just pop them into a bowl of hot tap water.
The box comes with two bags of wings and four sauces. For sauces, you get two barbecue sauce packets, one buffalo sauce packet and one honey garlic sauce packet. I wish they gave you two packets of each sauce! That's my one complaint. If you're a buffalo or honey garlic sauce fan, you might not be too happy, especially if you're eating your wings over two different days.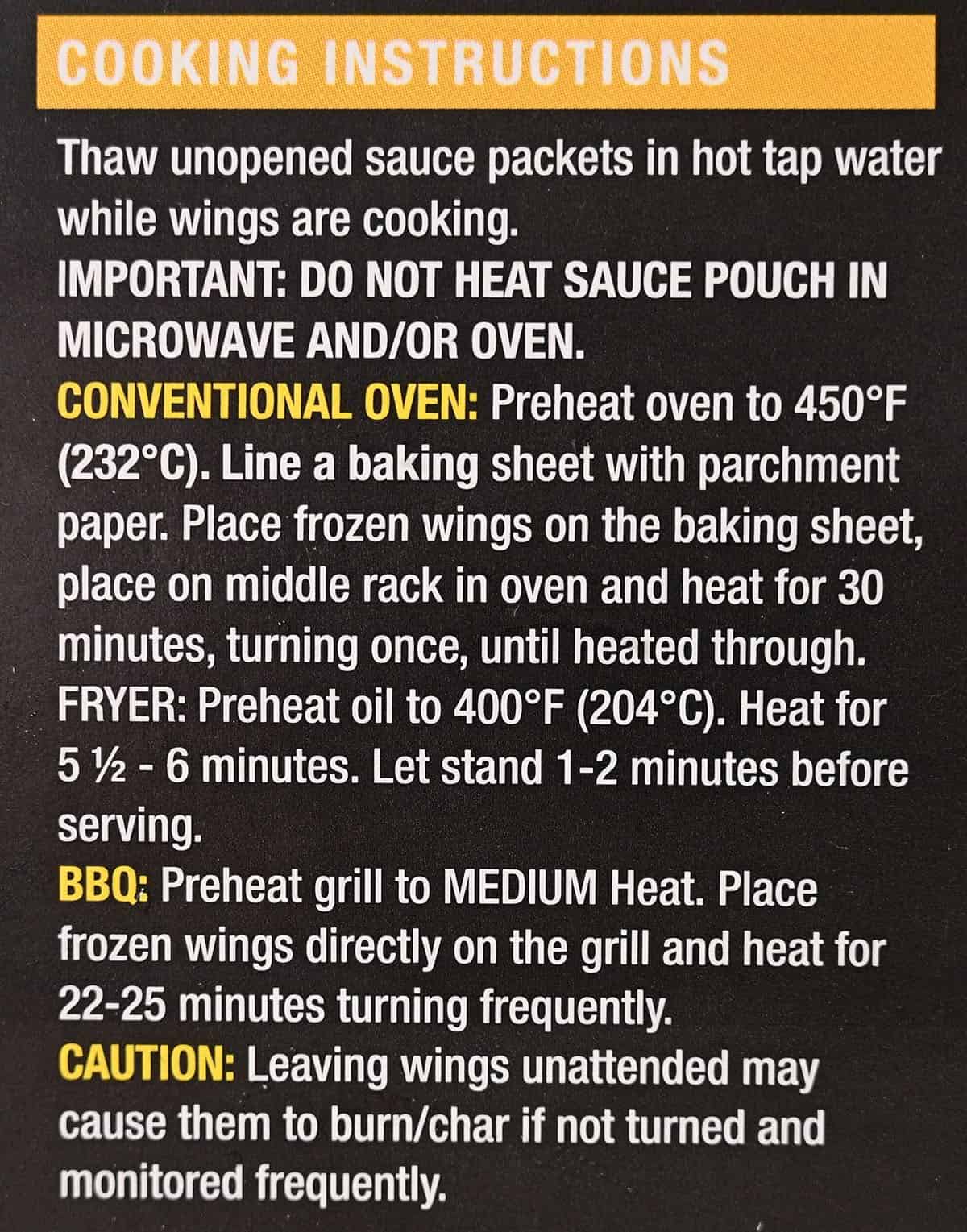 I think these would be absolutely perfect for hosting a Super Bowl or other sporting event watch party! They make a great appetizer or can even be served for dinner with a side salad and some fries.
Nutrition
Calories
Wings aren't the healthiest kind of chicken you can eat, that's for sure. Three wings contains 210 calories, 14 grams of fat, two grams of carbohydrates, zero grams of fibre and sugar, 19 grams of protein and 470 milligrams of sodium. That's just for the wings. If you have them with the sauce, that's extra calories, carbs, fat and sugar.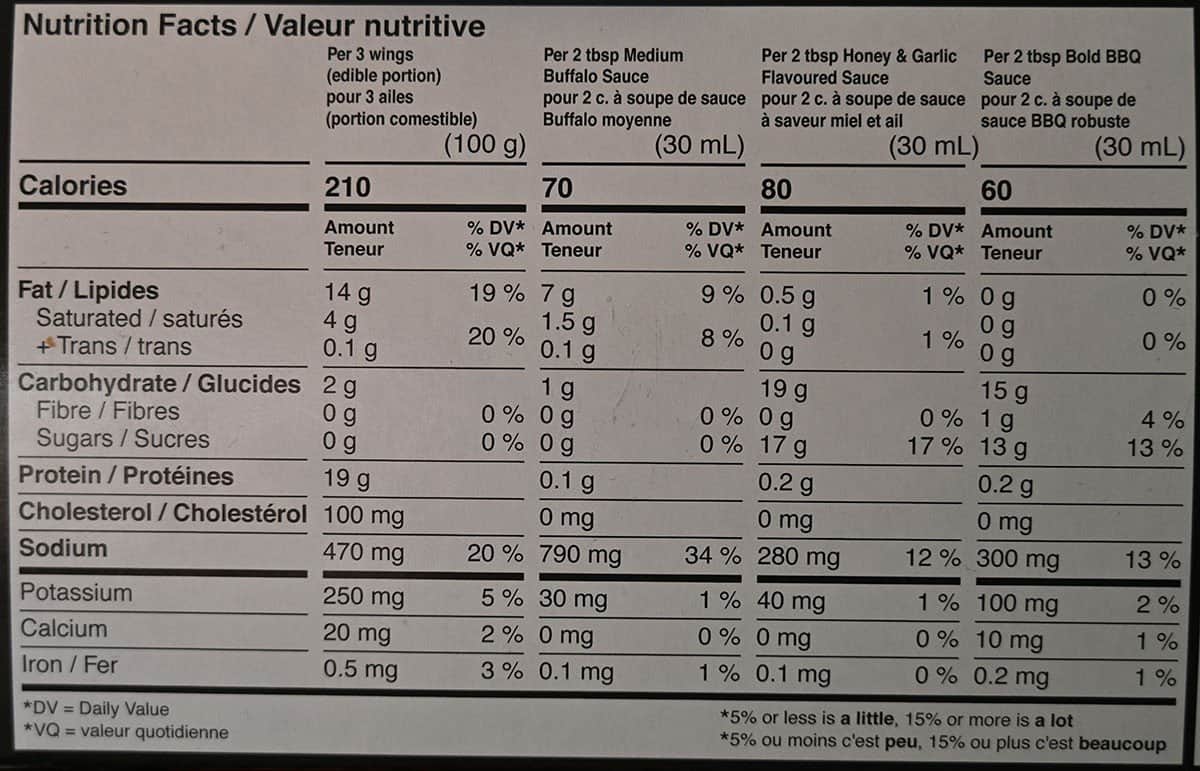 Ingredients
The ingredients for the wings only aren't that bad! I believe they're gluten-free for anyone who is following a gluten-free diet! The unhealthy ingredients are in the sauces, so if you're trying to keep it relatively healthy and avoid sugar, maybe try dipping them in mustard!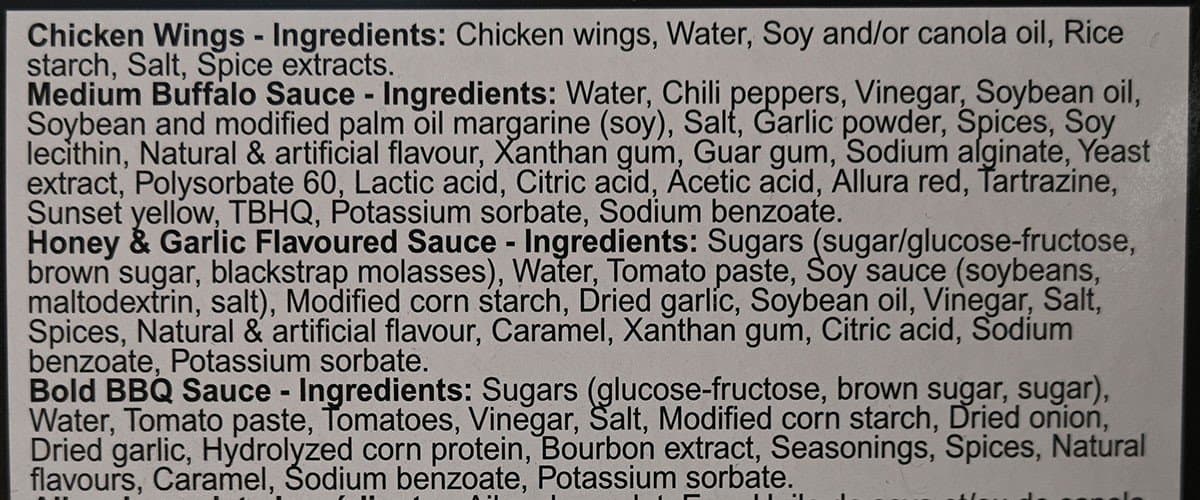 Scoring
Taste: 8/10 (maybe more like a 6 for just the chicken wings, but the sauces are really tasty)
Cost: 7/10
Convenience: 8/10
Nutrition: 3/10
Overall
Give it a try!
If you're okay with grease, fat and a bit of gristle, these Costco Pinty's Crispy Chicken Wings have three delicious sauces that make the wings pretty tasty!
Do you have favorite wings from Costco? Which brand are they?
---
Please note that this review was not paid for or sponsored by any third party. This product was purchased by Costcuisine for the purpose of producing this review. The opinions in this review are strictly those of Costcuisine. Costcuisine is not affiliated with Costco or any of its suppliers. In the event that Costcuisine receives compensation for a post from the manufacturer of a product or some other third party, the arrangement will be clearly disclosed (including where the manufacturer of a product provides Costcuisine with a free sample of the product).