Craving wings at home? Costco carries a few different kinds of frozen wings. For anyone that prefers sweet, glazed wings over other varieties, the Costco Pinty's Honey & Garlic Wings might be a decent choice for your wing night at home. Find out below how good these wings taste and if they're worth adding to your shopping list.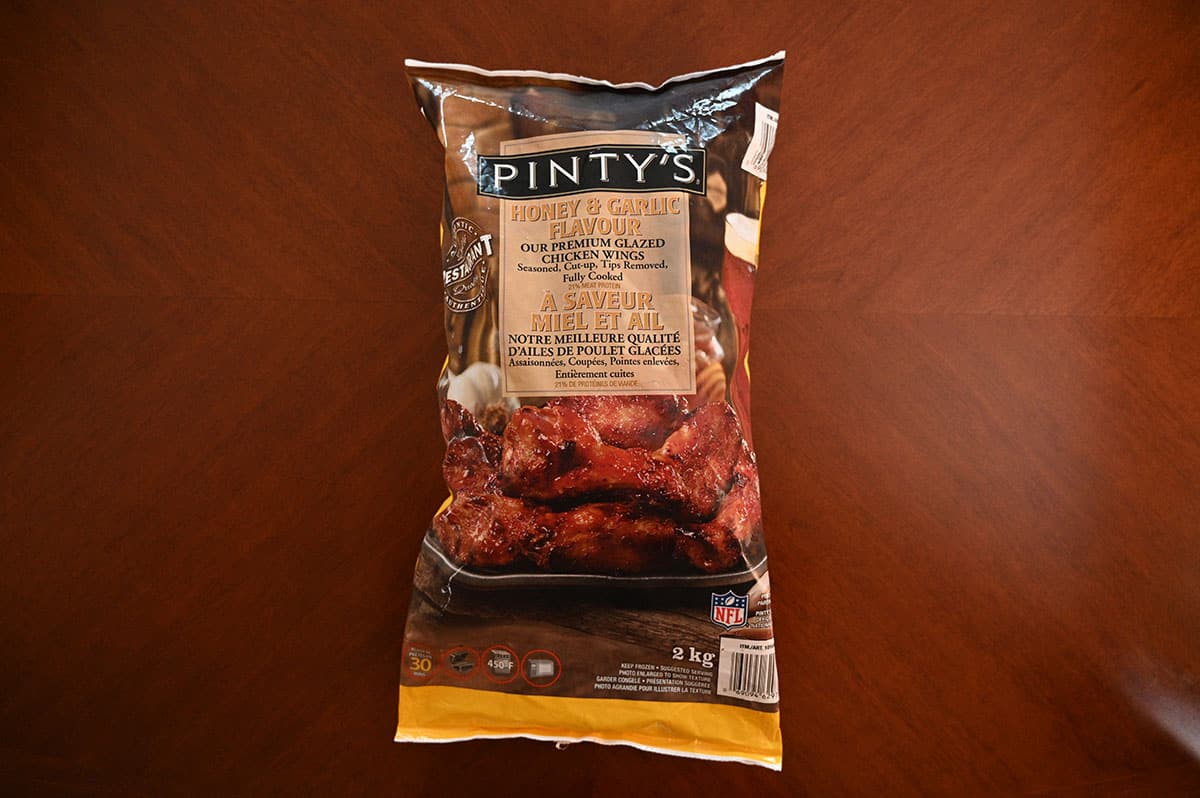 I've bought a few different kinds of wings from Costco to review recently and one of the kinds is these Pinty's Honey & Garlic Wings. I personally don't love anything really hot or spicy, such as buffalo flavored wings so I was looking forward to trying these.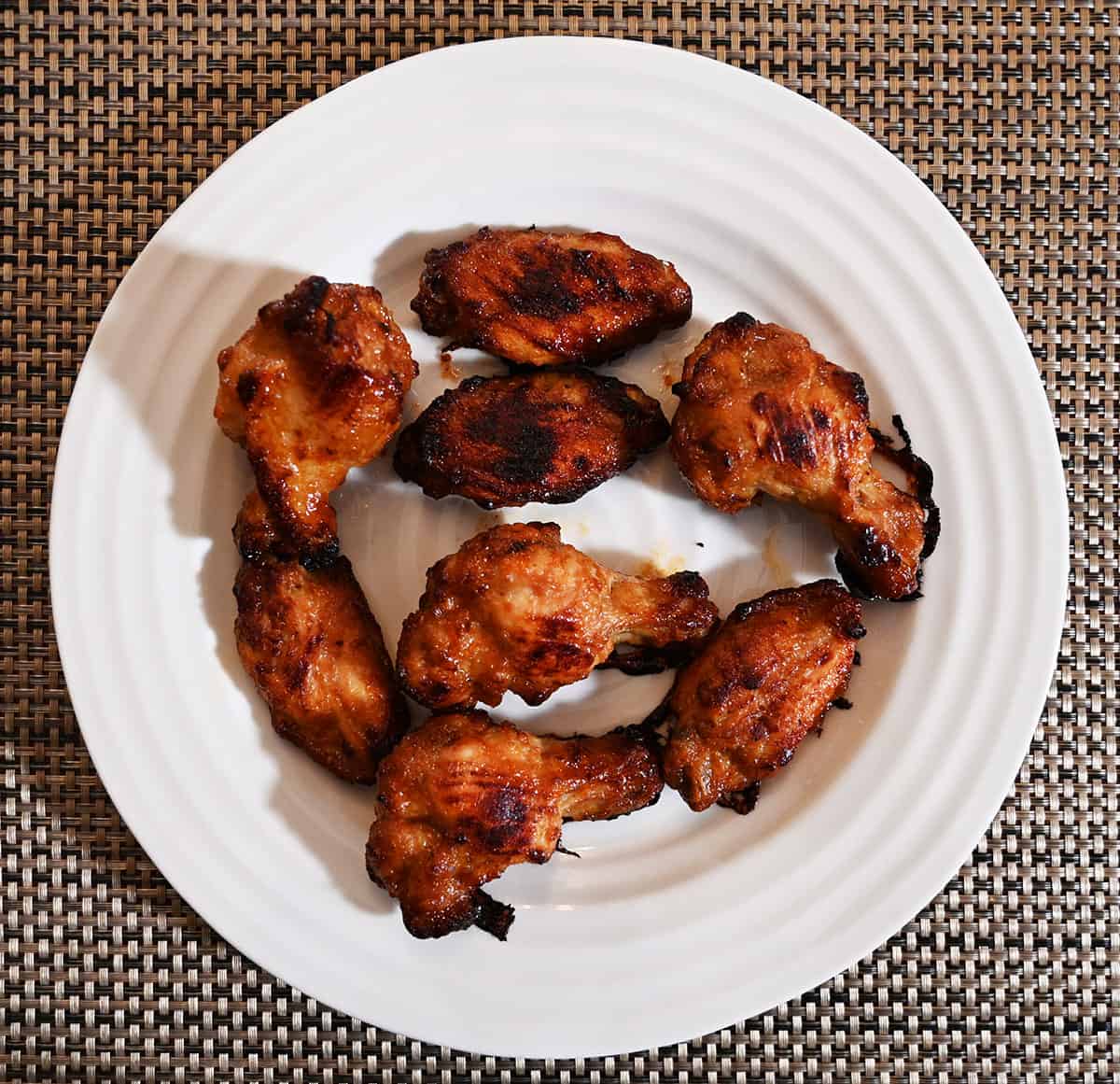 Similar products from Costco are the Kirkland Signature Seasoned Chicken Wings, Pinty's Crispy Chicken Wings, Costco Hampton House Popcorn Chicken, Costco Hampton House Chicken Nuggets, Pinty's Oven Roasted Chicken Breast Strips, Pinty's Buffalo Chicken Flings and the Fresh Additions Fully Cooked Chicken Breast Bites.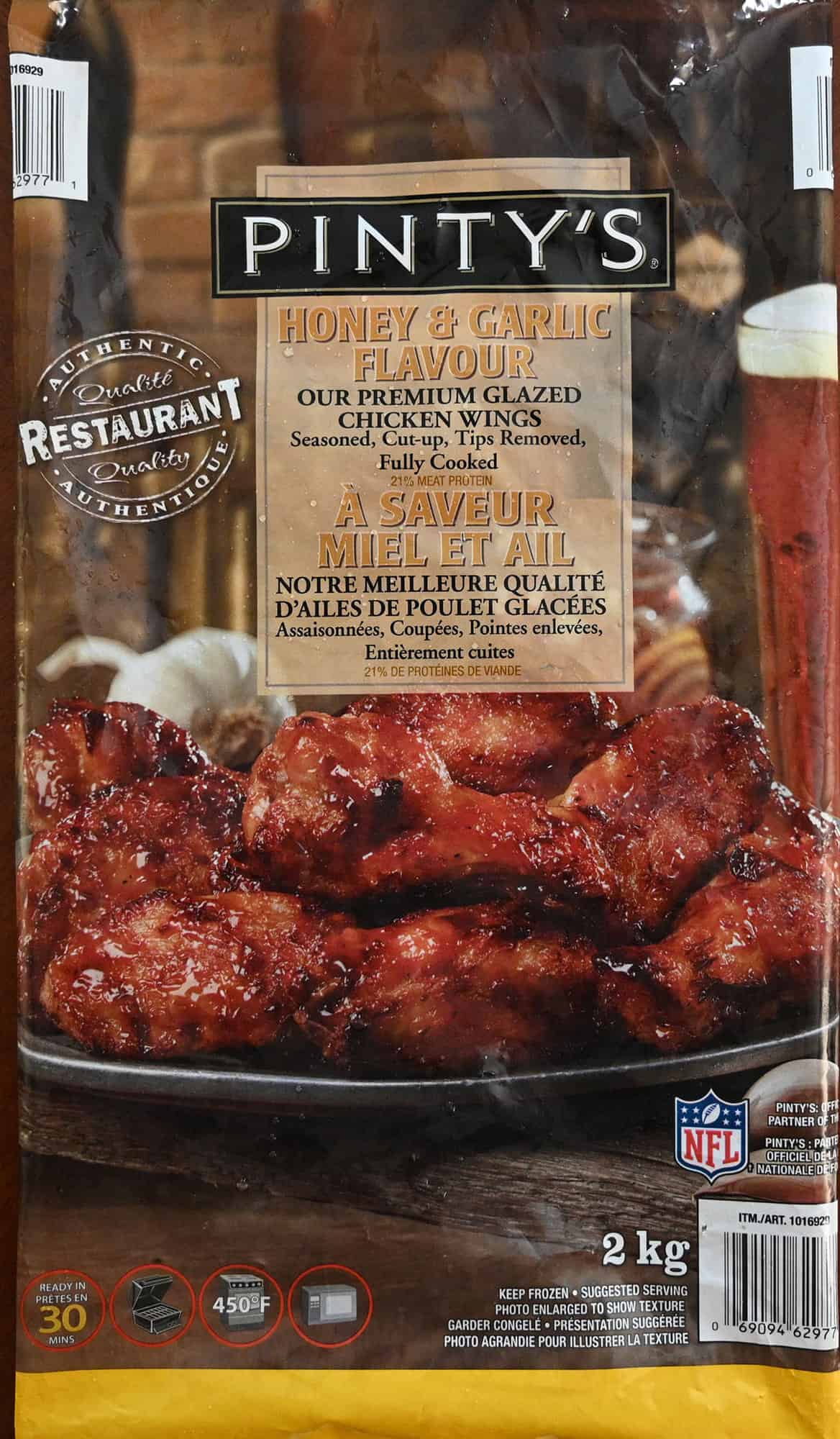 Location in Store
These are located in the freezer aisle, near the other wings and frozen chicken products. The item number is 1016929.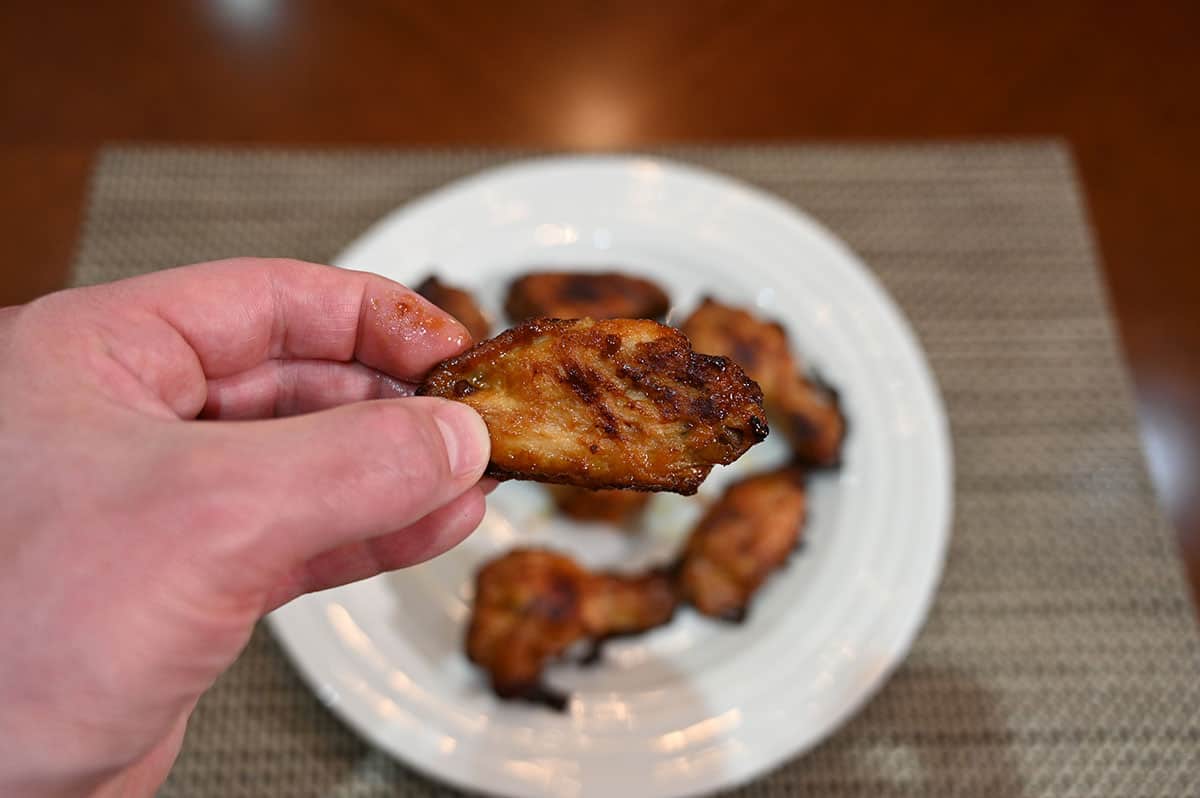 Taste
I cooked the wings on the barbecue first off and they turned out fairly well taste-wise. Although I cooked them for about 15 minutes and they didn't come out very crispy, so next time I'd do them for a bit longer. The flavor is overall tasty.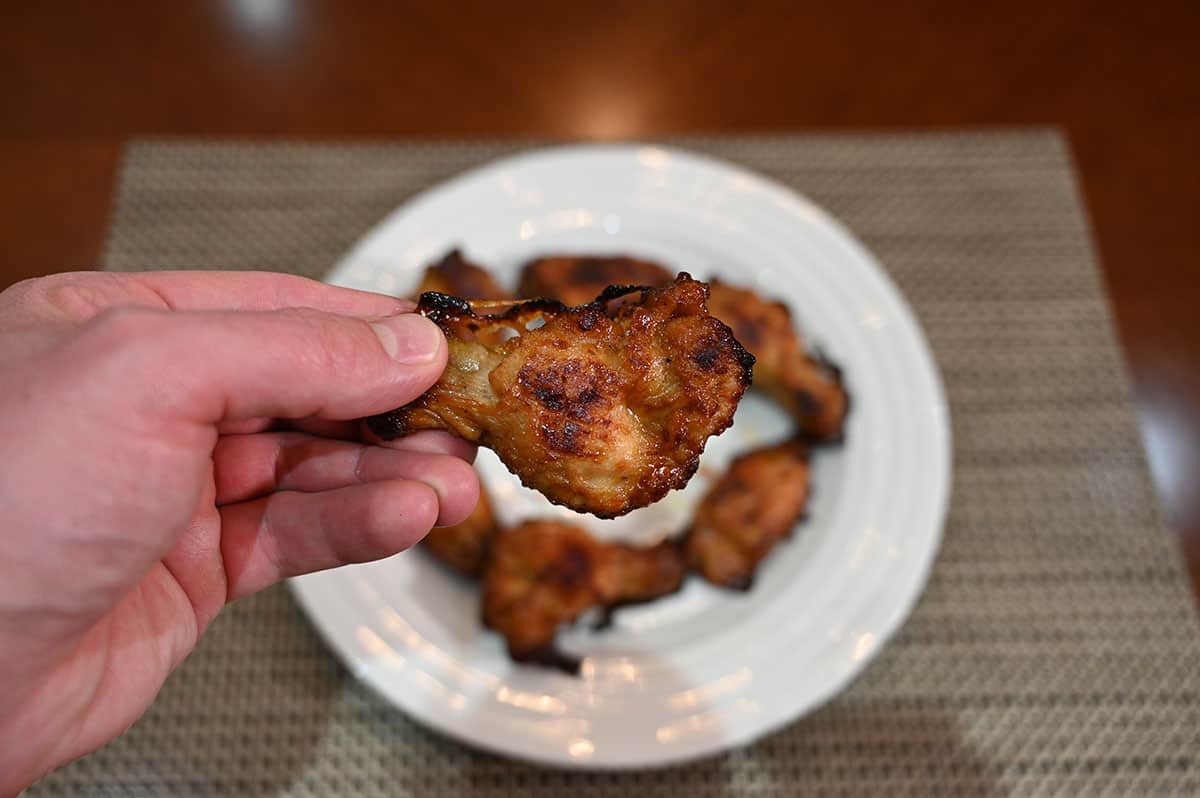 The honey garlic seasoning is definitely there, but not overpowering. It adds a nice amount of sweetness and a fairly small hint of garlic to the flavor of the chicken. The chicken itself is just okay, a bit fatty and mushy tasting but there isn't a ton of gristle.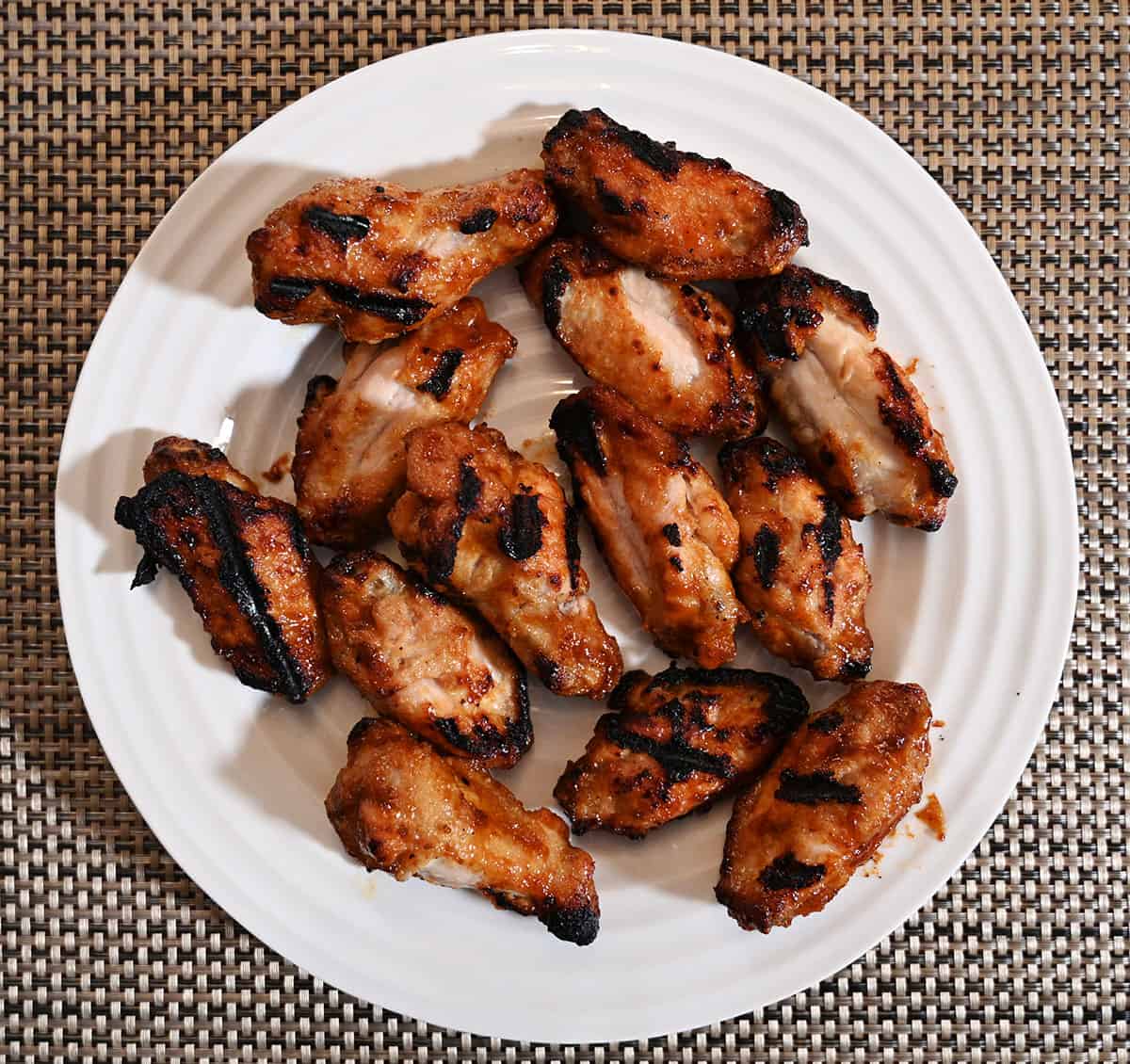 The wings don't taste a whole lot different when cooked in the oven. They are a bit more soft/soggy than the ones from the grill were, even after the full 30 minutes in the oven (I flipped them at the 15-minute mark). I find them slightly sweeter when cooked in the oven, perhaps because the sauce doesn't cook off like it does on the grill or maybe because they are missing the smokiness of the grilled wings. 
Even though the wings stuck to my grill, I would recommend trying these cooked on the barbecue. I really enjoyed the smokiness combined with the honey garlic sauce.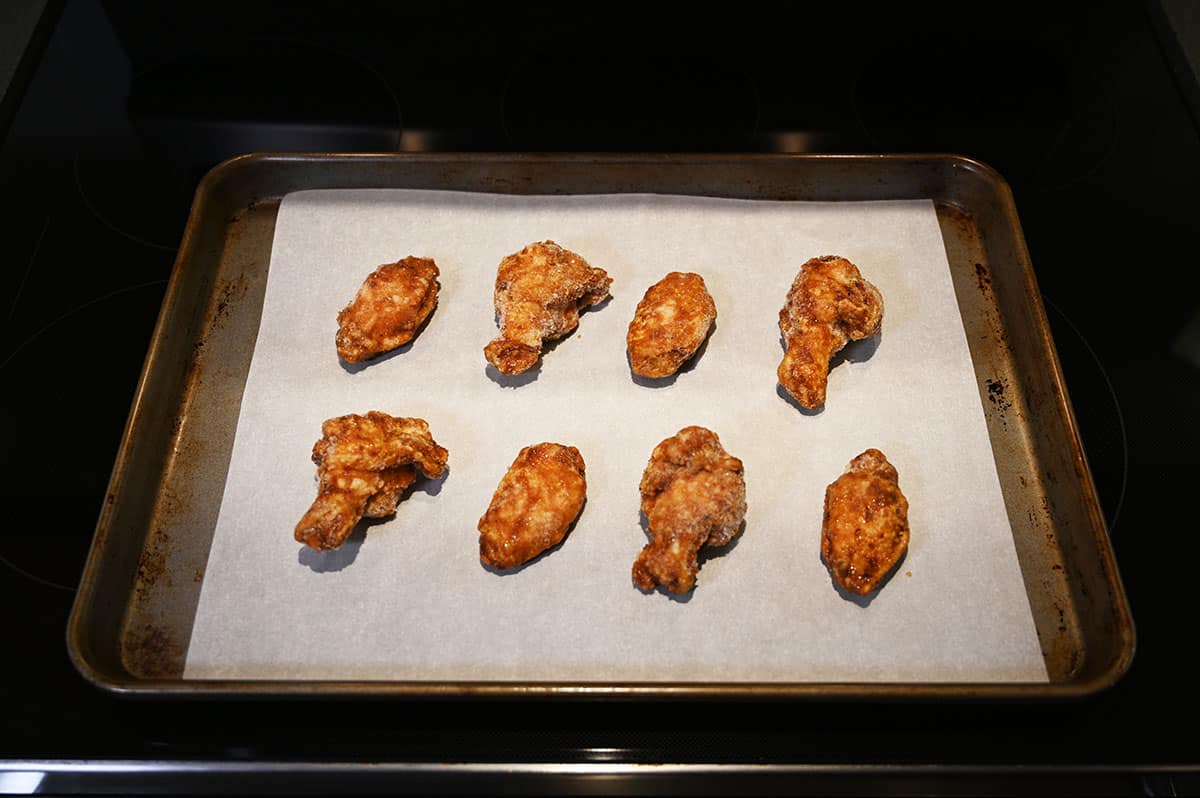 Cost
The two-kilogram bag of wings costs $26.99 Canadian at Costco, which isn't bad for a big bag of wings but isn't extremely cheap either.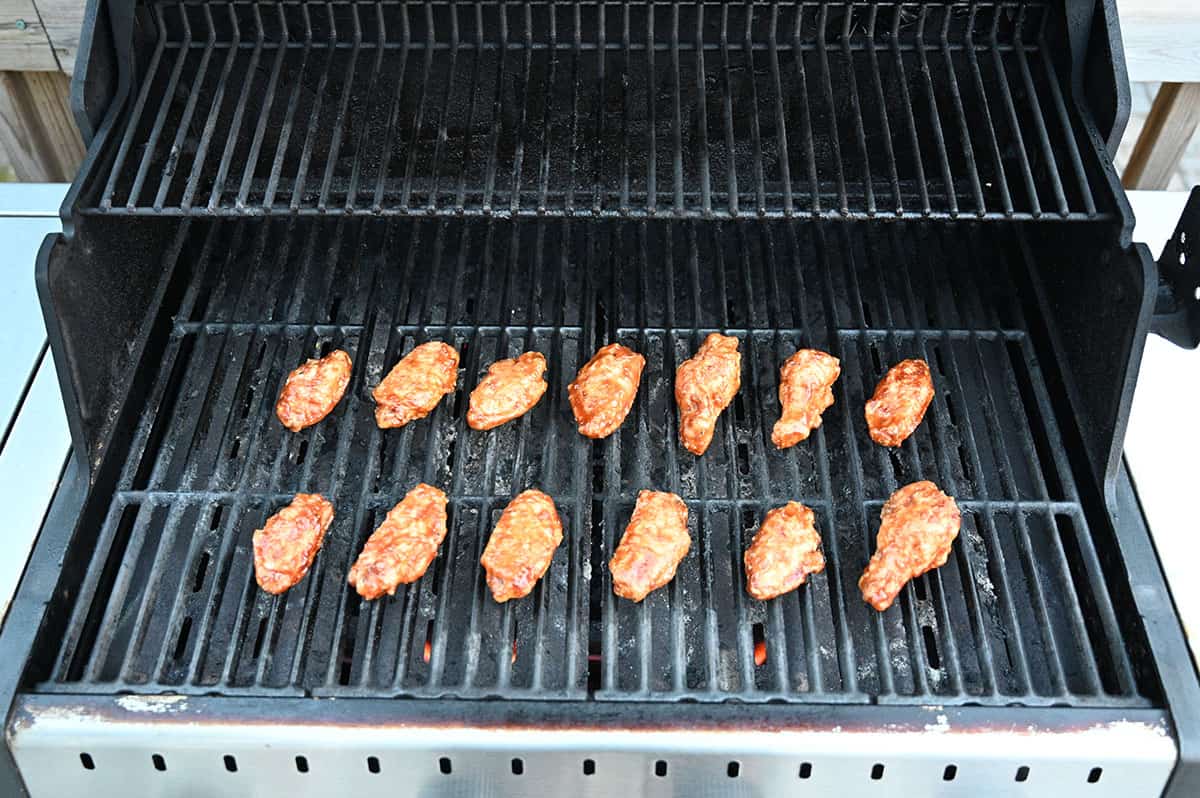 Convenience
The bag isn't resealable, which is kind of annoying. The wings are kind of messy to take out and get ready since there's a lot of sticky coating that melts quickly. We tried cooking our wings on the barbecue first, but found they stuck to the grill and lost a lot of skin/sauce, so we tried them in the oven too.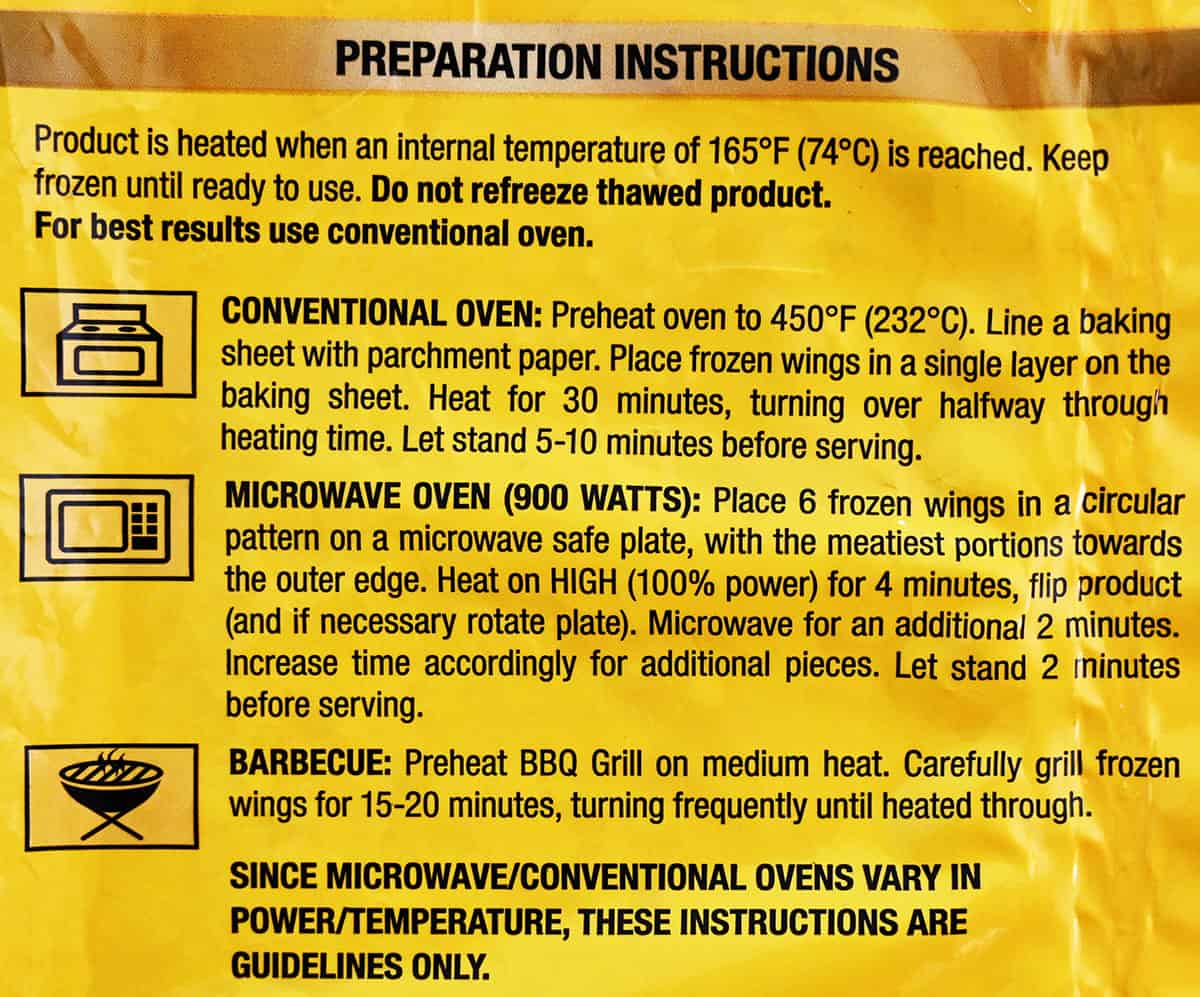 There are three different preparation methods listed on the bag, barbecue, microwave oven and conventional oven. The wings are already fully cooked which is nice, I prefer fully cooked frozen meat products.
After trying both the conventional oven and barbecue method I can't say I recommend the microwave method. The wings didn't get very crispy in the oven and I bet in the microwave they wouldn't get crispy at all. I do think the wings would turn out fantastic if cooked in an air fryer.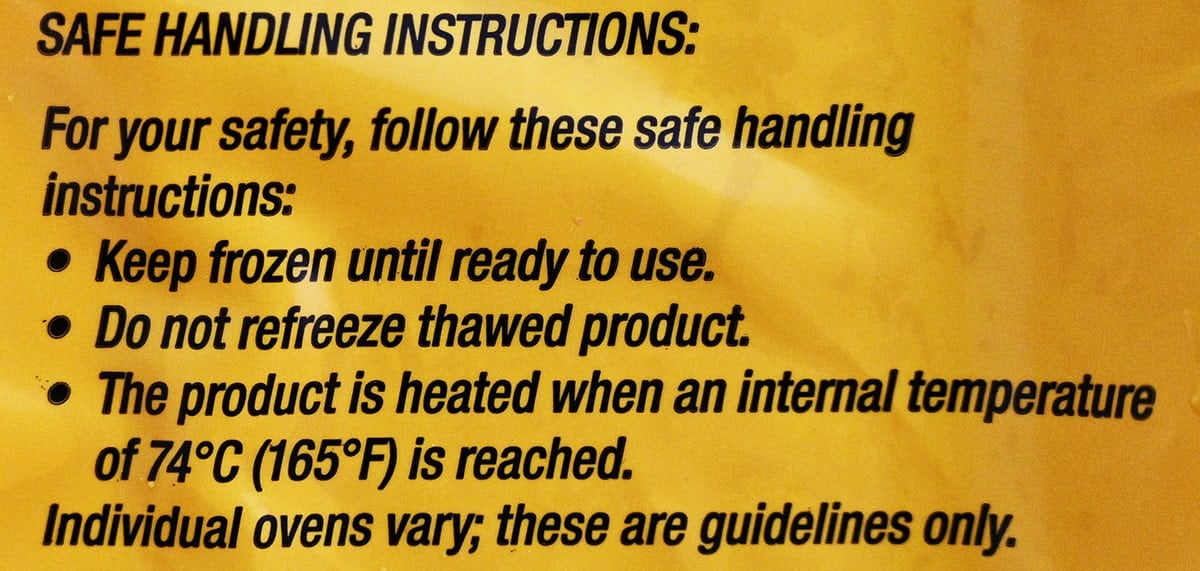 The wings need to be kept frozen and the best before date listed on the bag is eight months from the date the wings were purchased. The wings are great on their own and don't require any additional dipping sauce but it also wouldn't hurt to dip them in some ranch!
Nutrition
Calories
Three wings is 220 calories, 13 grams of fat, 12 grams of carbohydrates, zero grams of fibre, seven grams of sugar, 14 grams of protein and 540 milligrams of sodium. I can easily eat like six wings so that's a lot more calories, fat and sodium. 28 grams of protein for six wings is a decent amount!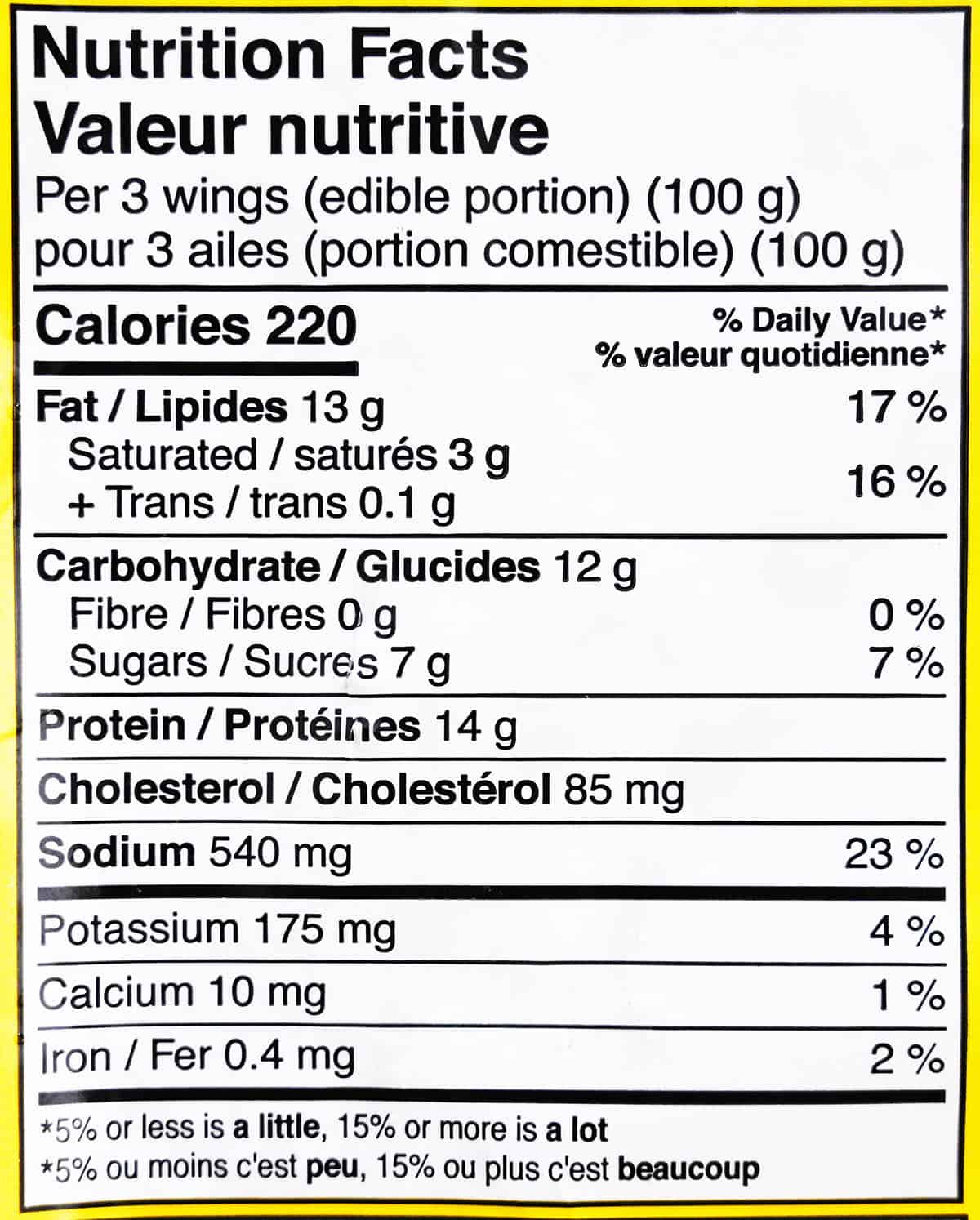 Ingredients
The ingredients list is pretty much as I expected! The good news is the wings appear to be gluten-free as well as dairy-free for individuals sensitive to wheat and milk products.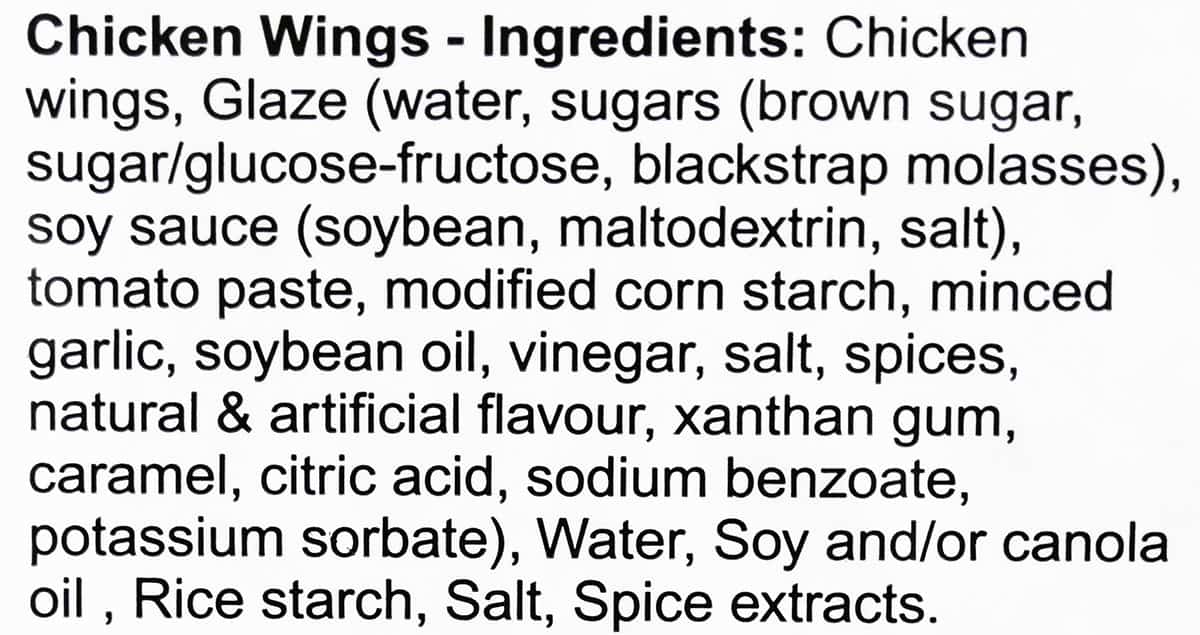 Scoring
Taste: 7.5/10
Cost: 7/10
Convenience: 7/10 (would love if it resealed)
Nutrition: 3/10
Overall
Give it a try!
I prefer these wings on the barbecue more than in the oven, I like the flavor but wish the wings were a little less fatty.
Do you have a favorite wing from Costco?
---
Please note that this review was not paid for or sponsored by any third party. This product was purchased by Costcuisine for the purpose of producing this review. The opinions in this review are strictly those of Costcuisine. Costcuisine is not affiliated with Costco or any of its suppliers. In the event that Costcuisine receives compensation for a post from the manufacturer of a product or some other third party, the arrangement will be clearly disclosed (including where the manufacturer of a product provides Costcuisine with a free sample of the product).