Chocolate and peanut butter is a dangerously delicious combination and Reese's Peanut Butter Cups are a classic treat to satisfy any peanut butter and chocolate craving. How do these Costco Reese's Thins peanut butter cups compare to the original Reese's cups? Which one is better? Find out below!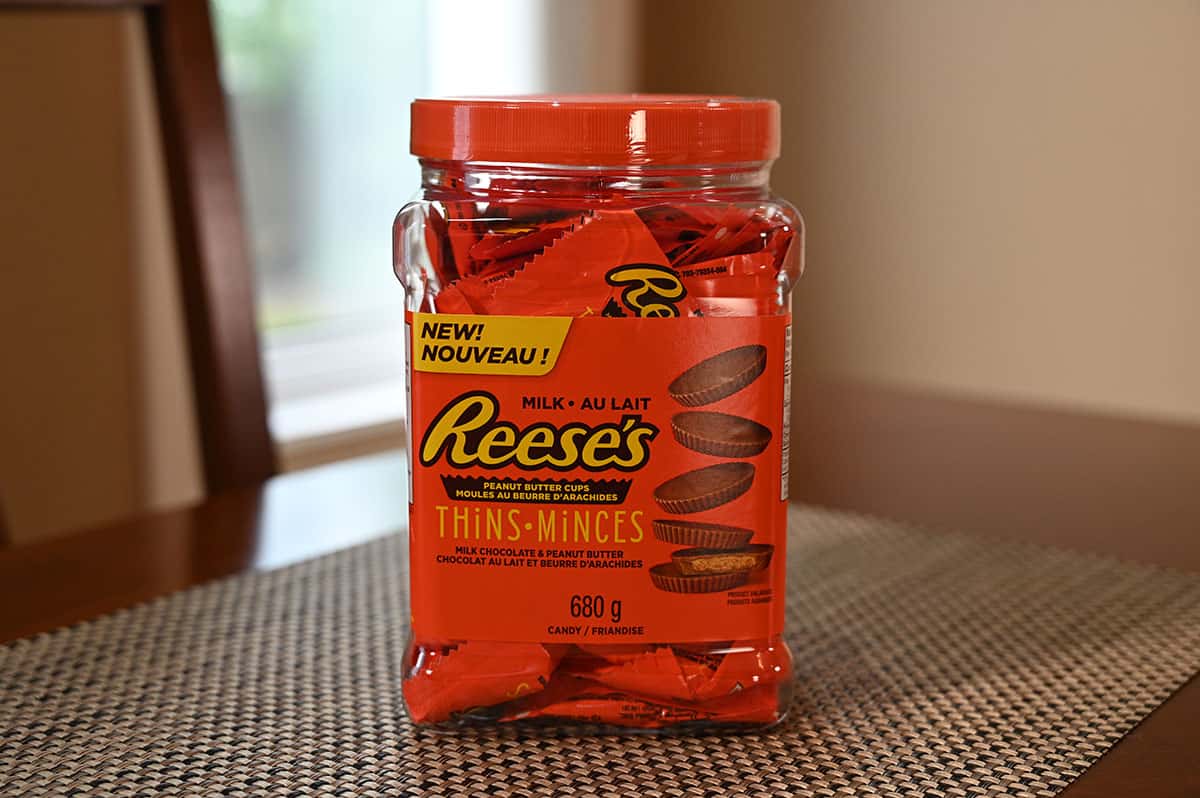 One memory that stands out from trick or treating on Halloween as a kid is giving my dad all the Reese's Peanut Butter Cups that I would get. He loved them as well as Oh Henry and I didn't care for them that much. As an adult, I absolutely love them but have always bought the regular-sized cups.
At Costco I noticed these Reese's Thins and decided to test whether I like them as much as the classic-sized peanut butter cups.
Other chocolates from Costco I like are the Kirkland Signature Dark Chocolate Covered Mangoes, Sanders Dark Chocolate Sea Salt Caramels, Lindt Lindor Assorted Chocolates, OMG! Milk Chocolate Almond Toffee Clusters, Gudrun Fine Belgian Chocolates, Truffettes De France Chocolate Truffles and the Jojo's Guilt Free Chocolate.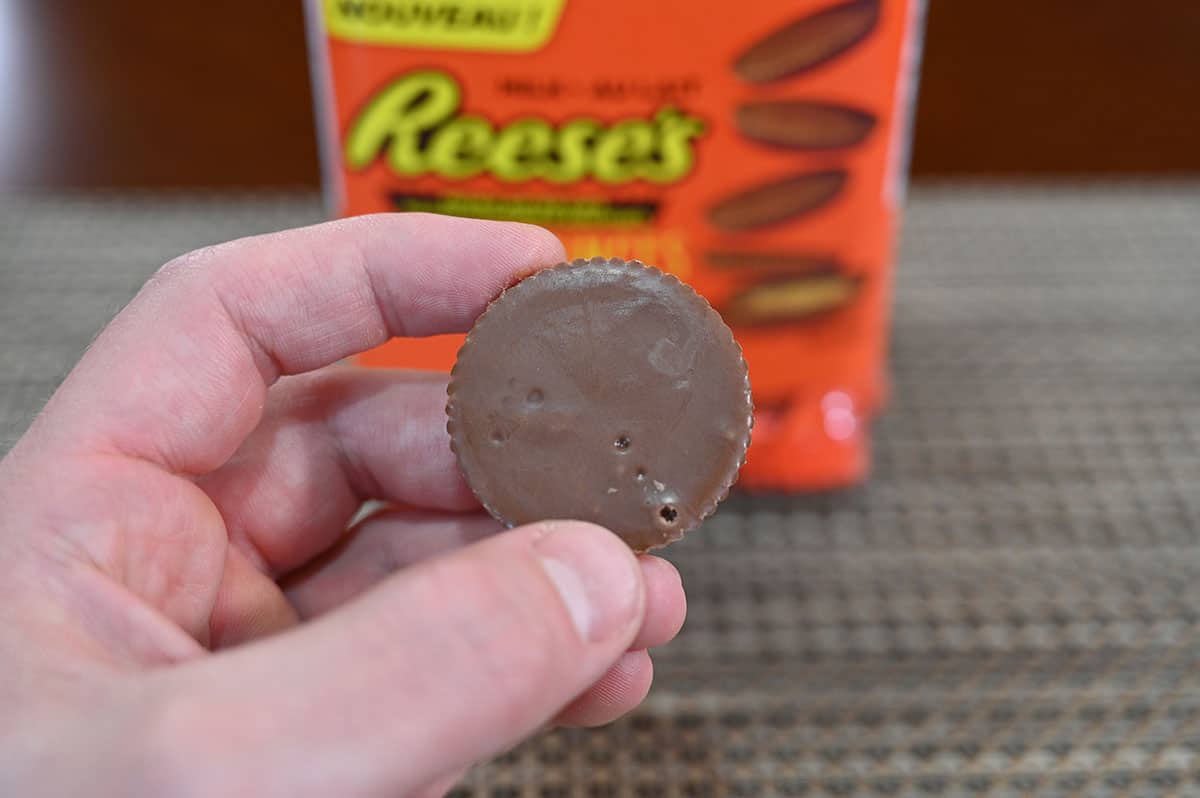 Location in Store
You can find Reese's Thins in the snack section near the front of the store. The item number is 1476207.
Taste
The difference between these Reese's Thins and the full-size peanut butter cups is the ratio of chocolate to peanut butter.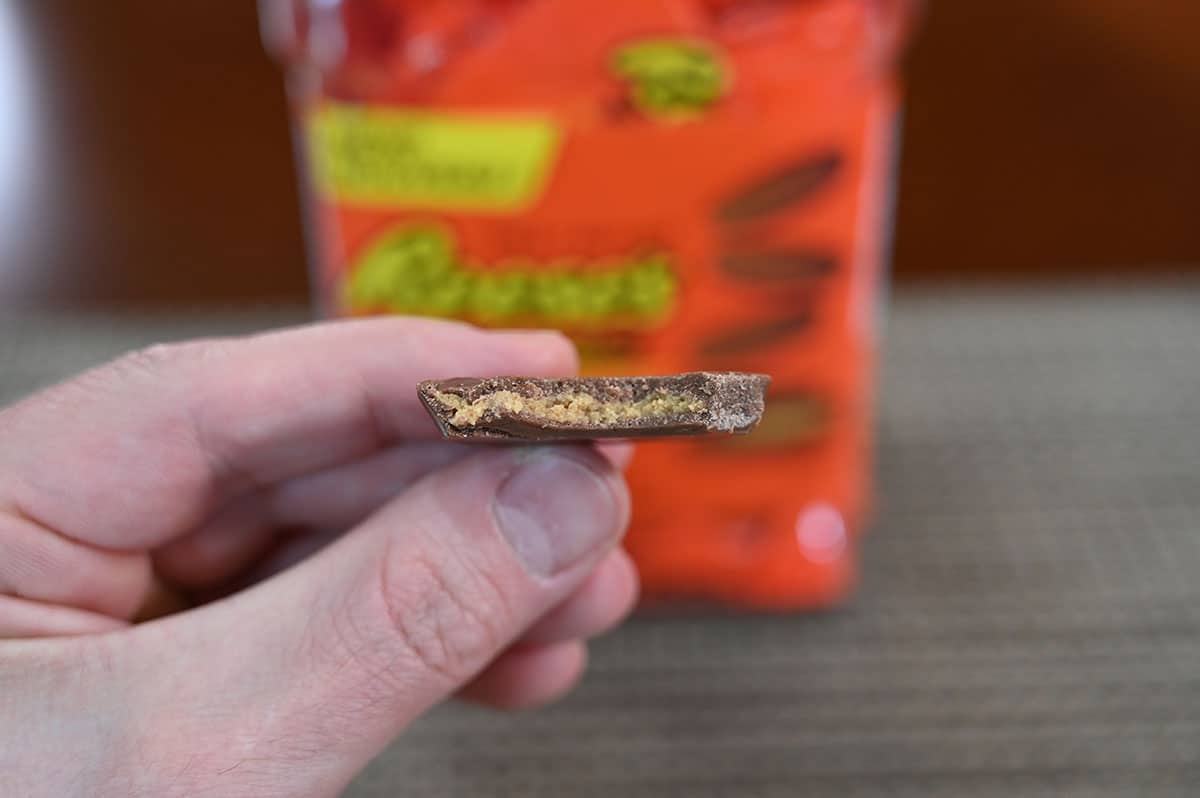 The overall flavor of the Thins is more chocolate than peanut butter. You can see why in the photo above – the peanut butter layer is quite thin compared to a normal Reese's Peanut Butter Cup. The Thins are kind of the opposite of the giant, hockey puck-shaped, half-pound version of the treat where I find the peanut butter filling dominates.
Personally, I still think the classic normal-sized Reese's are the best, though the mini version matches that perfect ratio of chocolate and peanut butter pretty closely too. I still enjoy having a giant version and these Thins once in a while, but I think Reese's found the right ratio in their original version!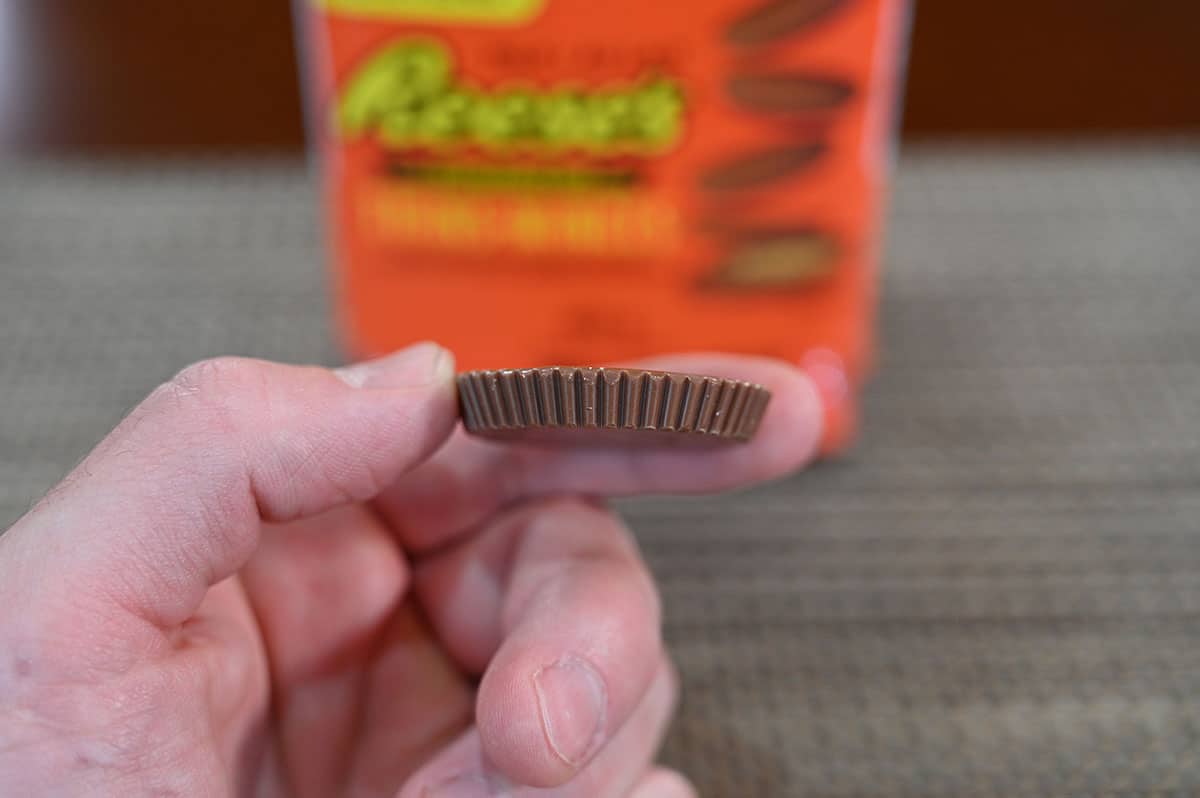 Cost
The 680-gram container costs $12.99 Canadian at Costco which isn't super cheap but in my opinion, is reasonably priced compared to what you may pay at your local convenience or grocery store.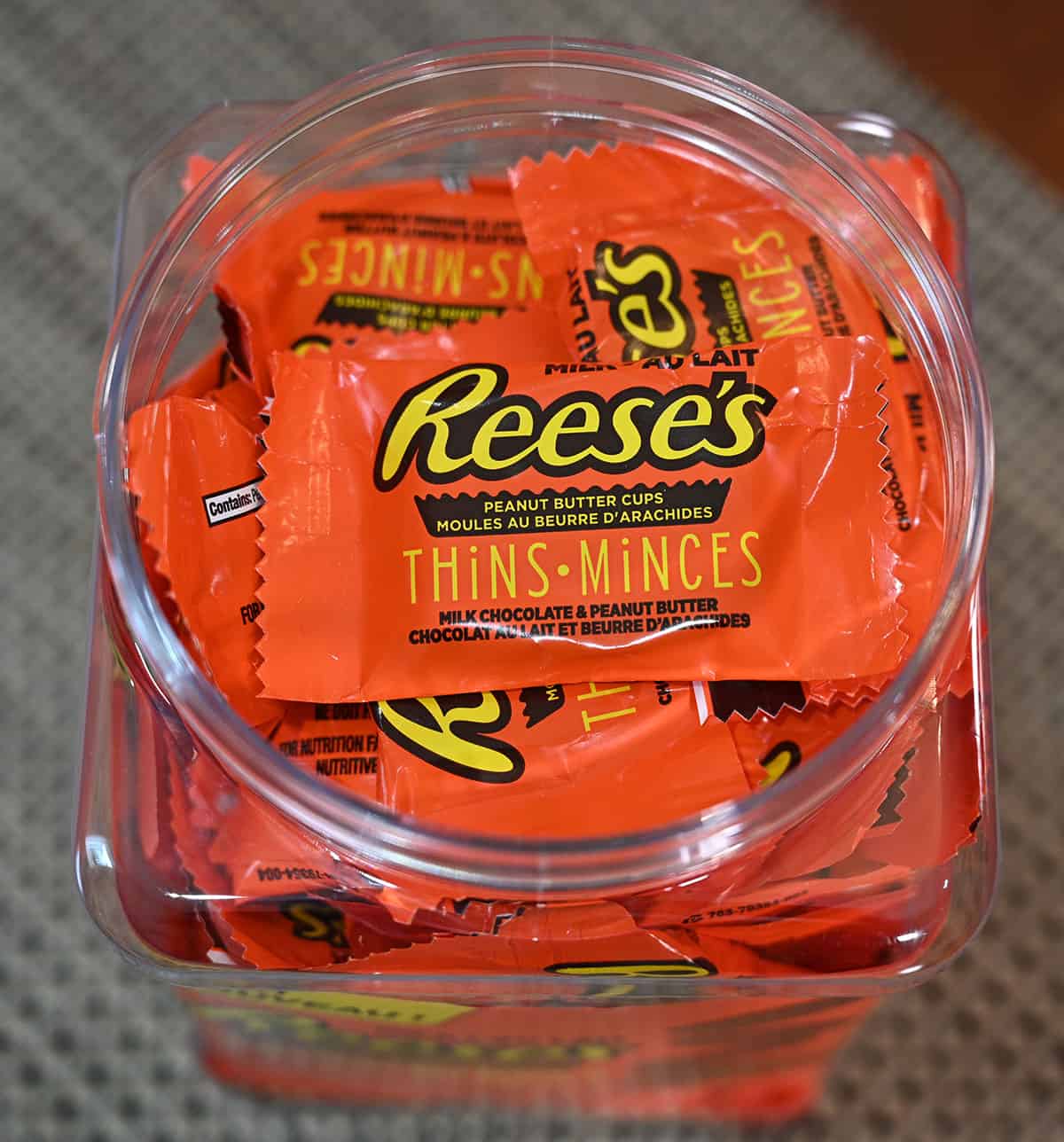 Convenience
Each thin is individually wrapped so you can throw a bunch in your purse, diaper bag or car and enjoy them on the go when you're feeling a bit peckish or need a chocolate fix! I also like the individual packaging because I find it's good portion control.
The best before date listed on the Thins is about eight months from when I purchased them. I recommend storing them in a cool, dry place, especially if you live somewhere hot.
Nutrition
Calories
There are 220 calories, 13 grams of fat, 26 grams of carbohydrates, one gram of fibre, 24 grams of sugar, four grams of protein and 85 milligrams of sodium in four thins.
Obviously, these aren't healthy but that doesn't seem too bad to me for four thins! One or two is enough to satisfy my sweet craving.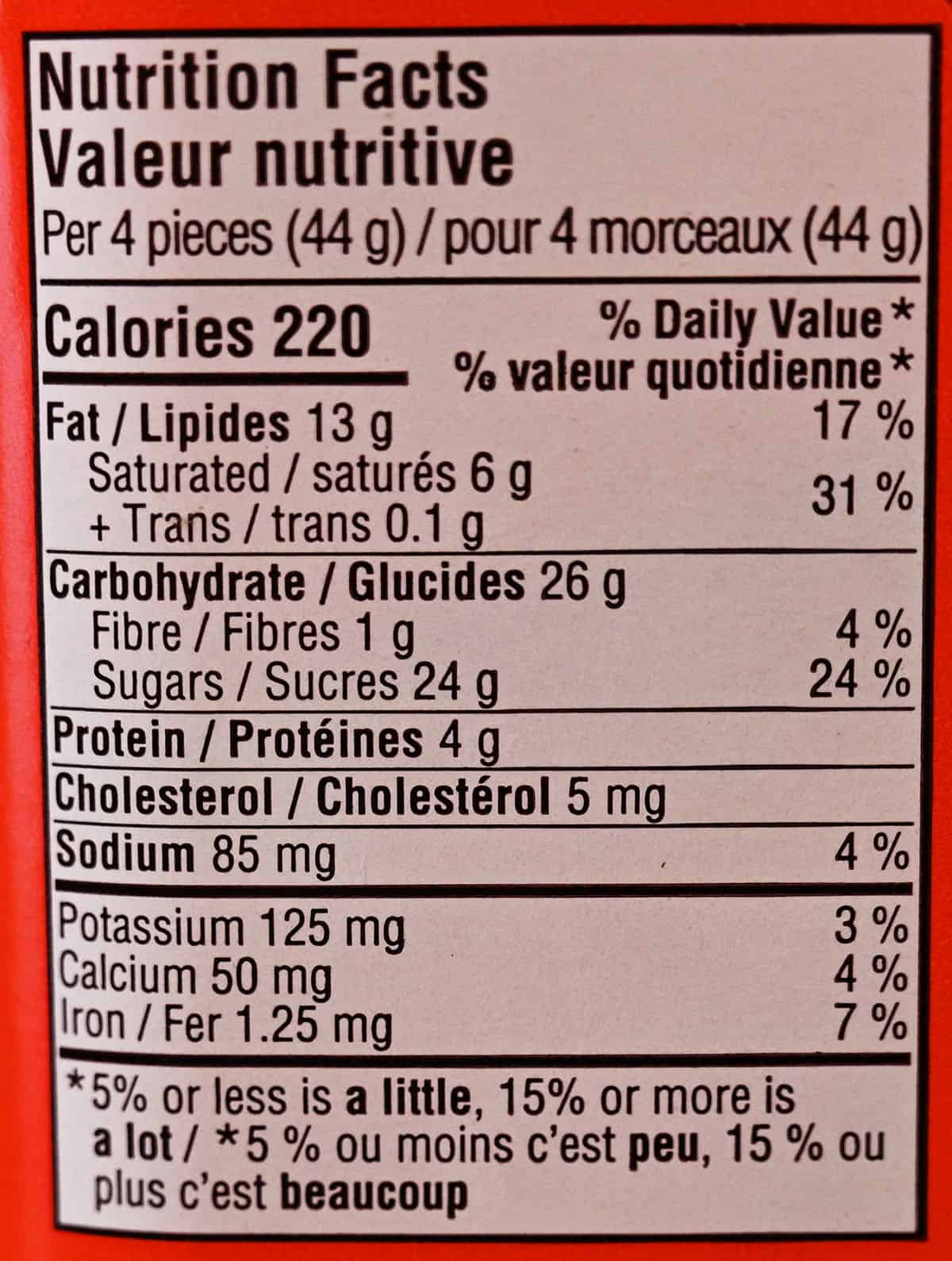 Ingredients
There are a lot of unhealthy ingredients listed! Palm kernel oil, sugar, vegetable oil, etc. Of course, Reese's Thins contain peanuts as well as milk and soy so if you know someone highly allergic to peanuts you may want to avoid enjoying Reese's around your friend!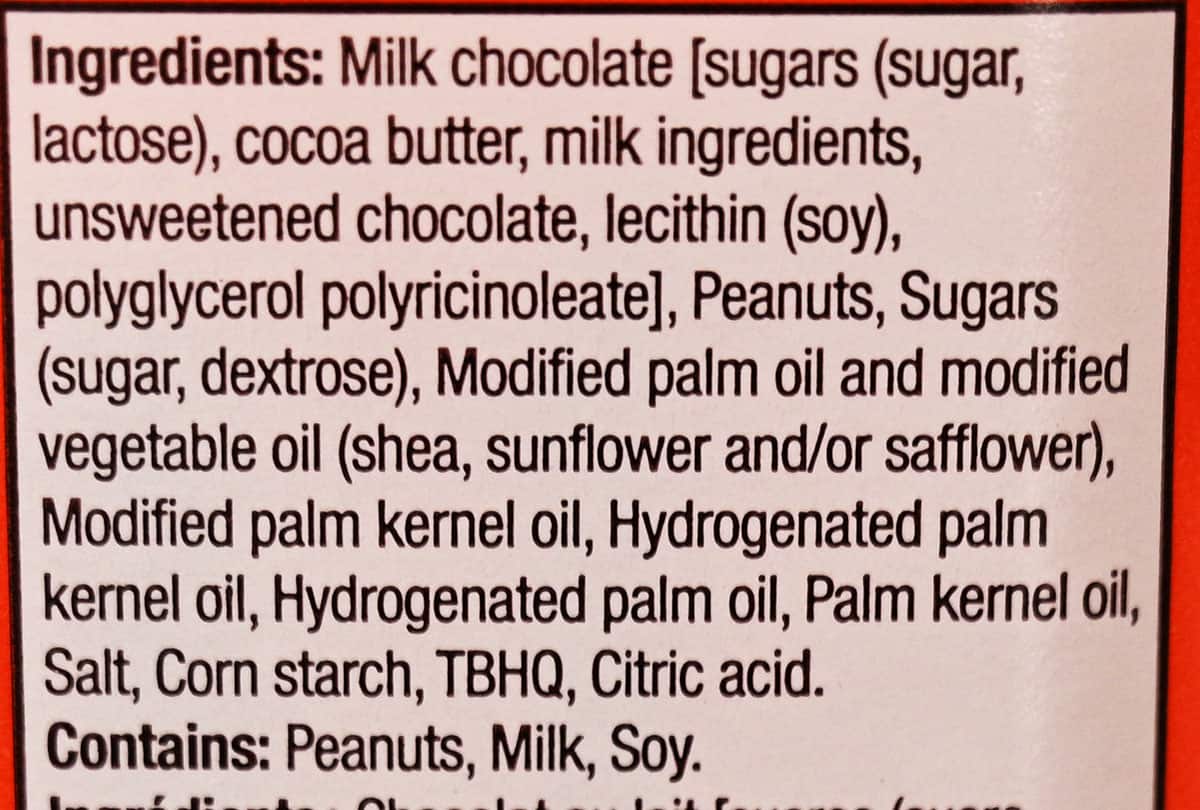 Scoring
Taste: 8.5/10 (classic Reese's are a 9/10 chocolate treat for me)
Cost: 7/10
Convenience: 10/10
Nutrition: 0/10
Overall
Give it a try!
I prefer the classic regular sized peanut butter cups over the Thins but they're still tasty!
What do you think of Reese's Thins? Which would you rather, Thins or the regular cups?
---
Please note that this review was not paid for or sponsored by any third party. This product was purchased by Costcuisine for the purpose of producing this review. The opinions in this review are strictly those of Costcuisine. Costcuisine is not affiliated with Costco or any of its suppliers. In the event that Costcuisine receives compensation for a post from the manufacturer of a product or some other third party, the arrangement will be clearly disclosed (including where the manufacturer of a product provides Costcuisine with a free sample of the product).