Are you someone who forgets to eat during the day? Or are you constantly on the go and need a snack with a balance of carbohydrates, fats and protein? Find out here if the combination of nuts, cheese and dried fruit in the Costco Sargento Balanced Breaks keeps you satiated and your hunger at bay.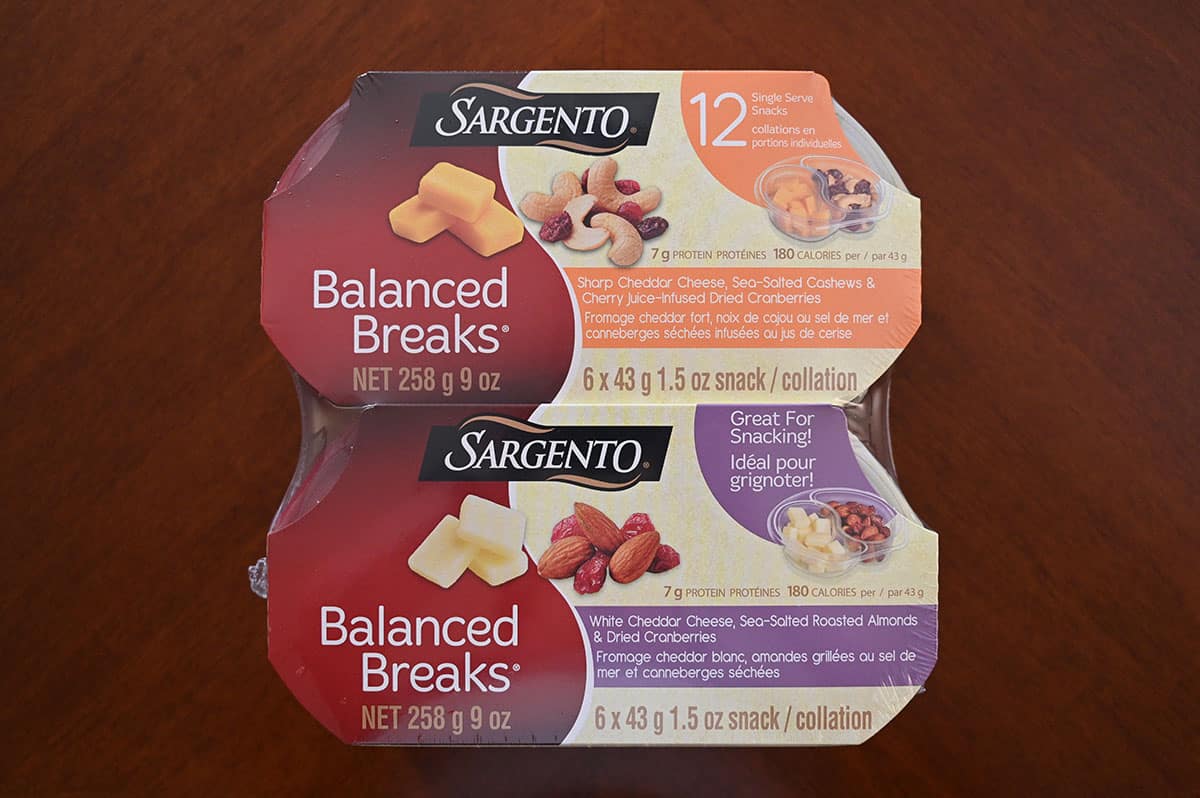 I'm finding it really hard to eat these days, it's often 4 pm and I'm still finishing my breakfast that's been sitting out all day. I've seen the Sargento Balanced Breaks at Costco for a long time but have never picked them up before because I was always good about packing snacks and eating well! I decided these were perfect to throw in my diaper bag or snack on throughout the day at home so bought them to try and review here.
Other snack items I love from Costco are the RX Protein Bars, Martin's Crispy Apple Chips, Kirkland Signature Mini Chocolate Chip Cookies, Kirkland Signature Organic Dried Mangoes, Made Good Chocolate Chip Granola Bars, Kirkland Signature Peanut Butter Pretzels and the Kirkland Signature Kettle Brand Himalayan Salt Krinkle Cut Potato Chips.
Location in Store
You can find these in the refrigerated section with the cheese, wieners and sausages. The item number is 1254886.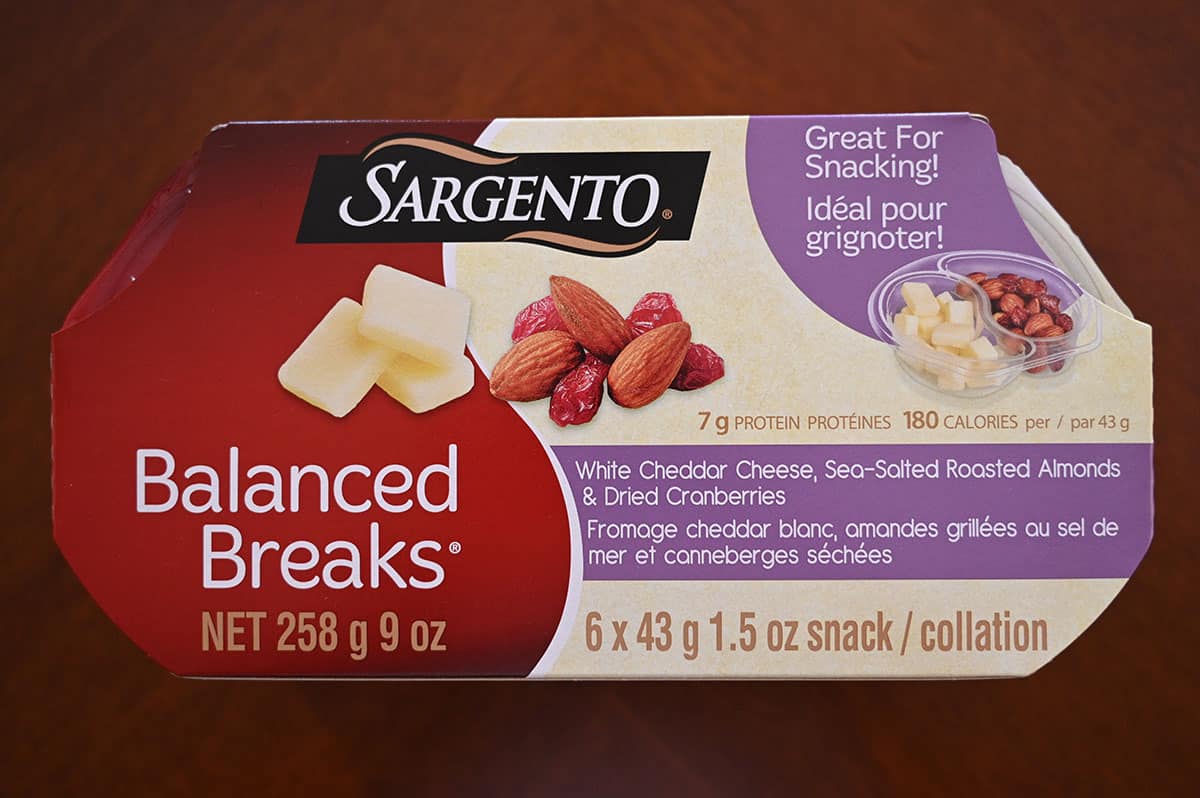 Taste
There are two different kinds of Balanced Breaks in the pack at Costco, white cheddar cheese with almonds and sharp cheddar cheese with cashews. Both kinds come with dried cranberries but the sharp cheddar pack has cherry juice-infused cranberries and the white cheddar does not.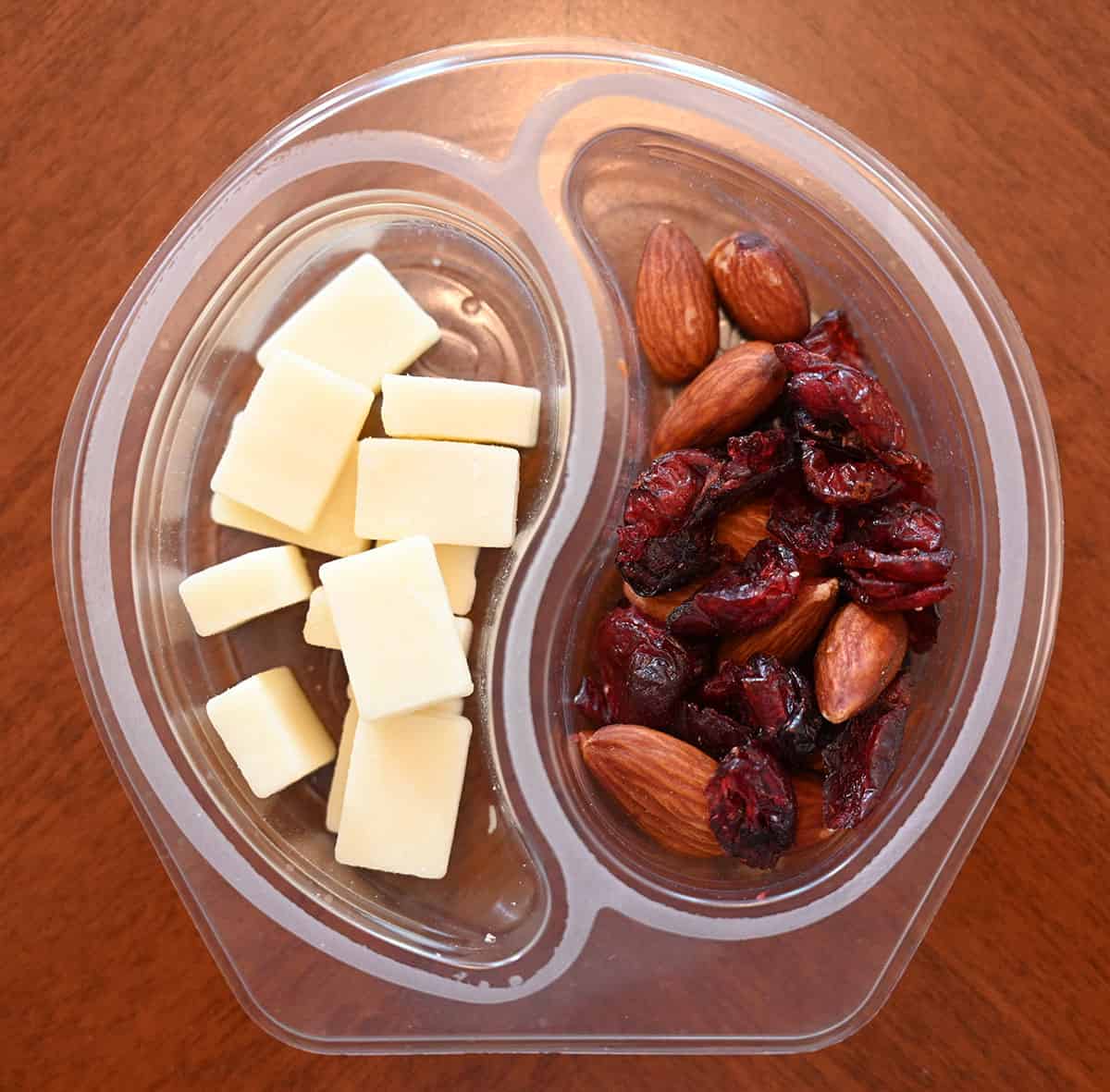 I prefer the cashews and sharp cheddar cheese over the white cheddar because I really enjoy the sharpness of the cheddar and in general I prefer cashews over almonds. Both are tasty but aren't really anything special. They're just little cubes of cheese, nuts and dried cranberries.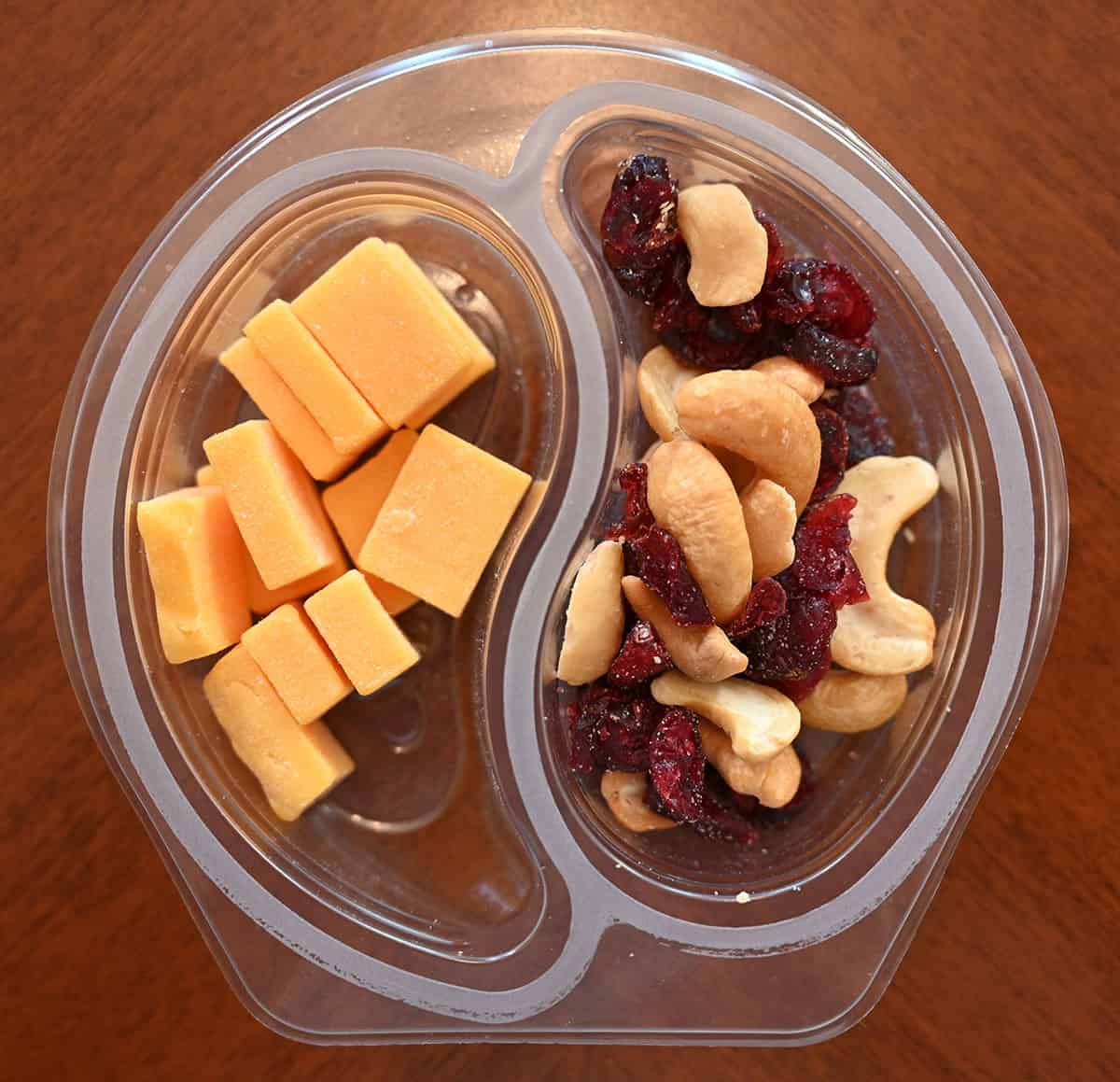 You can easily make these yourself to pack as a snack but I think people buy these for convenience and portion control. They're definitely tasty but there's nothing unique about them.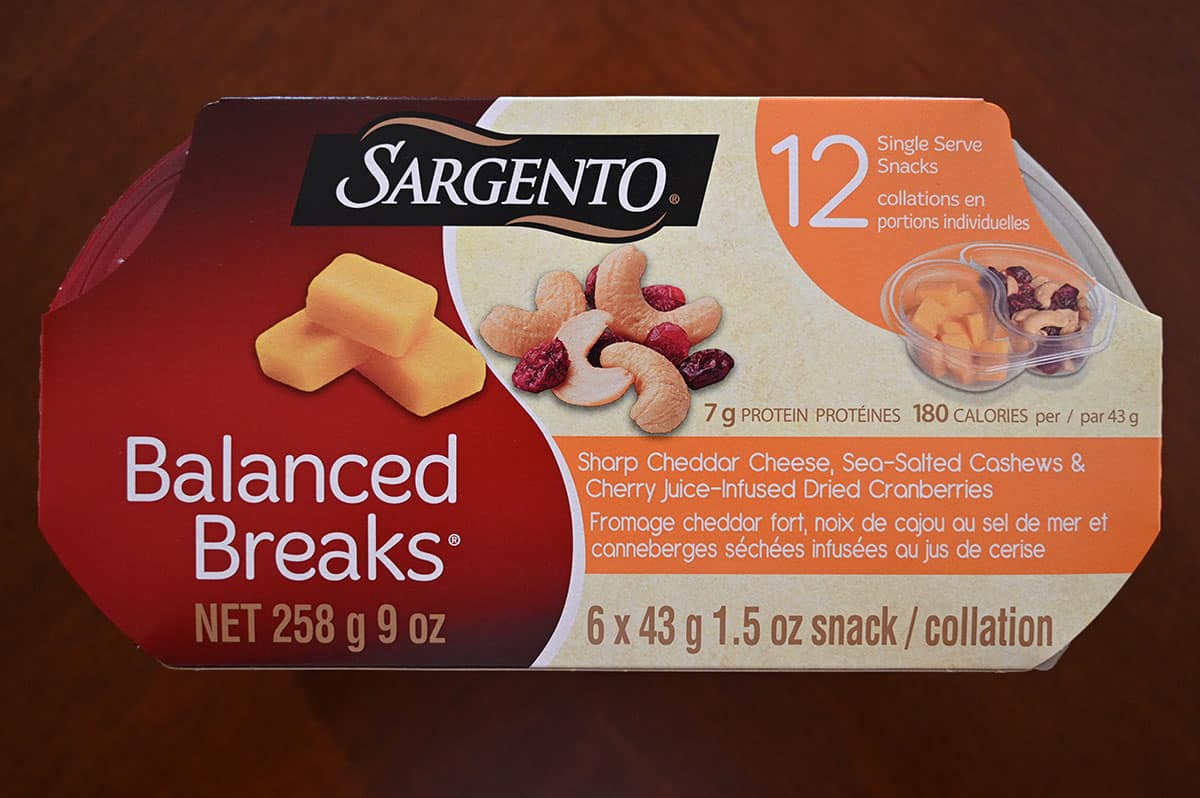 Cost
You get six sharp cheddar cashew and six white cheddar almond in the pack. 12 snack packs total. The cost is $14.99 Canadian at Costco. You're definitely paying for the convenience factor, it would be much cheaper to buy these ingredients yourself and make your own.
Convenience
Each pack has a small section of cheese and a small section of nuts and dried cranberries. They're really not that big and I could easily eat a ton of cheese, nuts and cranberries so I appreciate the portion control aspect.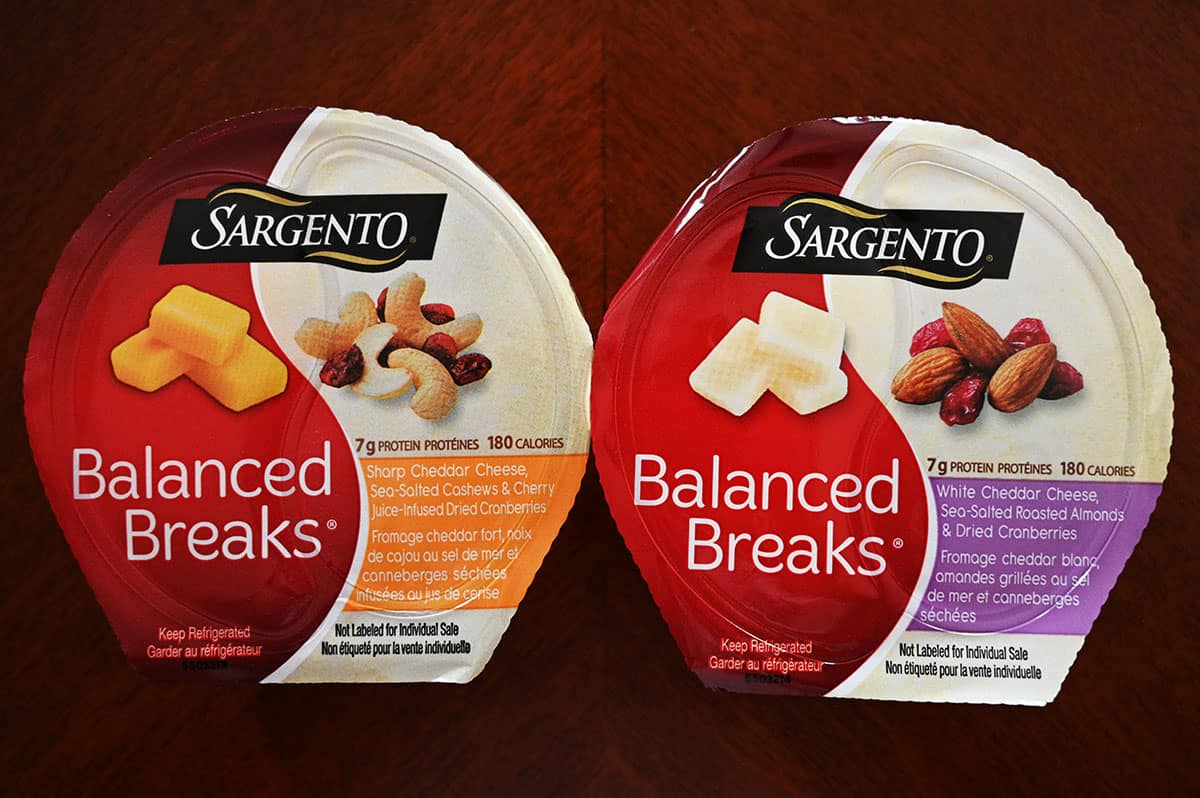 The snacks need to be kept refrigerated and the best-before date is about three months from the date I purchased them. These are great as a snack to bring with you to work, extracurricular activities or long outings or car rides!
Nutrition
Calories
I think these are called Balanced Breaks because they have a combination of protein, fats and carbohydrates. The nutrition facts for both the white cheddar almond and sharp cheddar cashew packs are very similar.
The white cheddar almond has 180 calories, 11 grams of fat, 190 milligrams of sodium, 14 grams of carbohydrates, two grams of fibre, eight grams of sugar and seven grams of protein.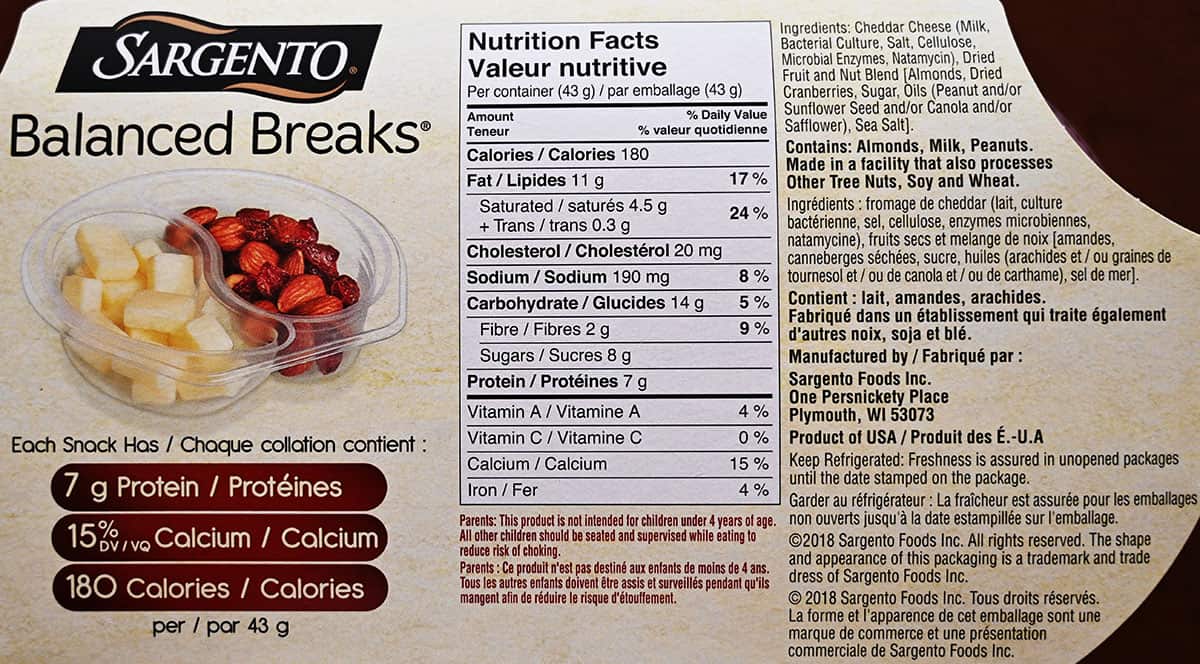 The sharp cheddar cashew pack has 180 calories, 11 grams of fat, 190 milligrams of sodium, 13 grams of carbohydrates, two grams of fibre, seven grams of sugar and seven grams of protein.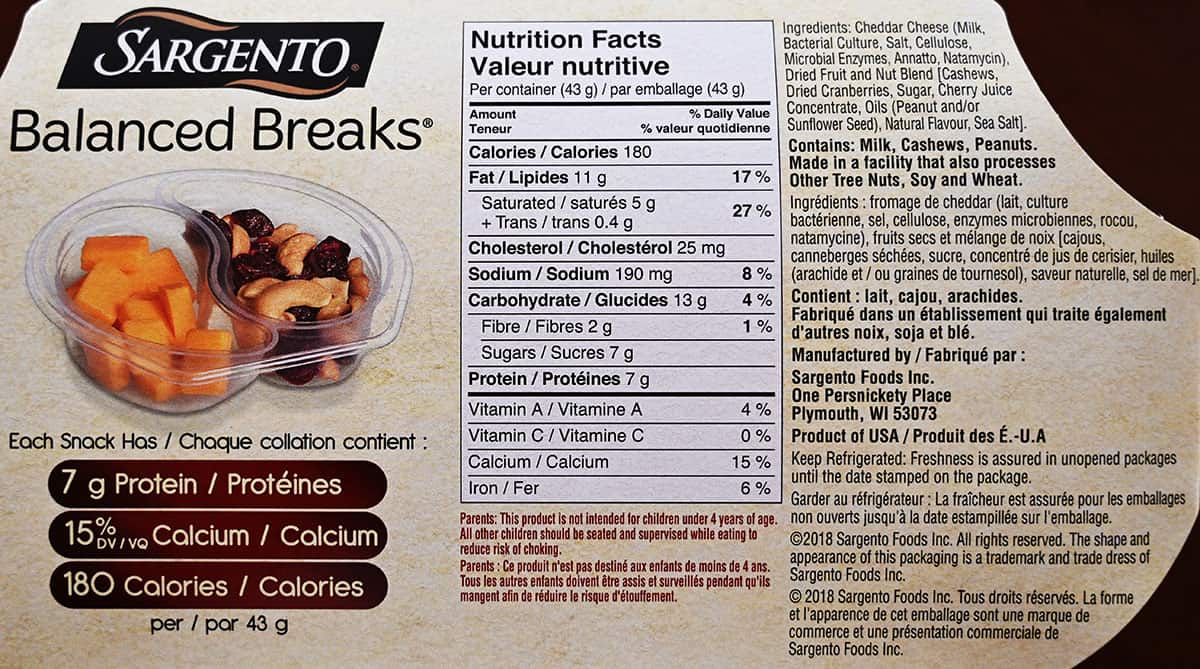 Ingredients
The ingredients list is pretty much as expected for both kinds. I do think it's disappointing that there is added peanut oil as well as sugar. If these ingredients weren't added I'd be pretty impressed. I see both the peanut oil and sugar as unnecessary and this means that people with a peanut allergy can't consume these when they could have made them peanut free.
The Costco Sargento Balanced breaks contain milk, almonds, cashews and peanuts and are made in a facility that also processes other tree nuts, soy and wheat.
Scoring
Taste: 9/10
Cost: 6/10
Convenience: 10/10
Nutrition: 7/10
Overall
Give it a try!
If you're a busy person who's always on the go and forgets to eat or is looking for a quick and convenient snack these are pretty handy to have around but they are expensive!
Have you tried these? What did you think?
---
Please note that this review was not paid for or sponsored by any third party. This product was purchased by Costcuisine for the purpose of producing this review. The opinions in this review are strictly those of Costcuisine. Costcuisine is not affiliated with Costco or any of its suppliers. In the event that Costcuisine receives compensation for a post from the manufacturer of a product or some other third party, the arrangement will be clearly disclosed (including where the manufacturer of a product provides Costcuisine with a free sample of the product).