Do you love the luxurious flavor of truffles? The taste of truffles is hard to describe, but the best way I can explain it is a rich, strong and aromatic combination of savory and earthy. This Costco Scoiattolo Ravioli with Truffle & Parmigiano Reggiano combines the flavor of truffles with another decadent ingredient – parmigiano reggiano. It sounds like something you would order at a Michelin-star Italian restaurant. Do the premium ingredients shine through enough to make you forget this ravioli is from the grocery store?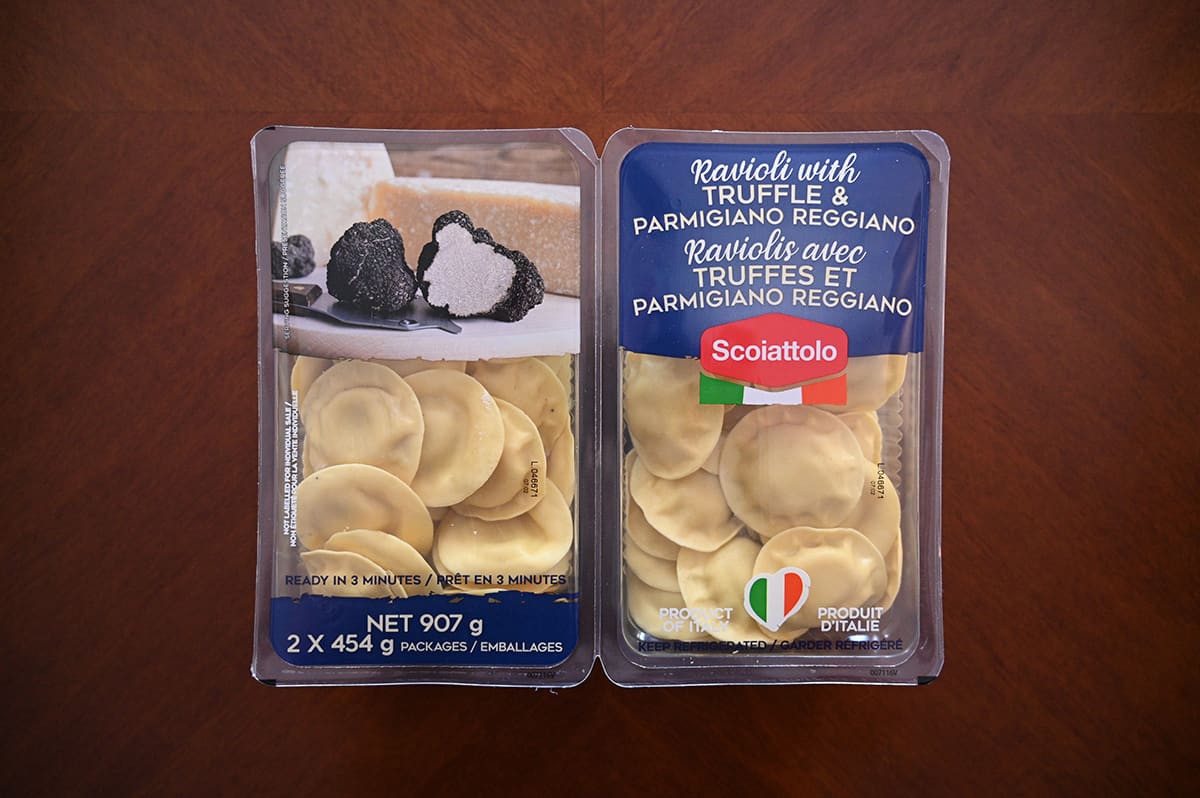 I don't eat a ton of foods with truffle, things I've tried before are truffle fries, truffle aioli, truffle pasta and truffle honey. Truffle isn't something I absolutely love but I don't mind it and wanted to try this Scoiattolo Ravioli with Truffle & Parmigiano Reggiano from Costco.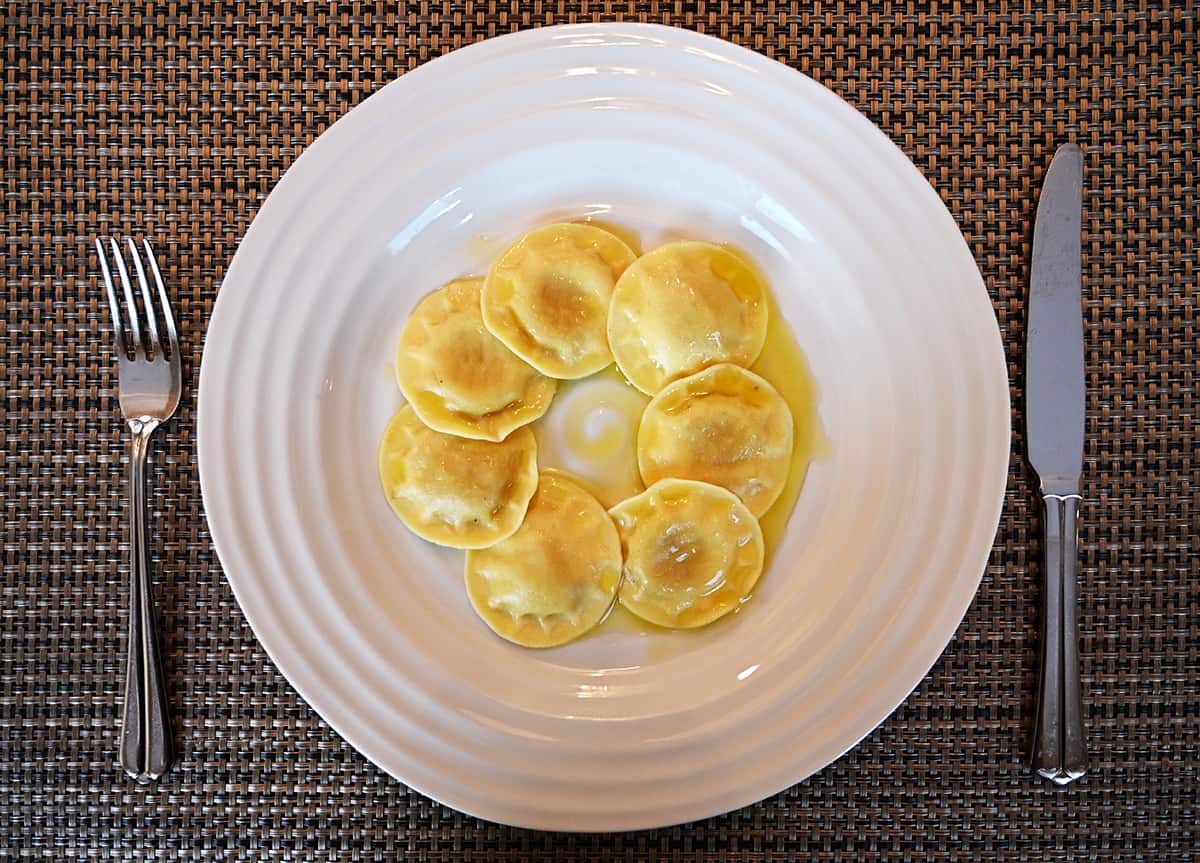 Some other pasta I've reviewed from Costco is the Banza Rotini Chickpea Pasta, Scoiattolo Grilled Vegetable Organic Ravioli, Duso's Jumbo Chicken & Mozzarella Ravioli, Monterey Gourmet Foods Spinach & Cheese Ravioli, Rana Butternut Squash Ravioli, Duso's Lemon Ricotta Mezzaluna, Kirkland Signature Meat Lasagna, Kirkland Signature Chicken Penne Alfredo and the Rana Tagliatelle Seasoned White Chicken & Mushroom Sauce.
Location in Store
You can find this ravioli in the refrigerated deli section at Costco, near the other fresh pasta, cheese and cold-cut meats. The item number is 1555620.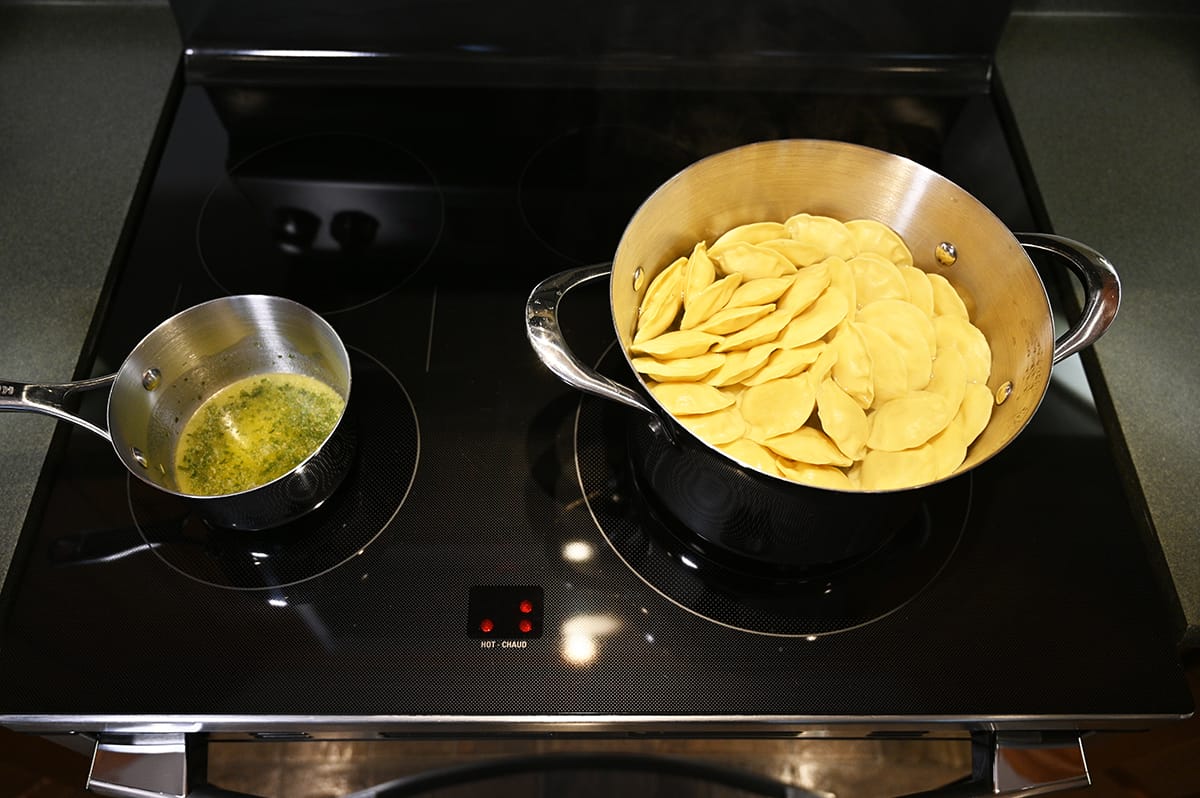 Taste
I strongly disliked this pasta but my husband thought I was overreacting and it wasn't as bad as I said it was. I couldn't stand to eat more than one piece because I felt it tasted like plastic and the filling was too strong. I also find the truffle flavor very strong and overpowering and didn't taste the parmigiano reggiano.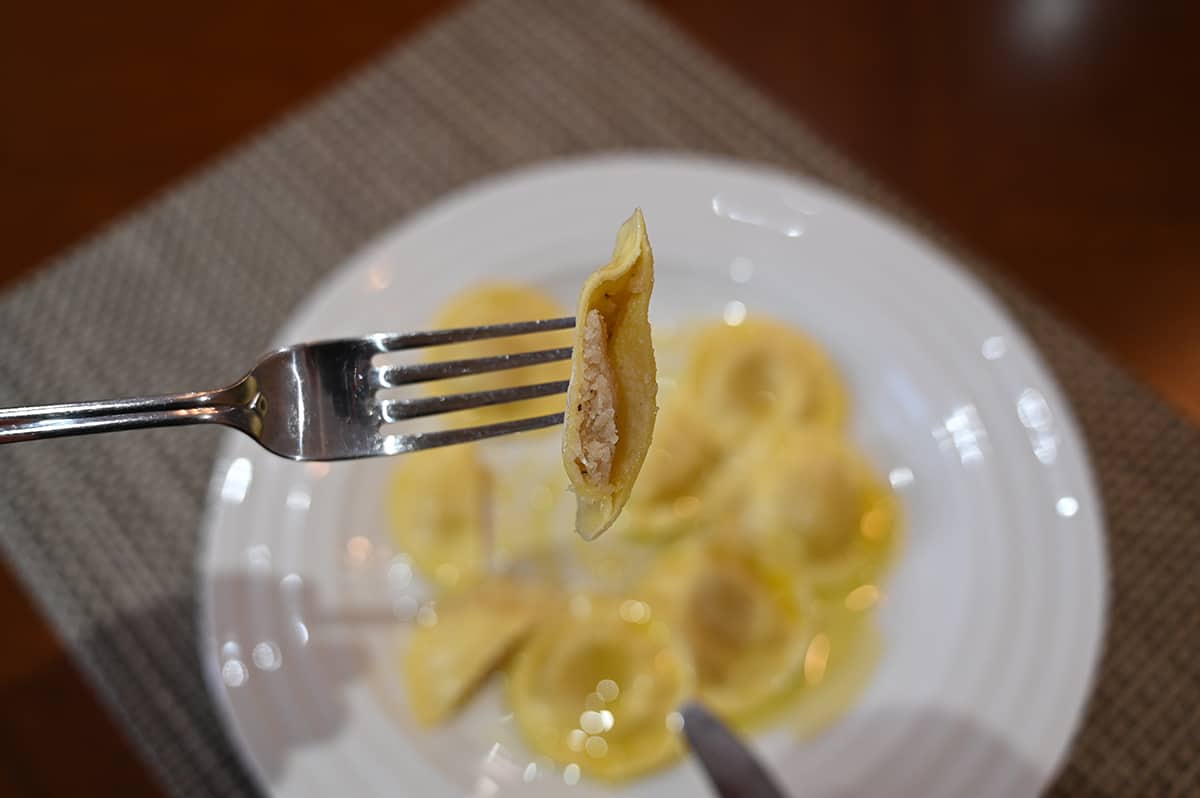 If you pair this with a butter sauce or olive oil you don't taste the truffle flavor as much. Both of us found the pasta dry and doughy with not much filling. If you have a truffle obsession you may like this just because it does taste very truffley.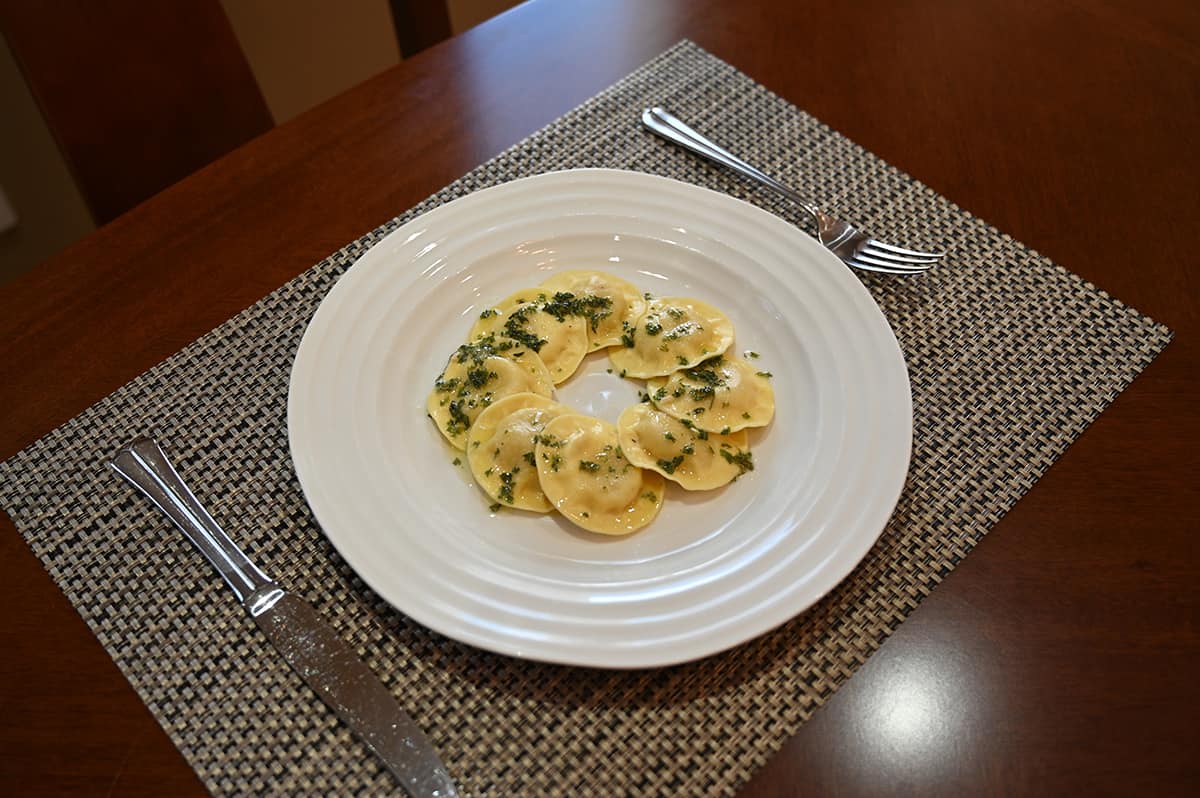 Cost
The 907-gram pack containing two separate 454-gram packs costs $14.49 Canadian. This isn't cheap but isn't totally unreasonable. Fresh pasta is always more than dry and this is from Italy so it makes sense it wouldn't be cheap.
Convenience
The ravioli is a product of Italy and the package recommends serving the pasta with olive oil and additional parmigiano reggiano. My husband found a butter sauce recipe and decided to make that and we also tried it with just olive oil.

The ravioli needs to be kept refrigerated and the best-before date listed on the package is about a month from when we purchased it. It only takes a few minutes to cook and if it tasted better it would be really convenient dinner option.

Nutrition
Calories
A 1 and 1/2-cup serving contains 390 calories, 13 grams of fat, 54 grams of carbohydrates, seven grams of fibre, two grams of sugar, 14 grams of protein and 870 milligrams of sodium.
The amount of protein per serving isn't bad but that's a ton of sodium and carbs but one and a half cups in also a decent serving size.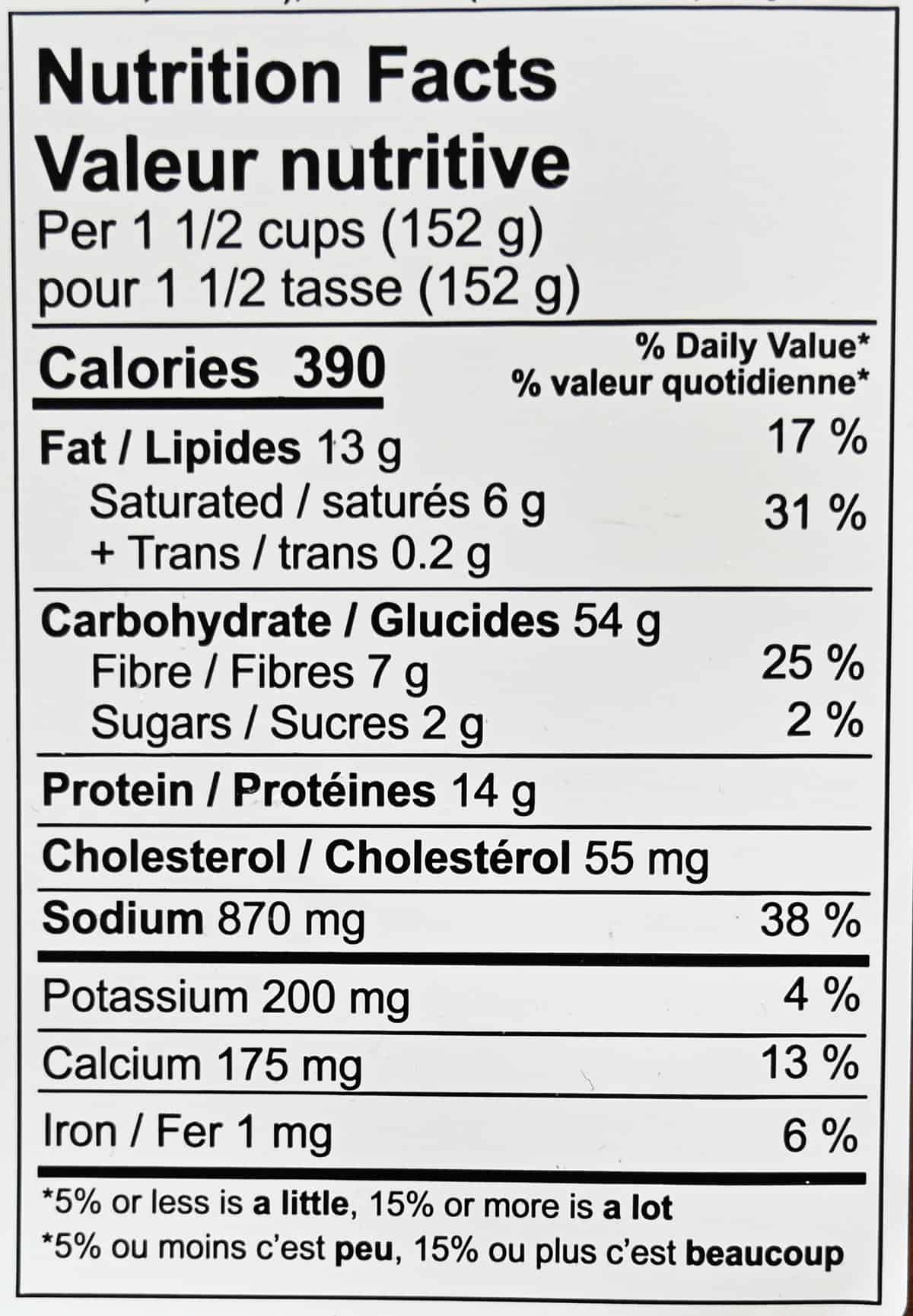 Ingredients
The ingredients list has fewer artificial/chemical-sounding ingredients than I expected. Everything listed is pretty much what you would use to make a similar ravioli.
The ravioli contains wheat, eggs, milk and may contain tree nuts, crustaceans, fish and soy.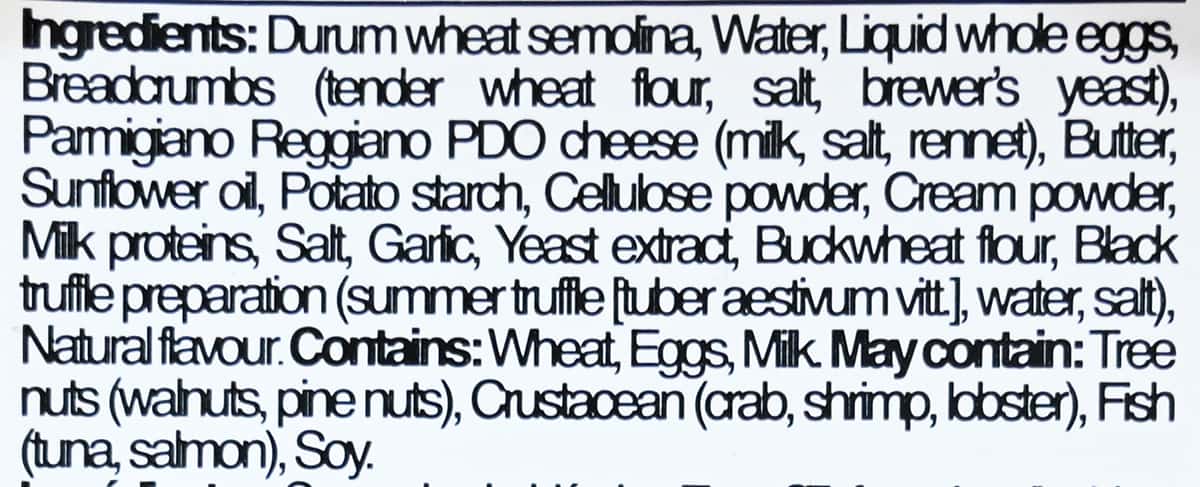 Scoring
Taste: I give it a 1/10 but my husband says it's a 5.5/10
Cost: 6/10
Convenience: 9.5/10
Nutrition: 3/10 (They may be low in carbs and sugar but they're in high fat and calories for a small serving).
Overall
Walk on by!
I don't like this at all and wouldn't even finish it but according to my husband, I'm being too harsh. If you like truffles you might like this but I kind of doubt it.
Have you tried this? What are your thoughts on it?
---
Please note that this review was not paid for or sponsored by any third party. This product was purchased by Costcuisine for the purpose of producing this review. The opinions in this review are strictly those of Costcuisine. Costcuisine is not affiliated with Costco or any of its suppliers. In the event that Costcuisine receives compensation for a post from the manufacturer of a product or some other third party, the arrangement will be clearly disclosed (including where the manufacturer of a product provides Costcuisine with a free sample of the product).