Costco is carrying this vegan, dairy-free, gluten free dip pack perfect for summer!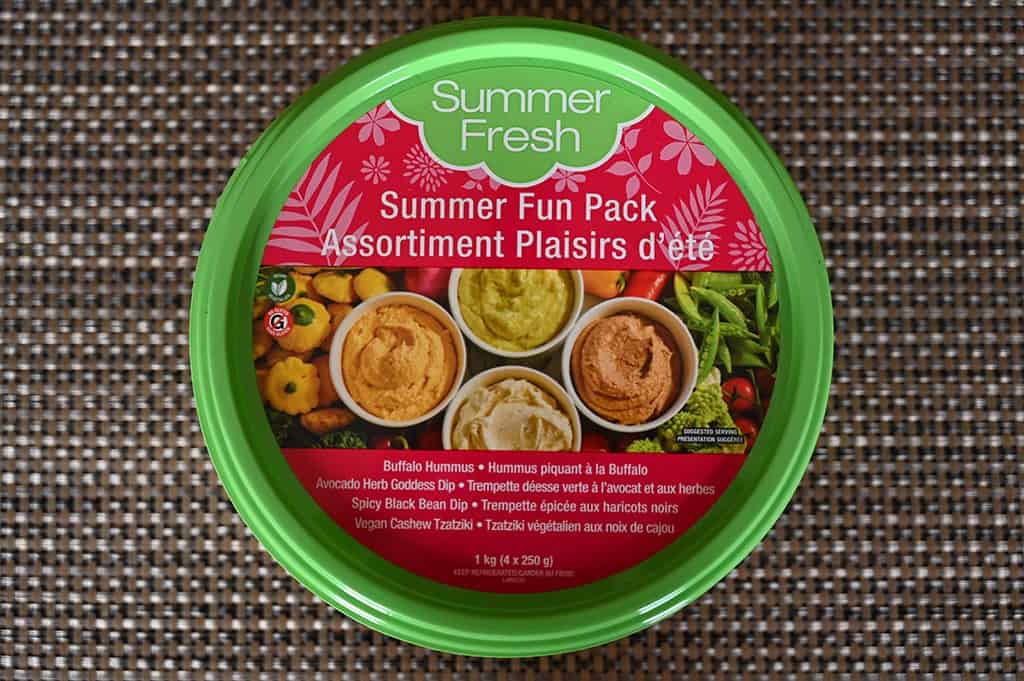 This Summer Fresh Summer Fun Pack of dips caught my eye last time we were at Costco. I love the bright green and pink packaging but what really caught my attention was after I inspected the ingredients list I came to discover that the four dips in the pack are vegan! Another Costco vegan product to add to the list!
I've reviewed a few dips from Costco on the blog like the Rojo's Black Bean Six Layer Dip, Fontaine Sante Spinach Dip, La Terra Fina Queso Dip with Cheddar, Culinary Treasures Roasted Garlic & Chili Aioli, Big Taste Fresh Mango Salsa and Garden Fresh Gourmet Mango Peach Habanero Salsa.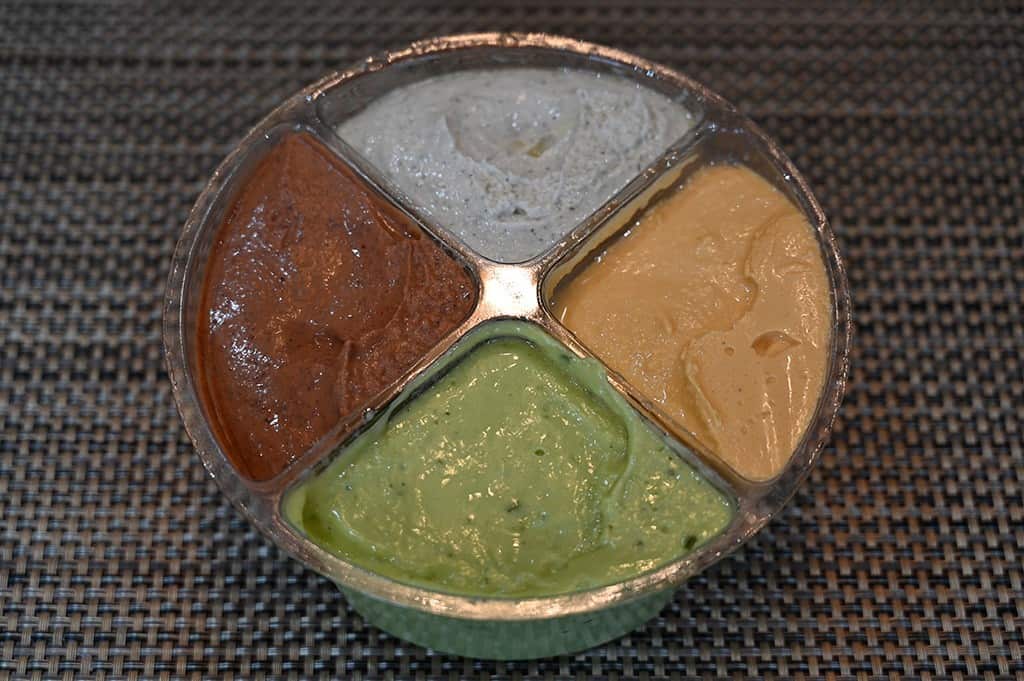 This dip can be found in the refrigerated deli section by the other dips like hummus and guacamole. The item number is 1507501.
Taste
There's four different kinds of dip in the pack. Buffalo Hummus, Avocado Herb Goddess, Spicy Black Bean and Vegan Cashew Tzatziki. My favorite is the vegan tzatziki but I didn't dislike the taste of any of the dips!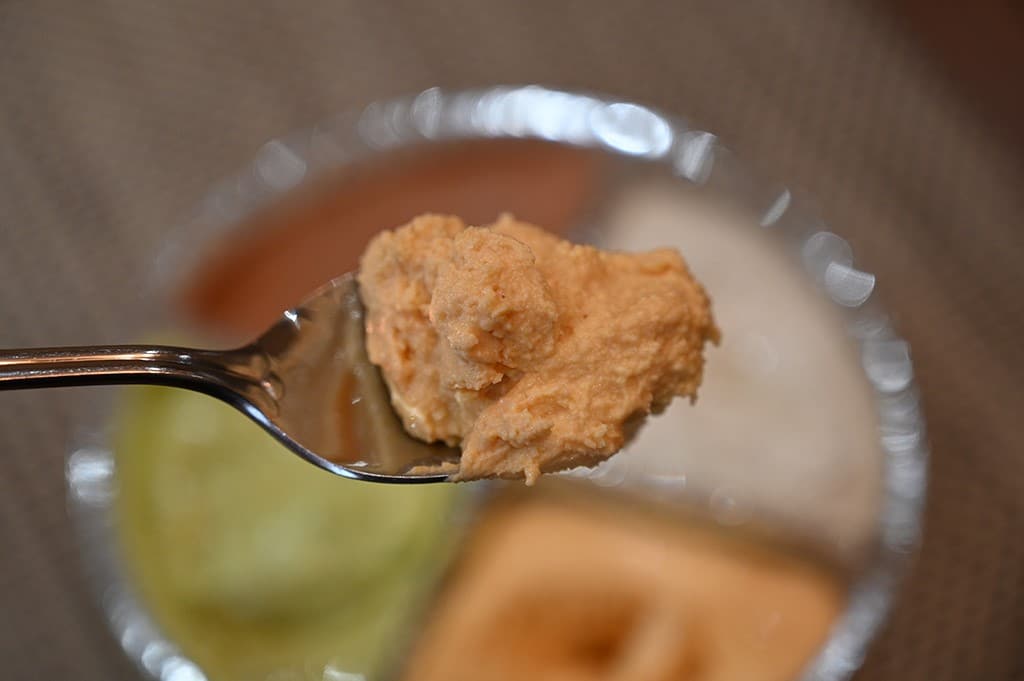 The Buffalo hummus tastes like yummy, thick hummus with a the flavor of hot sauce and also the heat! I liked that there wasn't a ton of heat though as I'm pretty wimpy when it comes to spice. It tasted really good with carrots and plain tortilla chips.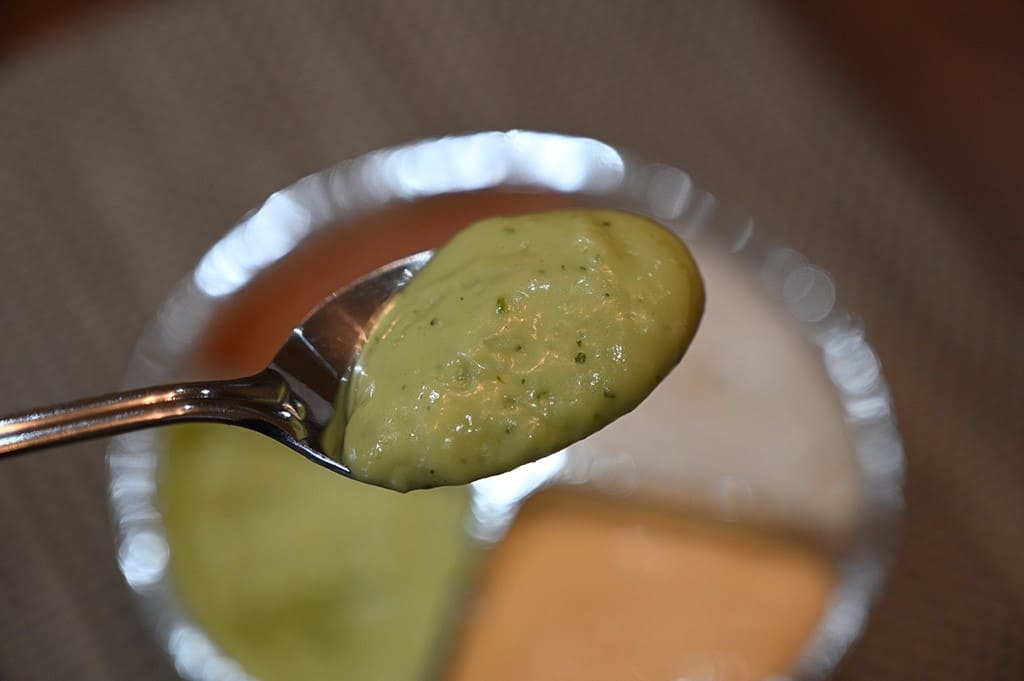 The Avocado Herb Goddess tastes just like guacamole with some added herbs. It's a bit thinner than your standard guacamole.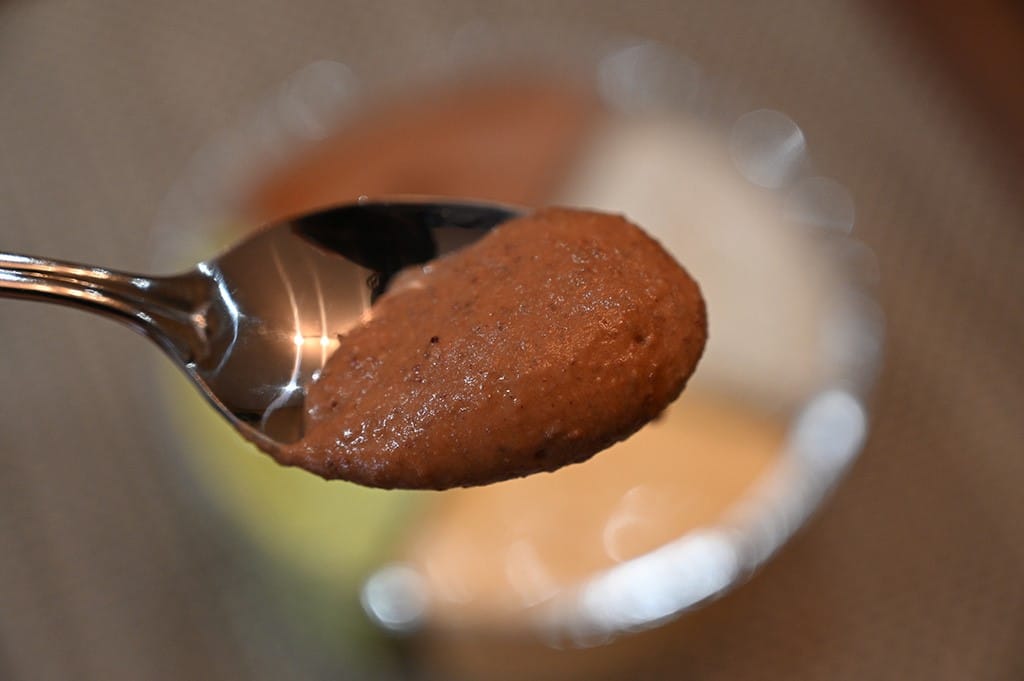 The Spicy Black bean isn't overly spicy and you mainly taste the black beans with a hint of red pepper and chickpeas. This is an awesome dip for vegetables or can be put on tacos, fajitas or also used for dipping tortilla chips into.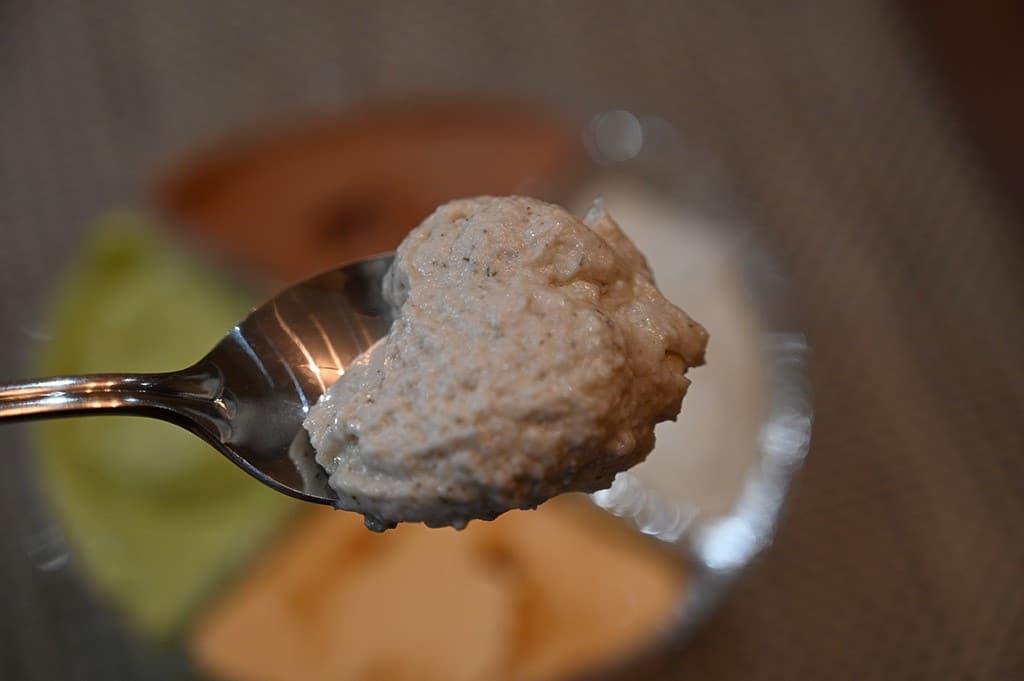 The Vegan Cashew Tzatziki was a bit of a shocker for me, it doesn't taste vegan and tastes like any other tzatziki I've tried. This one goes well as a topping for homemade Greek quinoa salad and is great to dip pita bread into or have with the Sol Cuisine Spinach & Chickpea Bites.
It's fun to try all the different dips, some I liked more than others but I found all of them tasty enough and worth the price.
Cost
I paid $9.89 Canadian for the 1 kg tub of dip, that includes four 250 gram sections of different flavors of dip.
Convenience
The tub comes with four different kinds of dip only one plastic seal top for all the dips so when you open the dip you're opening all four kinds at once. I'd rather each dip have a seperate seal so you could eat one at a time.
There's no way my husband and I can finish a 1 kg tub of dip in about five days from opening it. Unopened the dips best before date is about three weeks from the date we purchased it. Opened I would try to use this up by about five days from the day you opened it.
This would be perfect for a summer barbecue or get together, although it's technically vegan it's a dip that I think would be enjoyed by everyone, not just plant-based people!
You can use this with raw vegetables, plain potato chips, nacho chips, oven roasted potatoes or even use it to dip grilled meat into!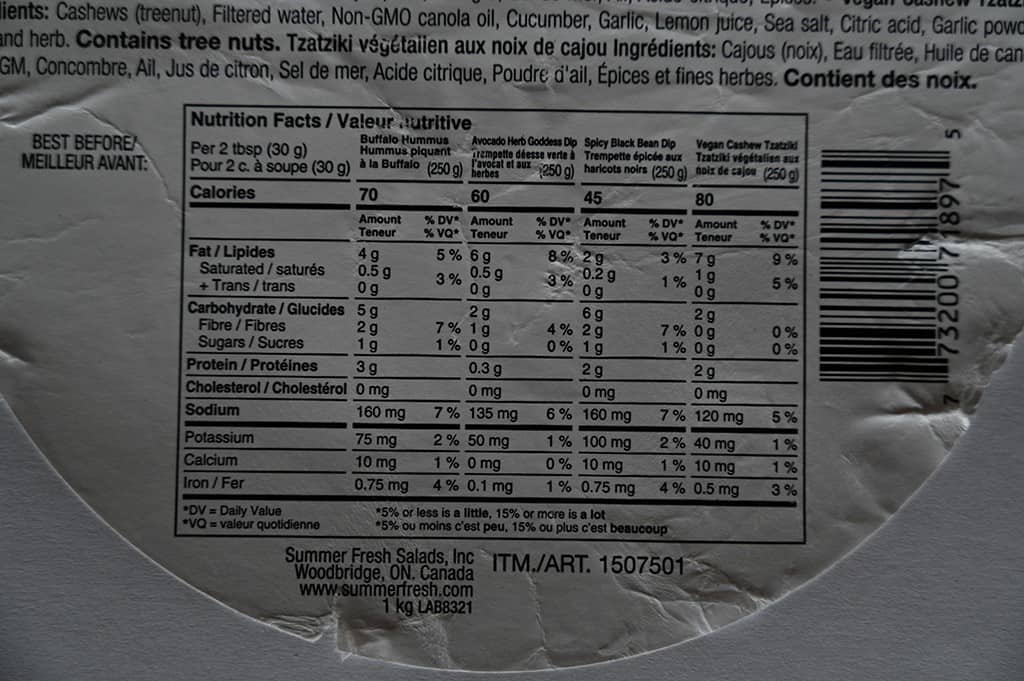 Nutrition
The nutrition information per dip is posted in the photo above. These nutritional values are pretty in-line with that you've find on any hummus or guacamole or tzatziki so nothing surprising there.
I like the ingredients list, I can actually read it and feel like it's pretty straight forward and there's not a ton of excess unnecessary ingredients.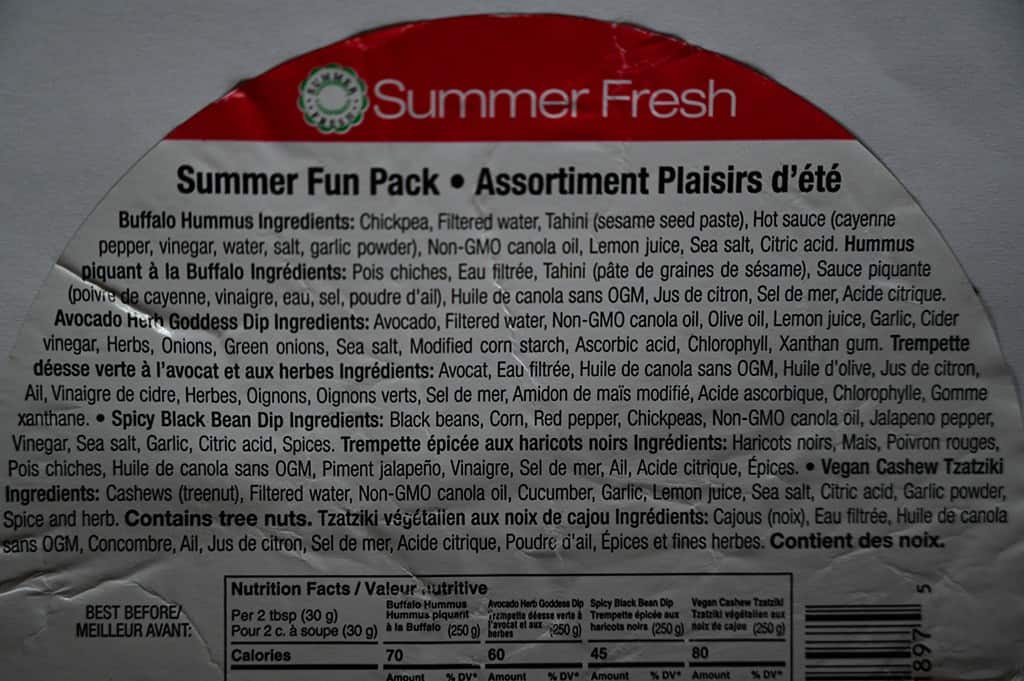 Scoring
Taste: 8.5/10
Cost: 9/10
Convenience: 8/10
Nutrition: 8/10
Overall
Must buy!
I would buy this just for the vegan tzatziki that it comes with! If you're following a vegan or plant-based diet I totally recommend checking out this summer fun pack.
Have you tried this? What did you think? Would you try this?
Please note that this review was not paid for or sponsored by any third party. This product was purchased by Costcuisine for the purpose of producing this review. The opinions in this review are strictly those of Costcuisine. Costcuisine is not affiliated with Costco or any of its suppliers. In the event that Costcuisine receives compensation for a post from the manufacturer of a product or some other third party, the arrangement will be clearly disclosed (including where the manufacturer of a product provides Costcuisine with a free sample of the product).