In the mood for quick and convenient comfort food like chili? Costco is carrying the Anne's Table Chili Con Carne, that only requires reheating and is ready in minutes. How does this grocery store-bought chili compare to homemade?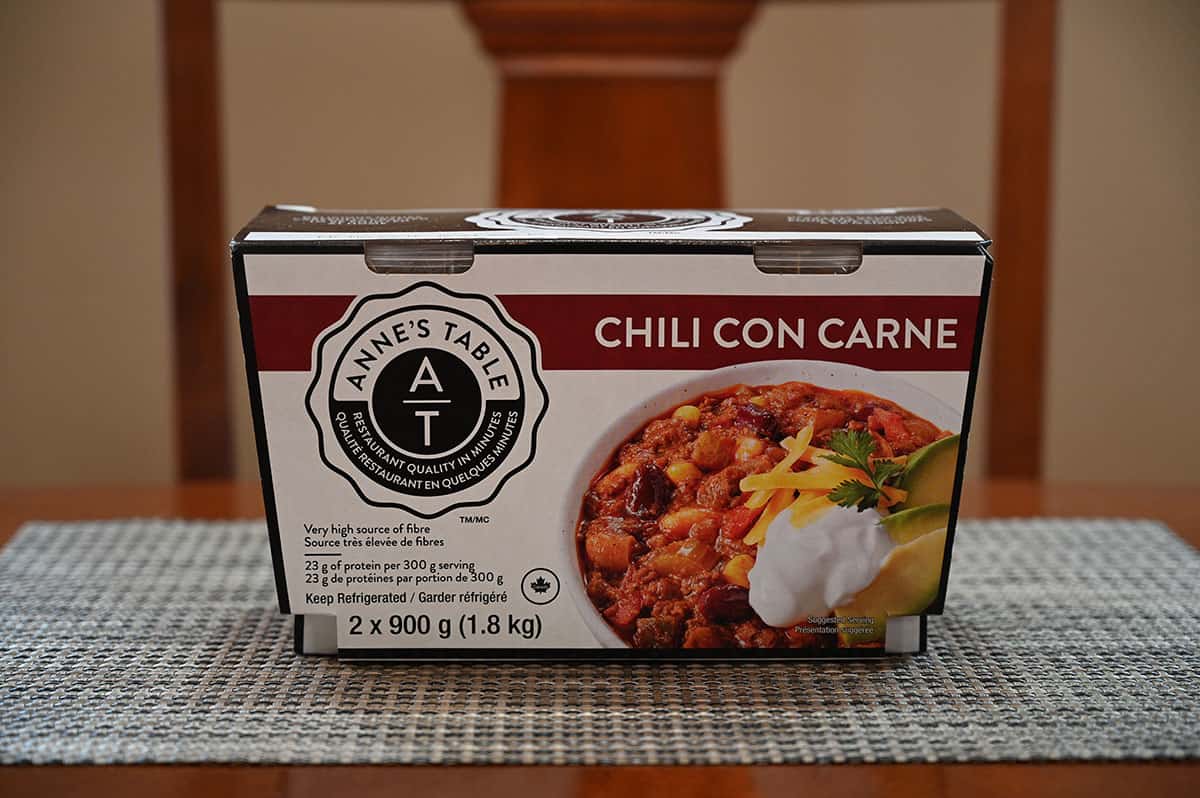 Chili is one of my favorite comfort foods and my mom makes the absolute best chili. I know it's a simple dish to whip up but sometimes you just want something quick and convenient. I picked up the Costco Anne's Table Chili Con Carne during a recent shopping trip and am reviewing it today.
Similar comfort foods from Costco are the Cuisine Adventures French Onion Soup, Kirkland Signature Chicken Pot Pie, Kirkland Signature Stuffed Peppers, Synear Soup Dumplings, Kirkland Signature Chicken Tortilla Soup, Authentic Asia Hand Wrapped Shrimp Wonton Soup and the Bibigo Steamed Dumplings.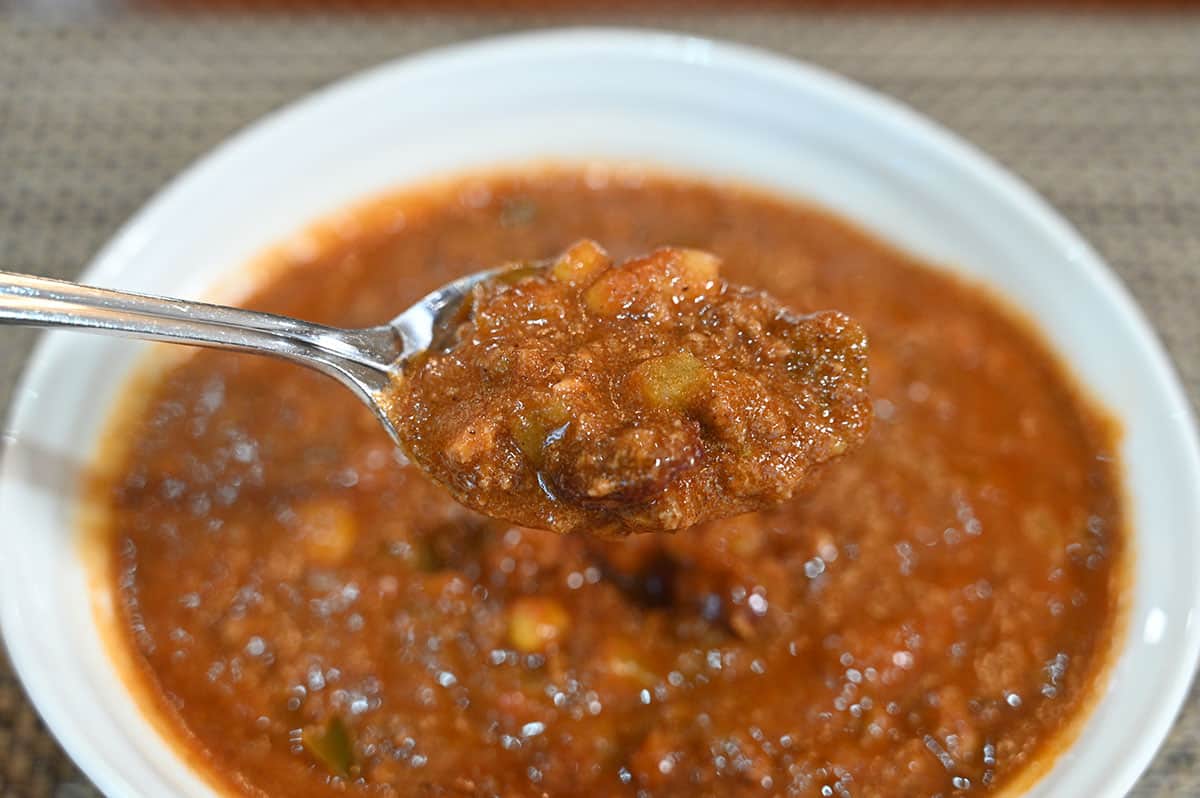 Location in Store
You can find the chili in the refrigerated deli section, near the fresh pasta, cheese, cold cut meats and soups. The item number is 1683208.
Taste
The chili is nicely seasoned with the slightest bit of heat/spiciness (but not too much at all). The most noticeable spice for me was the cumin. The bits of corn, celery and green pepper add a bit of crunch but there's not a ton of vegetables in the chili.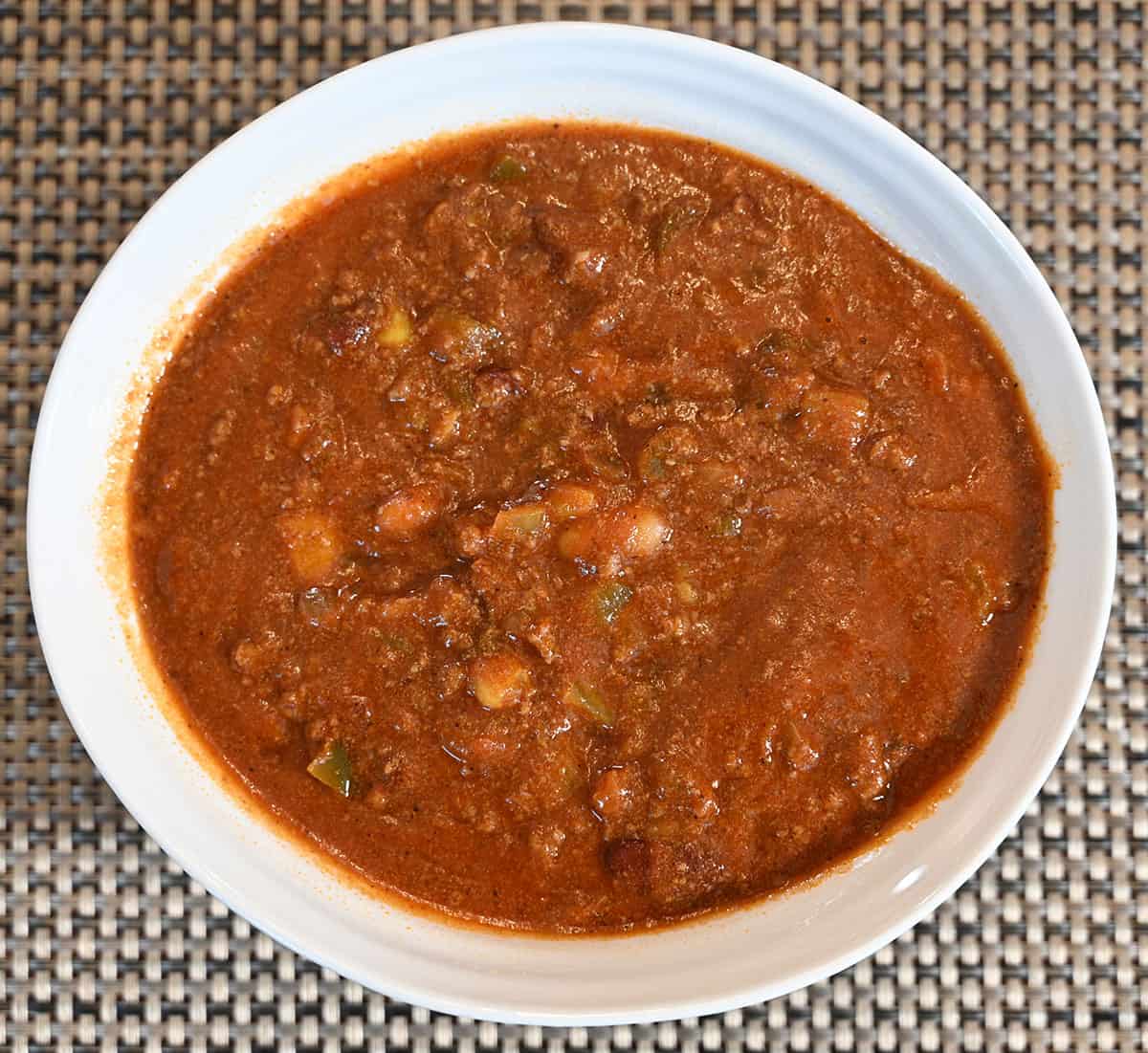 The chili seems pretty meaty, which is always a positive. I did find a few bits of the ground beef a little tough/chewy, but not enough to ruin the chili for me. I also noticed a slight sweetness to the chili which isn't my favorite, I usually prefer my chili to be very tomatoey and savory.
Cost
The chili comes in a package with two containers, each container is 900 grams and the cost for the two is $14.99 Canadian. Which isn't cheap but isn't horribly expensive either. One container can easily serve two adults with leftovers or two adults and two small children.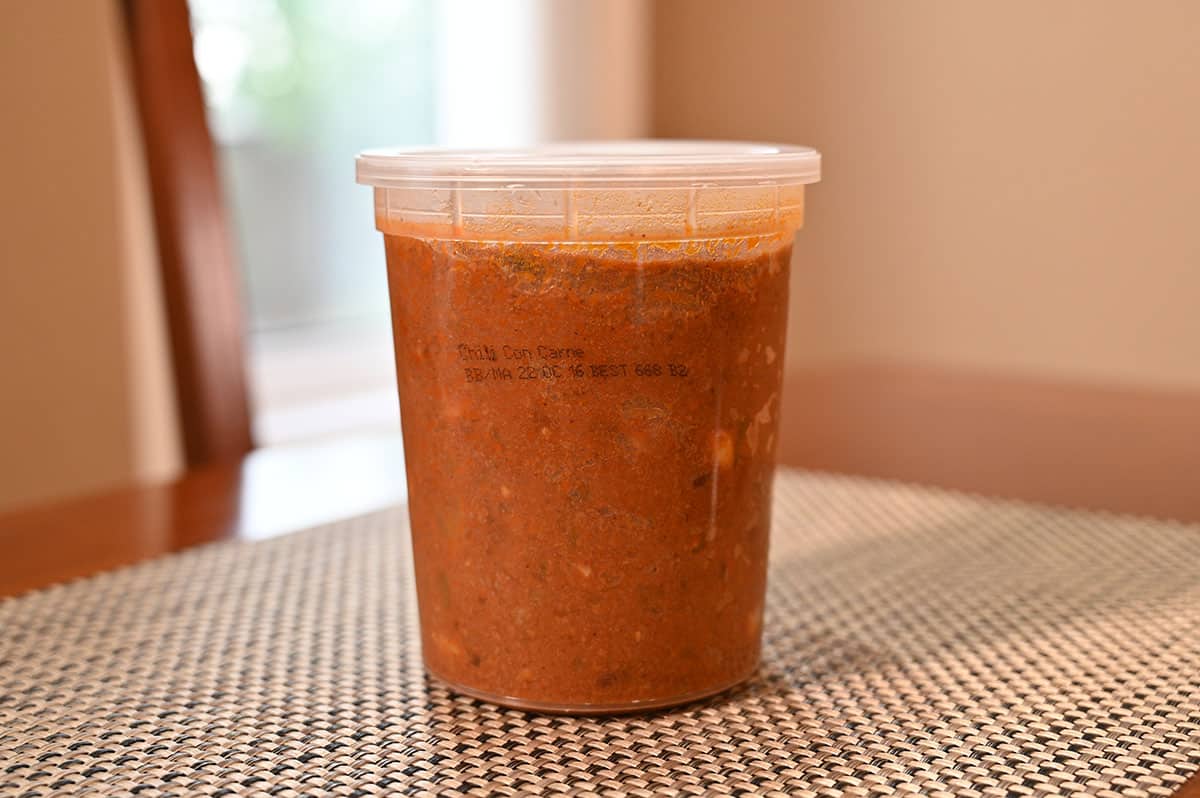 Convenience
There are cooking instructions for stove top or microwave methods, we cooked it on the stove top. The chili is already cooked so you're essentially just warming it. This makes a quick and convenient lunch or dinner.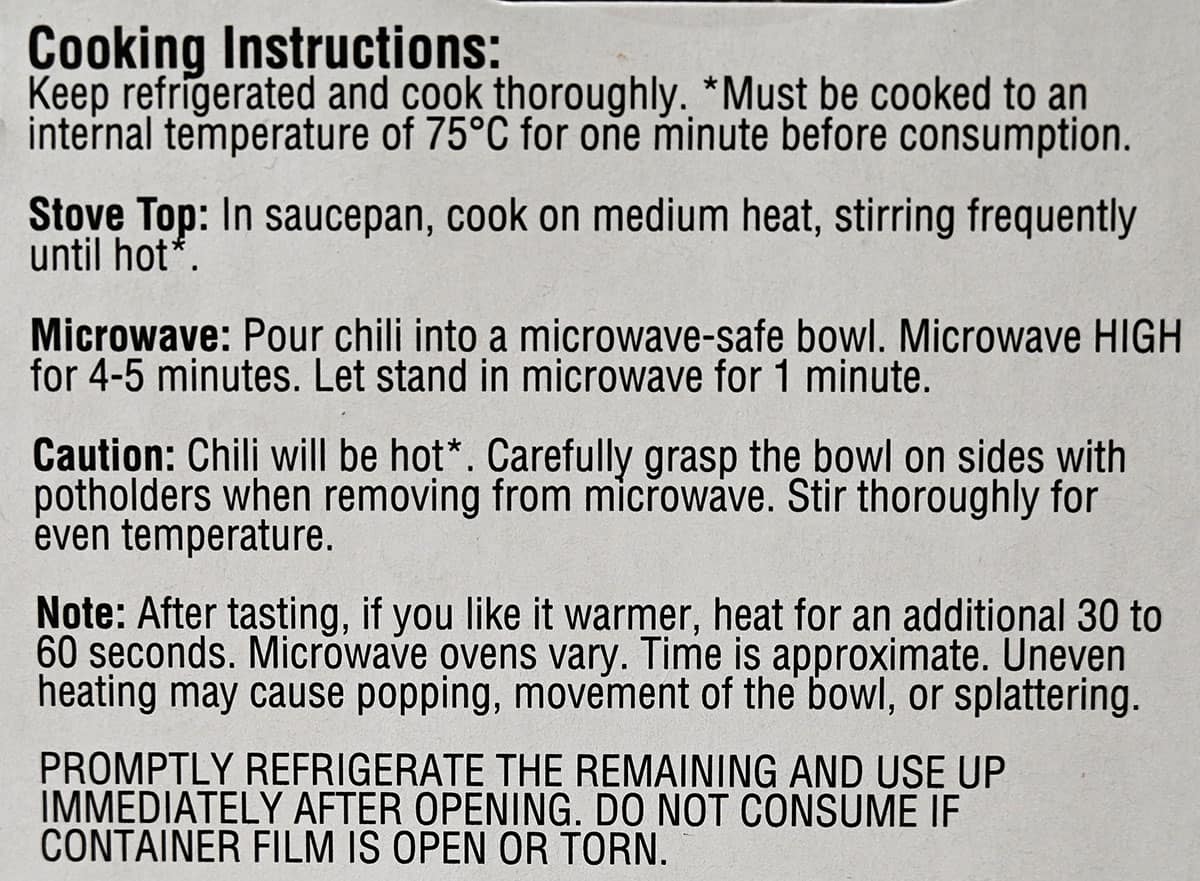 The chili needs to be kept in the refrigerator and the best before date is about a month and a half from the date we purchased it.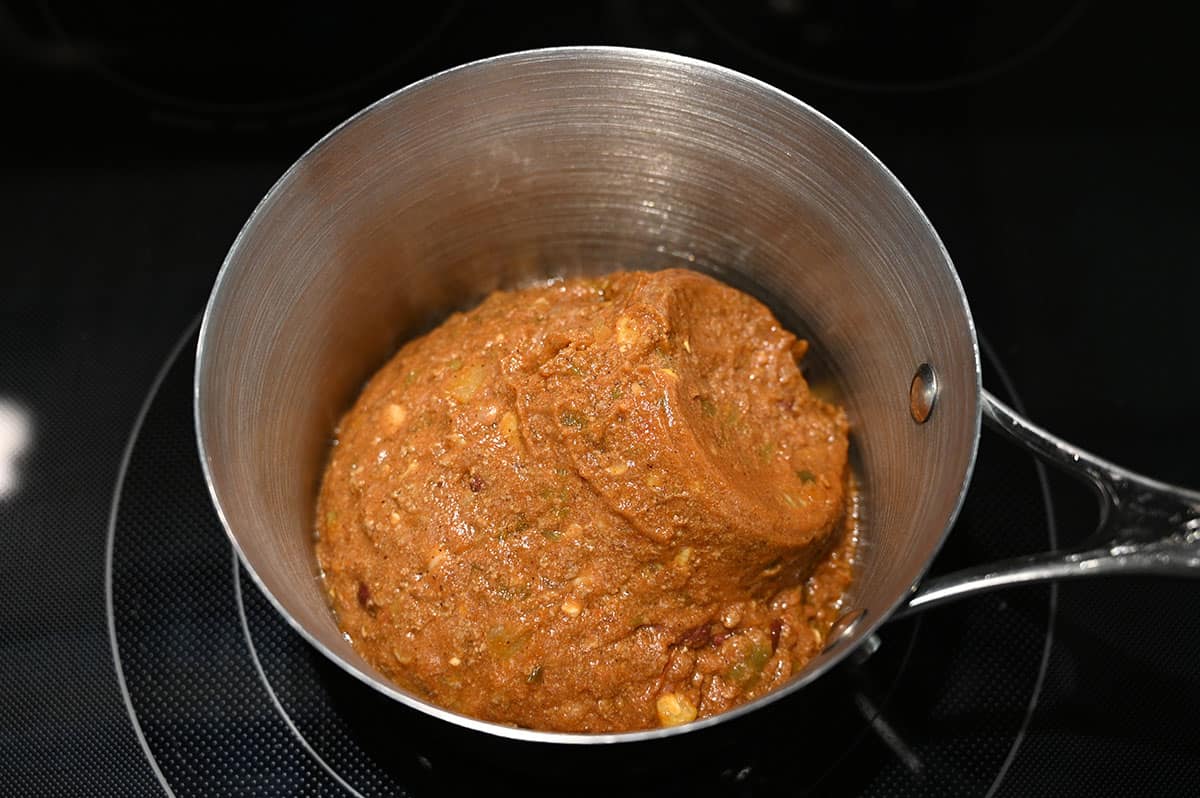 Nutrition
Calories
One-third of a container is 310 calories, twelve grams of fat, 31 grams of carbohydrates, eight grams of fibre, 11 grams of sugar, 23 grams of protein and 920 milligrams of sodium. The calories and fat in a third of a container aren't awful but it's a lot of sodium!
There's also a pretty decent amount of fibre and the sweetness I was tasting is from the added sugar which I don't love.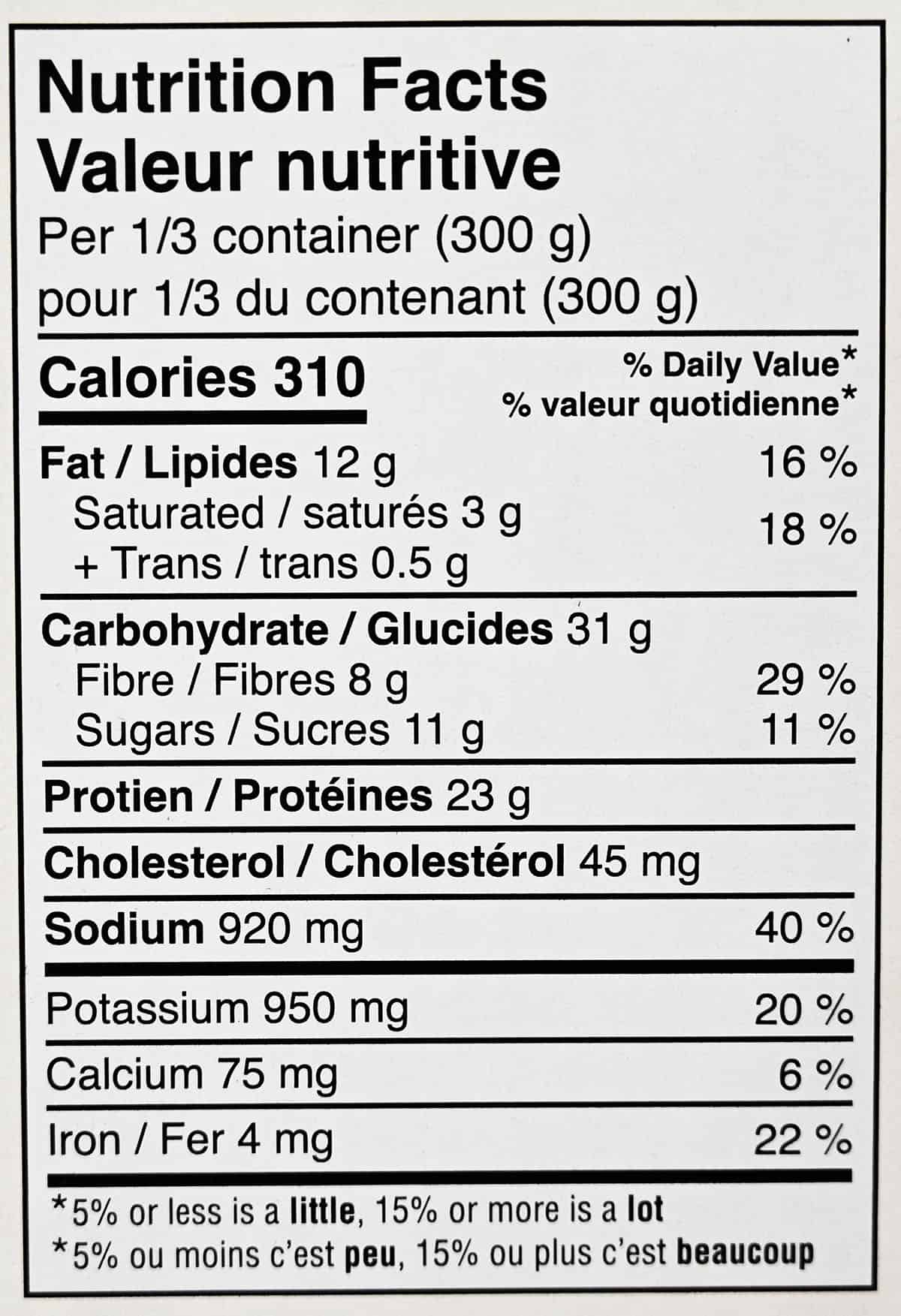 Ingredients
The ingredients are similar to homemade chili except for the sugars. I wish they didn't add additional sugar, if there wasn't any sugar I'd be pretty impressed with the ingredients list! The chili is gluten-free which is a bonus for those who are celiac or gluten intolerant.

Scoring
Taste: 7.5/10
Cost: 8/10
Convenience: 10/10
Nutrition: 4/10
Overall
Give it a try
If you're interested in a convenient, hearty meal and don't want to make chili yourself, this is an okay option. I much prefer homemade chili without the added sugar!
What are your thoughts on sugar in chili?
---
Please note that this review was not paid for or sponsored by any third party. This product was purchased by Costcuisine for the purpose of producing this review. The opinions in this review are strictly those of Costcuisine. Costcuisine is not affiliated with Costco or any of its suppliers. In the event that Costcuisine receives compensation for a post from the manufacturer of a product or some other third party, the arrangement will be clearly disclosed (including where the manufacturer of a product provides Costcuisine with a free sample of the product).