Wouldn't buy this guacamole from Costco again because it has too much lime juice!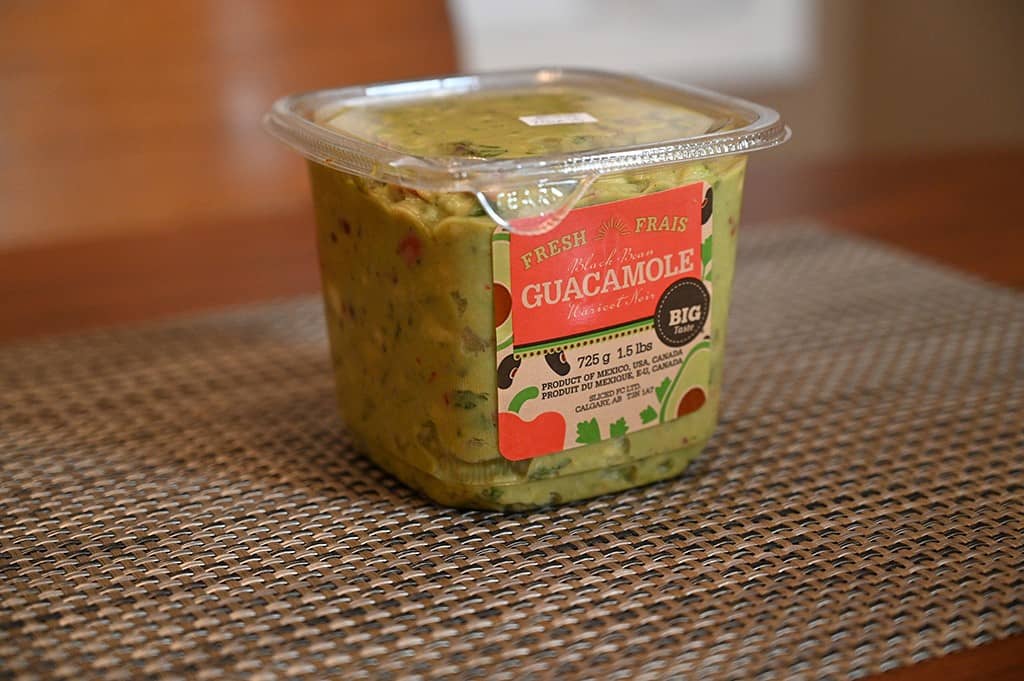 I love anything with avocado in it! Whether that's just plain avocado, dips or guacamole. Costco usually always has a few items in store that contain avocado and they always, always have guacamole! Like the Costco Wholly Guacamole Minis I've reviewed and love.
Costco also carries Chosen Foods Avocado Oil, Chosen Foods Avocado Mayonnaise GoodFoods Tomatillo Avocado Salsa, Food Should Taste Good Guacamole Tortilla Chips, the Summer Fresh Summer Fun Pack which has an Avocado Green Goddess dip and the Rojo's Black Bean Dip also has a layer of guacamole in it!
This can be found in the refrigerated deli section near all the other dips and salsa. The item number is 1472989.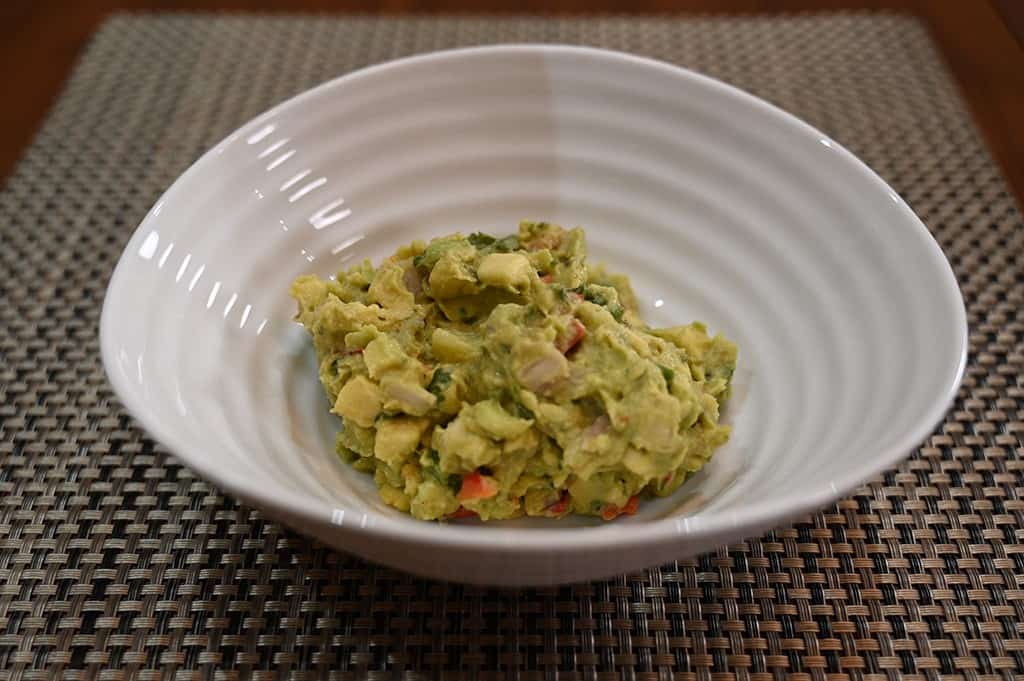 Taste
Let's start with the positives. I absolutely LOVE chunky guacamole with chunks of fresh avocado in it! So so good, this is not your average smooth and thin guacamole. This has big chunks of fresh tasting tomato, onions and avocado.
There's a few bits of black bean in the guacamole but I wouldn't say the black bean flavor is very noticeable. Also there's cilantro so if you're a cilantro detester, make note but it's not a strong cilantro flavor.
What does taste strong is the lime juice used! This guacamole has a lot of acidity. It unfortunately completely wipes out the flavor coming through from the fresh avocado and black beans. You get a slight hint of avocado and black bean flavor but mostly taste lime juice when trying to enjoy this.
I get that they're trying to keep the guacamole from going dark brown since it's full of fresh ingredients but this was just too limey for me!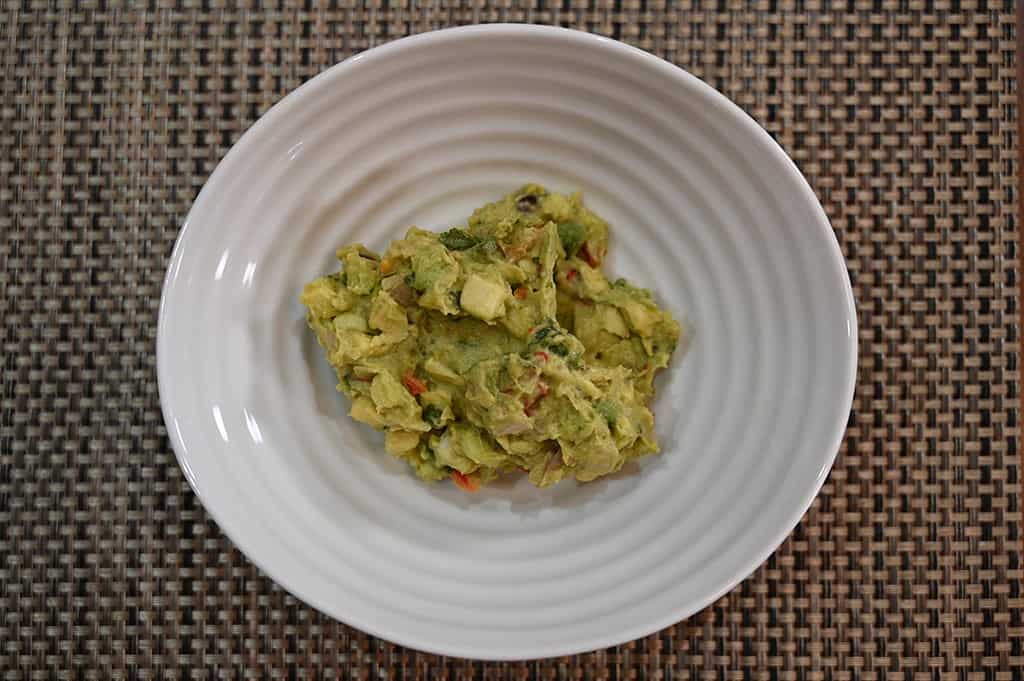 Cost
This 725 gram container of guacamole cost $9.99 Canadian. I would happily pay $9.99 for a really tasty, fresh guacamole but this isn't as tasty as I'd hoped it to be.
Convenience
The best before date is only five days from the date we purchased the guacamole. I recommend eating this up as soon as possible after opening and of course it needs to be kept refrigerated.
You can use this on tacos. enchiladas, my quinoa casserole recipe, salads or just enjoy it with some tortilla chips!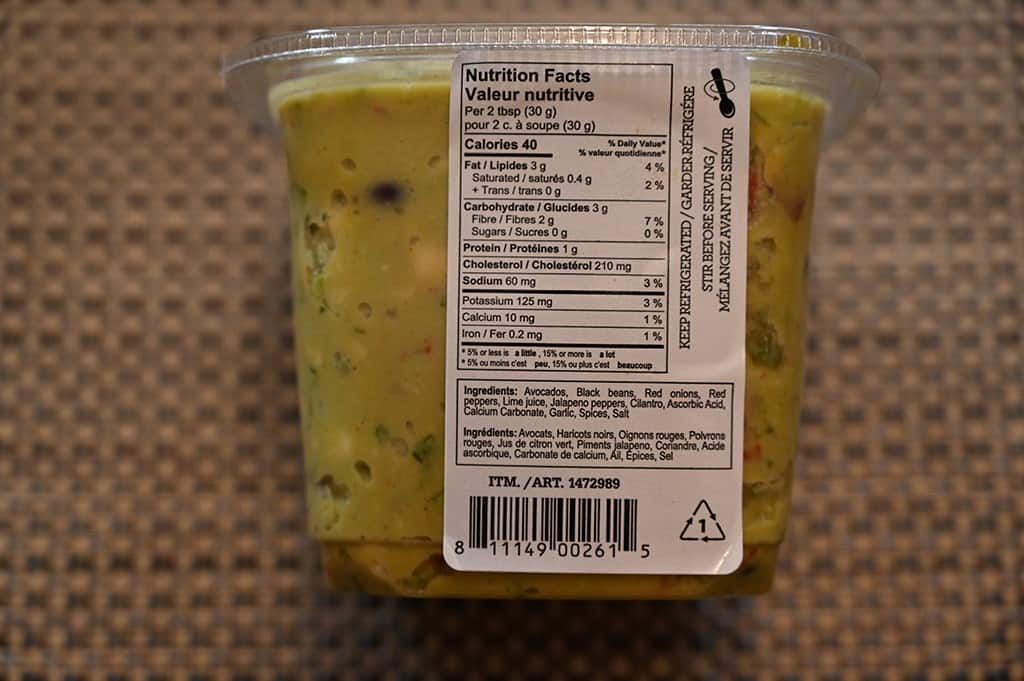 Nutrition
Two tablespoons is 40 calories, three grams of fat, three grams of carbohydrates, two grams of fibre, zero grams of sugar, one gram of protein and 60 mg of sodium.
This guacamole has a short & sweet ingredients list with all ingredients you'd expect to see in fresh guacamole and is low in preservatives!
If you make guacamole fresh at home one bonus is that you don't have to add any preservatives and can eat it right away. Avocado is a great source of healthy fat so I never feel bad about indulging in a bowl of guacamole.
Scoring
Taste: 5.5/10
Cost: 7/10
Convenience: 10/10
Nutrition: 9/10
Overall
Walk on by!
If you're looking for a guacamole from Costco check out the Wholly Gaucamole brand! I love that one.
Have you tried this? What did you think? Share in the comments below if this review was helpful!
---
Please note that this review was not paid for or sponsored by any third party. This product was purchased by Costcuisine for the purpose of producing this review. The opinions in this review are strictly those of Costcuisine. Costcuisine is not affiliated with Costco or any of its suppliers. In the event that Costcuisine receives compensation for a post from the manufacturer of a product or some other third party, the arrangement will be clearly disclosed (including where the manufacturer of a product provides Costcuisine with a free sample of the product).