Coconut sugar review, what is coconut sugar? What does it taste like? Is it healthier than table sugar?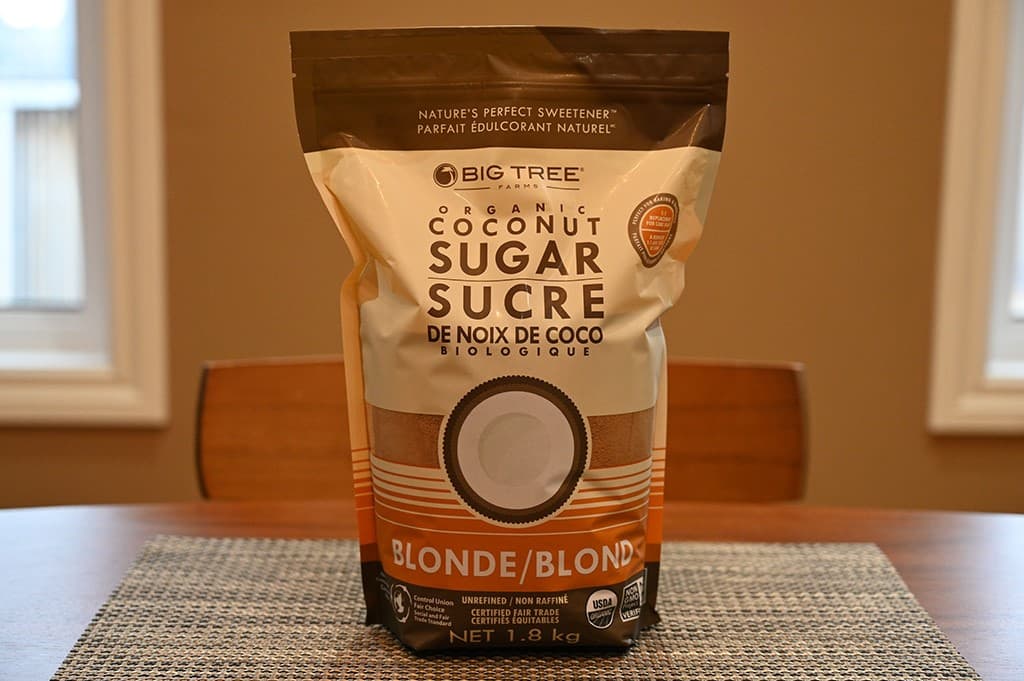 Today I'm reviewing something I've never tried before but have always wanted to! Coconut sugar from Costco! Blonde unrefined organic Big Tree Farms Organic Coconut Sugar is what I'm reviewing today.
Coconut sugar is popular right now and is advertised as being a "clean" replacement for regular table sugar so I had to see for myself what all the hype is about.
I like trying different "healthy" and "organic" foods from Costco! I've reviewed the Lakanto Sweetener from Costco, Costco Kirkland Signature Almond Flour, Kirkland Signature Organic Hemp Hearts, Kirkland Signature Organic Strawberry Spread, Kirkland Signature Organic Coconut Water, Wildbrine Raw Organic Sauerkraut and Traditions Organic Fudge Bars.
This coconut sugar can be found in the aisle with the baking supplies like flour and sugar. The item number is 1047700.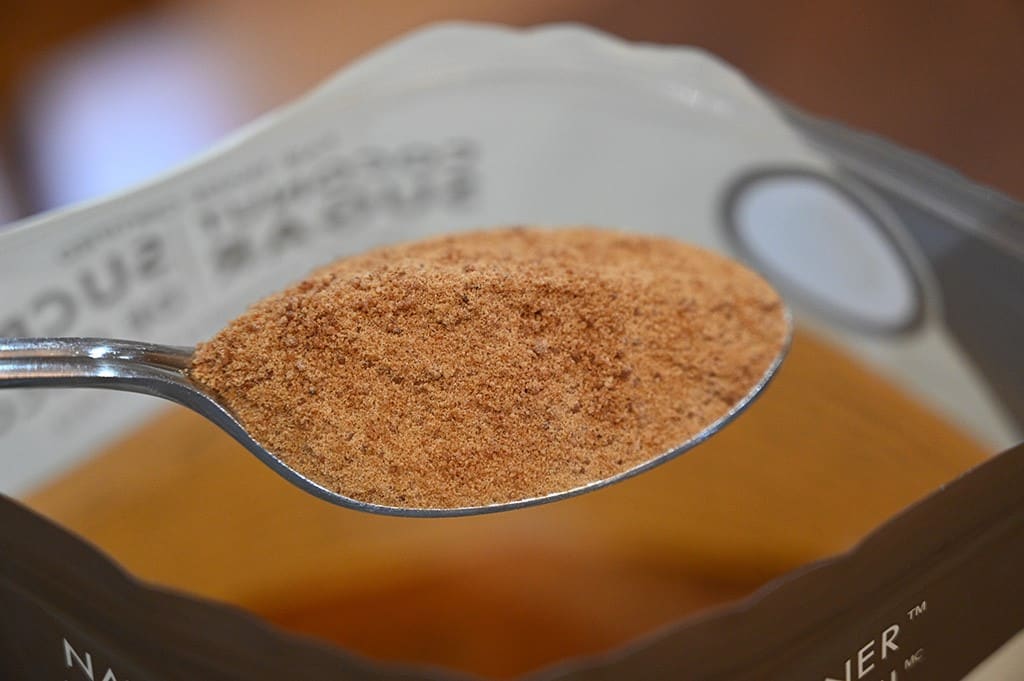 Taste
You may be curious what coconut sugar tastes like. I thought it would be much sweeter than table sugar like stevia is but it's not. It's more like a 1:1 replacement for table sugar.
It's sweet like table sugar but reminds me more of brown sugar. It has a slight caramel, butterscotch flavor. In case you're wondering if it tastes like coconut, it doesn't. I can't say I was amazed by the flavor or anything like that, it basically is just sugar.
Coconut sugar is produced out of sap from the flower buds on a coconut tree. This Costco coconut sugar is organic meaning no herbicides or pesticides were used to grow the coconut tree crops.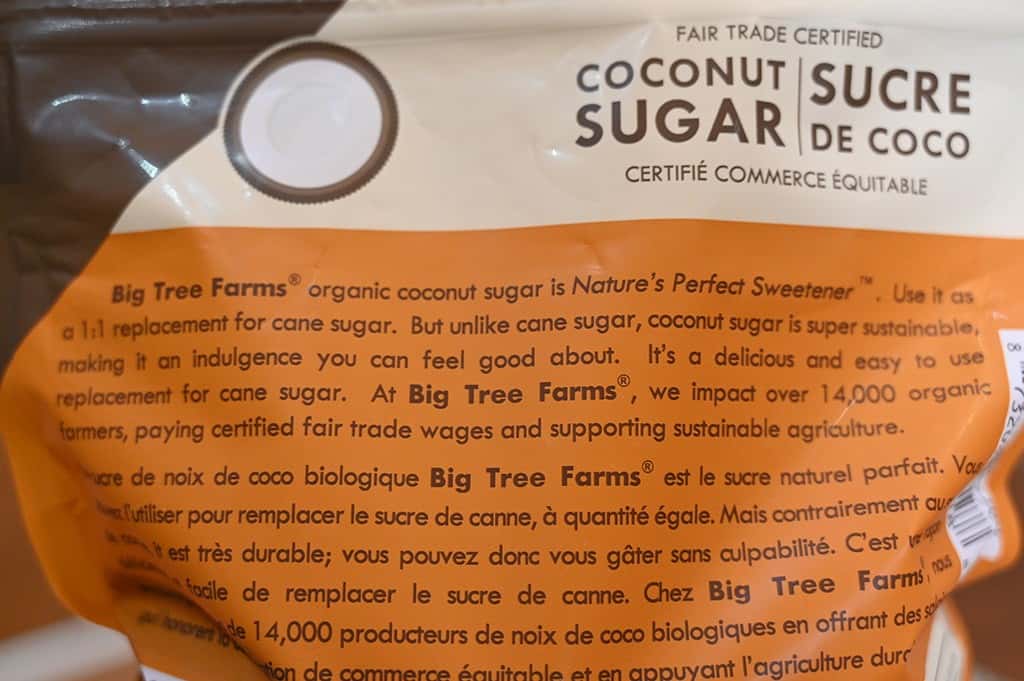 Cost
I paid $10.79 Canadian for this 1.8 kg gram of coconut sugar. The price at Costco is cheaper than my local grocery store but coconut sugar in general is more expensive than table sugar.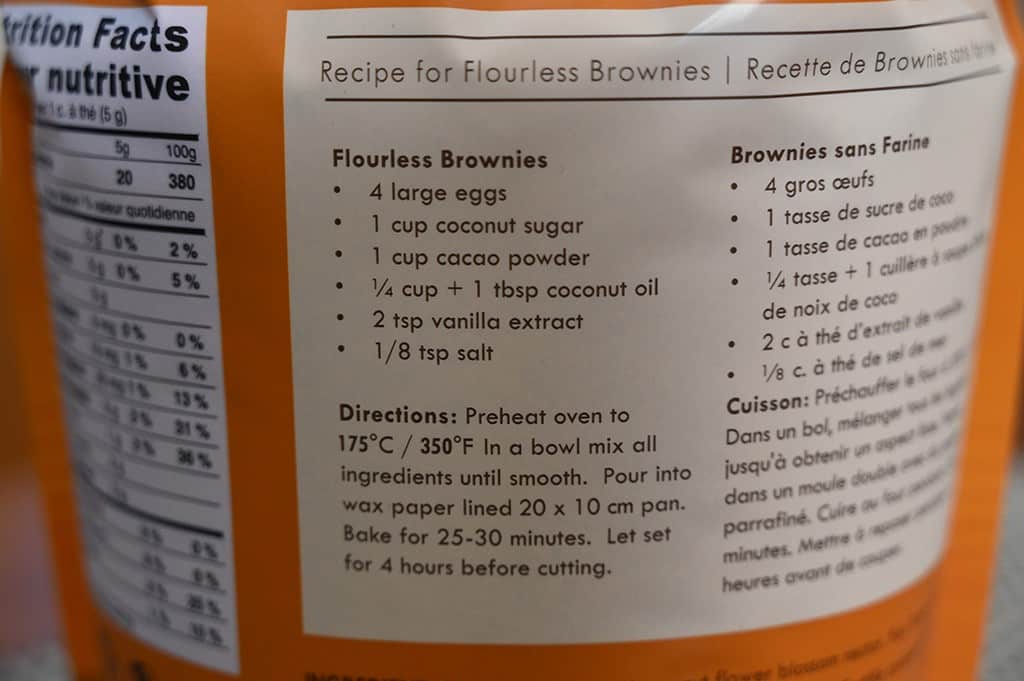 Convenience
Coconut sugar can be used as a 1:1 table sugar substitute. You can use it baking but your baked goods might taste slightly different than they usually do. If you drink tea or coffee you could also use it for that instead of regular sugar.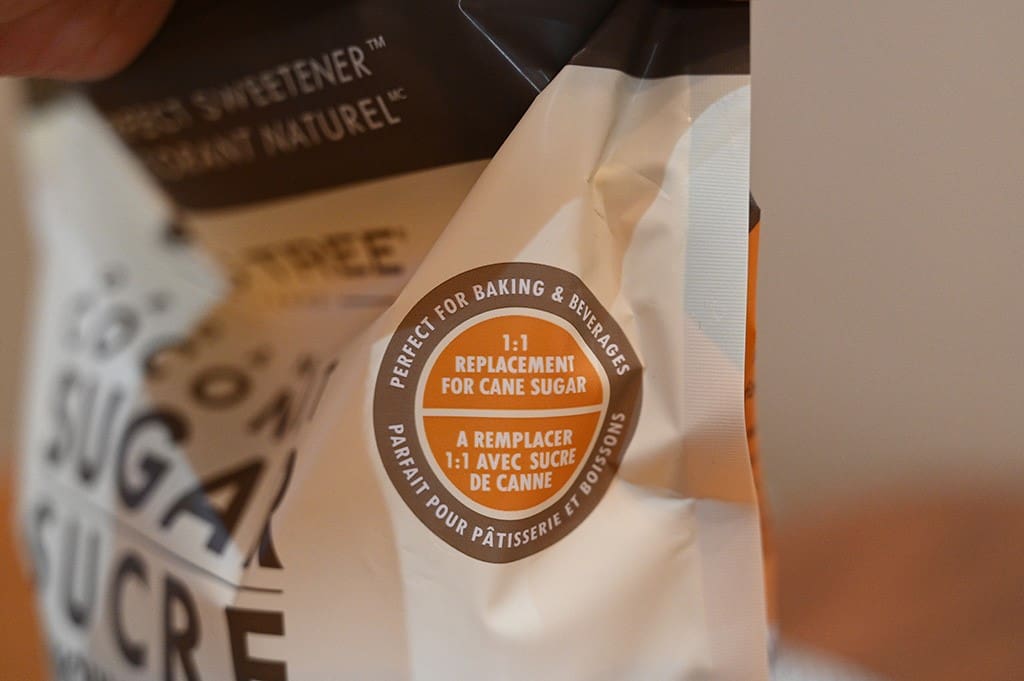 The best before date on the Costco coconut sugar is about a year and seven months from the time I purchased it. The bag reseals after opening which I always appreciate.
I like that this company Big Tree Farms participates in fair trade. To read more about fair trade click here.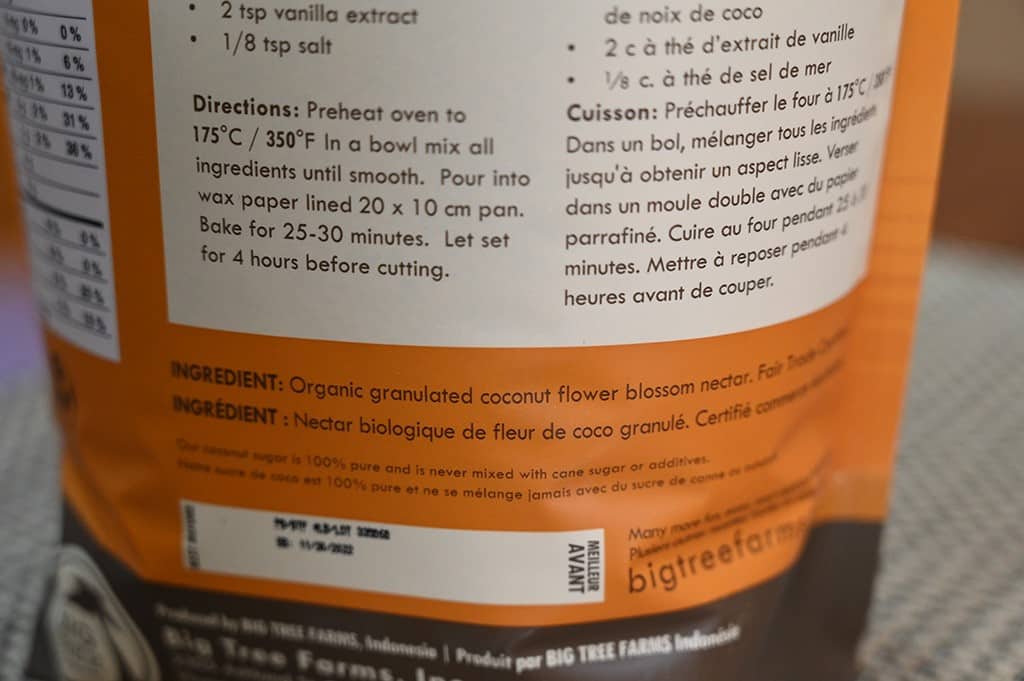 Nutrition
Is coconut sugar healthier than regular white sugar? Not exactly! Here are some reasons why:
Some people think coconut sugar is healthier than table sugar because it has a lower glycemic index, foods that have a higher glycemix index raise your blood sugar more than foods with a lower glycemic index. Table sugar has a glycemix index of 60 and coconut sugar is 54, really not that huge of a difference.
Table sugar is known to have no nutrients and is often referred to as "empty calories". Coconut sugar has a very small amount of nutrients but, here's the kicker, you'd have to eat a ton of coconut sugar to get any real nutritional benefit.
Table sugar and coconut sugar have pretty much the same amount of calories and carbohydrates per teaspoon so you definitely don't want to over indulge in coconut sugar thinking it's far healthier.
Organic coconut sugar is also known to be less processed than table sugar so some people prefer this "wholesome" alternative.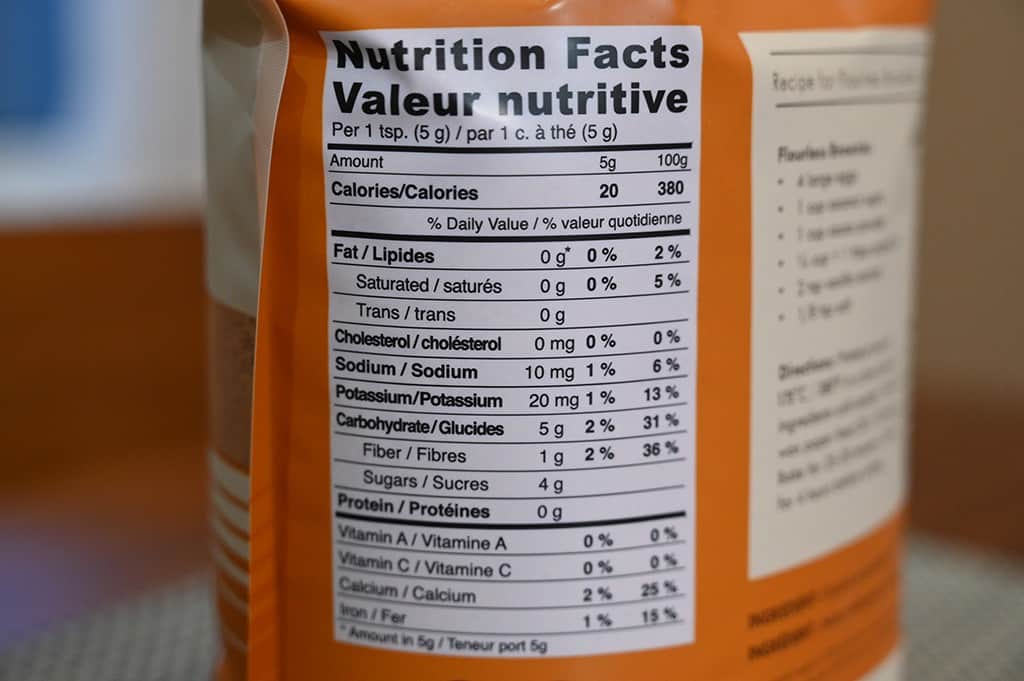 One teaspoon of the Costco Big Tree Farms Organic Blond Coconut Sugar has 20 calories, zero grams of fat, 10 mg of sodium, five grams of carbohydrates, one gram of fibre, four grams of sugar and zero grams of protein.
The ingredients list is just organic granulate coconut flower blossom.
Scoring
Taste: 7/10 (I have a sweet tooth)
Cost: 7/10
Convenience: 10/10
Nutrition: 1/10 (this is still basically as healthy for you as regular sugar)
Overall
Walk on by!
If you're trying to replace your regular table sugar with a superfood sugar, this isn't it. If you just genuinely enjoy the flavor of coconut sugar the price at Costco is far better than local grocery store prices.
Have you tried coconut sugar? What did you think?
---
Please note that this review was not paid for or sponsored by any third party. This product was purchased by Costcuisine for the purpose of producing this review. The opinions in this review are strictly those of Costcuisine. Costcuisine is not affiliated with Costco or any of its suppliers. In the event that Costcuisine receives compensation for a post from the manufacturer of a product or some other third party, the arrangement will be clearly disclosed (including where the manufacturer of a product provides Costcuisine with a free sample of the product).