Costco is carrying these simple, tasty shortbread cookies with just a hint of chocolate!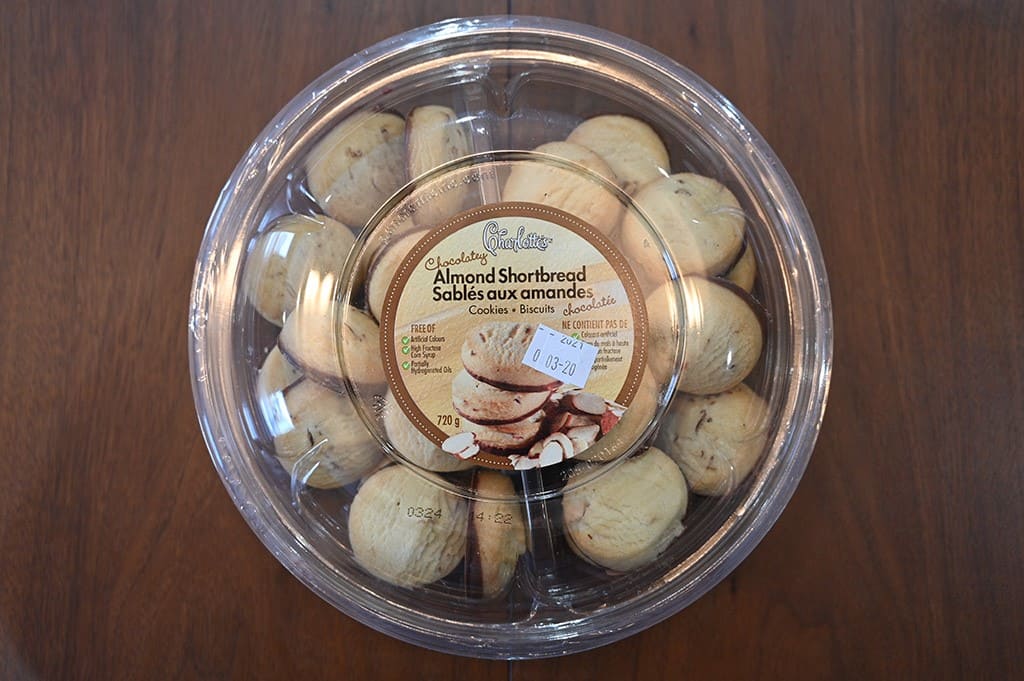 When it comes to Costco cookies, I've pretty much tried them all and can say I legitimately get excited when I find new cookies at Costco. I spotted these Charlotte's Chocolatey Almond Shortbread cookies on a recent trip to Costco and decided to add them to the list of Costco cookies I've reviewed!
This list includes the delicious Kirkland Signature Raspberry Crumble Cookies, the Leclerc Celebration Milk Chocolate Cookies, Kirkland Signature Butter Shortbread Cookies, Kirkland Signature Ginger Cookies, Laceys Macadamia Milk Chocolate Cookies, E&C's Heavenly Hunks, Costco Tipiak French Macarons and a staple in our freezer the Kirkland Signature Chocolate Lovers Cookie Pack.
These shortbread cookies are in the bakery section and the item number is 1500564.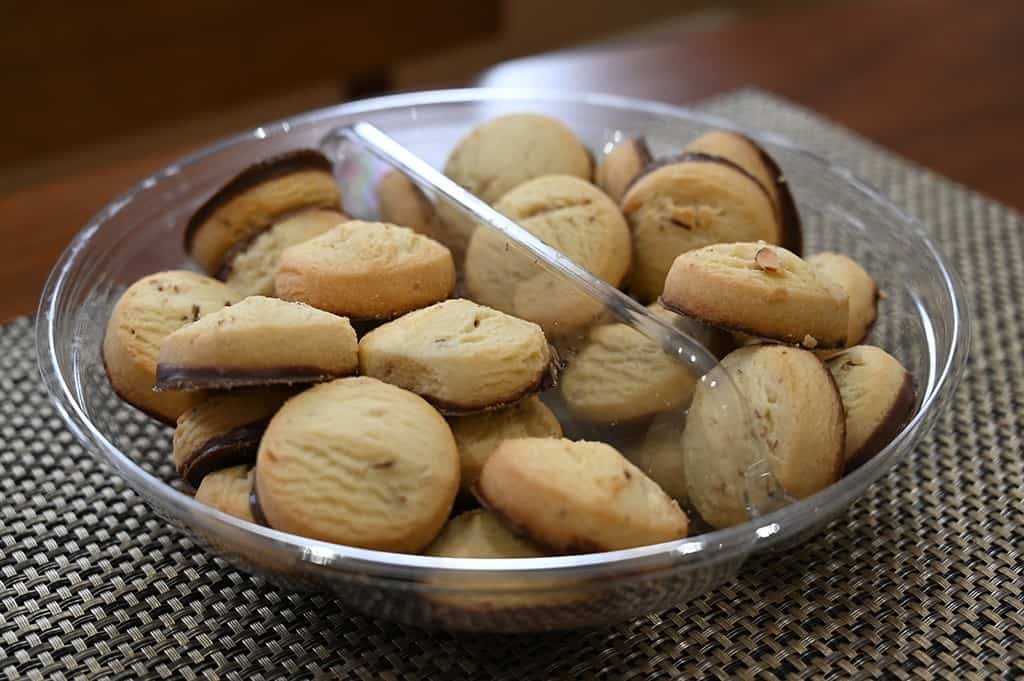 Taste
The chocolatey almond shortbread are simple and delicious. They're just a tiny bit crisp and are more soft than crispy and melt in your mouth.
The cookies are nice and buttery like shortbread should be and have a small amount of almond flavor, not as in-your-face almond as some shortbreads I've tried are.
The bottom of the shortbread cookies have a thin layer of sweet chocolate. Just enough to add a bit of chocolate flavor to the shortbread but not as much as I'd like (I'm a huge chocolate fan and the more chocolate the better in my opinion).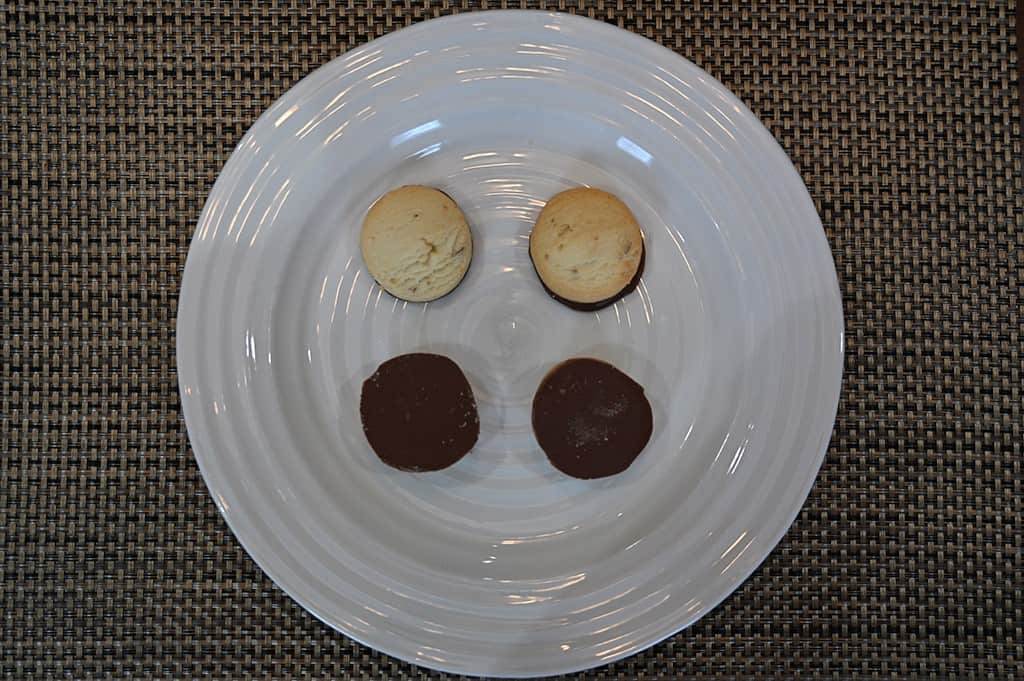 Cost
For the 720 gram container of shortbread cookies I paid $9,89 Canadian.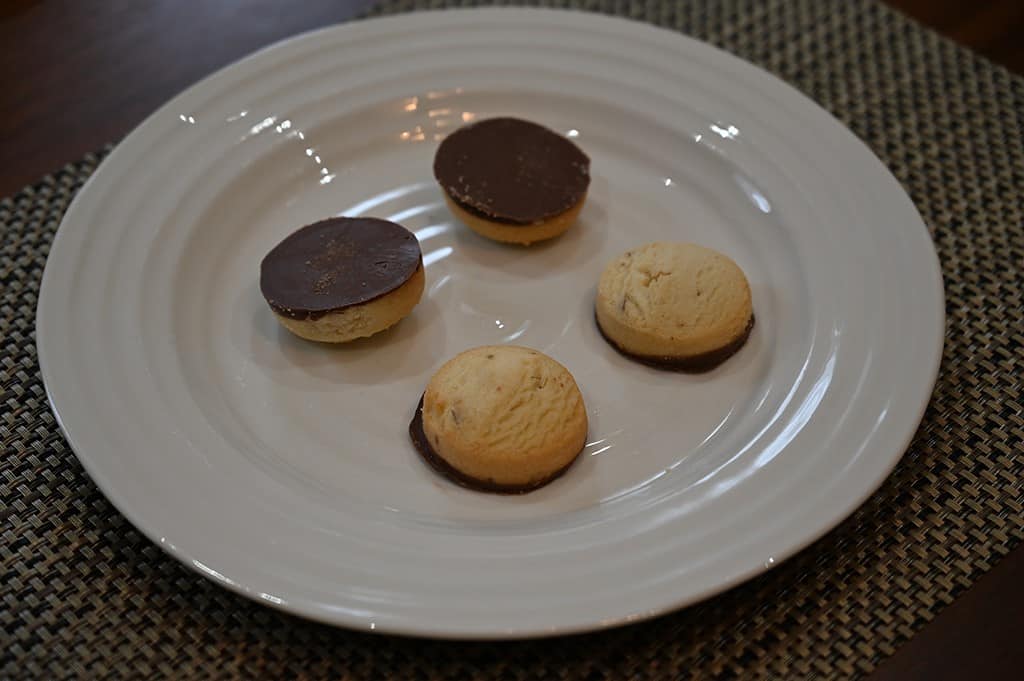 Convenience
These are awesome with a cup of tea or coffee! They're a perfect dessert after dinner or lunch and I even enjoy them as a mid-morning treat. They freeze well in the plastic resealable container that they come in.
The best before date listed on the cookies is about three weeks from the date they were purchased.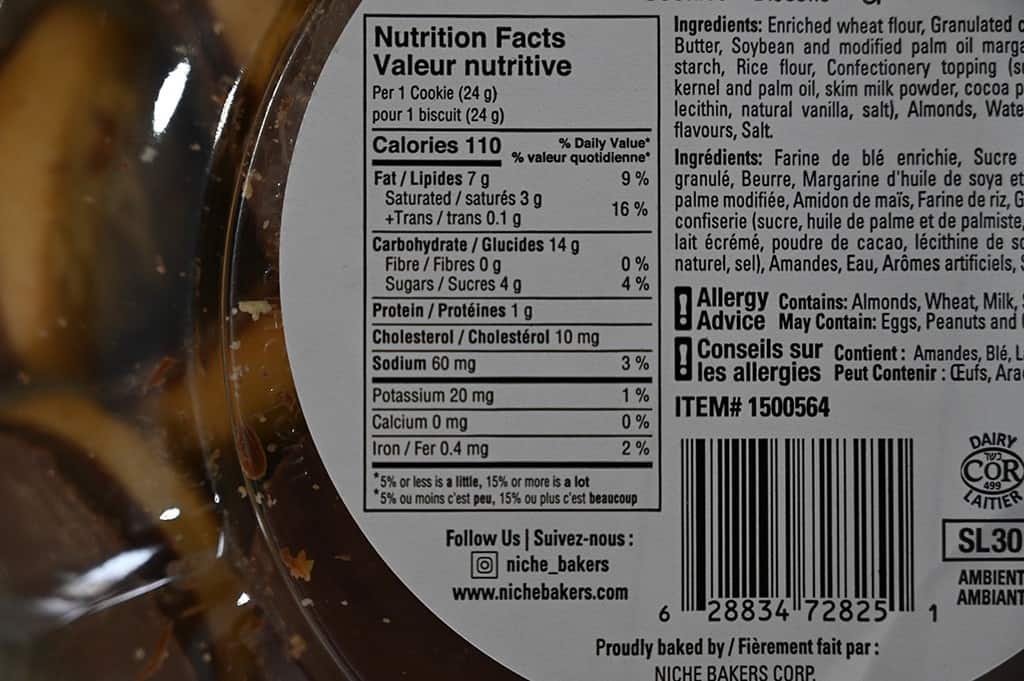 Nutrition
The ingredients list has soybean and modified palm oil margarine as well as palm oil which aren't my favorite ingredients to see listed. I'd rather see simple ingredients like butter, sugar and flour with some almond extract.
One cookie is 110 calories, seven grams of fat, 14 grams of carbohydrates, zero grams of fibre, four grams of sugar, one gram of protein and 60 mg of sodium.
Only four grams of sugar per cookie is awesome! That's less sugar than I expect to see in a cookie.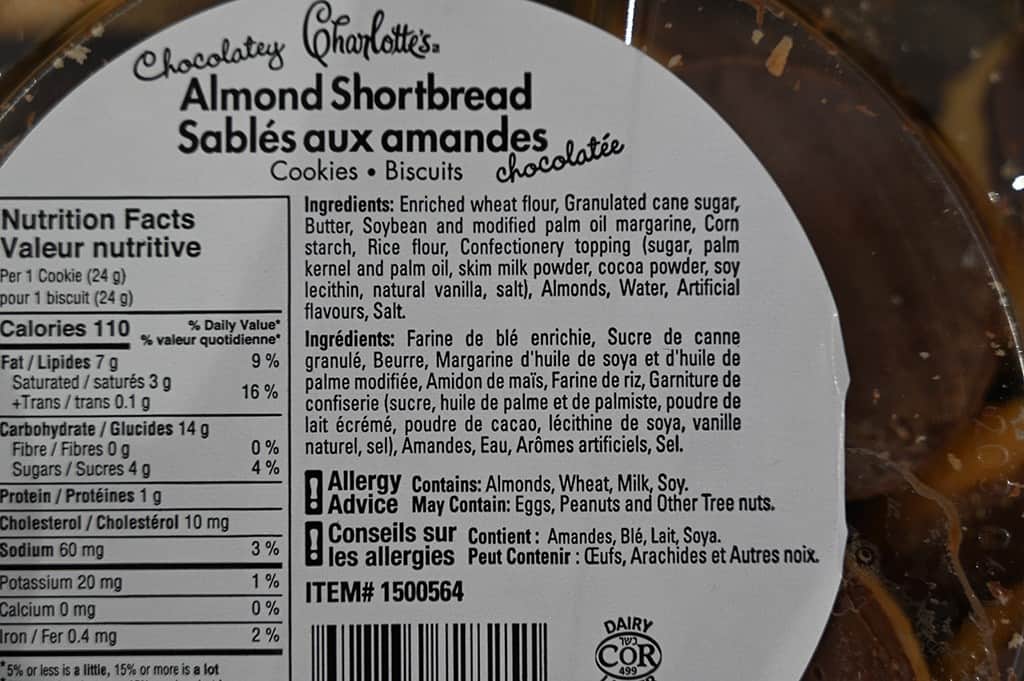 Scoring
Taste: 8/10
Cost: 8/10
Convenience: 10/10
Nutrition: 2/10
Overall
Give it a try!
If you like shortbread cookies I wouldn't hesitate to recommend these.
Do you have a favorite cookie from Costco? Have you tried these? What did you think?
---
Please note that this review was not paid for or sponsored by any third party. This product was purchased by Costcuisine for the purpose of producing this review. The opinions in this review are strictly those of Costcuisine. Costcuisine is not affiliated with Costco or any of its suppliers. In the event that Costcuisine receives compensation for a post from the manufacturer of a product or some other third party, the arrangement will be clearly disclosed (including where the manufacturer of a product provides Costcuisine with a free sample of the product).