Chocolate and coconut are a classic flavor combination, but probably not one that you'd think of as being healthy! Okay, maybe healthy is a stretch, but these two ingredients can work well in a low-sugar treat. Costco's Chocxo Dark Chocolate Coconut Cups are proof of that, as are the Unreal Dark Chocolate Coconut Minis and the RXBAR Protein Bars (though they're actually nutritious on top of being low in sugar). Are these Dark Chocolate Coconut Cups good for a low-sugar snack or just good period? Read on to find out!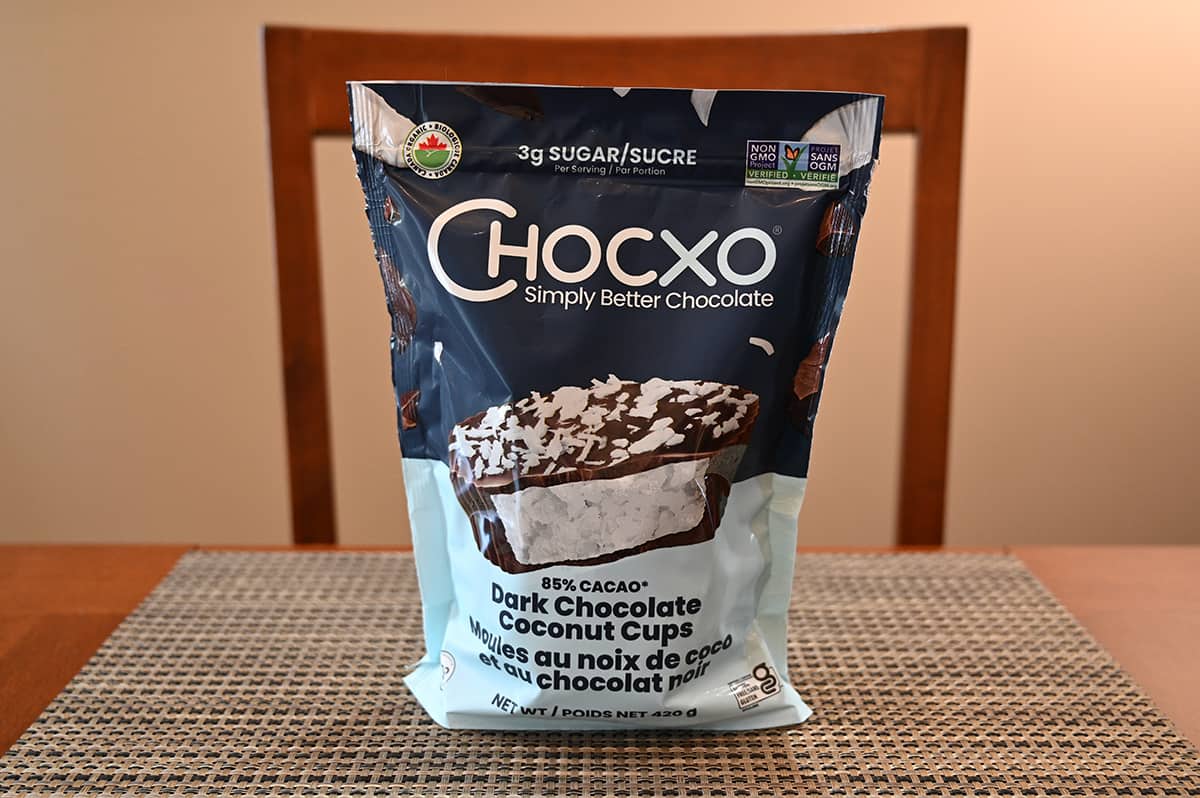 Other "healthy" snacks from Costco are the Jojo's Dark Chocolate Bites, Kirkland Signature Cheese, Fruit and Nut Packs, That's It Mini Fruit Bars, Ozery Seedwise Keto Clusters, Kirkland Signature Premium Whole Mixed Nuts, Innofoods Coconut Keto Clusters, Innofoods Keto Crackers, Innofoods Garden Crisp Crackers, Kirkland Signature Snacking Pecans and the Hilo Nacho Tortilla Chips.
Location in Store
These are located in the snack section near all the other chocolates, granola bars and beef jerky. The item number is 1692198.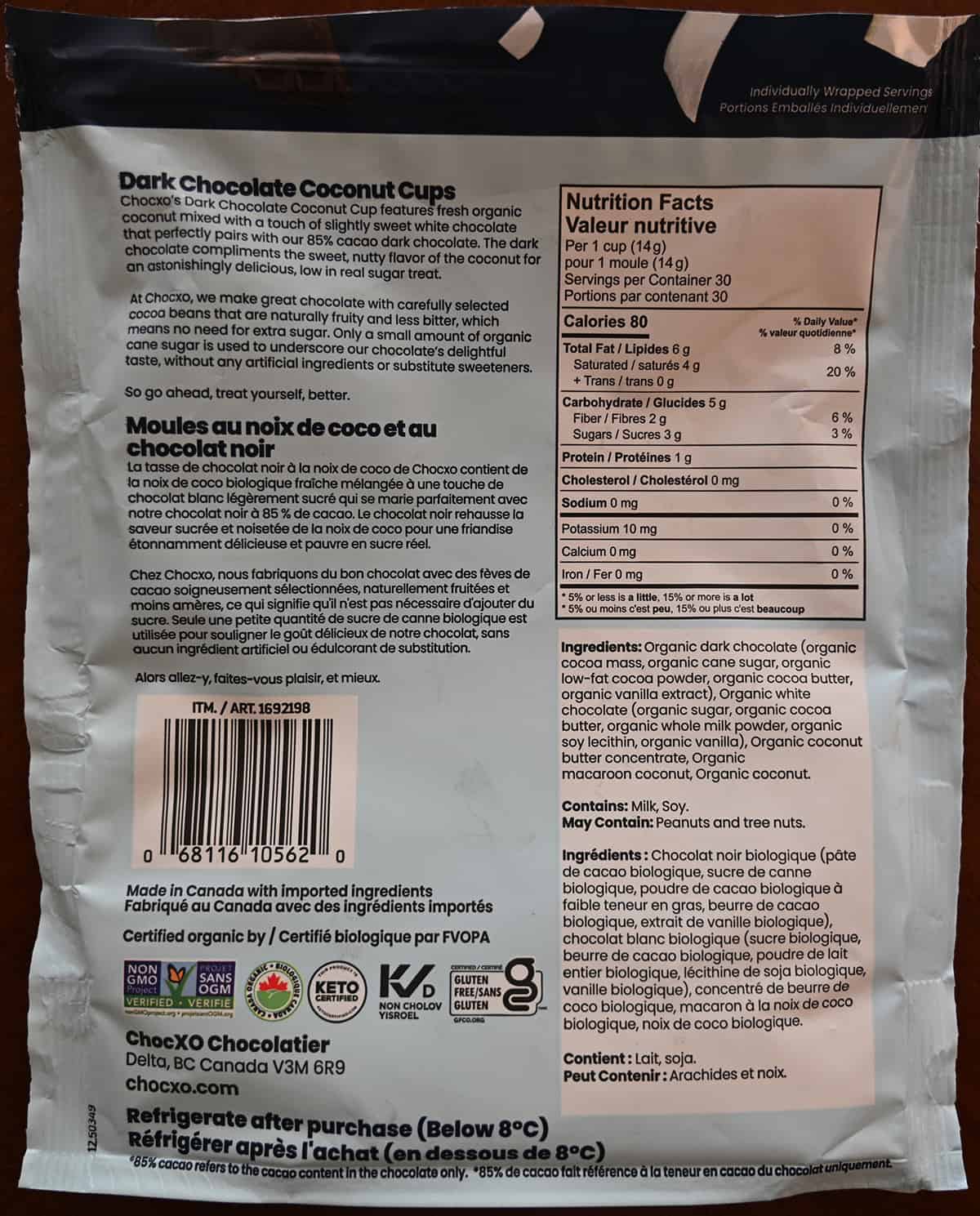 Taste
You have to like dark chocolate to enjoy these. They have a strong dark chocolate flavor that I find really overpowers the coconut. They're more chocolaty than coconutty. I don't find I taste the coconut all that much. I think the coconut adds more texture than taste from all the coconut flakes that seem to get everywhere when you eat them.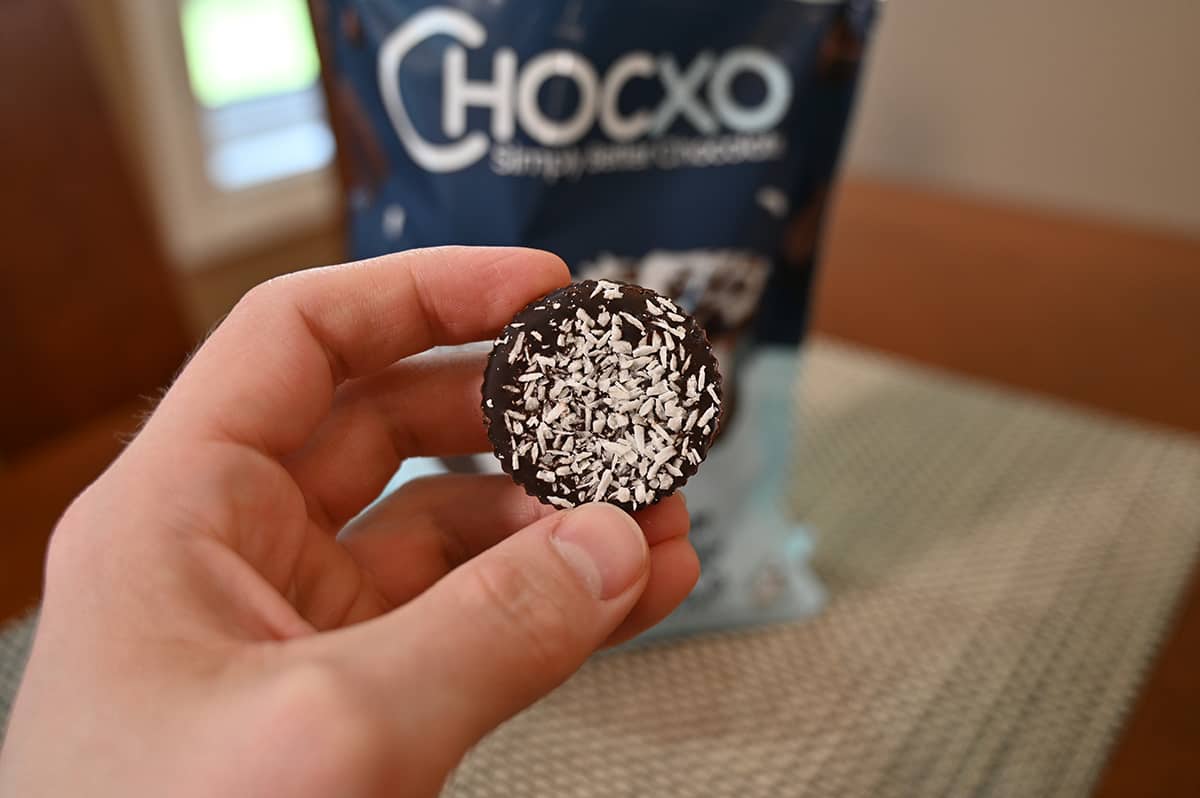 For a keto product, they have a really nice flavor and are actually quite sweet. I would never guess they were keto if I didn't read the package. Overall, I think they're pretty good.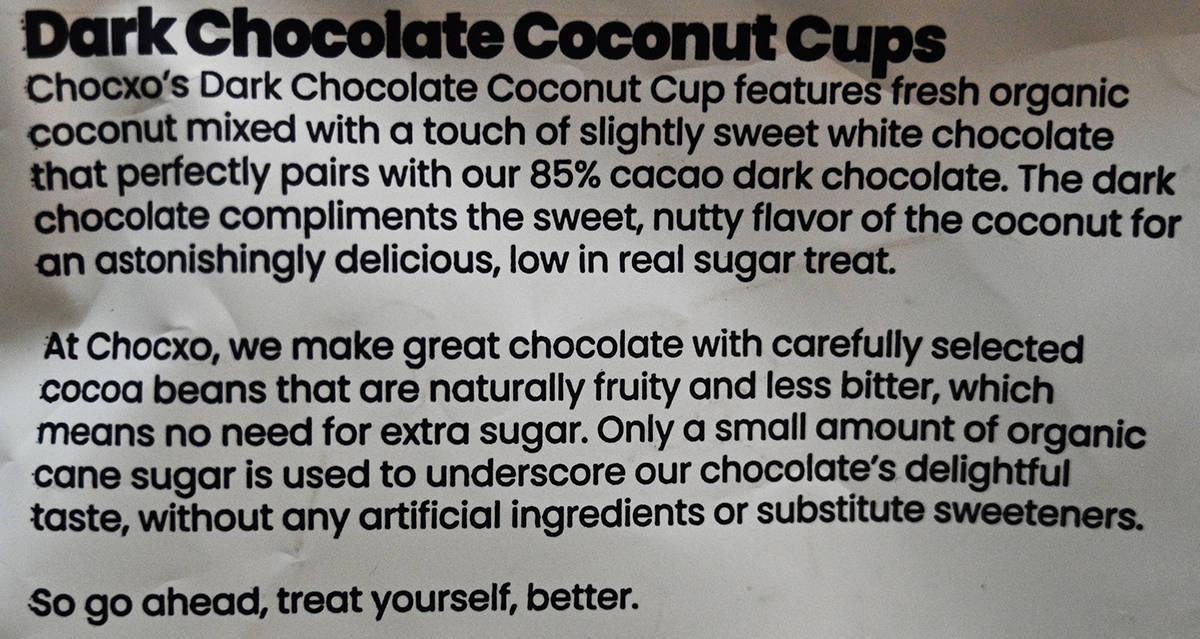 I'm going to quickly compare these to the Unreal Dark Chocolate Coconut Minis because I think both products are marketed to be very similar and I've tried both. The Unreal are much less chocolaty than these, a bit dry and more coconutty. The Chocxo are more chocolaty and a bit sweeter.
Cost
The 420-gram bag costs $12.99 Canadian at Costco, which isn't bad for a individually packaged keto product like this. I also wouldn't call it cheap.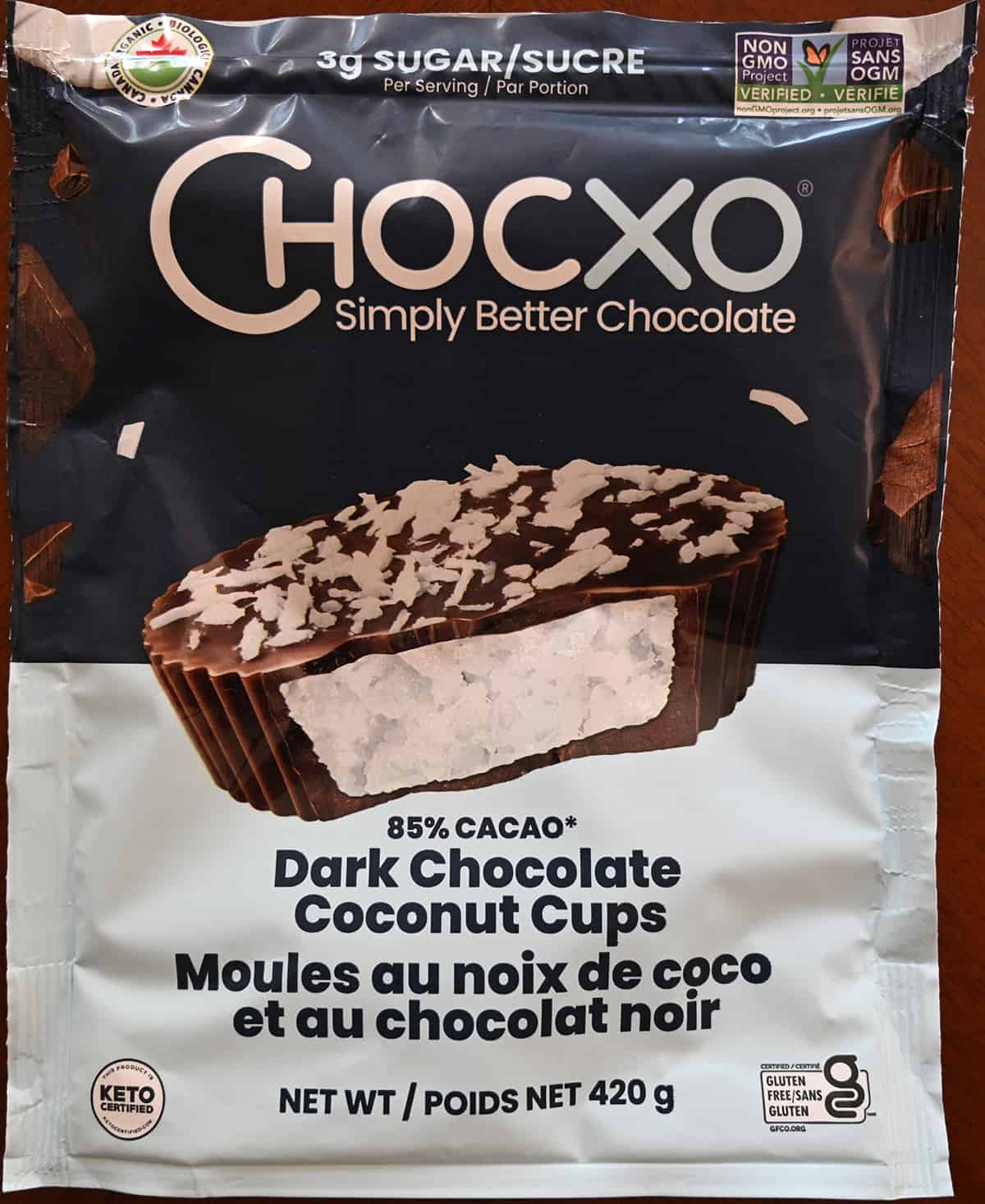 Convenience
The bag reseals and each coconut cup is individually packaged which makes it easy to pop a few in your desk at work, purse or lunch bag. The best-before date is 11 months from when I purchased the cups and one thing I find surprising is that the bag recommends refrigerating the cups after purchase.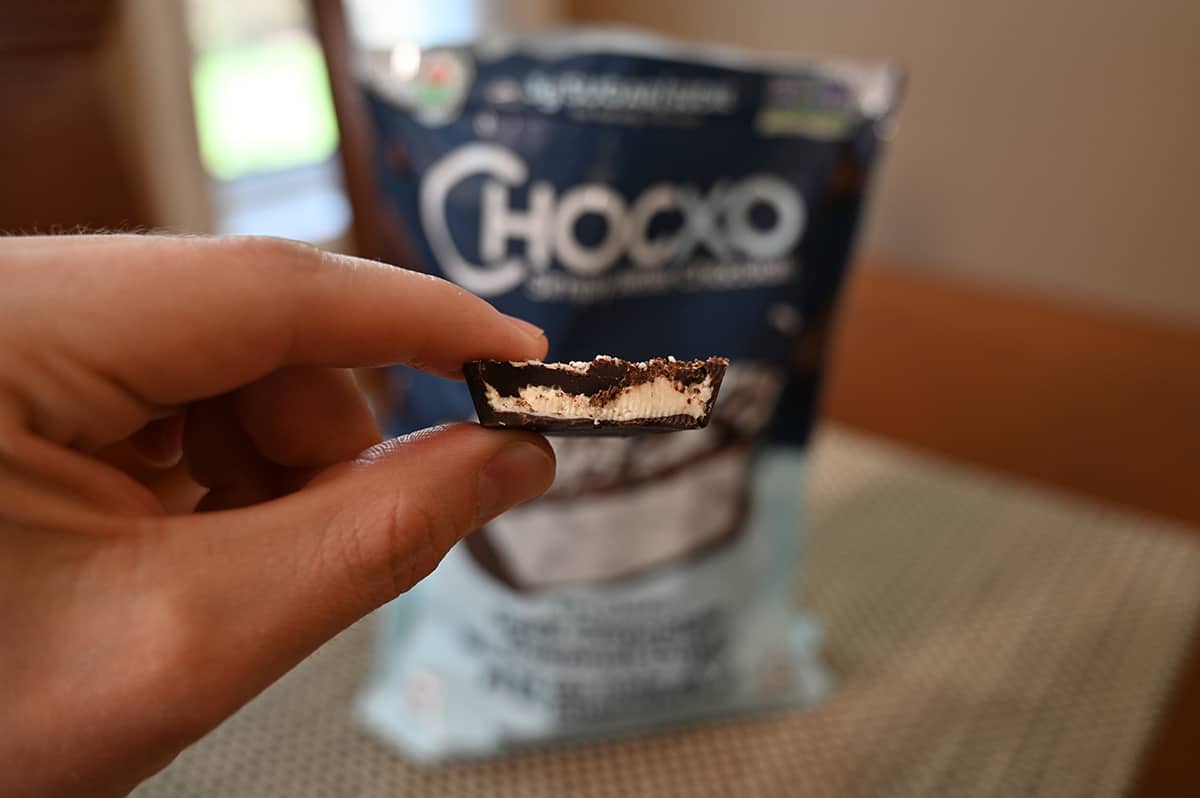 I didn't notice this until I was closely reading the bag for this review so I bet a lot of people would miss this recommendation. They're not in the refrigerated section at Costco so I wouldn't think they'd need refrigerating. If you have a bit of a sweet tooth but you're watching your carbs and calories, this is a product you might enjoy.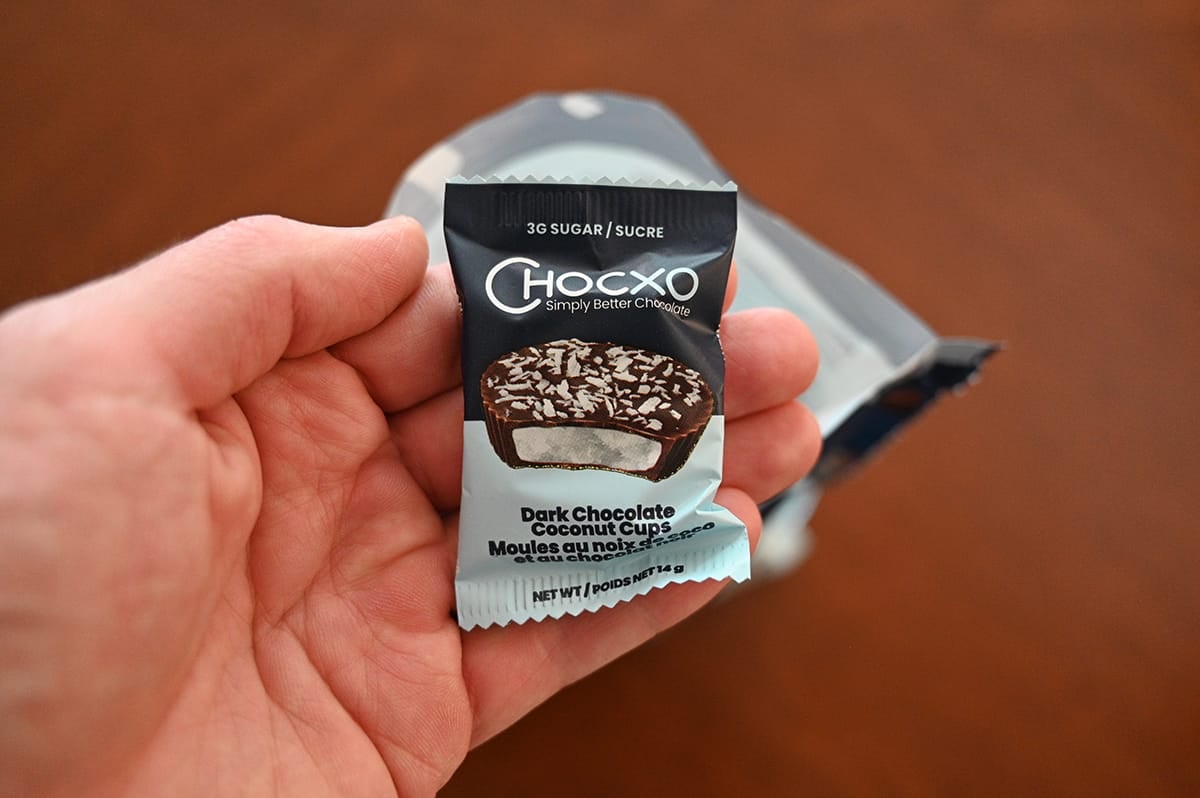 Nutrition
Calories
One cup contains 80 calories, six grams of fat, five grams of carbohydrates, two grams of fibre, three grams of sugar and one gram of protein. There are zero milligrams of sodium.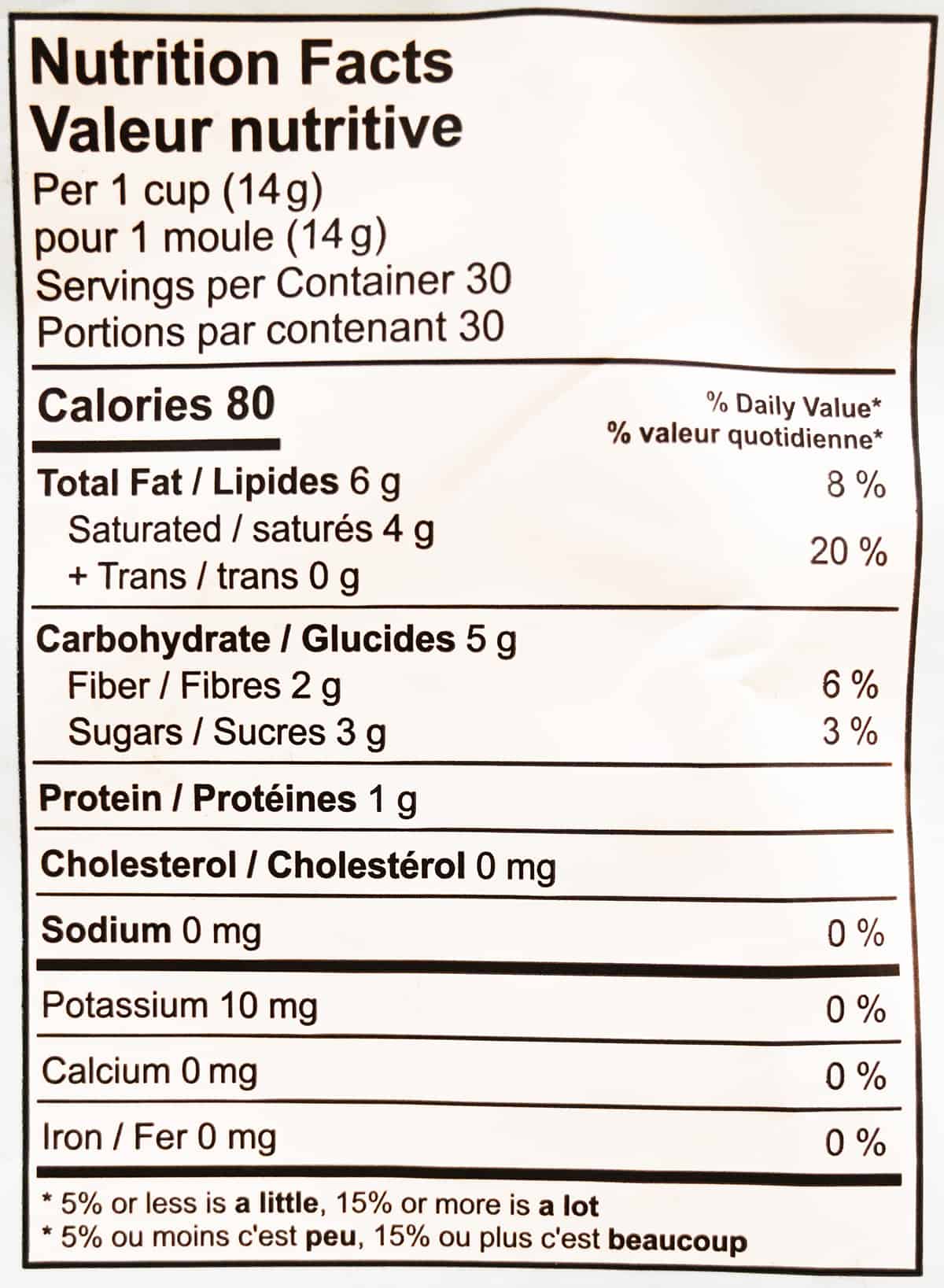 Ingredients
All of the ingredients are organic and all the ingredients listed seem pretty typical for a product like this. I am a little surprised they didn't make these dairy and soy free like some other companies are trying to do.
The coconut cups may contain peanuts and tree nuts.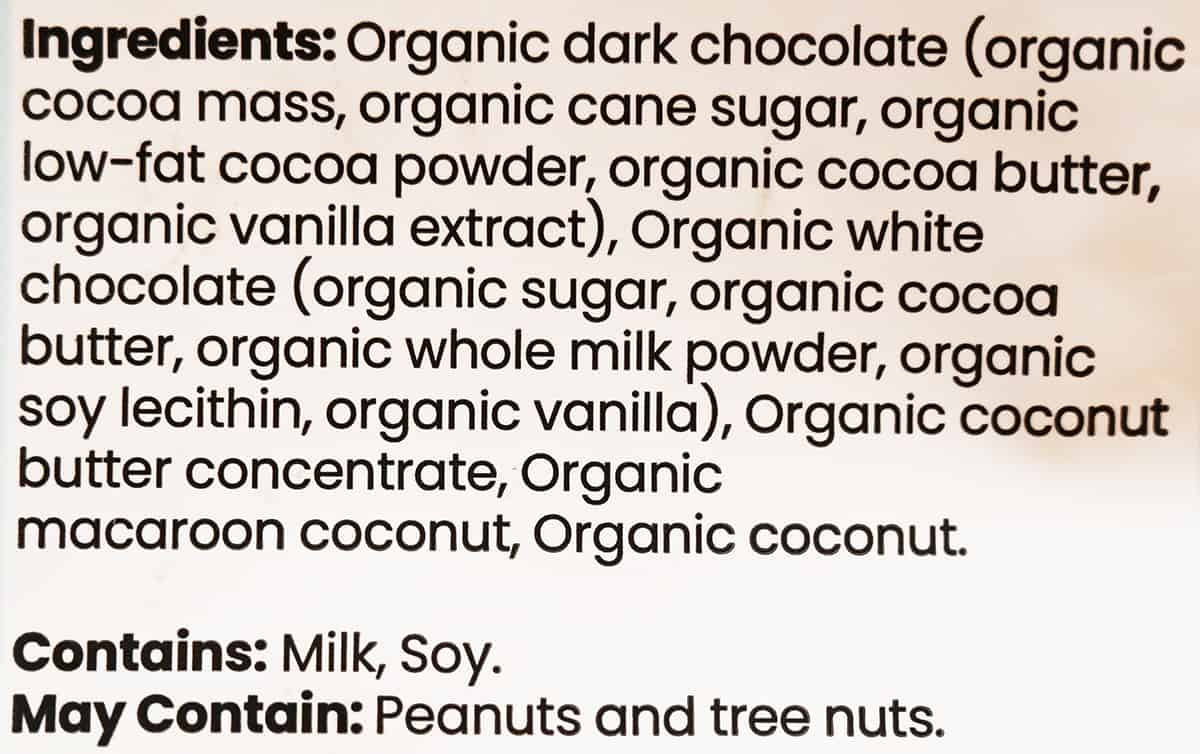 Scoring
Taste: 7.5/10
Cost: 8/10
Convenience: 10/10
Nutrition: 3/10
Overall
Give it a try!
My mom and mother-in-law love these and I think they're tasty but I prefer the Unreal Dark Chocolate Coconut Minis over these Chocxo Coconut Cups, I like that the Unreal ones have milk chocolate and taste more coconutty.
Have you tried these Chocxo Coconut Cups? What do you think of them?
---
Please note that this review was not paid for or sponsored by any third party. This product was purchased by Costcuisine for the purpose of producing this review. The opinions in this review are strictly those of Costcuisine. Costcuisine is not affiliated with Costco or any of its suppliers. In the event that Costcuisine receives compensation for a post from the manufacturer of a product or some other third party, the arrangement will be clearly disclosed (including where the manufacturer of a product provides Costcuisine with a free sample of the product).