A great condiment can really elevate a meal. I don't really have the time or know-how to make interesting sauces and things like that on my own, but I'm always intrigued when I see a creative new pre-made sauce or condiment at my local Costco. This Don Pancho Cilantro Lime Crema Everything Sauce is one of the more interesting ones I've seen in a while. The cilantro haters out there might disagree, but it sounded like a delicious and unique way to jazz up my next taco night!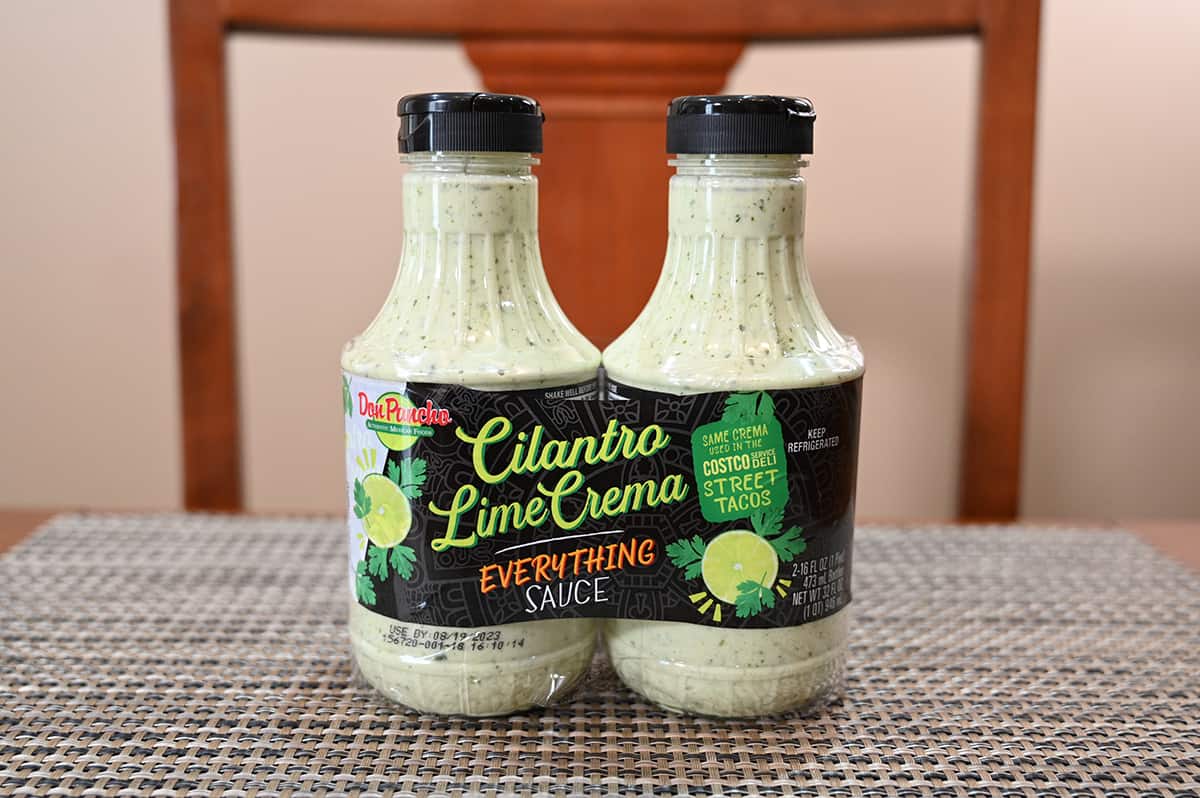 Other sauces and dips from Costco I've reviewed are the Rao's Marinara Sauce, KFI Butter Chicken Sauce, Kirkland Signature Basil Pesto, Johnny's Black Garlic Vinaigrette, Kewpie Deep Roasted Sesame Dressing & Marinade, Rojo's Black Bean Six Layer Dip, La Terra Fina Queso Dip With Cheddar, Rojo's Street Corn Dip and the Good Foods Plant Based Queso Style Dip.
Location in Store
The cilantro lime crema is located in the refrigerated deli section. I bought it at the Kalispell, Montana Costco and the item number is 1341779.
Taste
The first word that came to mind when I tried this sauce is tangy! The first ingredient is sour cream, but it seems quite a bit tangier than sour cream to me. The lime adds some tartness, so that's probably part of it.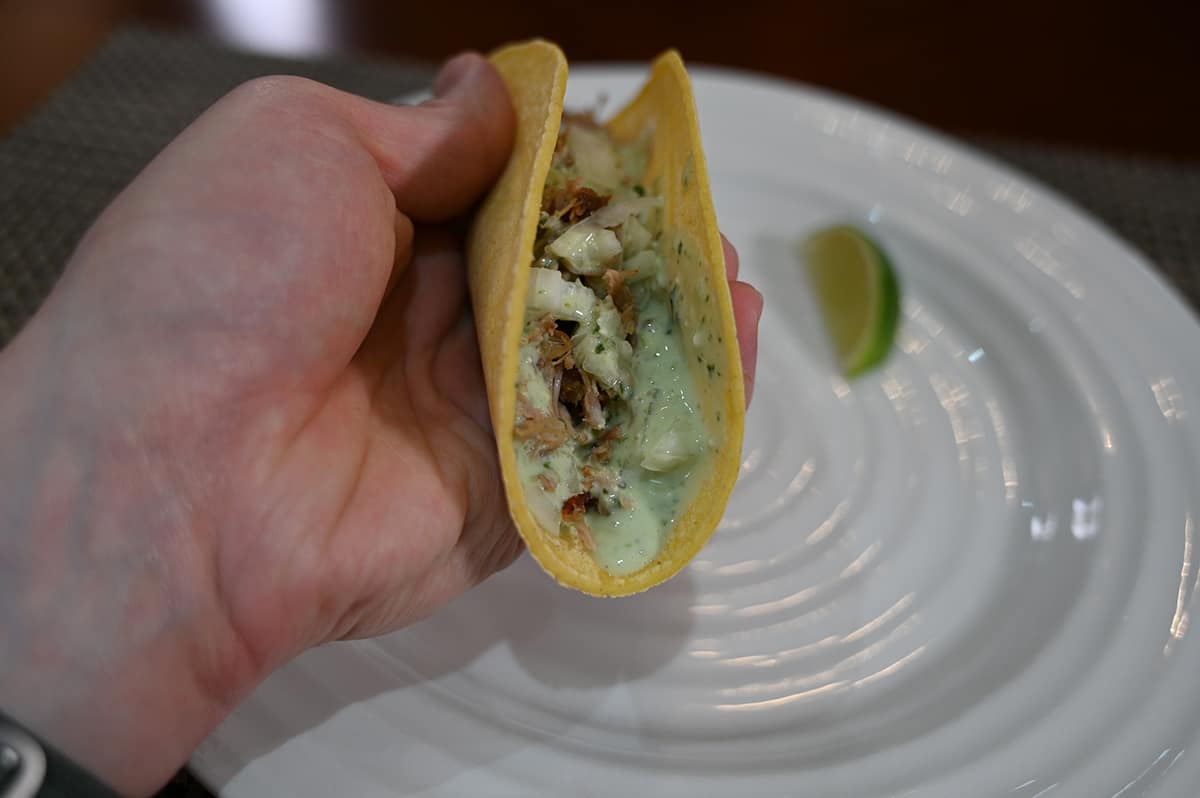 After the initial shock of tanginess has passed, the flavor of the cilantro stands out more. It's not overpowering, but it's very noticeable. It's not a strong flavored sauce, it's very cool and creamy.
Overall I think the crema does a nice job of balancing creaminess, tanginess/tartness and the cilantro flavor. They're all there, but none of them dominates the mix.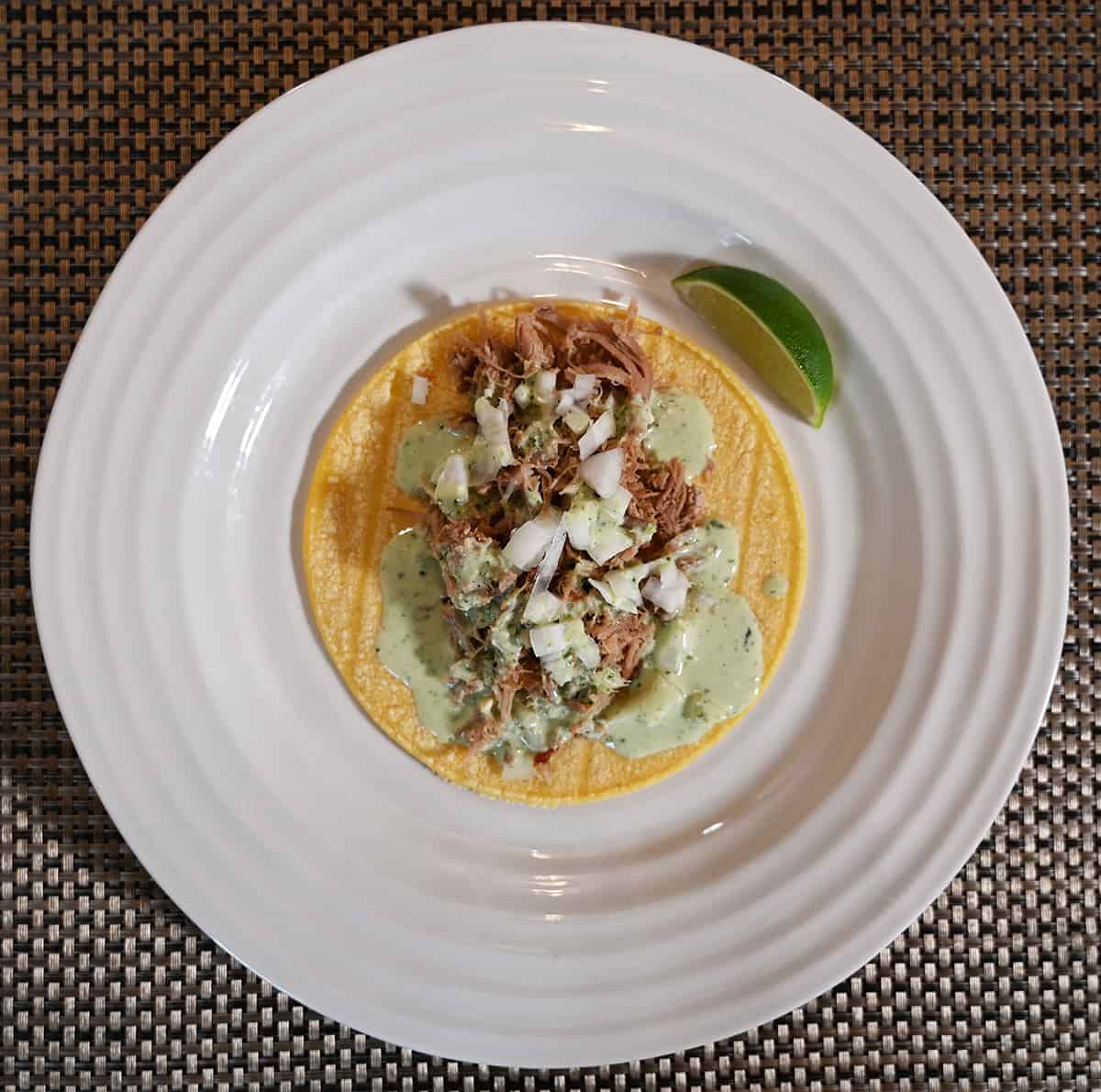 We tried the Cilantro Lime Crema on pork carnitas tacos and it was delicious. It added flavor without overpowering the meat and onion in the tacos.
Cost
The two 473 liter (16 oz) bottles of crema cost $7.99 USD at Costco, which seems about right for two bottles as big as these.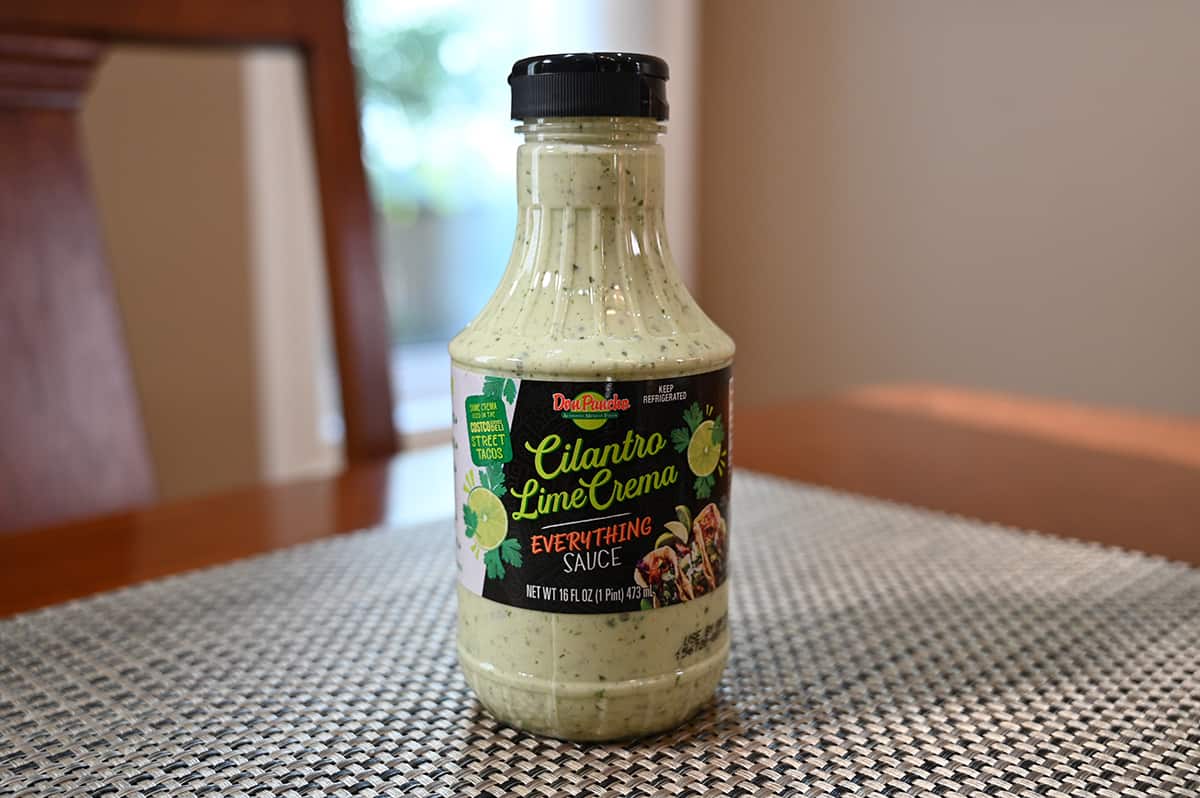 Convenience
Firstly, I want to point out that the best-before date isn't very long on the crema, it's about six weeks from when we purchased it. There's no way my husband and I would finish both bottles prior to the expiry date so we gave one to my parents.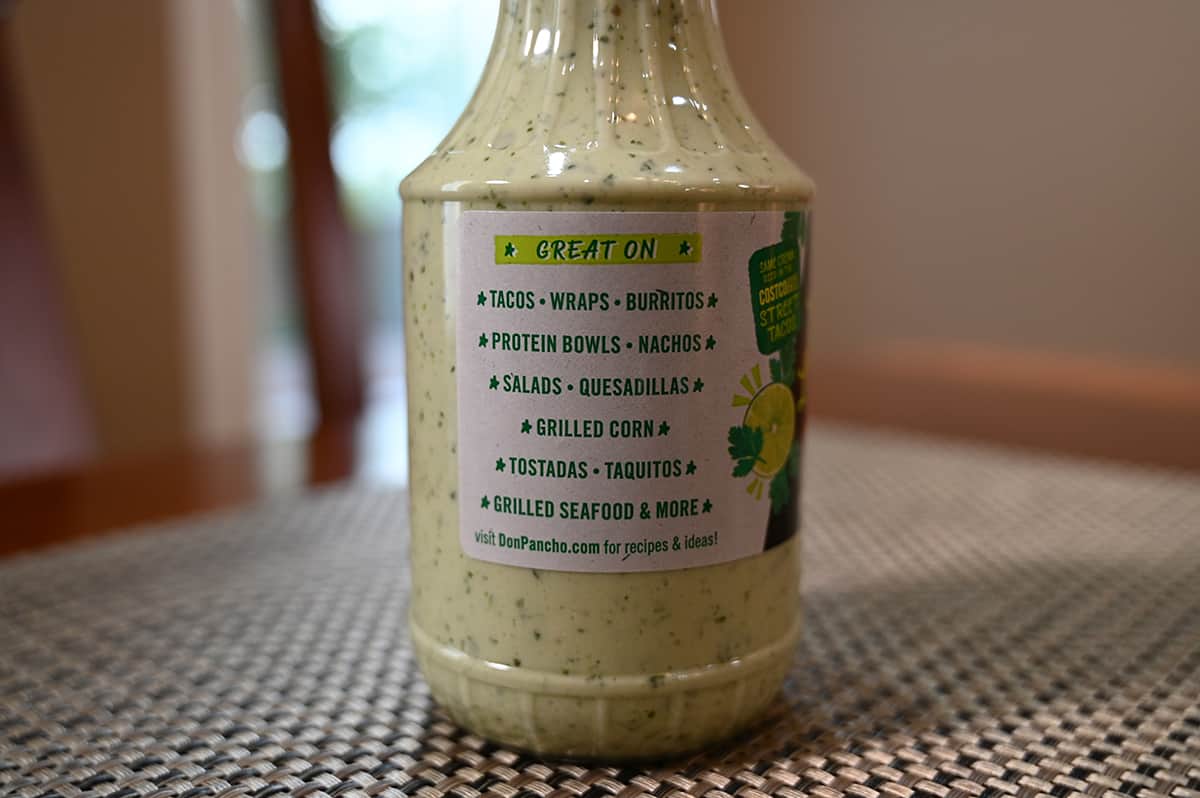 The crema needs to be kept refrigerated and if you don't already know, it's the same crema that comes with the Costco Kirkland Signature Chicken Tacos! There are a ton of ways to use this "everything sauce". It works on salads, tacos, burritos, power bowls, sandwiches, quesadillas and grilled corn.
Nutrition
Calories
Two tablespoons contain 40 calories, three grams of fat, 200 milligrams of sodium, two grams of carbohydrates, zero grams of fibre, one gram of sugar and one gram of protein. That's not bad for two tablespoons! The sodium is a bit high but the carbs, fat and sugar are low.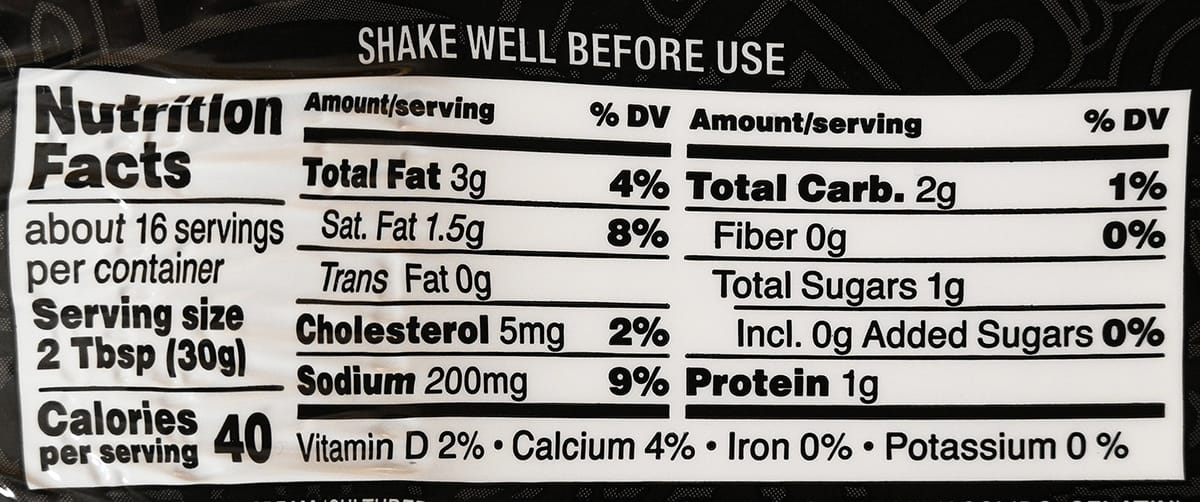 Ingredients
There are quite a few ingredients in the crema. If you're sensitive to dairy you may want to pass on this or use just a small amount. None of the ingredients are really surprising and the crema is gluten-free but contains milk and soy.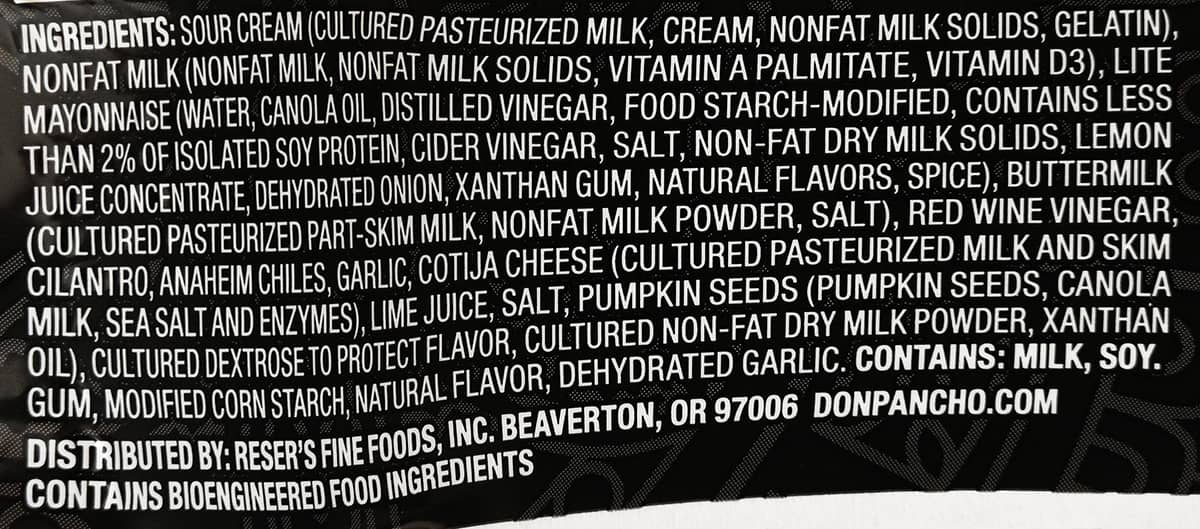 Scoring
Taste: 7.5/10
Cost: 8.5/10
Convenience: 10/10
Nutrition: 5/10 (Not nutritious but pretty low in calories, fat and sugar).
Overall
Give it a try!
I'm looking forward to trying it on grilled corn on the cob and some other dishes. A lot of people aren't the biggest cilantro fans but if you like a creamy, cool sauce that has a hint of cilantro and a bit of tang you might want to try this.
Have you tried this Don Pancho Cilantro Lime Crema from Costco? What did you think of it?
---
Please note that this review was not paid for or sponsored by any third party. This product was purchased by Costcuisine for the purpose of producing this review. The opinions in this review are strictly those of Costcuisine. Costcuisine is not affiliated with Costco or any of its suppliers. In the event that Costcuisine receives compensation for a post from the manufacturer of a product or some other third party, the arrangement will be clearly disclosed (including where the manufacturer of a product provides Costcuisine with a free sample of the product).