I don't think of chicken strips as a food that could be healthy if only the breading was more nutritious, but these Janes Whole Wheat Chicken Strips from Costco seem to have been developed with that idea in mind. When you think about it though, chicken is a lean, healthy protein and the reason why chicken strips aren't healthy is that they're breaded and deep-fried, so maybe it is possible to make a healthy chicken strip! Are these chicken strips that use whole-wheat flour in the breading, contain zero trans fat and are low in saturated fat a truly healthy version of the fast food favorite?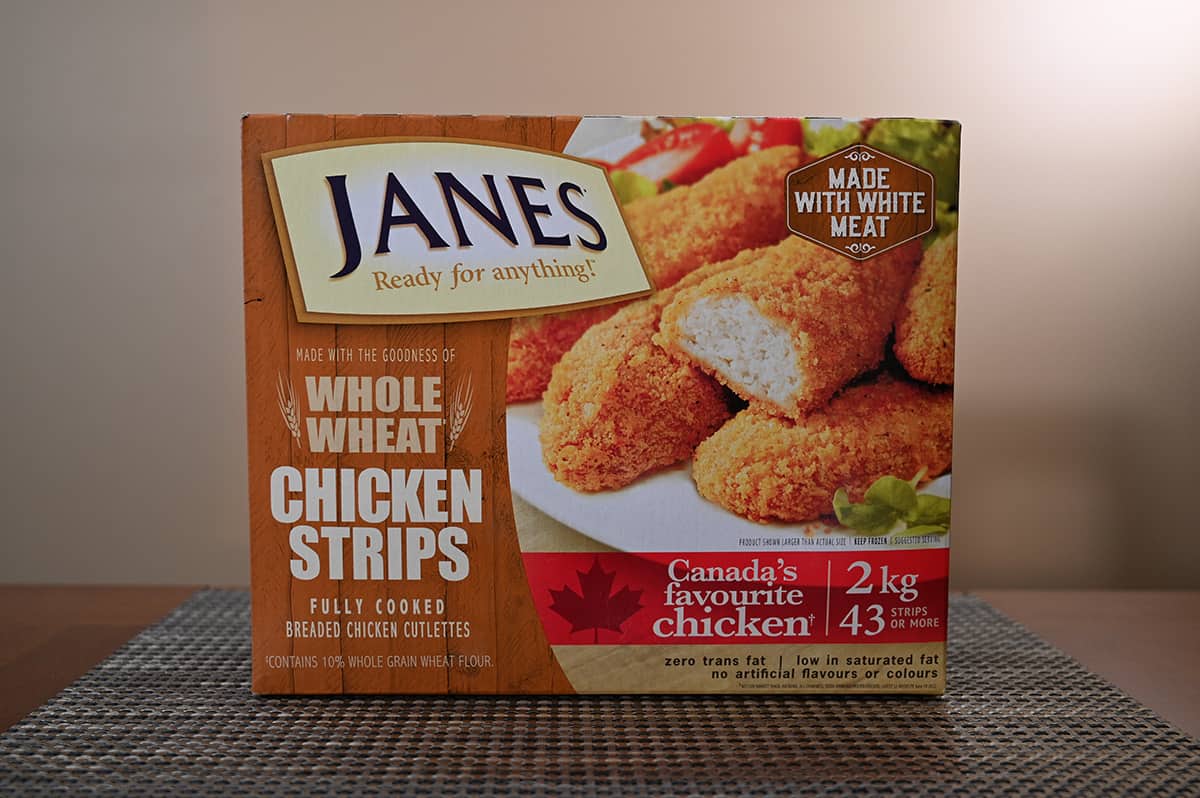 Chicken strips were a staple in my diet as a kid and I won't lie, I still love them but try not to eat them as often as I did in my younger years. I'll happily review chicken strips any day. When my husband suggested we try these Janes Whole Wheat Chicken Strips on our last Costco trip I was all for it!
Similar products from Costco are the Hampton House Chicken Strips, Pinty's Oven Roasted Chicken Breast Strips, Hampton House Popcorn Chicken, Pinty's Buffalo Chicken Flings, Hampton House Chicken Nuggets, Pinty's Honey Garlic Chicken Wings, Pinty's Crispy Chicken Wings and the Kirkland Signature Seasoned Chicken Wings.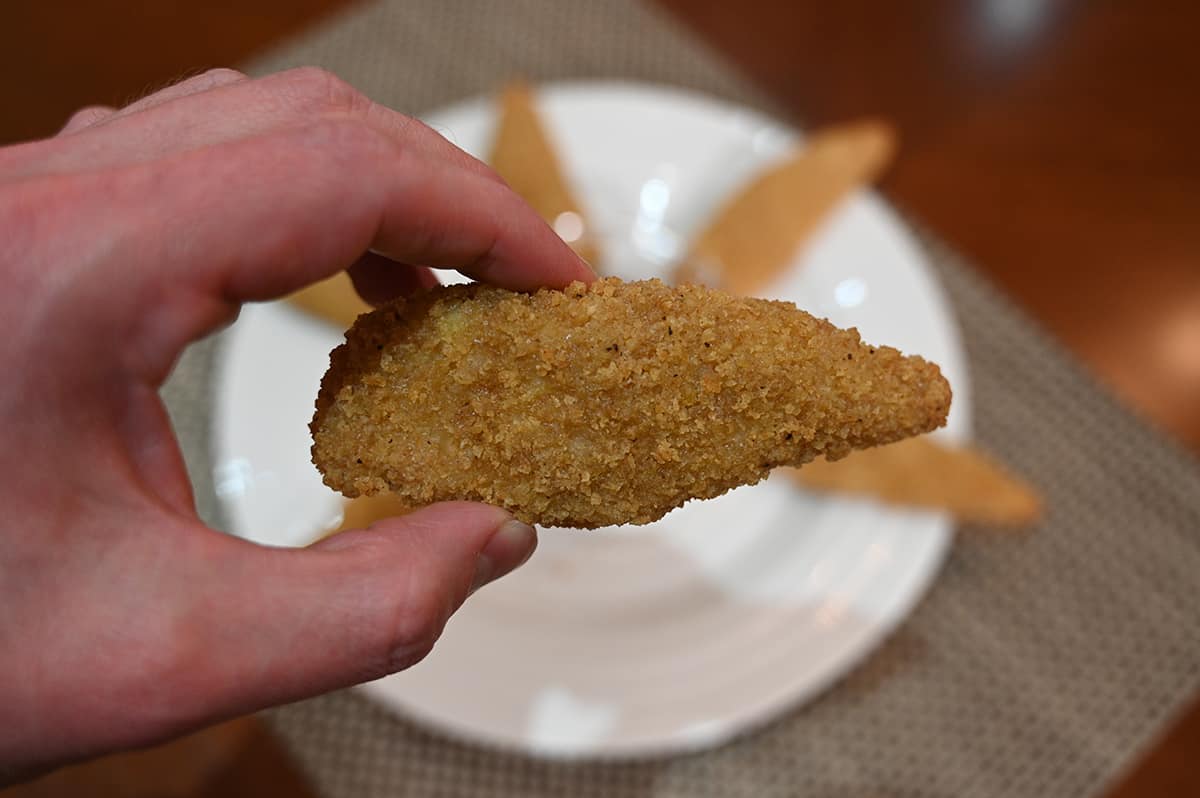 Location in Store
These chicken strips can be found in the freezer section, near the other frozen chicken products and wings. The item number is 318223.
Taste
These are pretty good, they're not my absolute favorite chicken strips but they're decently tasty. I baked my chicken strips in the oven following the cooking instructions listed on the box and they were still a bit soft and not as crispy as I'd like for them to be.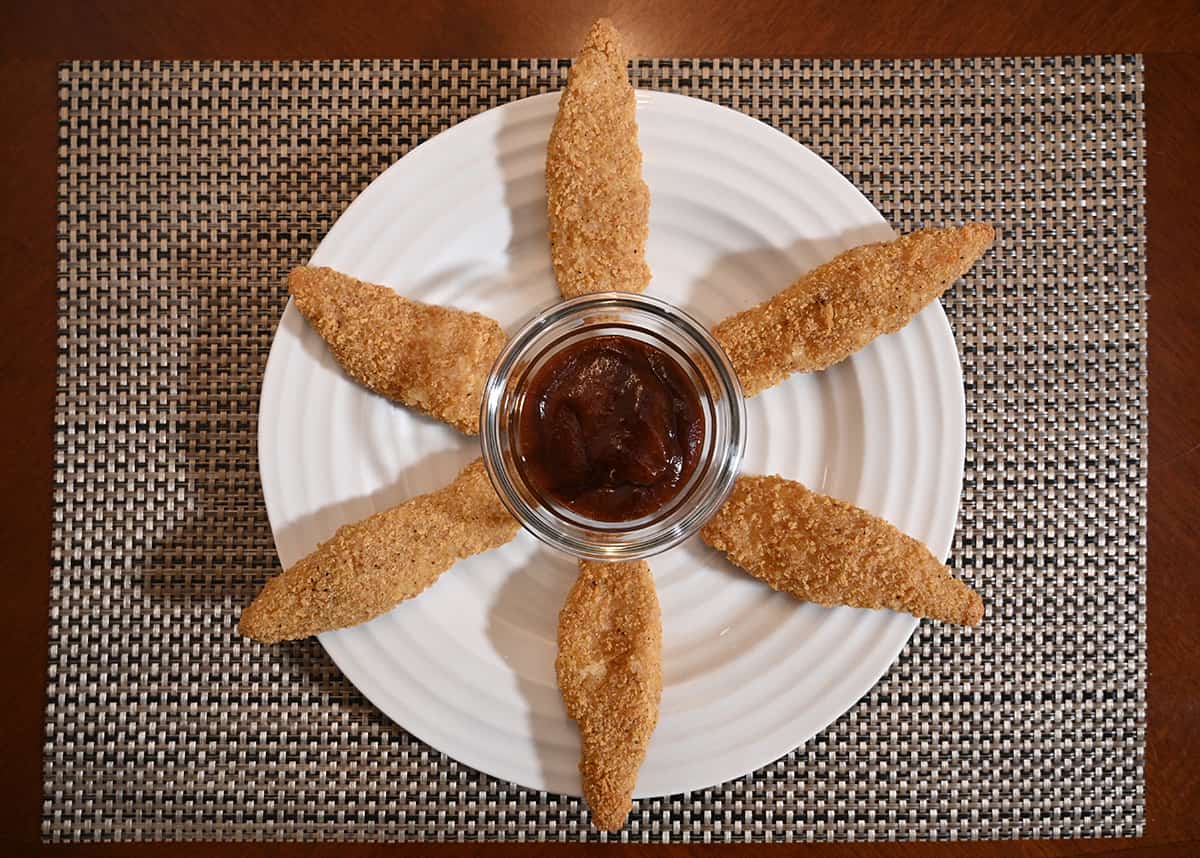 The overall flavor is good, they're nice and salty and seasoned well. The chicken seems to be pretty good quality and I didn't find any bones, gristle or fat.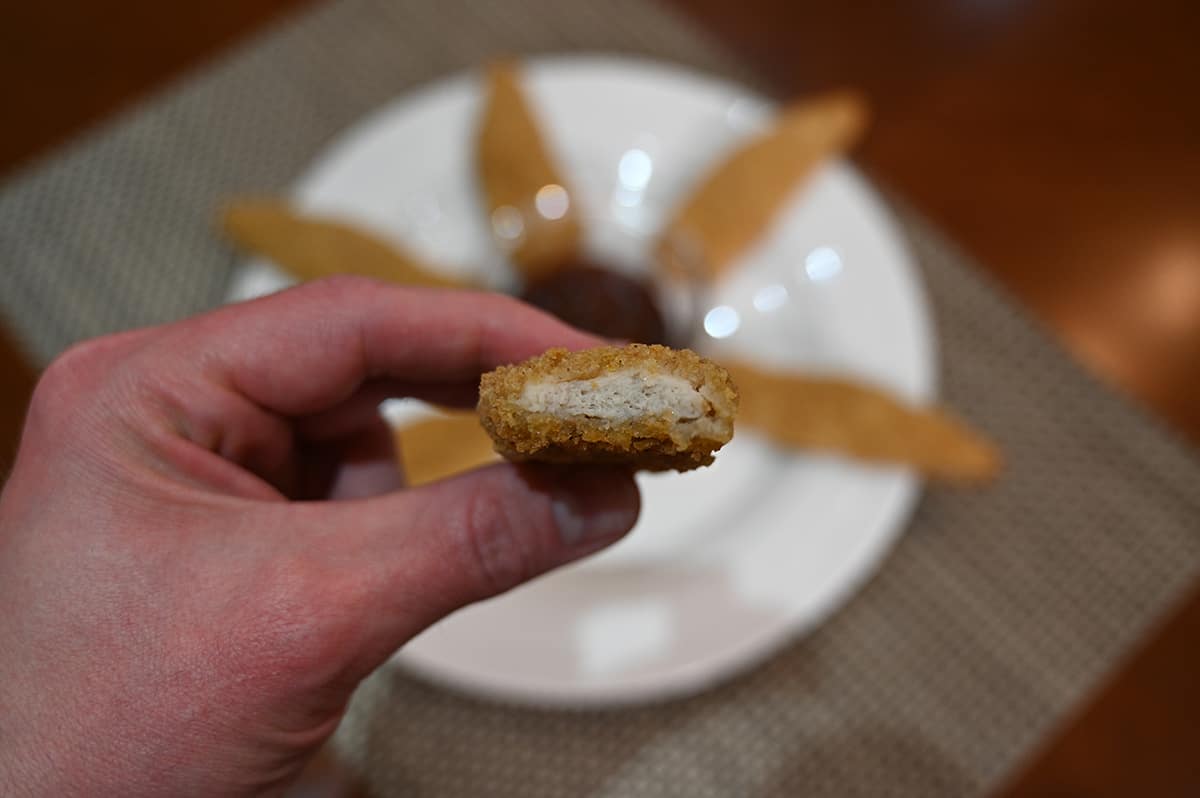 Although these are whole wheat they really don't taste much different to me than any other chicken strips.
Cost
The two-kilogram box costs $14.99 Canadian at Costco which isn't too expensive. There are 43 strips in one box. Definitely enough for a few meals!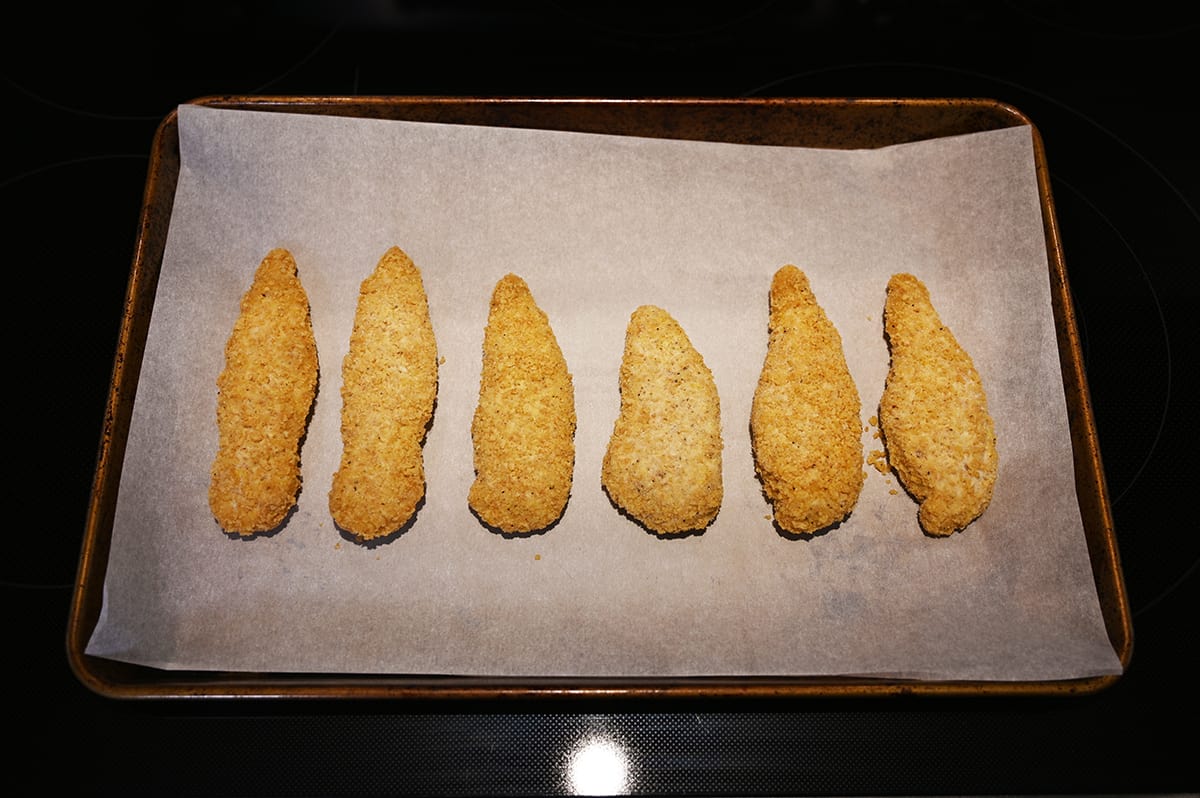 Convenience
The strips come in a resealable plastic bag. They need to be kept frozen and the best-before date is about ten months from when I purchased them. The strips don't come with any dip but I feel like all chicken strips and nuggets need some kind of dip! I like to have mine with plum sauce and my husband likes barbecue sauce with his.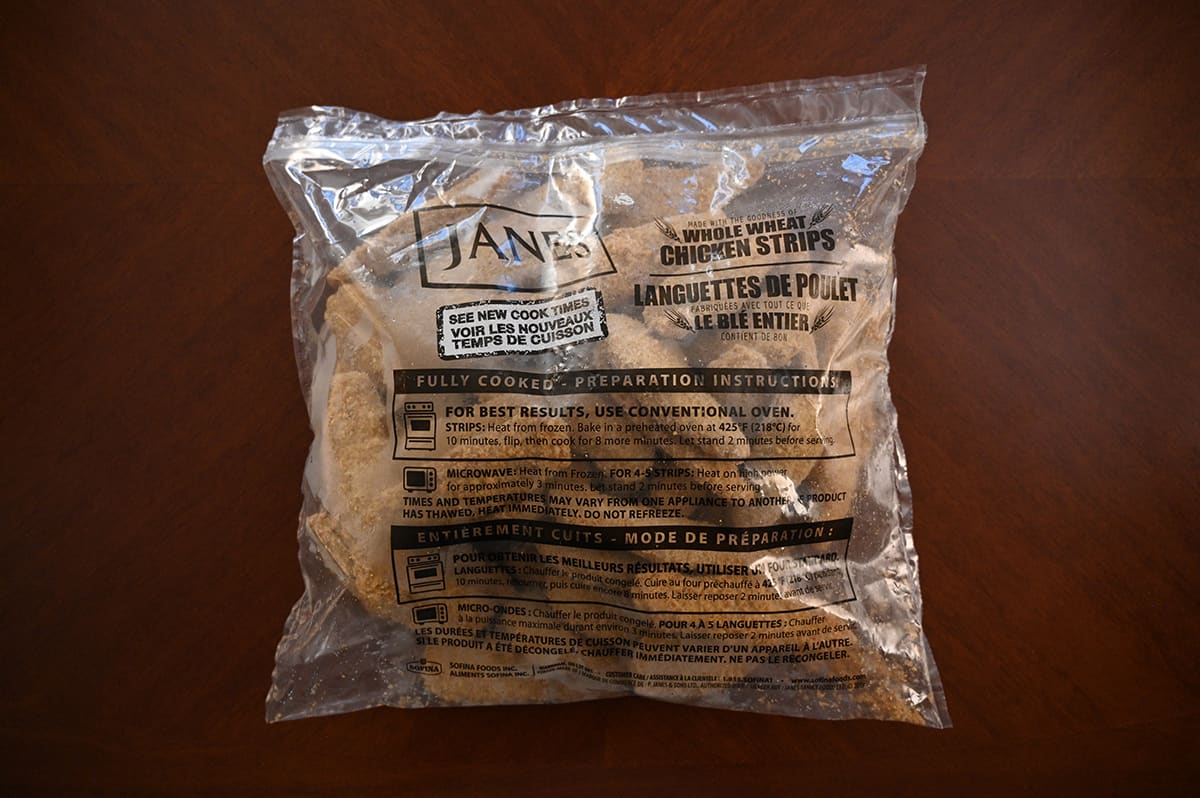 The box has heating instructions for microwave and oven methods. I think if you were to microwave these they'd be pretty soft/soggy. I baked mine in the oven but next time would try using my air fryer despite there not being cooking instructions. The stips are fully cooked already so you're really just heating them.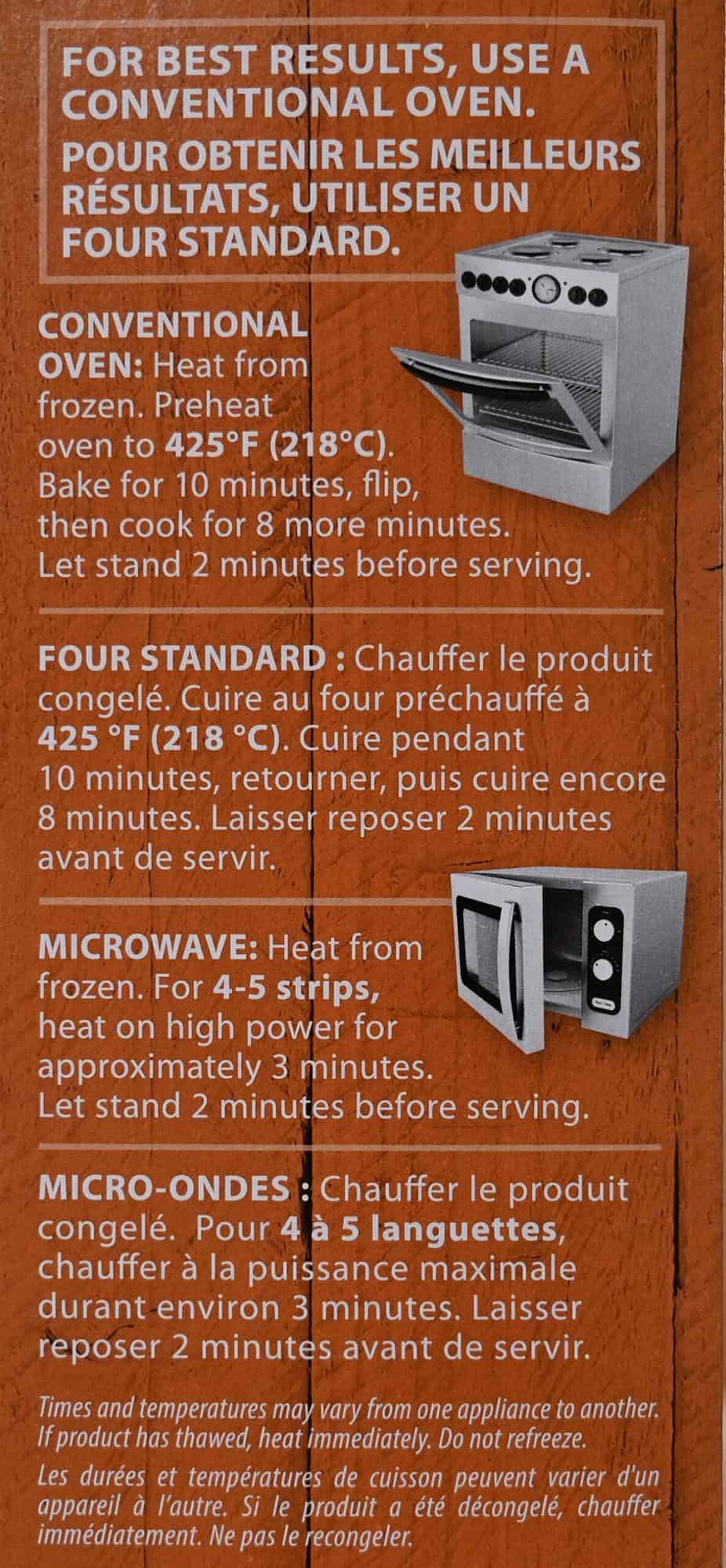 Nutrition
Calories
Each strip contains 100 calories, five grams of fat, nine grams of carbohydrates, one gram of fibre, zero grams of sugar, five grams of protein and 220 milligrams of sodium. There's a lot less protein than I expected in one strip!
As an adult it's easy to eat four or more of these in one sitting so if you're being cautious about your sodium intake you may want to limit your portion size!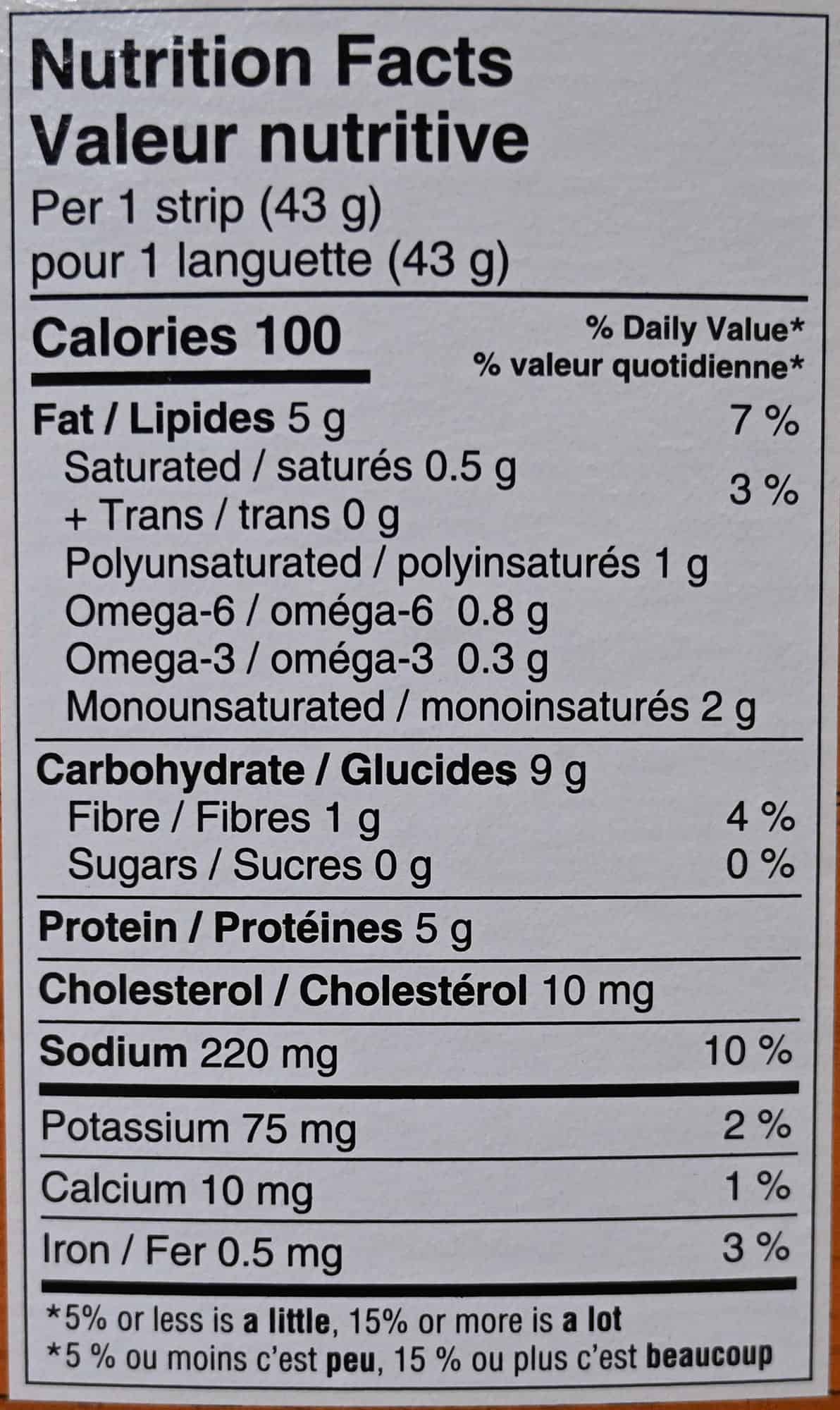 Ingredients
The packaging says the strips contain 10% whole-grain flour so to me that says these aren't all that healthier for you than the version that uses 100% white flour. There are a few ingredients listed that I'm not fond of like soy protein, inulin and canola oil.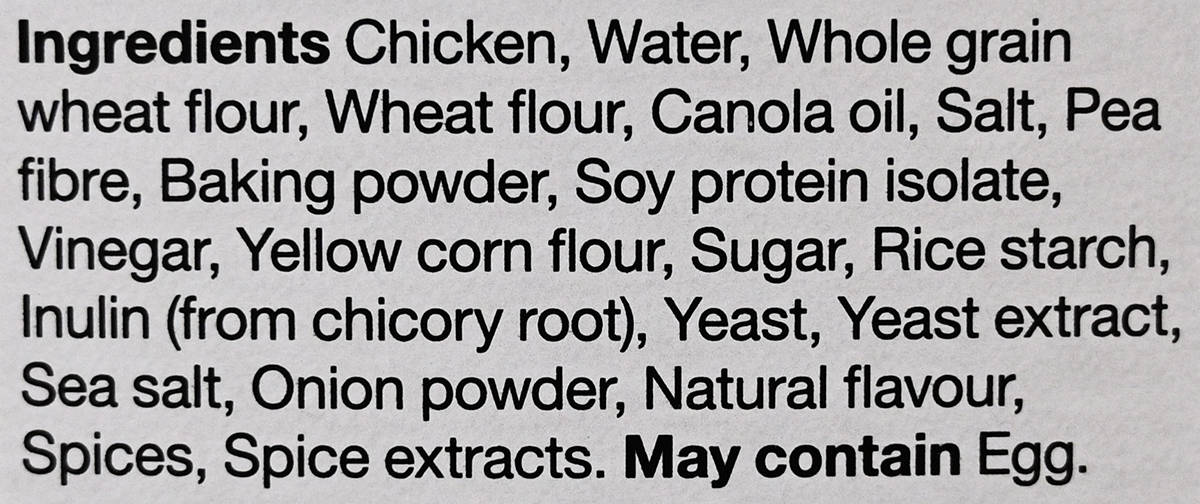 Scoring
Taste: 8.5/10
Cost: 8/10
Convenience: 9.5/10
Nutrition: 3/10
Overall
Give it a try!
These are tasty but I wouldn't go out of my way to buy them again over non-whole wheat chicken strips. They basically taste the same and the small amount of whole wheat flour doesn't make them healthy.
Have you tried these chicken strips? What did you think of them?
---
Please note that this review was not paid for or sponsored by any third party. This product was purchased by Costcuisine for the purpose of producing this review. The opinions in this review are strictly those of Costcuisine. Costcuisine is not affiliated with Costco or any of its suppliers. In the event that Costcuisine receives compensation for a post from the manufacturer of a product or some other third party, the arrangement will be clearly disclosed (including where the manufacturer of a product provides Costcuisine with a free sample of the product).