According to Wikipedia, comfort food is food that provides a nostalgic or sentimental value to someone, and may be characterized by its high caloric nature associated with childhood or home cooking. I would say that describes most of Costco's pre-made meals, and it certainly describes these Kirkland Signature Chicken Quesadillas.
Both kids and adults are probably going to be happy if they hear they're having chicken quesadillas for dinner, and they're definitely not low in calories! They're not the most complicated dish to make, but all you have to do with these ones is heat them in a pan. Should you pick up a pack if you're at Costco and looking for a quick, tasty dinner?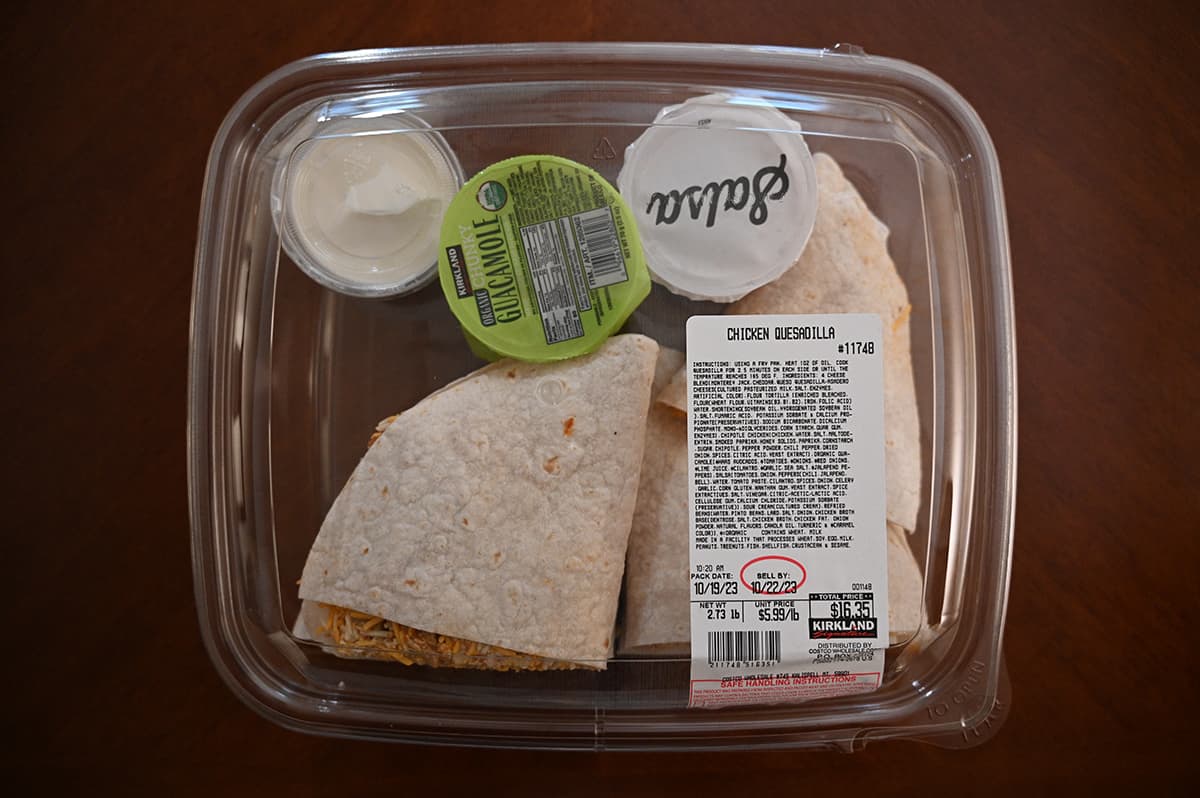 Other pre-made meals from Costco I recommend are the Kirkland Signature Meat Lasagna, Kirkland Signature Enchilada Bake, Kirkland Signature Rotisserie Chicken, Kirkland Signature Quinoa Salad, Kirkland Signature Seasoned Chicken Wings, Kirkland Signature Chicken Burger Meal Kit, Kirkland Signature Stuffed Salmon and the Kirkland Signature Chicken Pot Pie.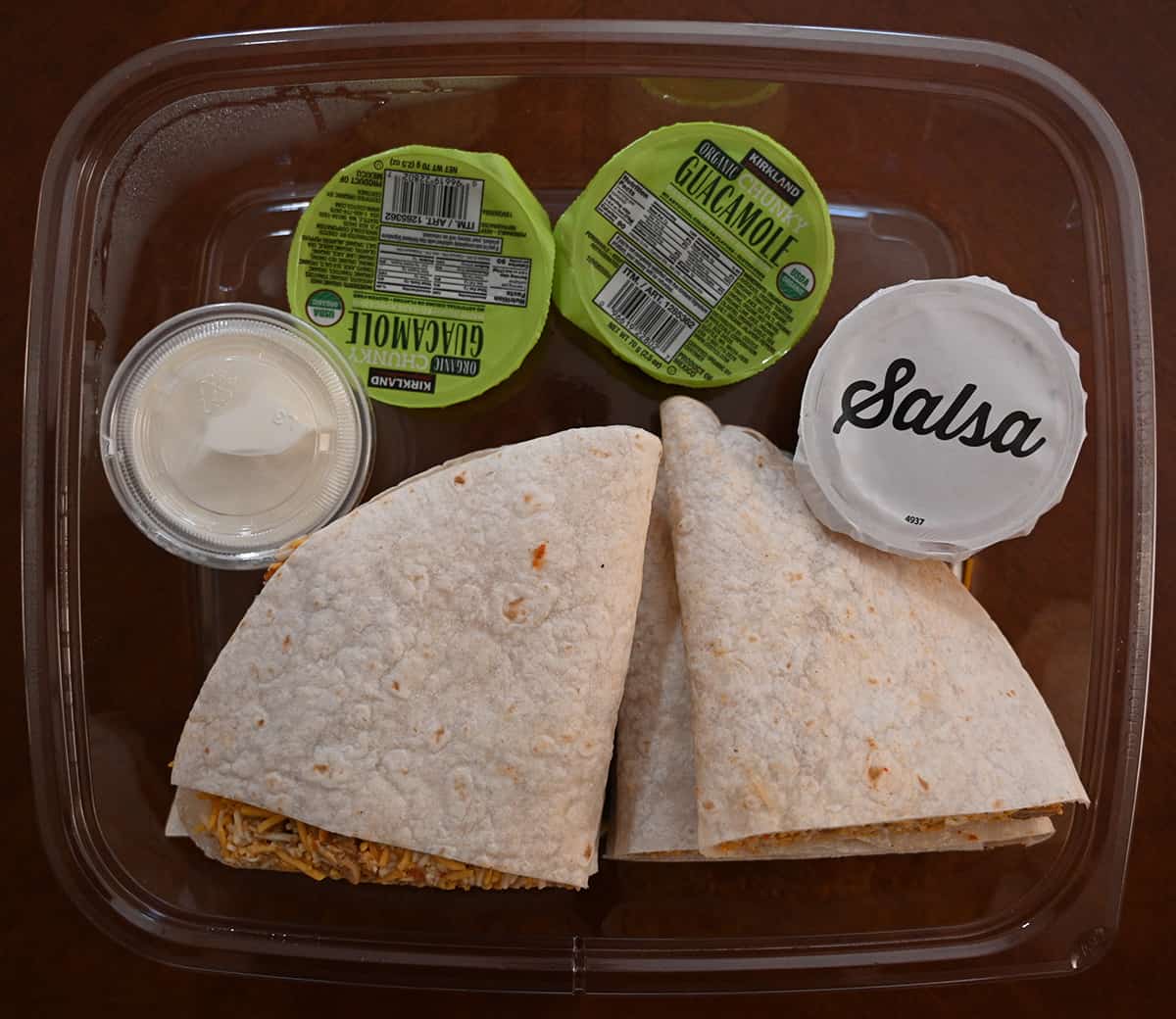 Location in Store
I bought these enchiladas at the Kalispell, Montana Costco and they're located in the pre-made meal, fresh deli section at Costco. The item number is 11748.
Taste
Chicken quesadillas are a pretty simple dish, and Costco's version doesn't reinvent the wheel. They're pretty cheesy, they have enough chicken in them and the flavors are good. They also come with the typical fixings – salsa, sour cream and guacamole (the Kirkland Signature Chunky Guacamole).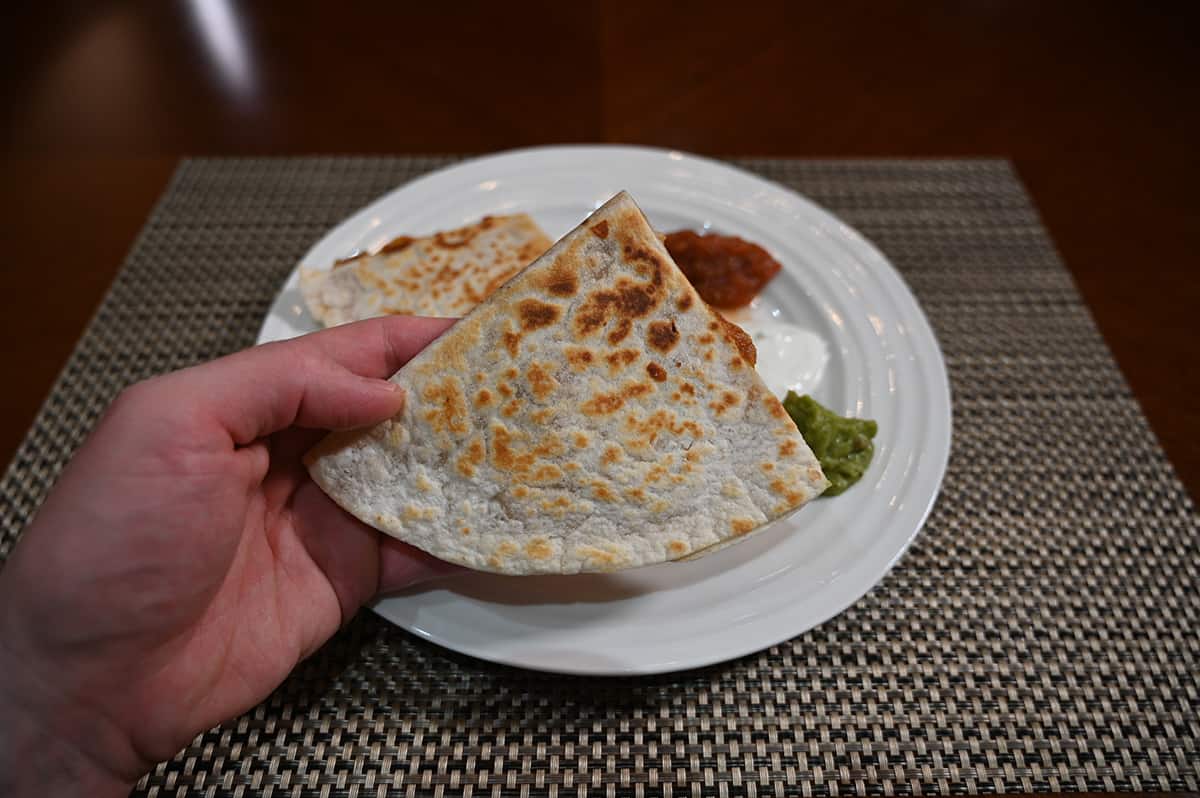 In terms of taste, the cheese mixture is fairly mild but good. The chipotle flavor from the chicken wasn't noticeable in every bite but stood out on some bites. I didn't feel the quesadillas were necessarily lacking chicken, but you don't get a chunk of chicken in every bite.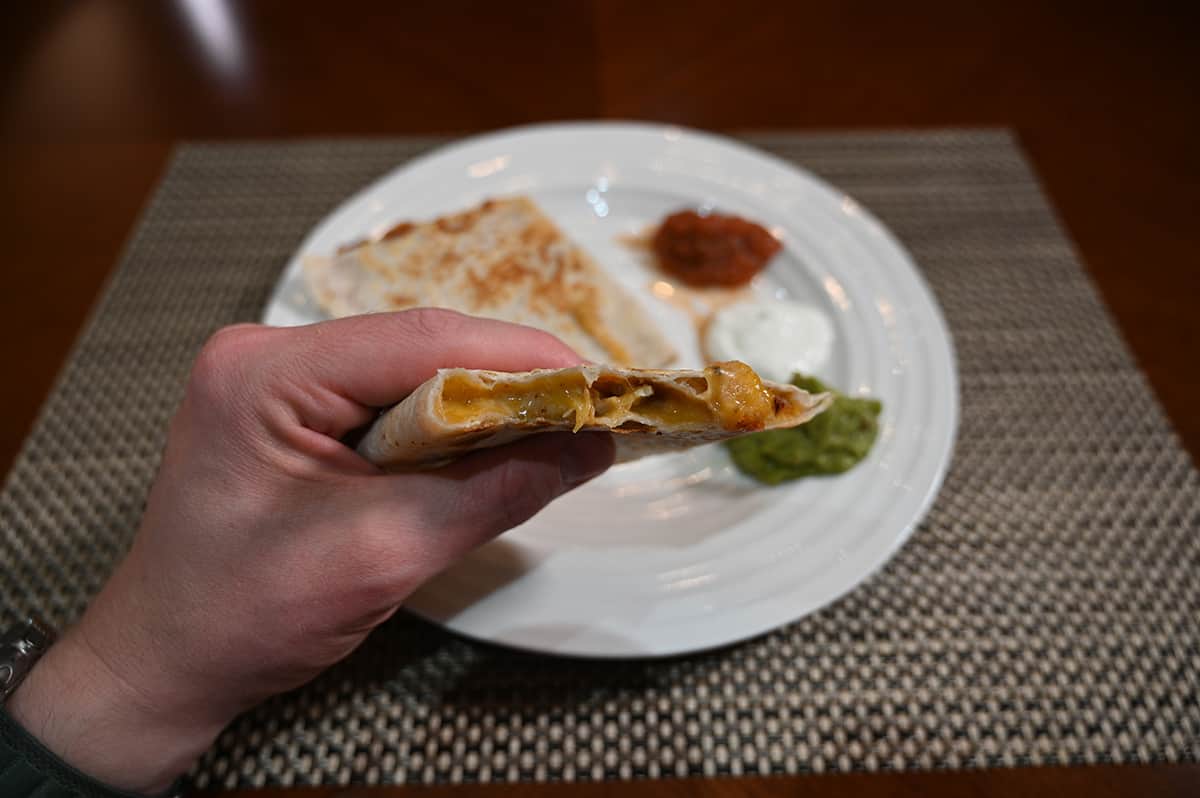 The quality of the meat seemed pretty good, which is important. I enjoyed the tortilla and thought the ratio of tortilla to cheese and chicken was about right, though I wouldn't have complained if there was a bit more filling!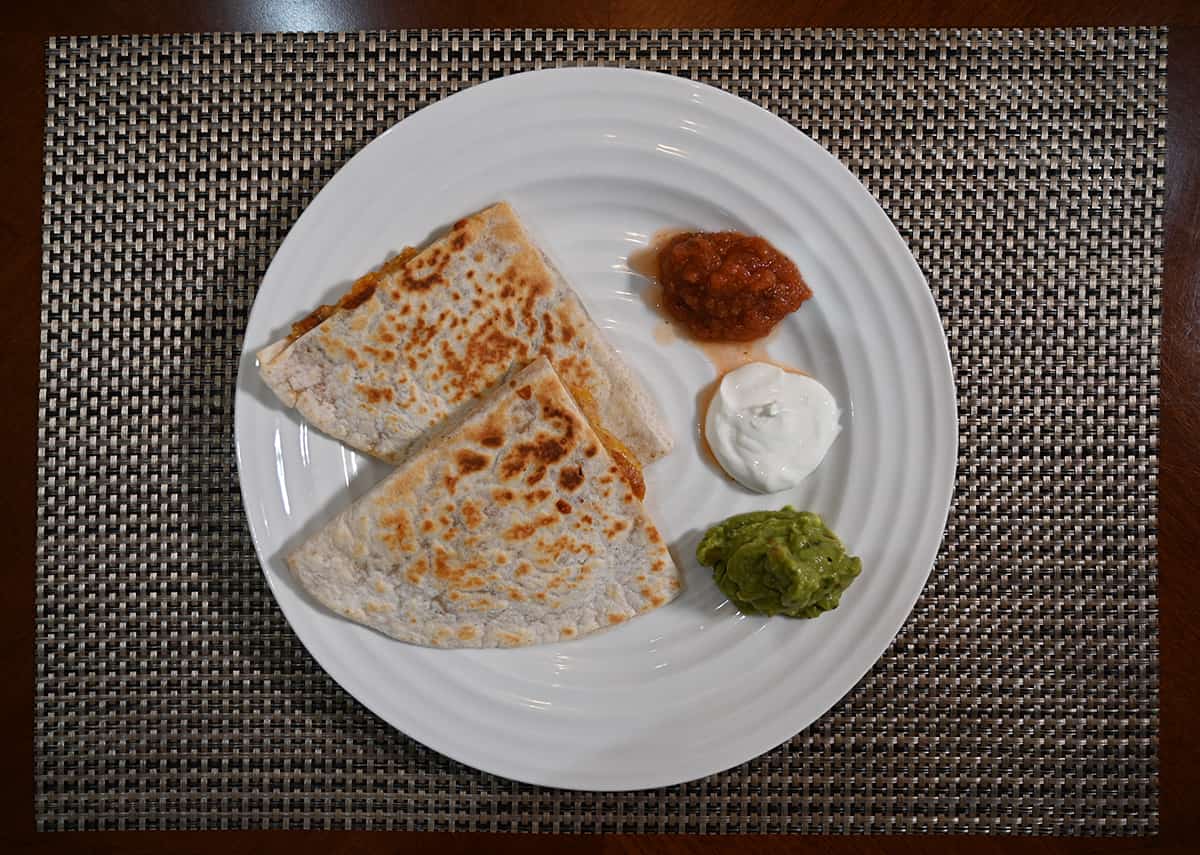 The quesadillas themselves aren't spicy, but there's tiny amount of heat from the chipotle. The salsa that's included is definitely spicy though, so hot food haters will want to avoid it. I wasn't huge fan of the salsa because I found the spiciness kind of overpowered the actual salsa flavor.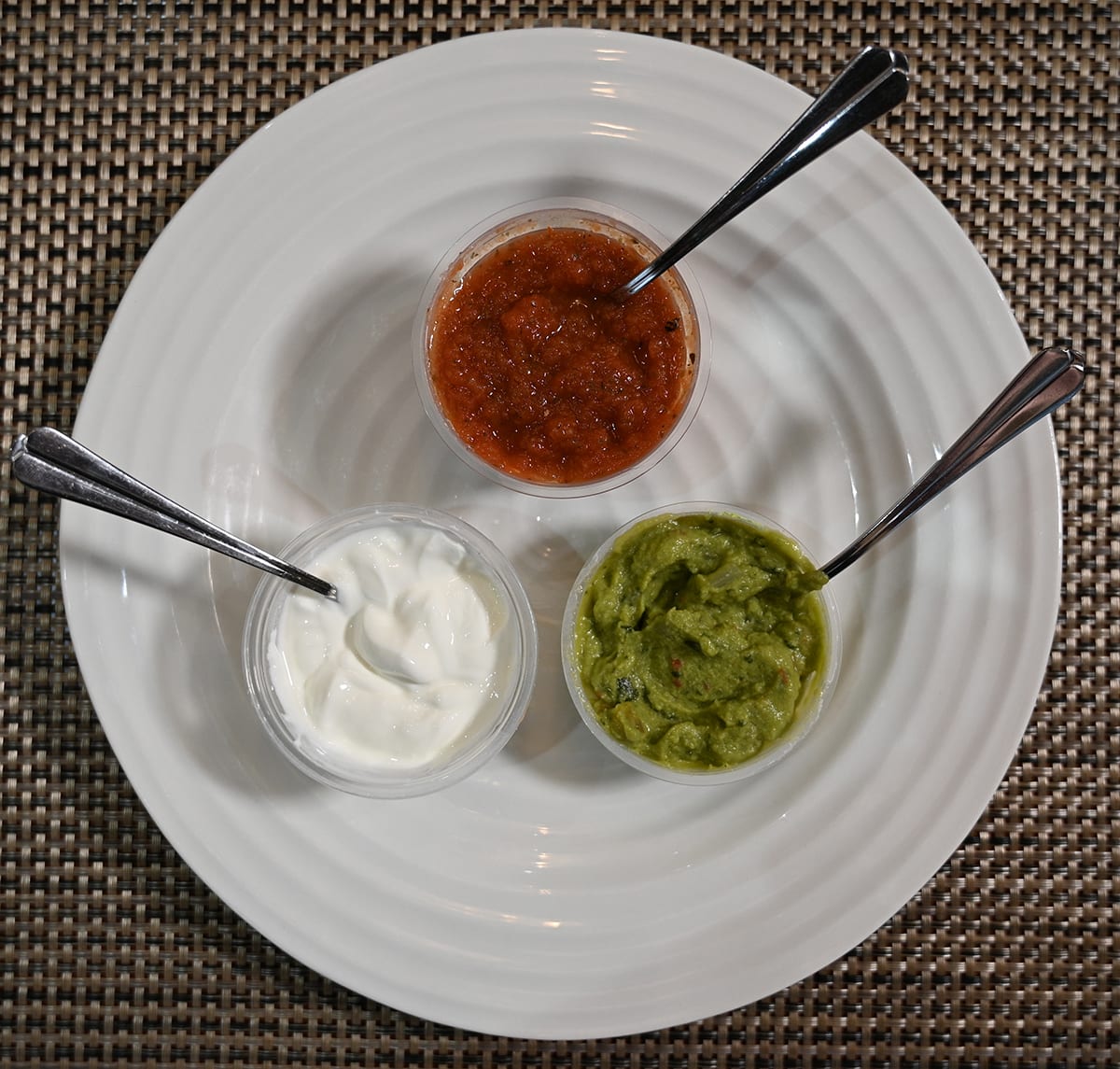 Cost
The quesadillas costs $16.35 USD at Costco, which isn't cheap. There were six quesadillas in the container I purchased. Quesadillas are fairly easy to make and the ingredients aren't that expensive so you're absolutely paying for the convenience of these.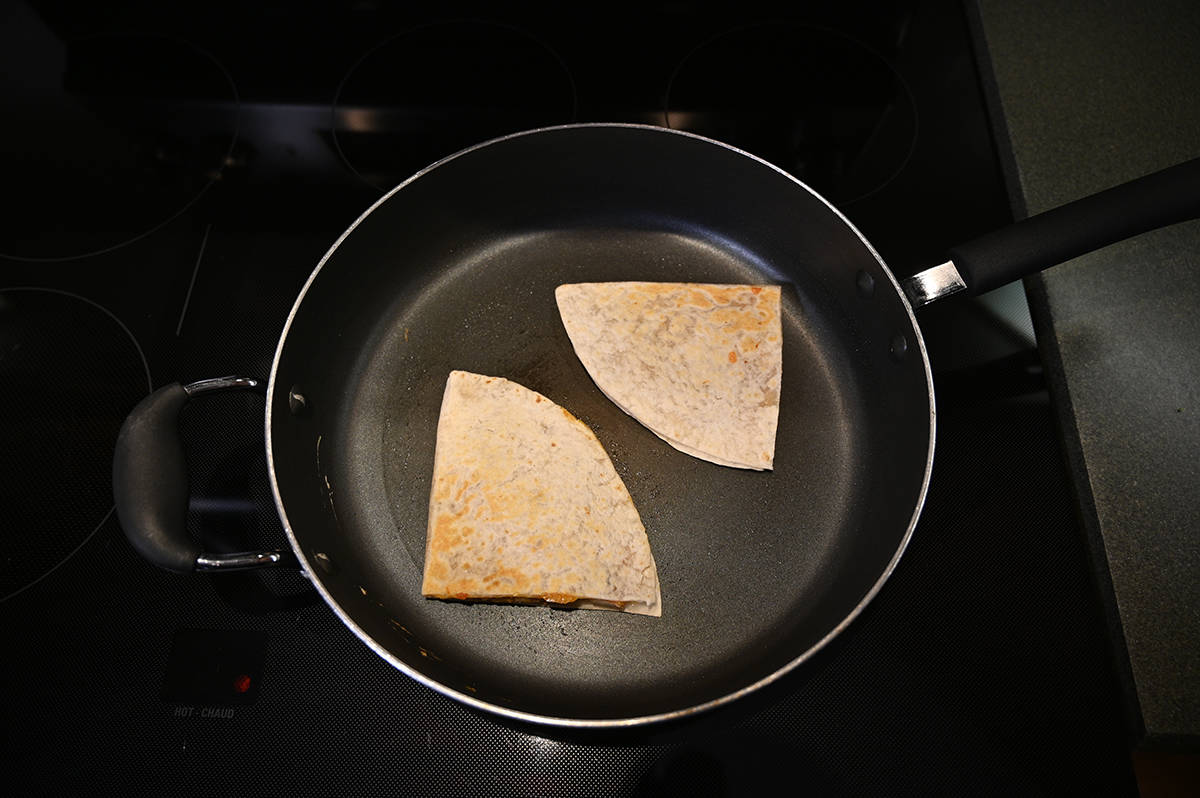 Convenience
I used a bit of avocado oil to wipe my non-stick pan before I cooked my quesadillas, but next time I'd skip it altogether. It wasn't necessary. I think the recommended one ounce of oil would be way too much personally.
To heat the quesadillas, heat a frying pan with one ounce of oil in it, then cook each quesadilla for 2.5 minutes per side or until the internal temperature reaches 165 degrees Fahrenheit. I think you could also use your air fryer to heat these too!

The quesadillas need to be kept refrigerated and the best-before date is three days from when I purchased the quesadillas.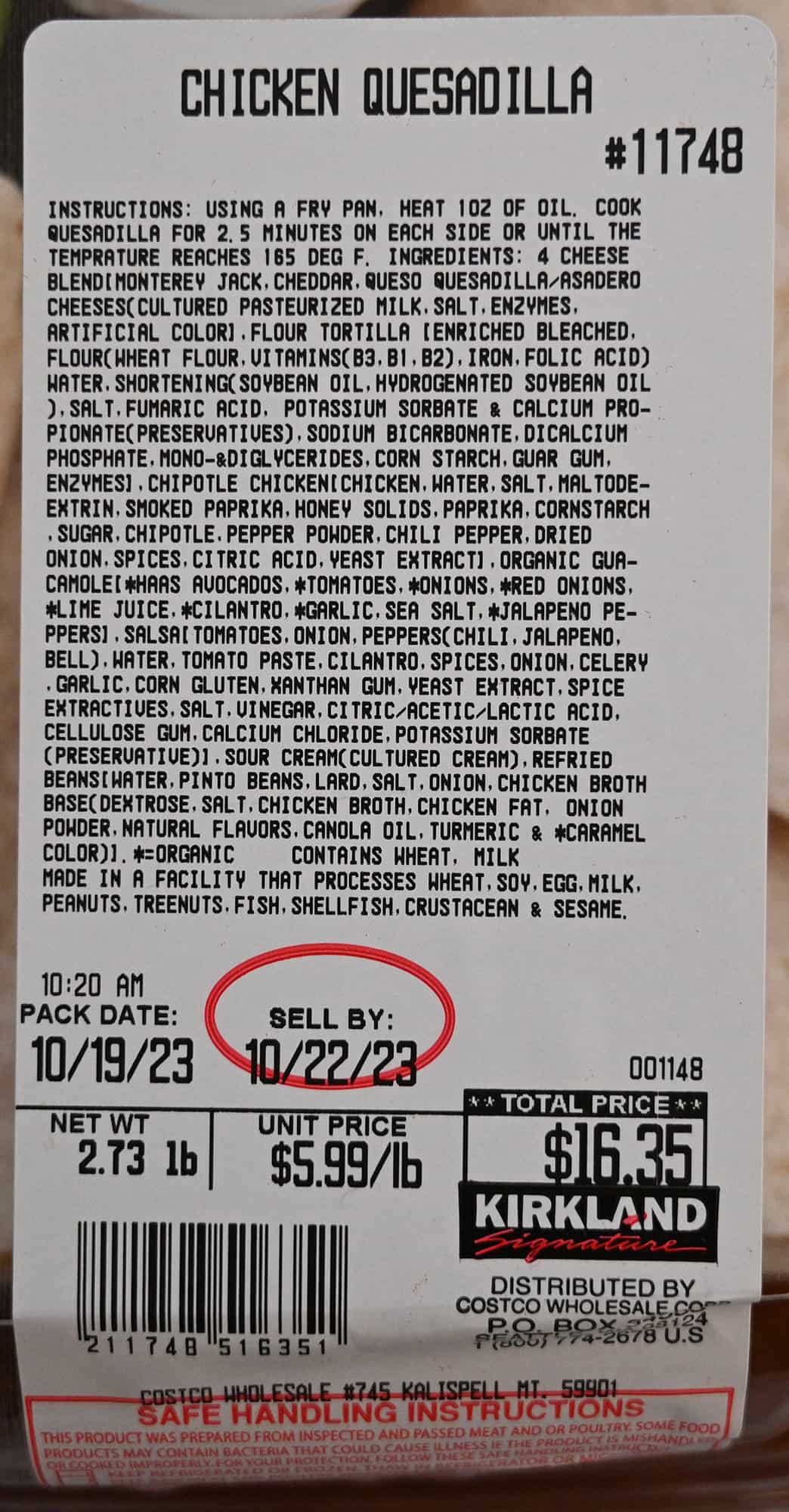 I think kids would really enjoy these because they're so cheesy. Adults will like them too but might not be as excited about them.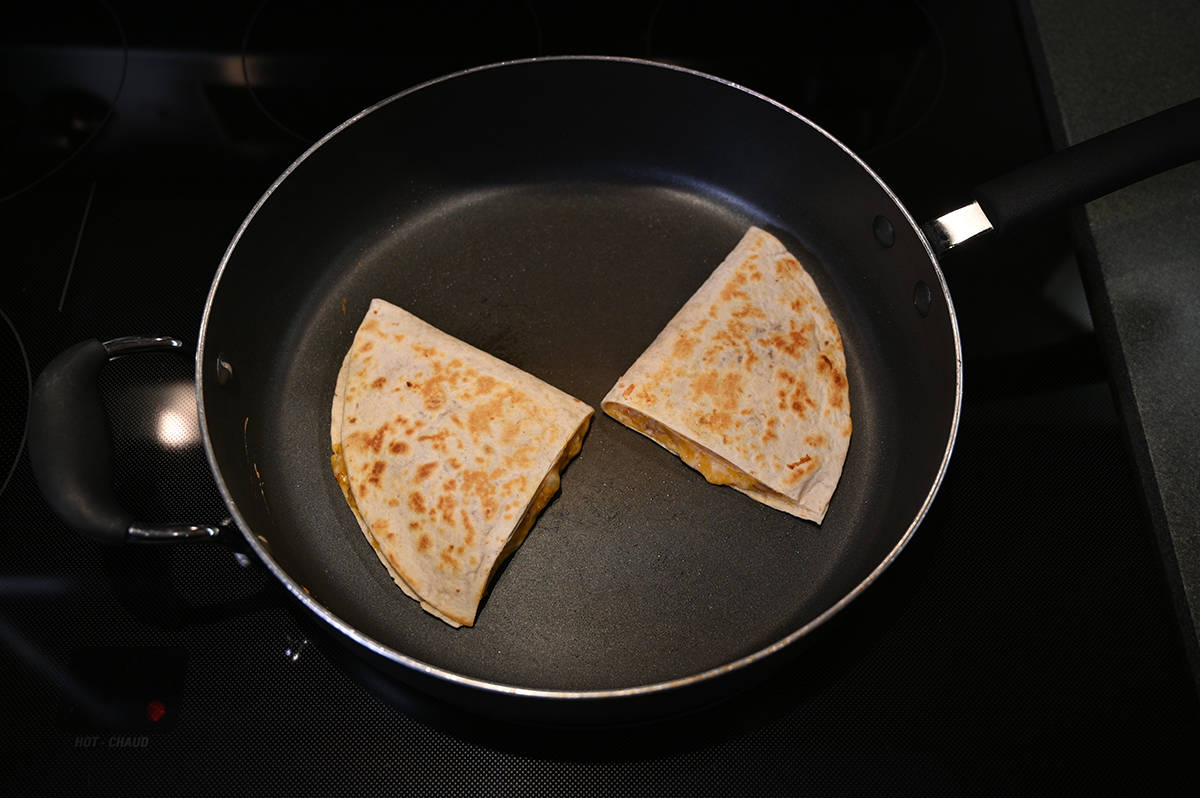 Nutrition
Calories
A 10.93-ounce serving of quesadillas contains 690 calories, 41 grams of fat, 42 grams of carbohydrates, four grams of fiber, three grams of sugar, 37 grams of protein and 1420 milligrams of sodium. That's a ton of sodium, pretty much your recommended daily intake.
The calories, fat and carbs in the quesadillas also aren't low which is kind of expected. It's nice that there's a decent amount of protein though.
Ingredients
There are a ton of unhealthy ingredients in these quesadillas! Ingredients like artificial color, soybean oil, preservatives, sugar and lard. The cheese is a blend of Monterey jack, cheddar, queso and asadero.
The quesadillas contain milk and wheat and may contain soy, egg, peanuts, treenuts, sesame, fish, shellfish and crustaceans.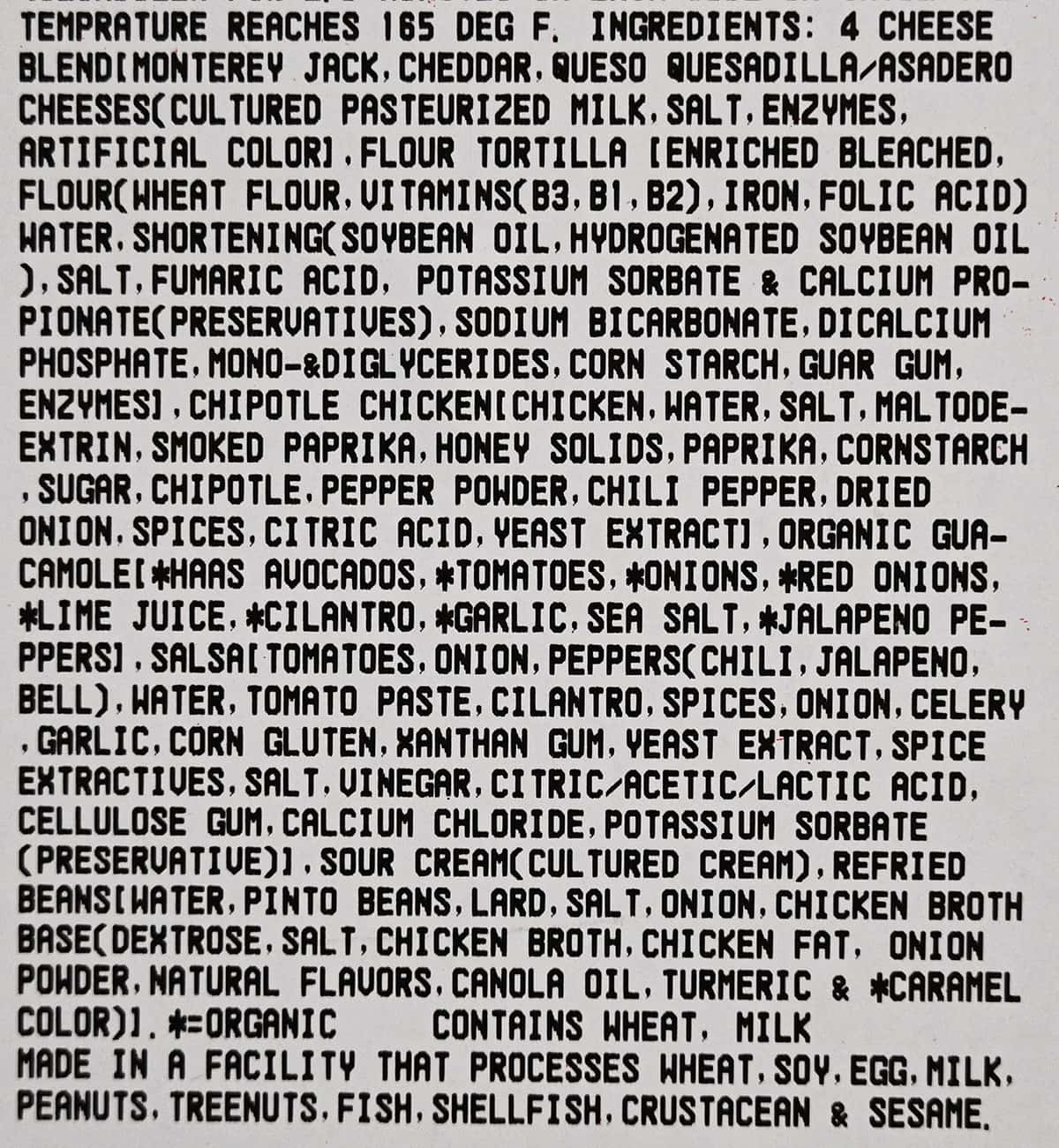 Scoring
Taste: 7.5/10
Cost: 6/10
Convenience: 9.5/10
Nutrition: 2/10 (Points for protein).
Overall
Give it a try!
The Costco Chicken Quesadilla is an easy, quick and tasty comfort meal. It's nothing special, but I think anyone who likes chicken quesadillas will enjoy these ones.
Have you tried these Costco Kirkland Signature Chicken Quesadillas? What did you think of them?
---
Please note that this review was not paid for or sponsored by any third party. This product was purchased by Costcuisine for the purpose of producing this review. The opinions in this review are strictly those of Costcuisine. Costcuisine is not affiliated with Costco or any of its suppliers. In the event that Costcuisine receives compensation for a post from the manufacturer of a product or some other third party, the arrangement will be clearly disclosed (including where the manufacturer of a product provides Costcuisine with a free sample of the product).