My husband and I love Mexican food. We have a great local Mexican restaurant that we order from regularly. We don't make many Mexican-themed foods at home, but one of our dinner staples is a quinoa enchilada casserole that I make regularly. It's very tasty, but it's a bit time-intensive and requires a lot of different ingredients to make. When I saw the Kirkland Signature Enchilada Bake, it reminded me of my casserole and I was excited to see what Costco did with it!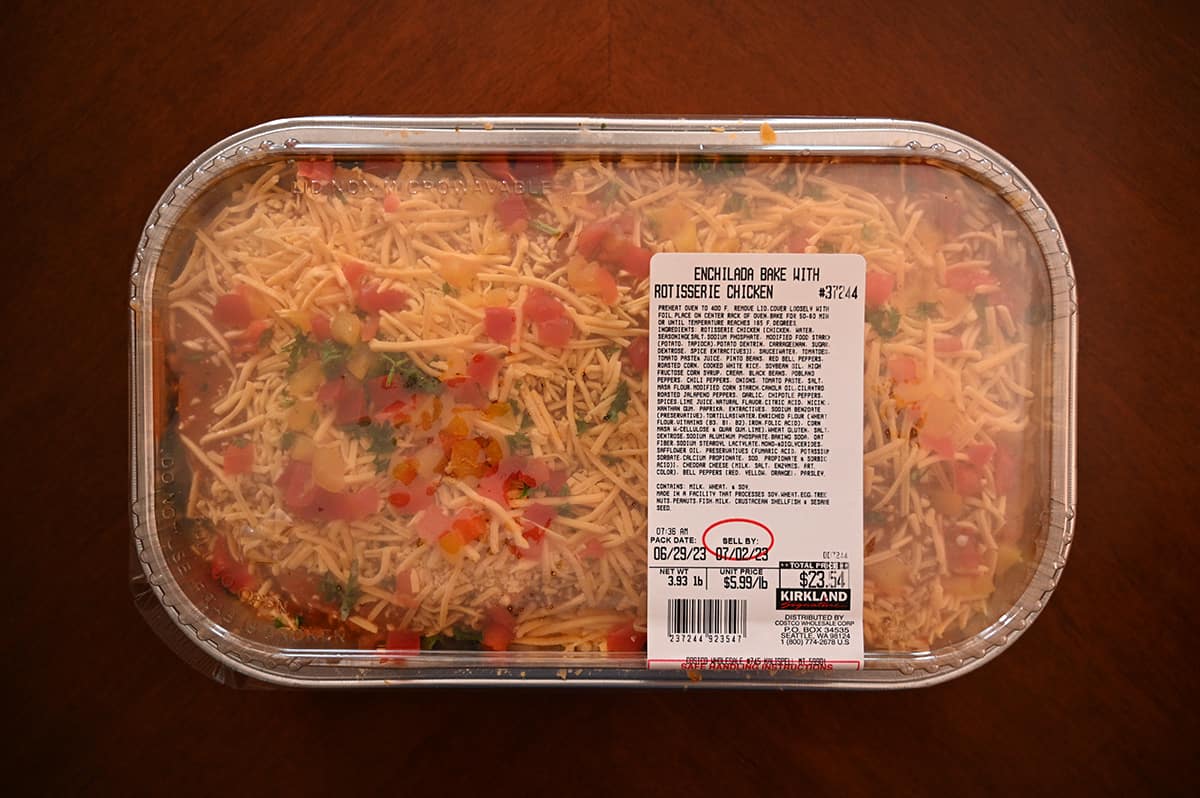 Other pre-made meals from Costco that are quick and convenient are the Kirkland Signature Chicken Tacos, Kirkland Signature Meat Lasagna, Kirkland Signature Shepherd's Pie, Kirkland Signature Four Cheese and Spinach Manicotti, Kirkland Signature Chicken Chow Mein, Kirkland Signature Chicken Pot Pie and the Kirkland Signature Greek Style Gyro Pita Meal.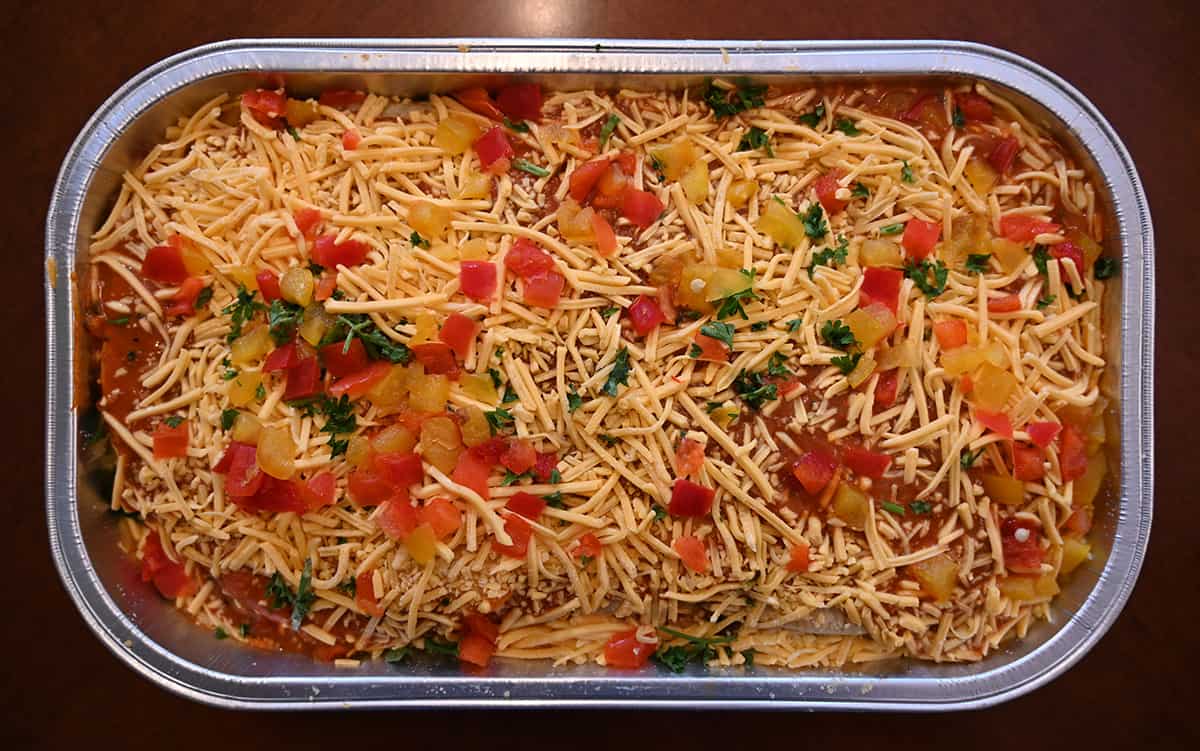 Location in Store
You can find this meal in the pre-made deli section, near the macaroni & cheese, quinoa salad and the Kirkland Signature Chicken Tacos tacos. The item number is 37244 and I bought it in Kalispell, Montana.
Taste
The photos don't really do this Enchilada Bake justice as there are a lot of ingredients mixed together in what's basically a casserole. It's kind of hard to see them all. If you've ever had a chicken enchilada before, the flavors will be familiar.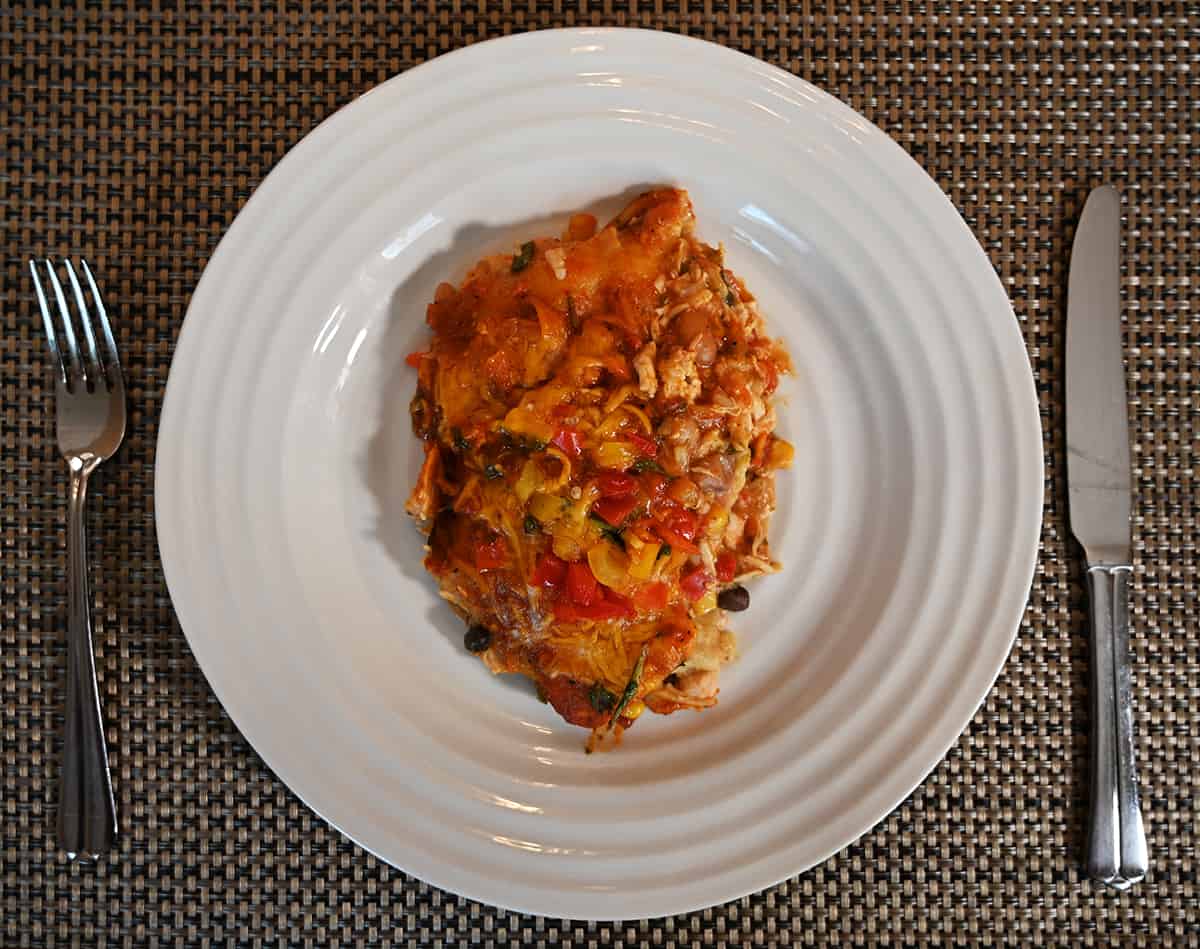 I did struggle a bit with how I should serve my Enchilada Bake. I couldn't tell if there were individual enchiladas in the dish or if it was put together some other way. After some poking and prodding, I realized that there are tortillas layered under the peppers, cheese and sauce on top and decided to cut slices to serve, like a lasagna. That ended up working well.
In terms of flavors, all of your typical enchilada ingredients are here – tortillas, sauce, cheese, veggies, beans and chicken. The chicken is Costco's rotisserie chicken and there's a generous amount of it. I wonder if maybe this dish is a way for them to use up leftover rotisserie chicken.
Either way, the chicken is really good and there weren't any fatty or gristly bits. Everything works well together and I found the Enchilada Bake very tasty. Again, if you like chicken enchiladas, you'll like this dish.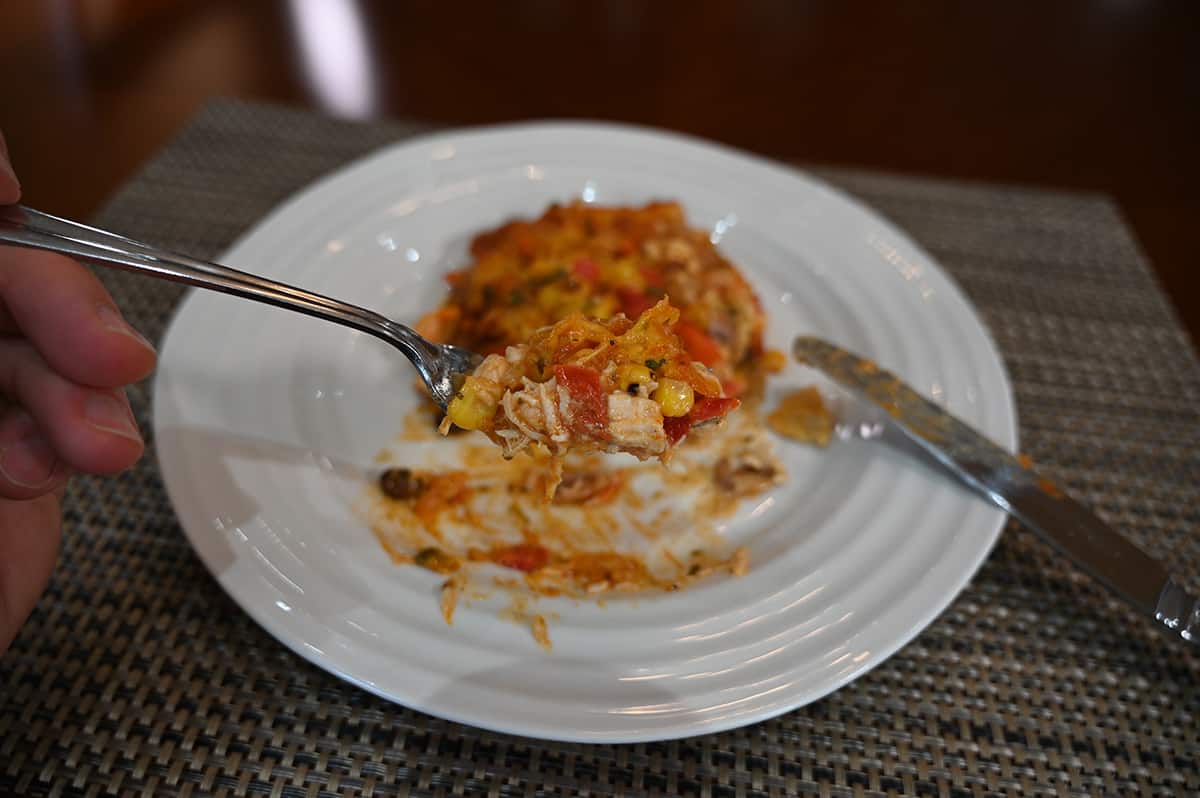 If I had to find some potential negatives, I guess the main ones that stand out are the spiciness of the Enchilada Bake and the thickness/doughiness of the tortilla layer. My husband enjoys spicy foods, so he enjoys the fact that this casserole is on the hot side for a Costco dish. But I know it'll be spicy enough to turn off quite a few people out there. As for the tortilla layer being thick/mushy/doughy, it seems to vary a bit across the tray and even the "worst" parts were still okay. It just makes the dish a bit unnecessarily heavy and soggy.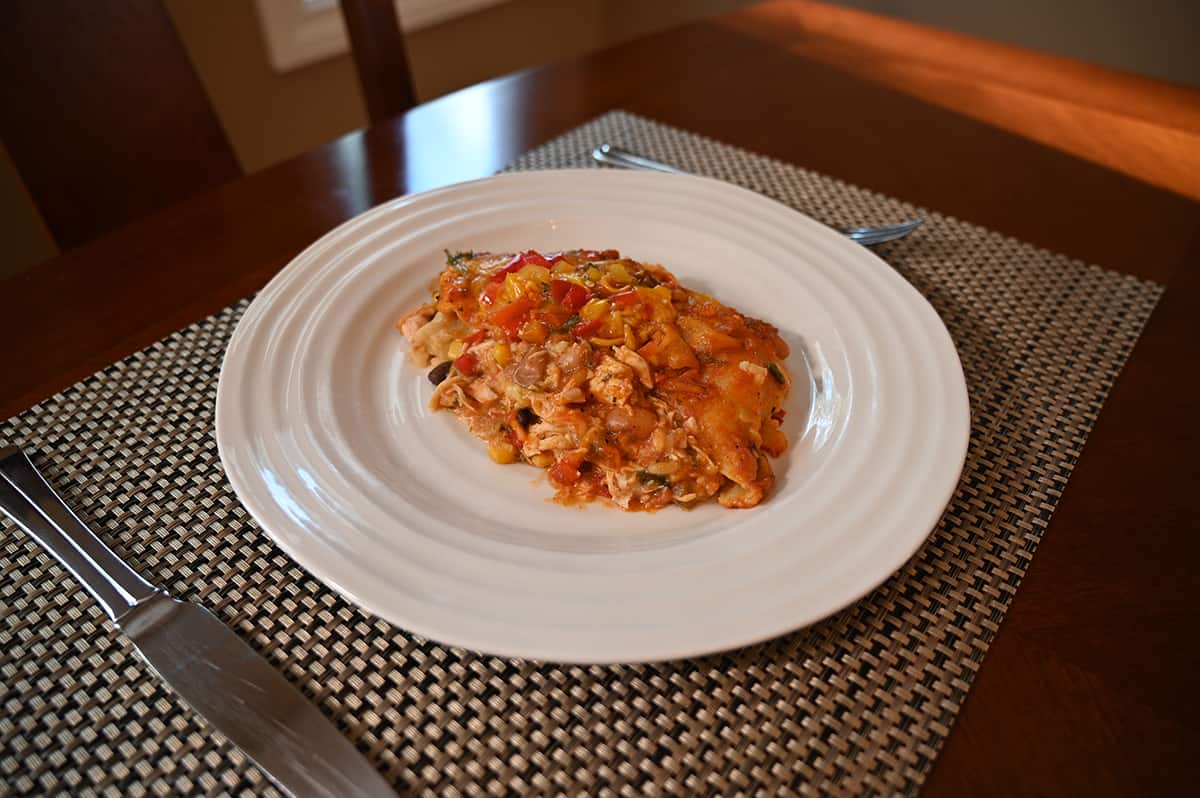 Cost
Costco's enchilada bakes are sold by weight, around 4 pounds each, for about $22 to $23 per package. That's roughly $5.99 per pound. I paid $23.54 for ours.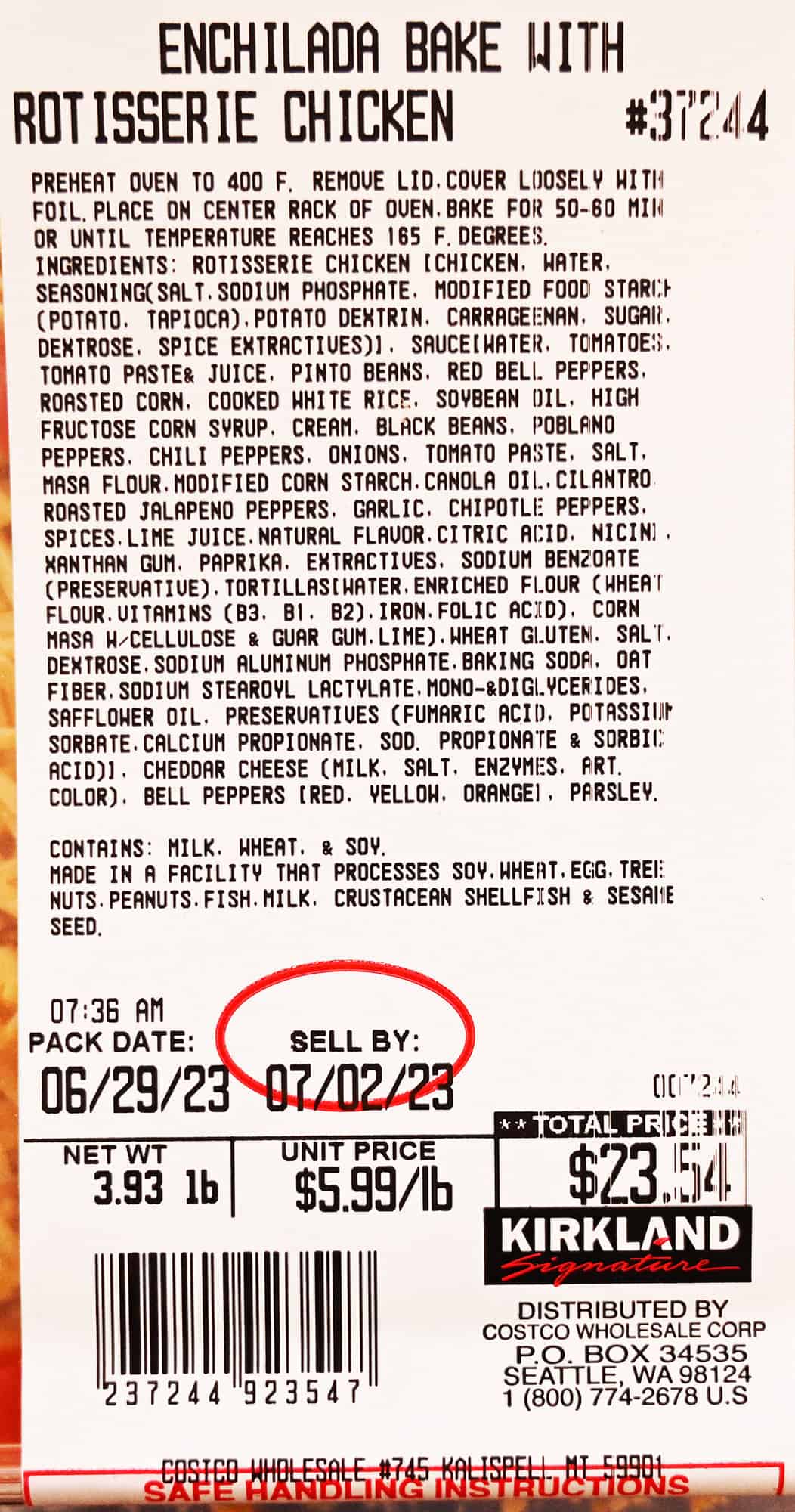 Convenience
The enchilada bake needs to be kept refrigerated and the best-before date is three days from when we purchased it.


To heat the enchilada bake, preheat the oven to 400 degrees Fahrenheit, remove the plastic lid and cover the tray loosely with foil. Next, bake it in the oven for 50 to 60 minutes until the internal temperature reaches 165 degrees Fahrenheit.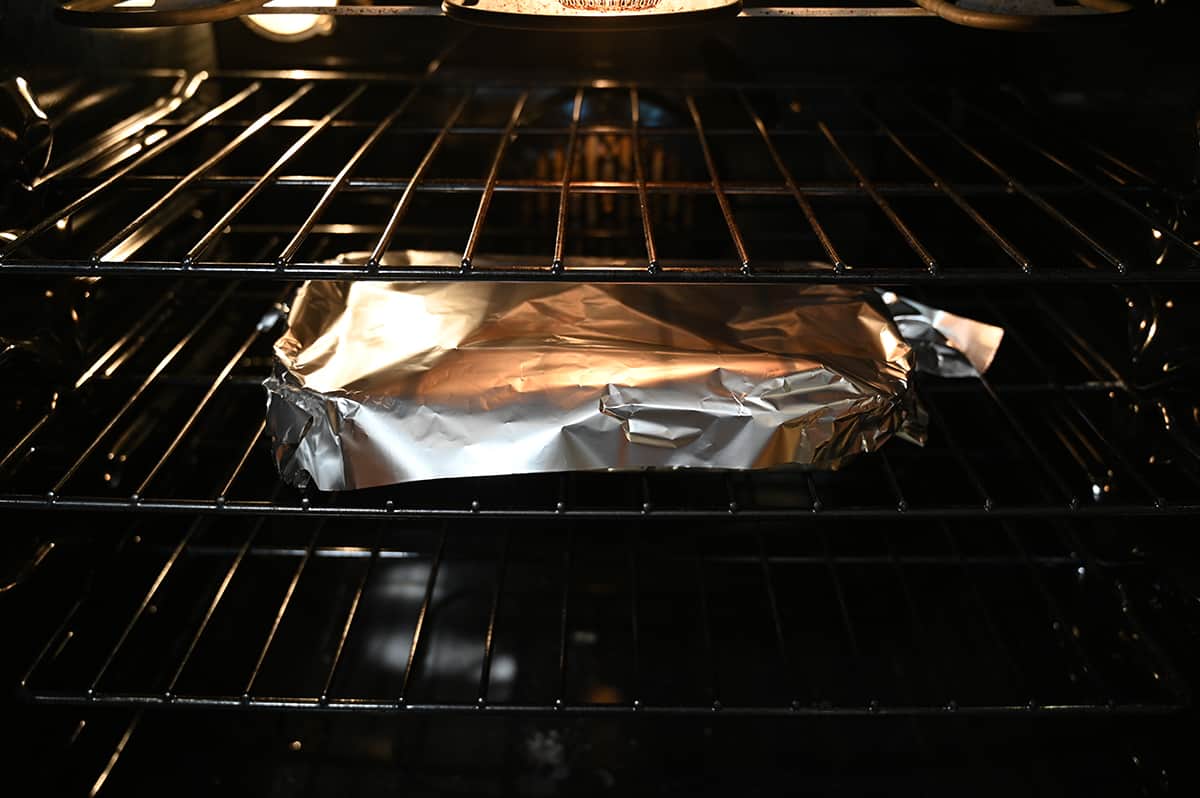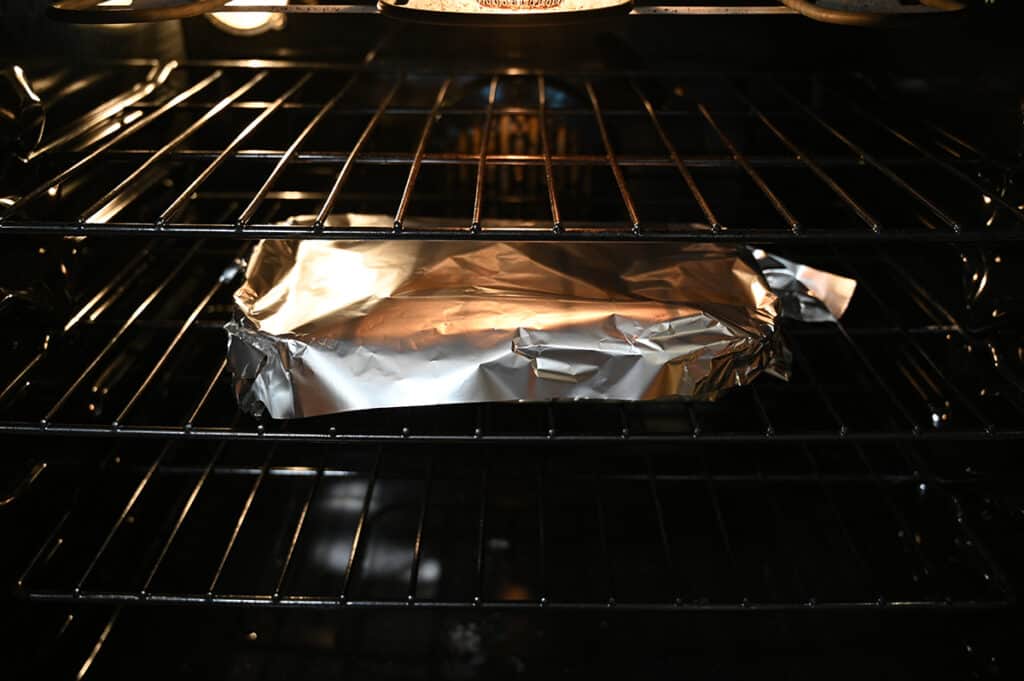 I recommend serving this with some sour cream and fresh avocado, an extra sprinkle of cilantro on top may also be nice if you like cilantro.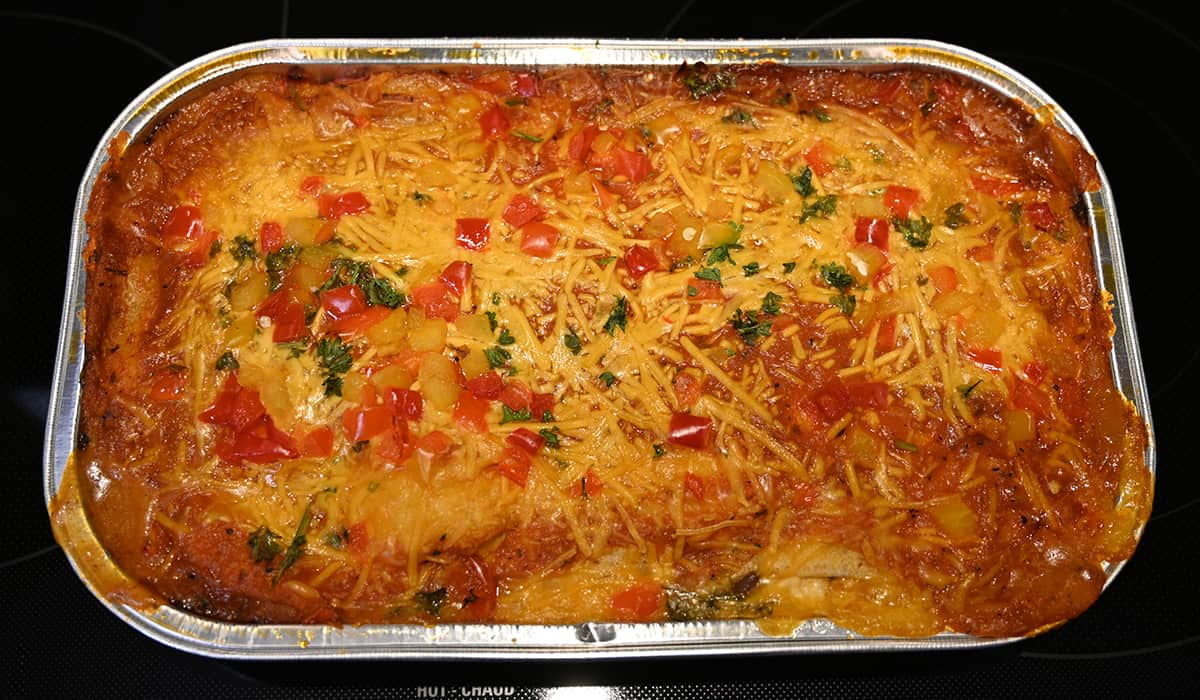 Nutrition
Calories
A 192-gram serving contains 260 calories, 13 grams of fat, five grams of saturated fat, 50 milligrams of cholesterol, 920 milligrams of sodium, 20 grams of carbohydrates, three grams of sugar, one gram of fiber and 18 grams of protein.
Ingredients
There are a lot of ingredients in the bake. There are a bunch of ones that I don't love seeing such as preservatives, canola oil, sugar and dextrose. The Costco Enchilada Bake contains milk, wheat and soy. It's made in a facility that processes egg, tree nuts, peanuts, fish, milk, soy, wheat, sesame, crustacean shellfish and seafood.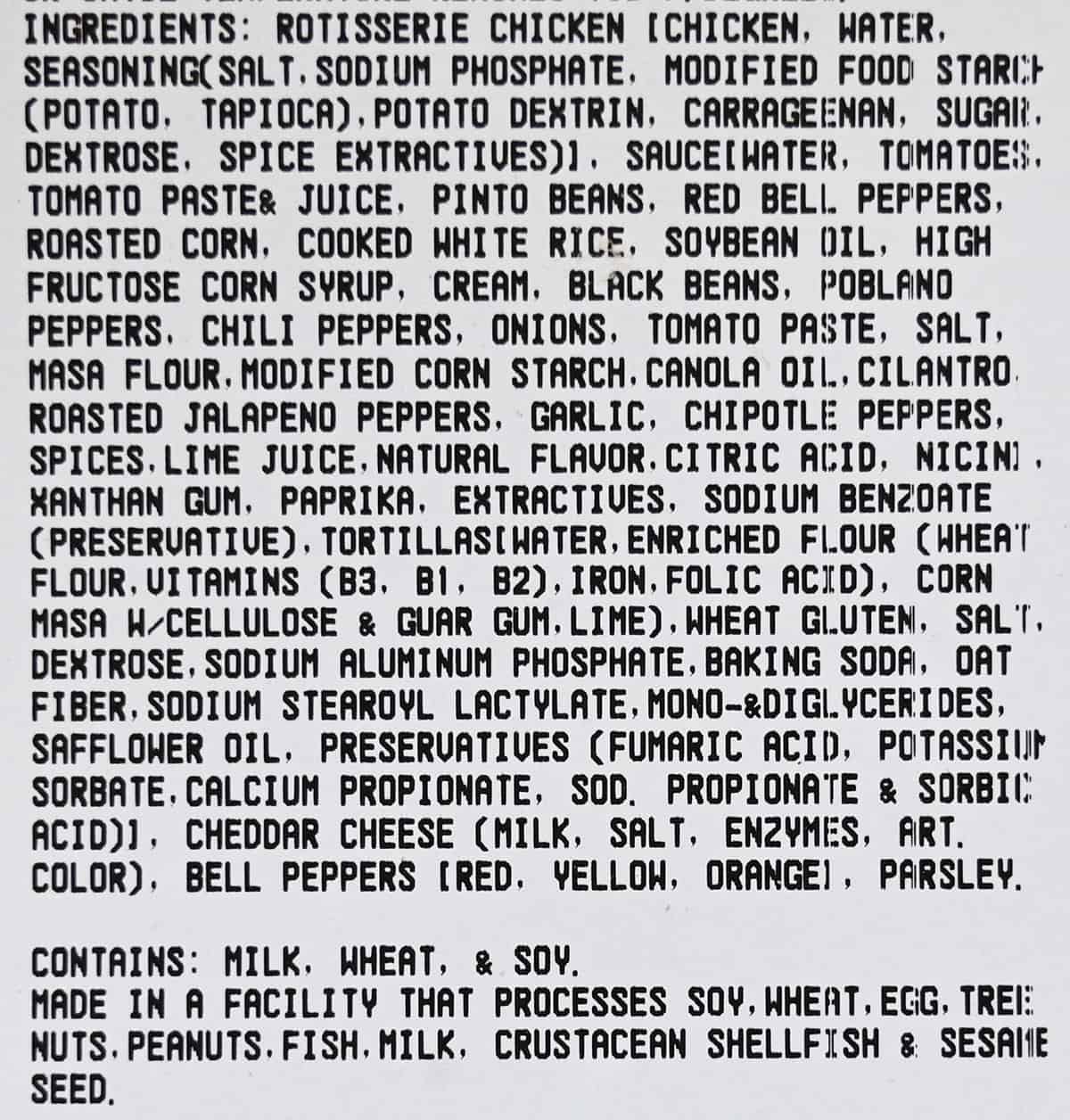 Scoring
Taste: 8/10
Cost: 8/10
Convenience: 10/10
Nutrition: 3/10
Overall
Give it a try!
Overall this is one of the best Costco pre-made meals I've had. It's a super convenient way to enjoy the flavors of enchiladas at home without actually having enchiladas!
Have you tried this pre-made meal from Costco? What did you think of it?
---
Please note that this review was not paid for or sponsored by any third party. This product was purchased by Costcuisine for the purpose of producing this review. The opinions in this review are strictly those of Costcuisine. Costcuisine is not affiliated with Costco or any of its suppliers. In the event that Costcuisine receives compensation for a post from the manufacturer of a product or some other third party, the arrangement will be clearly disclosed (including where the manufacturer of a product provides Costcuisine with a free sample of the product).