I'm a big fan of the classic chocolate/hazelnut combination, so when I spotted this Kirkland Signature Chocolate Hazelnut Loaf at my local Costco, I was excited to try it. The fact that it's nicely decorated with a drizzle of a Nutella-like substance and loads of hazelnuts only added to the appeal. However, in a blind taste test, I might have confused this Chocolate Hazelnut Loaf with another Costco bakery item. Read on to find out which one!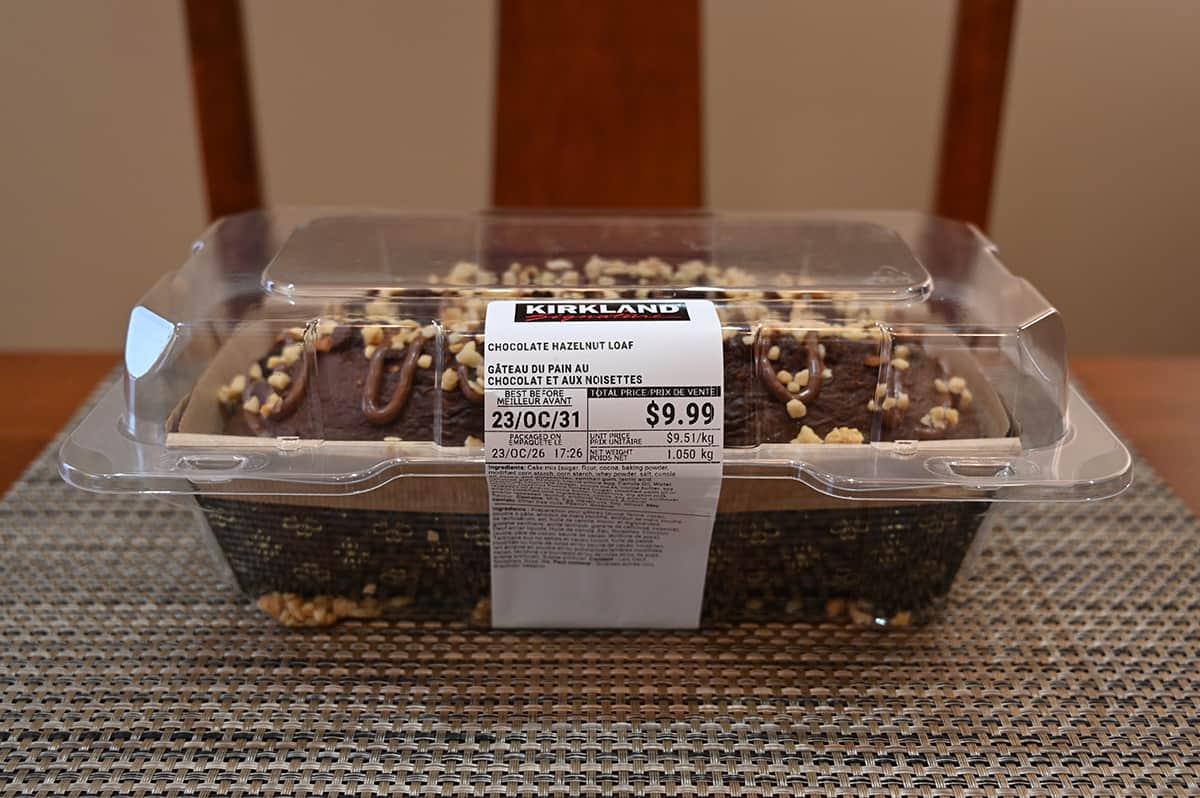 Some other similar bakery products from Costco are the Kirkland Signature Lemon Poppyseed Loaf, Kirkland Signature Apple Fritter Loaf, Kirkland Signature Banana Pecan Loaf, Kirkland Signature Pumpkin Spice Loaf, Kirkland Signature Sour Cream Butter Pound Cake, Kirkland Signature Christmas Fruit Cake and the Kirkland Signature Maple Pecan Coffee Cake.
Location in Store
This is located in the bakery section at Costco, the item number is 1752366.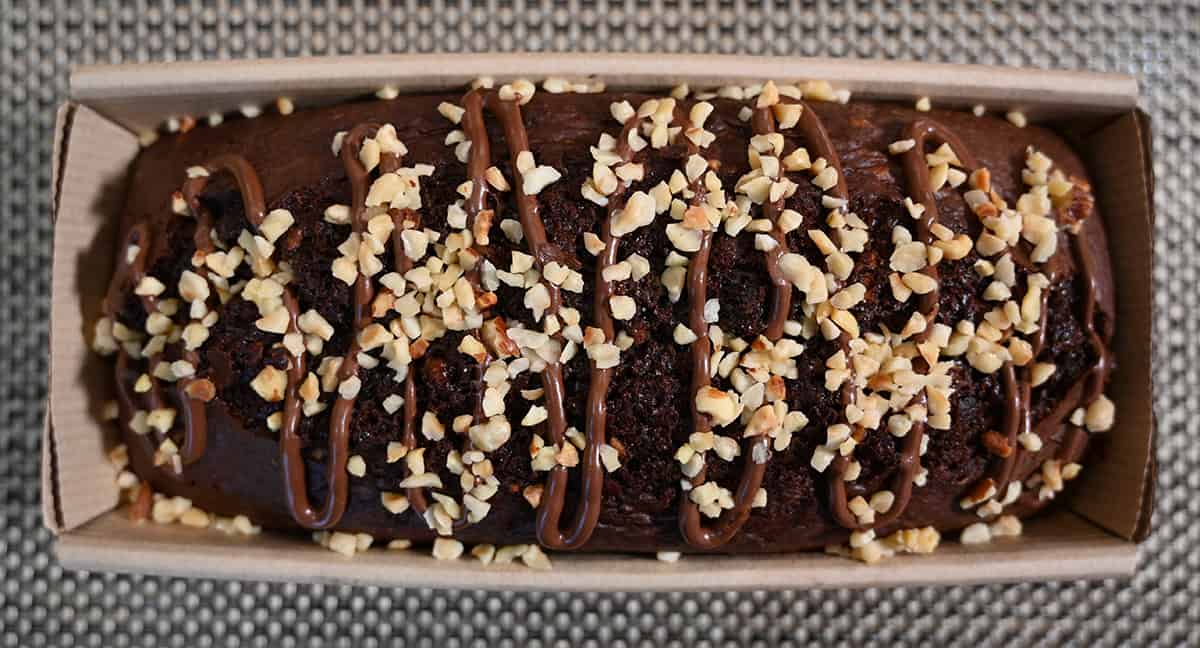 Taste
The loaf has lots of hazelnuts both on top and mixed into the loaf batter. From what I can remember this tastes a lot like the double chocolate muffins but with hazelnuts. There's a drizzle on top that tastes exactly like Nutella and this is what brings most of the hazelnut flavor to the loaf.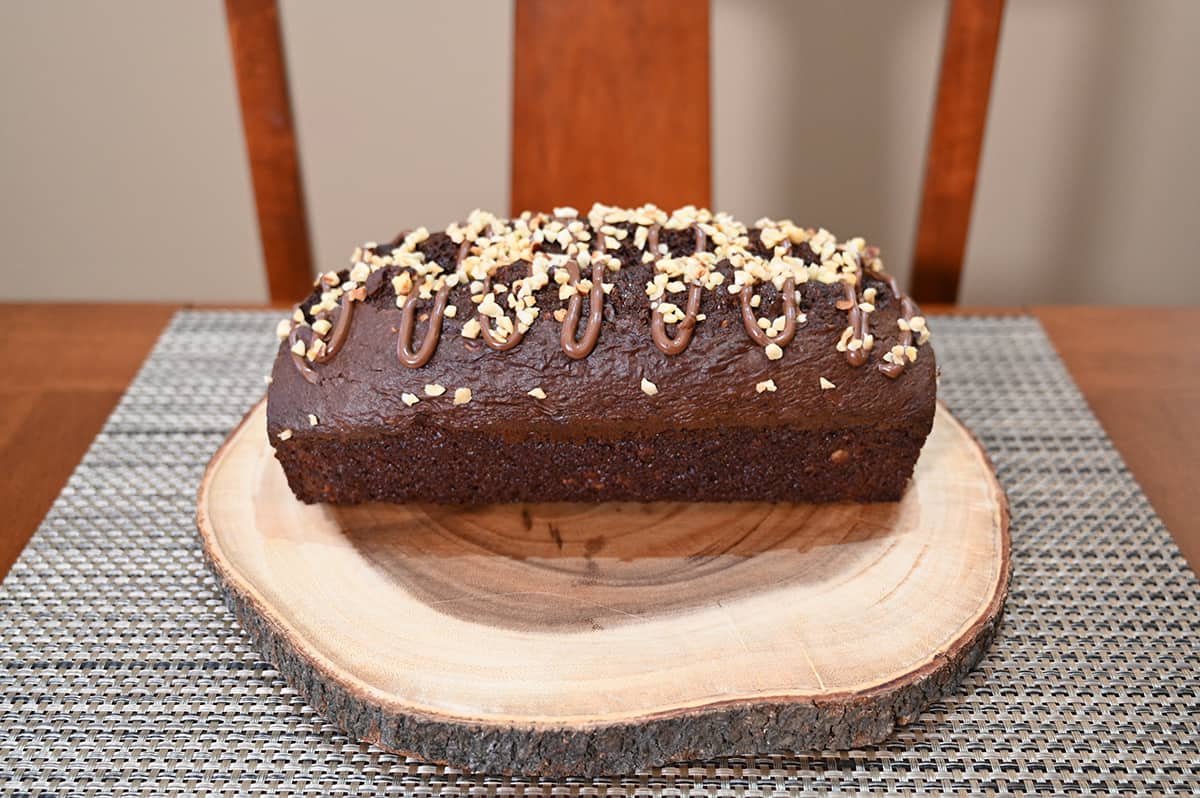 I like that the loaf isn't overly sweet; it's definitely sweet, but the sweetness isn't overdone. The loaf is moist and chocolatey, but doesn't have a really strong hazelnut flavor. It mainly tastes like chocolate.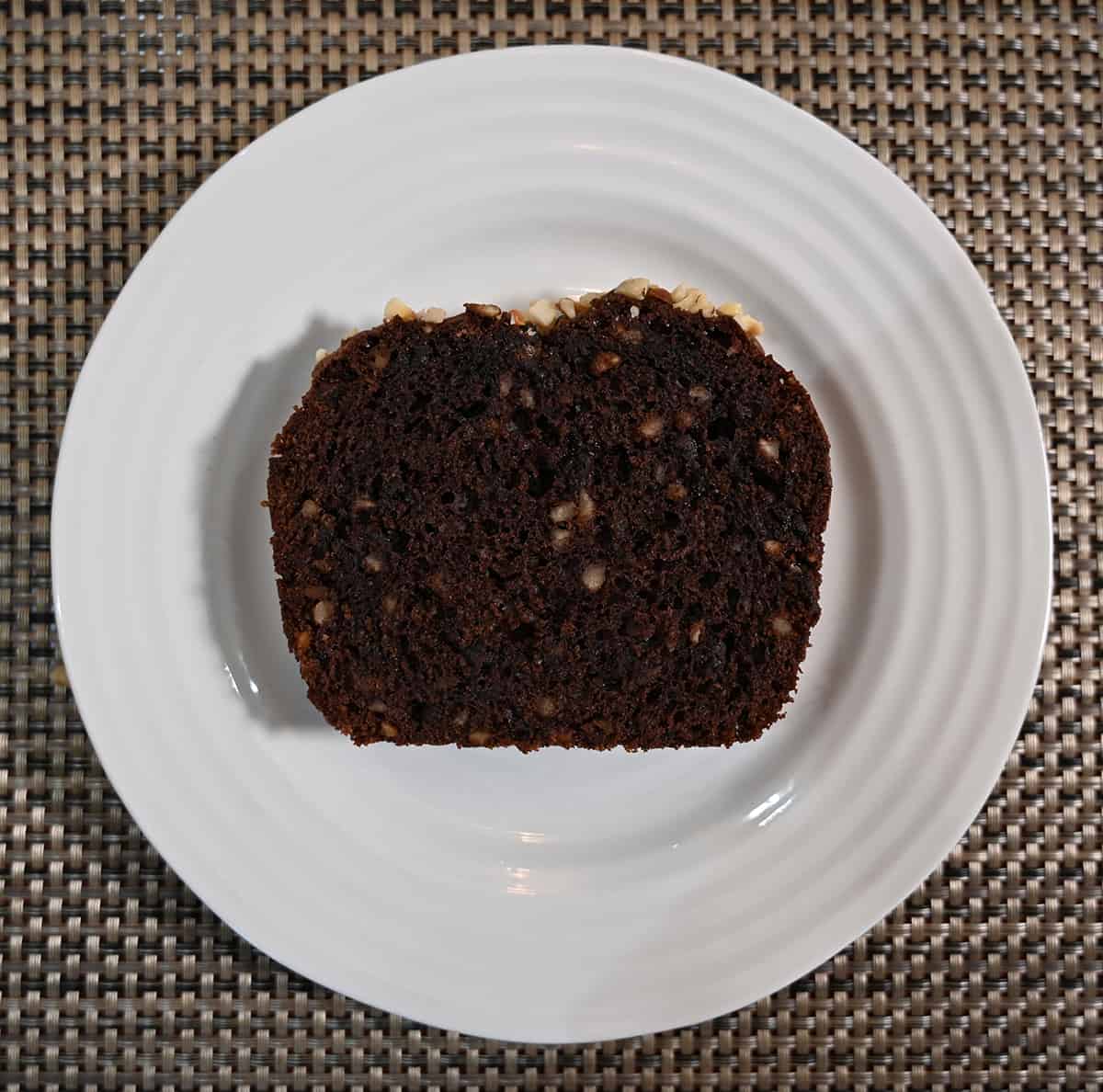 The loaf is decent, but if you're hoping for a lot of hazelnut flavor or a Nutella-flavored loaf, this isn't it. More than anything, it reminds me of the Kirkland Signature Double Chocolate Muffins. I'm pretty sure Costco uses the same batter for both of them!
Cost
The loaf costs $9.99 Canadian which is around the same price as all the other loaves at Costco. It's a pretty big loaf so in my opinion the price is reasonable.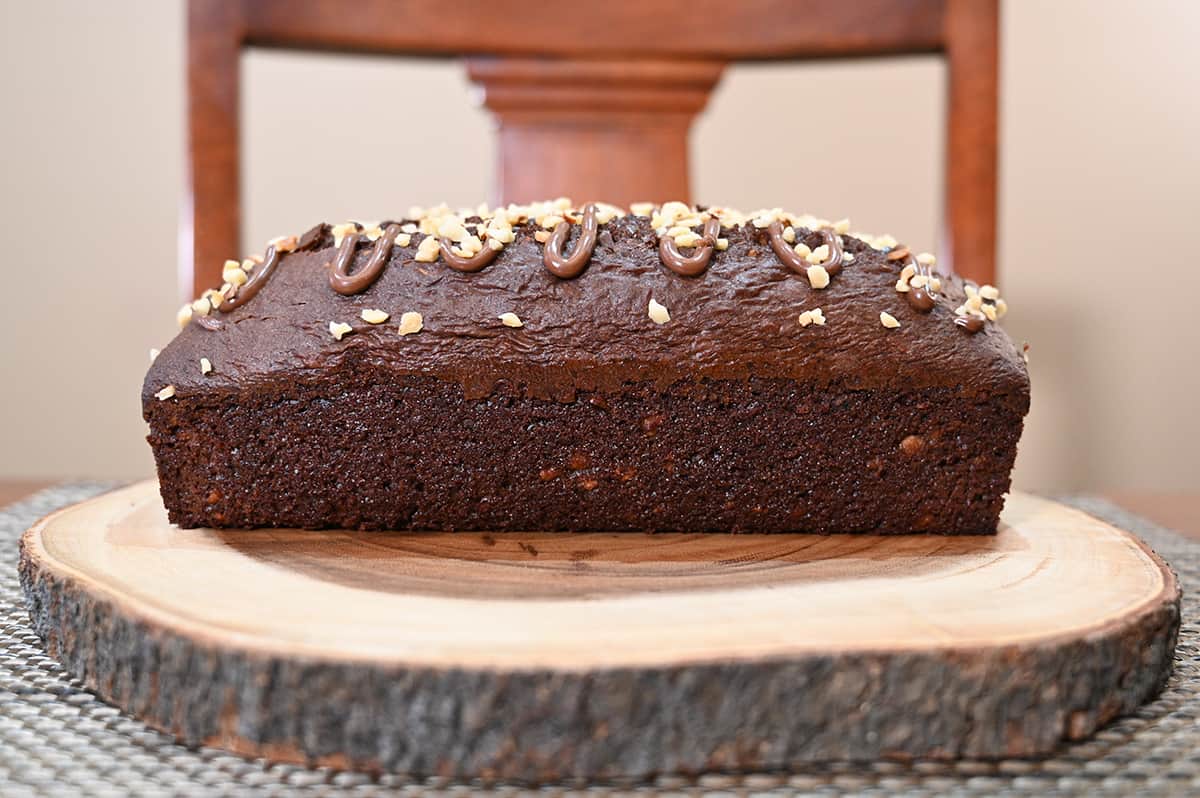 Convenience
One thing I'll mention that I've noticed is Canada has plastic packaging for their loaves while the US uses recyclable cardboard. There's a best-before date that's three days from when it was packaged.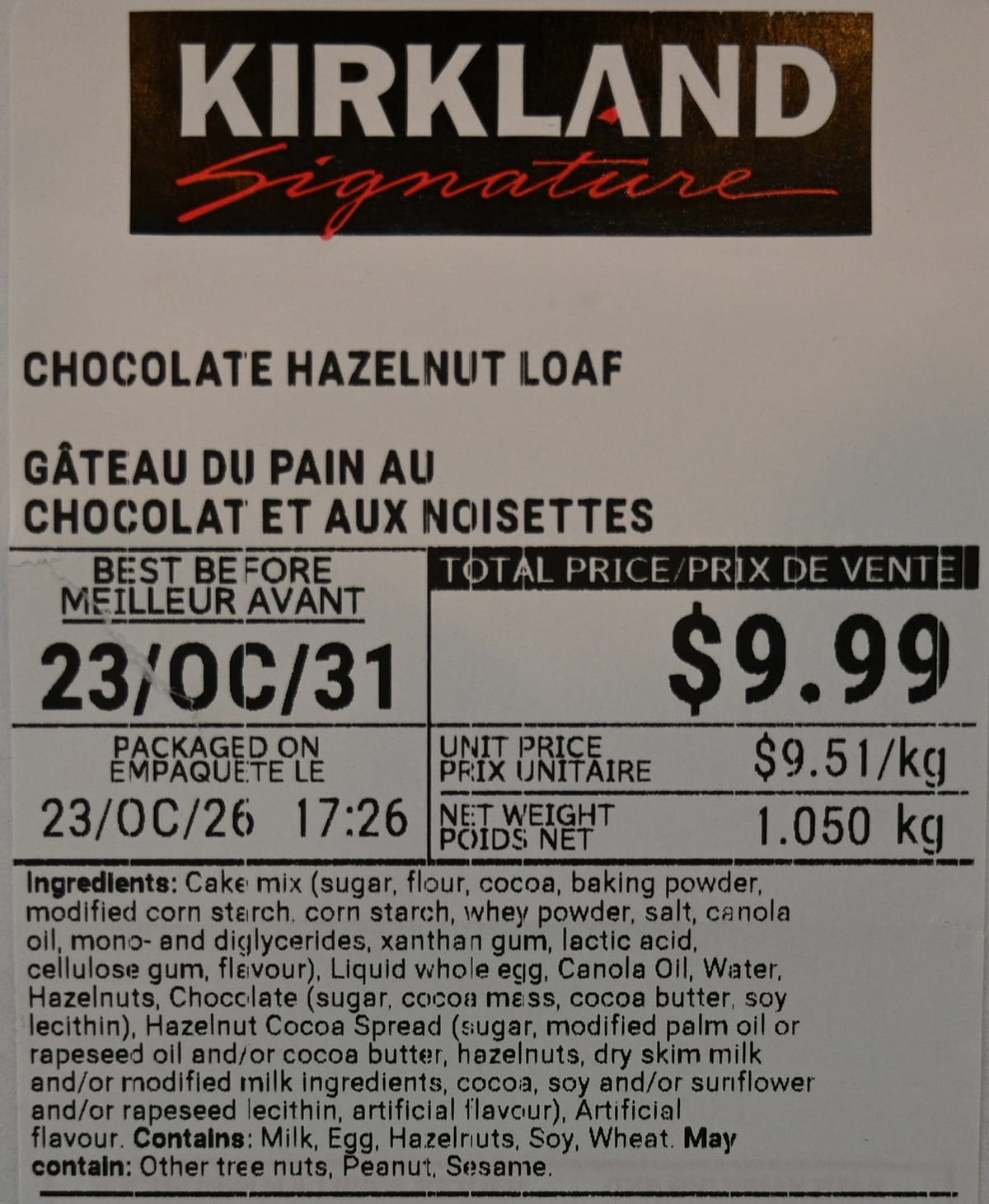 This works as a breakfast, snack or dessert item! I think a bit of whipped cream or vanilla ice cream on the side would make it more of a decadent dessert. Since this tastes like the double chocolate muffins, I could see kids really liking it.
Nutrition
Calories
I don't have the exact on facts but I'm pretty sure the loaf isn't low in calories, fat or sugar after looking at the nutrition facts for the other loaves from Costco. If you're diabetic or watching your carbs you may want to steer clear of this indulgent treat!
Ingredients
The cake mix has pretty similar ingredients to the Kirkland Signature Double Chocolate Muffins so I was right about them tasting similar! This loaf definitely isn't healthy and has ingredients I don't love seeing like canola oil, palm oil and artificial flavor.
The loaf contains milk, egg, hazelnuts, soy and wheat and may contain other tree nuts, peanuts and sesame.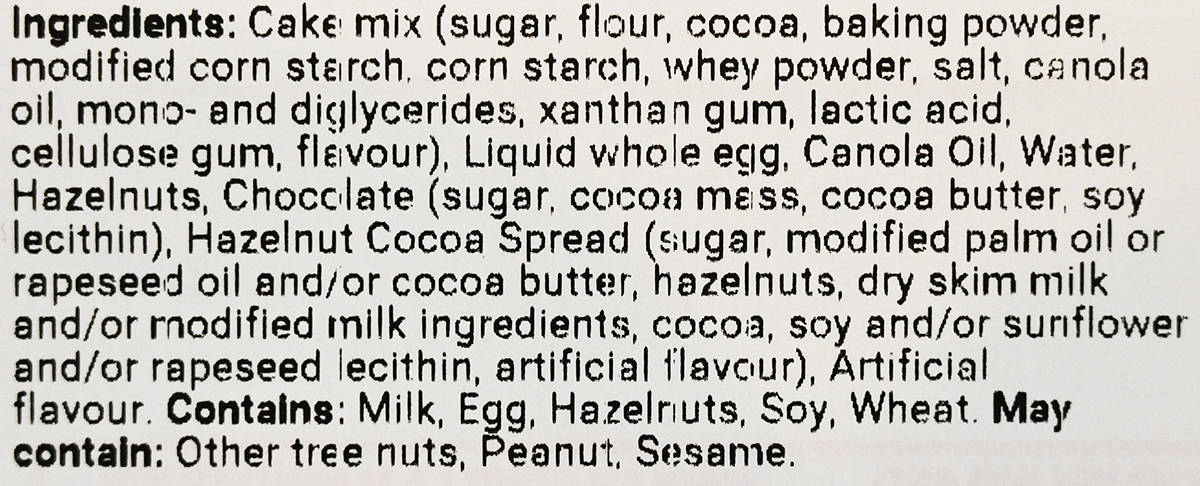 Scoring
Taste: 7.5/10
Cost: 8/10
Convenience: 10/10
Nutrition: 0/10
Overall
Must buy!
This coffee cake is wonderful, it's as good as any coffee cake I've had from a coffee shop and I'd definitely repurchase it.
Have you tried this maple pecan coffee cake? What did you think of it?
---
Please note that this review was not paid for or sponsored by any third party. This product was purchased by Costcuisine for the purpose of producing this review. The opinions in this review are strictly those of Costcuisine. Costcuisine is not affiliated with Costco or any of its suppliers. In the event that Costcuisine receives compensation for a post from the manufacturer of a product or some other third party, the arrangement will be clearly disclosed (including where the manufacturer of a product provides Costcuisine with a free sample of the product).