Costco carries this easy, simple lemon bar mix with only two additional ingredients needed to make them!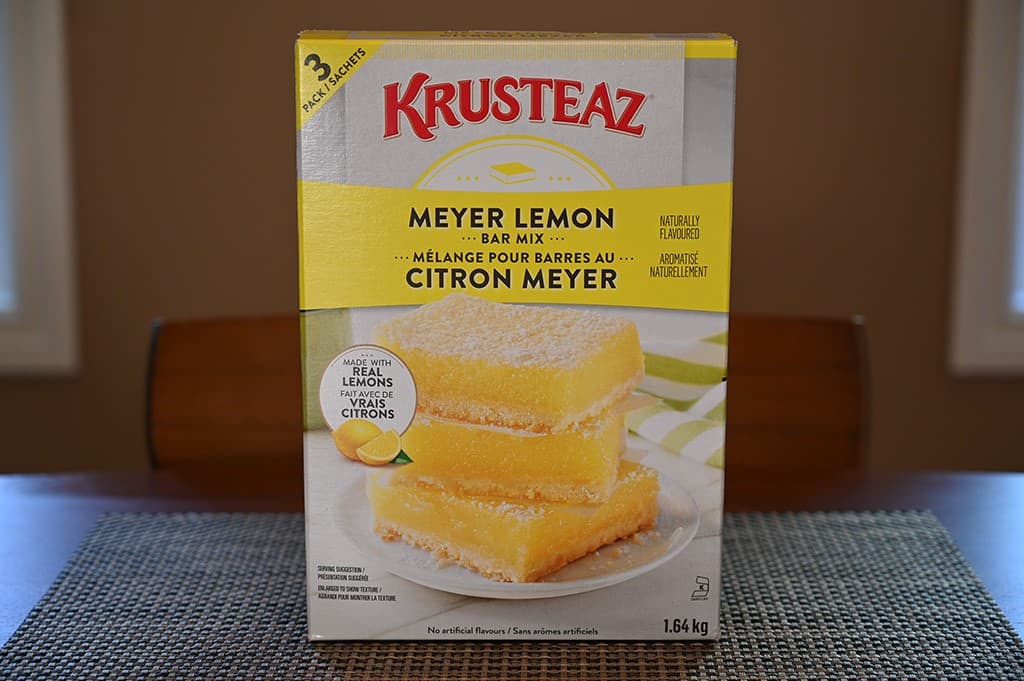 Summer is almost here which means it's a perfect time to review this Krusteaz Meyer Lemon Bar Mix from Costco! I love lemon bars but haven't ever made them from scratch, this Costco Krusteaz mix is probably the closest I'll get to making homemade lemon bars.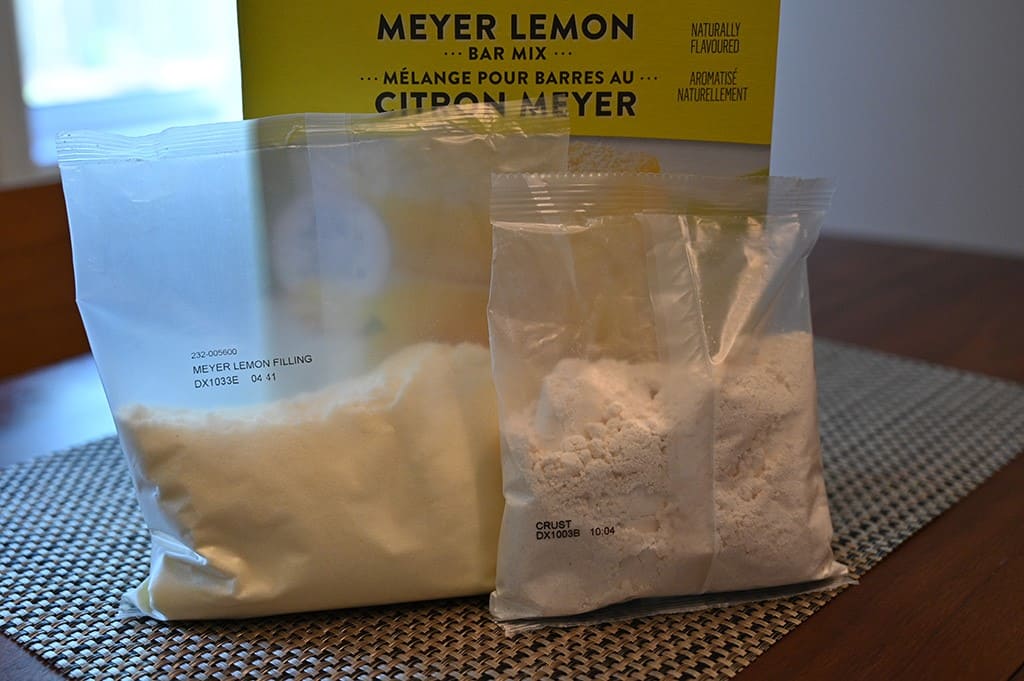 I've reviewed a few baking mixes from Costco like the Krusteaz Triple Chocolate Brownie Mix, Krusteaz Buttermilk Pancake Mix, Krusteaz Pumpkin Spice Quick Bread Mix. Costco Ghirardelli Triple Chocolate Brownie Mix, Red Lobster Cheddar Bay Biscuit Mix, Kodiak Cakes Powercakes Mix and the Joy Life Gluten Free Chocolate Chunk Cookie Mix!
My all-time favorite "mix" from Costco (although not a baking mix) is the Costco Kirkland Signature Margarita Mix.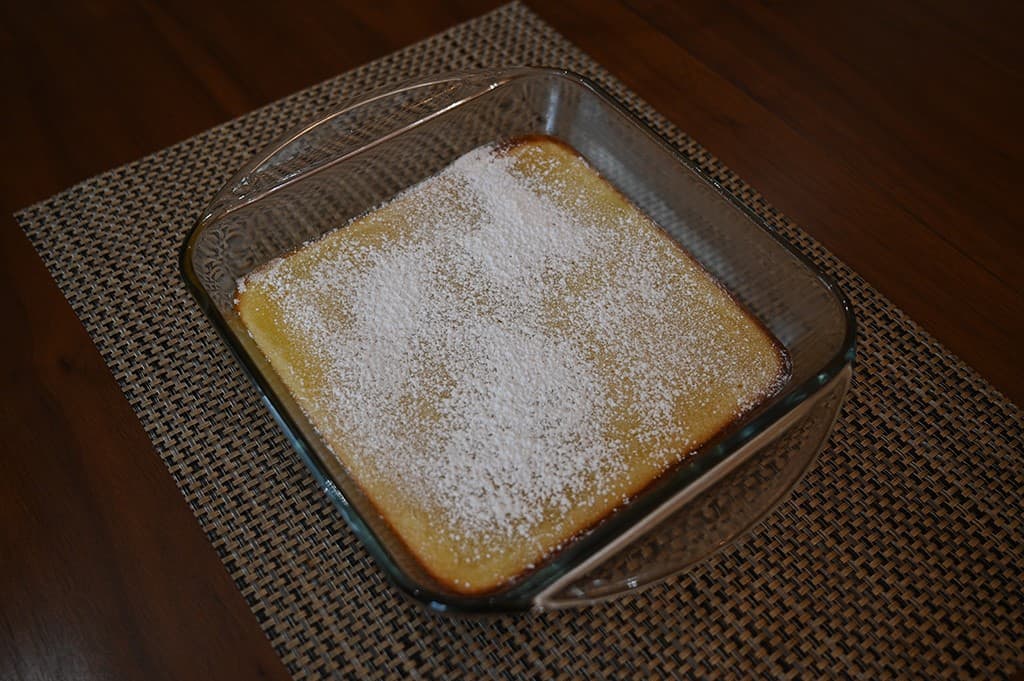 This Costco Krusteaz Meyer Lemon Bar Mix can be found in the aisle with the pancake mixes and other baking supplies. The item number is 47193.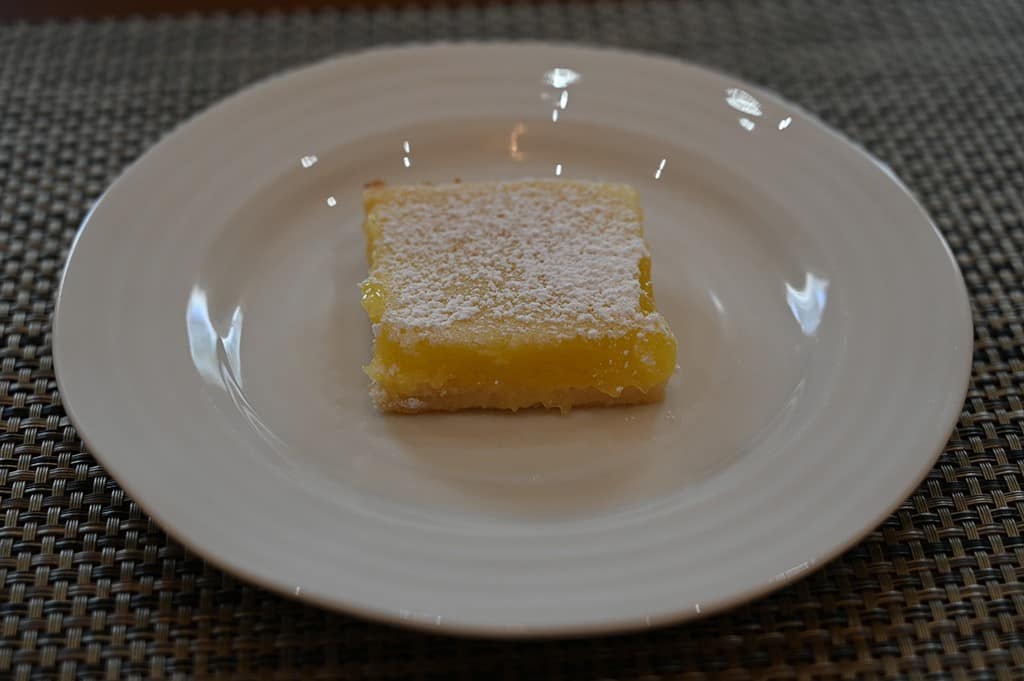 Taste
I had to make these two times because the first time I baked them a little too long and the lemon filling curdled and turned into kind of a lemon flavored scrambled egg bar. Learn from my mistake and don't bake your lemon bars too long! Make sure to keep an eye on them. The second batch I made turned out well.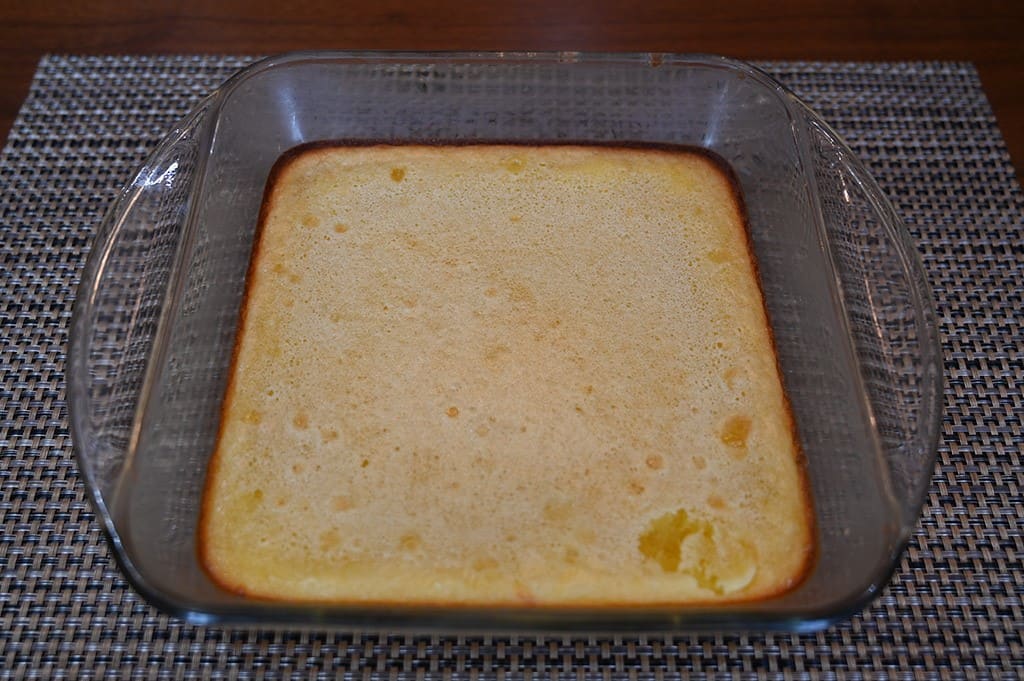 After preparing and baking the meyer lemon bar mix you end up with decently tasty lemon bars but they're extremely sweet! I've had lemon bars and lemon meringue pie and the lemon filling is always quite sweet but this is next level sweet, sticky sweet. I love the flavor of the filling, it's super lemony and zesty I just wish it was less sweet.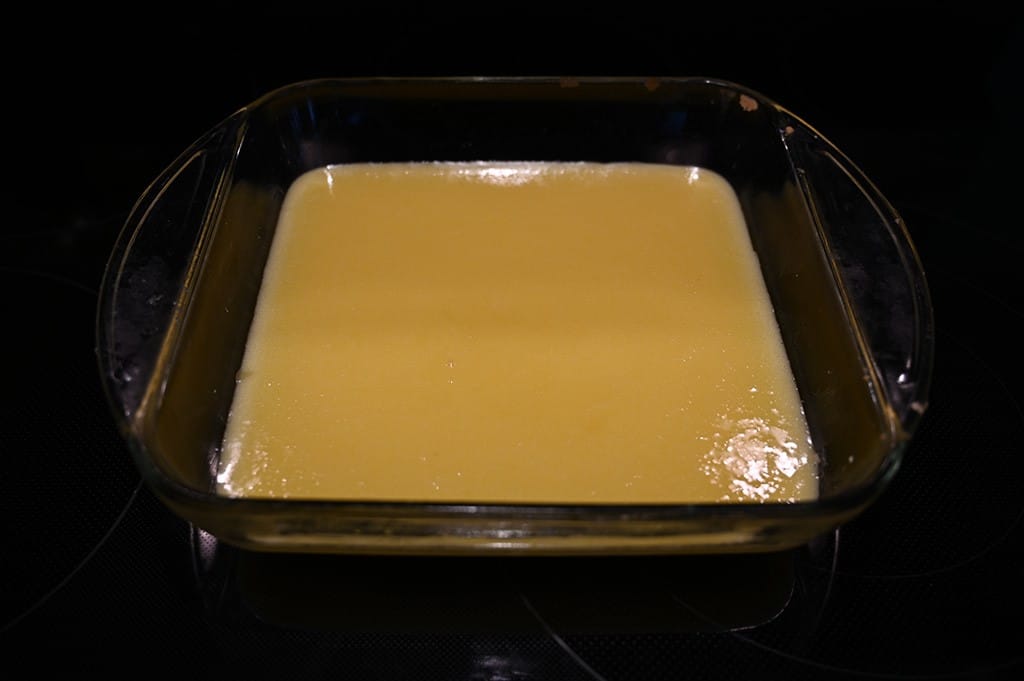 The crust is a butter shortbread crust, it doesn't have a ton of flavor but it's nice and goes well with the lemon filling!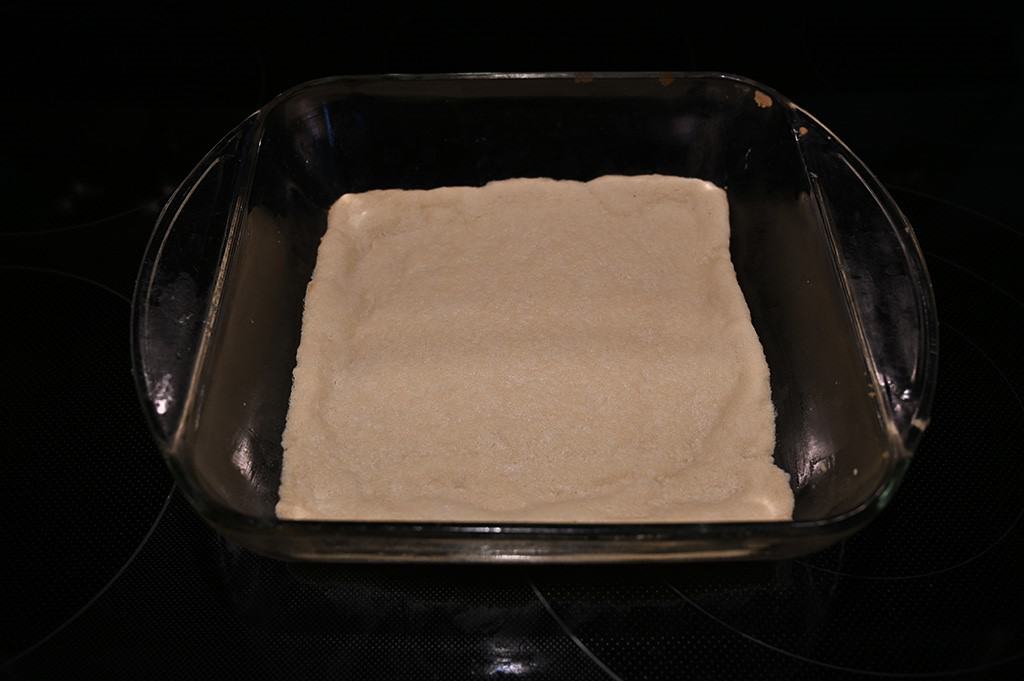 Cost
I paid $6.99 Canadian for the 1.64 kg box of Krusteaz Meyer Lemon Bar Mix. In the box you get three packs of filling and three packs of crust mix.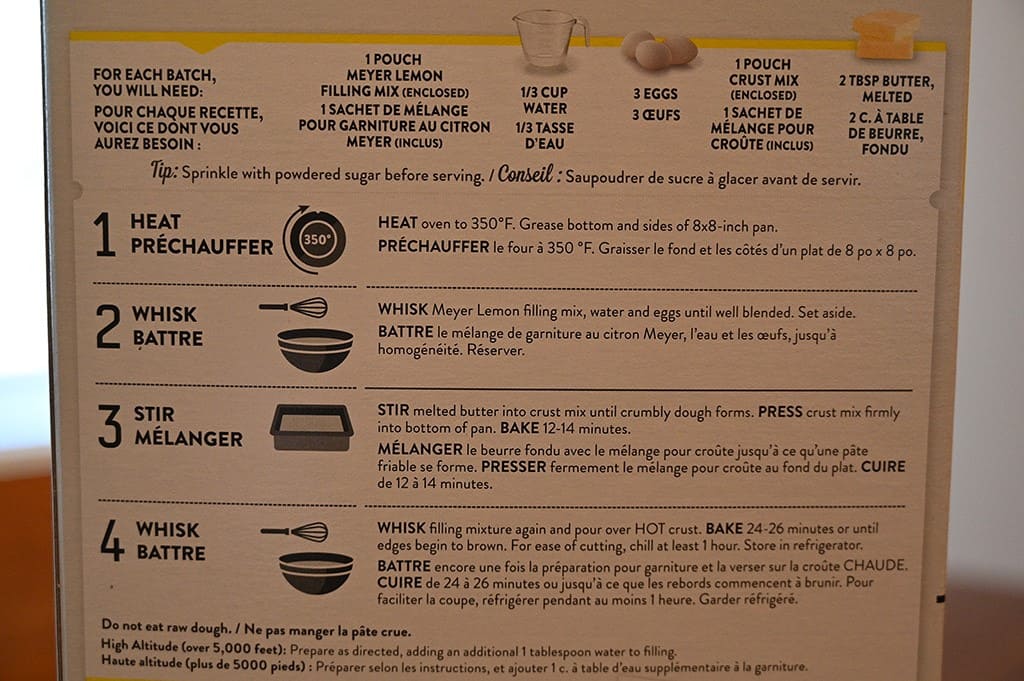 Convenience
You need three eggs, two tablespoons of melted butter and three eggs to make the lemon bars. It only takes about five minutes to make the crust and filling and less than 45 minutes to bake the bars.
These are very simple and easy to make compared to lemon bars from scratch!
First you need to grease your pan, make your filling, make your crust and press your crust into the bottom of your pan. You then bake the crust first for 12-14 minutes at 350 degrees farenheit and then remove the crust from the oven. Pour your filling over the hot crust and bake for an additional 24-26 minutes.
The bars need to be refrigerated for about an hour before you cut them and I recommend keeping them in the fridge. The best before date on the box of the mix is about 9 months from the date we purchased the bars.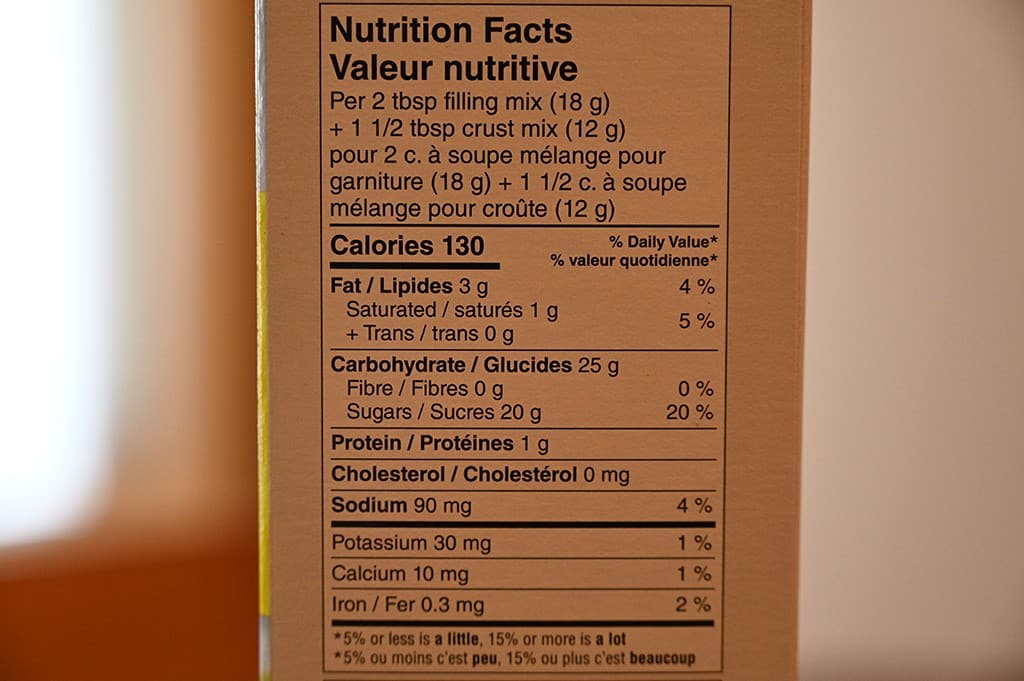 Nutrition
Two tablespoons of the filling mix plus one and a half tablespoons of crust mix is 130 calories, three grams of fat 25 grams of carbohydrates, zero grams of fibre, 20 grams of sugar, one gram of protein and 90 mg of sodium. I assume this nutritional information is before you add the eggs and butter.
The ingredients list is painful to look at. These definitely aren't at all healthy! Sugar and white flour are the first ingredients followed by unhealthy soybean and palm oil.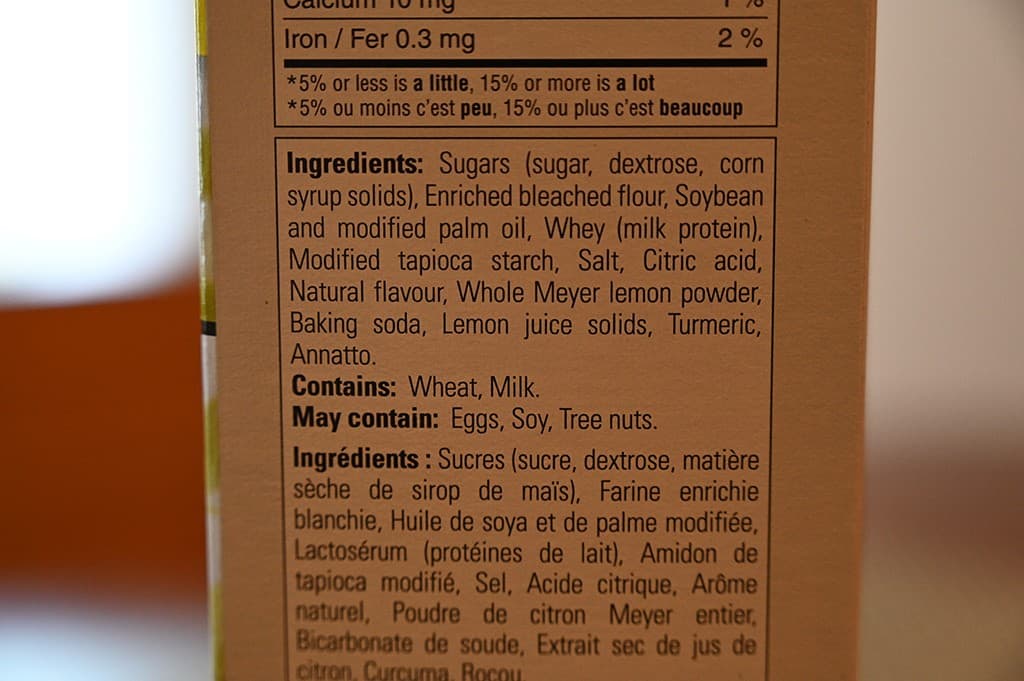 These aren't gluten-free nor are they vegan! I will say that one bar definitely got rid of the craving for sweets I was having.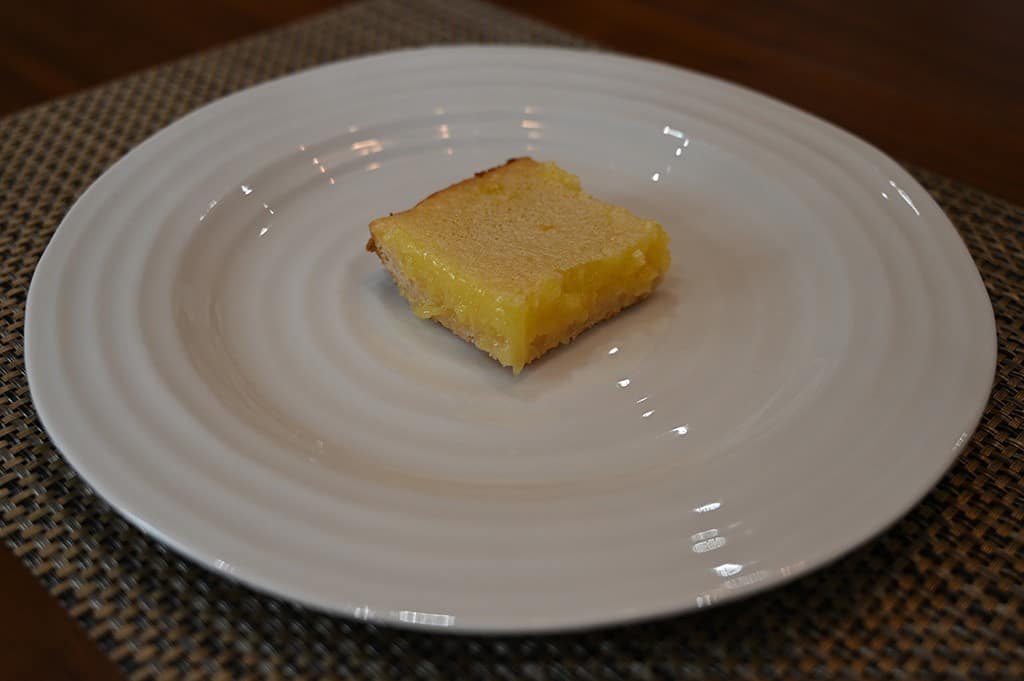 I found the Costco Krustez Meyer Lemon Bar Mix a little too sweet and although they're easy to prepare I found them a little difficult to bake to perfection! This is a recipe for lemon cheesecake bars from the box.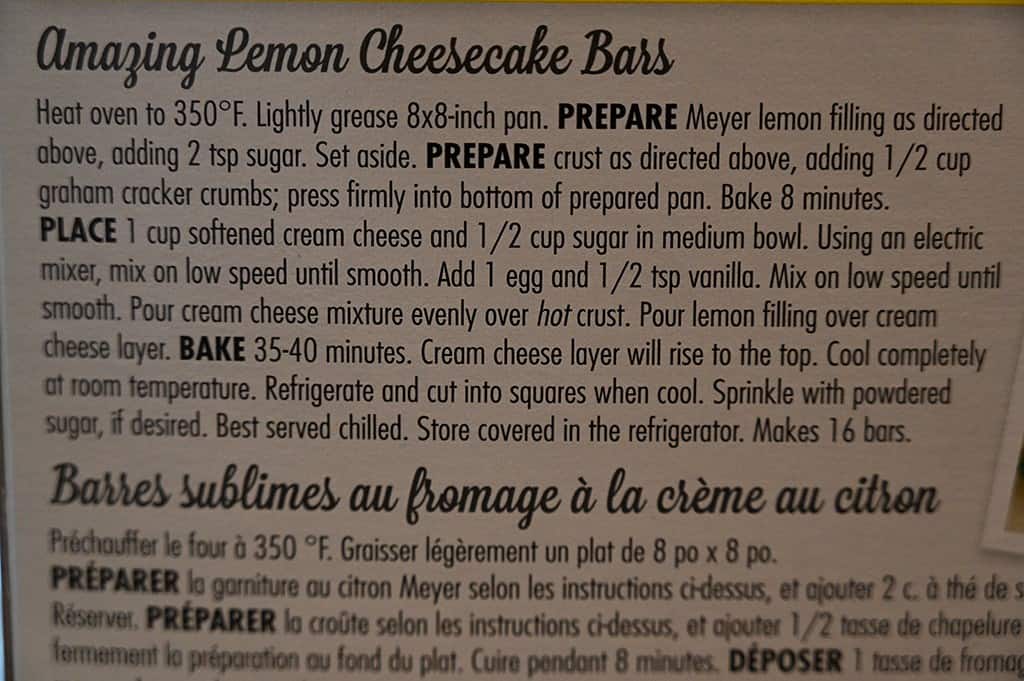 Scoring
Taste: 7/10
Cost: 9/10
Convenience: 8/10
Nutrition: 0/10
Overall
Give it a try!
If you need to bring a dessert to a summer BBQ and are feeling a little lazy I definitely recommend whipping up these lemon bars. You can also use the mix to get creative and make unique lemon desserts out of the bars.
Would you try this? If you've bought it, what did you think?
---
Please note that this review was not paid for or sponsored by any third party. This product was purchased by Costcuisine for the purpose of producing this review. The opinions in this review are strictly those of Costcuisine. Costcuisine is not affiliated with Costco or any of its suppliers. In the event that Costcuisine receives compensation for a post from the manufacturer of a product or some other third party, the arrangement will be clearly disclosed (including where the manufacturer of a product provides Costcuisine with a free sample of the product).